If you have a long Vancouver Airport layover (YVR) then why not take advantage of it. Below you will find 10 ways to make the most use of your time. A long layover at the Vancouver airport can be a good thing – it's all a matter of attitude. You could sit with a vacant look on your face and watch TV. You can shop. You can eat. You can read. You can people watch OR you can leave the Vancouver airport and discover the charms of the city of Vancouver.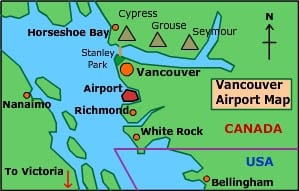 Getting to and from the Vancouver Airport
You have three good choices for leaving the airport. Budget and time will factor into your decision.
The Canada Line This is a rapid transit line that links the airport to downtown in 28 minutes for a very reasonable sum. You can purchase a day pass (the least expensive thing to do) for $11.25 at the 7-Eleven or Pharmasave on Level 1 arrivals. There is also a VYR Airport AddFare of $5 when you leave the airport but not going to the airport.
Taxis: Taxis permit speed and flexibility but can be pricey depending on distance and number of people. They run 24/7 and are found outside of both the domestic and international terminals. Look for the taxi signs once you reach the baggage area. Count on a fare of about $40(with tip) for the downtown area and closer to $80 (with tip) for the furthest reaches of the Northshore including Deep Cove and Grouse Mountain.
Renting a car is a surprisingly realistic choice if you want the ultimate in flexibility at a reasonable price. It's not recommended if you have only a few hours to spare but if you have upwards of 6 hours you can cover a lot of territory and enjoy some of the offerings on the north shore of the city too. Alamo, Avis, Budget, Dollar, Hertz, National and Thrifty can be found at the parkade, a short walk across the street and down one level from baggage.
Discount and Enterprise are off site and close to the economy parking lot. Making reservations ahead of time will ensure that the size of car you want is available but a last minute dash to the parkade won't take too much time either. Rates start at about $75/day (all taxes in) for a compact at Dollar.
Leaving the airport is a very straight forward process and with minimal map reading skills Vancouver can be easily explored. This airport is especially kind to car renters. There is a gas station (Petro Canada) on the left JUST BEFORE the turnoff to the car rental return – providing you rented from one of the companies located in the parkade. It even offers competitive rather than predatory rates.
Now what should you see on a Vancouver Airport layover??
Obviously just how much time you have between flights is going to dictate what you can do. You need at least a 3-4 hour layover to leave the airport. That will allow for time to get back through security (usually very quick at VYR) and any delays in transportation.
Here's my list of 10 things to do to make the most of a Vancouver Airport layover
#1: Bike or walk around Stanley Park
Distance from airport: Approximately 30 minutes by taxi or car.
Cost: Free if walking and renting a bike is very reasonable. Try a tandem.
Bike Rentals: All rental stores are within a block of the Stanley Park Seawall. They will provide maps too. Try Spokes – it has one of the largest selections of bikes.
Open: Year-round, rain or shine though biking isn't a lot of fun in a downpour
Time Needed: Minimum one hour for biking and 2 – 3 hours to do the whole walk around the park. Hours of exploration can be added.
Experience: A 10 kilometre (6 mile) circumnavigation of Stanley Park is an easy two – three hour walk with constantly changing views. It's a perfect way to spend a Vancouver Airport layover if you've been traveling on long flights. You can start anywhere on the seawall since you are going in a circle but check to ensure you are in the right lane as the path is meant to be shared with bikers.
This path can be done at any time of the year, rain or shine. In fact a stormy day can be an exciting one on the west side of Stanley Park as waves come crashing into shore. As you head from the bike rental store in a counter clockwise direction you will encounter views of the city skyline alongside the cruise ship terminals.
Spend a few minutes watching for float planes taking off and landing downtown. As you round the eastern most edge of Stanley Park the bright yellow sulphur piles used for industrial processes can't be missed.
Further along the Lions Gate Bridge pops into view. If you are lucky either a freighter or cruise ship will be coming or going and their absolute bulk is an impressive sight as is their speed. The vista opens up after passing under the bridge and more freighters and boat traffic are visible.
Soon one of the two beaches will come into sight and on a fine day a little sunbathing may be in order. You should be in the neighbourhood of your start point.
From here you can call it quits, continue towards English Bay and the Burrard Street Bridge or retrace your steps and include a visit to the Vancouver aquarium just a few kilometres away.
If you continue you can walk for many more miles along the seawalk before and after the Burrard Street Bridge. However, if you have had enough consider a stop at one of the many excellent and eclectic eateries on Denman Street, about a kilometer before the Burrard Street Bridge.
#2: Granville Island
Located under the Granville Street Bridge on the South shore of the False Creek Inlet.
Time Needed: Minimum of 1 hour to all day
Distance from the Vancouver airport: It is a quick and very direct 20-30 minute drive from the airport.
Cost: Free unless you purchase something.
Experience: The Granville Island shopping district is one of North America's most successful urban redevelopment projects and is copied extensively by other cities. A derelict industrial park was transformed into a thriving market and entertainment destination frequented by locals and tourists alike. It's a fantastic place to visit and an great option on a Vancouver Airport layover.
You can spend as much or as little time as you have available as the variety of shops, activities and dining possibilities are seemingly endless.
The Granville Island Market, open from 9 AM to 7 PM seven days a week, is a sensory destination filled with artfully displayed produce, extensive seafood and meat offerings and mouth watering bakery delights.
Pick up a coffee, find a bench and enjoy the view over the water. Then wander through a range of stores where you can purchase anything from books to high quality handicrafts, marine supplies, kayaks, gardening gear and kids toys.
In fact the kids will love to visit the Kids Market and Adventure Zone. With additional time you can rent boats including sea kayaks, organize fishing charters and even go whale watching.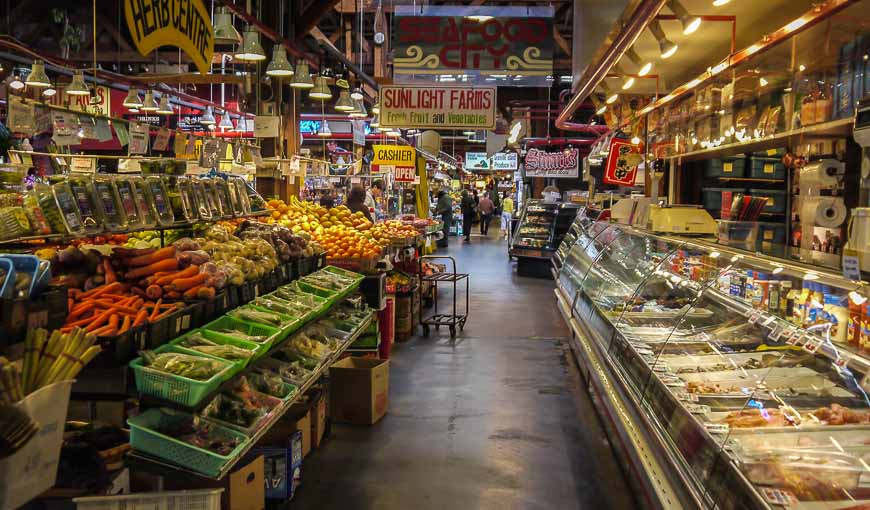 #3: Vancouver Aquarium – a good Vancouver Airport layover for a family
Distance from Airport: Allow about 40 minutes by car or taxi each way.
Open: July 1 – Labour Day 9:30 AM – 7 PM, winter/fall/spring hour 9:30 AM – 5 PM
Cost: Ticket prices vary by day in 2023 and range in price from $39.95 to $48.95 for an adult. If you can plan ahead so much the better.
Time Needed: Very minimum of one hour up to three hours depending on how many shows you attend
Experience: The Vancouver Aquarium lies within the confines of Stanley Park so the aquarium experience can be expanded to include walks around the seawall, visits to beaches, and a stop to admire the totem poles. If you're on a Vancouver Airport layover with kids, it's an especially fun way to spend some time.
The aquarium is one of only two in Canada and is considered to rank in the top five around the world. People of all ages can enjoy the exhibits with plenty of hands on opportunities to thrill the young ones.
There are daily birds of prey talks, sea otter feeds and family programs to name a few. These are included with the price of admission. You can't leave the aquarium without going through the gift shop so good luck leaving empty-handed.
#4: Museum of Anthropology
University of British Columbia, 6393 NW Marine Drive, Vancouver Ph: 604-822-5087.
Distance from airport: Approximately 20 minutes from both downtown and the airport. Parking is available.
Open: Summer (mid May till the first week of October) 10 AM – 5 PM, Tuesdays until 9 PM; Winter – closed Mondays, Tuesday 10 AM – 9 PM, Wednesday to Sunday 10 AM – 5 PM
Cost: $15.68 for adults, $13.44 for seniors and students and free for children 6 and under
Time Needed: Minimum one hour or more if you are very interested in native art.
Experience: The Museum of Anthropology (temporarily closed in 2023) is housed in a spectacular Arthur Erickson designed building on the cliffs of Point Grey. It is renowned for its collection of native art especially of the people of the Northwest though it also displays art of indigenous people from around the world. It also has a remarkable collection of totem poles.
#5: Pacific Center and Robson Street Shopping
Located at: The streets running between Granville and Jervis in the north-south direction and Pender and Robson in the east-west direction
Time Needed: A minimum of one hour will give you an idea of the area but you could easily use an entire day. The shopping area combines well with a trip to the Vancouver Art Gallery located at 750 Hornby Street.
Distance from Airport: Allow 30 minutes each way. The area is easily accessed by the Canada Line and taxis.
Cost: Window shopping is free.
Experience: The combination of Robson Street and the Pacific Center should fulfill any shopping dreams that you entertain. The Pacific Center is an enclosed three block section running between Granville and Howe and Pender and Robson. Over 140 stores including high end stores like Holt Renfrew and Harry Rosen are open daily starting at 10 AM.
The three block Robson Street section of stores between Burrard and Jervis is also host to a wide variety of premier fashion stores and fine dining restaurants. This section is very much alive at night with throngs of people out to see and be seen. A visit here on a Vancouver Airport layover will open your eyes as to what downtown Vancouver offers.
Nestled in and among the shopping area is the Vancouver Art Gallery so between shopping, cafe hopping and a little gallery viewing hours and even days can be whiled away. Fortunately all of this is usually just a 30 minute drive from the airport.
A great place to people watch and put your feet up after shopping would be the Bacchus Restaurant and Lounge in the Wedgewood Hotel at 845 Hornby, almost across from the Vancouver Art Gallery. Excellent service, as would be expected from a Relais and Chateaux hotel, will complement any meal, drink or even afternoon high tea.
A less expensive option would be to grab an expertly made cafe latte at Caffe Artigiano a locally owned chain of coffeehouses also found on Hornby across from the art gallery.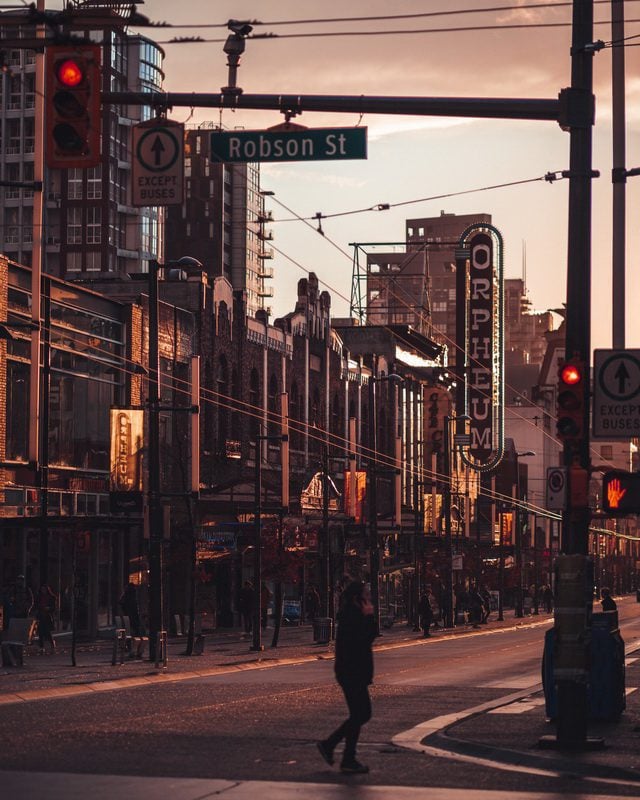 #6: Visit Chinatown on a Vancouver Airport layover
Bordered by Pender to the North, Union to the South, Carrall to the West and Gore to the East. The area is about a 15 minute walk east of downtown Vancouver.
Distance from the Vancouver airport: 30-45 minutes depending on traffic
Cost: Free unless you shop or eat.
Time Needed: A minimum of one hour to walk around but several hours if you poke in shops, enjoy some Dim Sum and take in the Sun Yat-Sen Classical garden.
Experience: North America's second largest Chinatown is located in Vancouver just east of downtown. Colourful overhead Silk Road banners and red painted street lights let you know you have arrived.
The very ornate Millenium Gate at Pender and Taylor Streets welcomes you to Chinatown. Just ahead on Pender is the world's narrowest building – the Sam Kee building at all of 1.8m (6′) in width.
Also nearby is Shanghai Alley, a historical road where Chinese immigrants settled between 1890 and 1920. Now it is home to murals depicting the history of the alley and the massive West Han Dynasty Bell, a gift from the sister city of Guangzhou.
Continued walking within the confines of Chinatown will bring you in contact with vibrant markets selling fruits, vegetables, meats, fish, herbs and traditional medicines. Many of the stores are signed with only Chinese characters.
Numerous restaurants and bakeries crowd Pender, Main and Keefer Streets. The savoury steamed pork buns and sweet coconut buns are well worth sampling. If you have time head to the Dr Sun Yat-Sen Classical Garden and Park at 578 Carrall Street.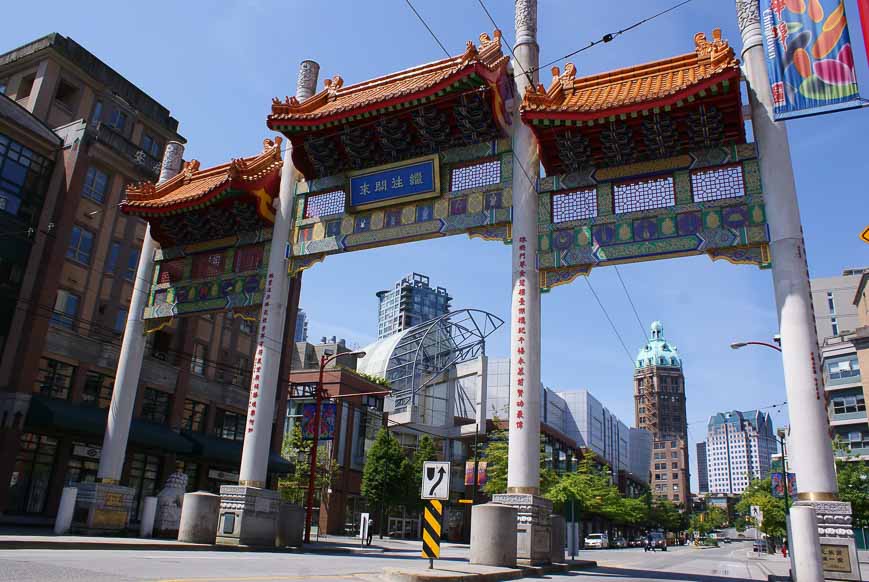 #7: Gulf of Georgia Cannery National Historic Site + Village of Steveston
12138 4th Avenue, Richmond Ph: 604-664-9009
Distance from Airport: It can take as little as 15 minutes by car or taxi from the airport as it is only about 6 kilometres away
Open: May 2- September 7, Monday to Saturday 10 AM – 5 PM, Sundays 11 AM – 5 PM; from September 10 – October 12 open only Thursday to Monday with the same times as the summer. The Cannery is closed the rest of the year but Steveston will continue to be an enjoyable destination for walking, shopping and dining.
Cost: (for the cannery only) $7.80 for adults, $6.55 for seniors, $ 3.90 for youth and kids 5 and under are free
Time Needed: One to three hours if you plan to visit the Gulf of Georgia Cannery, walk the village and grab a bite to eat
Experience: The Gulf of Georgia Cannery lies only a block away from the shops and restaurants of the attractive village of Steveston. It is a National Historic site and has been a landmark for West coast fisherman since 1894.
The Cannery is a collection of buildings which include an icehouse, a vitamin oil shed, the main cannery building and additional utilitarian buildings. The Cannery houses a collection of over 10,000 objects primarily related to the salmon, halibut and herring fisheries.
A visit to the Cannery can include an introductory film, a guided tour and some hands on exhibits. Once you are finished your cannery visit head a few blocks north and wonder around Garry Point Park. By then you'll probably want a coffee or bite to eat so grab something at one of the numerous restaurants or coffeehouses.
On a sunny day Steveston is a delightful spot to stroll around. You can wander along shared bike and pedestrian paths by the water and watch the action of the fishing boats which make up Canada's largest fishing fleet.
#8: Check out the International Buddhist Temple
9160 Steveston Highway, Richmond Ph: 604-274-2822
Time Needed: About an hour but as they say with wisdom – the duration depends on what the visitor wishes to draw from the visit
Distance from airport: It is about a 15 minute taxi ride and would combine well with a visit to the Village of Steveston.
Open: 9:30 AM – 5:30 PM seven days a week
Cost: Free; visitors are encouraged to come and explore their grounds.
Experience: The International Buddhist Temple is an authentic model of traditional and Chinese imperial style architecture and perhaps for some an unusual way to spend time on a Vancouver Airport layover. Check out flaring eaves, roof tiles, elaborate renderings of Chinese dragons, shrines, Buddha statues, ceramic murals and more examples of impeccable Chinese craftsmanship.
Everyone is welcome regardless of their faith. Chances are that you will find peace, solace and serenity on your visit. Walk away with insights gained about Buddhist values and beliefs. Inspire your spirit and your mind. There is also a vegetarian cafeteria open from 12:30 to 3:30 PM.
#9: Grouse Mountain – ideal for a long Vancouver Airport layover
6400 Nancy Greene Way, North Vancouver. 604-984-0661
Distance from Airport: Allow one hour by car or taxi.
Open: Daily from 9 AM until 10 PM
Cost: Adults – $75.00, seniors – $65.00, youth – $55.oo, kids 5 – 12 – $49 and under 0-4 are free
Time Needed: One hour up to a full day depending on your chosen activity
Experience: Arrival at the peak of Grouse Mountain is via the Skyride, a large aerial tramway which delivers you 2.9 kilometres (1.8 miles) and 853 meters (2,800 feet) up the mountain in about 10 minutes.
Once there Grouse Mountain delivers a wide variety of activities to engage most everyone and every age group. In the spring, summer and fall one can enjoy a leisurely walk at the peak or head out on an extensive backcountry hike if properly equipped.
You can stroll over to see the grizzly bears, catch the Lumberjack or the Birds in Motion show.
Helicopter rides get you up close and personal to the local mountains. The Theatre in the Sky provides a high definition cinema experience with shows running on the hour. In the winter you can choose from ice skating, snowshoeing, snowboarding or downhill skiing to get the blood pumping.
Thoughtfully the resort has provided equipment and even outdoor clothing for rent which is available at the top of the mountain. Fine dining and casual restaurants round out the experience particularly on a clear day when outstanding views of the Vancouver city skyline, Mount Baker and even the Olympic Mountains in Washington are visible. The Skyride returns to the base every 15 minutes all day.
#10: Check out Gallery Row and shop on South Granville on a Vancouver Airport layover
Location: From the south side of the Granville Street Bridge to 16th Street. Metered street parking is available (carry some loonies and toonies and 40 minutes will set you back $1) or find a parkade. It is easy to grab a taxi on Granville.
Distance from the Vancouver airport: 20 – 30 minutes.
Cost: Window shopping is free but there will be lots to tempt you.
Time Needed: One to four hours depending on how much you like to poke and eat.
Experience: This is an 11 block section of a diverse group of shops ranging from exclusive art galleries and antique dealers to William Sonoma and the Pottery Barn. The twenty five art galleries explore a varied range of art styles from the 17th to 21st centuries. It's easy to get to on a Vancouver Airport layover.
Between art galleries rest at any one of the innumerable coffee shops or pick up a treat at Meinhardts (3002 Granville Street). If you are around in time for an early dinner try West (on Granville at 13th) or Vijs, an excellent Indian fusion restaurant on 11th.
There are home decorating stores including Eighteen Karat and Restoration Hardware plus a large selection of footwear and clothing stores to keep you busy. This list just scratches the surface of what is offered in Vancouver.
Further reading on things to do in the Vancouver area
Click on the photo to bookmark to your Pinterest boards.