The Sea to Sky Highway, aka Highway 99, is an incredibly scenic, cliff-hugging road that takes you from West Vancouver to Pemberton, via Whistler, home of the 2010 Winter Olympics. After years of highway improvements including the addition of lanes and wider shoulders, both drivers and cyclists can now navigate the Sea to Sky Highway with a greater degree of safety all the way through to Whistler.
The Sea to Sky Highway is an awe-inspiring drive at any time of the year as it takes you beside Howe Sound to Squamish and into Whistler. The drive is a knockout when the sun is shining. That's when the stunning Tantalus Range shows its full glory. I hope you catch one of those bluebird days.
This post includes some affiliate links. If you make a purchase via one of these links, I may receive a small commission at no extra cost to you. Thank you very much for your support.
How to get to the Sea to Sky Highway
Take the Lion's Gate Bridge going north from Stanley Park in Vancouver. On the far side of the bridge follow the signs for Highway 99 and Whistler. The fastest way to get to Highway 99 is by taking a right on Taylor Way in West Vancouver. At the top of the hill go under the highway and make a left to get onto Highway 99. That's the Sea to Sky highway that will take you all the way to Whistler.
Another option – if you're in a meandering mood, is to follow follow Marine Drive west for about 13 km after coming off the Lion's Gate Bridge. Enjoy beautiful ocean views, pass some stunning houses, and the turnoff for Lighthouse Park, which is worth exploring on foot. Turn right on Eagleridge Drive and follow it to the top of the hill to pick up Highway 99 going west. If you need a great coffee and baked good for the drive, stop in at Savary Island Pie Company at 1533 Marine Drive.
Cycling the Sea to Sky Highway
Before the improvements to the highway with lane widening and additions it was unthinkable – in fact it was a death defying feat to bike it. You still need to exercise caution and don't try cycling it on a busy holiday weekend.
There is an RBC Gran Fondo ride every year from downtown Vancouver to Whistler. It's a great time to bike it as there are lane closures to aid the cyclists.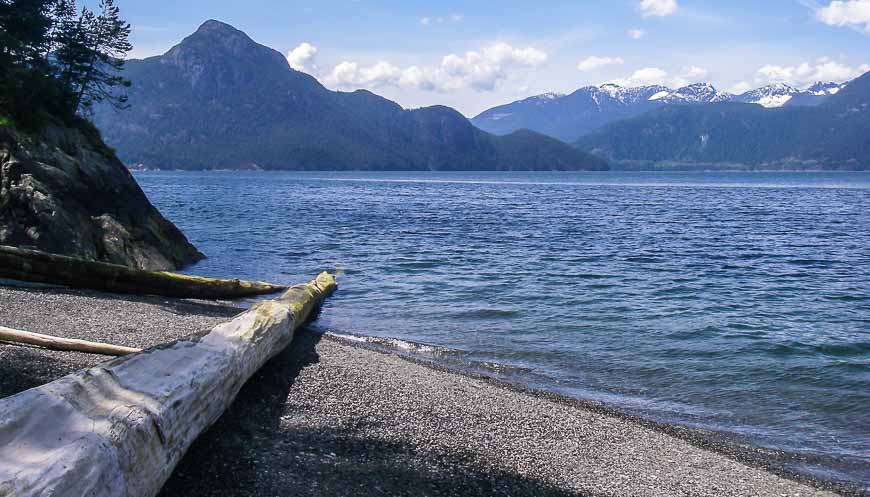 Stops to make along the Sea to Sky Highway
There are a number of small communities and provincial parks to explore as you head north to Whistler from West Vancouver.
Horseshoe Bay to Porteau Cove section of the Sea to Sky Highway
Horseshoe Bay and in particular Whytecliff Park is a worthwhile stop though it's a few kilometres detour off the highway. If you've got a craving for fish and chips hit up Trolls in Horseshoe Bay before you continue on to Squamish.
Lions Bay is next, only 12 km away. Look for the Lions Bay General Store and Café, especially if you love smoothies. Also check out the gallery featuring local artists.
Next discover Porteau Cove Provincial Park, 13 km north. It's a small park, popular with weekend campers. Excellent views across to Anvil Island and nice beaches beckon you to stop and picnic. If you prefer not to camp there is the option to rent one of two cute cabins by the night. You can book the Porteau Cove Olympic Legacy Cabins right here.
The Furry Creek Golf Course soon appears on your right. It has an enviable location but I have never seen a human being around.
Britannia Beach
Britannia Beach, a small community of about 300, is the next stop, 8.5 km away. It owes its origins to a copper discovery. By the early 1900's the Britannia Mine had opened and in 1929 it was the largest producer of copper in the British Commonwealth.
Underground tours are available seven days a week – and you can even pan for gold. There's some pretty interesting historic mining equipment to check out too.
Shannon Falls and Stawamus Chief
Shannon Falls appears 9 km after Britannia Beach. It's the third highest waterfall in British Columbia, rising 335 m above Highway 99. It's an especially impressive sight after a storm.
The second largest chunk of granite in the world (after the Rock of Gibraltar) known as Stawamus Chief is next. It's internationally famous in climbing circles. Hikers also get a great workout hiking one of the trails to the top of the Chief's three summits. The first peak is the shortest route.
The Sea to Sky Gondola is the faster, easier way to get to the top of Stawamus Chief to enjoy the views. For details on pricing and schedules visit the Sea to Sky Gondola website.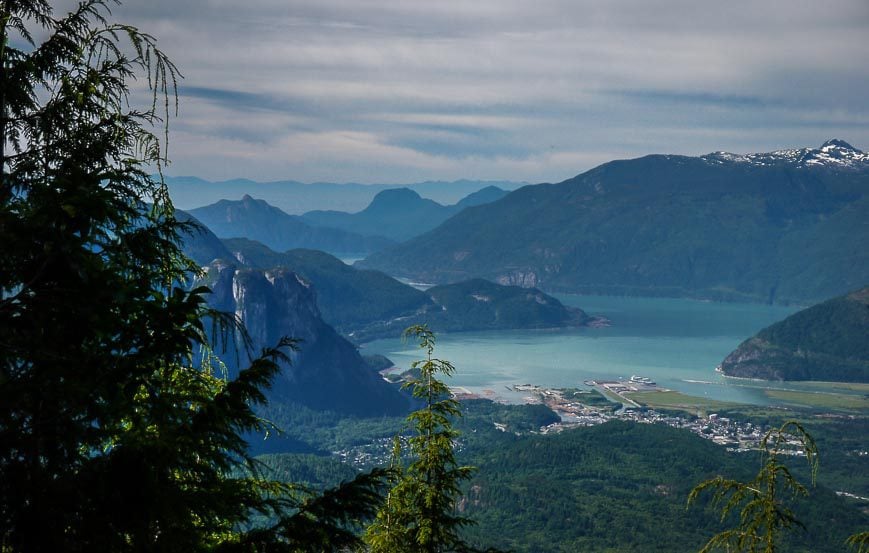 Squamish
It's only a short three to four kilometre drive to reach Squamish from Stawamus Chief. If you're on a bike, this section of road is always a challenge as the sight lines aren't great and the wide shoulder disappears and doesn't reappear until you get through the town. Exercise extreme caution is you elect to continue through here.
Squamish bills itself as the Outdoor Recreation Capital of Canada. The city is known for its incredible mountain biking, rock climbing and kite surfing. The hiking in nearby Garibaldi Provincial Park is also first rate. If you want to stop here for a day I'd highly recommend the Elfin Lakes hike.
The Sea to Sky Highway between Squamish and Whistler
It's another 59 km to reach Whistler from Squamish. Along the way there are many opportunities to hike and even swim in the summer.
I'd also recommend a stop in Brackendale, particularly in the winter months when bald eagles congregate here. Check out the Explore Squamish website for a host of ideas on how to see them. My favourite is via a winter rafting tour.
It's just 5.5 kilometres from Brackendale to reach Alice Lake , a very popular destination for swimming, camping and hiking. Continue north for 33 kilometres to reach Brandywine Falls. It's about a 15 –minute, one kilometre walk to reach the falls, an easy stop to fit in on the Sea to Sky Highway.
Stunning views of the Tantalus Range greet you as you get closer to Whistler. There are a number of pullouts along the highway so you can fully appreciate the view.
It's a total of 85 km from Horseshoe Bay in West Vancouver to Whistler. I don't know what the elevation gain is but I do know it's up there – somewhere around 5,500 feet. (I should know as biked it as part of a Gran Fondo rode.) If you're driving, allow 75 minutes from Horseshoe Bay to Whistler without stops.
Whistler – the end point on the Sea to Sky Highway
Whistler is a year-round destination. No longer do you have to be a skier to enjoy the town. In summer I love it for all the fantastic hiking and biking opportunities. In winter it's an amazing place to ski if you have a bluebird day. And the mountains themselves are a summer playground with easy access to the top via gondolas.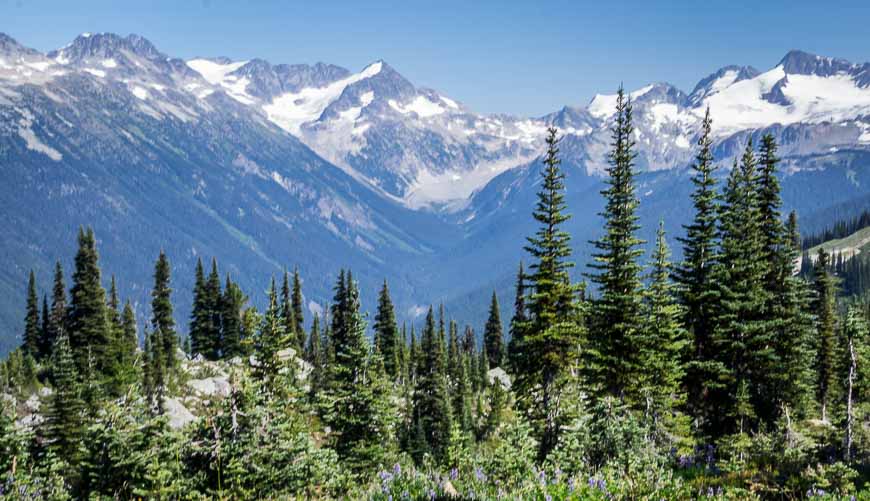 Where to stay in Whistler
While it is not an inexpensive town to spend a night – it's a treat to do so.
I'd suggest the Pangea Pod Hotel (Canada's first pod hotel) if you're on a budget.
I've always had comfortable stays at The Crystal Lodge and Suites as well as The Summit Lodge Boutique Hotel.
If you want a massive splurge check out the Fairmont Chateau Whistler.
Further reading on things to do in British Columbia
Click on the photo to bookmark to your Pinterest boards.