It's amazing the difference eight years can make to a place. Last time I looked, North Vancouver was a sleepy spot. The waterfront was pretty but I'd never have called it vibrant. And after 8 PM there was never a whole lot to do. That's completely changed with the addition of The Shipyards District at the bottom of Lower Lonsdale. Now I'd recommend you fit in as many of these things to do in North Vancouver as you can. It's a destination in its own right.
This post includes some affiliate links. If you make a qualifying purchase through one of these links, I may receive a small percentage of the sale at no extra cost to you. Thank you very much for your support.
Location map of things to do in North Vancouver
Click on the three dots to the left of the square in the top right hand corner to email a copy of the map.
Explore the Capilano Suspension Bridge Park in North Vancouver
The 27 acre Capilano Suspension Bridge Park offers visitors three unique ways of interacting with the coastal forest – via the Capilano Suspension Bridge, a Cliffwalk, and a Treetops Adventure. I was leery before coming thinking this was just going to be one giant tourist trap. Was I ever wrong! Certainly the company is in business to make money – but at the same time they deliver outstanding experiences you won't find anywhere else.
There's a high fun factor, it's family-friendly and the few hours I spent here far exceeded my expectations. Allow time to do all activities and to walk through the forest.
The Capilano Suspension Bridge
Walk and sway 137 metres (450) feet along the suspension bridge, 70 (230 feet) above the Capilano River. Go early or late in the day if you want to avoid any line-ups. From the bridge you may see bald eagles feasting on fish in the river below.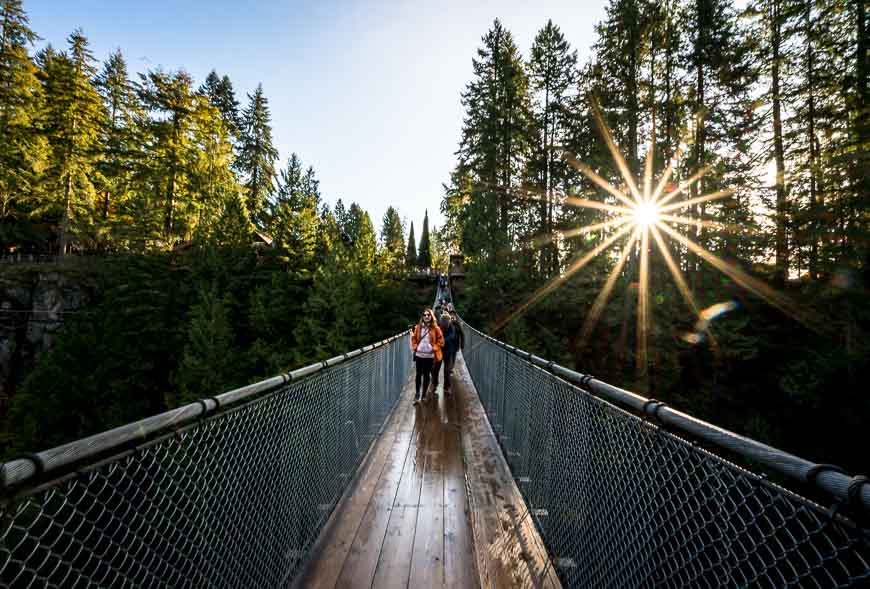 Try the Cliffwalk at Capilano in North Vancouver
In operation since 2011, the Cliffwalk is a series of very narrow cantilevered bridges that hug a granite cliff, 110 feet above the Capilano River. There are lots of viewing platforms so people can pass – and you can get that Instagram-worthy shot.
Interestingly only 16 anchors hold the catwalk in place – but they've been drilled by hand into the cliff with some going as deep as 6 metres (19 feet). To reinforce them over half a kilometre of steel rods were drilled into the cliff face.
The bottom line – this is a well-built structure that is not going anywhere – though if you're deathly afraid of heights don't look down.
Don't miss the Treetops Adventure – one of the really fun things to do in North Vancouver
If you're looking for a "squirrel's eye view of a coastal forest" do the Treetops Adventure on the far side of the Capilano Suspension Bridge. Seven suspension bridges attached to eight monster – sized 250 year old Douglas fir trees weave through the forest. Beside each tree are viewing platforms – attached to the tree in such a way that nails and bolts aren't required. In fact the platforms can move as the trees grow.
Some of the bridges are up to 110 feet above the forest floor so take your time if you're fearful of heights. It's a whole lot of fun and one of the top things to do in North Vancouver.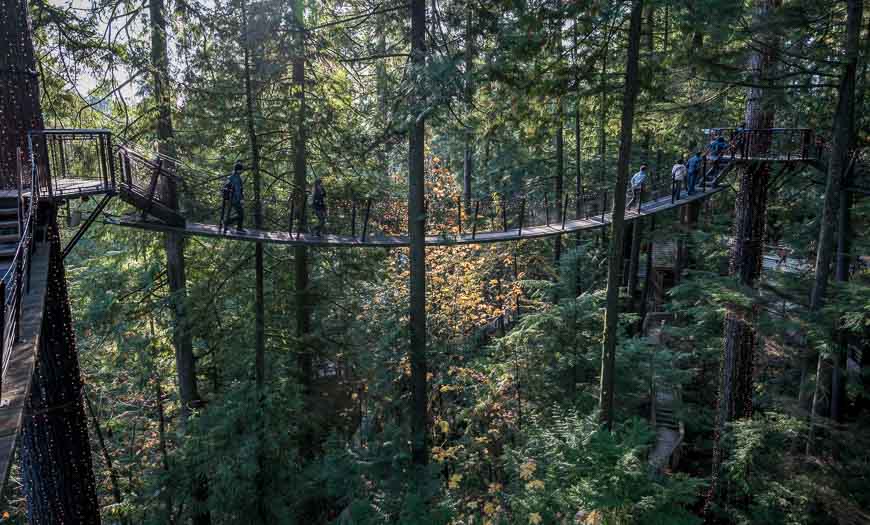 Don't miss a walk through the forest looking for sights like the one in the photo below.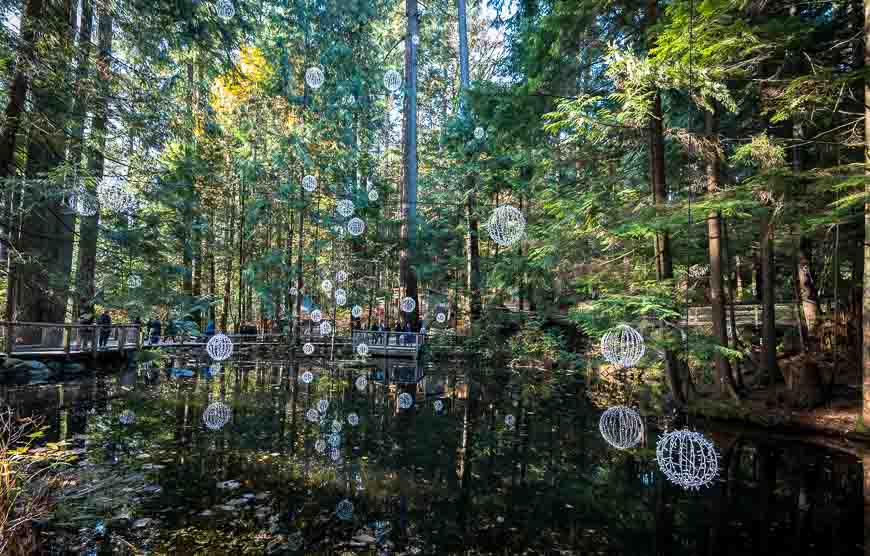 Go kayaking out of Deep Cove in North Vancouver
From March to September I used to paddle twice a week with my Seventh Wave dragonboat team out of Deep Cove. Returning to the area was bittersweet. It made me realize just how much I miss the ease of getting out onto the water. The Glenmore Reservoir in Calgary doesn't offer anywhere near as pretty a backdrop.
I spent a few hours one morning kayaking with a guide from the Deep Cove Kayak Centre. Together we paddled across Indian Arm to the Twin Islands – a distance of roughly 5 km. It was as beautiful a day as you could ever get in November – with close to summer-like temperatures, calm waters and picture-perfect mountains.
While we just did an out and back paddle, you can rent kayaks and SUPs from Deep Cove Kayak, and in fact paddle all the way down Indian Arm and camp for the night. There are three campgrounds and a trip around here sure is a lovely way to appreciate the coastal mountain scenery.
In winter, Deep Cove Kayak is closed for rentals but they do offer winter kayaking tours. Kayaking in Deep Cove is one of the exceptional experiences to enjoy in North Vancouver.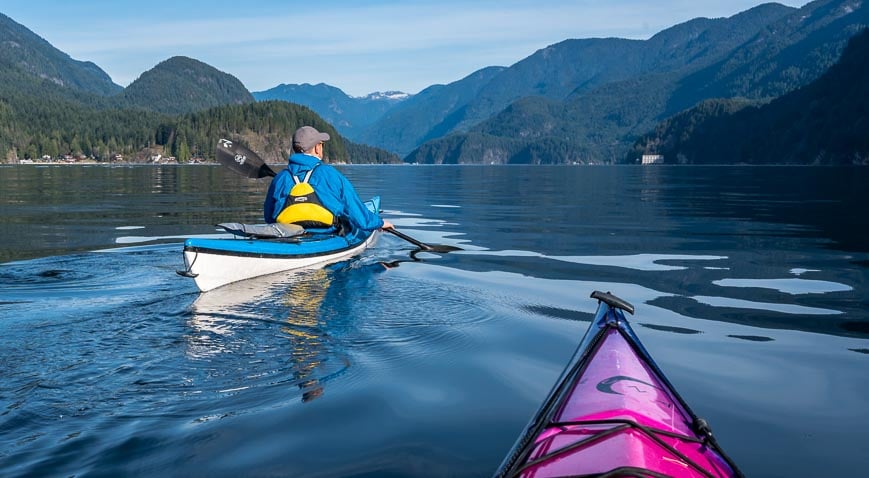 Check out the Pier at the Shipyards District Lower Lonsdale – one of the top things to do in North Vancouver
Walk out the 700 foot length of the Burrard Dry Dock Pier in Lower Lonsdale to get superlative 360 degree views of downtown Vancouver, Stanley Park and North Vancouver. If you go first thing in the the morning you might have it to yourself. On a hot summer day, you'll have lots of company.
Visit the Polygon Gallery in Lower Lonsdale
The Polygon Gallery has been around for over 40 years though for most of its life it went by the name Presentation House Gallery with digs at Third and Chesterfield. The new gallery space at the bottom of Lower Lonsdale in North Vancouver is stunning. Apart from the airy interior space, I especially like the wave-like action of the water running continuously in front of the gallery and the killer view from the second floor.
The gallery has a reputation as one of "the most adventurous public art institutions." They have a big focus on photography and have in the past featured works by Ansel Adams. You can also expect to see thought provoking installations like the one pictured below.
Entrance is by donation. Exhibition tours are held every Saturday at 2 PM. An onsite café is coming soon.
Peer over the edge of the Cleveland Dam – one of the free things to do in North Vancouver
The Cleveland Dam is a popular FREE tourist attraction in North Vancouver that fits well with a visit to the Capilano Suspension Bridge Park. The concrete dam stands 91 m tall at the head of the Capilano River. It's an awe-inspiring sight to say the least – and again one of the places I never visited when I lived here.
It's definitely worth a half hour of your time. Be sure to take the trail that gives you a view of the dam from below. And then if you're feeling energetic and adventurous head out for a hike on a section of the Baden Powell trail.
Capilano Lake or reservoir as it is also called, is a beautiful looking lake but it's completely off limits to the public. The photo I took below was through the wire fence.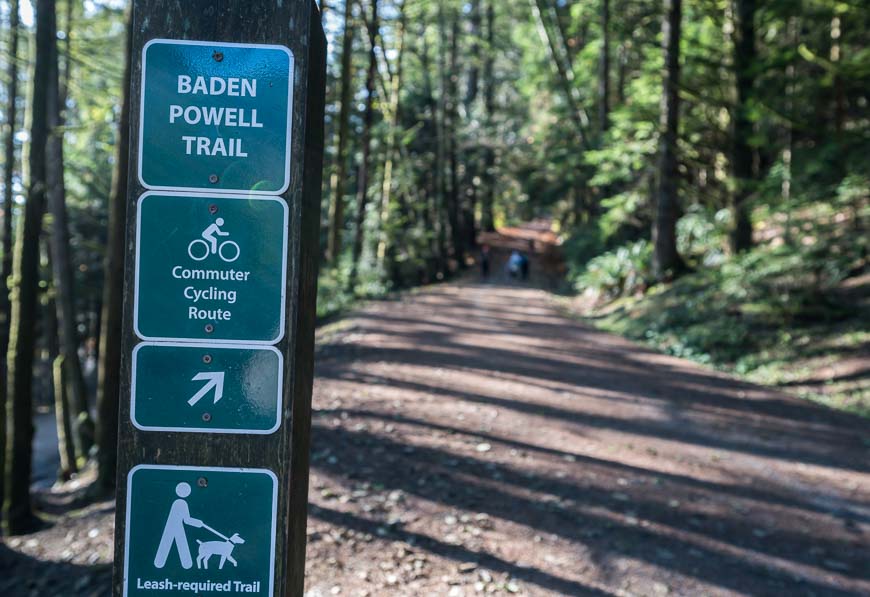 Catch a sunrise and a sunset
One of the things I really miss about Vancouver is the sunsets. It's not like we don't get them in Calgary, but I rarely get a good one with the vivid oranges where I live. It was pretty sweet to be able wander into our hotel room at the Pinnacle Hotel at the Pier and catch such a glorious sunset from our balcony.
If you want a pretty sunrise and a coffee, head first for Caffè Artigiano in the Shipyards and then you are literally steps away from The Pier. It's a perfect place to catch a sunrise.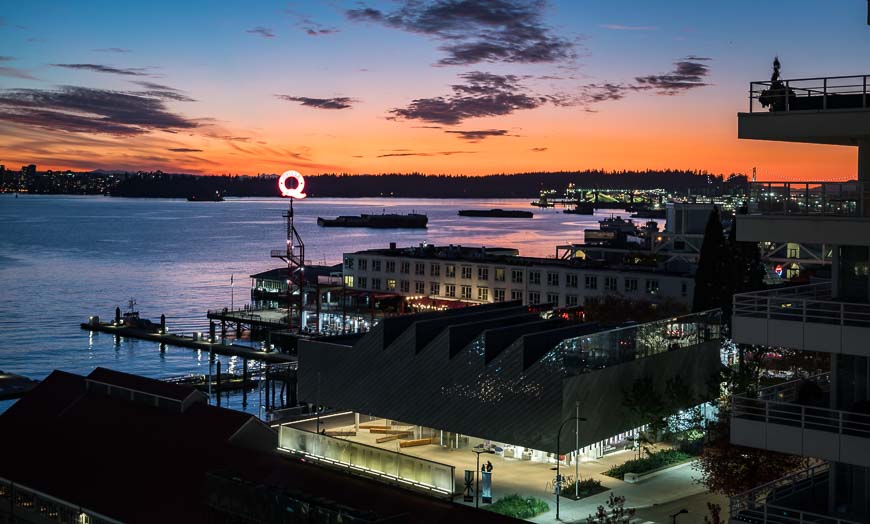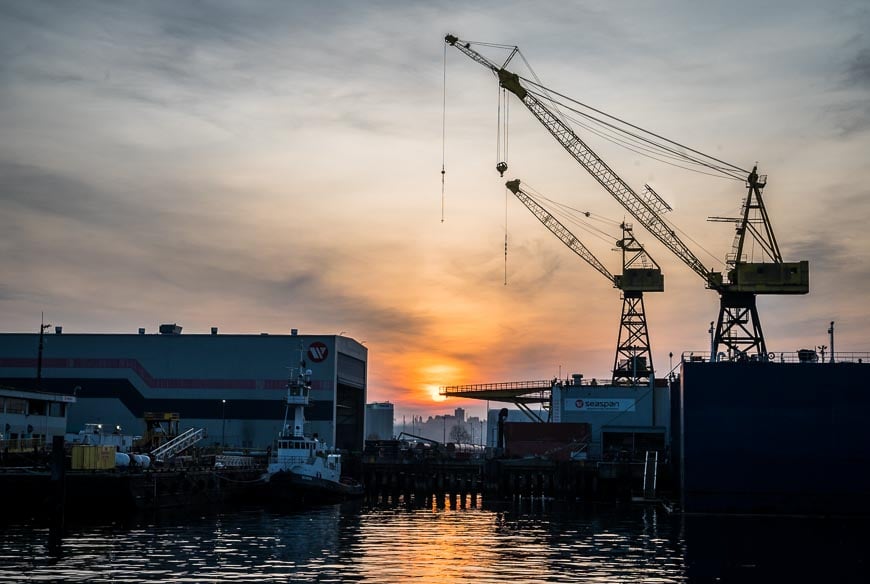 Nose about the Lonsdale Quay Market in North Vancouver
Home to 80 locally owned businesses, the Lonsdale Quay Market sells everything from fresh produce to fish, meat, BC wines, kid's toys and designer made clothes. You can also grab and go – picking up fresh pastries and a coffee or even a full meal.
Enjoy the café and restaurant scene at The Shipyards in North Vancouver
There are lots of places to eat and drink at the Shipyards in North Vancouver. Be sure to check out Tap & Barrel – either outside on their seasonal patio with superb views of the Burrard Inlet or in their large dining room. Friendly service along with lots of easy to love meals served up with 36 BC craft beer taps and 16 BC wine taps ensure a memorable outing.
Other places of note include Jamjar Canteen for Lebanese food, Larry's Market for takeaway food, Lift Breakfast Bakery for fresh pastries through to dinner options. The Seaside Hotel and Pinnacle Hotel both have onsite restaurants.
Go for a hike in North Vancouver
North Vancouver is literally criss-crossed with hiking trails. I recommend snapping a photo of the trail at the start of your hike so you have something to refer to. Some of the trails get remote in a hurry or take you into tough terrain. Always go prepared with the 10 hiking essentials.
There's a lot of hiking to be done in Lynn Canyon Park with the hike that includes the Lynn Canyon Suspension bridge one of the most popular. The bridge stretches across a pretty canyon – 50 m above a river that boasts waterfalls and deep pools. It's free of charge to walk this suspension bridge.
From the suspension bridge you can access loads of trails in Lynn Canyon Park including 30 Foot Pool – a popular swimming hole in summer and Twin Falls. You can even access the trail to Rice Lake and the Seymour Demonstration Forest.
Other places to hike include Lynn Headwaters Regional Park located at the north end of Lynn Valley Road. In this park I'd personally recommend Lynn Peak, the hike to Norvan Falls and the fabulous hike to Coliseum Mountain if you're up for a long day.
I have yet to explore the myriad of trails that make up the Lower Seymour Conservation Area or the new Seymour River Suspension Bridge. I understand the climb Quarry Rock near Deep Cove is a good one for the views.
While I have done sections of the 48 m Baden Powell Trail that travels from Horseshoe Bay to Deep Cove, I haven't done the whole thing. Put that on your must-hike list too.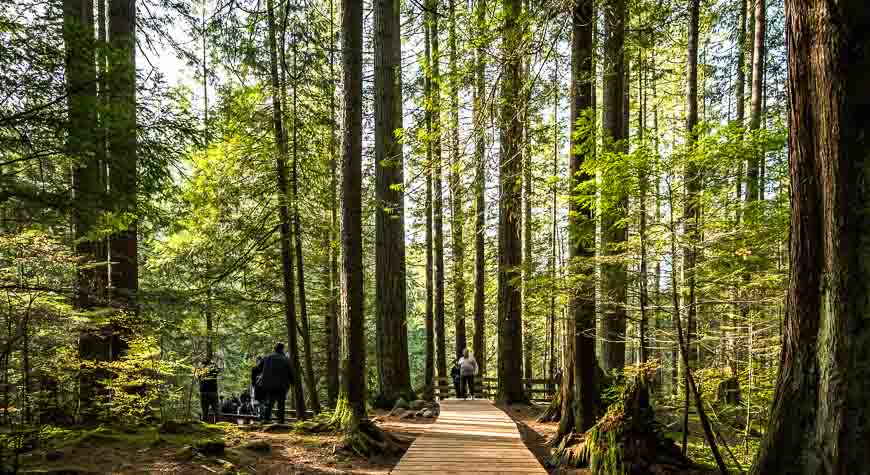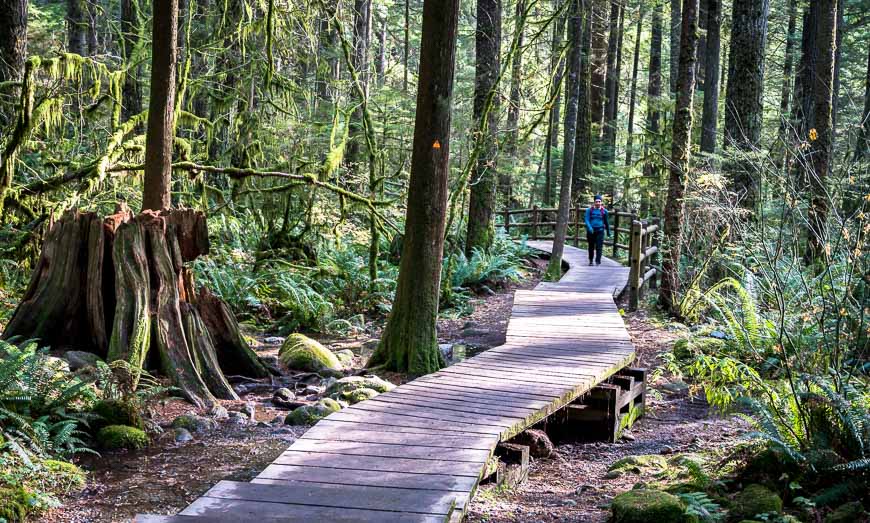 Climb the Grouse Grind – one of the hardest things to do in North Vancouver
I highly recommend climbing the Grouse Grind in North Vancouver for its workout qualities and the sense of accomplishment you get at the top – but not for its fun factor. I have probably climbed the Grind over a 100 times and I can't think of one occasion where I didn't wish I was on top – when I had just finished the only somewhat flat part of the hike at the bottom.
If you've had a dearth of happy hormones pulsing through your body, do this steep 2.9 km one-way hike. It climbs 853 m or 2,800 feet over that short distance. I measure the climb in my mind against every steep hike I do in the world and there are few like it. A hike up Stawamus Chief in Squamish would be a similar experience.
But I and so many others go back time and time again – for the heart-pounding workout, the view from the top, and the camaraderie on the trail. Did you know that over 100,000 people climb it a year? I'd suggest early in the morning or on a rainy day if you don't want someone breathing hard behind you.
Most people ride the SkyTram down. You can buy one way tickets or a season's pass if you're likely to be doing it a lot.
The official course record set in 2010 by Sebastian Sales is 25:01. Mere mortals can take up to two hours to do it. The average is somewhere between 1 – 1.5 hours.
Go for a bike ride
Mountain biking is world-renowned on Vancouver's North Shore. While I love to mountain bike, I'm not much for the gnarly trails. But there is lots of other cycling available in North Vancouver.
One of my personal faves is the Demonstration Forest Road, part of the Lower Seymour Conservation Reserve. Enjoy a 24 km return trip on a paved road with a fish hatchery at the end. It's also perfect for families – or for people who want to go rollerblading or running.
You can rent an e-bike at Reckless Shipyards in the Shipyard District and head out for a bike ride along the Spirit Trail, a multi-use greenway that runs from Deep Cove to Horseshoe Bay in West Vancouver. In North Vancouver, the Spirit Trail is 6.5 km long. You can see the map on the City of North Vancouver website.
Visit Grouse Mountain – one of the most popular things to do in North Vancouver
While I've already suggested that you climb the Grouse Grind to the top of Grouse Mountain, I do appreciate that the majority of visitors scale the mountain via the SkyTram. At the top of Grouse Mountain you can enjoy Theatre in the Sky, Eye of the Wind, meals including a fine dining experience, a wildlife refuge, and a host of different outdoor activities depending on the season.
I love snowshoeing from the top of Grouse Mountain out to Dam Mountain and Thunderbird Ridge. Downhill skiing and snowboarding is great fun as is the ice skating for families. There are ziplines, a sliding zone and a terrain park too. Pick your favourite thing to do and plan to spend the better part of the day at the top of North Vancouver.
Where to Stay in North Vancouver

You are so spoiled for choice in North Vancouver with a couple of top-notch hotels in the Shipyard District – both offering superb views.

I stayed in a lovely room with a balcony looking out to the water at The Pinnacle Hotel at the Pier.

One of the recent additions that is sure to become a favourite is the Seaside Hotel North Vancouver.

The Holiday Inn North Vancouver, rated very good, is also an excellent choice.
Further reading on things to do in the Greater Vancouver area
Thank you to Tourism Vancouver and Vancouver's North Shore Tourism Association. They helped with organizing many of the activities I did on a recent fall weekend but all thoughts and opinions as always are my own.
Click on the photo to bookmark to your Pinterest boards.