Bowen Island is easily accessible as a day trip from Vancouver though it makes a fine weekend destination too. And you don't need to take your car! While there are no hotels on the island, there are many B & B's, cabins, and holiday homes for rent which you can find online if you decide to stay longer. It's kind of like having one of the Gulf Islands close to home.
When I lived in Vancouver, we used to hop over to Bowen Island for dinner. We'd make our way to the Horseshoe Bay Ferry terminal, enjoy the scenery on the 20 minute ride, walk the cove, eat dinner and head back. It always felt like we were on a vacation when we made the jaunt. If you have out of town visitors they will be wowed by the scenery on the way over to Bowen Island, and will undoubtedly have fun on the ferry ride from Horseshoe Bay.
This post includes some affiliate links. If you make a qualifying purchase through one of these links, I may receive a small percentage of the sale at no extra cost to you. Thank you very much for your support.
How to get to Bowen Island
Catching the 20-minute ferry ride to Snug Cove is a great way to start your day trip to Bowen. Enjoy expansive views of Howe Sound that will blow you away with the beauty on a sunny day!
Check out the Bowen Island ferry schedule.
Where to stay on the island
Artisan Suites, a 4 star inn offers modern rooms, some with views and a delicious breakfast.
Another top choice is Hummingbird Hut, a holiday home rated as exceptional.
Bowen Island Map
What to do on Bowen Island
Although Bowen Island is only 20 square miles in size, there are loads of ways to enjoy the island life. When you arrive on Bowen Island there are a number of shops and restaurants to wander around in and on summer weekends a great outdoor market is held in the Square. It sells locally grown produce, bread, jewelry, and other island-made items.
Look for the small local museum where you can learn about the island's history and the effect that the Union Steamship Company played in bringing people to Bowen in the past.
There's enough to do in the Cove for a few hours. Take a gentle stroll along to Mannion Bay and enjoy it's sandy beach or head off in the other direction on some easy trails to Dorman Point in Crippen Regional Park. Here you're rewarded with excellent views of Howe Sound.
Take a hike on Bowen Island
Hike to Killarney Lake
An easy hike on Bowen Island takes you from Snug Cove to Killarney Lake. This is a loop trail that will bring you back to your starting point just in time for lunch at the waterfront pub in Snug Cove. You can watch for your return ferry while you're enjoying the sunshine on the outdoor deck. The walk is flat and will take under two hours start to finish at an easy pace.
Do the hard hike up Mount Gardner
Want an incredible view from the top of the island? Then do the strenuous hike up Mount Gardner. Start at the Hiker's Trail Road Trailhead – which you can walk to from the ferry in under an hour. Count on 5 hours to do the up and back hike – primarily because it's 11 km return with an elevation gain of 719 metres.
At the top, if its a fine day, you should be able to see as far away as Mount Baker along with some of the landmarks close to Vancouver including Howe Sound, the Sunshine Coast, West Vancouver, and Burrard Inlet. There is even seating at the top provided in the form of a helicopter landing platform!
Visit one of the beautiful Bowen Island beaches
There are 48 beaches on Bowen Island, mostly on the west side. They include Bowen Bay Beach, Bluewater Beach and Tunstall Bay plus there are numerous small beaches found off the walking trails. There is sure to be a beach you can enjoy, and perhaps even have it to yourself.
Kayak to the Pasley Islands
Snug Cove has a kayak rental place right next to the ferry dock. The location makes it easy to explore the east side of Bowen.
There is also a good boat launching site from the west side of the island. Sometimes the kayak rental company will drop you and kayaks off so you can explore the Pasley Islands. (Highly recommended!)
Although there are the ubiquitous "private property" signs everywhere, there are many lovely spots to land. Arbutus Island is especially nice with white sand beaches which connect at low tide with nearby Hermit Island.
Kayaking the Pasley's is a wonderful paddle with much varied scenery and plenty to keep you intrigued about what is around the next corner. One rocky outcrop has an outdoor claw-foot bathtub perched above an outhouse, all precipitously overhanging the water.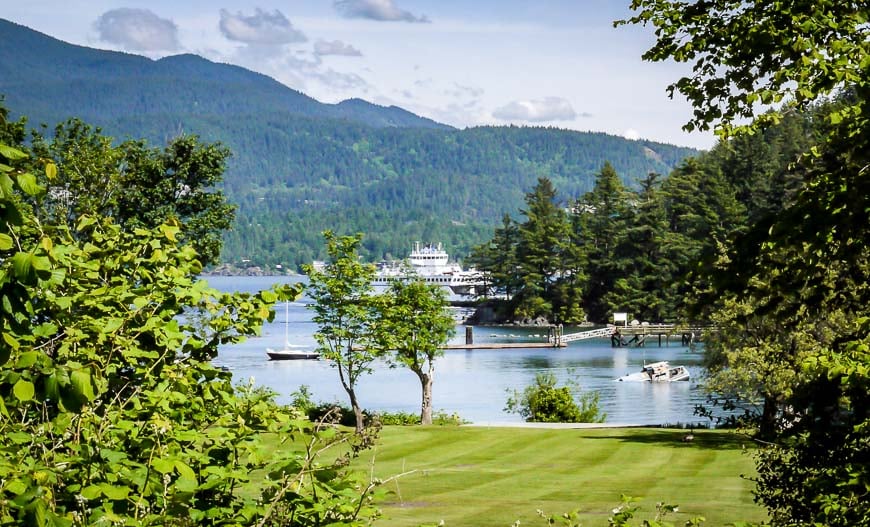 Rent a bike on Bowen Island
You can certainly take your bike on the ferry to Bowen Island, but you can also rent an ebike from Bowen eBikes. Their rental shop is just 20 metres from Snug Cove. There are a lot of hills on Bowen Island, so with an ebike you'll be able to cover a huge part of Bowen – and still have energy to burn. They're great fun and there's a short learning curve.
If it's ebiking you're doing, you'll be happy to know that there are three partner charge locations including Meadow Brook Market, Rileys Cidery, and the Golf Course. Guests can charge their bikes for even longer battery time while enjoying a meal or cider tasting at Rileys Cidery and Bowen Cider House attached to Meadow Brook Market.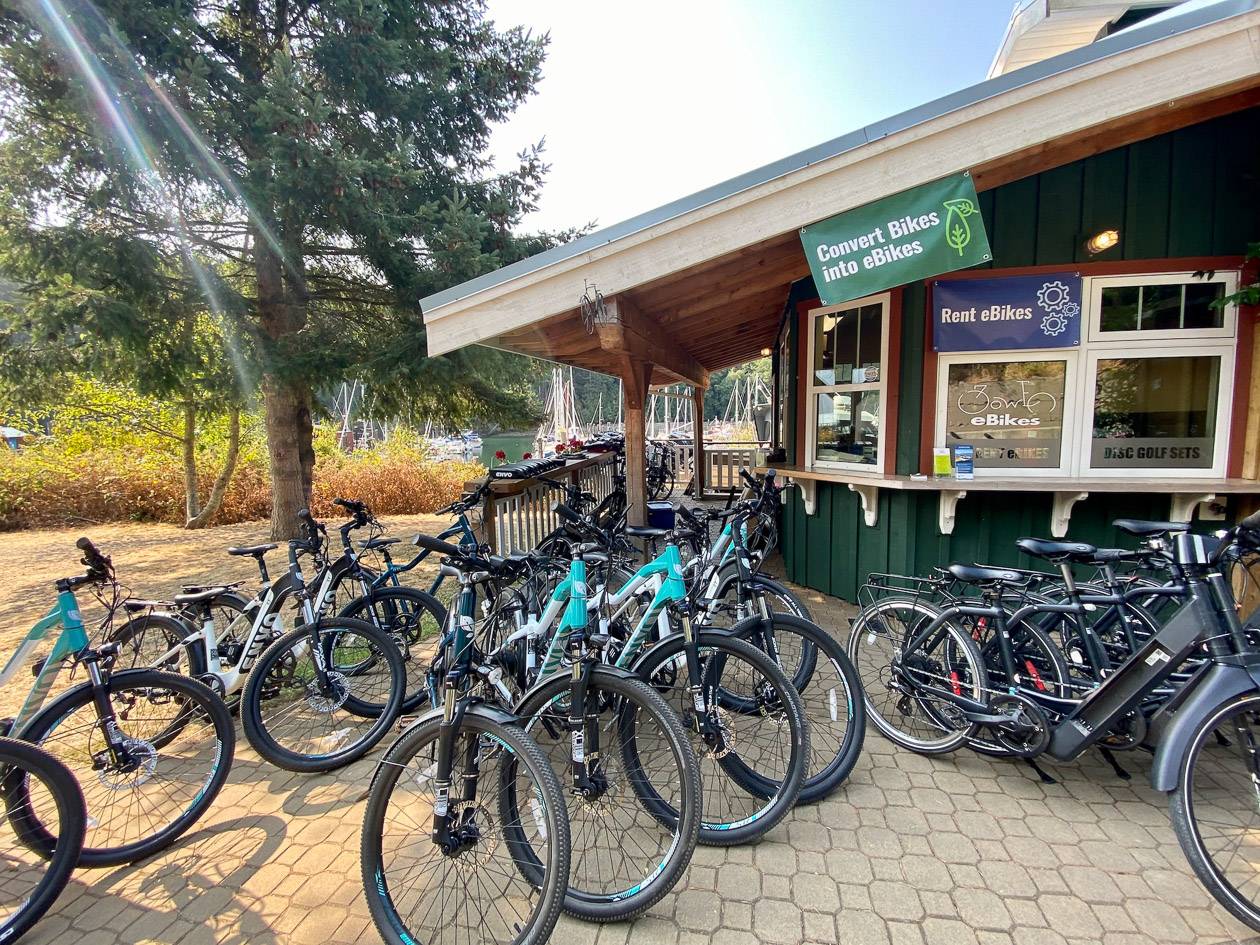 Bowen Island location map
Further reading on things to do near Vancouver
Click on the photo to bookmark to your Pinterest boards.