The Le Petit Train du Nord bike trip takes you on a 200 km multi-use trail in Quebec's Laurentian region and checks off almost every box cyclists dream about. Cue the beautiful countryside, delicious local food, charming small towns and villages, excellent signage and relatively easy cycling – especially if you bike from north to south.
Throw in the option of getting a shuttle to the starting point in Mount-Laurier and a daily luggage transfer and Le Petit Train du Nord is one winner of a bike ride. Plus it's easy to get to – with the start/finish point in the vibrant town of Saint-Jérôme just an hour's drive from Montreal.
This post includes some affiliate links. If you make a qualifying purchase through one of these links, I may receive a small percentage of the sale at no extra cost to you. Thank you very much for your support.
Petit Train du Nord history
Named in honour of a train that ran for decades between Saint-Jérôme and Mont-Laurier, Le P'tit Train Du Nord ceased service in November, 1981. It wasn't until 1996 that the Petit Train du Nord got a new lease on life. (And I do know it should be spelled P'tit not Petit.)
Tracks were ripped up, former railway station houses were transformed into museums and cafés and the old railway bed converted to a trail that is now used by cyclists, hikers, and rollerbladers when its snow free and in winter by cross-country skiers and snowmobilers, though they never share the same section of trail.
Called the longest linear park in Canada, the Petit Train du Nord trail is covered in asphalt in the northern section and packed dirt and crushed stone in the southern section. I was amazed that seemingly every bump and crack in the asphalt was circled in orange paint so you could avoid them and enjoy a smooth ride. While you don't need a mountain bike I found our rental bike – a hybrid to be a great choice. Cyclists on skinny tires seemed to do fine too.
Useful information for the Petit Train du Nord bike ride
You can park your car at Place de la Gare in Saint-Jérôme for $6 a day. Make sure you buy enough days to cover your entire bike trip on the Petit Train du Nord.
John and I could have knocked off the whole trail in two days, but that would have defeated the purpose of the bike ride. This bike ride is about the journey and not the final destination. We lingered over coffee in the morning, stopped whenever we felt moved to do so, got off our bikes and explored villages on foot, looked for birds and bemoaned the fact we hadn't packed our bathing suit – especially for a dip in the lake on a warm fall day in Mont Tremblant.
A bathing suit would be a welcome addition in the heat of the summer when the lakes beckon.
You don't need to speak French to bike Le Petit Train du Nord, though a little bit of French comes in handy.
We did meet a cyclist in Saint-Jérôme at the end of the trip who looked puzzled – because he thought he was in Mont- Tremblant. Pick up maps in English so you can figure out where you are and avoid this man's mistake. He had to retrace his steps – adding some 65 km to his day!
If you've forgotten anything – bike gloves, water bottles, helmets…you can purchase them in the caboose in Saint-Jérôme.
I would also recommend taking some arm warmers for cool days in the fall and a multi-tool should anything go wrong.
Plan your trip with the help of this great website. They'll help you organize a shuttle to the start of Le Petit Train du Nord as well as help you move your luggage from B&B to B&B. The website is full of useful links.
Wondering what to pack for Le Petit Train du Nord? Here's a complete packing list based on bike trips I've done.
Route map for Le Petit Train du Nord bike trip
An in-depth look at 4 days of biking Le Petit Train du Nord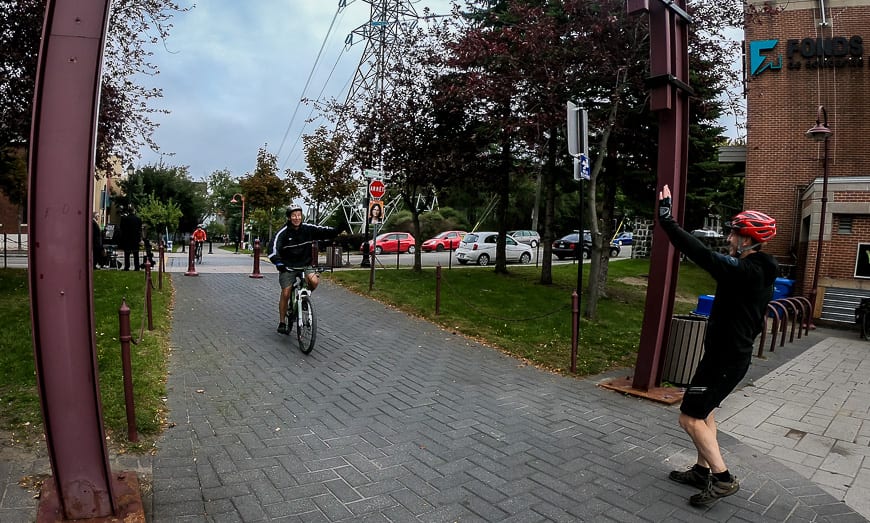 Le Petit Train du Nord – Day 1: Shuttle from Saint-Jérôme to Mont-Laurier
I was immediately impressed with the organization that goes into moving several vans full of people along with their bikes and luggage. While wandering from the parking lot at Place de la Gare in Saint-Jérôme to the caboose – home to the transportation company, Autobus Le P'tit train du Nord. These are the people that can organize everything for you from a distance including daily bag shuttles from B&B to B&B (though they only work with some of the ones along the route.)
When John and I were to check in, we were told by several helpful employees about how to get tags for our bags that would show where we were staying for the next three nights.
We could also see that our rental bikes had been pulled and were ready to be loaded. Inside the caboose we spoke with the very capable and personable Mrs. Aline Raymond. She answered all our questions, in both English and French, and had us on your way in no time.
Helpful hint: Pack lightly as the fellow responsible for the luggage transfer weighs each bag and if its more than 15 kg, you'll pay extra.
Note: Autobus Le P'tit train du Nord offers packages that include a shuttle to Mont-Laurier, bike rentals and transport, luggage moving and accommodation.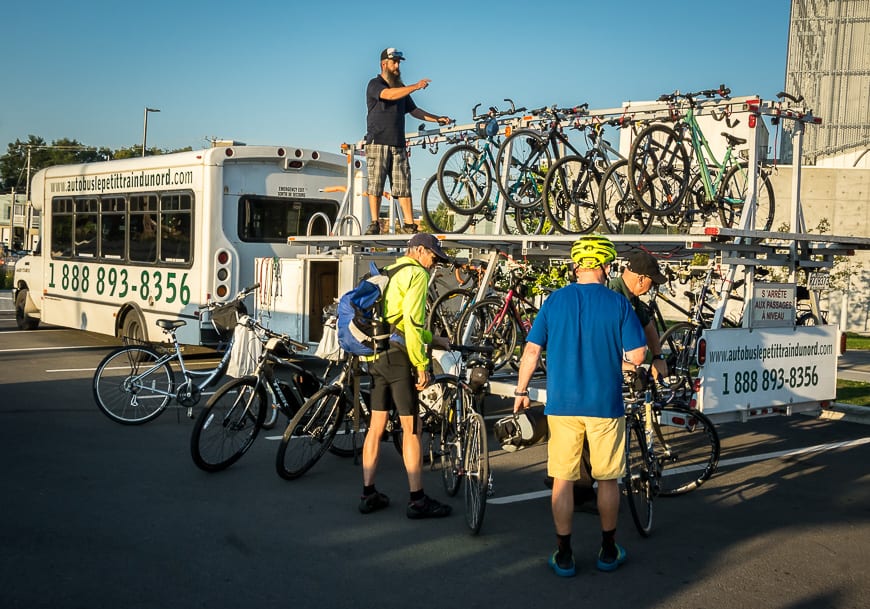 Be on time for the shuttle
Our shuttle left promptly at 8 AM. After a 2.5 hour drive with one stop for coffee, we arrived in Mont-Laurier. It didn't take long to get sorted and hit the trail – with the first stop a grocery store so we could enjoy lunch somewhere alongside a lake I'd spied on the map.
Places to stay in Mont-Laurier

If you're planning to spend the night in Mont-Laurier there is the Comfort Inn Mont-Laurier, rated very good.

If you're after a B&B experience, check out Gîte au Pied du Courant, rated fabulous.

There is also a Best Western in Mont-Laurier, rated very good.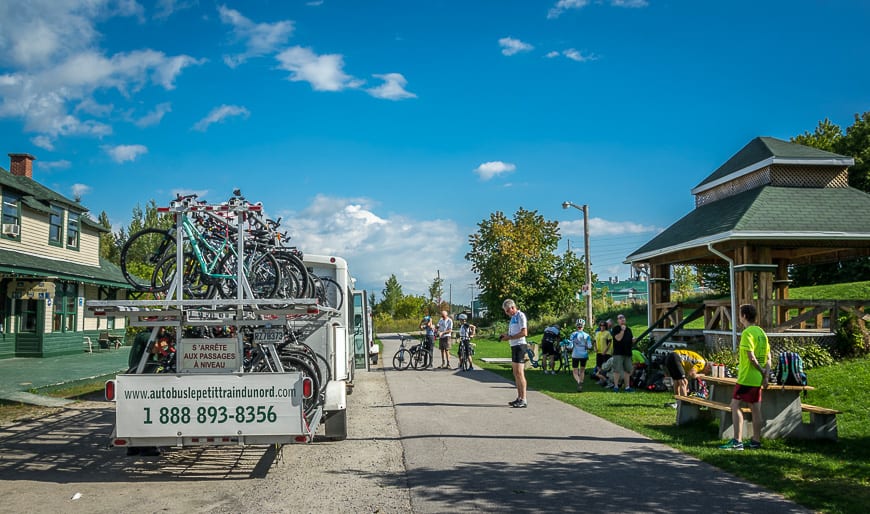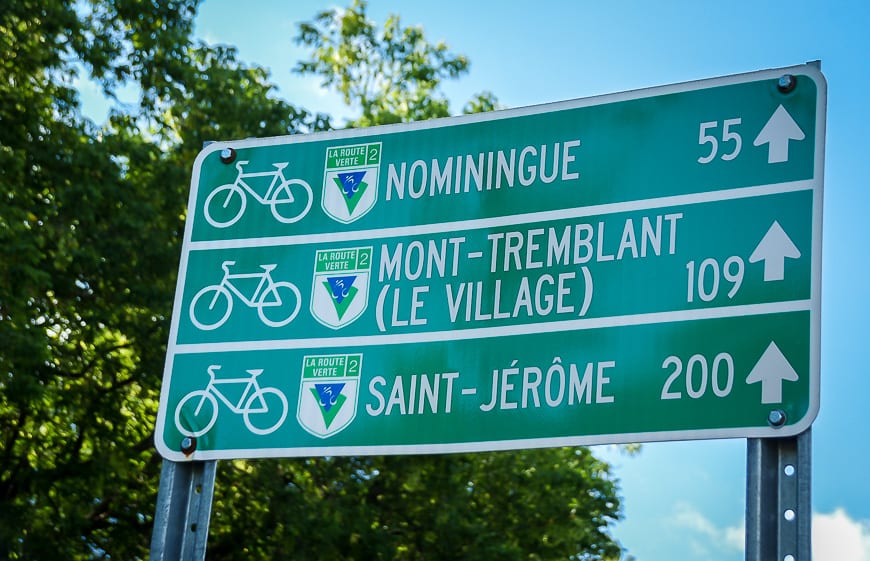 Bike 55 km to Nominingue on the Petit Train du Nord
It was an unseasonably hot day when we started out so when we arrived at a lake after just 30 minutes of easy cycling it seemed a tad premature for lunch – but it was such a pretty spot that we figured why not.
Dangling our feet inches above the water while seated on a shady rock seemed like an idyllic way to start the trip to me. From there we cycled on straight-as-an-arrow trails through wooded countryside with peek-a-boo views of ponds.
One in particular (pictured below) turned out to be a fantastic spot for warbler viewing as it was probably the start of the fall migration.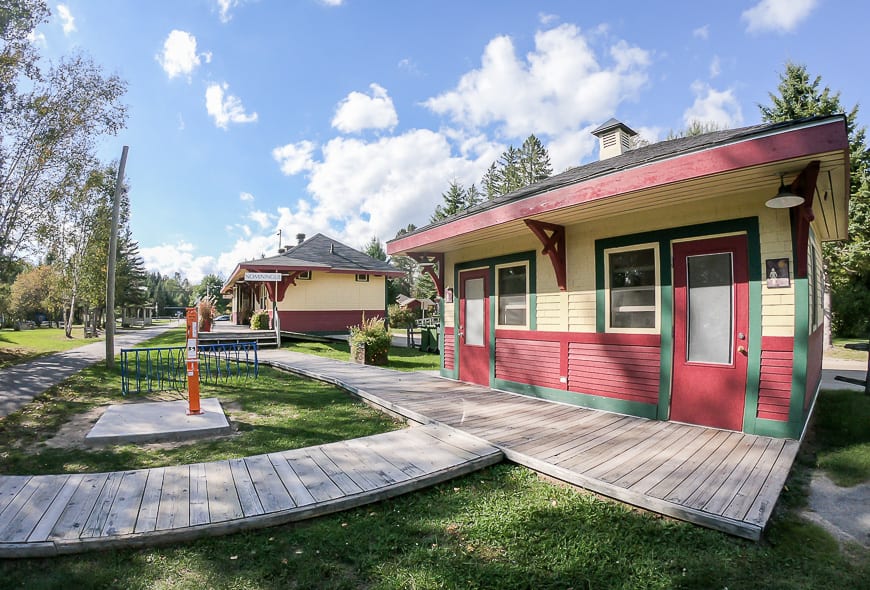 Where we stayed in Nominingue
Our first night was in Nominingue at Auberge Île de France, a B&B run by Red Seal chef Heiko Dechau and Nancy Pilote, a former nurse. Heiko turns out delicious meals (their memorable lip-smacking delicious peanut aioli boasts black garlic) and packed lunches (the best wrap John had ever eaten filled with hummus, fried onions and eggplant) while Nancy is a ball of fire, running to keep the inn humming and the diners happy.
It was at this inn we met a couple from Timmins and their daughter from Nanaimo. Over the next three nights – and right up until we got to the finish line, we crossed paths, sharing stories of the day on the trail each evening.
They weren't the only ones we met. Along the way we traded tales with a couple from Russia, a gang of cyclists from Vermont and another couple from north of Toronto.
Places to stay in Nominingue in 2023

There isn't a lot of choice as Auberge Île de France seems to be closed. There is one 3-star motel – Auberge Godard with a so-so review but if you just need a night, it's probably very doable. There are several holiday homes, but most require more than one night's stay.

Just a few kilometres out of town is the very nice looking and bike-friendly Auberge Chez Ignace.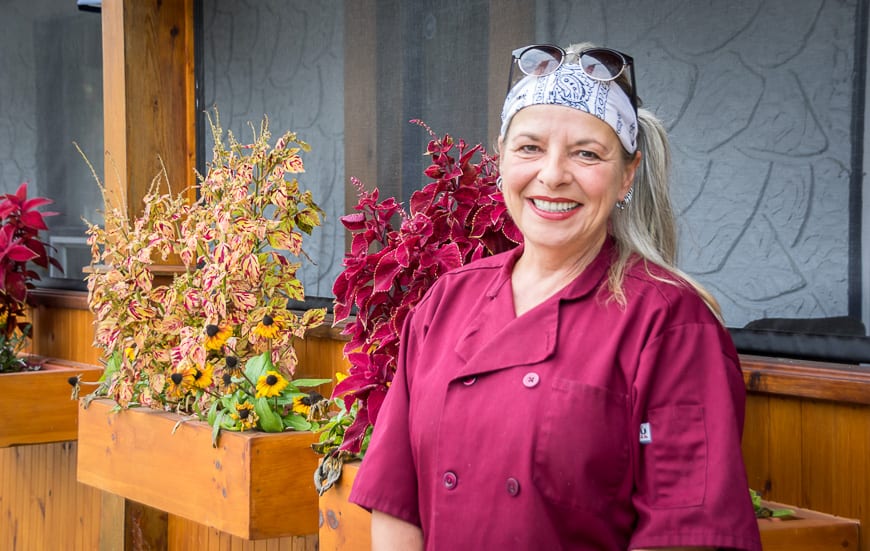 Day 2 – Nominingue to Mont-Tremblant – 63 km
After an omelet breakfast we were off, heading south on our way towards Mont-Tremblant. We blew by Auberge Chez Ignace just a few kilometres into the day's ride but if it's the end of a hot summer day, be sure to stop here. Go for a paddle or a swim and follow it up with a Belgian beer tasting.
We didn't stop to admire art exhibits put on by local people at Gare de L'Annonciation for it was closed when we rode through. And we opted for a quiet lunch in a farmer's field over Gare de Labelle (John is allergic to creosote so we had to blow through this area fast), a popular choice as its got a licensed restaurant.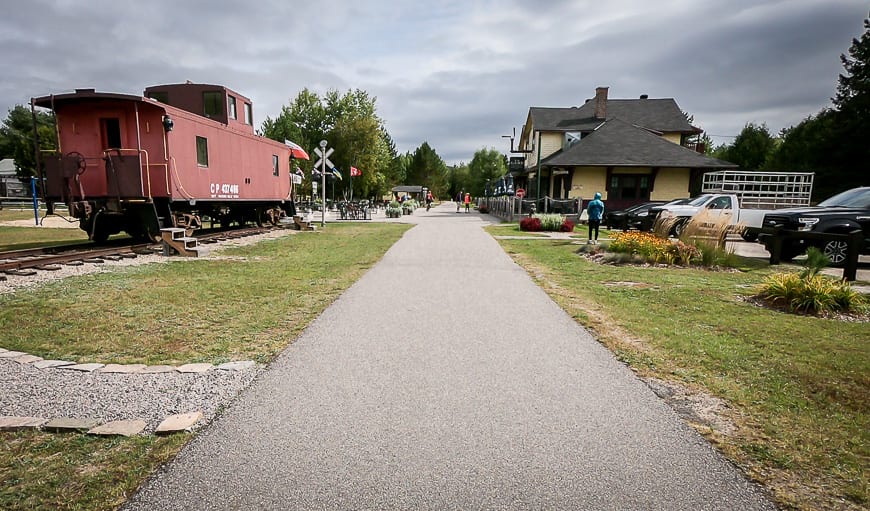 The closer we got to Mont-Tremblant the prettier it got. Mont-Tremblant Village with its old train station located on the banks of Lac Mercier definitely warrants a stop. Wander up the street for a beer or a latte. Go for a swim or even detour to Mont-Tremblant Resort – about 5 km off the Petit Train du Nord via a road.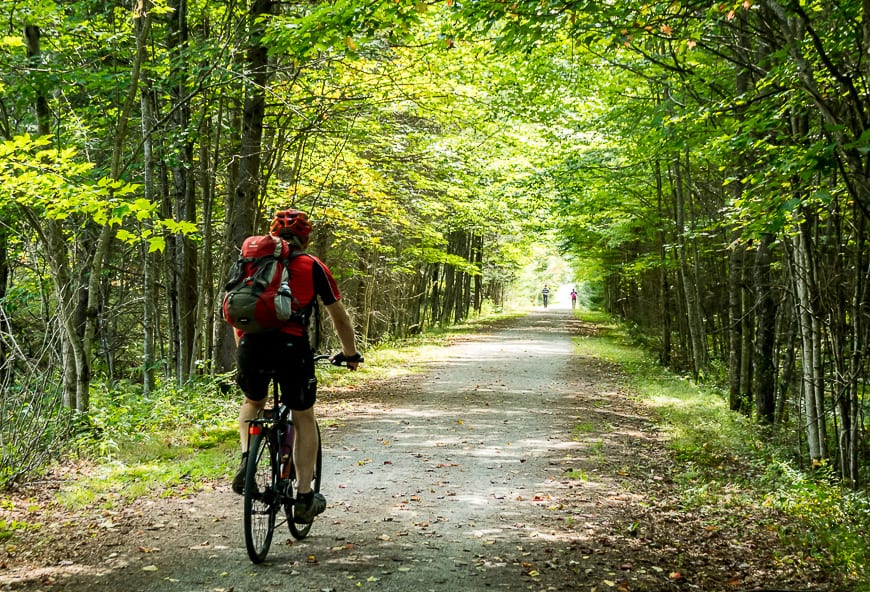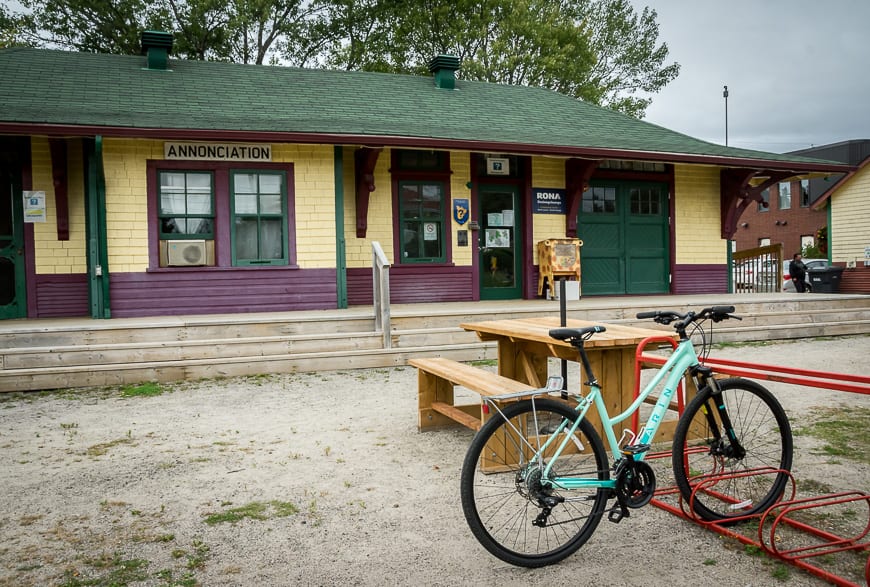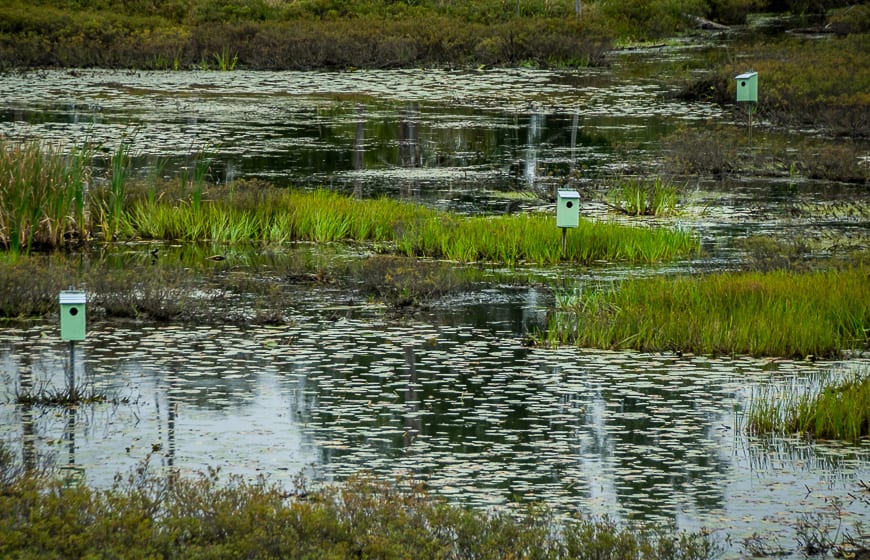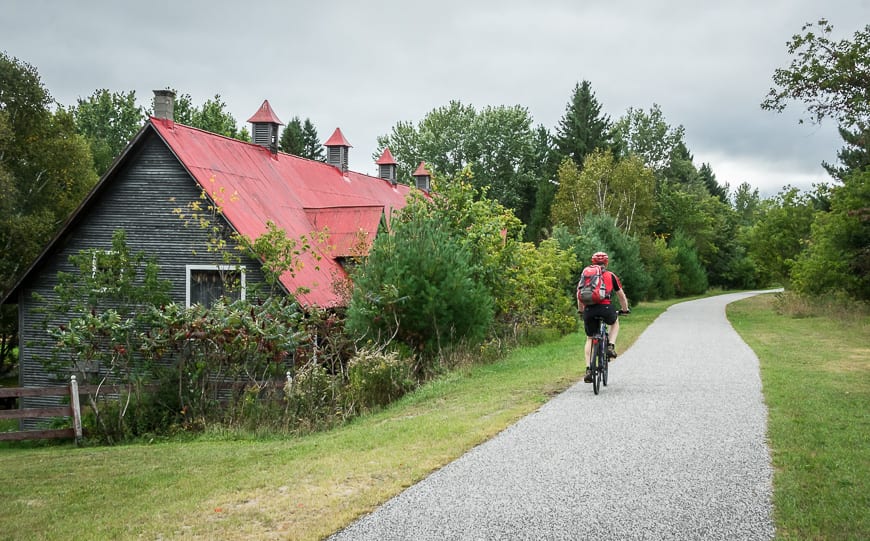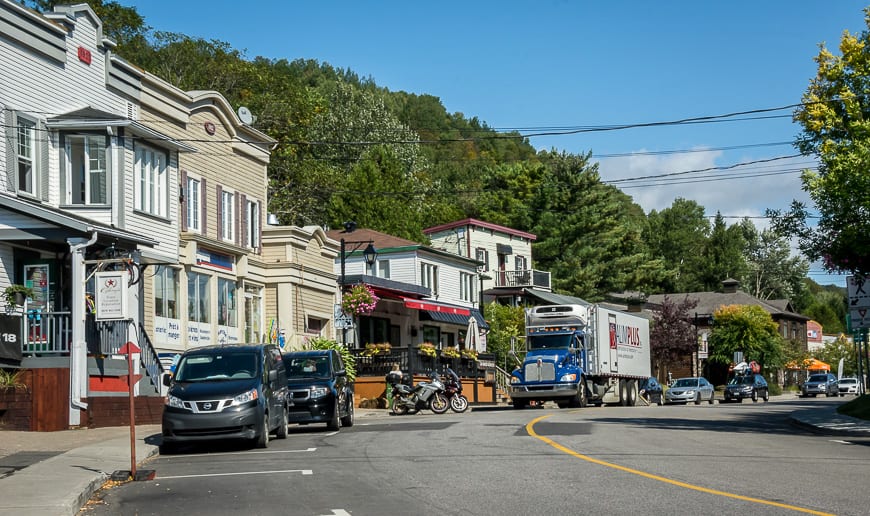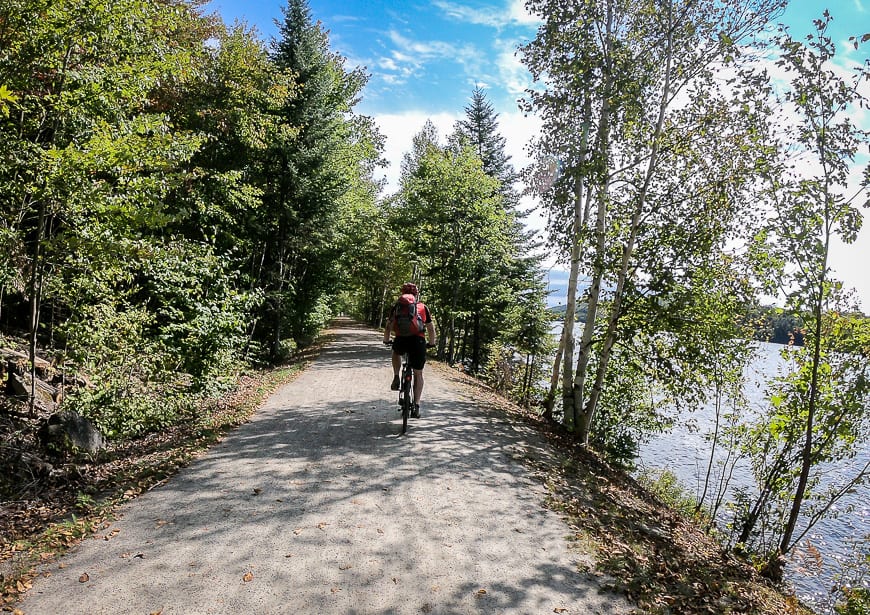 Our clean, comfortable accommodation for the night is no longer open. However, Crêperie Catherine, is still open – and is worth visiting for dinner, especially if you've got a big appetite. It's close to Le Petit Train du Nord.
Where to stay in Mont-Tremblant (close to Le Petit Train du Nord)

Le 900 Tremblant is very close to Le Petit Train du Nord and is rated highly.

Auberge le Lupin B&B is by Lake Tremblant with access to a private beach. It's rated exceptional.

Hotel Mont-Tremblant, a historic hotel in the heart of Old Mont-Tremblant Village is rated very good.
Day 3 – Mont Tremblant to Saint-Adèle – 49.5 km
This was the only day we started off with full rain gear – partially just to stay warm as the temperature had nose-dived.
After a fantastic breakfast – a French toast with fresh pears and lots of coffee, we were off – on a gradual uphill (barely noticeable) towards Val-David, though it was in Sainte-Agathe-des-Monts that we stopped to wander and eat lunch. It's pretty country through here with lots of lakes and rivers.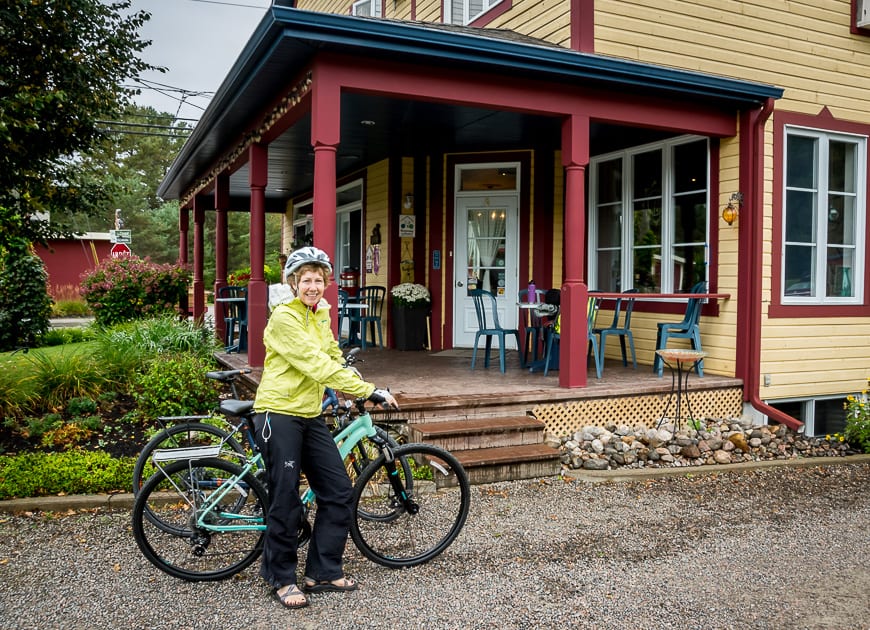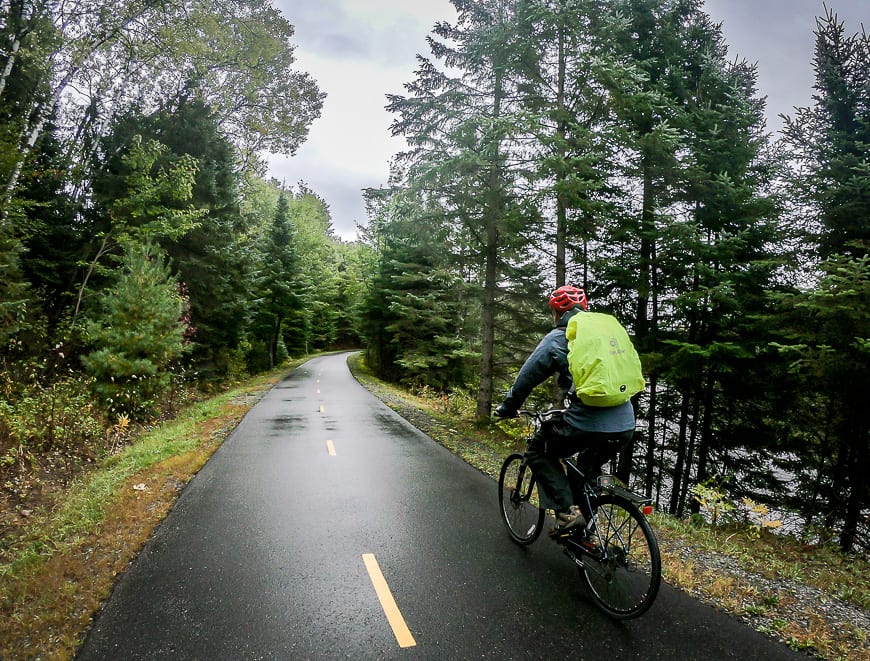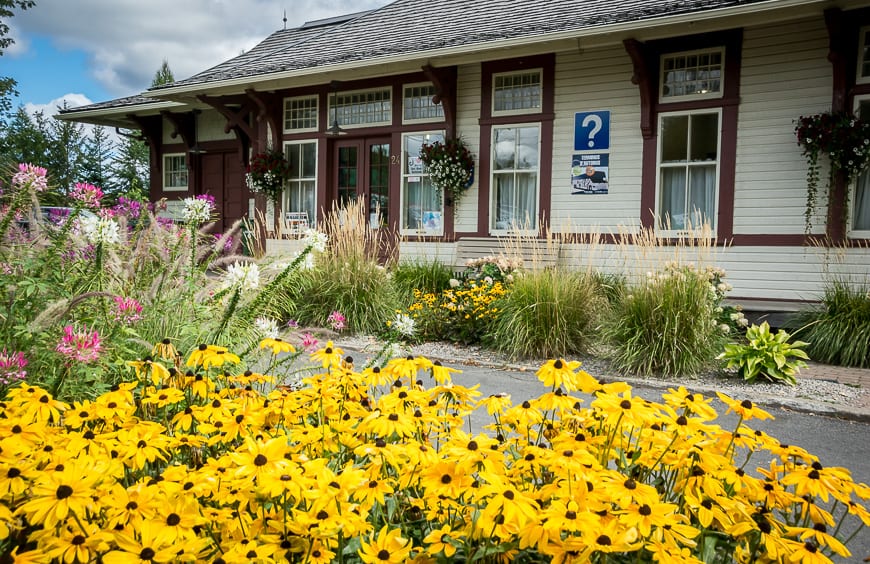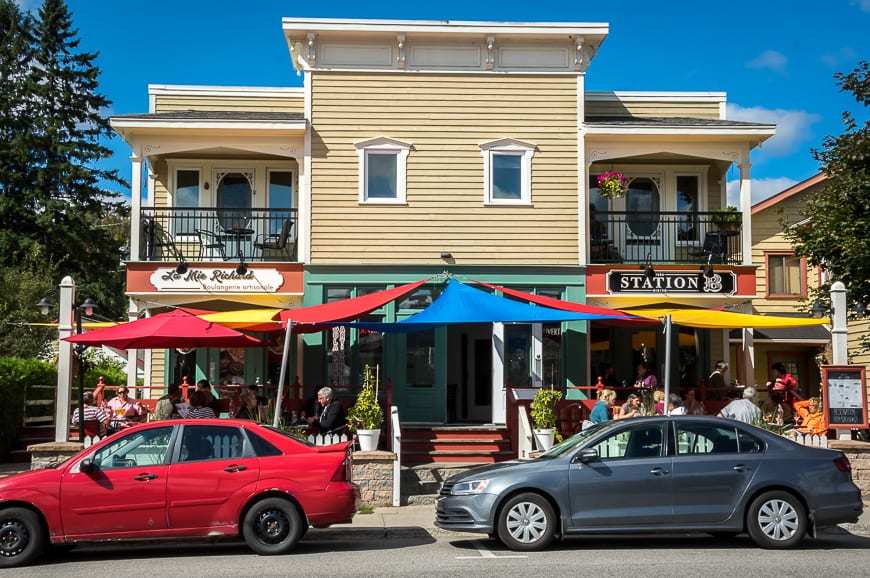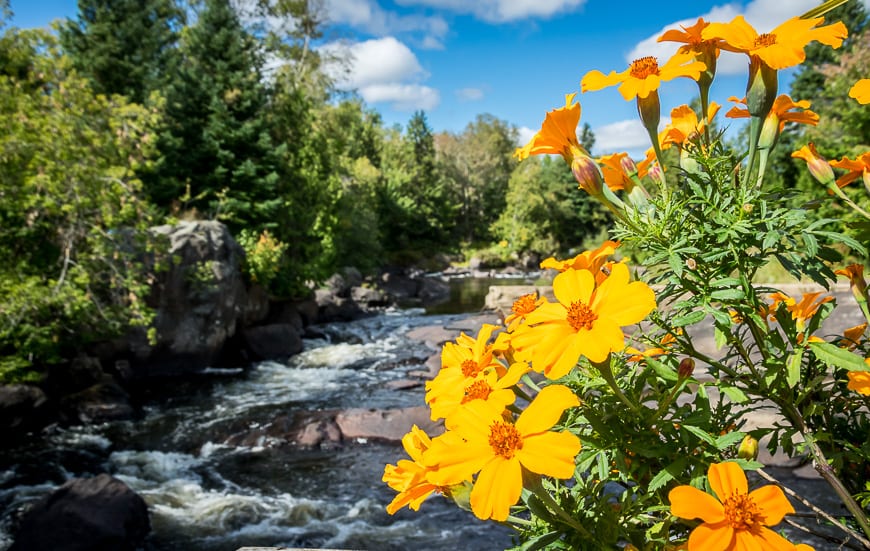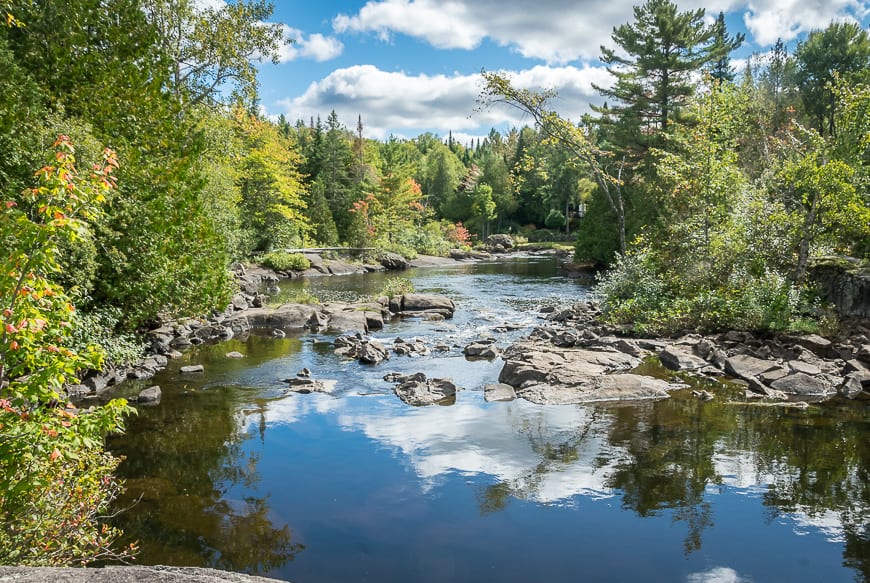 Where to stay in Saint-Adèle

Our B&B for the night, Auberge de la Gare, was just off the trail in an old home with beautiful pine floors. That night we dined in-house on freshly made gazpacho followed by a delicious hot broth fondue (we chose the lobster broth which I highly recommend), followed by apple pie. I think we ate more calories than we cycled off!
Day 4 on Le Petit Train du Nord – Saint Adèle to Saint Jérôme – 32.5 km
It was a fitting day to end the trip – what with cloudy skies and cooler temperatures. In fact the following day this area would see a massive rainstorm at the same time that Ottawa got hit with tornadoes. Our timing was perfect to be finishing and leaving.
You could feel the press of civilization the closer you got to Saint-Jérôme. The wildness had disappeared but there were still many beautiful sections, especially with fall colours in evidence and a particularly lovely section of white water along the Rivière du Nord.
It took us just 2.5 hours to roll under the archway that marked Kilometre "0" on Le Petit Train du Nord. While I would never call the bike ride difficult, finishing still felt like an accomplishment. It was a treat to explore this part of the world at a slower pace – and one I'd recommend to anyone who isn't in a rush.
Where to stay in Saint Jérôme

You may want to spend a night in Saint Jérôme before of after the Le Petit Train du Nord bike ride.

Best Western Hotel Saint Jérôme is one of your best bets. It's rated very good.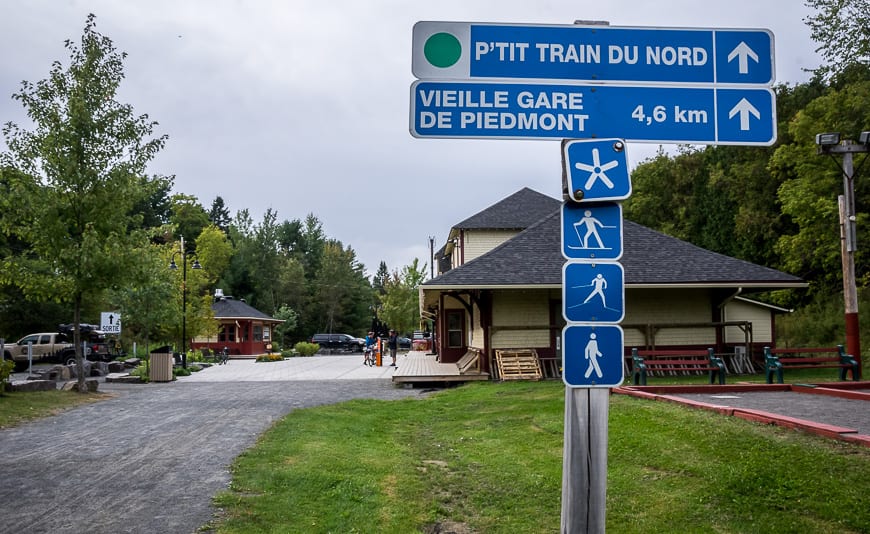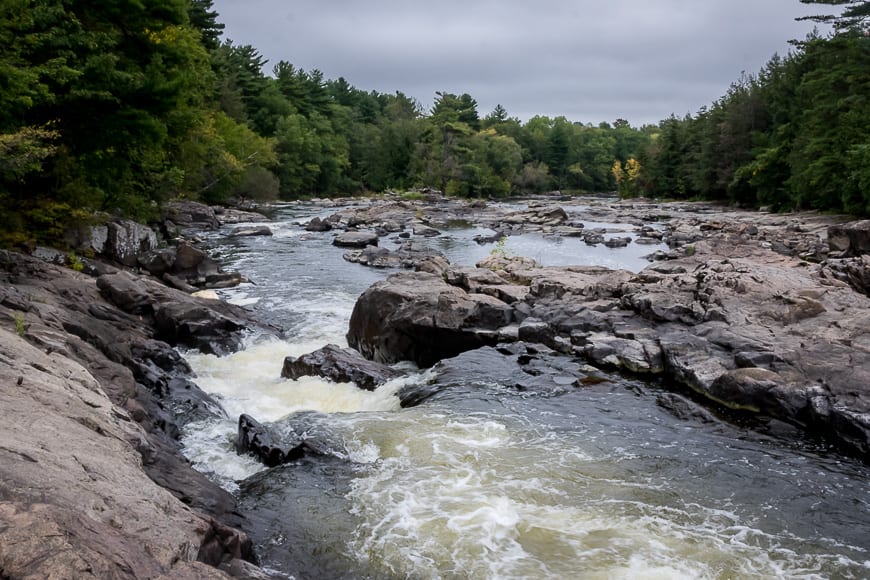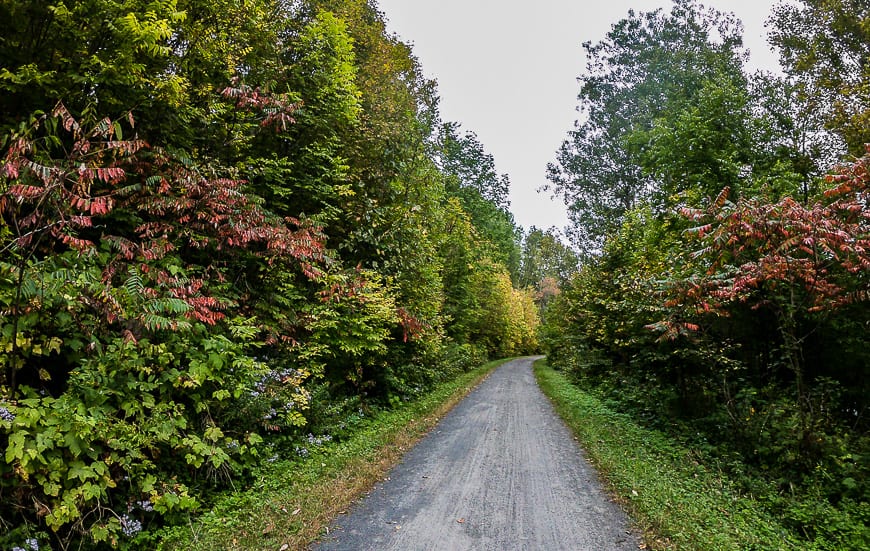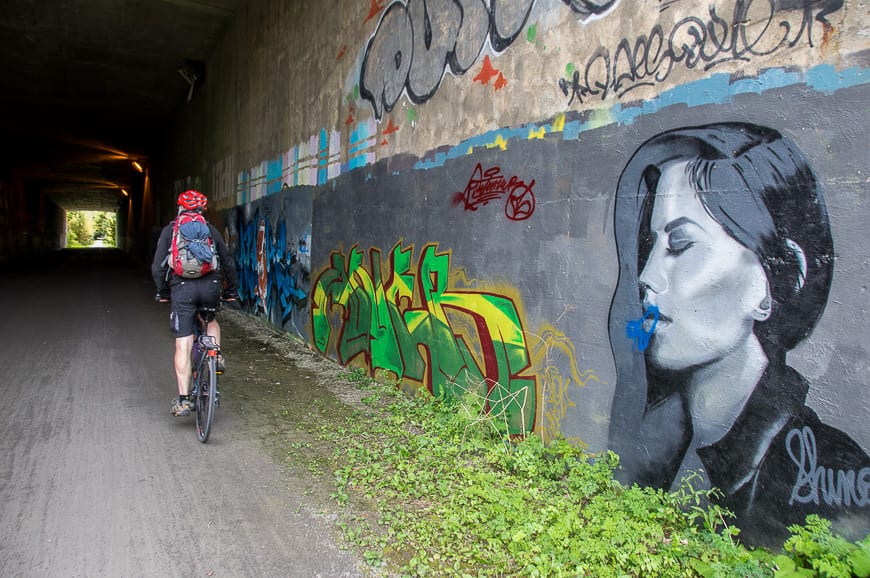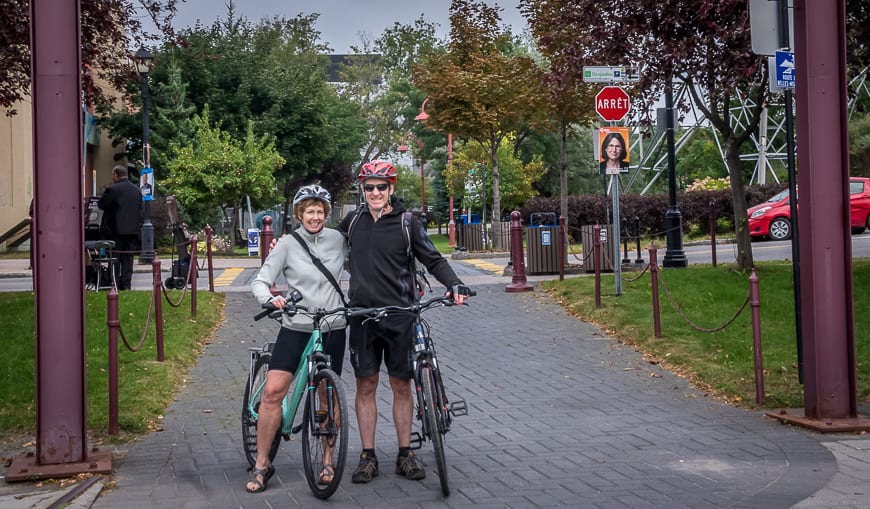 Useful items for your bike ride
If you're doing a self-supported bike ride, I'd suggest the Ortlieb waterproof bike panniers. Ours are over a decade old and still in great shape.
Don't forget to pack a bike pump in case you get a flat.
A bike lock is a necessity if you want to make any stop along the way. I like to carry a handlebar bag with my raincoat and bike tools rather than having something on my back.
Bike lights are one of those things you should always have – just in case you're out later than expected.
More bike rides in Canada you might enjoy
Click on the photo below to bookmark to your Pinterest boards.
A big thank you to Tourism Laurentians for hosting my trip.