My love affair with biking started in Ottawa with a turquoise-coloured CCM that was two sizes too big – because that's what you did in the 60's – you grew into your bike. Since then I have always loved the freedom a bike offers and the amount of country you can cover in a day. Ontario in particular has loads to offer the cyclist. Here are nine of the best bike rides in Ontario you'll have fun exploring.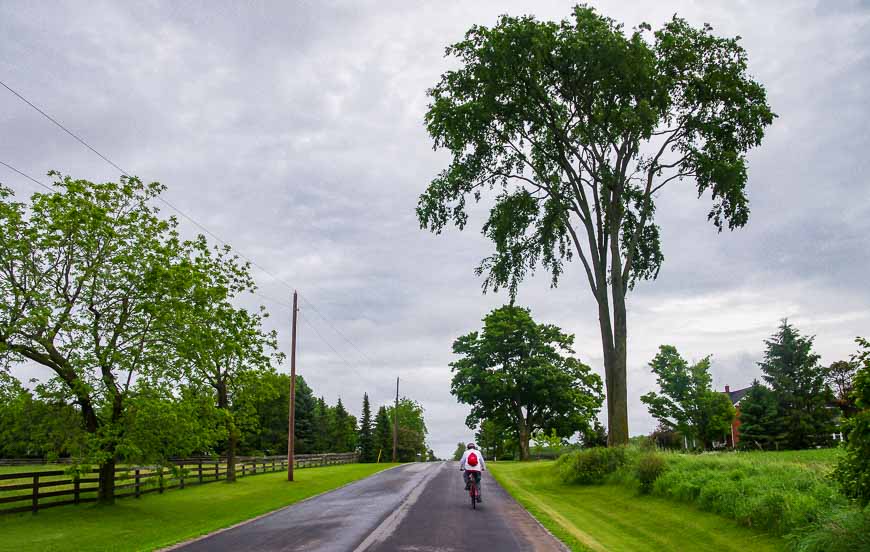 This post includes some affiliate links. If you make a qualifying purchase through one of these links, I may receive a small percentage of the sale at no extra cost to you. Thank you very much.
Location map of the best bike rides in Ontario
A few things to take on your Ontario bike ride
My preference is a handlebar bag with my raincoat and bike tools rather than having something on my back.
Bike lights are one of those things you should always have – just in case you're out later than expected.
I also love a good pair of padded bike gloves, including full-fingered ones if I'm biking early or late in the season.
A bike phone mount is another great option for your bike.
Pack a few protein or energy bars.
Usually you can find a place to refill your water bottle, but if it's a stinking hot day, throw in some water purification tablets do you don't get caught short.
Bike along the Rideau Canal in Ottawa – one of the best bike rides in Ontario
I was lucky to grow up in Ottawa for the city was ahead of the curve when it came to bike trails and Sunday street closures. One of my favourite bike rides takes you from downtown Ottawa along the Rideau Canal all the way to Hogsback Falls. It's ideal for a visitor as there is a bike rental shop next to the Rideau Canal.
With over 600 kilometres of trails, there's a lot of exploring you can do in the Ottawa area. Pick a part of the city you want to discover on a bike by downloading a map here. Don't forget you can head across the Ottawa River and include Quebec in your plans for the day.
Where to stay in Ottawa
From personal experience I recommend Hotel Andaz -with its great location in the Byward Market and well-appointed rooms. The Fairmont Chateau Laurier is a splurge but it's one of Canada's grand old hotels right on the Rideau Canal, and just a few minutes walk away from the bike rental place.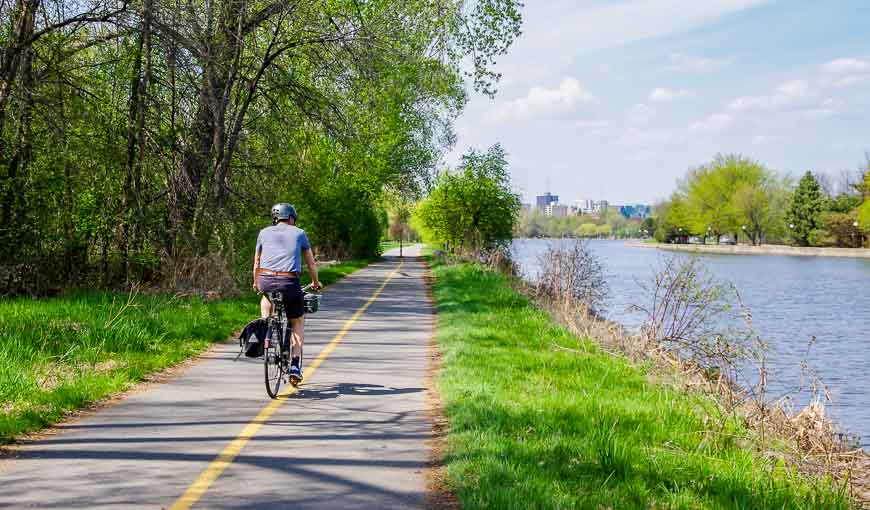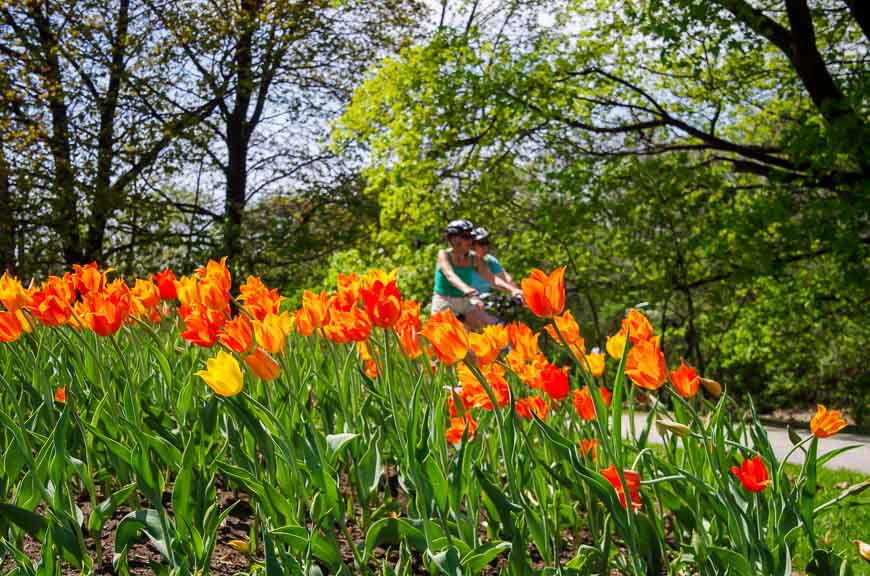 Biking in the Peterborough – Lakefield area
The Peterborough area is full of delightful surprises for the cyclist but is not well-known outside of the local cycling community. Offering everything from farm country to cottage country to kick-ass hills called drumlins, this part of Ontario will keep you coming back. As one of the best bike rides in Ontario, this area will have you smiling every time you reach the top of a big hill and giving a whoop of delight on the downhill.
Even better, there are great places to stay like Elmhirst's Resort (speak to Greg Elmhirst to get a local's suggestions on where to bike) so you can easily head out for a multi-day trip. Another bonus is the number of great locally owned places where you can refuel.
Read: Cycling in Peterborough, Ontario Over 3 Days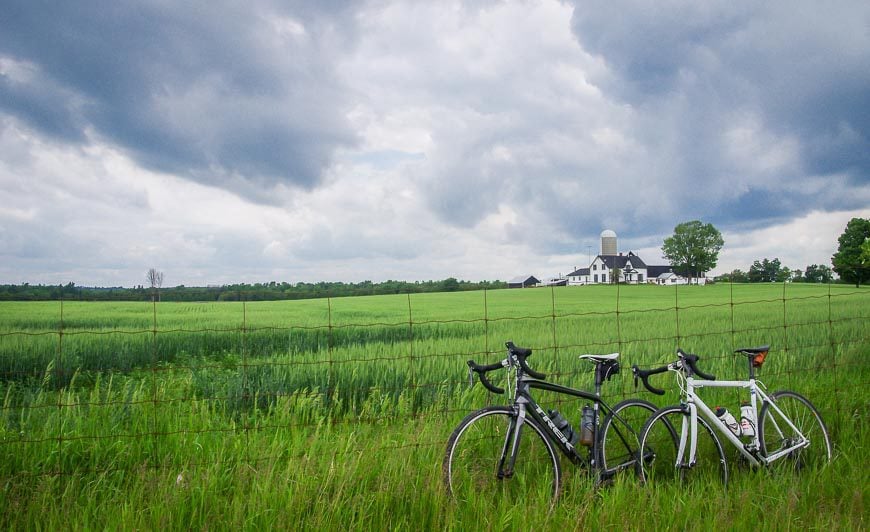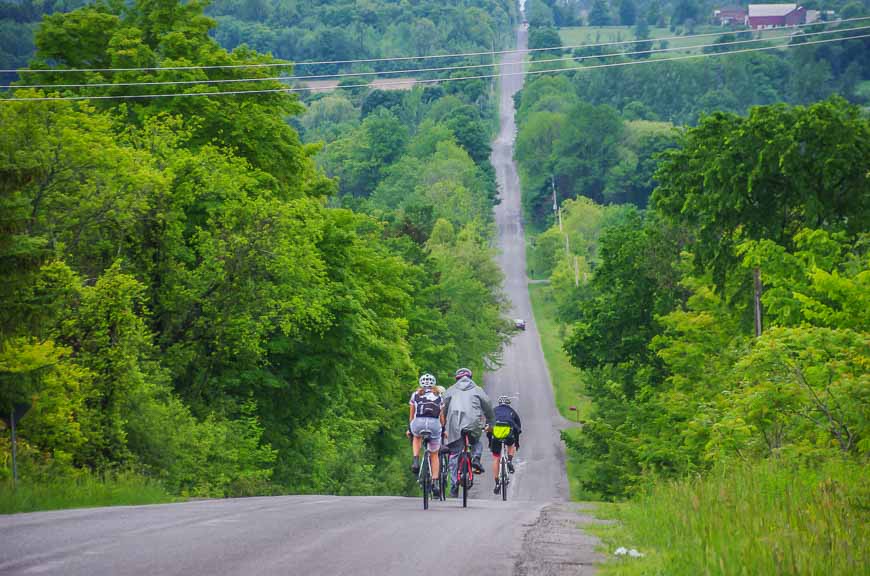 Biking the backroads of Prince Edward County
All you need to explore Prince Edward County is a map and a sense of adventure. Avoid Highways 33 and 62 – but all other roads are fair game.
The biking is mostly easy with only the odd gently rolling hill. There are three towns that offer accommodation and great food – Picton, Bloomfield and Wellington. On hot summer days include a trip to Sandbanks Provincial Park for a swim.
Check out the Arts Trail with 29 galleries or studios to visit. There is also a Taste Trail – featuring 35 plus wineries and the area's best restaurants and food stands. Allow a long weekend to do the area justice.
Where to stay in Prince Edward County
Check out the June Motel rated as superb. It's got a cool, retro kind of vibe to it.
The Waring House in Picton offers lovely rooms and a cooking school.
The Drake Devonshire in Wellington, is rated superb. It offers free bikes, garden views and a private beach.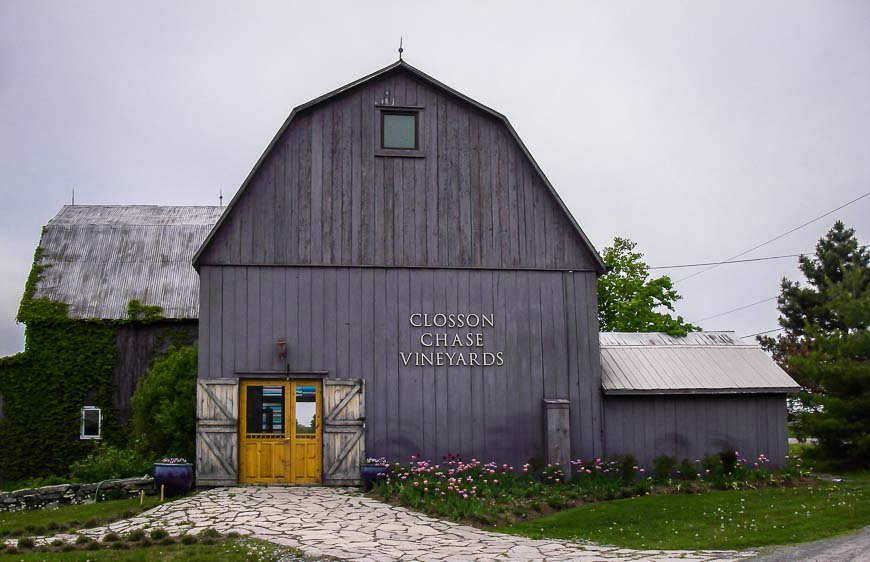 Bike from Niagara-on-the-Lake to Niagara Falls – one of best bike rides in Ontario
The standout bike ride in the Niagara region takes you from Niagara-on-the-Lake to Niagara Falls on a bike trail that parallels the Niagara River Parkway. All but the final few kilometres to the falls are on dedicated bike trails.
The ride is easy except for the climb up the escarpment – and it's short plus who says you can't walk your bike? There are stops you can make at wineries or orchards along the way but if you haven't seen Niagara Falls then that's the obvious goal.
If you have more time you could continue to Fort Erie across from Buffalo or do a bigger loop over three to four days and catch more of the wine country in the Jordan area. After Fort Erie some of the cycling is on roads but for the most part they're quiet.
Where to stay in Niagara on the Lake
Choose from premium hotels like Queen's Landing, the Pillar and Post Inn & Spa and the Prince of Wales Hotel or one of the many bed and breakfasts. Book well in advance as Niagara on the Lake is a very popular destination.
In the B&B category check out he Finlay House Bed and Breakfast for an exceptional experience.
If you're more of a chain hotel person, the Best Western Colonel Butler Inn should fill the bill nicely.
Download: Guide to Biking the Niagara Area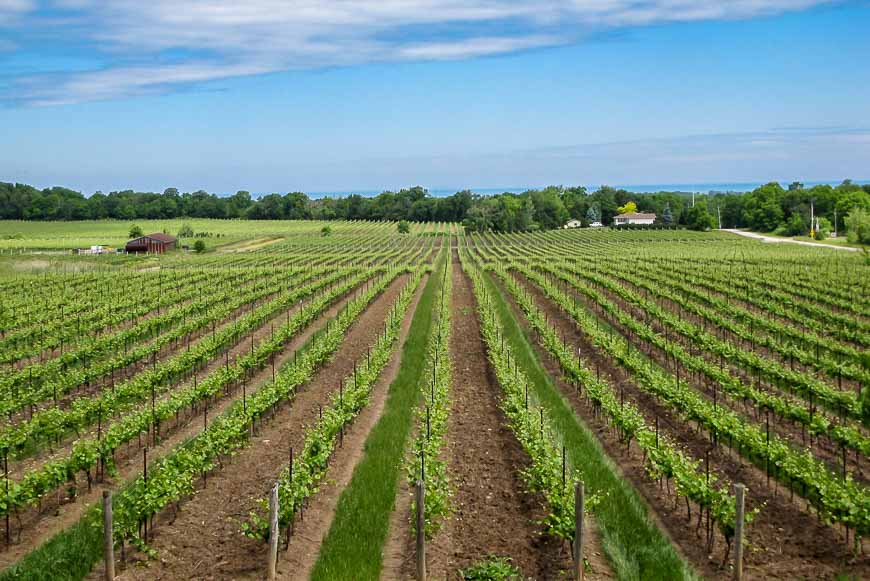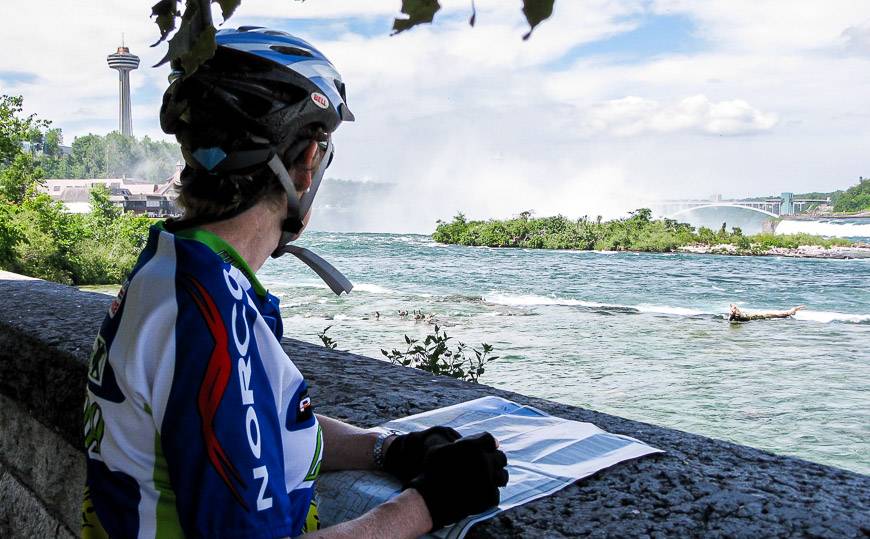 Bike the Waterfront Trail, one of the top bike rides in Ontario
Ontario's Waterfront Trail stretches from Niagara to Quebec and travels through 84 communities, 3 UNESCO biospheres, 15 National Historic Sites, three national parks, 19 provincial parks, 58 conservation areas, three wine regions, 90 beaches and down 25 historical main streets.
There's a tremendous amount of variety depending on what section(s) you do. Bike on a combination of dedicated bike trails, quiet backroads and neighbourhood streets.
I loved the peaceful 45 km section of trail running between Gananoque and Brockville. It parallels both the 1000 Islands Parkway and the St. Lawrence River. The section through Thousand Islands National Park is especially scenic – and a great place to stop for a picnic.
John and I also enjoyed cycling a section parallel to Lake Ontario that took us through the towns of Colborne and Brighton. There were some areas where we peddled right beside the water. If we'd had the time we would have stopped at the pebble beach at the Haldimand Conservation Area. Locals will want to stop at Wicklow Way Farm to pick up some organic produce.
Gananoque is a lovely town with some excellent B&B's. Check out the exceptional Stonewater Manor B&B.
For help with detailed planning visit the Waterfront Trail website.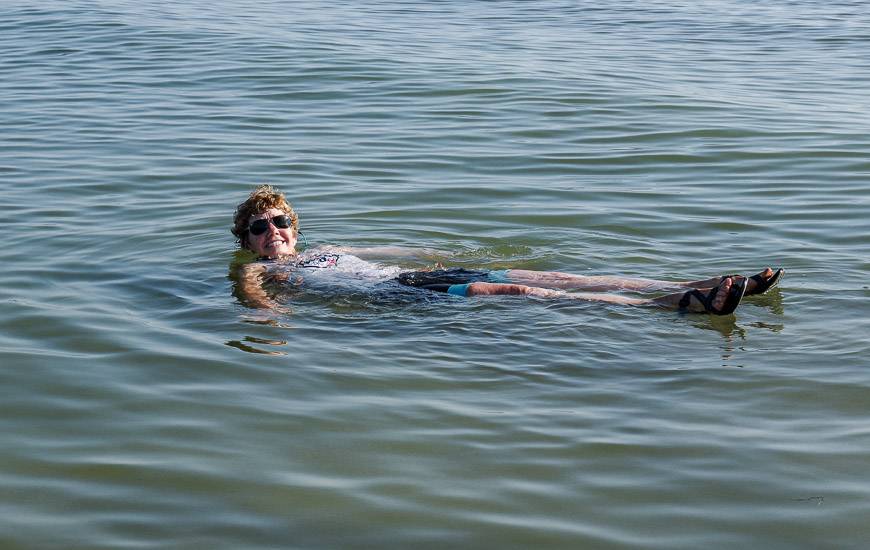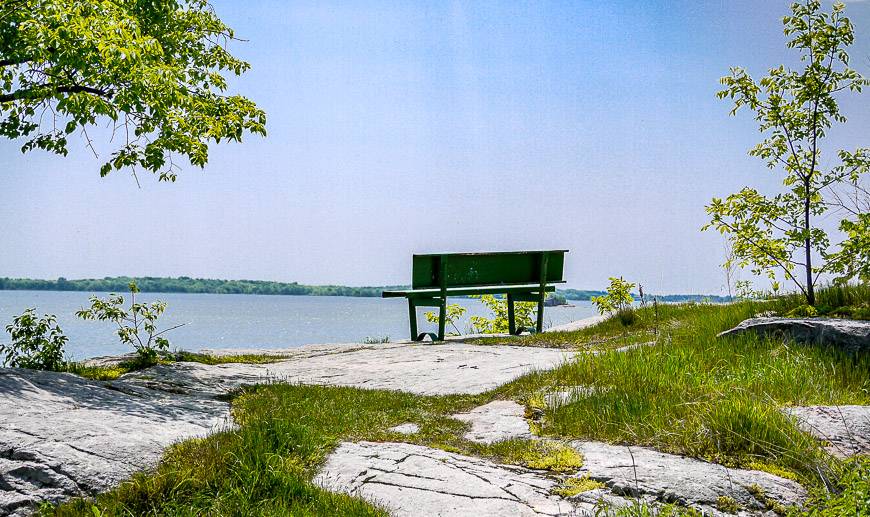 Rideau Heritage Route bike ride
You have a choice. You can bike the Rideau Heritage Route between Ottawa and Kingston or you can kayak it. Its 202 kilometres long so it will likely take you between two to four days to complete.
There are loads of options for the cyclist so to figure out what's best for you check out the detailed information on the Rideau Heritage Route website. Don't miss a stop in my favourite town on the route – picturesque Merrickville.
B&B's are popular here too. Check out the superbly rated Merrickville Guest Suites.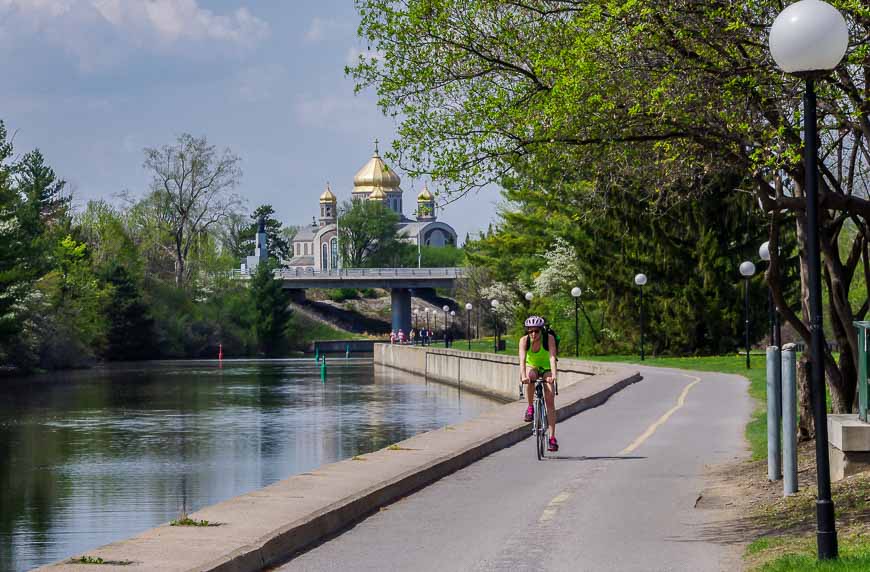 Biking through Grey and Simcoe Counties
Just 90 minutes north of Toronto you'll find a tremendous diversity of cycling in Grey and Simcoe Counties.
Some of the old railways have been turned into bike trails. In particular you can cycle 77 km on the Grey County CP Rail Trail and enjoy views of the Georgian Bay. Or try the 34 km Georgian Trail that takes you from Meaford to Collingwood along the original Northern Railway beside Georgian Bay. This trail offers access to beaches, takes you through apple orchards and crosses several trestle bridges.
The Blue Mountain Loop starts with a gondola ride to the top of the escarpment. Then it's a downhill cruise through farm and apple orchard country.
Energetic cyclists will love the 96 km route that starts in Durham and follows the Saugeen River through former mill towns.
For loads of suggestions that will keep you busy on every summer weekend check out other biking ideas on the Bruce Grey Simcoe counties.
Bike in Oxford County for one of the best bike rides in Ontario
Oxford County is an easy drive from Toronto but truly a world away. Criss-crossed with quiet country roads through rolling farm country, there are cycling loops for literally every ability. The kind folks at Oxford Tourism will even help you plan an itinerary if you email them at tourism@oxfordcounty.ca.
I highly recommend a big loop using Otterville as a base. While there are minor hills on a 30 km loop, it is primarily flat.
Dirt roads are easily avoidable. Enjoy pastoral scenes like fields of peonies in season, a tunnel of trees and the fresh green of new growth in a farmer's fields. Drivers are respectful and most roads are quiet. Oxford County has been hard at work – ensuring that some of the top bike rides in Ontario are in their back yard. I think you'll be pleasantly surprised at what you'll find.
Northumberland County biking
I'd also highly recommend cycling in Northumberland County. There are a couple of long bike rides you can do on sections of the Waterfront Trail and the Greenbelt Route.
The Greenbelt Route is a signed 475 km trail that takes you from Alderville First Nation in Northumberland County (where we started) to Queenston near Niagara Falls. We cycled quiet back roads past beautiful farms, with little in the way of road traffic. We ended in Coburg and picked up the Waterfront Trail there.
Some of the best bike rides in Ontario can be found on a combination of these two trails. If you've got the endurance and the time you can explore a huge swath of southern Ontario.
Read about my biking experience here.
Further reading on biking in Canada
Click on the photo to bookmark to your Pinterest boards.