The Markin-MacPhail Westside Legacy Trail is a 25-kilometre-long multi-use, non-motorized, paved recreational trail on the west side of Windermere Lake. The trail connects Invermere to Fairmont Hot Springs, providing yet another reason to visit the Columbia Valley in British Columbia. If you drive to one of the three parking lots along the trail you can enjoy a car-free experience. Otherwise, count on four to five kilometres of road biking at either end to reach the Westside Legacy Trail.
Before I cycled the Westside Legacy Trail, I knew nothing other than it linked the two communities. In all honesty, I expected a dirt trail. What a shock to see a world-class paved trail that parallels Westside Road – and for a good stretch you can't see or hear cars.
What you might hear is your heart beating! The trail is a much hillier and somewhat harder trail than the Banff Legacy Trail that runs between Canmore and Banff. And it's also harder than the NorthStar Rails to Trails that stretches between Cranbrook and Kimberley. Over its 25 km length there is an elevation gain of 155 metres (508 feet). It feels just a tad easier, save for the one big hill, biking from Fairmont Hot Springs to Invermere but you'll have to be the judge of that.
It took five years to build the Westside Legacy Trail. It was done in sections starting with just 6 km in 2017. Kudos to all the people that put the hours into planning, starting in 2015, and raising the money. So far, over 1,100 donors have contributed $9.6 million dollars. Maybe you'll want to give back too after your experience cycling Westside Legacy Trail.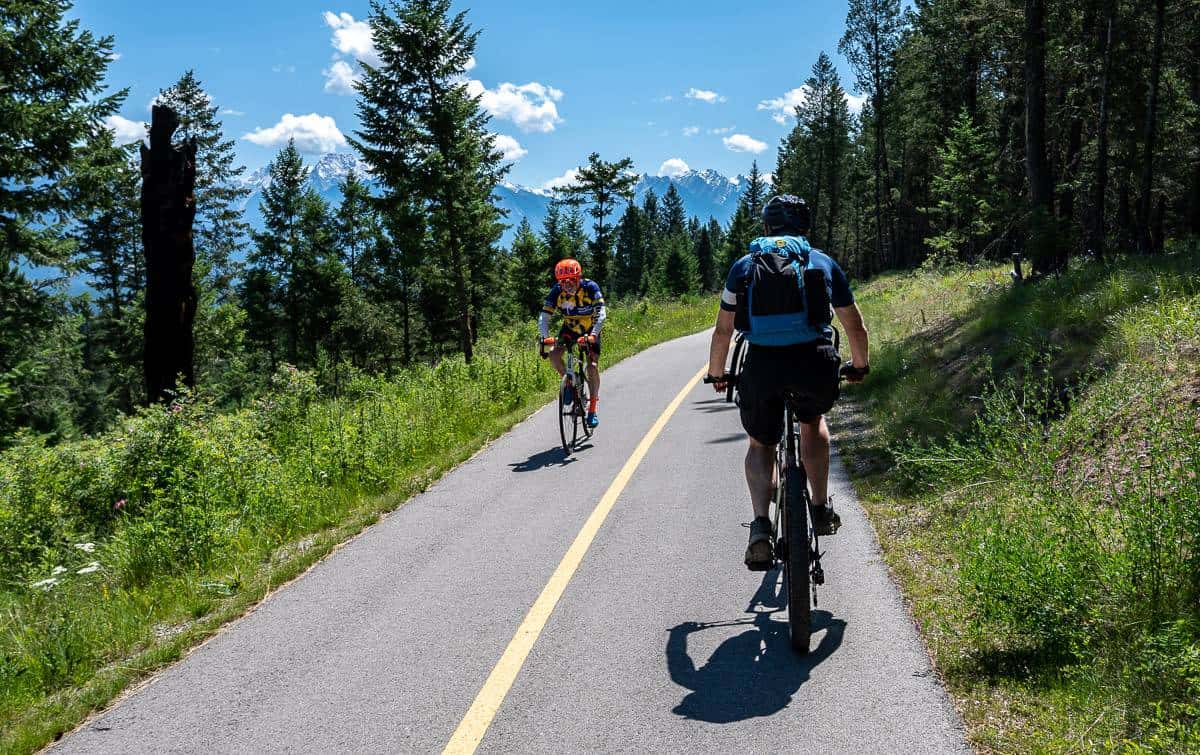 This post includes some affiliate links. If you make a purchase via one of these links, I may receive a small commission at no extra cost to you. Thank you very much for your support.
Starting location of the Westside Legacy Trail
You'll find parking lots near both ends of the Westside Legacy Trail. There is also one at Greywolf Pond.
Invermere
From 7th Avenue in downtown Invermere, bike west on 13th Street to reach 13th Avenue, across from a school. Turn left or south and follow it as it becomes Westside Road. Look for a gate and a trail marker that says 25 km to Fairmont right immediately beside a cattle guard. It's about 4.7 km one way from downtown.
Fairmont Hot Springs
From Fairmont Hot Springs head south on Highway 93 for 3.7 km to reach Westside Road. Turn right or north and follow it for 300 metres. You should be able to see the Westside Legacy Trail off to the east. It ends on a gravel road, but the actual trail is just in about 20 metres from the road.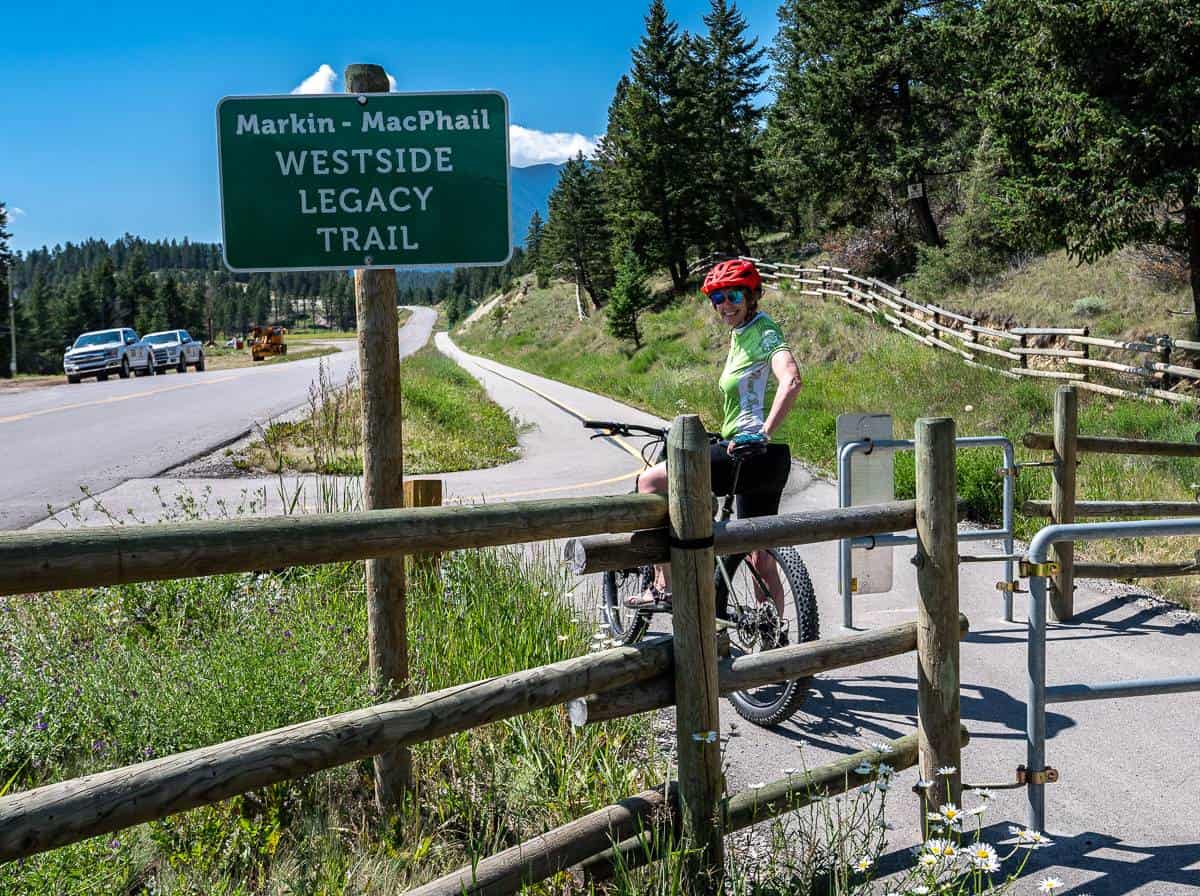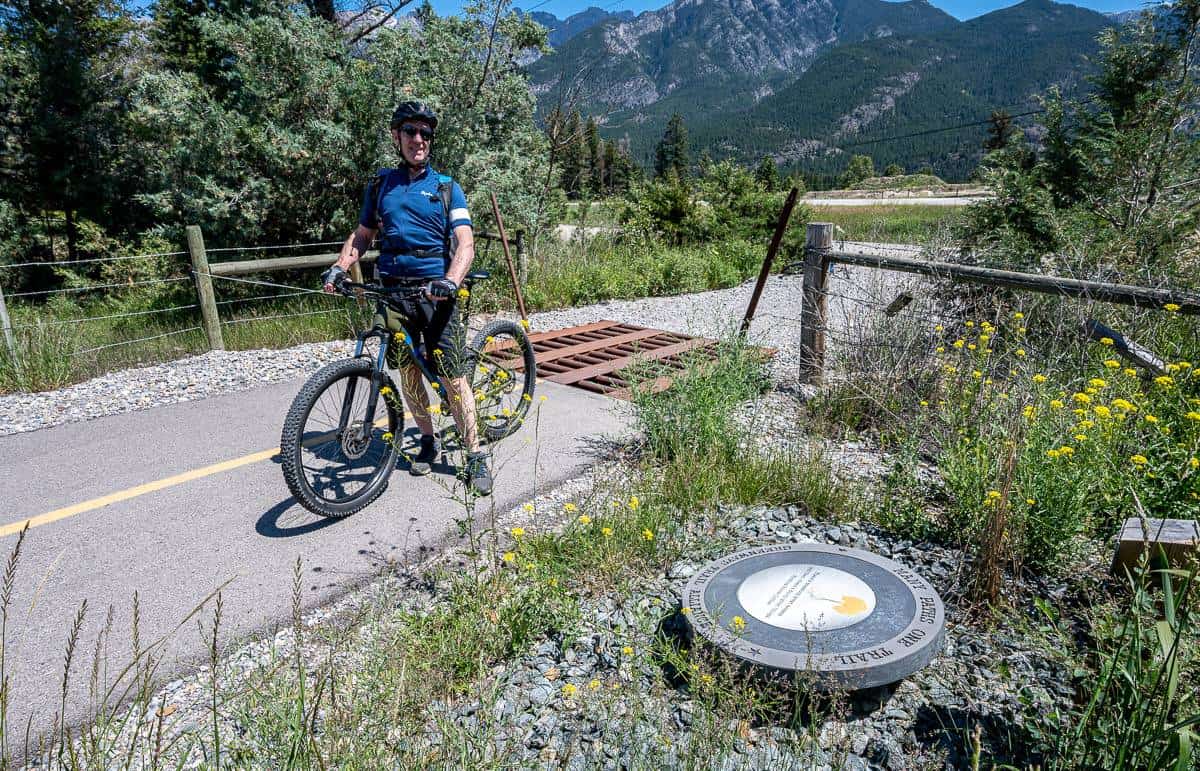 Practical information for biking the Westside Legacy Trail
The Westside Legacy Trail is multi-use, so expect to see walkers, dog walkers, hikers, and kids.
There are no garbage cans along the entire route. Pack it in and pack it out.
If you plan to go for a soak in the Fairmont Hot Springs, you should know that it's 5.2 km one way from the end of the Westside Legacy Trail, and 2 km of that is up.
There are 17 benches and 7 picnic areas along the Westside Legacy Trail – many at scenic spots overlooking Windermere Lake.
Pack some high energy food and plenty of water as there are no services. If you're biking solo, I'd recommend carrying bear spray. Let someone know where you're going and when you're due back. Don't forget a bike pump and patch kit.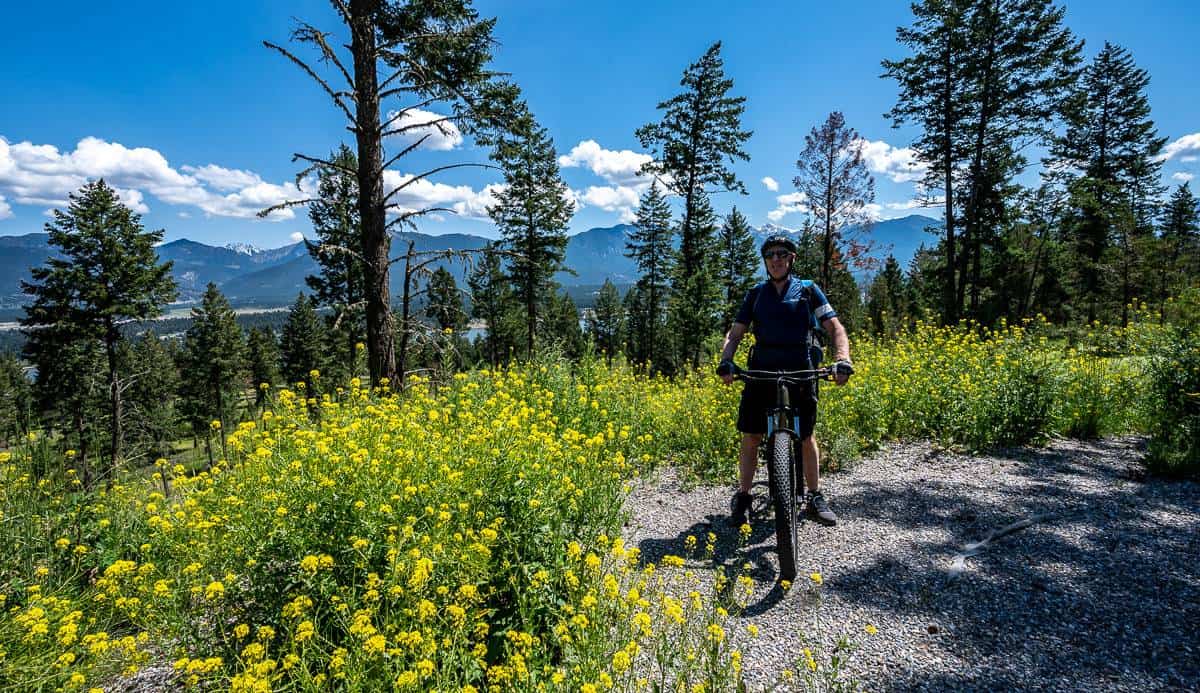 Biking experience on the Westside Legacy Trail
John and I started biking the Westside Legacy Trail about 11:30 AM on a hot, sunny day. It wasn't our brightest move – but in our defence we'd been hiking the Wilmer Wetlands trail earlier in the morning while the birds were active. We'd put on sunscreen and packed a couple of water bottles – though we ran out by the time we got back to Invermere, so take more than you think you need. Once you're on the Westside Legacy Trail, there are no services.
I had inquired about a paper map of the trail at the bike store and was told there wasn't one. Instead take a photo of the large map found in the kiosks at either end of the Westside Legacy Trail. It shows all the benches, picnic tables and any other interesting bits. You'll soon see once you're on the trail that there is no chance of getting lost, as it's obvious from start to finish. There are large kilometre markers every kilometre showing your location.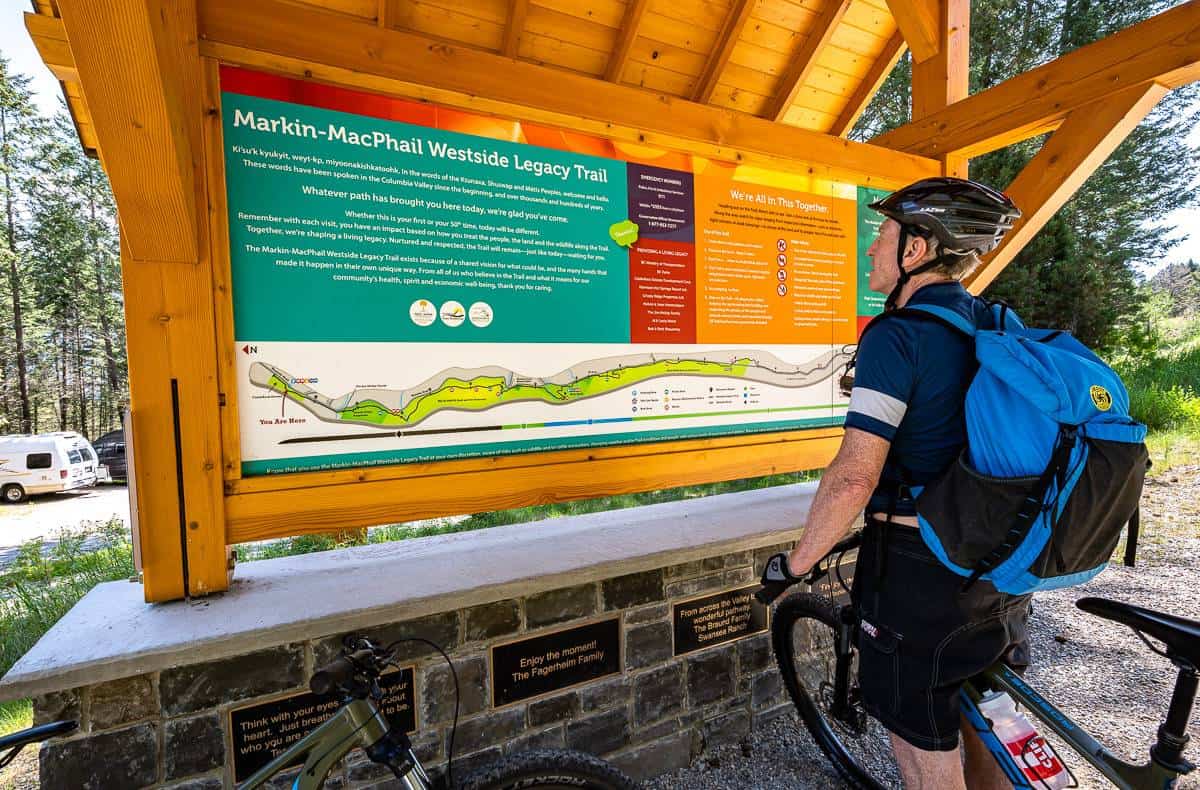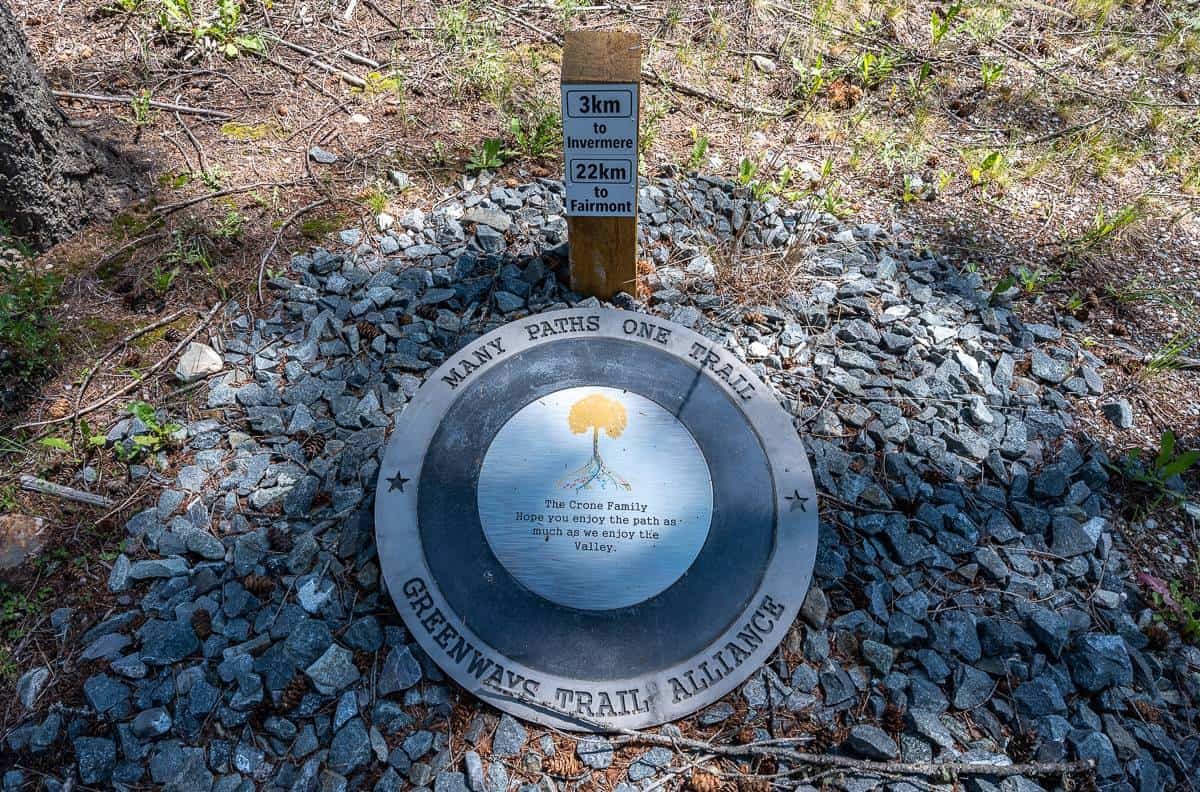 Over the 50 km we cycled on the Westside Legacy Trail, we stopped countless times to read the interpretive panels, takes photos, and to admire the mountain scenery. We also stopped at a picnic table for lunch that looked to be wheelchair accessible. From there we climbed hills, enjoyed some fast, easy flat sections, and loved the curves on the downhill sections of the trail.
I got very lucky near the Fairmont Hot Springs end of the trail with a close-up badger sighting. I've never seen one in the wild before so it was a thrill. I understand that badgers are nomadic – always on the hunt for ground squirrel, their chief food source.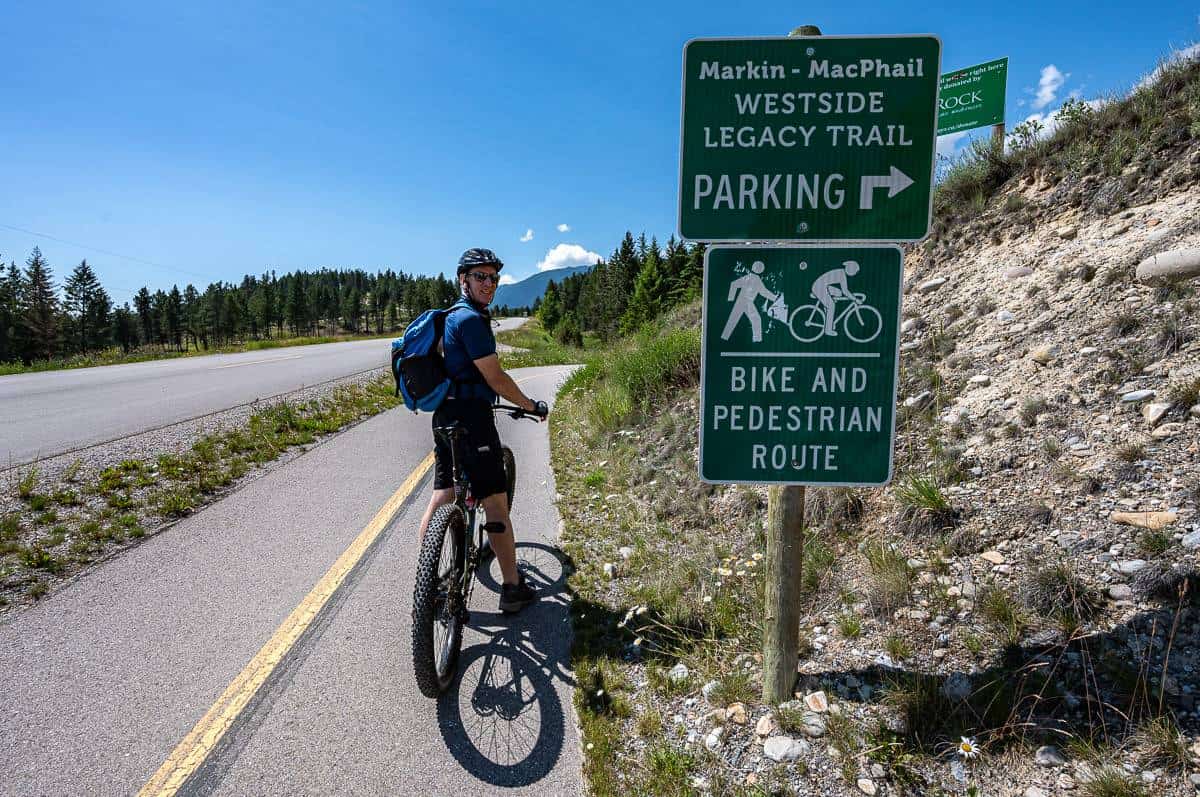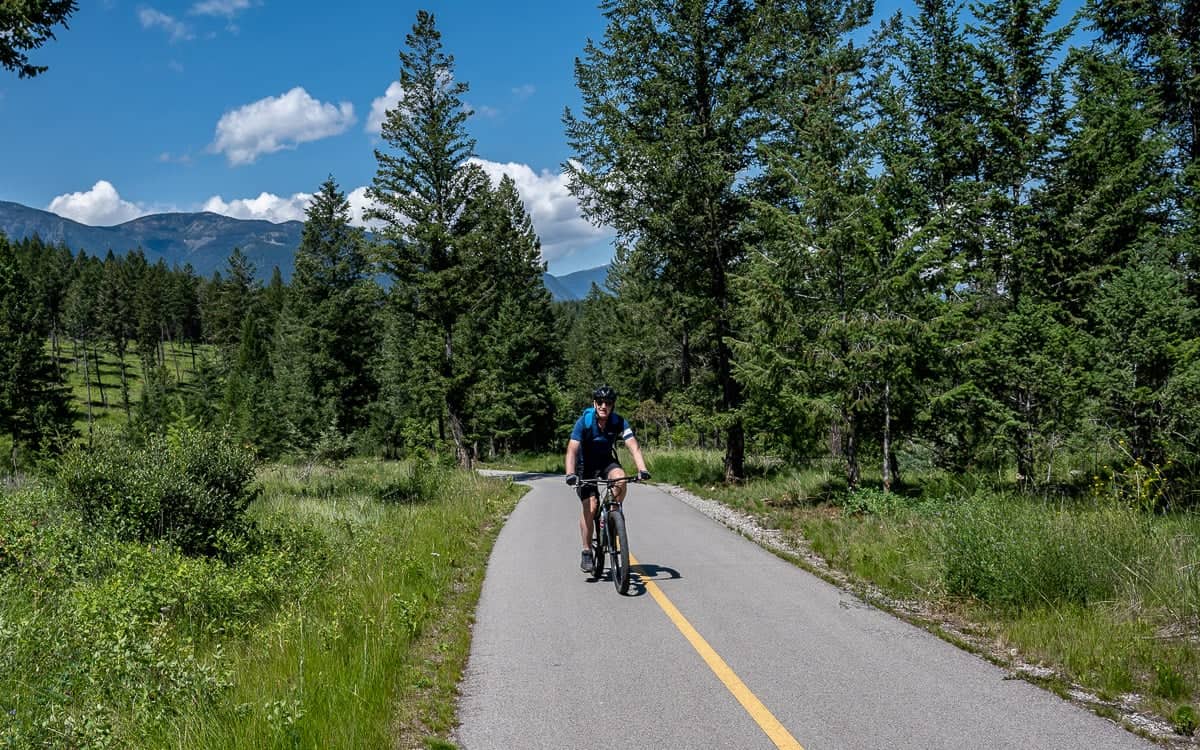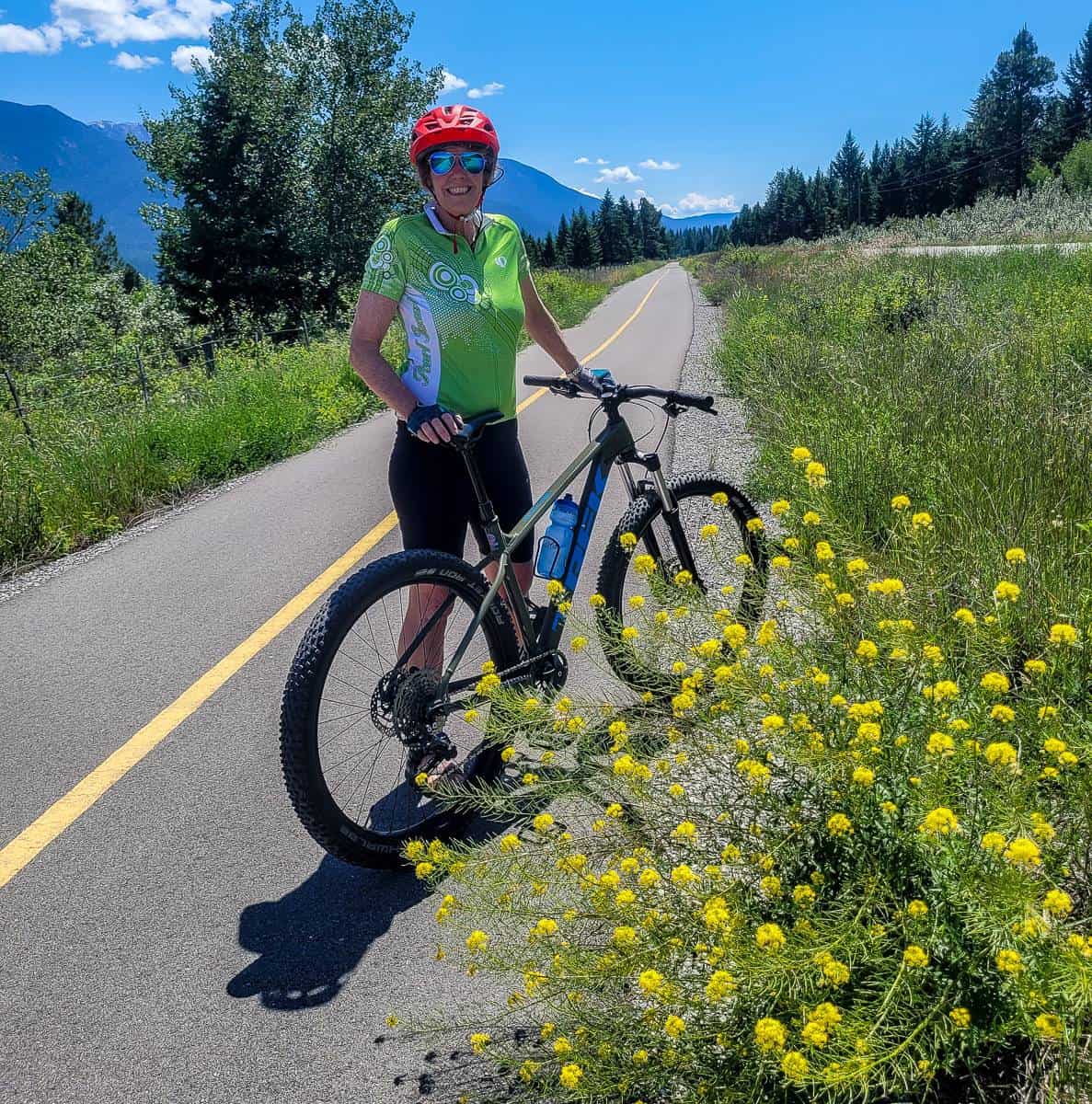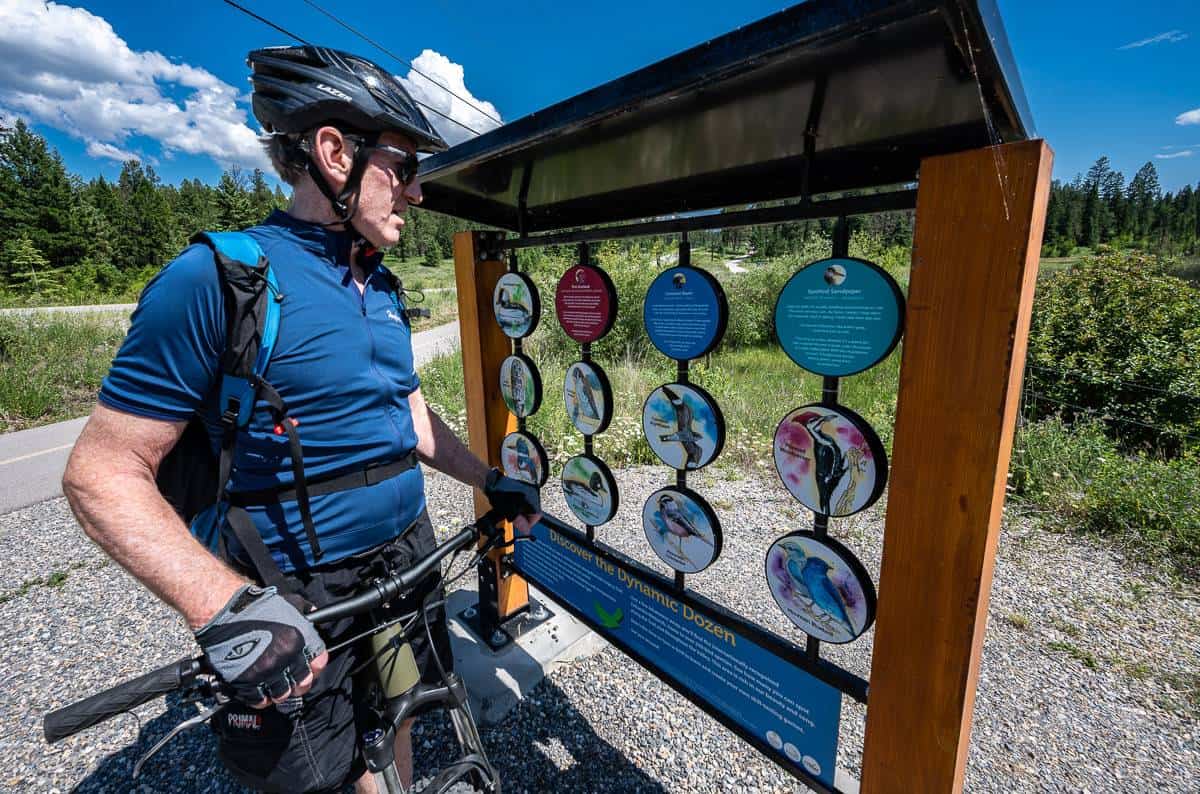 Final thoughts on the biking
After my experience biking out and back on the full length of the Westside Legacy Trail, I think people will travel from all over to experience the beauty of the region and get a little exercise (actually quite a lot) while they're at it. Certainly, it's caught on with the locals with some people doing the trail multiple times a day, according to a woman I spoke with. In 2022, 110,000 people cycled the trail between April and November! Considering the trail was formally inaugurated in September 2022, that says something.
There is an extension of the trail planned that will travel from Invermere to Radium Hot Springs. I don't know how long that will take to get approvals and funding, but what a game changer for the area!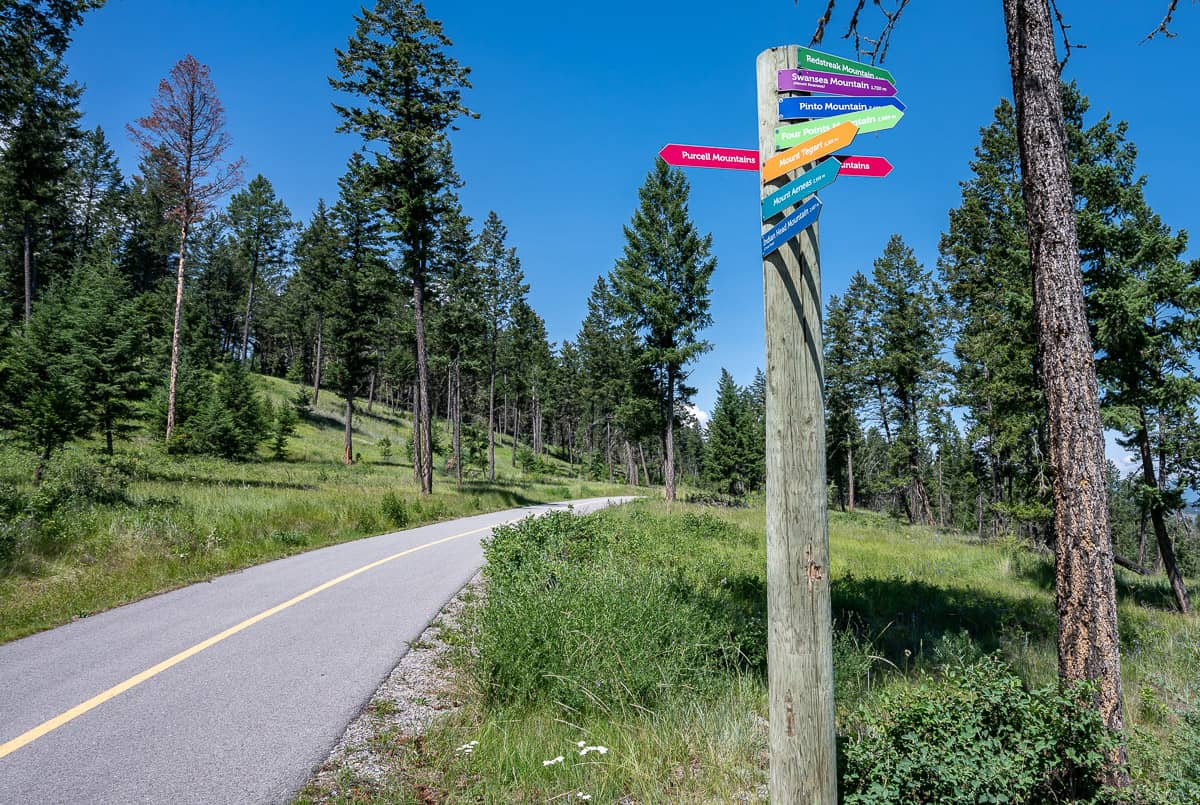 Where can you rent bikes?
We rented a hard-tail mountain bike from Lakeside Bike Co in Invermere, though they also have a good selection of e-bikes. If you're planning to bike the Westside Legacy Trail on a weekend, I'd highly recommend you reserve with Lakeside before you show up in Invermere.
Columbia Cycle & Ski in Invermere also rents e-bikes but they are offered on a first come, first served basis.
Our bike was a great bike but not the best choice for the trail because its paved – and with fat tires you must work harder. If you're bringing your own bike, I'd recommend a gravel or a road bike.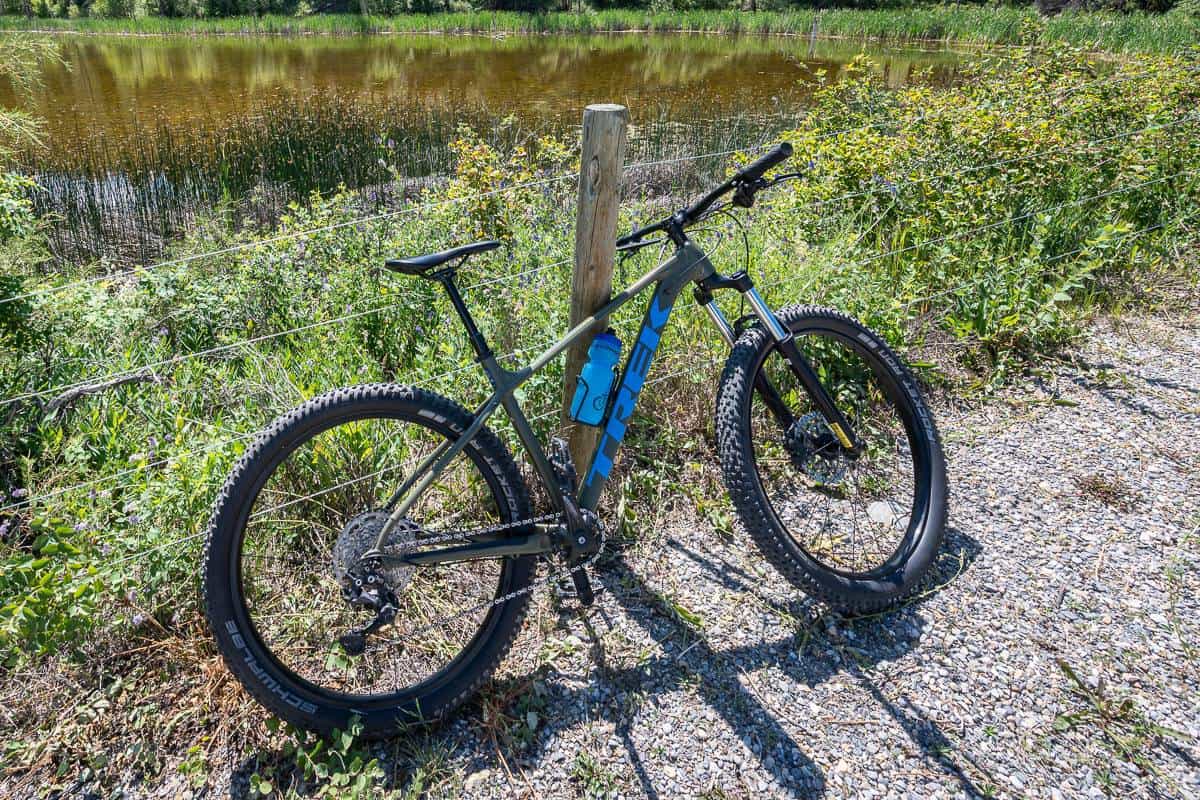 Best season for cycling the Westside Legacy Trail
The Westside Legacy Trail is a three-season trail. It's maintained by the regional district of East Kootenay in spring, summer, and fall. The trail is closed in winter.
Where can you get a bite to eat in Invermere?
When we finished the bike ride in late afternoon, we made a beeline to Stolen Church Coffee Co. for ice cream and cold drinks. Other places to visit include The Station Pub near Kinsmen Beach, Kootenay Coffee Works and The Invermere Bakery.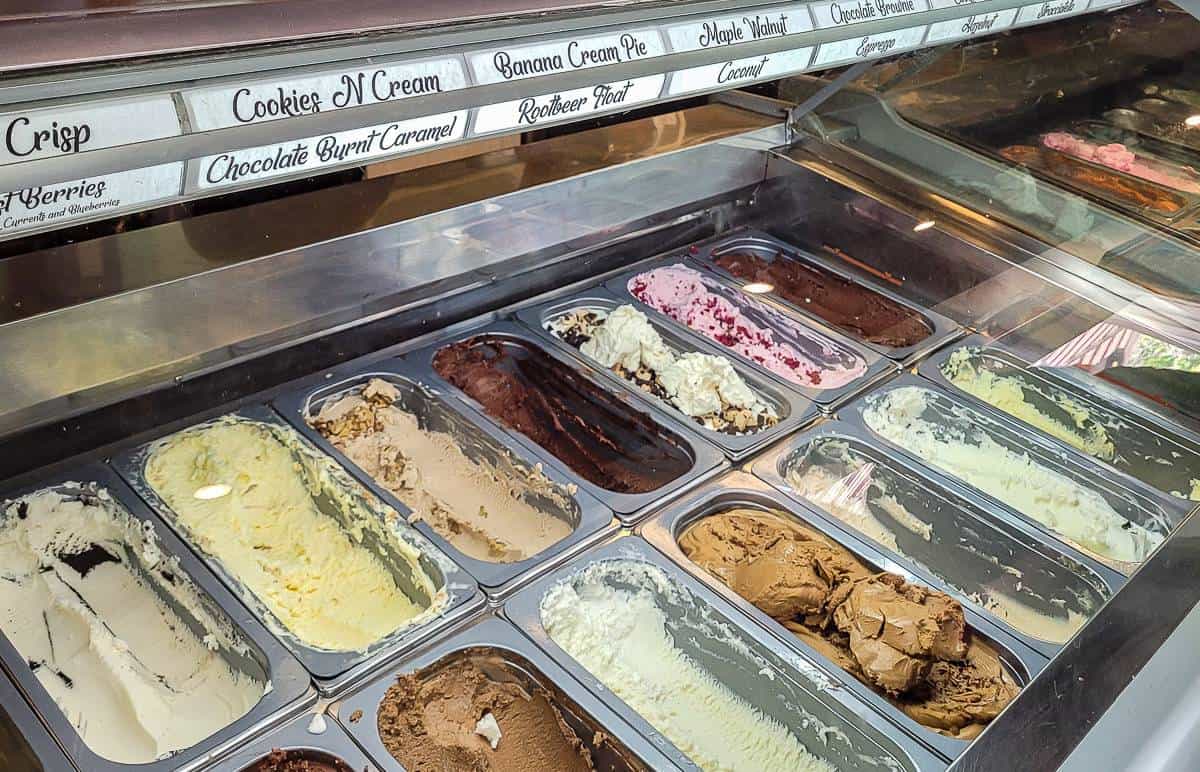 A few useful items for your bike ride
Don't forget a bike pump in case you get a flat.
A bike lock would be a good idea if you plan to grab a bite to eat in Invermere or Fairmont Hot Springs.
I like to carry a rack-mounted bag with my raincoat and bike tools rather than having something on my back.
Bike lights are one of those things you should always have – just in case you're out later than expected.
I also love a good pair of padded bike gloves, including full-fingered ones if I'm biking early or late in the season.
A bike phone mount is another great option for your bike.
A few side trips from the Westside Legacy Trail
There are two hiking trails that you can access from the Westside Legacy Trail should you have the time and energy – the Hoodoos Trail just a few kilometres up from the Fairmont Hot Springs start and the Columbia Wetlands Viewpoint trail (see the map below). Both trails are short – around 3 km return so allow about an hour for each. The Columbia Wetlands Trail is a fantastic one for birds. Don't forget to lock up you bike before you do the hike.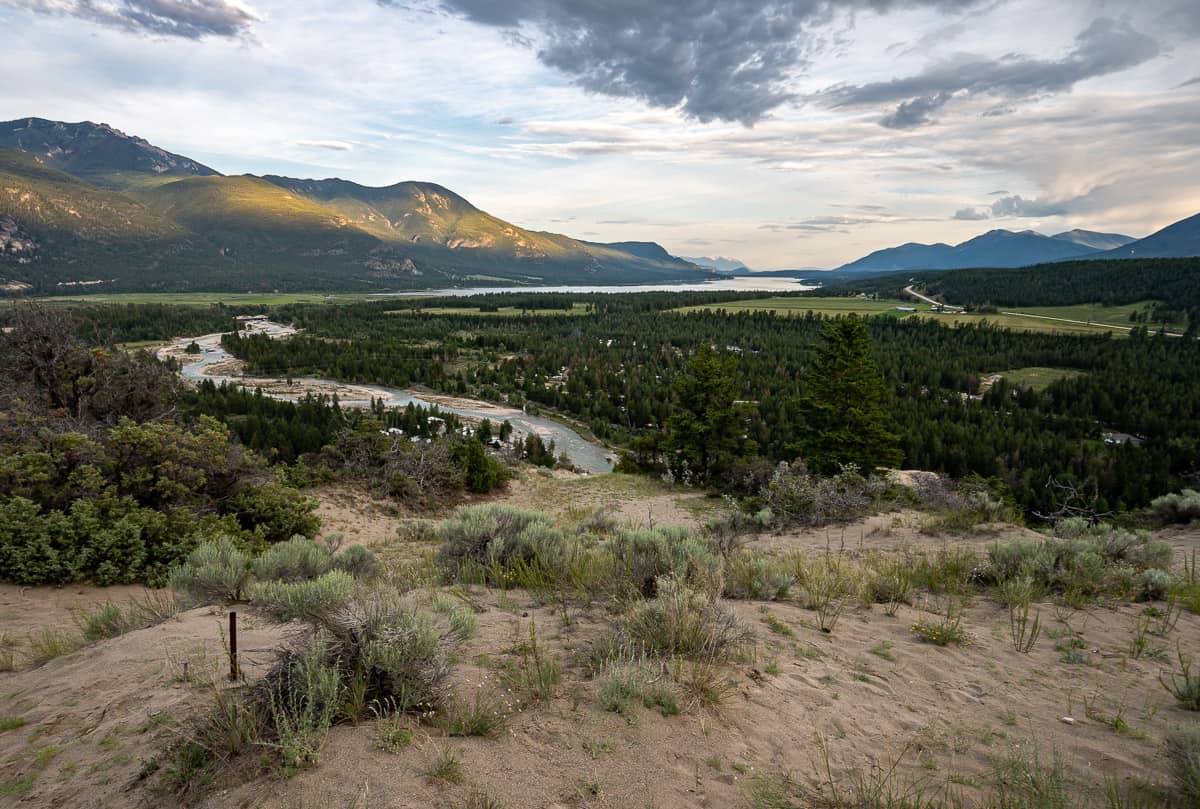 Location map of the Westside Legacy Trail
Where to stay in Invermere and Fairmont Hot Springs
If you're coming from afar, chances are you'll want to spend at least a few days in the Columbia Valley. You'll find a little bit of everything when it comes to accommodation options from camping to full-service resorts to B&B's, motels and the fabulous Winderdome Resort – home to high end glamping tents shaped like geodesic-domes
Invermere
The Copper Point Resort is a great choice if you want to have everything at your fingertips like pools, a spa and dining. It's only a 6-minute drive away from downtown Invermere.
Headwaters Lodge at Eagle Ranch Resort, rated superb, boasts an onsite restaurant, and an onsite bike rental.
Check prices and availability and book directly with Winderdome Resort if you want to stay in a high-end glamping tent in the shape of a geodesic dome with a large deck surrounded by nature.
Fairmont Hot Springs
If you want to be close to the Fairmont Hot Springs, book the Fairmont Hot Springs Resort, rated good.
The Residences at Fairmont Ridge offer fully furnished apartments with a kitchen if you're interested in cooking. The hot springs are a 10-minute walk away.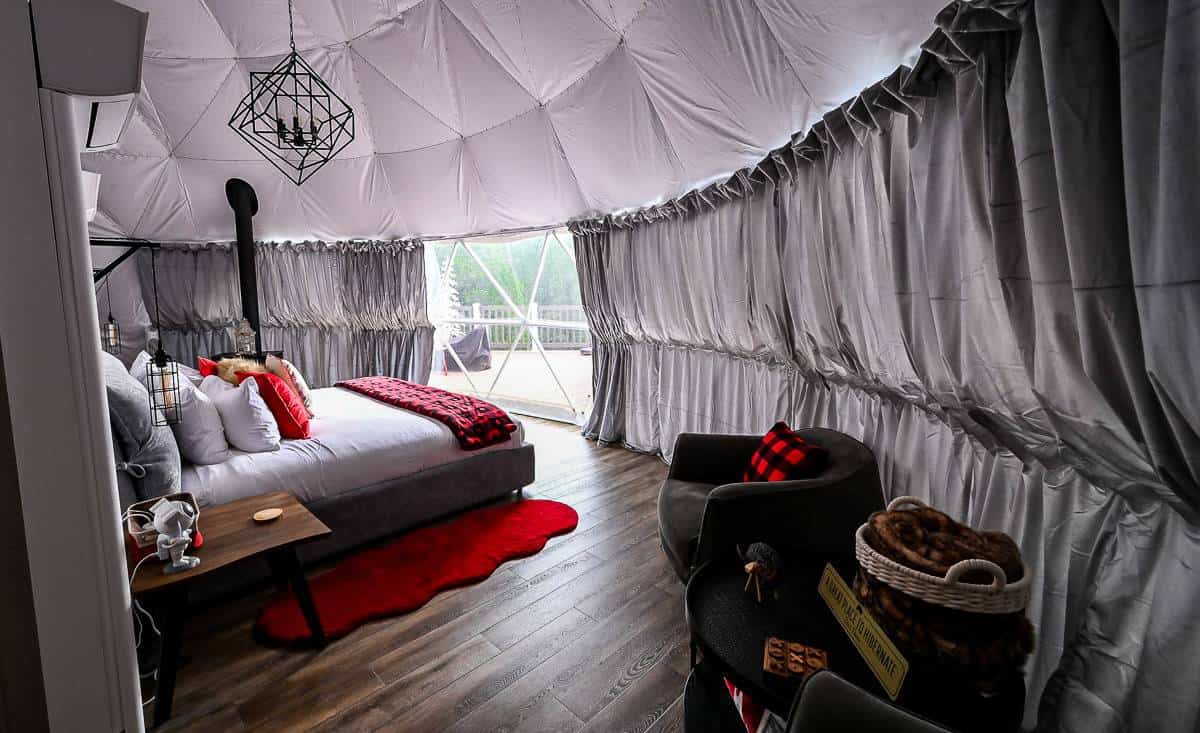 Other posts about biking in British Columbia you might like
A big thank you to Travel Columbia Valley for hosting my stay. All thoughts and opinions are mine alone.
Click on the photo to bookmark to your Pinterest boards.