You can't help but notice cyclists and rollerbladers on the Banff Legacy Trail when you drive the Trans-Canada Highway between Canmore and Banff. I don't know why but it took me a couple of years to get around to cycling it.
The Banff Legacy Trail was built in 2010 to commemorate the 125th anniversary of Banff National Park. Its 26 kilometres long one way and a comfortable three metres wide. It takes you from the outskirts of Canmore into Banff, along Vermilion Lakes Drive all the way to the junction with Highway 1A.
Although a good part of it is dedicated bike trail, there are sections through the town of Banff that are along the road. In total there is a 185 metre (607 feet) elevation gain, and a 106 metre (348 feet) elevation loss. The Canmore to Banff section has more uphill than the return.
This post includes some affiliate links. If you make a purchase via one of these links, I will receive a small commission at no extra cost to you. Thank you very much for your support.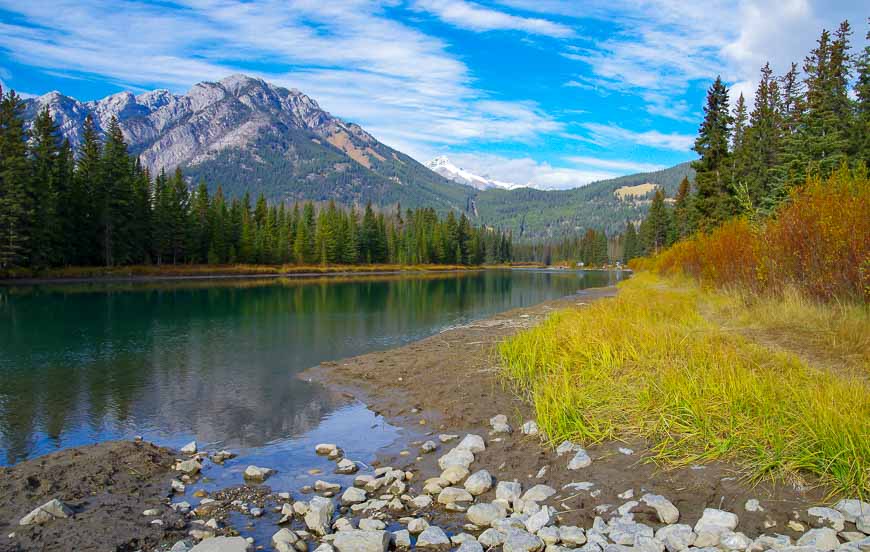 Biking from Canmore to Banff
We chose to ride from Canmore to Banff. The trailhead is a snap to find. It's located at the Travel Alberta Visitor's Center just off the Trans-Canada Highway. In addition to washrooms there is lots of free parking.
Although I have a yearly National Park's pass it appeared that you didn't need to stop and buy one as you entered Banff National Park. To do so would involve crossing many lanes of traffic. If you started in Banff you would absolutely need to have a park's pass.
Parts of the trail were repaved after being destroyed by floods in June 2013. The trail is in excellent shape. At the Canmore end you'll find bike tools if you need to make any minor repairs.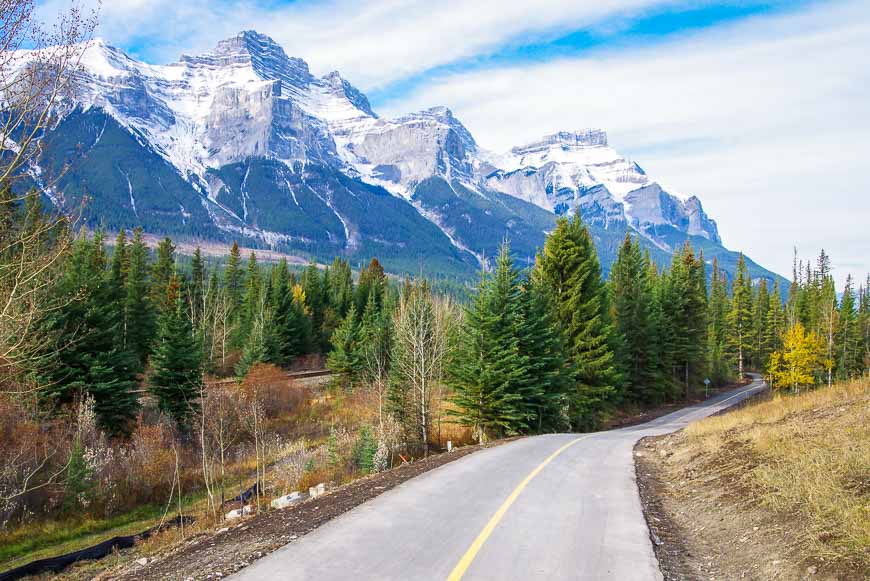 My preconception of the Banff Legacy Trail was very different from the reality
I figured because the Banff Legacy Trail paralleled the highway from Canmore all the way to the Banff exit, that we'd hear highway noise and see nothing but cars. Although you do see and hear cars, the trail weaves away from the highway on plenty of occasions.
In fact it takes you by an extensive picnic area after cycling only 8 km. I never knew it existed. It affords fantastic views of the Three Sisters – a trio of peaks overlooking the town of Canmore.
Interestingly, I have probably driven that section of highway close to 100 times and never noticed the exit to the picnic area before. That's one of the benefits of exploring by bicycle.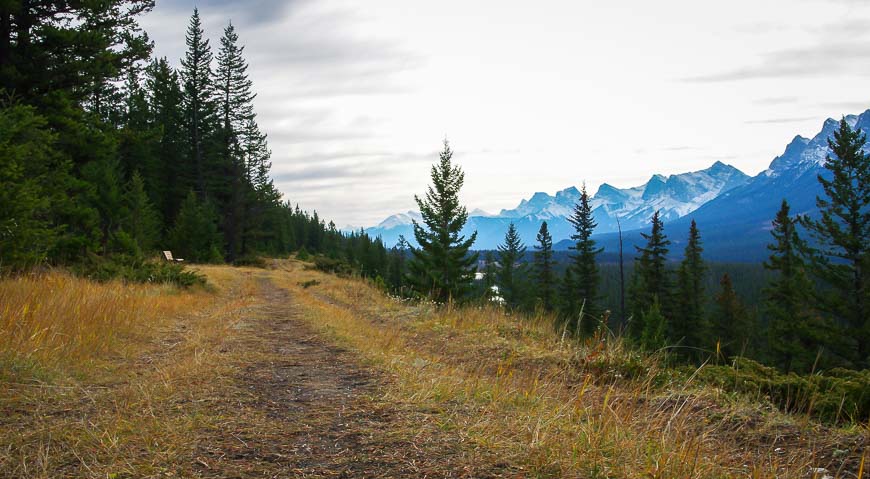 As you continue towards the Banff exit, Cascade Mountain looms in front of you. On a bike you better appreciate the majesty of this mountain the closer and closer you get.
When the trail leaves the highway, it takes a hard turn south towards the town of Banff. And after a few kilometres the trail dies out entirely.
My recommendation is to weave your way along side roads to reach the town center. We stopped at Wild Flour Bakery for a latte and then made our way over to Vermilion Lakes Drive.
Again I've seen the Vermilion Lakes every time I've driven the highway but I didn't appreciate that there was a road alongside them, complete with several docks where you could launch a canoe or kayak. The views of Mount Rundle from along this VERY QUIET road are superb!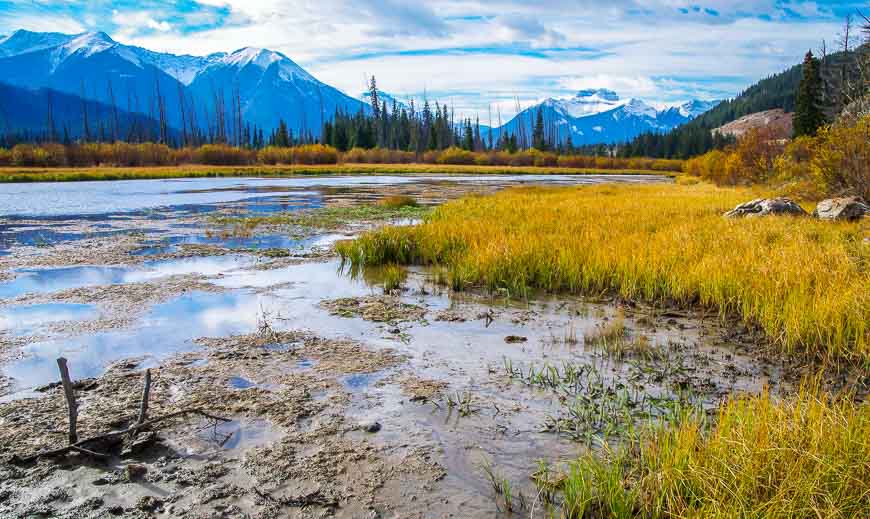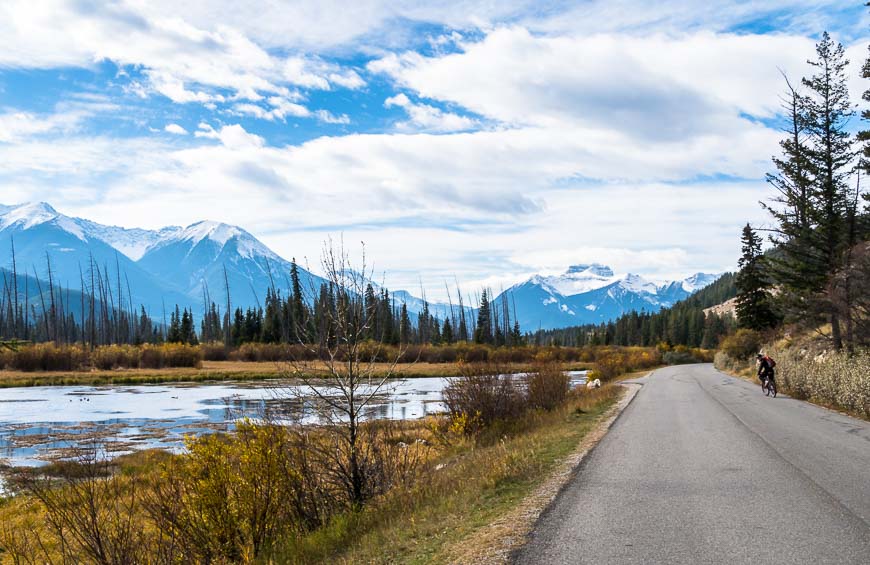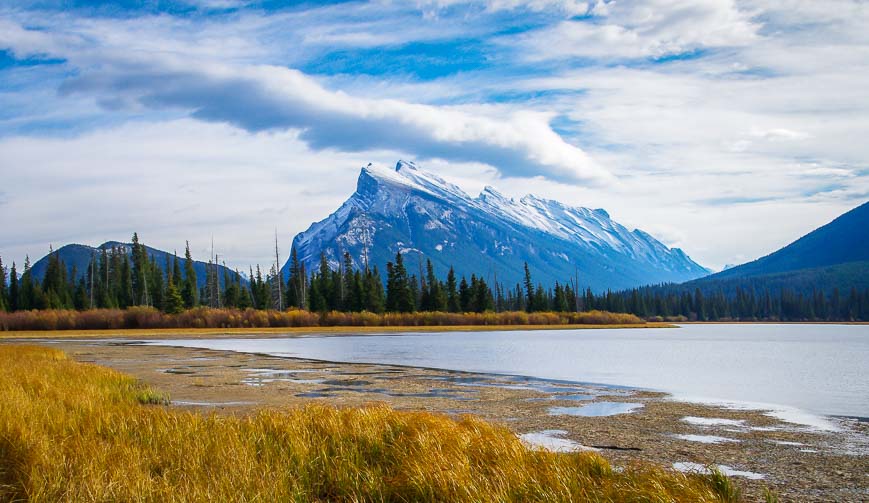 Biking west of the Vermilion Lakes
When you pass the last of the Vermilion Lakes you're onto dedicated bike trail again all the way through to the junction with Highway 1A. There was hardly a soul on this part of the trail when we did it – and perhaps that's why we were lucky enough to see a moose chomping away in the field.
New for 2022-2025: Starting in spring 2022, you can cycle Highway 1A car free from the exit closest to Banff to the halfway point on Highway 1A – Castle Junction. However, you can do that ONLY between May 1 to June 25 and from September 1 to September 30.

This is part of a three year pilot project. Vehicle access will be restricted for the eastern 17 km of the parkway to allow for an enhanced cycling experience. You can rent bikes and e-bikes in Canmore and Banff. (Suggestions near the bottom of the blog.)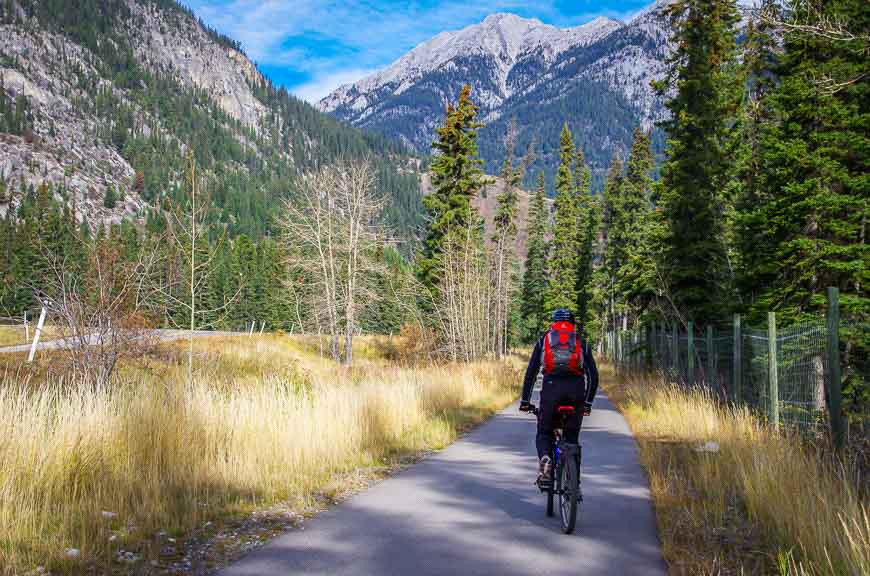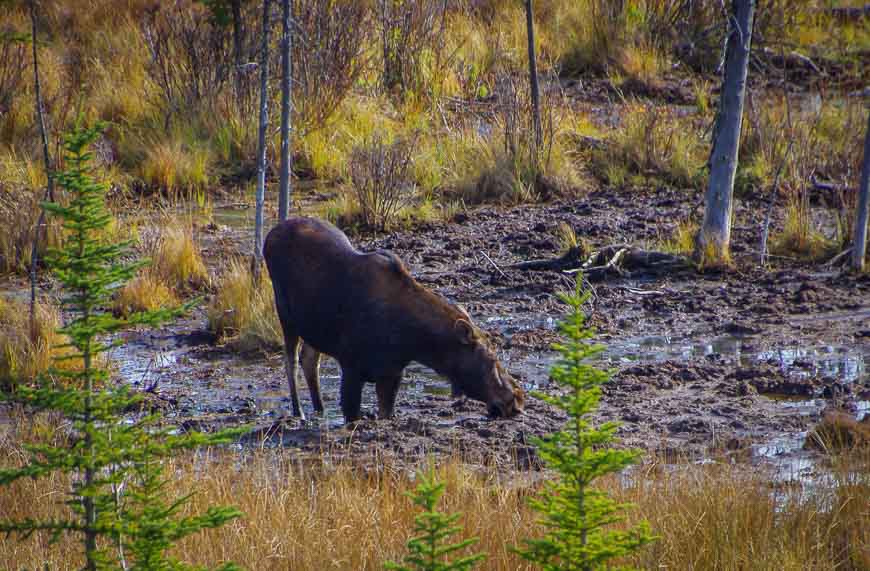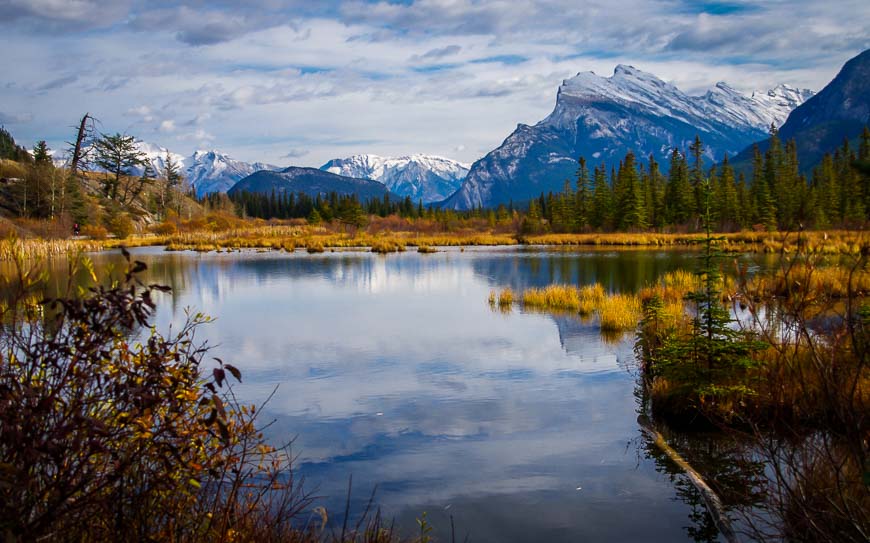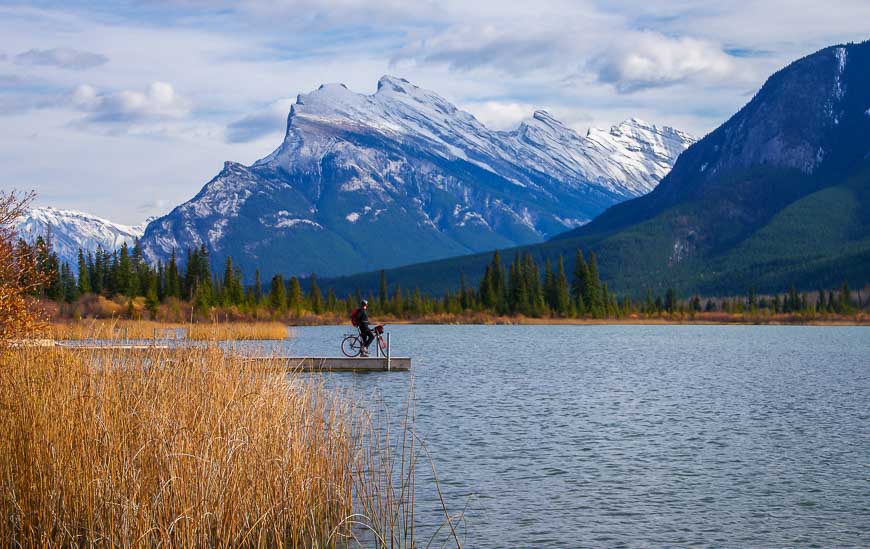 On our return to Banff I stopped to get these two shots of the train tracks.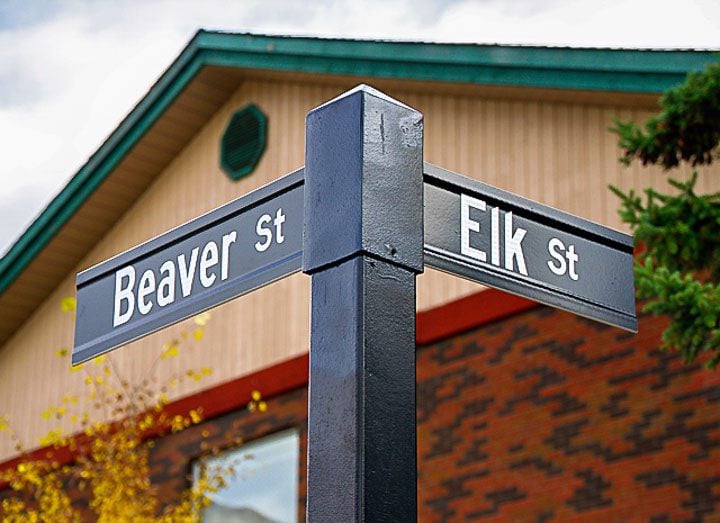 Cycling Canmore to Banff on the Banff Legacy Trail
Cycling back to Canmore from Banff took no time at all. The wind was at our back – by some miracle – and there was more elevation loss than gain. It took us less than an hour with time for photo stops.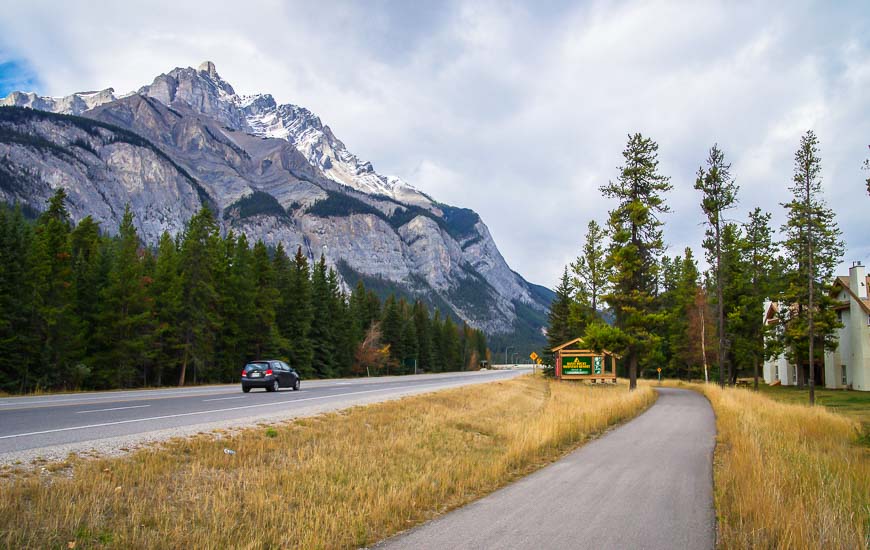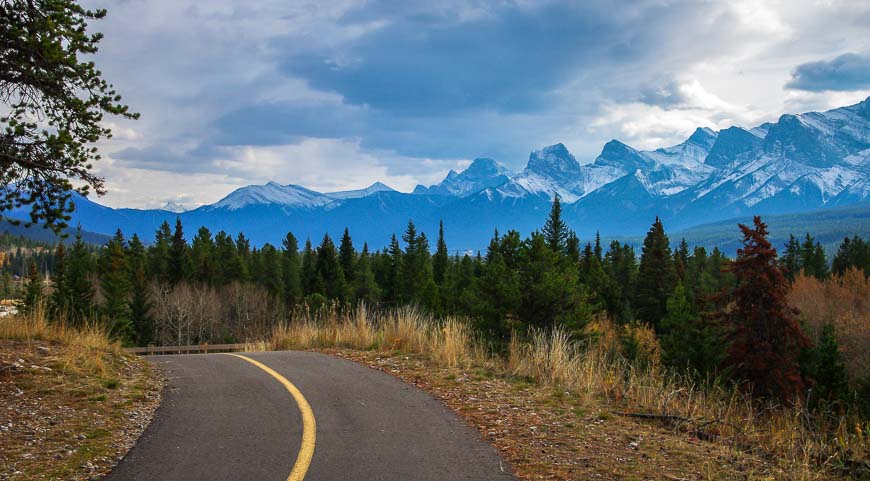 The Banff Legacy Bike Trail is family-friendly
The Banff Legacy Trail is a well-used trail. It's easy enough for families to cycle (as you drive the Trans-Canada Highway and you'll see kids of all ages on the trail) and it's a great way for out of town visitors to experience the Rockies.
If you like cycling don't miss a chance to explore the Banff Legacy Trail. It's a good one to combine with the Goat Creek Trail – a mountain biking trail that if you do it right is 85% downhill – and at some point an extension of the trail to the Canmore Nordic Centre should be complete.
Where to rent bikes
Bikes can be rented in Canmore from Gear Up Sports, Pedego Electric Bikes Canmore, and Rebound Cycle.
In Banff you can rent from Banff Cycle and Sport or Snowtips-Bactrax.
When should you cycle the Banff Legacy Trail?
The season for cycling goes from late April until sometime in October. We were very lucky to have a warm day on an October weekend. You're in the mountains on this bike ride, so layer up in the shoulder seasons. Don't forget the long-fingered bike gloves on the cold days and a headband so your ears don't freeze.
A few useful items for any bike ride
Don't forget a bike pump in case you get a flat.
A bike lock would be a good idea if you plan to grab a bite to eat in Canmore or Banff.
I like to carry a rack-mounted bag with my raincoat and bike tools rather than having something on my back.
Bike lights are one of those things you should always have – just in case you're out later than expected.
I also love a good pair of padded bike gloves, including full-fingered ones if I'm biking early or late in the season.
Location map of the Banff Legacy bike trail
Where to stay in Canmore and Banff
If you're an out of town visitor, chances are you'll want to stay in either Canmore or Banff. Fortunately there's a great cross-section of accommodation choices with a sampling outlined below. If you're into camping you can stay in nearby Bow Valley Provincial Park or in Tunnel Mountain Village in Banff.
Recommended reading: Bow Valley Provincial Park – A Year Round Destination
Canmore
In Canmore try the Basecamp Resorts if you like the thought of doing your own cooking.
If you like an upscale B&B experience check out A Bear and Bison Country Inn. If it's a hostel experience you're after then the Canmore Hostel/Alpine Club of Canada might just fit the bill.
Banff
In Banff I have enjoyed stays on multiple occasions at the Moose Hotel.
The Mont Royal Hotel in the heart of downtown Banff is always a solid choice. (It has a nice hot tub with a view.)
There are cheerful rooms for families with bunkbeds at the Canalta Lodge.
For a treat stay at the Rimrock Resort Hotel.
More posts about biking in Alberta you might enjoy
Click on the photo to bookmark to your Pinterest boards.