Spring is a great time to be a cyclist in Calgary. The snow is gone – or what is left is inconsequential – and the temperatures are conducive to getting out on a bike. Calgary itself is lucky to have over 1,000 kilometres of paved pathway – the largest network of urban paths and bike lanes in North America. There are also loads of great bike rides within 75 to 90 minutes of the city. Here are my top 11 picks for Calgary and area bike rides.
Location map of 11 places to cycle within 75 minutes of Calgary
This post includes some affiliate links. If you make a qualifying purchase through one of these links, I will receive a small percentage of the sale at no extra cost to you. Thank you very much for your support.
A few things to take on your bike ride
Don't forget a bike pump in case you get a flat.
A

bike lock

could come in handy if you decide you want to get a coffee or a meal.
I like to carry a

handlebar bag

with my raincoat and bike tools rather than having something on my back.

Bike lights

are one of those things you should always have – just in case.
Don't forget some

energy and protein bars

to fuel your bike ride.
For more ideas check out Calgary's Best Bike Rides and Trails by Lori Beattie
Elbow River Valley biking
Just 30 minutes west of Calgary you'll find Highway 66, a road that's closed to cars until May 14th – but only from the winter gate by the Elbow Falls parking lot. It's snow free in some years by late March! The road follows the Elbow River and affords fantastic mountain views and a great workout as you climb up to 500 metres – if you start in Bragg Creek.
Park you car anywhere between Bragg Creek and the Elbow Falls parking lot. We started in Station Flats and rode a total of 32 kilometres. There's a wide shoulder if you ride the highway before the winter gate. The only thing you have to avoid are the large piles of manure on the road from the free roaming horses. The return bike ride from Bragg Creek is 60 kilometres.
Sheep River Valley biking
Start in Turner Valley (now called Diamond Valley), a 45-minute drive south of Calgary. We parked at the Community Centre just off of Main Street. It's a 38 km one way cycle from Turner Valley to the dead end at Junction Creek. You could also shorten the ride by starting at the winter gate. Then it's just 18 km one way. Gain 645 m of elevation from Turner Valley, 300 m from the winter gate.
Ride past fields full of cows (look for cowboys) into the forested foothills. Along this section we saw a moose clear a fence in a few quick moves. At the winter gate the scenery gets better and better with mountain views appearing. Sheep River Falls is definitely a highlight and a great place for a picnic lunch.
If possible do this ride before May 14th when the road is closed at the winter gate to all but hikers and cyclists. However, it's a stunning ride in the fall – but go early to avoid much of the traffic.
There is one nasty hill but the rest of the ride is flat or rolling. You can rent ebikes from Rollick Co. in Black Diamond.
Read: Sheep River Valley Cycling in Kananaskis Country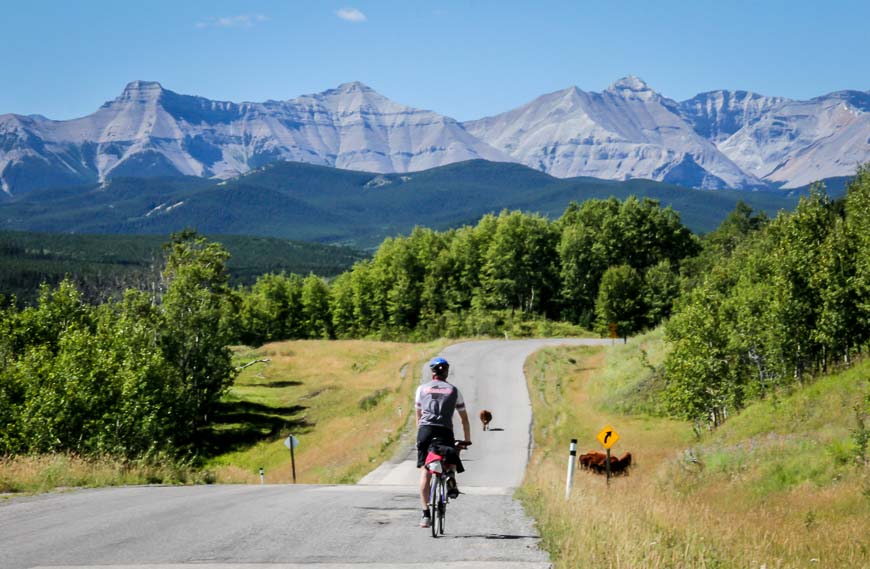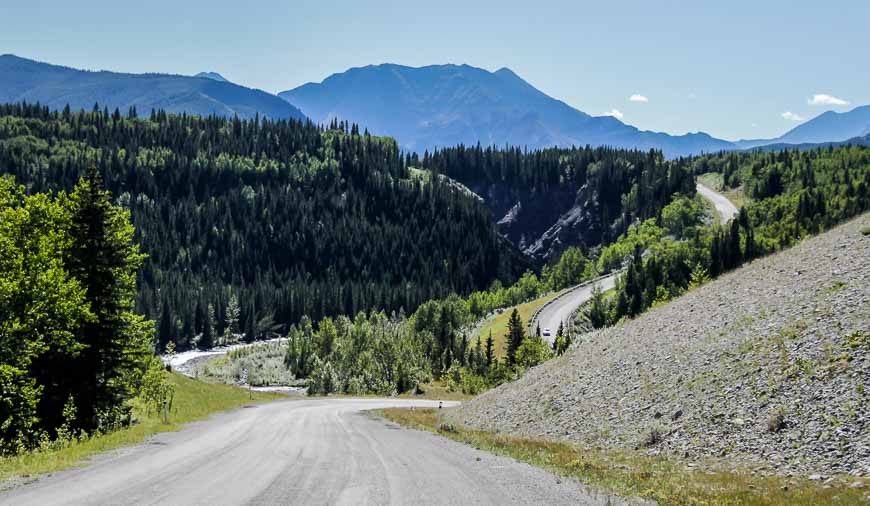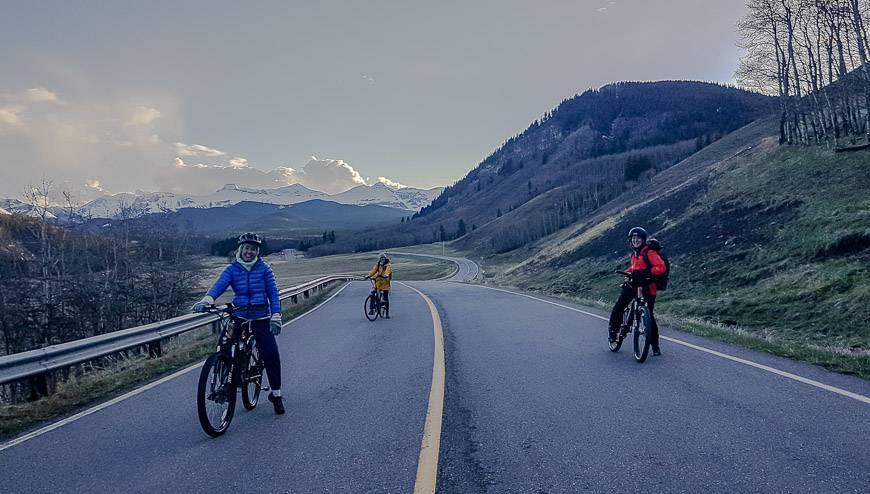 The Canmore Legacy Trail bike ride
Built in 2010 to commemorate the 125th anniversary of Parks Canada, the Canmore Legacy Trail is 26 km one way. Start at the outskirts of Canmore (there's a great big parking lot by the Travel Alberta welcomes centre) and cycle into Banff and then along Vermilion Lakes Road to get the classic Mount Rundle view.
You can continue all the way to Highway 1A on a bike path. The elevation gain is only 185 m. It's easier biking to Canmore than it is cycling to Banff.
Another great ride – though its mountain biking – that hooks up with the Banff Legacy Trail is the Goat Creek Trail that starts above Canmore.
Read: Cycling the Banff Legacy Trail from Canmore to Banff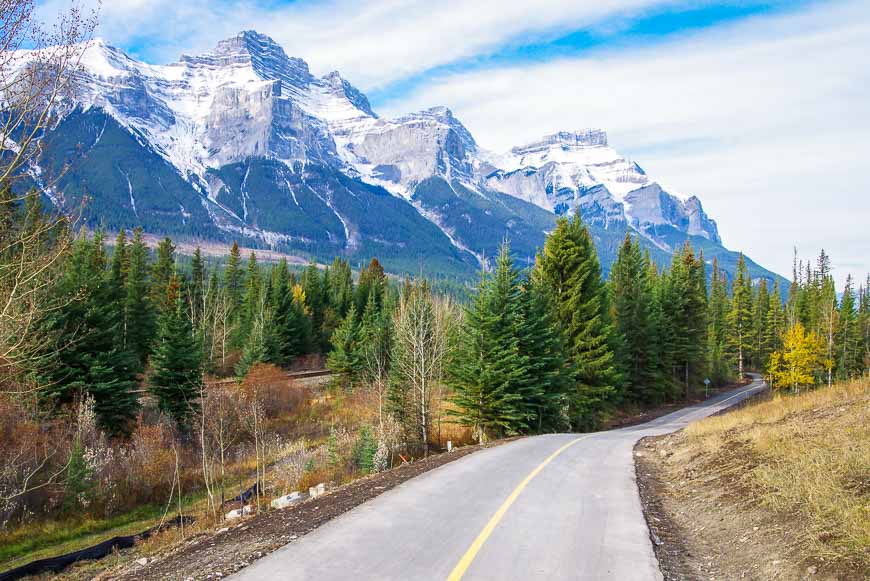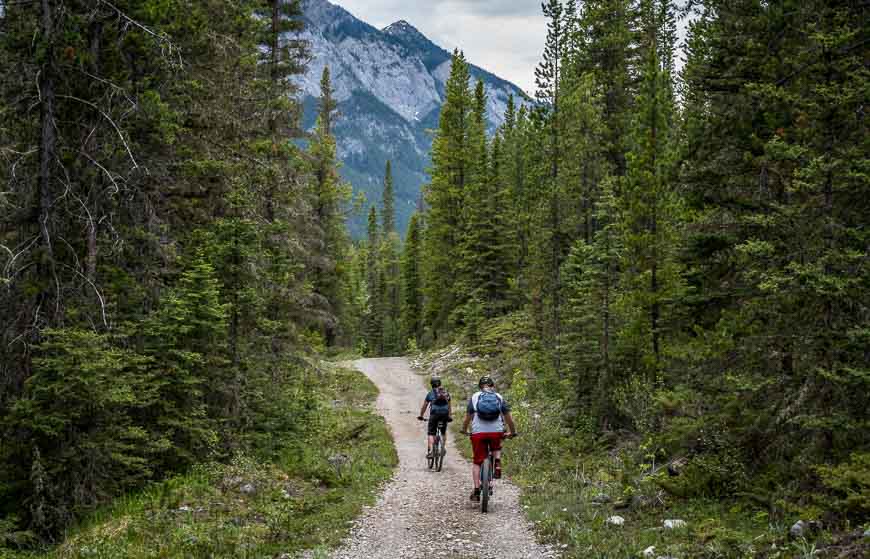 Bow River Valley Trails in Canmore
If you want an easy but scenic and family-friendly bike ride, then check out the 20 kilometres of well-marked trails in Canmore. They'll take you along the Bow River (with lots of benches that will beckon you to stop) and through the woods.
Sometimes you'll feel like you're miles from nowhere. Be prepared to cycle on a mix of pavement and gravel. Keep an eye out for wildlife.
Read: Biking in Canmore – Alberta's Friendly Mountain Town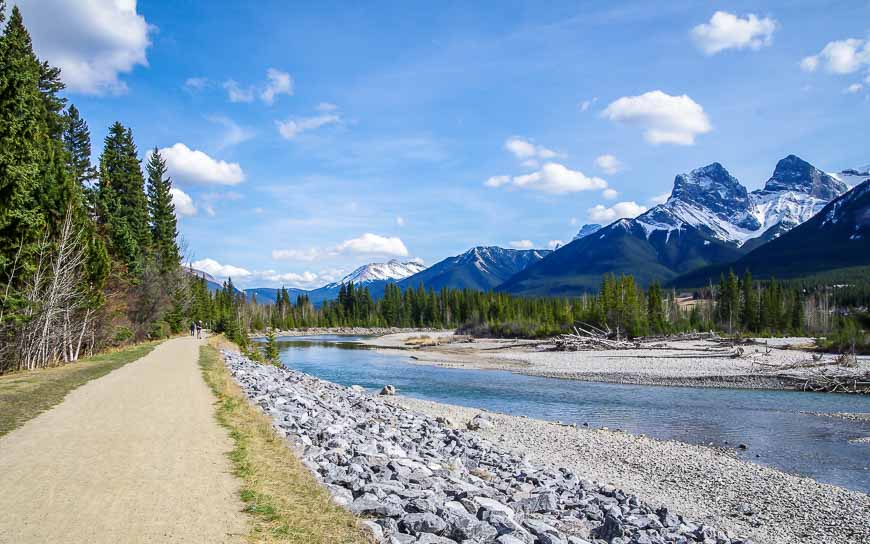 Lake Minnewanka Loop by bike
This is a wonderful 15.5-km loop that climbs 142 m in total. If you ride it before May, you'll be able to enjoy a car free section on the western portion of the loop.
There are grand views of Cascade Mountain, the Parks Canada iconic red chairs along the shores of Two Jack Lake and a high probability of seeing bighorn sheep.
Those with energy to burn can add the Tunnel Mountain Loop accessed via Tunnel Mountain Road, about a kilometre past the Trans-Canada Highway overpass on the way towards the Banff townsite.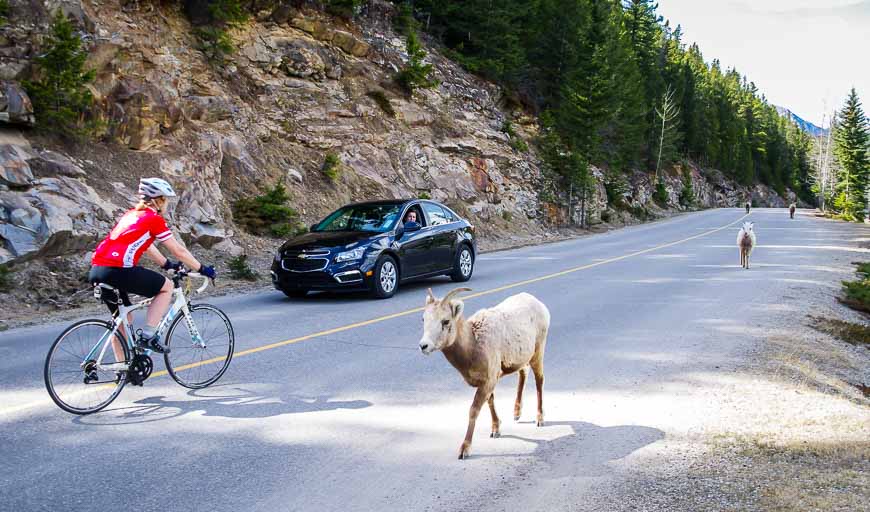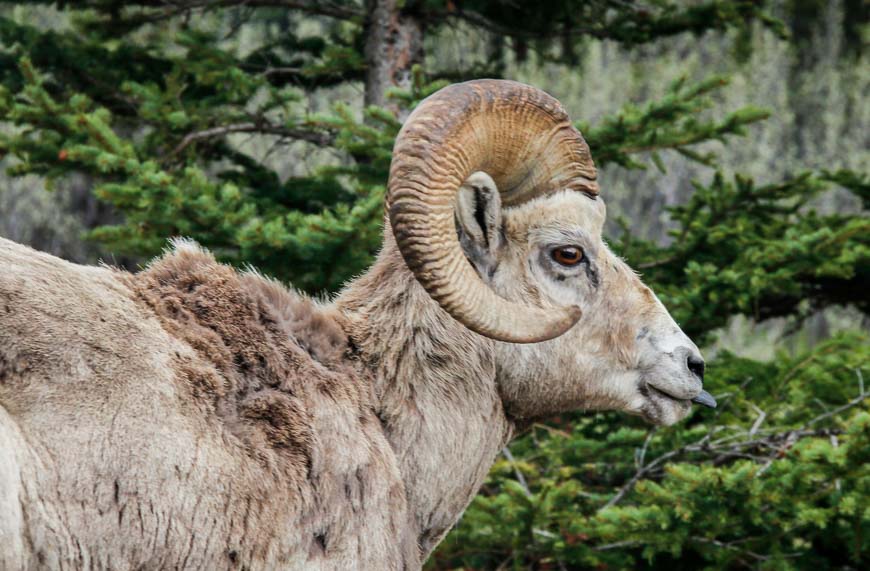 The Road to Nepal bike ride
If you think the landscape around Calgary is all pancake flat prairie you'd be wrong. Just south of Calgary you'll find a landscape of rolling hills – including many that are very steep.
This ride used to start at the parking lot at the junction of Highway 773 and 22X. Now I'd recommend starting at any quieter spot along the loop. (See the map in the blog.) Climb roughly 600 m over 55 scenic kilometres. It's easy to add in a side-trip for a café stop in nearby Millarville or Priddis.
Read: Biking the 'Road to Nepal' in South Calgary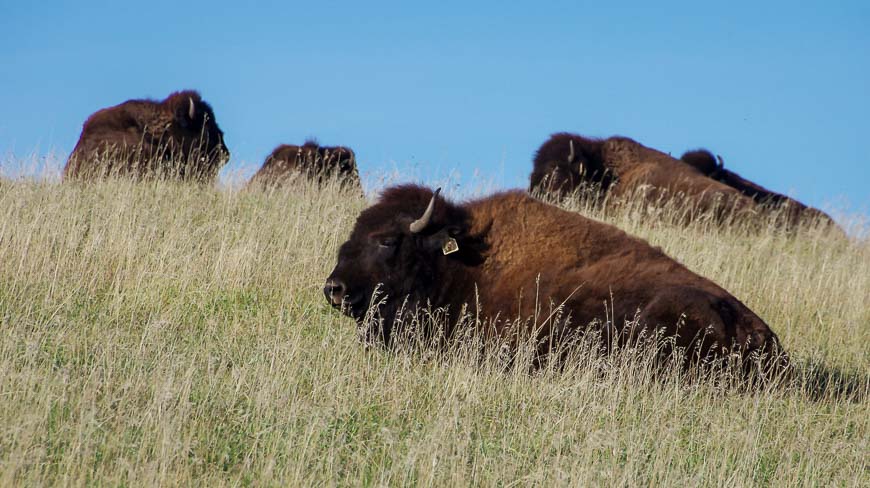 Biking the backroads around Red Deer and Lacombe
You could explore the 30 km of paved bike trails in Waskasoo Park if you go to Red Deer. But if you're a tad adventurous – and you have a detailed map then it's worth checking out the backroads between Red Deer and Lacombe.
Don't miss a lunch stop at the Ellis Bird Farm but check to make sure it's open. In total you can cycle a beautiful loop of almost 100 km with most of it on quiet roads or part of the Trans-Canada Trail.
Read: Biking in Red Deer, Alberta: What's Not to Love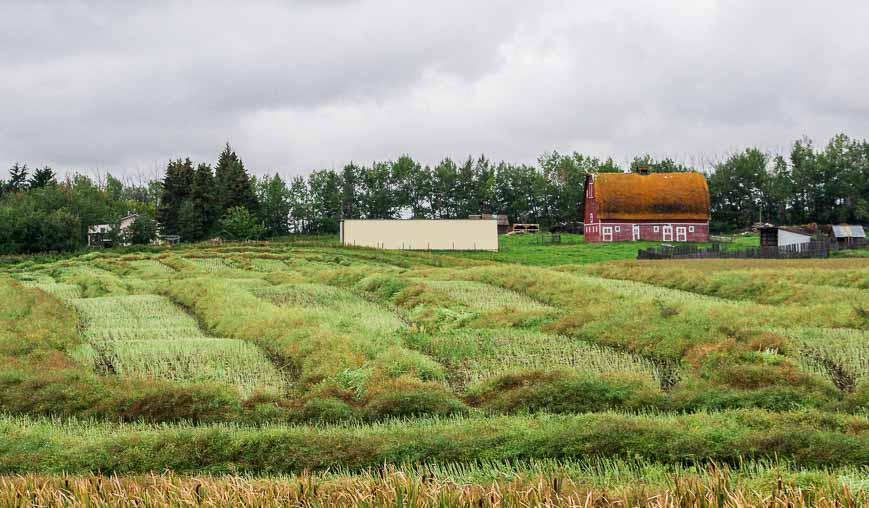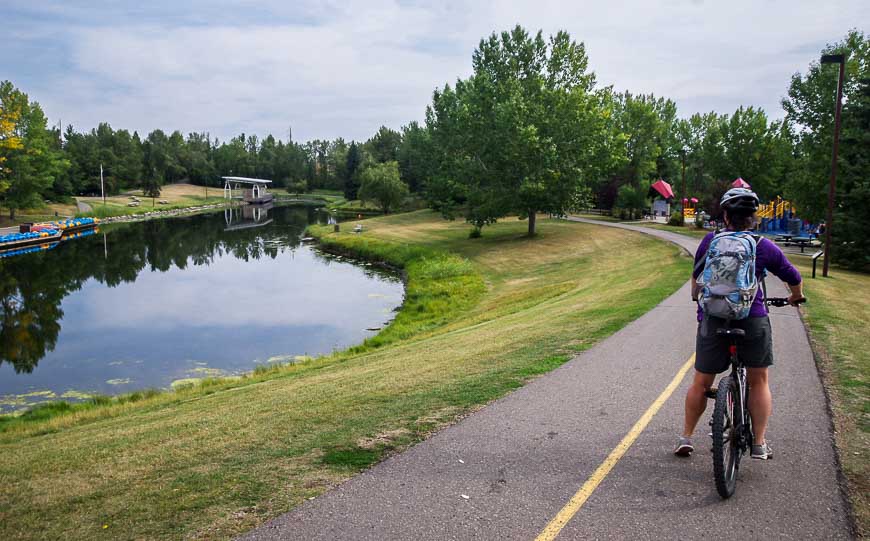 Cycling from Calgary to Chestermere
Start anywhere in Calgary and pick up the bike trail east of the Calgary Zoo that takes you over Deerfoot Trail towards the Max Bell Arena. Then look for signs saying Western Irrigation Ditch Canal and follow it for 29 sometimes bumpy kilometres to Chestermere.
Some of the landscape isn't pretty – but it's interesting to see the industrial heartland of the city. And eventually you hit long stretches of scenic countryside. There's lots of bird life and a perfectly positioned bench at the end of the trail when you reach Chestermere Lake.
Read: How to get From Calgary to Chestermere by Bike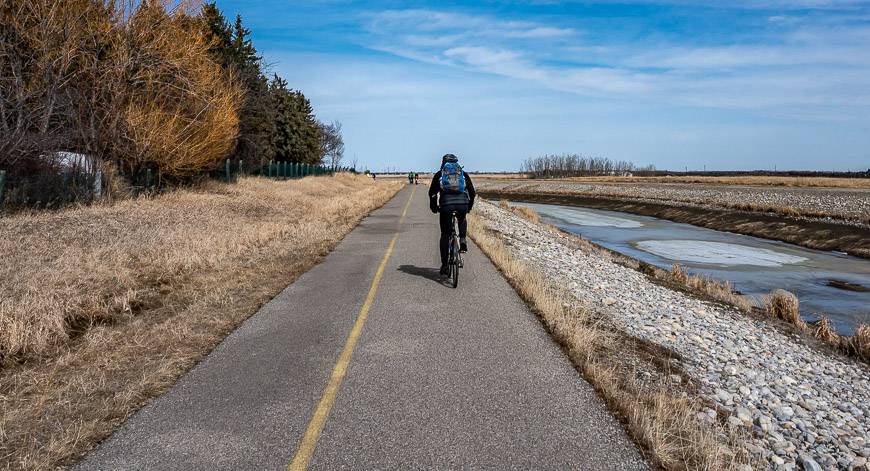 Biking around the Glenmore Reservoir
This is one of my favourite bike rides in Calgary. Easy to access via the Elbow River trails, it's a great loop to cycle and one I love to do after work in the summer – providing I keep my mouth shut when the bugs are around.
The Weaselhead section at the western end of the reservoir is the wildest part of the ride – and a place where you might get lucky and see some wildlife. Otherwise, enjoy the distant views of the Rockies and the sight of the sailboats or kayaks on the reservoir.
It's popular with walkers too, so be prepared to deal with the occasional bottleneck. It's easy to continue to Fish Creek Park and do a big loop back to the downtown if you've got a few hours. For a café stop, head to Good Earth at Glenmore Landing.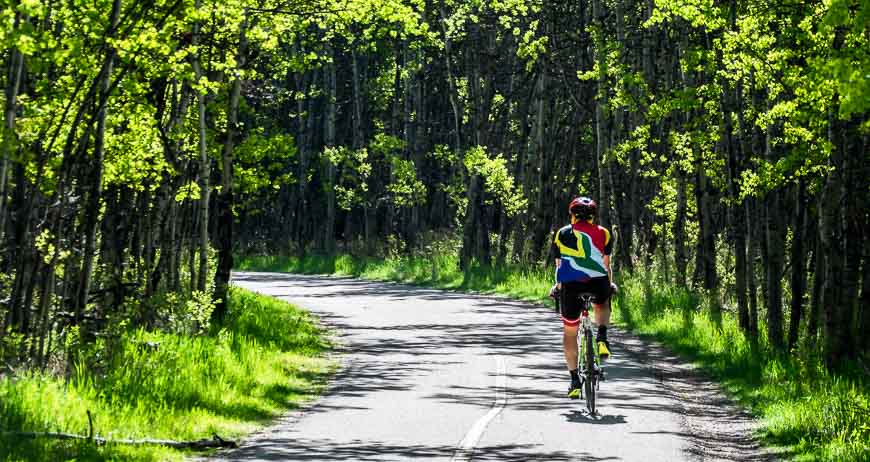 Highwood Pass bike ride
For a great workout with non-stop mountain scenery – and a road without cars if you cycle before June 15th, then Highwood Pass is it. You can approach from two directions, the north gate near King Creek on Highway 40 or the south gate near Highwood Junction.
The full out and back bike ride is 108-km with 1267 m of elevation gain, though many people just ride to the pass from either direction and then enjoy a great bike ride down. I carry bear spray on this route. Dress appropriately as it can be much colder in the mountains.
Highwood Pass is car free until June 15th – but car free doesn't mean snow free. Every year is different and if you head out too soon, the snow will turn you back.
Read: Cycling the Highest Paved Road in Canada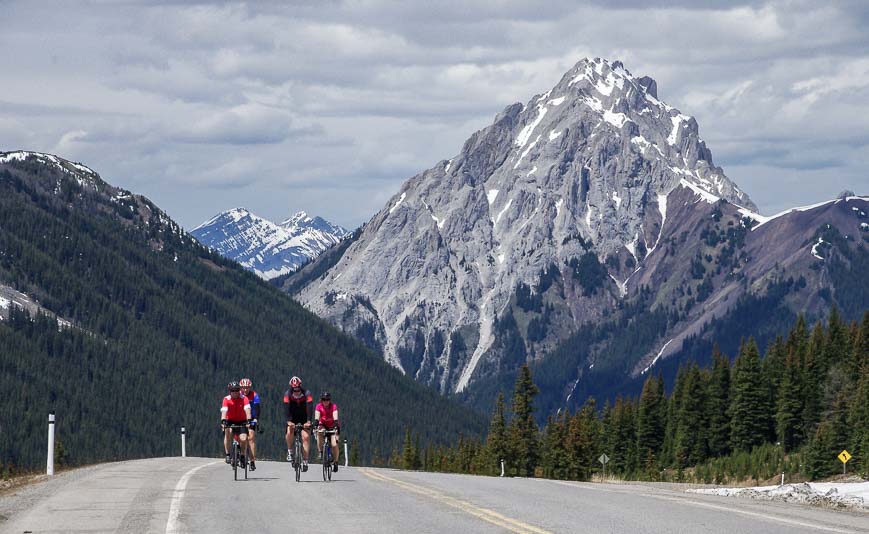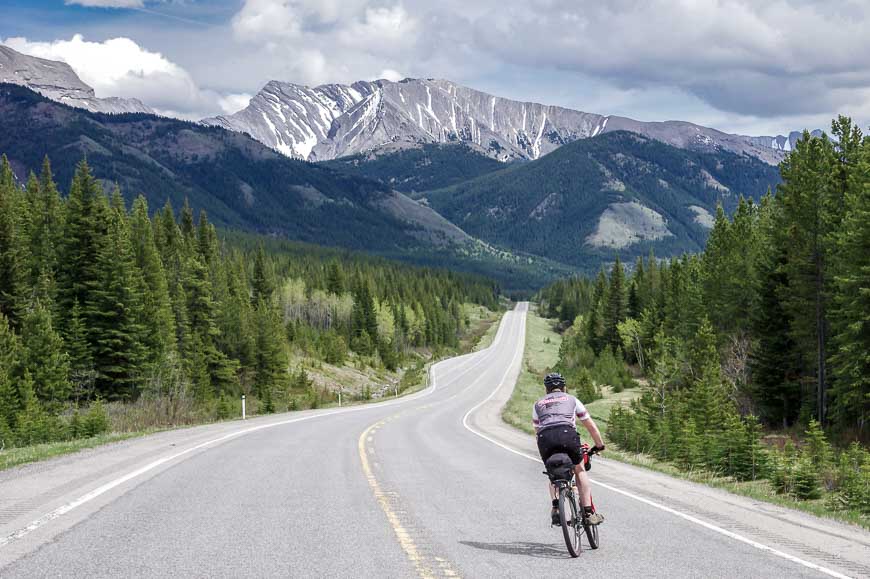 The Dinosaur Trail bike loop in Drumheller
Its 50-km and an easy 160 m of climbing to ride the full Dinosaur Trail. You can park near the giant dinosaur in Drumheller (you can't miss it) and then head out and enjoy some of Alberta's fabulous badlands scenery.
Along the way you'll pass the world-class Royal Tyrrell Museum, Horse Thief Canyon, numerous oil wells and grain elevators. To return to Drumheller take the Bleriot Ferry – free of charge across the Red Deer River – though it doesn't open until around mid-May. You need about three hours with stops to do the full loop. You can also add on a section on the 11 Bridges Trail to Wayne, accessed south of Drumheller.
Read: Biking the Dinosaur Trail near Drumheller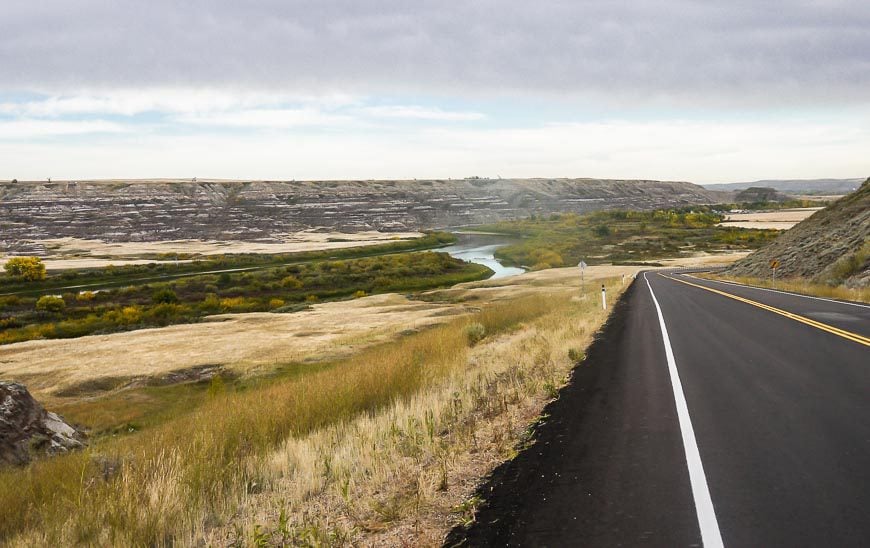 What's your favourite bike ride in the Calgary area?
More reading related to biking
Click on the photo to bookmark to your Pinterest boards.