Looking for an easy, reasonably priced weekend getaway that involves only a bike, a credit card, and a ferry ride to Vancouver Island? Try two days of biking the Galloping Goose Trail from Swartz Bay Ferry Terminal to Sooke and back via the Lochside Trail as described below. It's a great weekend trip from Vancouver and affordable since you can bike onto the ferry at a fraction of the price of taking a car.
This post includes some affiliate links. If you make a purchase via one of these links, I may receive a small commission at no extra cost to you. Thank you very much for your support.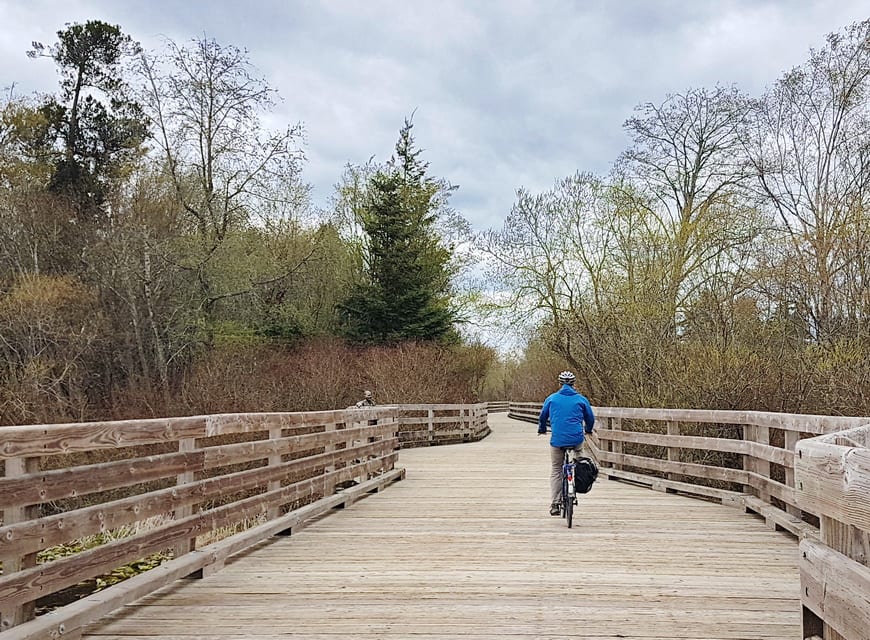 Take the ferry from Tsawwassen to Swartz Bay to get to the Galloping Goose Trail
Our trip started with a drive to the Tsawwassen ferry terminal, about 45-minutes from downtown Vancouver.
We parked our car in a long term parking lot, attached the panniers to our bikes loaded with only a change of clothes and some rain gear and headed for ferry tickets. The Tsawwassen ferry terminal has a special booth that looks after cyclists.
Rates these days are $17.20 per adult plus an extra $2 to bring a bike on board. The beauty of traveling with a bike as opposed to a car is that you always get on, and it's $57.50 cheaper each way without the car (based on two people traveling with bikes).
Enjoy the BC Ferries first on, first off policy with cyclists. Just bring a lock though for peace of mind – and remember what level on the ferry you left your bike.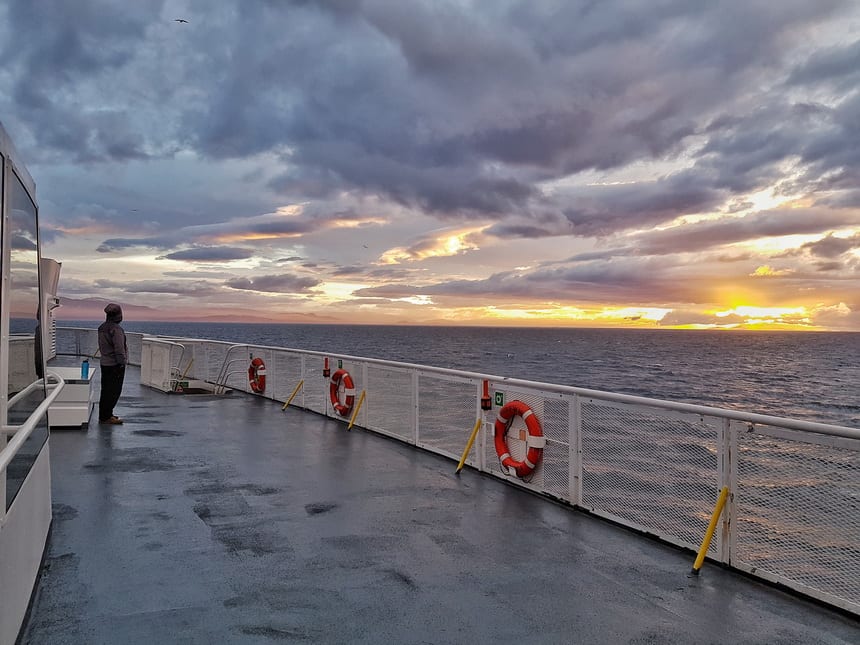 Approximate location map of the bike ride to Sooke via the Galloping Goose trail
Bike the Lochside Trail to meet up with the Galloping Goose Trail
Ninety minutes later get off the ferry in Swartz Bay. As the first ones off you get a head start and almost reach the Lochside Trail before the flow of cars begins. The signs for the trail are at the top of the first hill off the ferry. You can't miss them.
The Lochside Trail is a 29 km multi-use trail that started off as a railway line. It connects the ferry terminal to the 55 km Galloping Goose trail that takes you out to Sooke – but also into downtown Victoria.
If you need lunch supplies before continuing, detour into Sidney. It would also be a great place to spend the night on the return. One place I have stayed in many times is The Sidney Pier Hotel and Spa down by the ocean.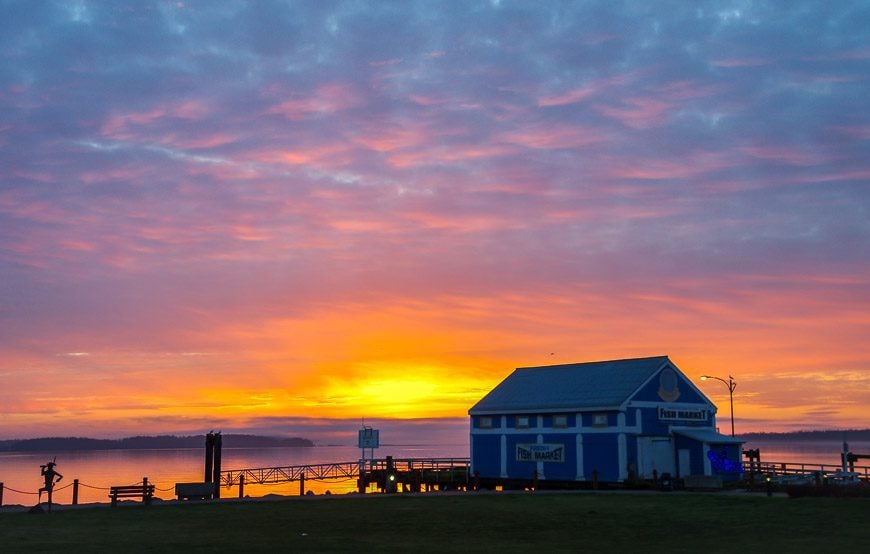 Bike to Sooke
We biked the Lochside Trail past the town of Sidney, through farmland, past many a horse until we met up with the Galloping Goose trail near the intersection of Douglas and Highway 1.
Occasionally we were on roads that we had to share with cars or farm vehicles but traffic was minimal. It got a tad confusing on the approach to the Galloping Goose trail but if you pay close attention to the signage you should be okay.
There is the option to take a side-trip into downtown Victoria from the intersection of the Lochkside and Galloping Goose trail but we elected not to do that. That would add 8 km return.
Click on the Galloping Goose trail link for more details and a good map.
Instead we continued along the Galloping Goose trail – past Portage Inlet and Royal Roads University. After that we had the feeling of getting away from civilization, though the trail was always in great shape.
We stopped for lunch at a small rodeo we just happened upon and caught some calf roping and barrel racing.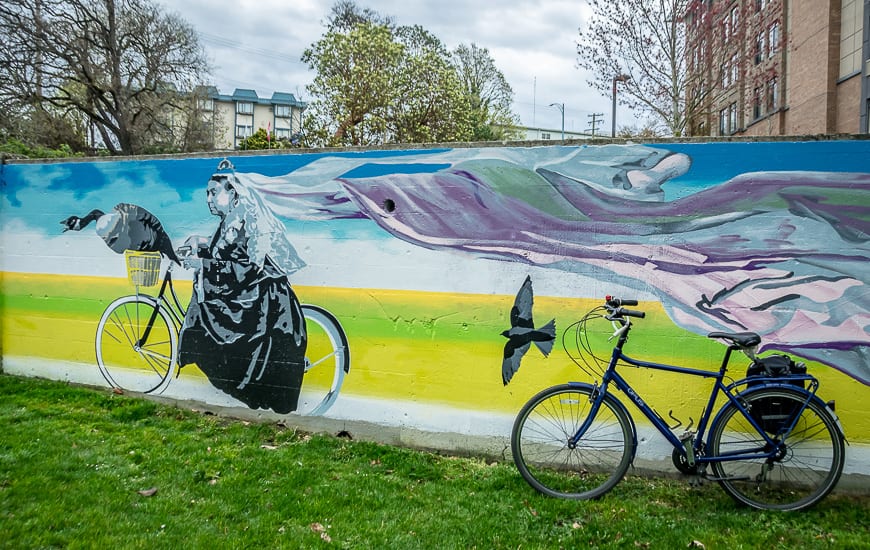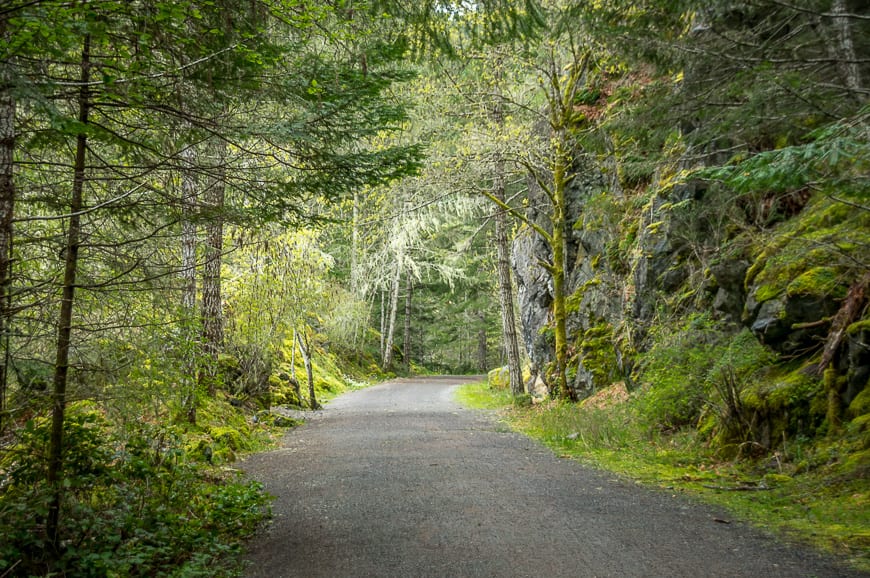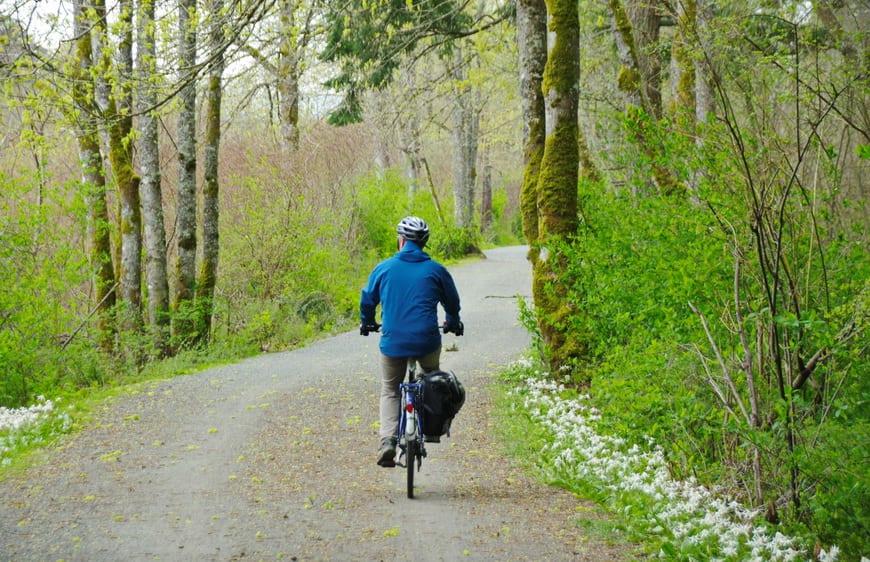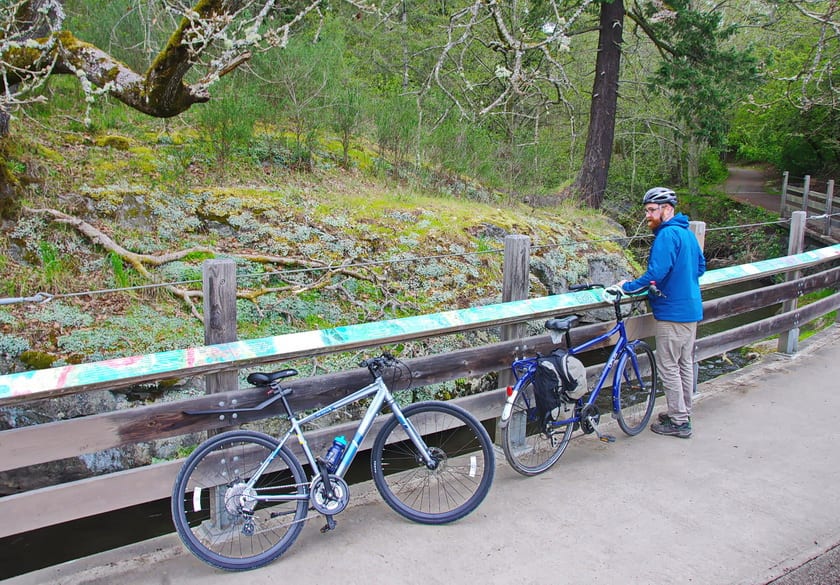 Biking near Sooke
Then we enjoyed almost 5 km of biking the Galloping Goose trail through Roche Cove Regional Park, followed by a pretty section with ocean views of the Sooke Basin.
Once we reached Sooke we diverted from the Galloping Goose trail and headed for the Sooke Harbour area where we had a B&B reservation for the night – at the cliff-side Richview B&B though unfortunately it's no longer operating.
A few things to take on your bike ride
I love our Ortlieb waterproof bike panniers. Ours are over a decade old and still in great shape.
Don't forget to pack a bike pump in case you get a flat.
A bike lock is a necessity if you want to make any stop along the way.
I like to carry a handlebar bag with my raincoat and bike tools rather than having something on my back.
Bike lights are one of those things you should always have – just in case you're out later than expected.
I also love a good pair of padded bike gloves, including full-fingered ones if I'm biking early or late in the season.
A bike phone mount is another great option for your bike.
Where to stay in Sooke
There are loads of B&B's and accommodation options in the Sooke area.
At SookePoint Ocean Cottage Resort all rooms have ocean views. It is rated superb.
One place we have stayed in is the Prestige Oceanfront Resort.
If you want something more intimate – on a beach check out Orca View Cottage – rated exceptional.
When they finish renovating Sooke Harbour House, hopefully sometime in 2023, it will be another great option.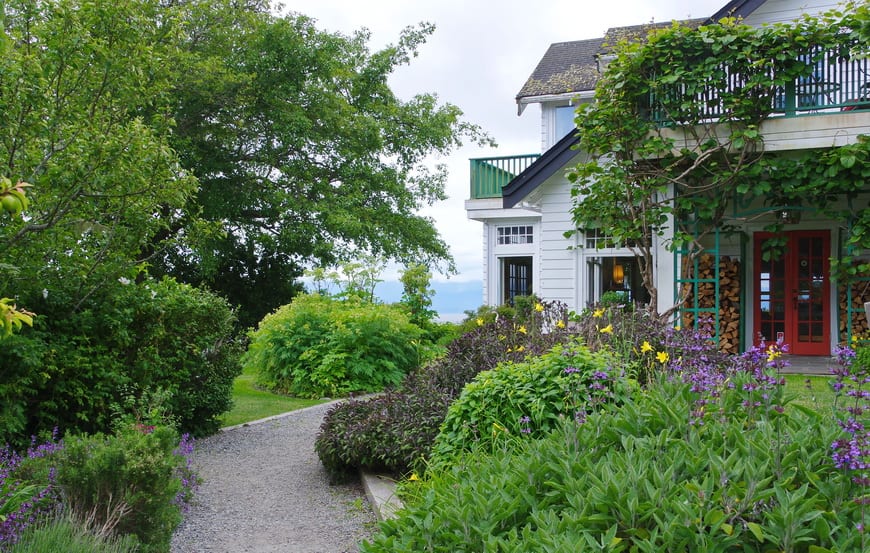 Biking the Galloping Goose trail to the Swartz Bay Ferry terminal
The next day after a breakfast filled with great conversation and endless cups of coffee it was time to retrace our footsteps. All told it was about 75 km of biking each way, mostly on the Galloping Goose trail – a reasonable amount – considering that there weren't too many hills.
If we had more time, stops off of the Lochside Trail to some of the wineries would have been fun. As a weekend trip this one's a winner for anyone in the Victoria, Vancouver or the Pacific Northwest.
You could easily make it into a week-long trip if you wanted to.
Further reading on biking in Canada
Click on the photo to bookmark to your Pinterest board.