Here are what I think are 12 of the best bike trips in Canada – all personally tested. The bike trips described below take you from British Columbia to Newfoundland with lots of great choices in between.
Enjoy a variety of landscapes on all of these bike trips in Canada including west coast and east coast scenery, the Rocky Mountains along with the beauty and steep hills of Cape Breton Island.
Quebec is one of the best spots to enjoy an extended bike trip in Canada – largely because of their incomparable Green Route network. They have more than their fair share of superb multi-day bike trips in Canada.
This post includes some affiliate links. If you make a qualifying purchase through one of these links, I will receive a small percentage of the sale at no extra cost to you. Thank you very much for your support.
Best bike trips in Canada location map
1. Gulf Islands bike trip – a fun way to explore the islands
Cycling the Gulf Islands is a treat. You have a number of islands to choose from, all with their own personalities. You need a week if you want to properly cycle all of them, even more if you want some side trips. (Download a full guide to cycling the Gulf Islands here.)
Victoria and the Gulf Islands are known for their mild temperatures, sunny days and low rainfall, especially in summer. Really!
Look for dedicated bike paths on Vancouver Island and mostly quiet side roads in the Gulf Islands, though Salt Spring Island in particular can get busy. Frequent ocean views and the drama of the mainland mountains are a bonus.
Off the bike, there are plenty of diversions – visiting artist's studios, wine tasting, farmers markets, spas, dining and enjoying picnics on one of the small beaches easily accessed by bike. Or rent a kayak for a half or full day. Maybe you'll be lucky and have some close up encounters with whales, seals, sea lions, bald eagles and seabirds.
Read: Biking the Galloping Goose Trail to Sooke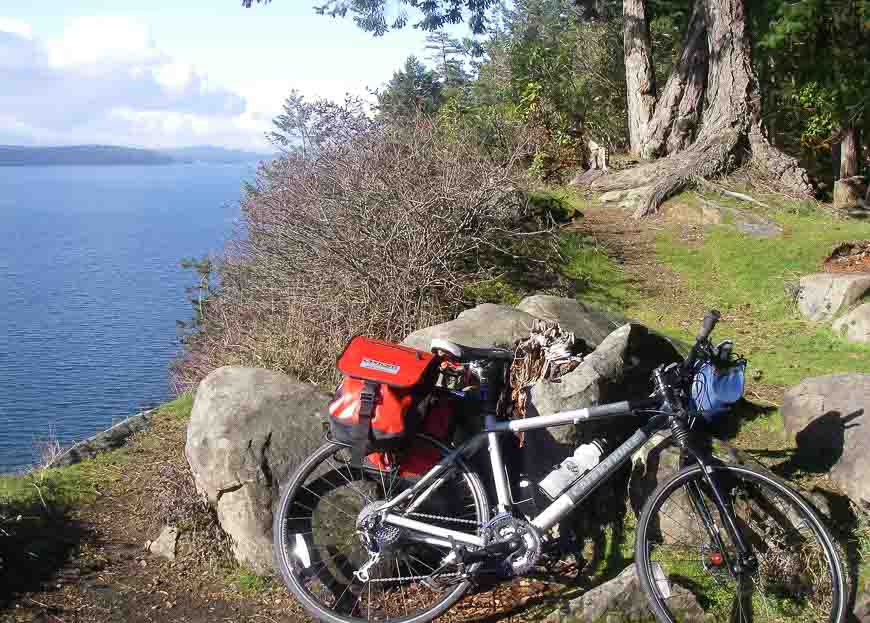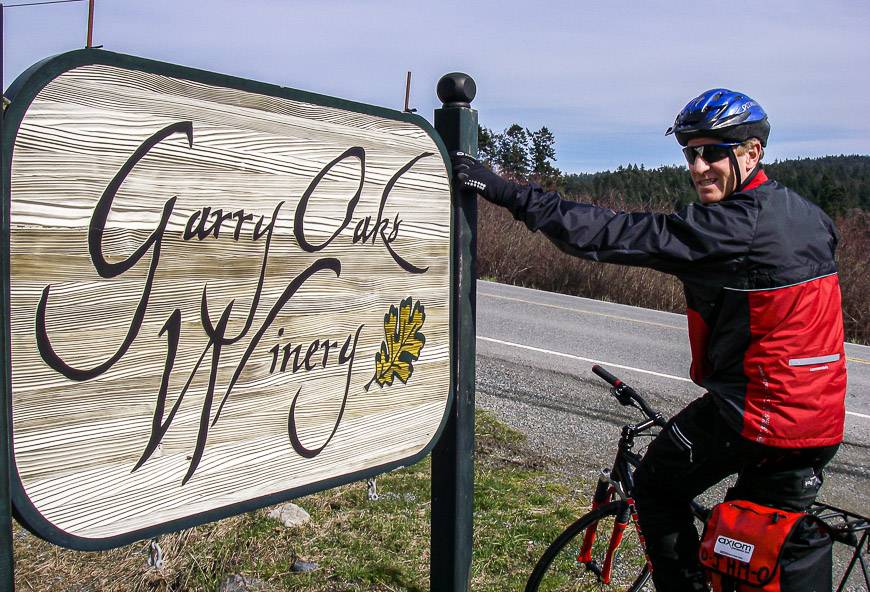 2. Kettle Valley Railway – one of the best bike trips in Canada
The Kettle Valley Railway (KVR) is an abandoned railroad track that winds across the Okanagan and Similkameen region in southern BC. It offers over 800 km (497 mi) of mountain biking trails (as opposed to road biking).
While the 80 km section from Myra Canyon near Kelowna through to Penticton is one of the most popular, there are loads of sections that can be strung together to form an amazing multi-day trip.
Here's a list of places to stay along the Kettle Valley Railway. There aren't many options, and what is available fills quickly. Plan accordingly.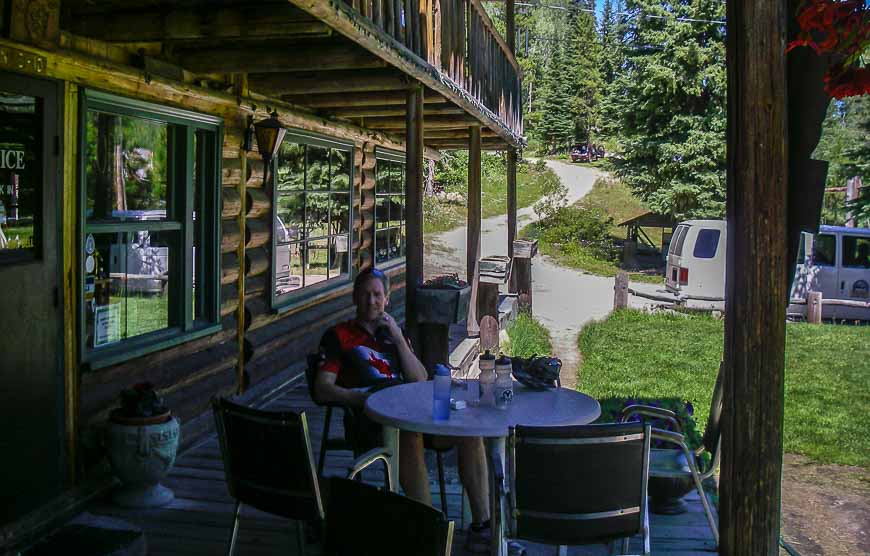 3. Banff to Jasper – one of the more difficult bike trips in Canada
The 290 km bike ride between Banff and Jasper is one of the most impressive bike rides in the world. The route runs parallel to the Continental Divide so mountains are always in sight. For the experienced and fit cyclist, it offers challenging hills and epic downhill rides.
Typically done over four to five days, the cycling is on highways – the Trans-Canada Highway between Banff and Lake Louise and the Icefields Parkway from Lake Louise all the way through to Jasper. Luckily, big trucks are banned on the Icefields Parkway – and both sections of highway have wide shoulders.\
Read: A Complete Guide to Biking from Banff to Jasper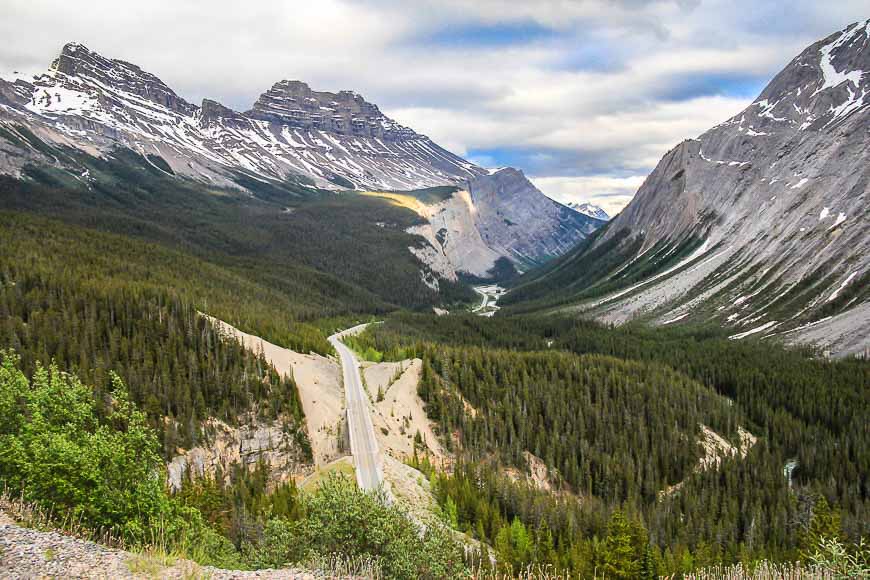 4. Niagara-on-the-Lake to Fort Erie bike trip
Niagara Falls, quiet riverside paths, museums, world-class wineries and an abundance of orchards guarantee that the cycling along the Niagara River Recreation Trail is anything but average.
Its 25 km one way to Niagara Falls and another 29 km to reach Fort Erie. You can actually cycle a 195 km loop and return to Niagara-on-the-Lake via Port Colborne, Thorold and Jordan.
The cycling is lovely from May until October. You can rent bikes in Niagara-on-the-Lake and Niagara Falls. There's a Bike Train from Toronto to Niagara Falls so it's easy to make it into a weekend getaway. There are loads of places to stay. Pack a change of clothes and a credit card – and take off.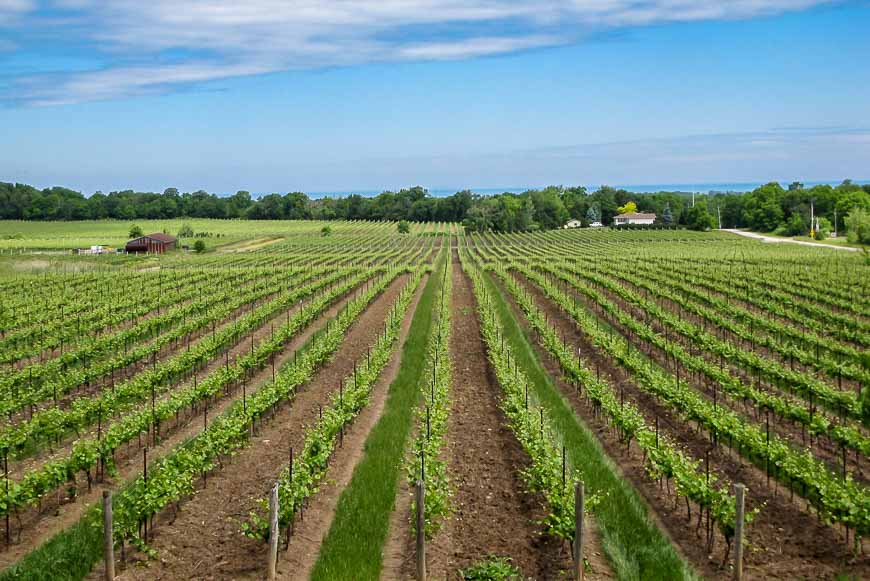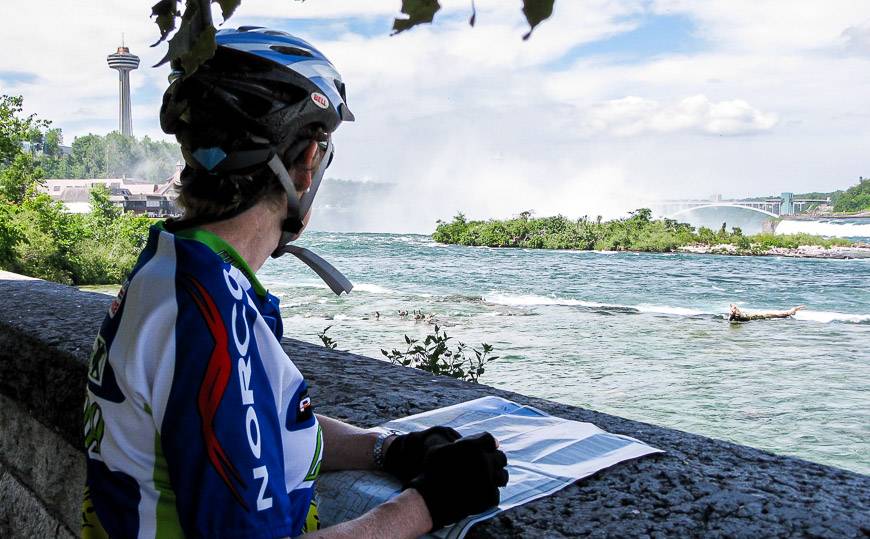 5. Eastern Townships, Quebec – a top bike trip in Canada especially in fall
Within spitting distance of Montreal, Quebec's Green Route travels through the Eastern Townships on a total of 225 km of signed trail and road. If you head out with just a couple of panniers, you have the flexibility to stay in some of the small towns before returning to your starting point.
Magog, a pretty town located not only on the Green Route but on Lake Memphremagog, is a great base for it allows you to cycle two different out and back sections of the Green Route; either head west for Granby via Mont-Orford National Park or east to Danville via North Hatley and Sherbrooke.
Not only is the cycling superb, the Eastern Townships offer the foodie a wide choice of locally made cheeses, apples, pates, Brome Lake duck, maple products and even wine – a winning combination if there ever was one.
Read my old Eastern Townships bike guide appreciating some information will be dated.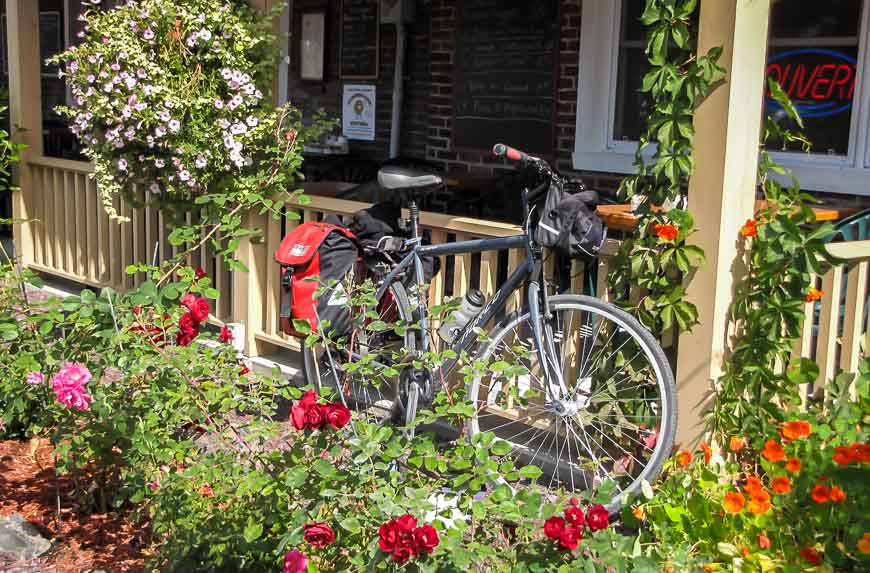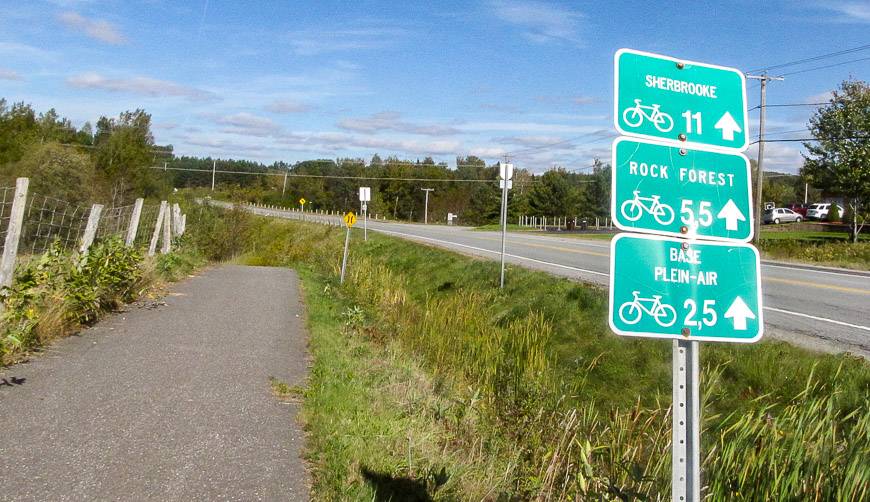 6. Blueberry Route bike trip around Lac Saint-Jean, Quebec
The Blueberry Route, part of Quebec's Green Route, takes you around Lac Saint-Jean (northeast of Quebec City) on 256 km of dedicated bike trail and signed roads.
Typically it takes three to four days to complete the loop. The route takes its name from the blueberries that grow wild in places thanks to ideal growing conditions provided by a huge forest fire that happened decades ago.
Look for roving ambassadors, ready to answer questions or help with any problems you encounter along the route. I cycled it solo over three days and never tired of the lush canola fields or the picturesque towns – all seemingly dominated by pretty churches.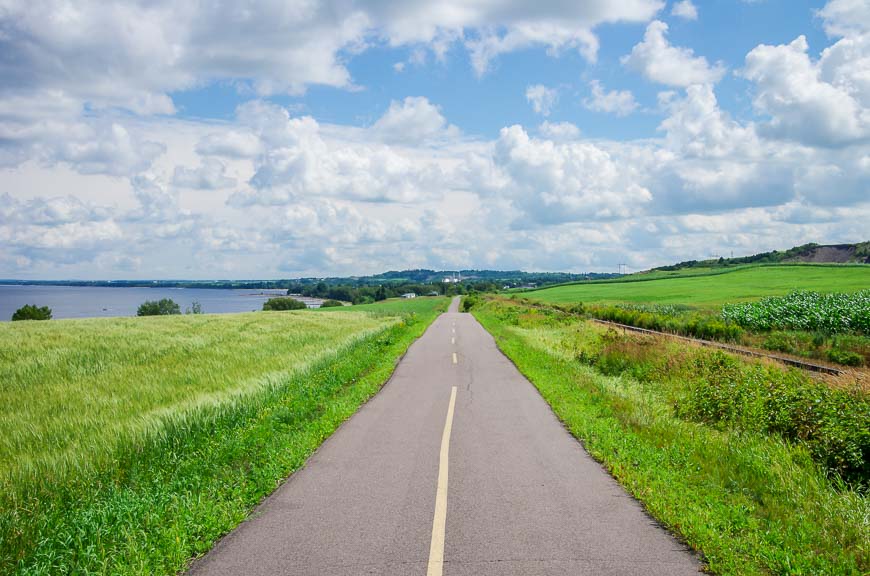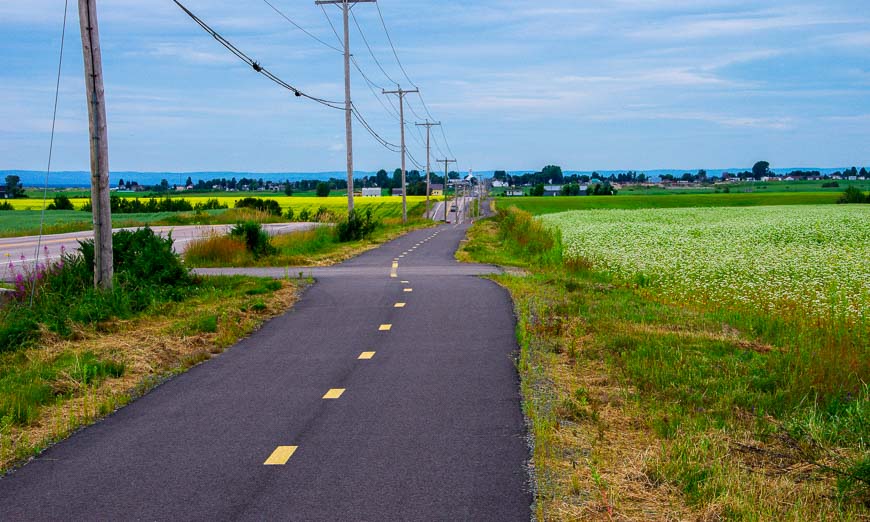 7. Le Petit Train du Nord bike trip in Quebec
For a superb three to four day bike ride choose the 200 km Le Petit Train du Nord in Quebec's Laurentian region. Over the four days you'll cycle through pretty rolling countryside past many a gorgeous small town and village, filled with character. Restaurant options abound and along the route there are numerous B&B's that cater to the cyclist.
Getting to the starting point in Mount-Laurier from Saint-Jérôme is easy now that there is an option to hop on a shuttle (for a price). This is an easy bike ride on an old train track (hills are rare) with reasonable distances if you do it over three or four days.
For more information read: Biking Le Petit Train du Nord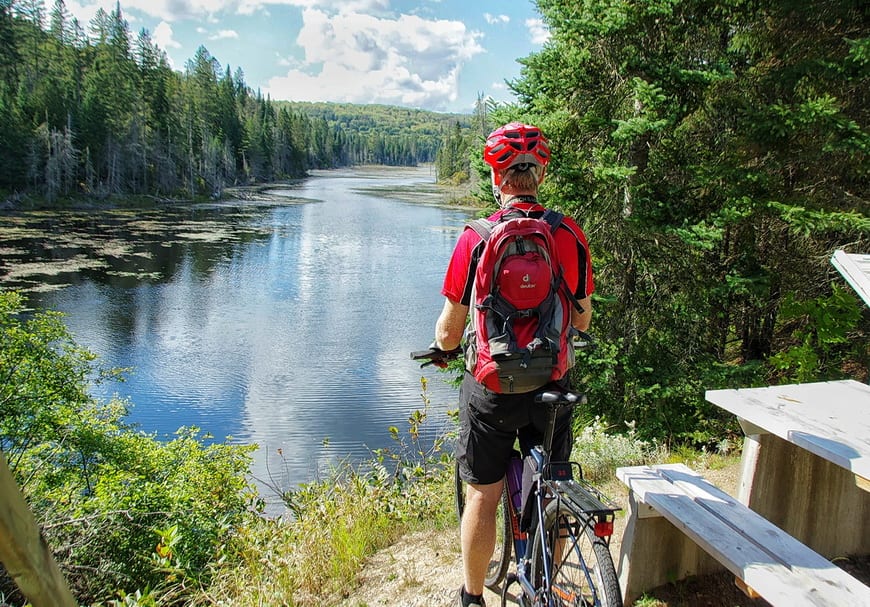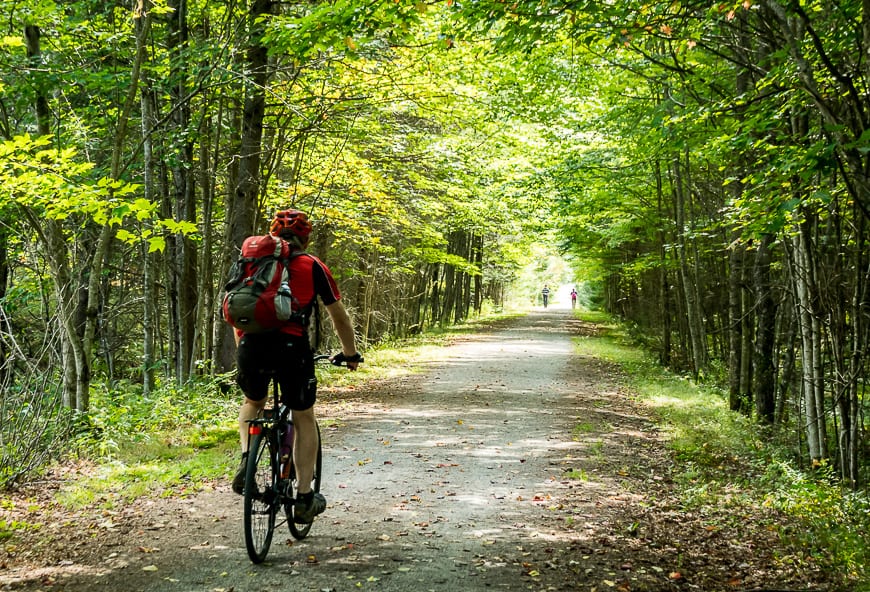 8. New Brunswick Fundy Isles bike trip
It's great fun exploring the Fundy Isles by bike. There are three worth visiting- Grand Manan Island, the largest; Deer Island – the smallest and Campobello Island, where you'll find the sprawling summer home of former US President Franklin D. Roosevelt.
Deer Island and Campobello Island are easy to do together. The ferry to Grand Manan Island is 27 km from the Deer Island ferry so the logistics can be a bit of a pain. It's easier if you have a car and a bike rack.
There's no right or wrong way to explore the islands. Each island is unique, offering something different. Deer Island is largely driven by fishing and aquaculture, and doesn't have the tourist infrastructure of Grand Manan.
Although there is still lots of fishing out of Grand Manan Island there are lots of activities for visitors – including kayaking and whale watching. Campobello Island feels very different because of its long history with the United States and the fact it's connected by a short bridge to Lubec, Maine.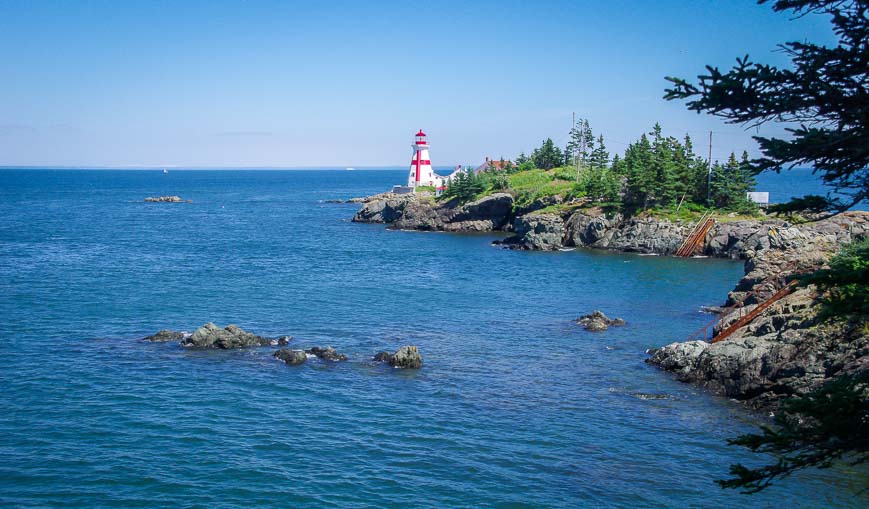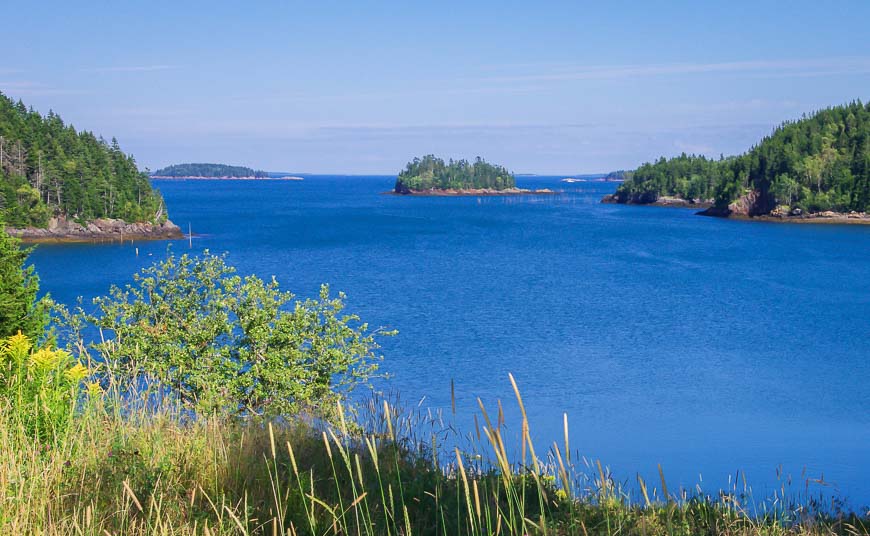 9. The Cabot Trail bike trip in Nova Scotia
The Cabot Trail is a 300 km loop around the northern part of Cape Breton Island including Cape Breton Highlands National Park. Because it's a loop, you can in theory start anywhere. I found Baddeck to be a good place to start because of its proximity to Sydney – and plane connections.
The bike ride wanders through a mix of Acadian and Gaelic towns, where the culture is celebrated especially through music and song.
Visit Cheticamp and go whale-watching. Don't miss salmon fishing in the Margaree Valley. And be prepared for some burn on the climbs – where the gradient reaches 13% over 3 km in the national park. This ranks as one of the toughest bike trips in Canada – because of the hills – but what goes up must come down, so you'll enjoy some great downhills too.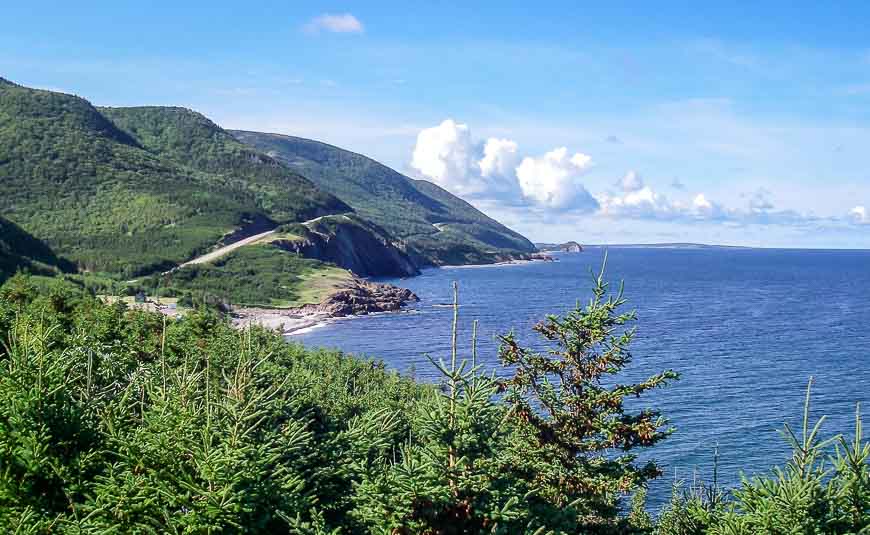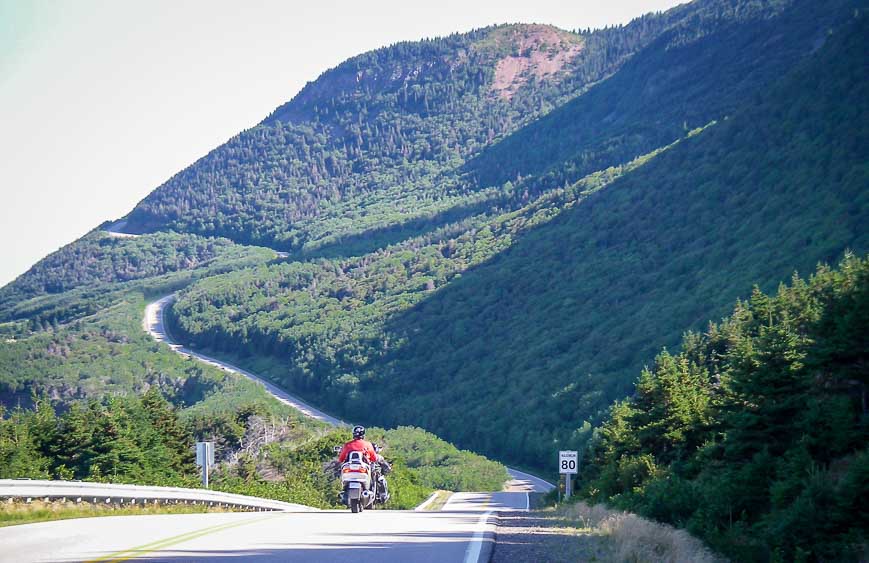 10. Mahone Bay to Lunenburg and Bridgewater bike trip
For one of the most scenic bike trips in Canada, plan on five to seven days cycling rail trails and back roads between Mahone Bay, Lunenburg, Bridgewater, LeHave and Petite Rivière on the south shore of Nova Scotia. It's easy to rent bikes and there are lots of accommodation options from delightful inns to cute bed and breakfasts to places you can rent on VRBO.
The cycling is easy. There are beaches to enjoy and of course the fresh seafood is out of this world.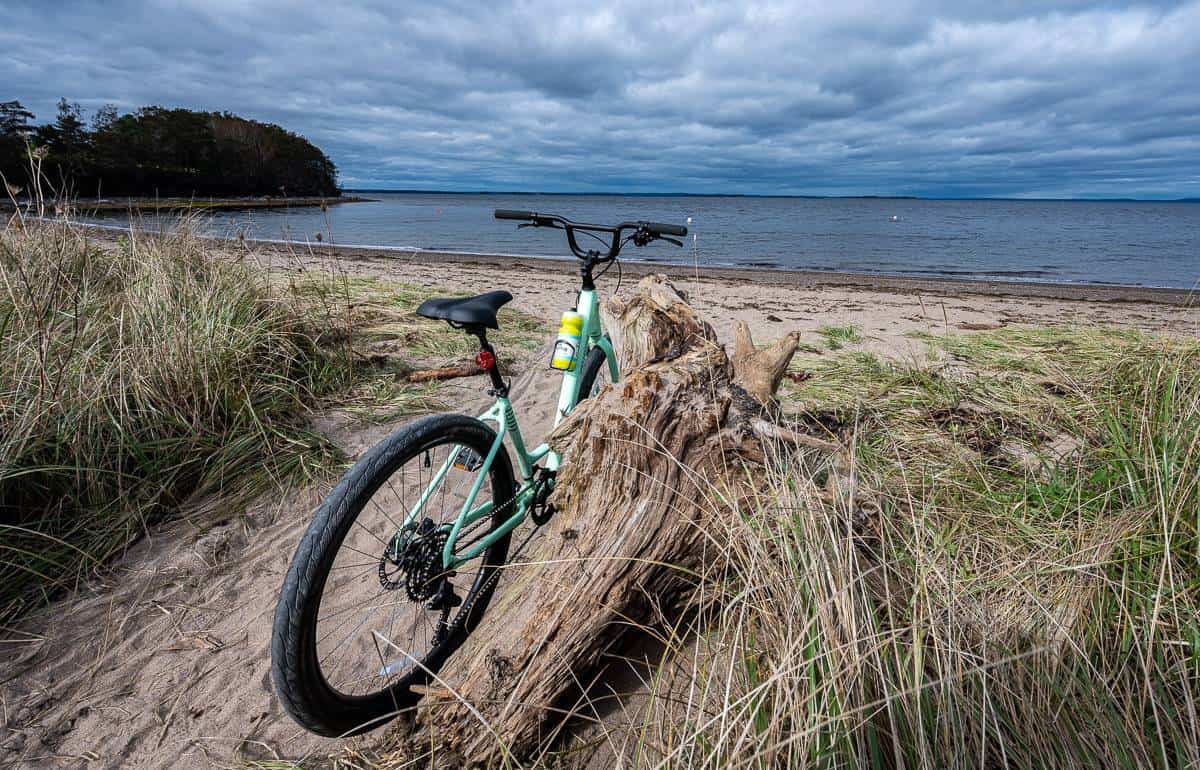 11. Cycle the length of Prince Edward Island – one of the easiest bike trips in Canada
If you're in shape you could in theory cycle the length of Prince Edward Island in a day – but who'd want to do that?
You'd miss all the things that make the island so special – beautiful beaches, quiet backroads, stops for scallop burgers and lobster rolls, friendly people and a laid-back vibe.
Instead, grab a map and choose the less-traveled secondary roads. A real treat is the new 10 km multi-use trail along the Gulf Shore Parkway in Prince Edward Island National Park. Don't just cycle the Confederation Trail – because although flat, it doesn't offer the views that the backroads do. This is one of the most relaxing bike trips in Canada you can do!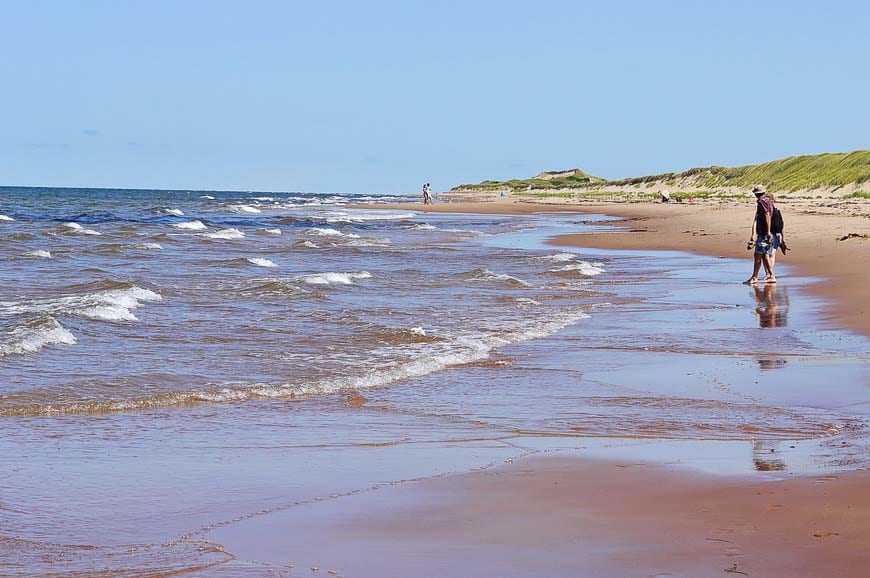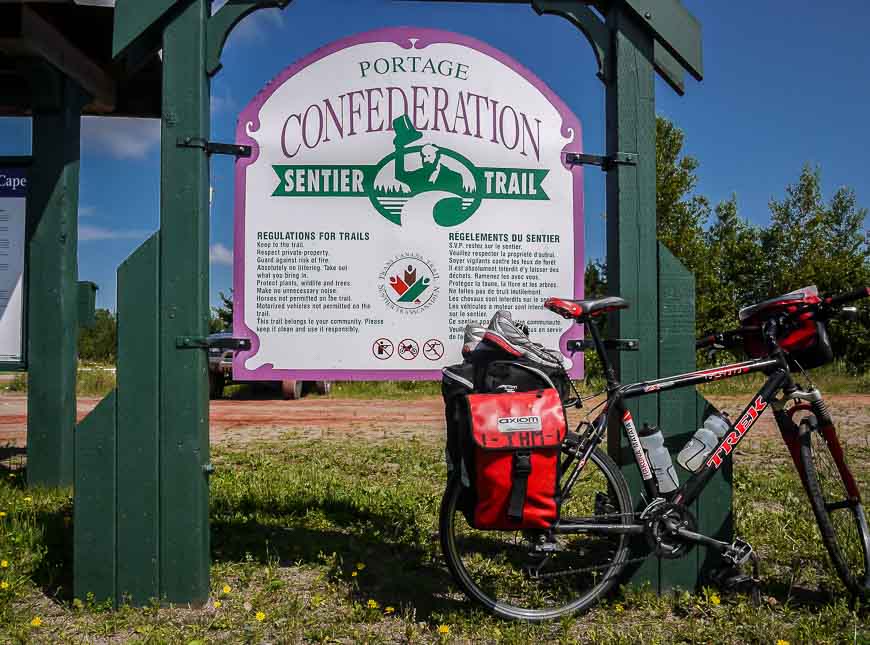 12. Bike the Viking Trail in Newfoundland
The 600 km cycling trip up Newfoundland's Great Northern Peninsula is a fantastic bike ride but it's a tough one. Allow 7 – 10 days on a route that primarily follows the rugged coast through a series of sparsely populated but picturesque fishing villages with names like Sally's Cove, Cow Head and Brig Bay.
Do it for the scenery, the chance to visit Gros Morne National Park (spend a day and hike to the top of Gros Morne Mountain), to test your mettle riding across the barrens and to see places like Labrador – a day trip by ferry away.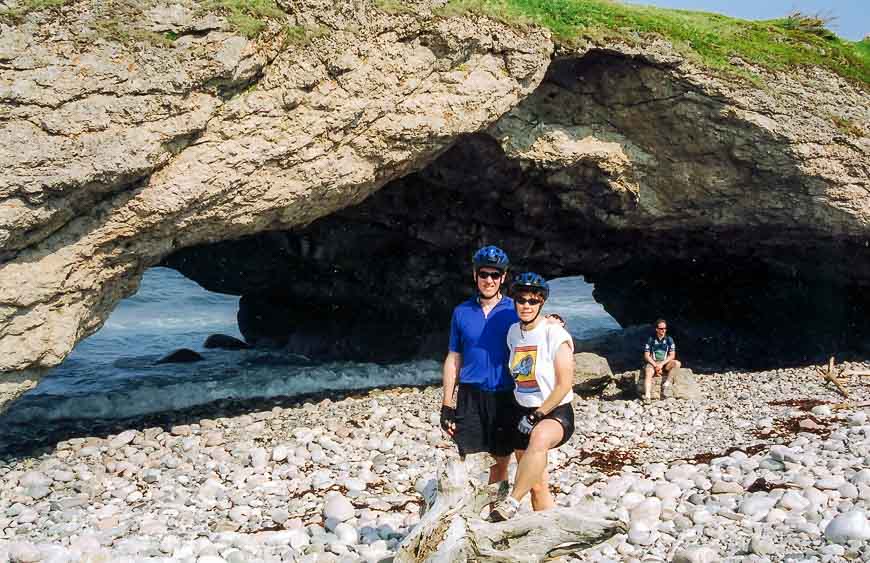 More posts on biking you might enjoy
A few useful items for bike trips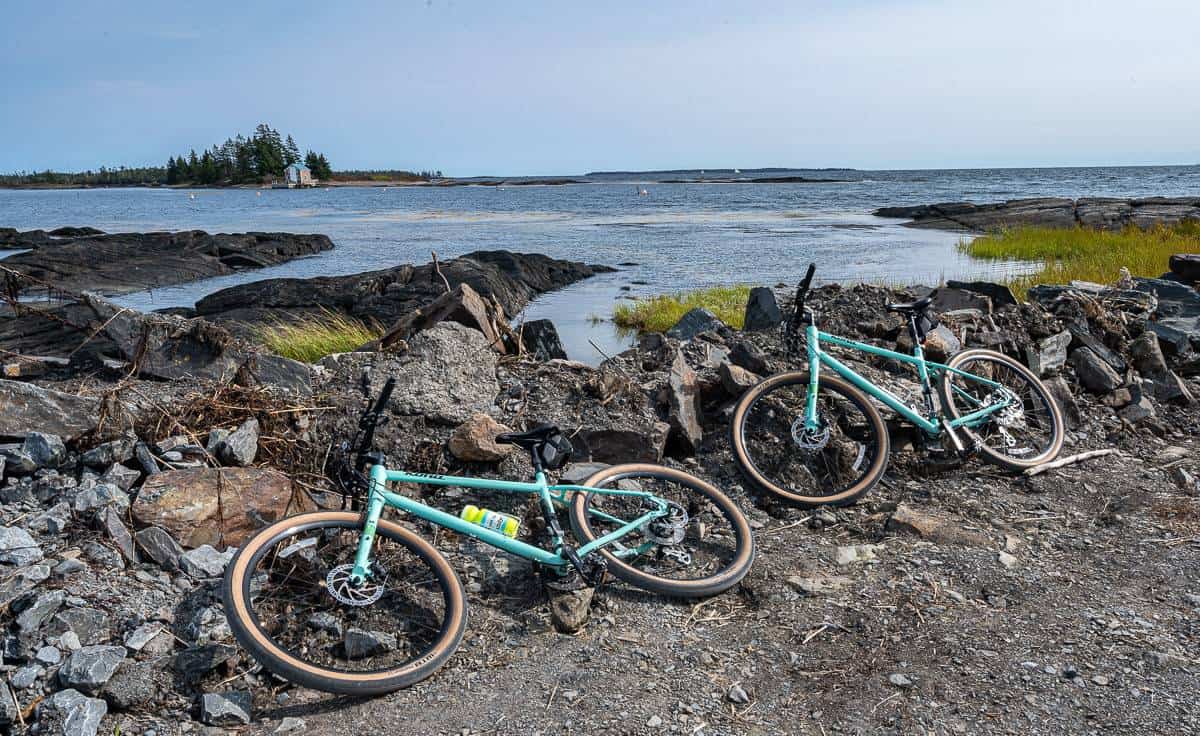 What do you think is the top bike trip in Canada?
Click on the photo to bookmark to your Pinterest boards.