The 184.5-mile-long C&O Canal Bike Trail (C&O is short for Chesapeake & Ohio) runs from Washington, DC to Cumberland, Maryland. This recreational trail makes for a great multi-day biking or hiking adventure It combines well with the Great Allegheny Passage (GAP) so you can seamlessly bike from Pittsburgh to Washington, DC over about seven to eight days. Unlike the Great Allegheny Passage, there are fewer hotels and B&B's, so you need to carefully plan your route. It is well suited for people willing to camp as you'll find numerous campsites along its full length. There are also Canal Quarter Lockhouses that you can rent for the night – if you're prepared to bring your own food and do your own cooking.
The C&O Canal Bike Trail is a towpath, which was built so that donkeys could walk along side the canal and literally tow the canal boats through the waterway. It follows the northeast shore of the Potomac River. The bulk of the trail is in Maryland just across the state line from West Virginia and Virginia. When the towpath was operational in the period 1850 – 1924, there were thousands of donkeys at work.
This post includes some affiliate links. If you make a qualifying purchase through one of these links, I will receive a small percentage of the sale at no extra cost to you. Thank you very much for your support.
Location map of the C&O Canal Bike Trail
Click on the dots in the top right-hand corner to email a copy of the map.
What's the best time to bike the C&O Canal Bike Trail?
Plan to cycle the C&O Canal Bike Trail from late April through till October. We biked in early May which was fantastic as the trail was quiet – so it's perfect for enjoying a peaceful camping experience, the leaves are budding out on the trees, and the bird life is phenomenal. Restaurants and services are also open.
Be prepared for weather that can be all over the place from cold and rainy to hot and sunny. Fortunately we only had about 6 hours of rain over four days and none while biking for three days on the Great Allegheny Passage.
If you're planning to camp, there would be fewer bugs early and late in the season. The summers are hot and humid in this part of the world, so take that into consideration as you make your plans.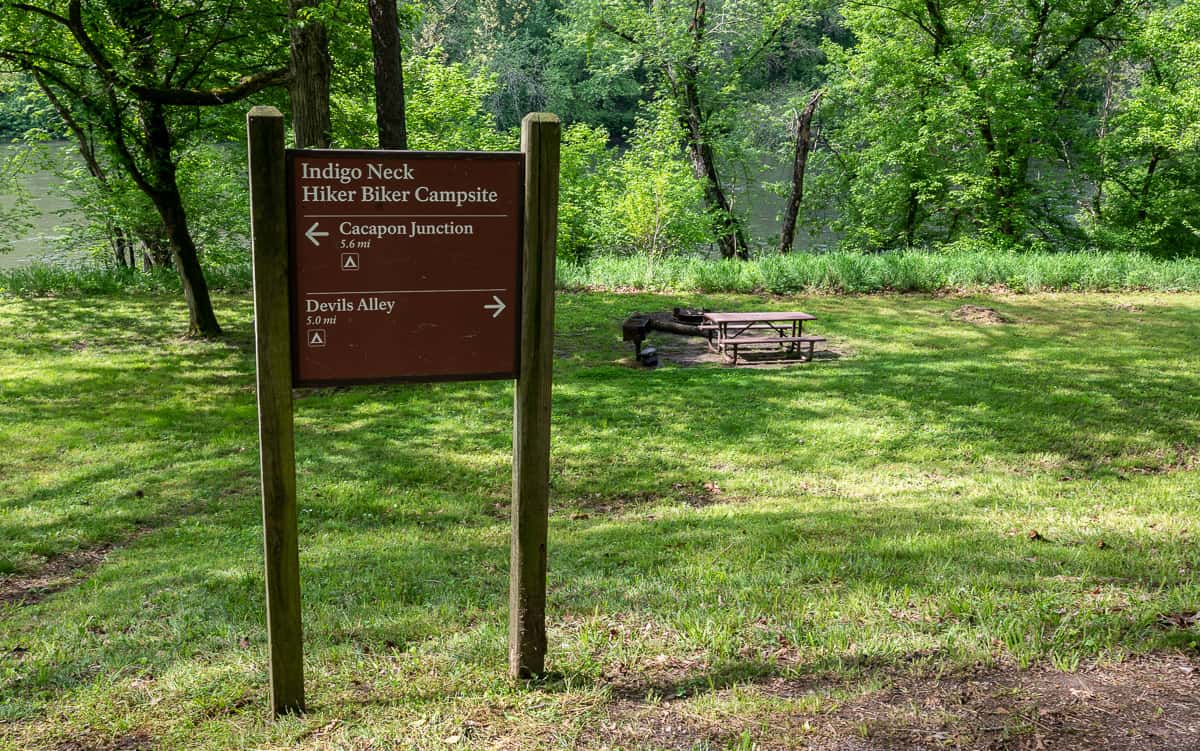 Guided or self guided cycling trip?
There are many companies offering bike rentals, shuttles, and fully guided bike tours, but most start in Pittsburgh and include the Great Allegheny Passage. John and I spent quite a bit of time trying to figure out logistics and eventually decided to go self-guided and self-supported. We booked our own accommodation along the route and we carried all our gear in waterproof bike panniers.
We had one major problem – a broken chain, 55 miles from Washington, DC. We didn't have the one bike tool you absolutely need to fix the chain. Fortunately, at a coffee shop the next morning in Brunswick, we met a couple of fellow cyclists – who carried all the right tools and were fantastic about helping. Other than that, the trip went well though we hadn't appreciated we would have to hike up and over the Paw Paw Tunnel in rain and mud – and that set us back quite a lot of time.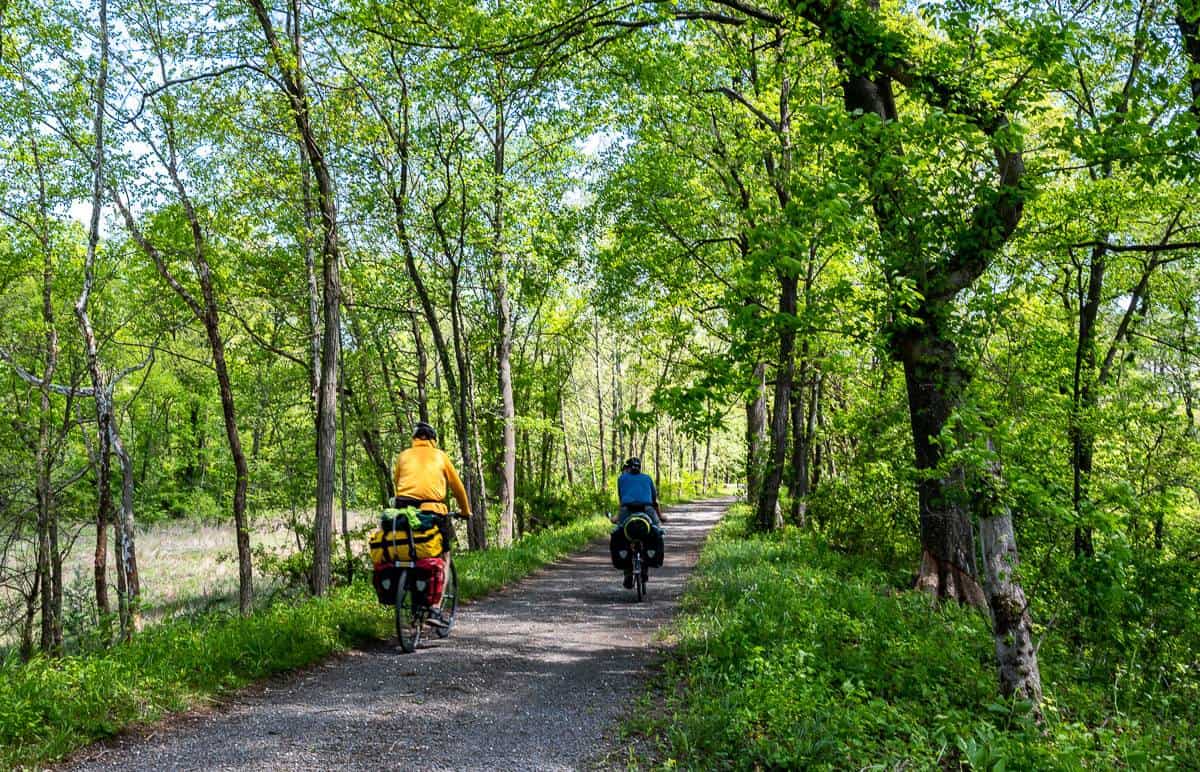 Bike tour companies
Most if not all the bike tour companies include the Great Allegheny Passage or GAP. If you only want to bike the C&O Canal Towpath, you may end up having to do it on your own.
Check out Wilderness Voyageurs for three and four day itineraries on the GAP as well as longer ones that include the C&C Canal Towpath.
Golden Triangle Bike out of Pittsburgh runs self-guided tours between Pittsburgh and Washington, DC. They also rent bikes and offer a shuttle service.
Noble Invention Bike Touring out of Pittsburgh offers 4, 5 and 6-day self-guided tours along with bike rentals and shuttles.
Wheelzup Adventures offers bike rentals and a shuttle service.
Bike the Burgh in Pittsburgh offers bike rentals and a shuttle service. We used them and were able to drop our bike off at the far end of the trail in Washington, DC.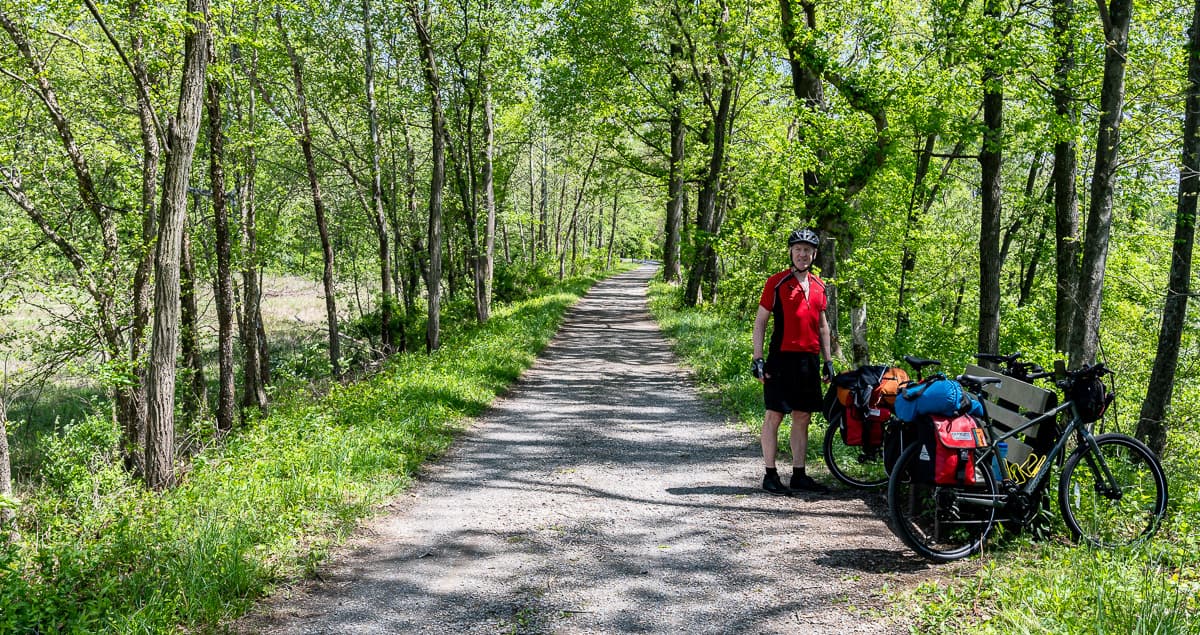 What type of bike is best for the C&O?
The C&O Canal Towpath is far rougher than the Great Allegheny Passage. The first day we cycled from Cumberland to Little Orleans was particularly rough – with mud, gravel, grass, and roots. Forget the road bike on the C&O and take a gravel or hybrid bike with good tread and tires that are 32 mm or wider for the best cycling experience.
What direction should you bike the C&O Canal Towpath?
Check out the map below. If you'd prefer to cycle downhill, albeit on a minimal grade, then choose to start in Cumberland and finish in Washington, DC. Otherwise, the logistics for this bike ride are what works best for you, especially with regards to getting dropped off at the beginning or getting picked up at the end.
How to get to the start of the C&O Canal Bike Trail
You can take your bike onboard with Amtrak wherever there is a checked baggage option. Both Cumberland and Washington, DC have roll on roll off bike options, so for many of you that will work well.
In Cumberland, Maryland there is a parking lot where you can leave your car for many days so that too is an option. Park your car, bike the C&O bike trail to Washington, DC and get a train back to your car with your bike onboard.
Don't forget to check out the shuttle services with the bike tour companies. I also found Shepherdstown Pedal and Paddle. They offer shuttle services between Cumberland and Washington, DC – with a reservation.
Where to get your bike repaired along the C&O
There aren't nearly the services along the C&O as there are along the Great Allegheny Passage – where you'd find bike shops right beside the trail.
In Hancock – check out C&O Bicycle Supplies & Repairs.
In Brunswick, Three Points Cycle is your best option.
Accommodation options on the C&O
There is very little choice, unless you camp, on where to stay along the C&O Canal Towpath. If you sign up with a company – whether it be for a guided tour or the self-guided option, you won't have to worry about a thing as the company will book all accommodations. But if you're like us going self-supported, you have two options – camping and there is lots of it along the C&O or a hotel, motel, or Airbnb.
Camping option
Enjoy free, first come-first served hiker-biker campgrounds along the length of the C&O Canal bike trail. You can only stay for a night and some of the campgrounds are small, but there is never one that is very far away.
Hiker-biker campgrounds are usually simple. You'll find a Porta Potty, picnic tables, a fire pit and a hand pump for water – though I'd recommend treating the water. All the campsites we saw were in grassy areas, some close to a water source and other's not – hence the hand pumps.
I'd highly recommend packing insect repellent as some of the grassy, low-lying campsites would be very buggy in summer. You won't want a tent with any holes in it – so carry something like Gear-Aid patches that have peel off backs and can close a hole on the spot.
Hiker – Biker campground locations on the C&O
You'll find free campgrounds at the following locations:
Swains Lock – Mile 16.6, Horsepen Branch – Mile 26.1, Chisel Branch – Mile 30.5, Turtle Run – Mile 34.4, Marble Quarry – Mile 38.2, Indian Flats – Mile 42.5, Calico Rocks – Mile 47.6, Bald Eagle Island – Mile 50.3, Huckleberry Hill – Mile 62.9, Killiansburg Cave – Mile 75.2, Horseshoe Bend – Mile 79.2, Big Woods – Mile 82.7, Opequon Junction – Mile 90.9, Cumberland Valley – Mile 95.2, Jordan Junction – Mile 101.2, North Mountain – Mile 110, Licking Creek – Mile 116, Little Pool – Mile 120.6, White Rock – Mile 126, Leopards Mill – Mile 129.9, Cacapon Junction – Mile 133.6, Indigo Neck – Mile 139.2, Devil's Alley – Mile 144.5, Stickpile Hill – Mile 149.4, Sorrel Ridge – Mile 154.1, Purslane Run – Mile 156.8, Town Creek – Mile 162.1, Potomac Forks – Mile 164.8, Pigman's Ferry – Mile 169.1, Spring Gap – Mile 173.3, Irons Mountain – Mile 175.3, and Evitts Creek – Mile 180.1.
Canal Quarters Lockhouses
For a dry roof over your head and a slice of history you can rent some of the old Canal Quarters along the C&O Canal bike trail. There are seven available for rent at Lockhouse 6, 10, 21, 22, 25, 28, and Lockhouse 49. They accept reservations up to a year in advance. Each lockhouse is furnished with furniture and accessories from different time periods, so each provides a unique experience. For more information call 240-202-2625 or send an email to cq@canaltrust.org. I have no idea about pricing.
Our experience on the C&O Canal Bike Trail
It was a shock after the GAP when we started to cycle the C&O Canal bike trail. It's much rougher with fewer services and greater distances between towns of any note. Go prepared, taking extra food and full water bottles, a chain breaker tool, patch kit, bike pump and chain oil, especially if there is rain in the forecast. Even though the biking was harder because of the trail surface, there's plenty of great scenery, lots of bird life and no shortage of history if you like that. If you're prepared to camp, you'll have loads of flexibility on the C&O Canal bike trail.
Day 1: C&O Canal Bike Trail – Cumberland to Little Orleans
Distance: 43 miles to Bill's Place on the C&O Canal Towpath and then a shuttle to Town Hill B&B.
Time: Approximately 4 hours with 1.5 miles of hiking up and down a muddy hill because of the Paw Paw Tunnel detour.
Accommodation: Town Hill B&B – 7 miles from Little Orleans (shuttle available). If you need to overnight in Cumberland at the start or finish the Fairfield by Marriott Inn & Suites is at the start of the C&O Canal Towpath.
We had already cycled 32 miles from Meyersdale to Cumberland on the Great Allegheny Passage (GAP), so we knew we were in for a longer day since we had 43 miles to go. However, we didn't appreciate how big the difference in the trail surfaces would be between the GAP and the C&O Canal bike trail. The GAP offers mostly smooth riding and the C&O offers grass, roots, and a lot of ruts, at least to Little Orleans. Throw in rain for three hours and we ended up cycling through a trail of mud.
I felt like we had entered a different world less than a mile outside of Cumberland. There are no services to speak of between Cumberland and Bill's Place in Little Orleans and John and I saw only a couple of people over the four plus hours to get to Little Orleans. I loved cycling past the locks and all the waterways, filled with turtles lazing on logs. There were infrequent benches, but we found a few and simply enjoyed the feeling of solitude…until it started to rain.
And rain it did for hours, so we had literally hours of muddy biking. I feared for my bike chain as there was so much grit in it. I hadn't appreciated before we started the C&O Canal bike trail that we would have to climb steeply up a trail over the Paw Paw tunnel and then cycle down the other side. It was about a 1.5-mile detour but it took a while because of the slippery conditions.
When we ended up at Bill's Place at 6 PM begging for a meal (he was ready to close), we were tired and dirty but also feeling very pleased with ourselves. It had been a long but memorable day and one we won't soon forget.
Our B&B host picked us up and drove us up about 7 miles to the Town Hill B&B. She was especially well set up for cyclists with hoses and towels so we could get fully cleaned up outside. She even has an outdoor shower and the most amazing breakfast spread.
Day 2: C&O Canal Bike Trail – Little Orleans to Williamsport
Distance: 42 miles
Time: 4 hours
Accommodation: Bay Farms B&B– a short bike ride off the C&O and a great place to stay for the night.
From Little Orleans at Mile 141 you have a choice – pick up the paved Western Maryland Rail Trail (WMRT) or cycle the C&O – which is parallel and visible some of the time all the way to at least Hancock at Mile 124. After being so muddy and putting up with a lot of roots and bumpy bits the day before, John and I opted to cycle the WMRT to Hancock. I thought it would be cheating – but who cares. It was a treat to roll along easily for 20 plus miles.
Most of the trail was in the woods, sometimes at the edge of steep embankments where there were warning signs about falling debris. I barely glanced at them until I saw a massive boulder that had let loose about six months earlier.
If you start in Cumberland, Hancock is one of the common places to head for the night. You'll find the 1828 Trail Inn B&B, a Super 8, a couple of campgrounds and the Hancock Motel. There isn't a lot of choice in this part of the world.
After a bite to eat in Hancock, we continued, passing Fort Frederick State Park, and several aqueducts to arrive in Williamsport, a pretty town with plenty of restaurant choice if it's not a Monday night.
Day 3: C&O Canal Bike Trail – Williamsport to Brunswick
Distance: 44 miles
Time: 5 hours with stops
Accommodation: Travelodge by Wyndham – about a 10-minute bike ride from the C&O. We met a couple of guys who rented an Airbnb very close to the C&O and said it was excellent.
Recommended restaurant: Potomac Street Grill in Brunswick for delicious Lebanese food.
Our third day on the C&O started out wet. In no time we were filthy again – but we were a little smarter than the first day. We found a couple of garbage bags and wrapped our packs in them so at least they stayed clean. Once the sun came out again – and well before we got to Brunswick, we found a campsite with a handpump and did a thorough job of washing both our rain gear, panniers, and bikes.
The cycling was lovely on this section of the C&O Bike trail. For long stretches we rode beside the Potomac River, passing one dam along the way. We peddled through long stretches of greener than green forest. If you were up for the detour to Harpers Ferry, you could spend the night in one of the locally run B&B's and enjoy some time exploring the narrow streets that make up the historic town.
The area across from Harpers Ferry is very pretty. There is a railroad bridge that has been converted to a pedestrian bridge, but lugging your fully loaded bike up the stairwell may put you off visiting.
Interestingly Harpers Ferry is the epicentre of the Appalachian Trail, so it's also home to the Appalachian Trail Conservancy and the Appalachian Trail Park Office for the National Park Service.
Day 4: C&O Canal Bike Trail – Brunswick to Great Falls Tavern Visitors Centre
Distance: 31 miles, 14 miles shy of the "0" marker in Washington, DC.
Time: 3 hours with a few stops.
Accommodation: None needed.
Recommended restaurants: Beans in the Belfry for breakfast in Brunswick.
Our last day of biking the C&O Canal Bike Trail was bittersweet. We had planned to bike all the way to the "0" mile marker in Washington, DC, but with a broken chain to start the day, we were behind schedule. In hindsight, I'm thrilled that we were able to make it as far as the Great Falls Tavern Visitor Centre, since we relied on the kindness of strangers to furnish us with a chain breaker – and help with the repair.
Once we hit the bike trail, we found the biking to be very easy with the miles whipping by. We did have a quick tootle around historic White's Ferry. On the trail map we were provided, it shows Leesburg across the river as being part of where you can eat and stay on the C&O. It is not – as the ferry hasn't run for several years. We figured that out a few days too late – and ended up having to pay for the night we had booked in Leesburg. I'd recommend you stay in Brunswick and cycle 55 miles to Georgetown on the final day.
We were able to organize a bike drop-off with Bike the Burgh – the company we rented bikes from. They were very flexible and were prepared to pick us up anywhere we wanted on the last day. As we were being met by a friend at the Great Falls Tavern Visitor Centre, it worked out very well. It's only an hour's bike ride to get to Georgetown though I hear from other cyclists that the trail is a little rough.
I highly recommend getting off your bike, locking it up and walking to the viewpoint to see the Great Falls of the Potomac River. The water is forced over jagged rocks through the narrow Mather Gorge. It is an incredible sight – and one deserving of your time. It was a great way to finish off a week's biking trip starting on the Great Allegheny Passage in Pittsburgh.
Further reading on multi-day bike rides
Click on the photo to bookmark to your Pinterest boards.