The Allstones Lake hike combined with the Allstones Ridge hike are a great combination if you're after a hard day hike in Alberta's David Thompson Country. The reward – a peaceful alpine lake with numerous backcountry campsites and far-reaching, panoramic views from the top of Allstones Ridge along with a great sense of accomplishment.
The Allstones Lake trail weaves through forest and onto open slopes with some good views of Abraham Lake and nearby peaks like Mount Michener. For those of you who hate making camping reservations, you're in luck as there are lots of first come, first served backcountry campsites around Allstones Lake where you can enjoy a peaceful night.
As much as Allstones Lakes is the prime destination for most hikers, I think you would be remiss if you didn't hike up Allstones Ridge. At the intersection of the Allstones Lake trail and the Allstones Ridge trail, you're only about 30 minutes from the summit. Don't miss the superlative views of the full length of turquoise-coloured Abraham Lake along with all the surrounding peaks.
This post includes some affiliate links. If you make a qualifying purchase through one of these links, I will receive a small percentage of the sale at no extra cost to you. Thank you very much for your support.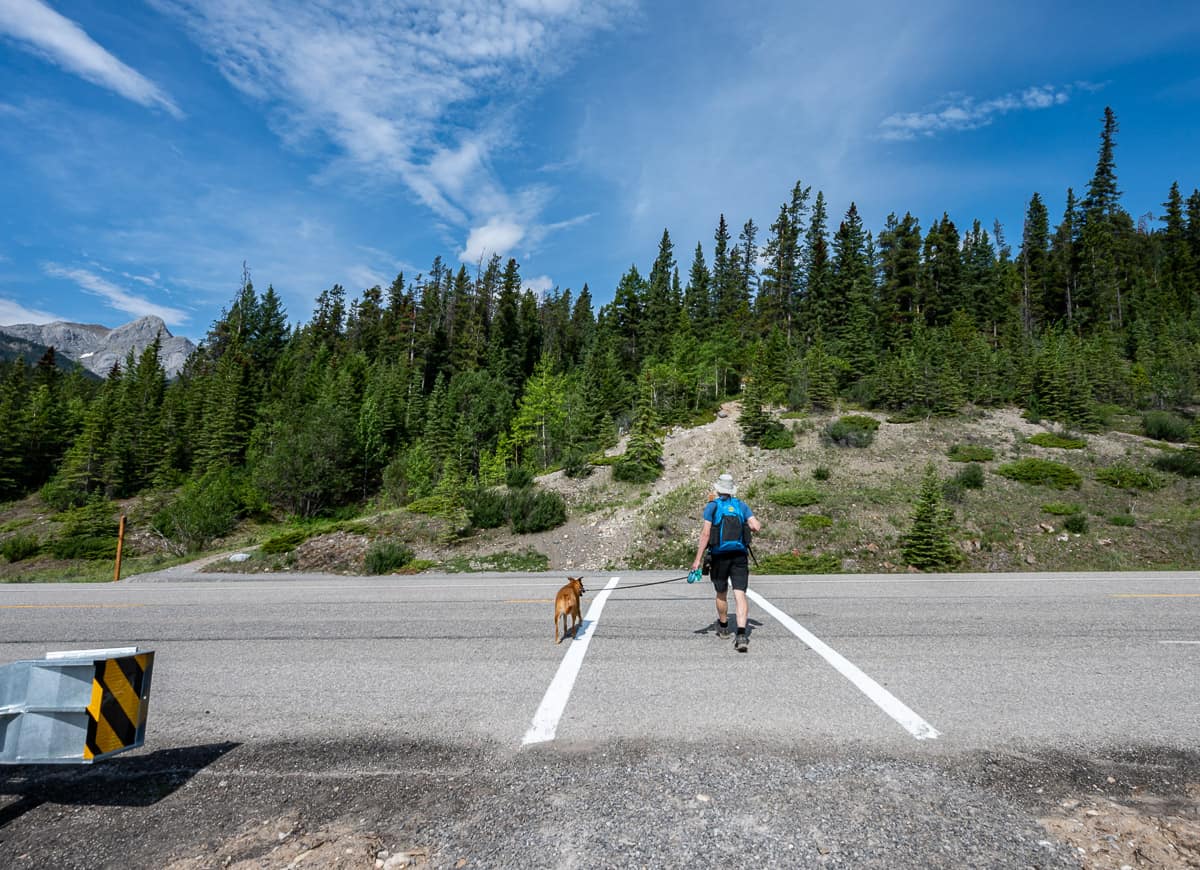 Allstones Lake hike and Allstones Ridge summary
Distance: 7.8 km (4.8 miles) round trip plus about another 1.0 km (0.6 miles) to Allstones Ridge and back.
Difficulty: Moderate if you're a regular hiker – but it's almost non-stop climbing so for many it will be a strenuous hike.
Elevation gain: Approximately 615 m (2,018 feet) to Allstones Lake and another 896 m (2,940 feet) if you include Allstones Ridge.
Type of trail: Out and back if you only do the Allstones Lake hike. Allstones Ridge is and up and down off the Allstones Lake trail.
Allstones Lake elevation: 1,899 m or 6,230 feet.
Time needed: We did the Allstones Lake hike and Allstones Ridge with a good 30 minutes for lunch in 5 hours. I'd allow 4 – 5.5 hours return for the lake and an extra hour to go up and down Allstones Ridge. I'd say it's around 2.5 – 3 hours to the lake and a little less on the return.
Dogs: Allowed, but I'd recommend keeping them leashed. There is a good creek for them to cool off 0.7 km from the trailhead.
Backcountry campground: Yes, at Allstones Lake – and it looks to be first come, first served. I didn't see any bear boxes so bring rope and a carabiner to hang your food.
Trailhead: Beside Highway 11 (David Thompson Highway) about 33 km southwest of Nordegg. The Allstones Lake Staging Area/parking lot is on the east side of the highway just before the Abraham Cove campsite and the trailhead is directly across on the other side of the highway.
Toilets: There is an outhouse at the parking lot and a primitive toilet up at Allstones Lake – somewhere.
As always, you are responsible for your own safety, so make good decisions based on your ability and comfort level.
Check the weather forecast before heading out, especially if you're keen to hike Allstones Ridge.
Always carry the hiking essentials.
This is black and grizzly bear country so be sure to carry bear spray that is easily accessible. I recommend carrying it in a bear spray holster so you don't accidentally set it off. Read – Tips for Staying Safe in Bear Country.
Always leave no trace – packing out your lunch and snack leftovers.
Even though the trail is easy to follow, you might want to download a map beforehand.
Don't count on cell service on the Allstones Lake hike.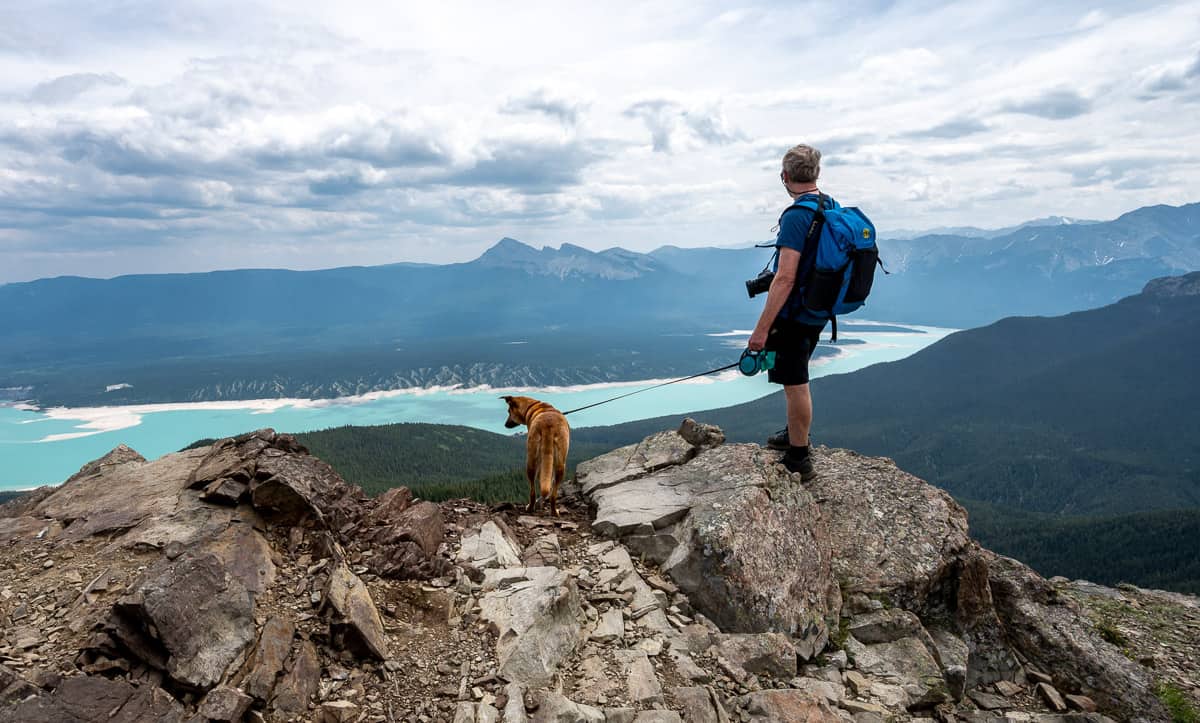 Finding the Allstones Lake trailhead
Before you head out to hike to Allstones Lake, check out the location of the Allstones Lake Staging Area on Google maps. It's easy to find, but you may or may not have cell service.
If you're traveling from Calgary, I'd suggest driving the scenic Icefields Parkway to get to the trailhead. From Saskatchewan River Crossing head northeast for 59 km. Look for the Allstones Lake parking lot on the east side of the highway. Please don't be that person who parks so far from another vehicle that you waste a parking space. The parking lot was full by 10:30 AM on a Saturday morning. You'll end up having to park along the highway or at the entrance if that's the case.
The other option – whether you're coming from Calgary or Edmonton, is to drive from Red Deer on Highway 11 through Rocky Mountain House and Nordegg to reach the trailhead. The parking lot is about 31 km from Nordegg.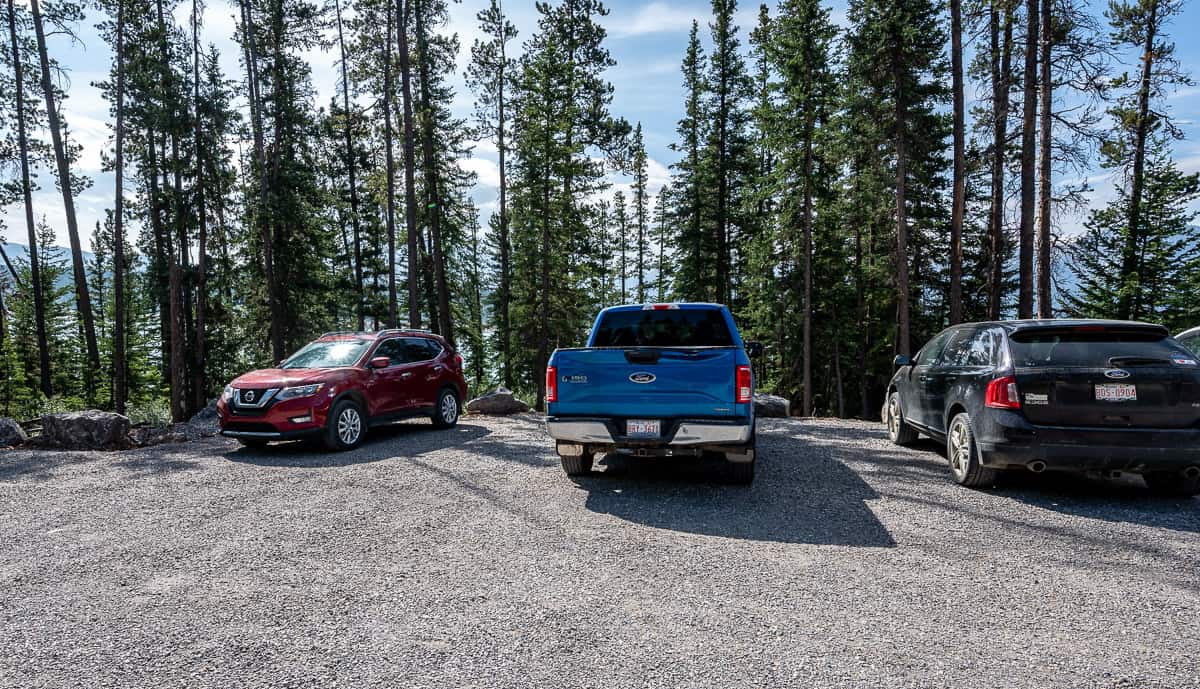 Where to stay near the trailhead
The pretty Allstones Cove campsite is within walking distance of the Allstones Lake trailhead. There are also lots of other campsites and campgrounds along Highway 11 and heading further east. Most don't require reservations.
We stayed nearby at Aurum Lodge – nothing fancy but with everything you need and friendly hosts, all in a beautiful location just a short walk from Abraham Lake. We brought our own meals and cooked in our cabin.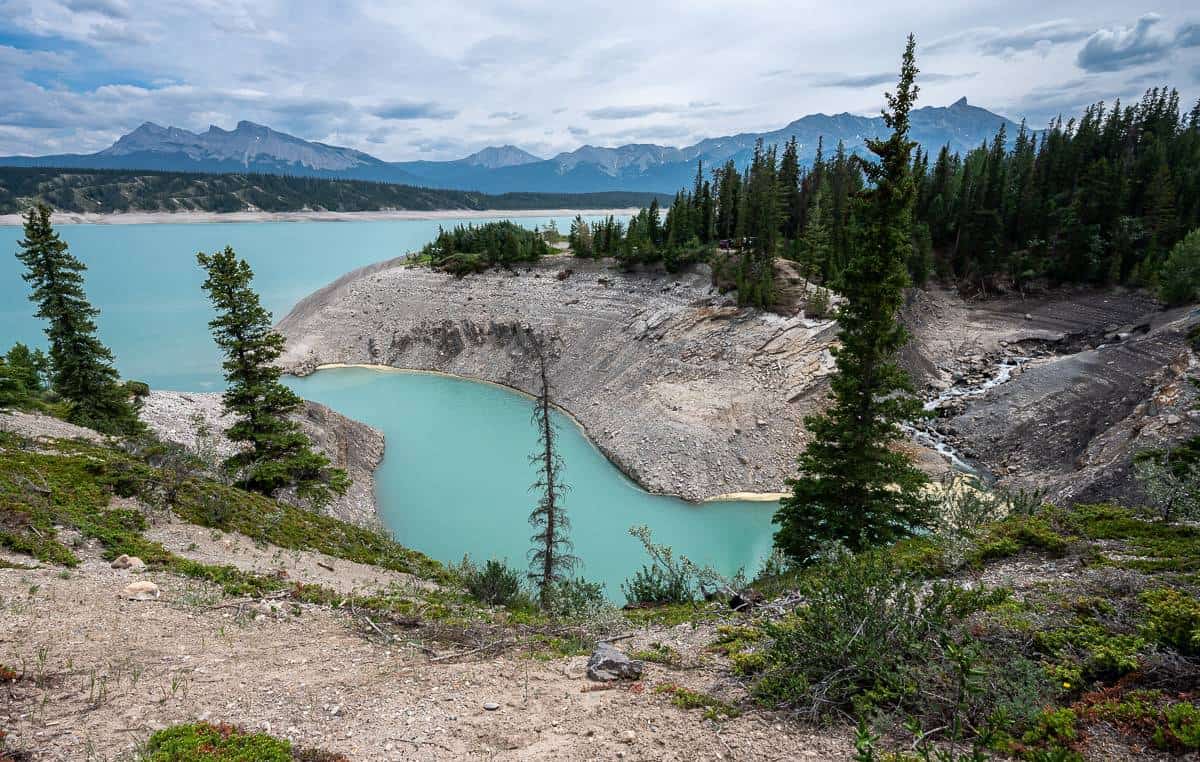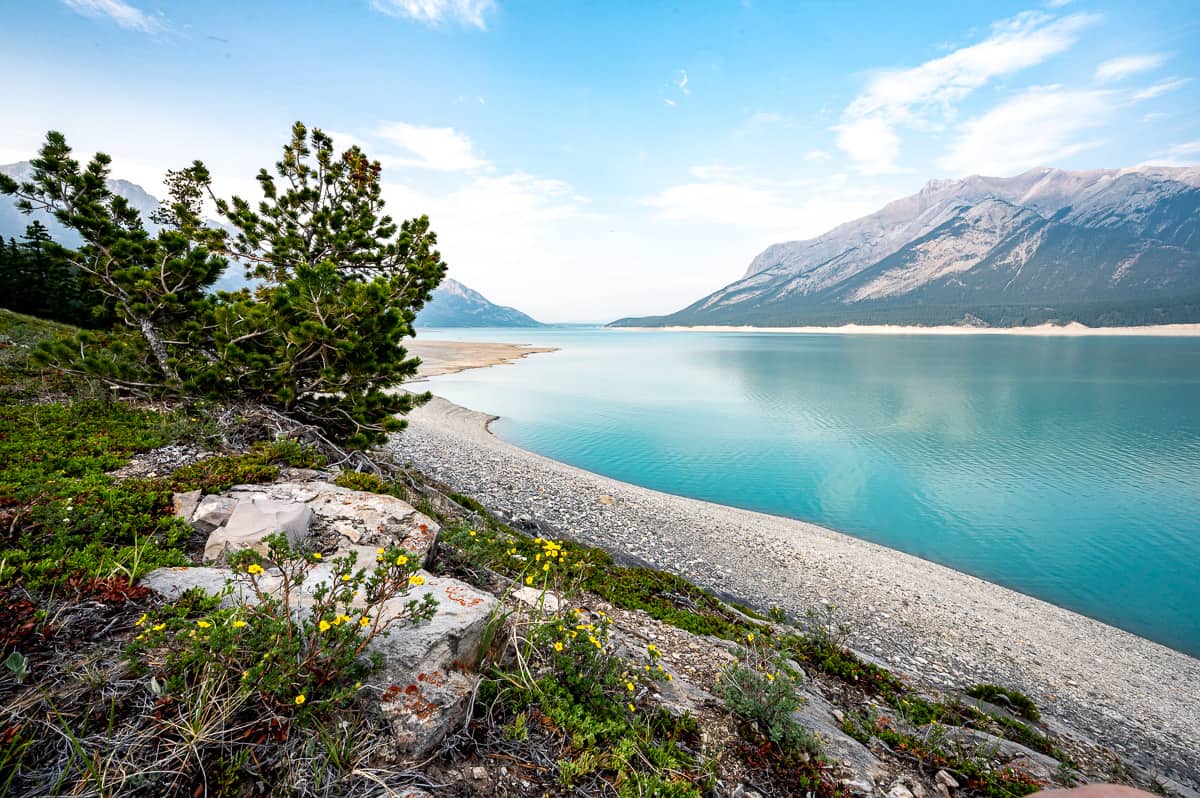 Best time to hike the Allstones Lake Trail
The hike to Allstones Lake and Allstones Ridge is best done between May and October when there isn't any snow. If you're adverse to crowds, try to hike the Allstones Lake trail on a weekday. Sunny summer weekends will see the largest number of hikers.
Allstones Lake Trail description
I had read the route description for the Allstones Lake hike in the book "The David Thompson Highway Hiking Guide." (Useful at least for ideas on where to hike in the area and route descriptions.) They suggest that the hike up to Allstones Lake and Allstones Ridge is 12.9 km return with an elevation gain of just 450 m. I do enough hiking and know my pace, so I was shocked at how heavy I was breathing – and for how long. As I was hiking steeply upwards from the get-go – with no let-up for a couple of hours, I thought to myself that there is no way the elevation gain was just 450 m. And it isn't!
Start the hike to Allstones Lake by crossing Highway 11 from the parking lot and heading up steeply on an obvious trail. There is a sign at the beginning that marks the official trailhead. Note that if you went left at the bottom parallel to Highway 11, you'd be heading for the Allstones Creek trail.
Hike up through the forest for roughly the first third of the hike to Allstones Lake. On a hot day, it's a treat to have the shade. Just shy of the 1 km mark from the parking lot you'll cross a small creek. Should you be low on water fill up here (and treat your water), cool your feet, and let your dogs get a drink.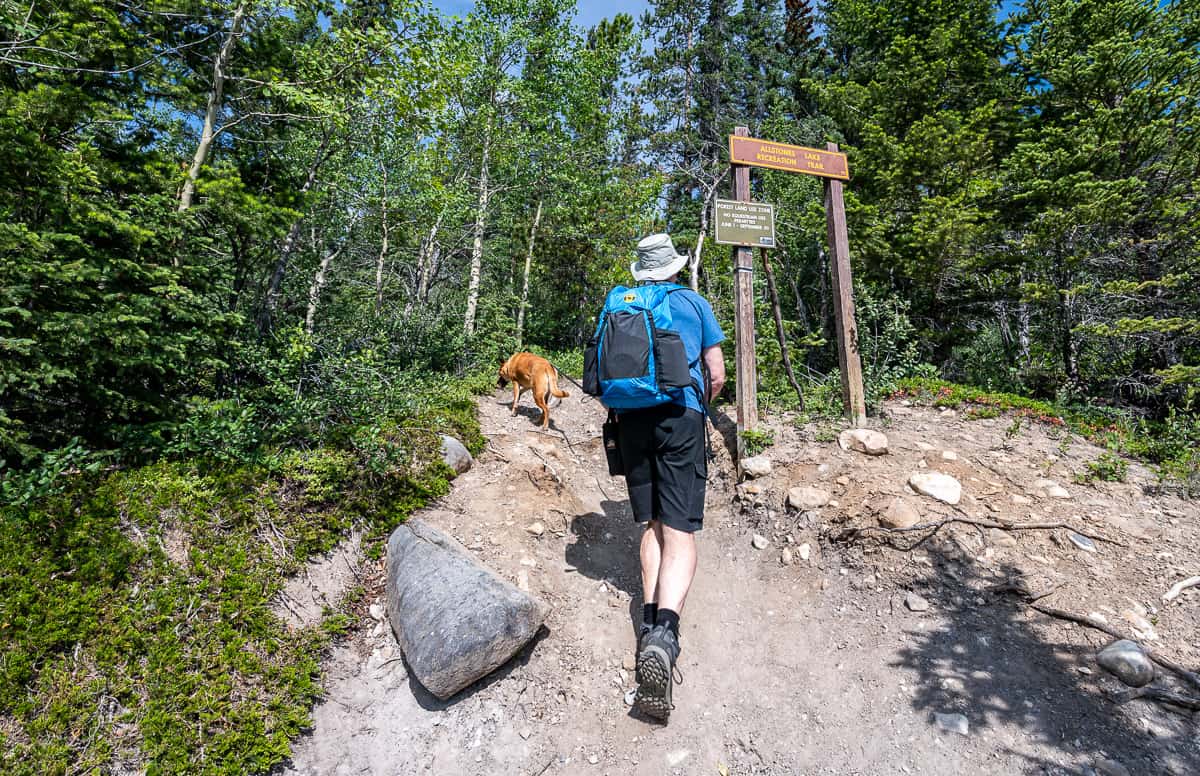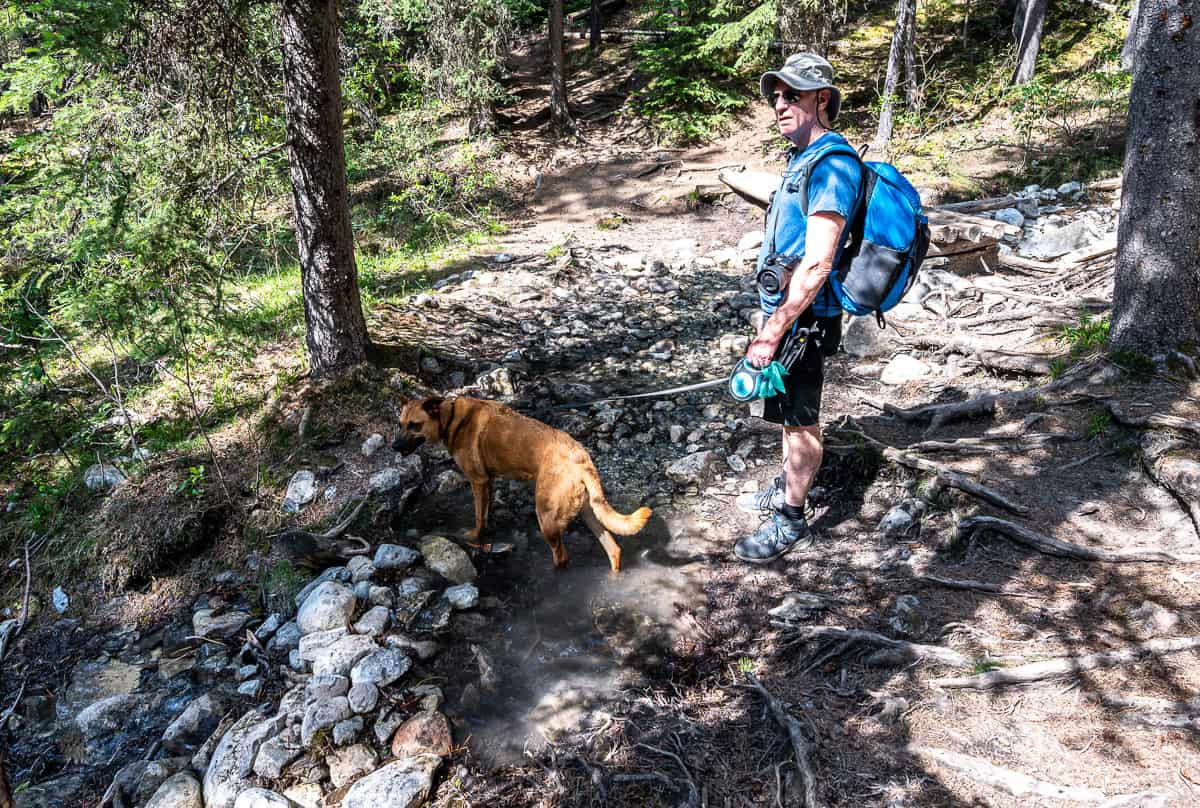 Around the 2 km point of the Allstones Lake hike, the trail begins to climb out of the forest into an open area with good views of Abraham Lake. Red chairs used to be at the top of the open area, but as of June 2023, they are gone.
The next part of the Allstones Lake Trail is far more scenic – and interesting. Continue hiking up weaving in and out of the forest with some occasional mountain views spurring you on.
You end up on a narrow trail crossing steep slopes dotted with some wildflowers including Indian paintbrush, blue campanula, and stonecrop. If it's wet, the trail going to be on the slippery side and hiking poles will be a welcome addition. Don't forget yours! Some of the trail is scree-covered with nasty ball-bearing sized rocks that want to trip you up. There's no shame in moving slowly if it's uncomfortable for you.
There are a few flat sections as you criss-cross the slopes, so catch your breath and have a look around. The views are pretty darned good at the two-hour point in the hike to Allstones Lake.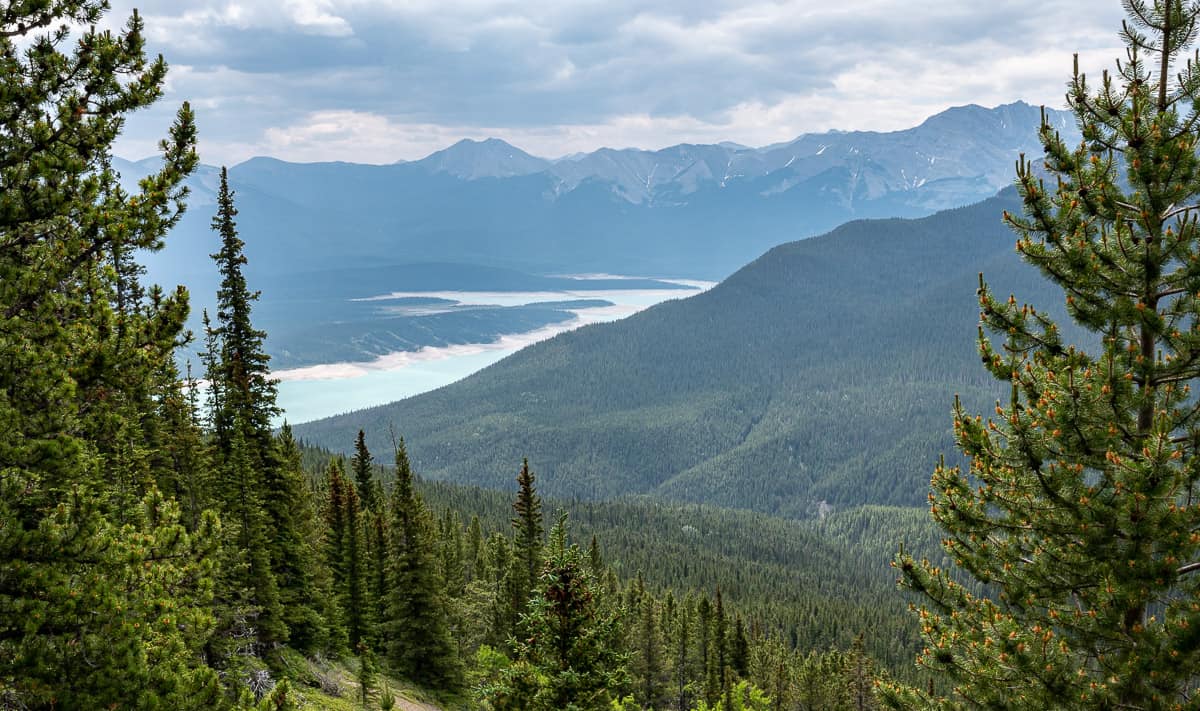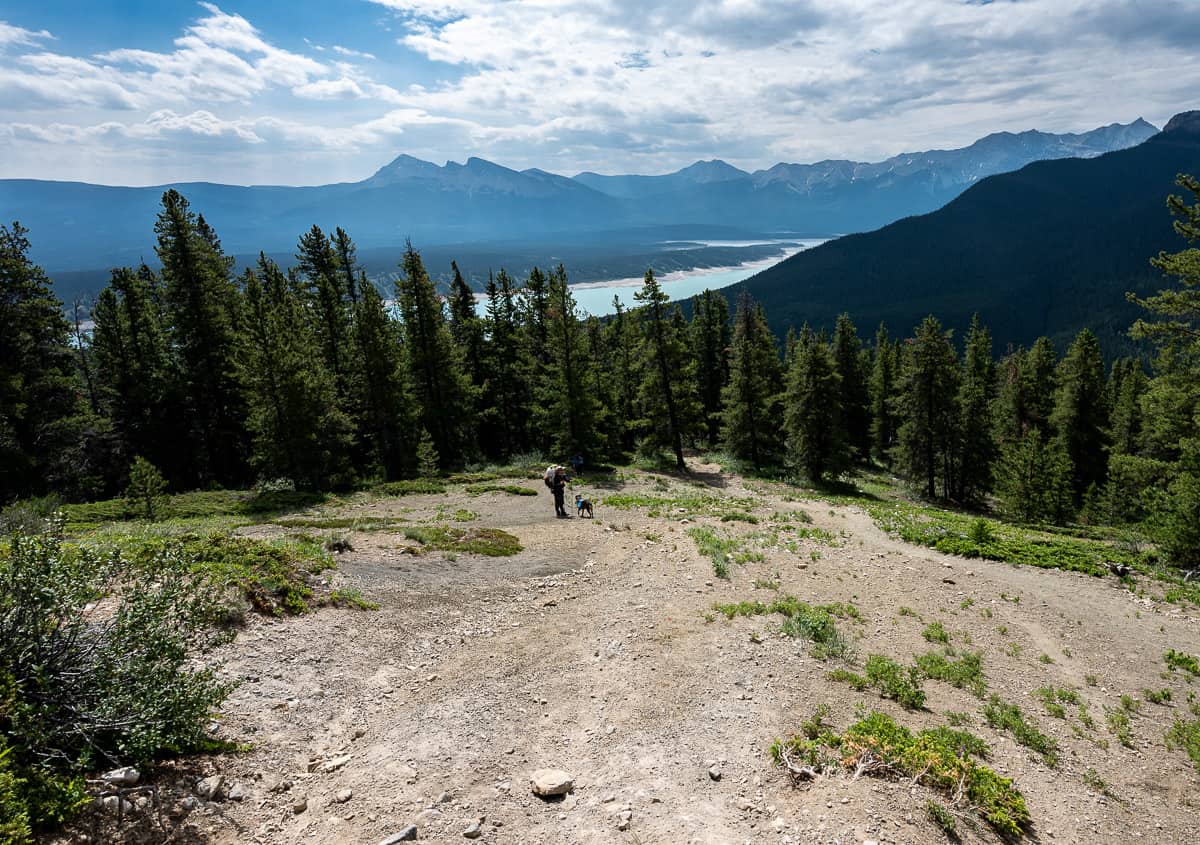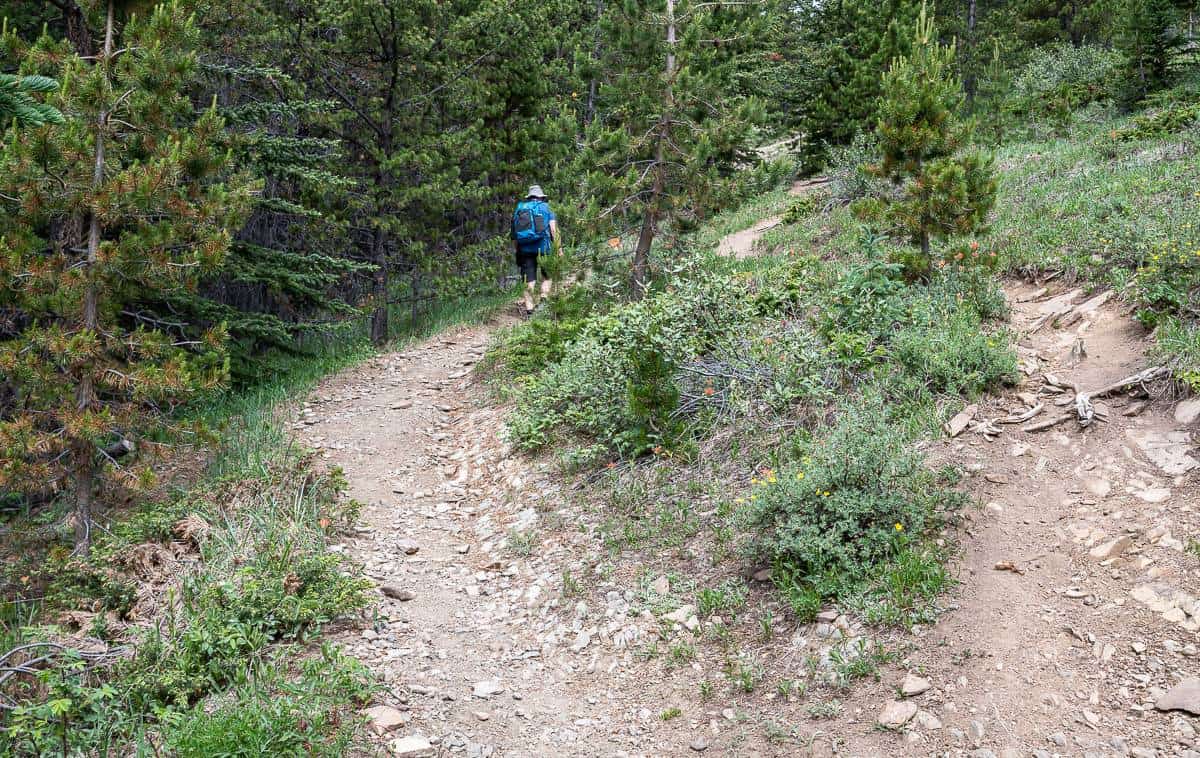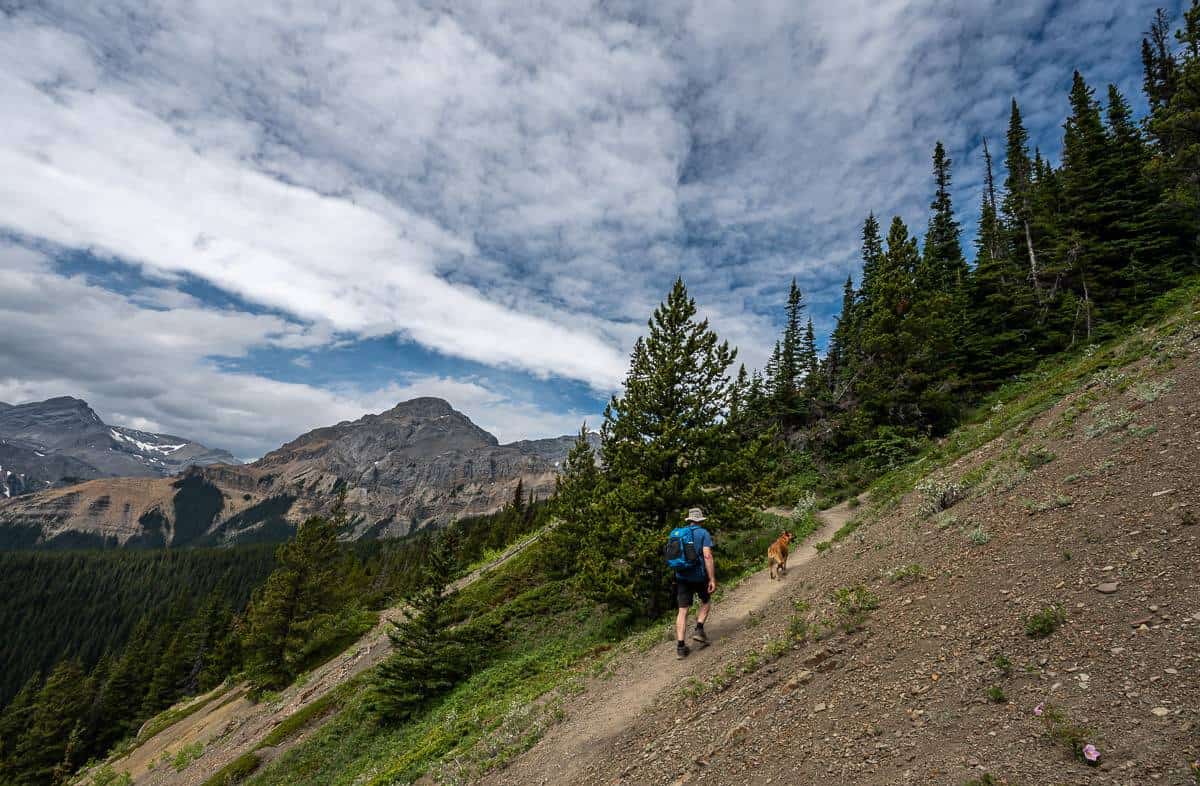 Back in the forest you'll reach an open area with a trail going up on your right (come back to this trail if you want to hike up Allstones Ridge), another trail going down on the right (perhaps to the north end of Allstones Lake), and a third descending on the left. It's marked by flagging tape and an arrow made with stones on the ground. Go left here, descending about 100 m to reach some campsites just before you arrive at the south end of Allstones Lake.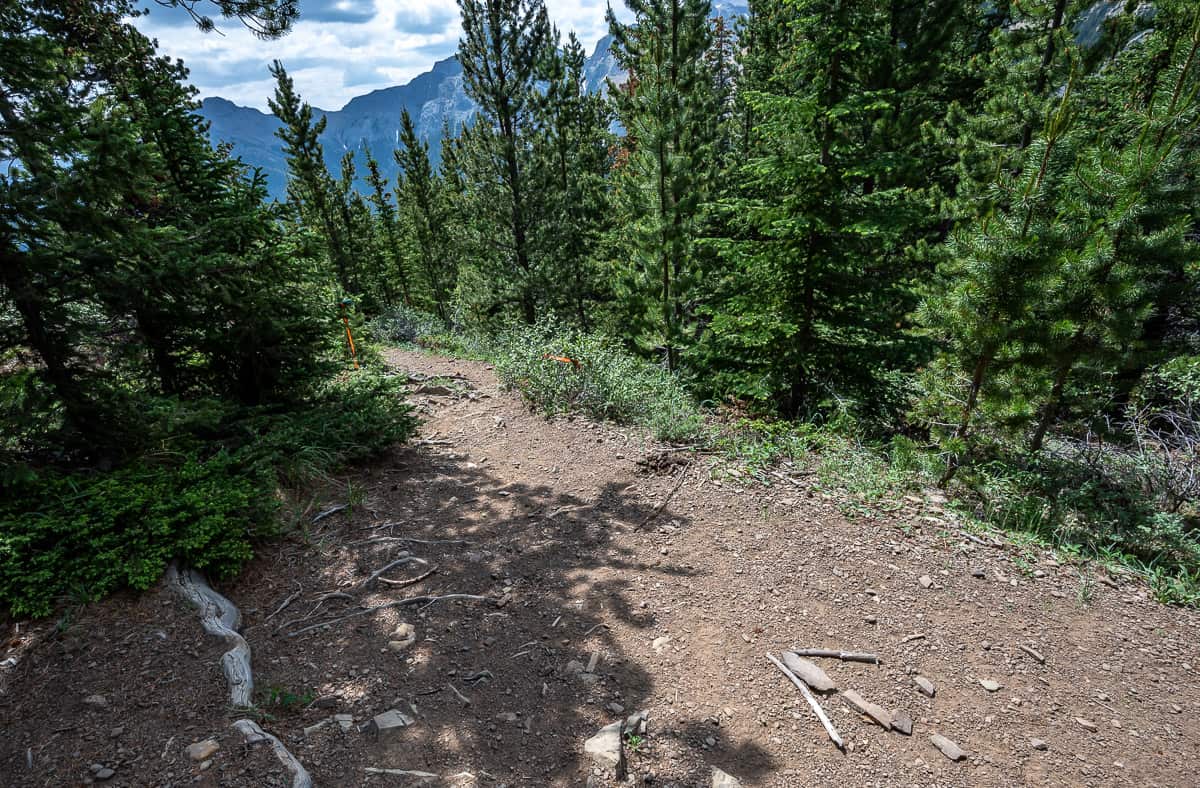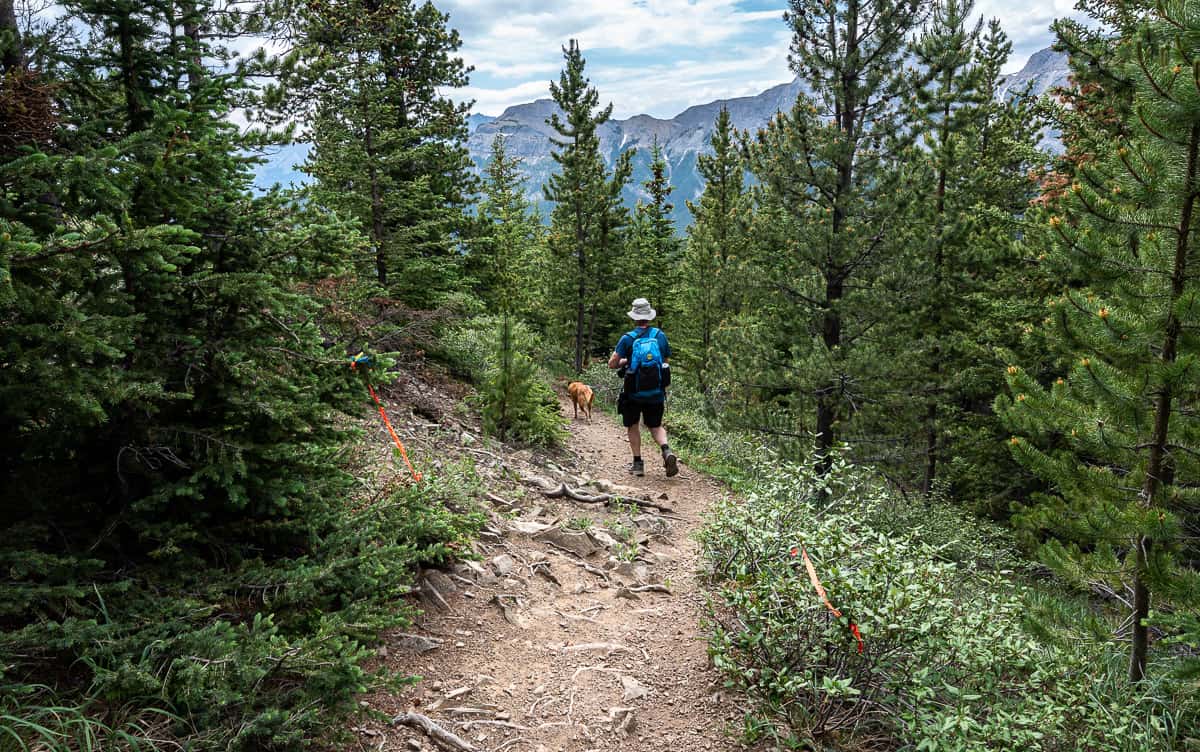 After visiting Allstones Lake either retrace your steps to return to the parking lot or better yet, continue up Allstones Ridge. If you're planning to go straight back to the car from Allstones Lake, you'll likely be there in about 90 minutes or less.
Allstones Lake
We met some ladies as we were descending to Allstones Lake who raved about the beauty of the lake. Reality did not meet my expectations. It's a fine lake below a mountain – and a good destination for a picnic by the lake or a quick overnight backpacking trip, but it didn't wow me like most lakes do in the Rockies. However, on a sunny Saturday, it was more than pleasant to sit beside Allstones Lake, munching on sandwiches and enjoying the view.
You can hike a loop around the shoreline of Allstones Lake – which we didn't do, though we almost hiked to the end of the lake. If you do the loop, you'll pass lots of other hikers who have carved out some space for a break – and fisherman hoping to land a bass on their line.
For the bug adverse be aware that the non-biting mayflies (I believe) make an appearance in June and are everywhere. Bring some insect repellent in case its buggy.
After you've enjoyed your lunch, have a wander around the backcountry campsites (first come, first served), and then head back to the main Allstones Lake trail.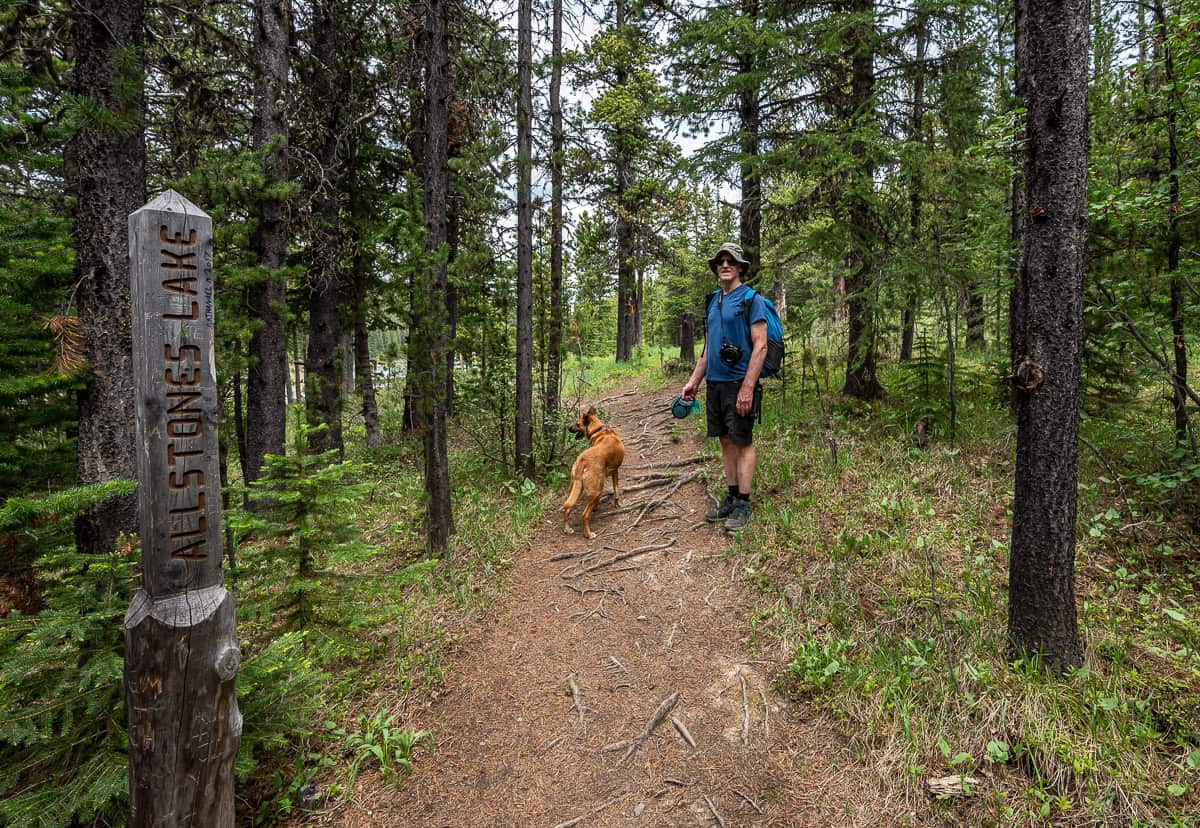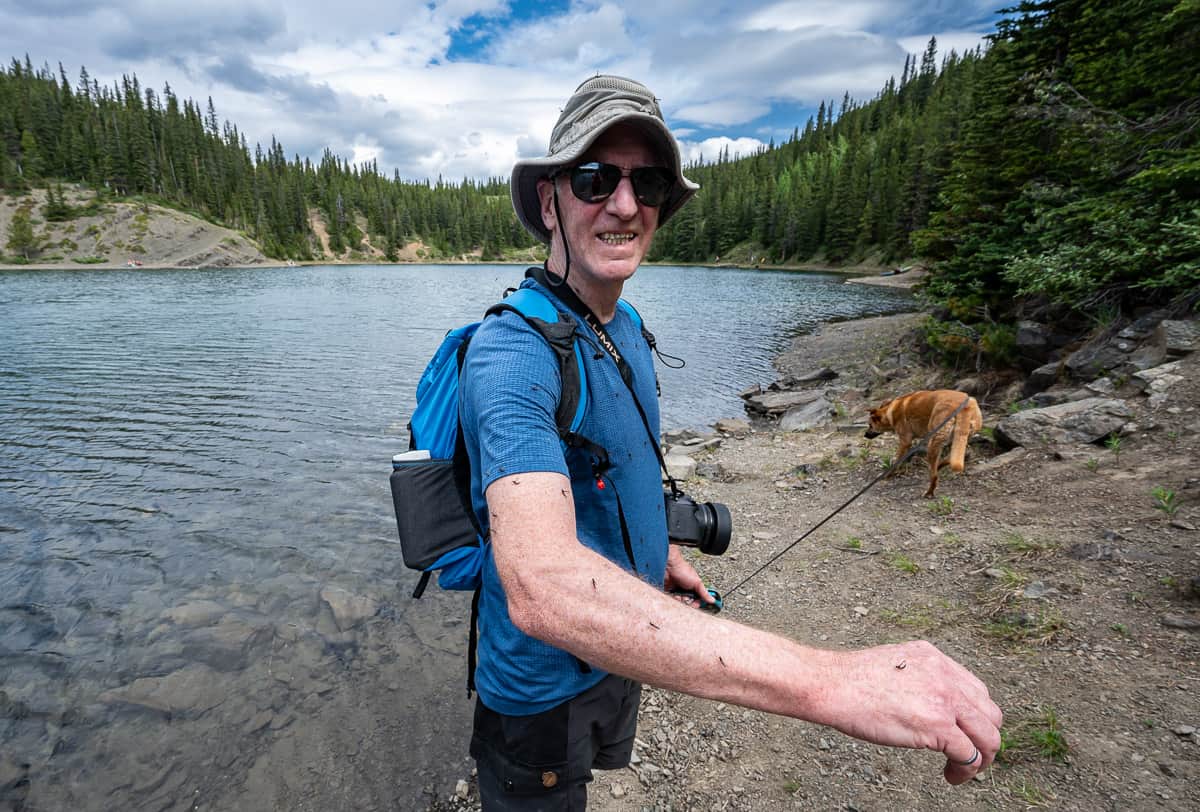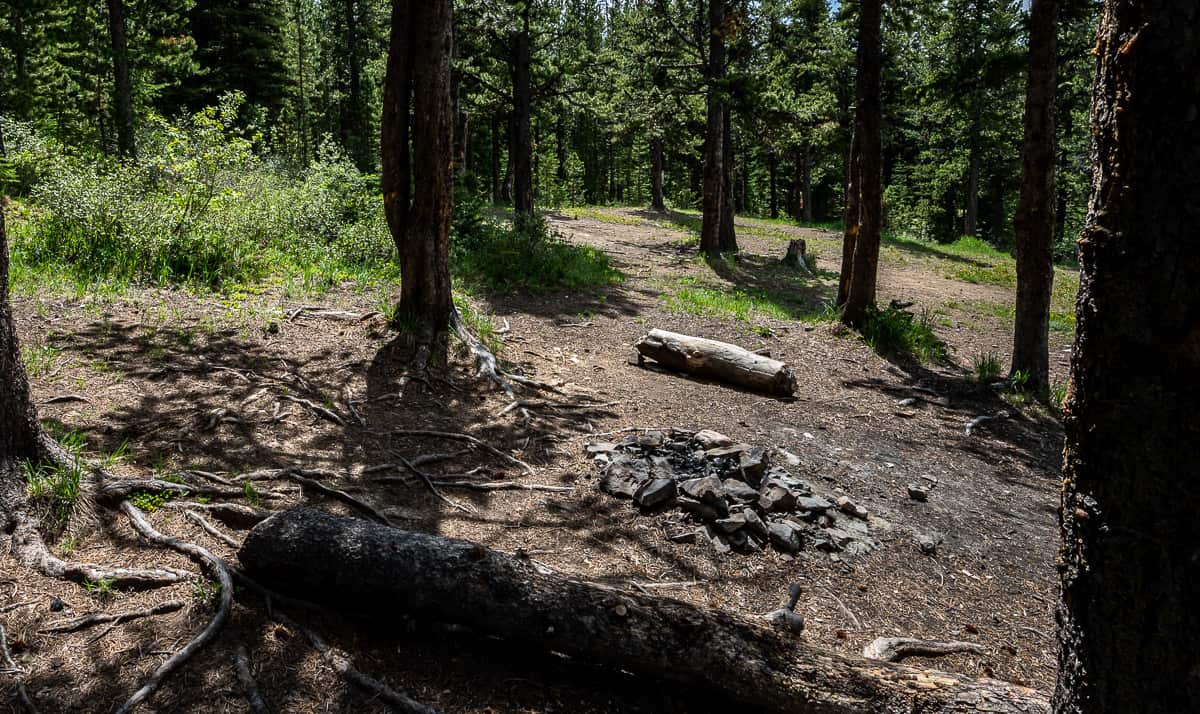 Optional but recommended Allstones Ridge hike
Retrace your steps from Allstones Lake to the turnoff you passed just before you started the descent on the Allstones Lake Trail. Turn left and hike up for about 5 minutes through the trees to reach an open area. The way forward is obvious and straightforward. The worst part of the hike up Allstones Ridge is the scree but there is nothing technical to worry about.
Although Allstones Ridge looks distant, I think we were on top in 30 minutes tops.
There is lots of trail braiding going on through the scree, so pick a line that feels good do you. The last 30 metres or so has some ledges and a pretty good trail through them. Pop out on top enjoying particularly good views of Abraham Lake, Mount Michener, and Allstones Peak.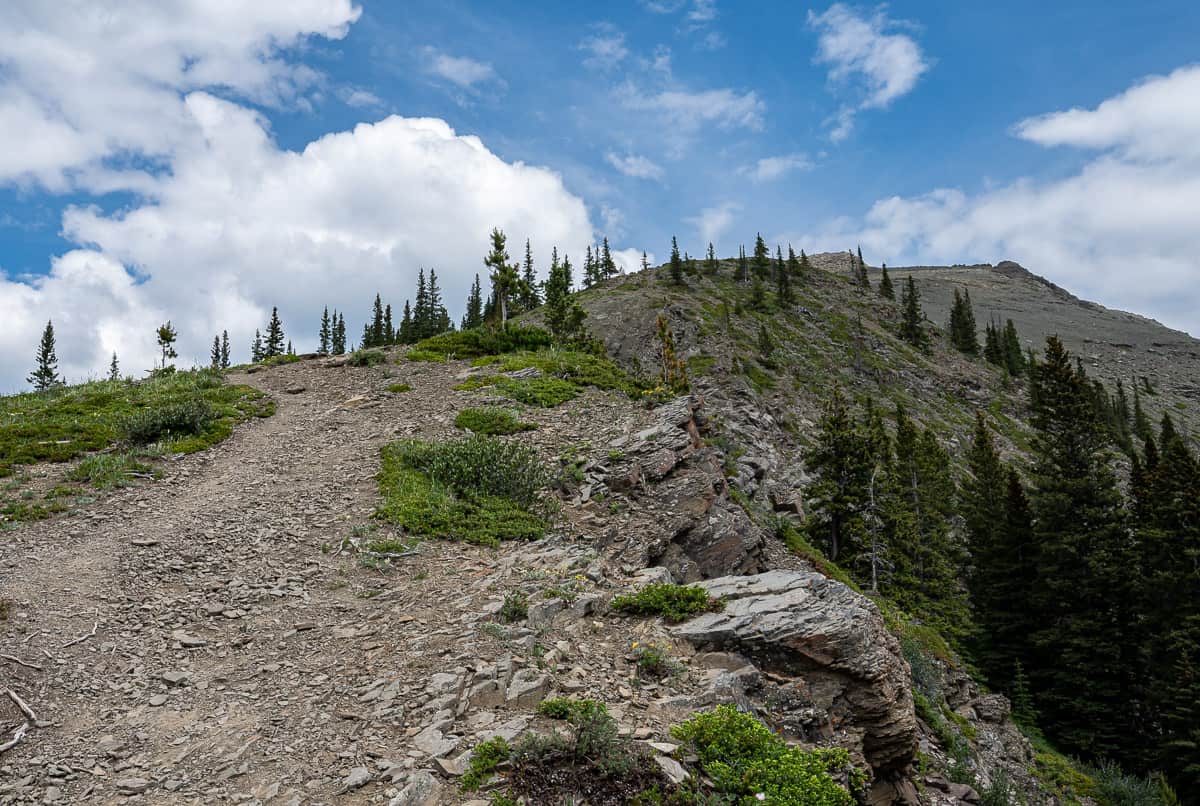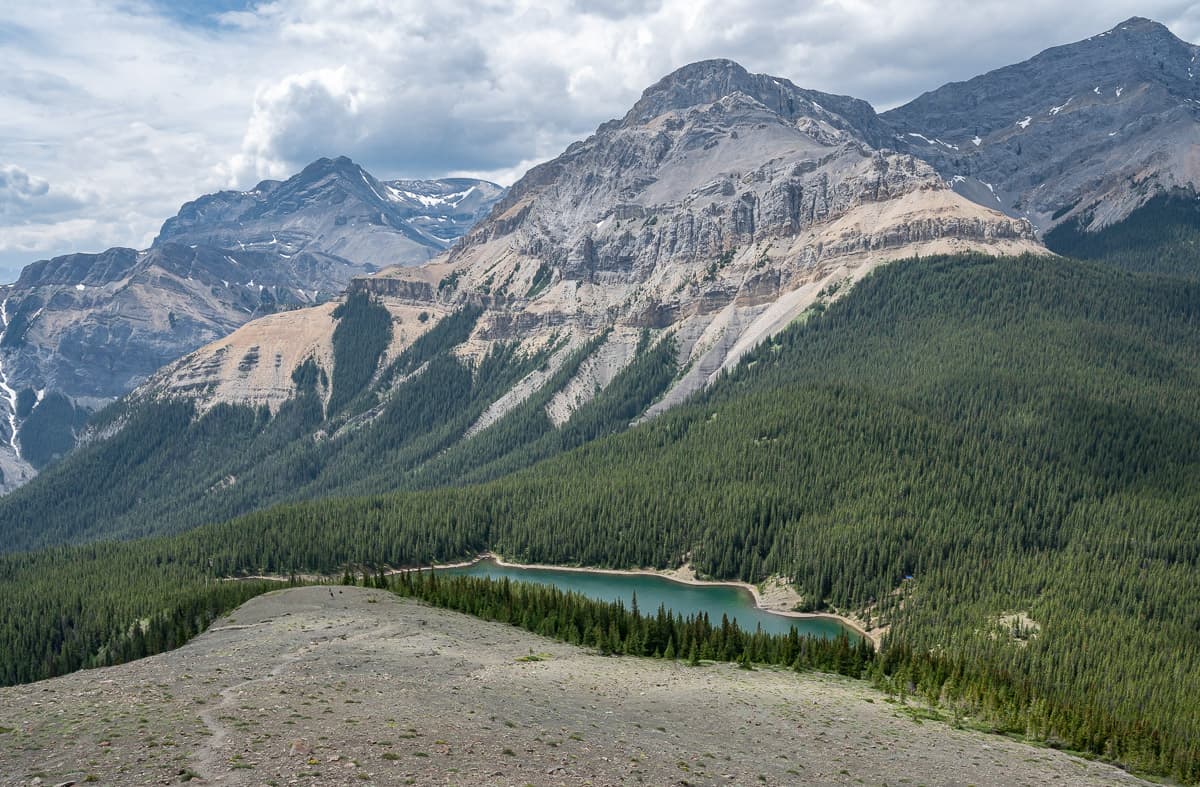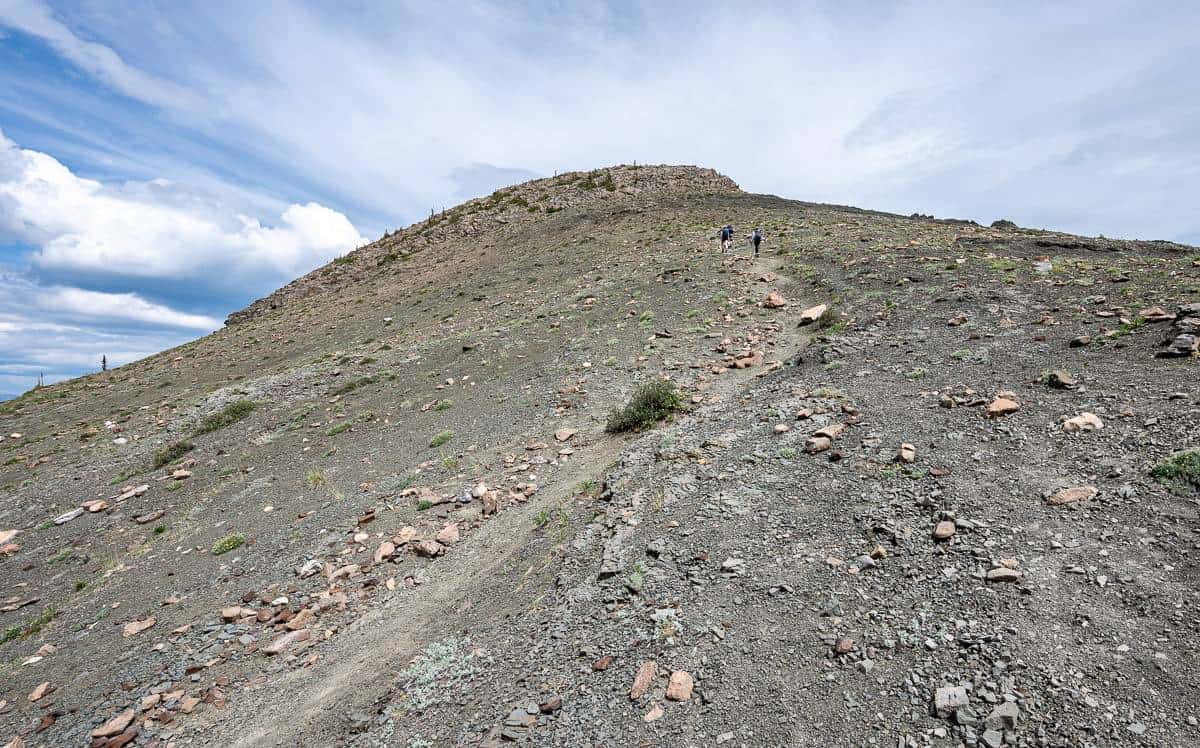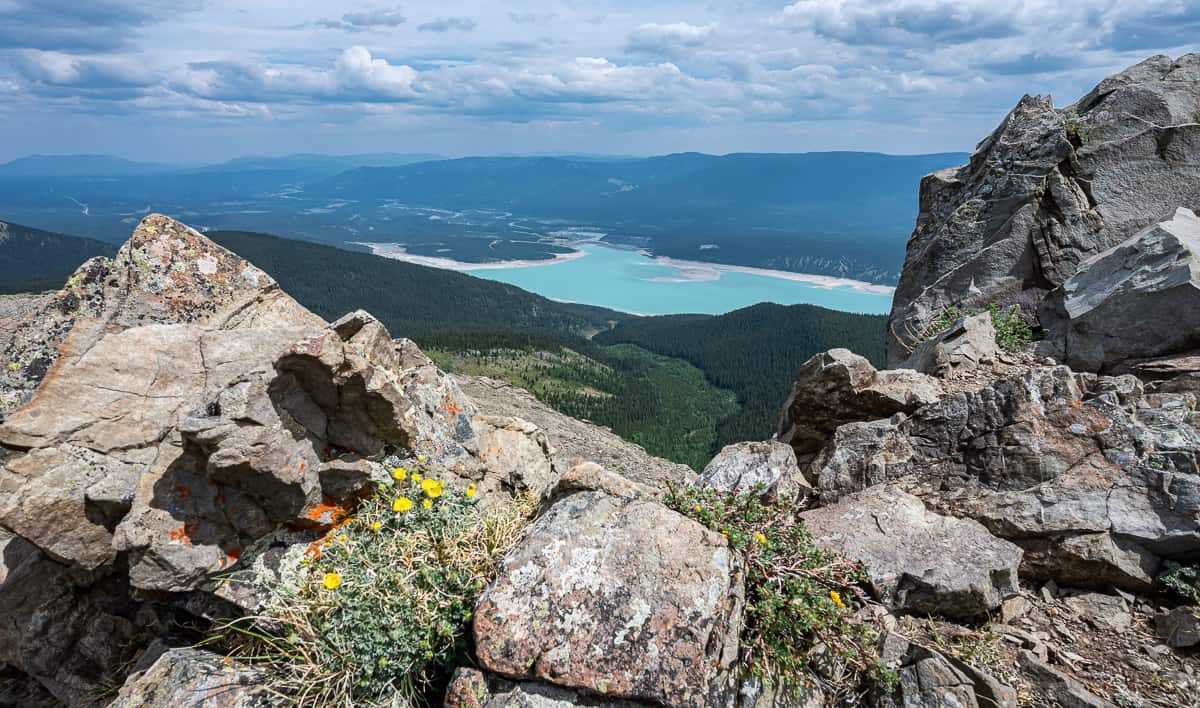 Final thoughts
The Allstones Lake hike is a great one for those who love a workout that ends at an alpine lake. By adding in the hike up Allstones Ridge, you kick the wow factor up several notches because of the panoramic views of both the mountains and Abraham Lake. For some the elevation gain will be a challenge, but it's not a race, so enjoy the journey.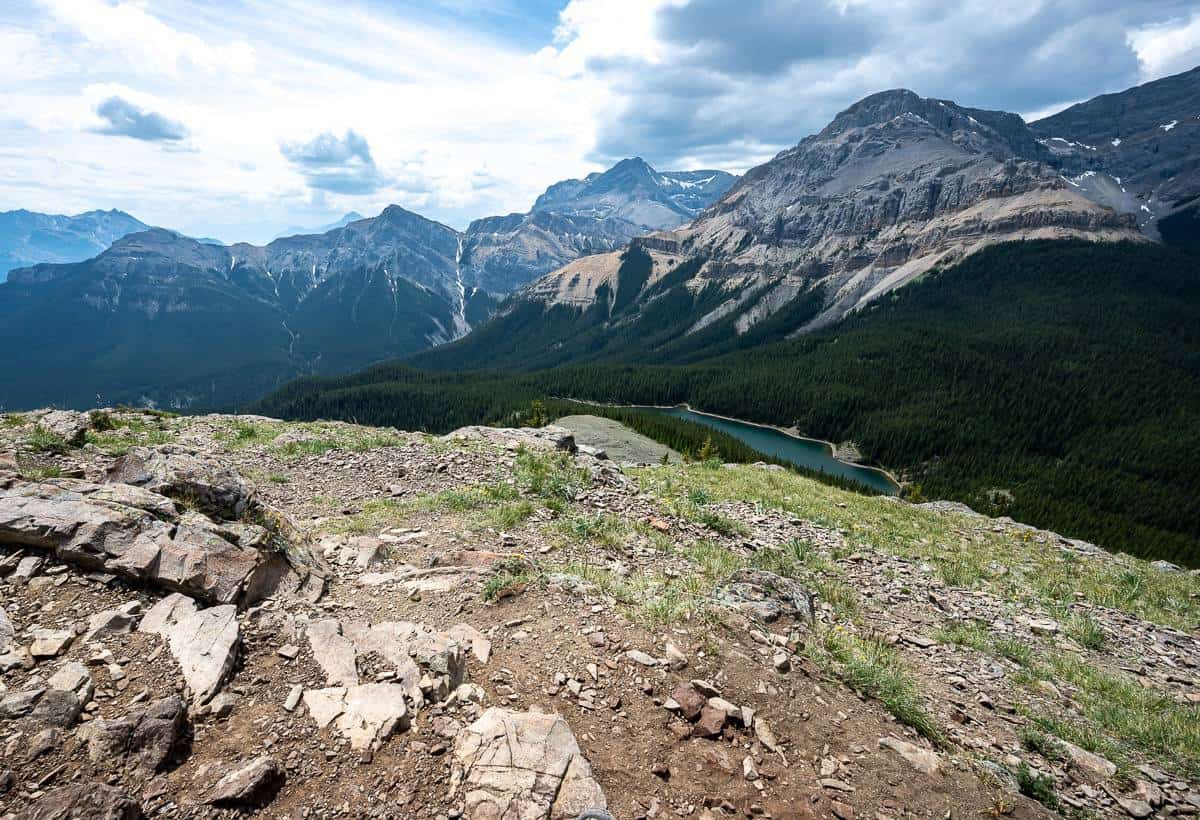 What to bring on the Allstones Lake hike
I'd recommend a hiking pole or two and good hiking shoes with support on this hike. I often pull out my hiking poles for the descent when it gets steep.
Don't forget to take pack a lunch and throw in some energy bars.
Water purification tablets or a water filter would be handy on a hot day so you could refill your water bottles at the lake.
More hikes you might enjoy in the area and close by
Click on the photo to bookmark to your Pinterest boards.