Sitting smack in the middle of some of Alberta's oil country, Rocky Mountain House, might not seem like a destination for a weekend getaway – let alone a luxurious one. So I was pleasantly surprised not only with my stay at Prairie Creek Inn, but at the activities available within about an hour's drive of Rocky Mountain House.
It's a two hour drive from Calgary to reach Rocky Mountain House and the Prairie Creek Inn. Already popular with people from Edmonton and Red Deer, it's not as well known to people in Calgary, "who tend to head west" says owner Terri Cameron.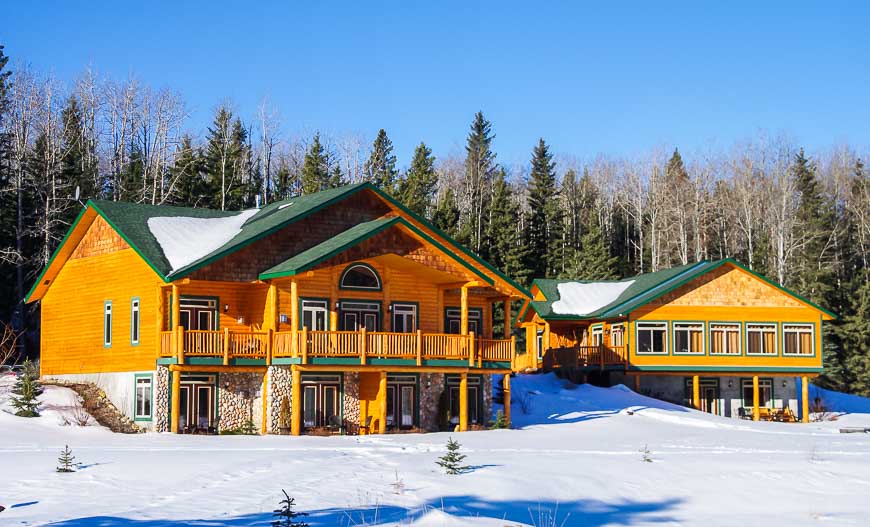 Location map of things to do near Rocky Mountain House
Stay at the Prairie Creek Inn, not far from Rocky Mountain House
Our room – the Aspen Treehouse room – as you can see in the photo below – is roomy and beautifully decorated. Even with two large windows, it feels very private.
On the one side, the only thing you might see is birds and deer. On the other – perhaps a fleeting glimpse of another guest sharing the adjacent room in the Treehouse.
The bathroom is luxurious with a big soaker tub, a large shower and a sink area with enough room for a couple of toiletry bags (I can't believe how many places don't get this right. I hate it when my toothbrush falls into the toilet bowl.)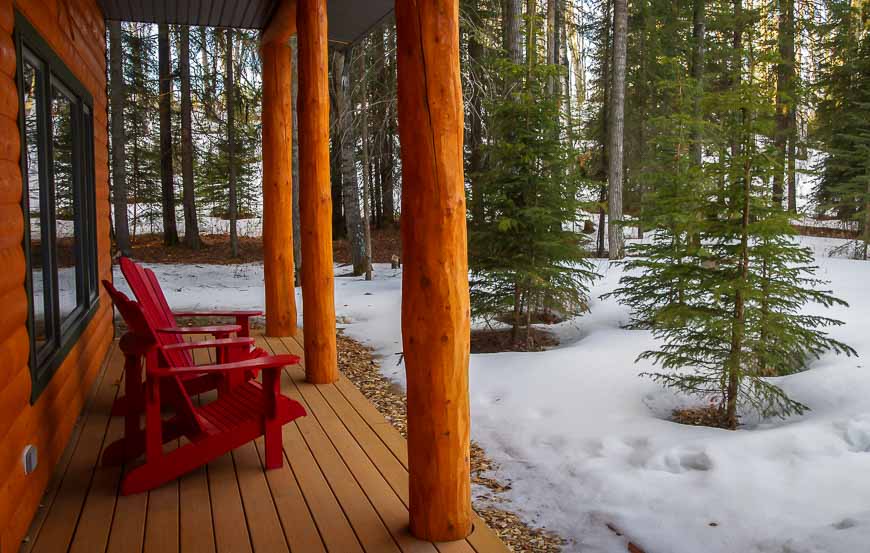 What to do at the Prairie Creek Inn
The Prairie Creek Inn is a great place for rest and relaxation. In fact it would be easy to do nothing but curl up with a good book, watch a movie from the video library, or sit by the river and watch the world go by.
I only managed a bit of R&R but I did enjoy lingering over breakfast and dinner.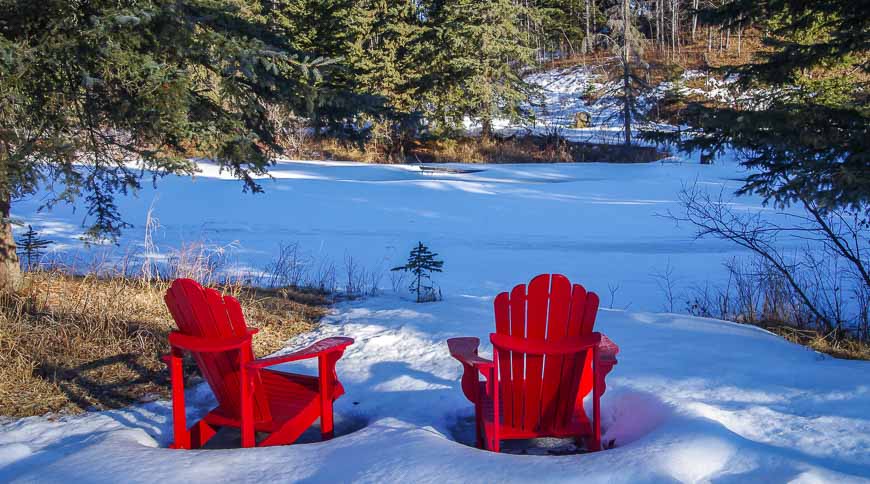 What can you do in and near Rocky Mountain House?
Cross-country ski at the Pine Hills Golf Course
I asked many people what there was in the way of cross-country skiing or snowshoeing in the area. The first and only place mentioned was the Pine Hills Golf Course. I prefer skiing in wilder areas but because I was new to Rocky Mountain House, I figured it was worth exploring, even for a short time.
There are a couple of loops at the golf course; it's all very pretty but the snow cover was unusually thin for early March. Wax disappears in minutes from skis so a four kilometre loop is far more taxing than normal. It's hard skiing on ice! In a normal winter, the golf course would make a fine destination for a workout.
We did find a Visitor's Guide to the Rocky Mountain House area after skiing so while sipping lattes and eating muffins at one of the local coffee shops in town, we came up with a plan for the afternoon. Check out the trails at Crimson Lake Provincial Park, just a 17-minute drive away.
Go Nordic skiing in Crimson Lake Provincial Park
With over 20 km of trails, Crimson Lake Provincial Park is ideal for cross-country skiing in winter (or hiking in summer). We chose to do the 10 km Amerada Trail around Crimson Lake.
Although signs say that the trail isn't groomed, it must see enough skiers that it's easy to follow tracks. Signs every kilometre mark your progress and there are benches to rest on as well. The snow conditions weren't great – icy like the golf course, but the trail is truly beautiful.
We stopped a couple of times just to admire the view. The park was busy with people ice-fishing but we saw no other skiers.
All told we skied about 14 km over the day but with so much slip-sliding on skis it felt like twenty.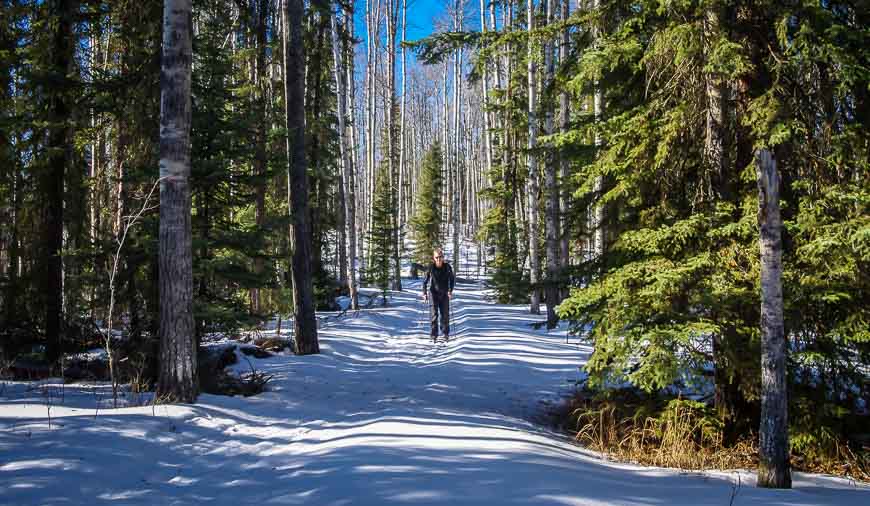 Explore Highway 11 – the David Thompson Highway from Rocky Mountain House
The next day our plan was to do a loop drive starting and ending in Rocky Mountain House. But that's not how it worked out.
The day started with a drive to Rocky Mountain House National Historic Site, though unfortunately it was closed. It tells the story of the vibrant fur trade in the area between 1799 and 1875. In the summer you can spend the night onsite.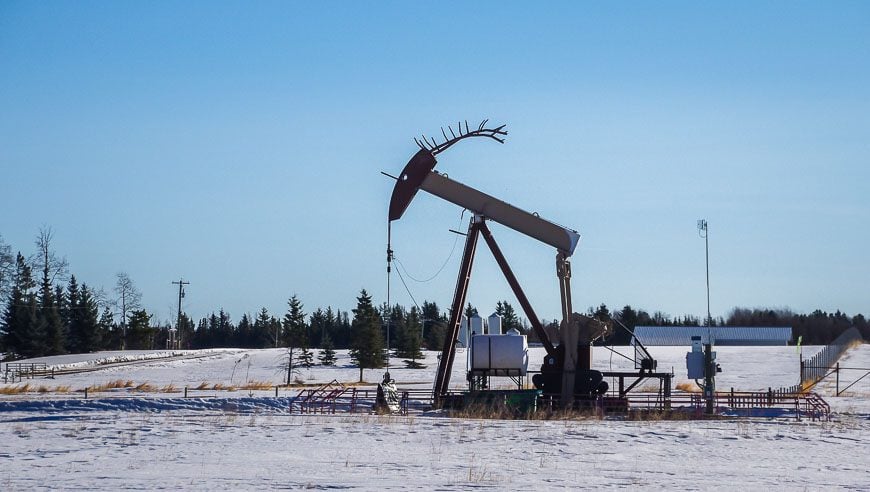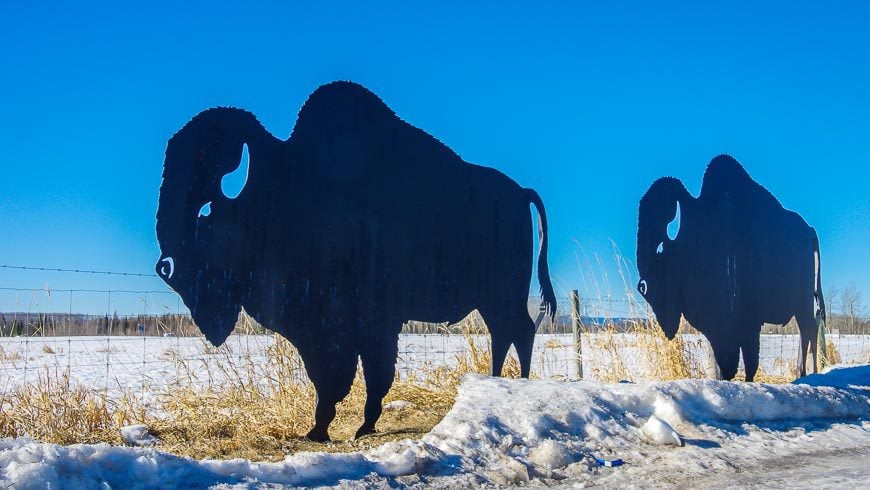 Drive the David Thompson Highway
From there we drove Highway 11, the David Thompson Highway to Nordegg. The plan was to visit Crescent Falls and then return to Rocky Mountain House via Highway 734, a Forestry Trunk Road, where we could visit Ram Falls.
This would be an outstanding drive to do in summer but I wasn't so sure about the driving once we got there. It's a quiet road in early March and I don't trust our car on snowy hills. We decided to continue to the Icefields Parkway and return to Calgary from there.
Don't miss a stop at Bighorn Gorge
Our first stop was at an overlook into the Bighorn Gorge – sometimes called Bighorn River Canyon. The views up and down the gorge are nothing short of spectacular.
Visit Crescent Falls
Next up was Crescent Falls, named for the crescent shaped cliff over which they fall. They are an awe-inspiring sight even with bad lighting. Crescent Falls is actually a series of two waterfalls on the Bighorn River. Do exercise caution as you get close as people have drowned here in the summer, and slipped on ice in the winter.
Do the Siffleur Falls hike
Continuing southwest, we drove past Abraham Lake to reach the Kootenay Plains and the trailhead for the hike into Siffleur Falls. This area deserves a full day of exploration. We made it as far as the first waterfall, but there are two more waterfalls if you continue up the valley.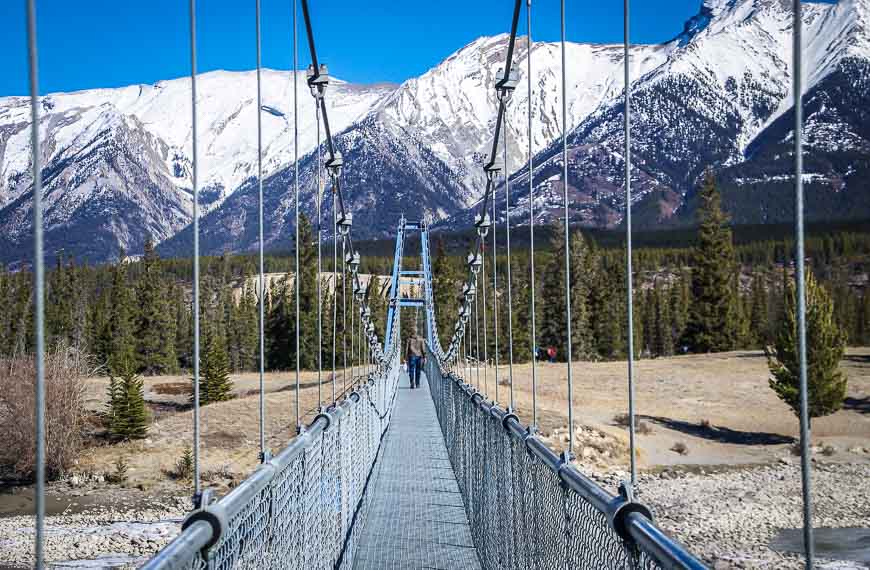 Check out the Abraham Lake bubbles in winter
The drive from Nordegg, and particularly from the Kootenay Plains to the Icefields Parkway is gorgeous. Mountains and glaciers filled our line of sight for miles.
For a weekend without much in the way of plans, we sure covered a lot of territory! I would also recommend exploring Highway 11 in the dead of winter when you can experience the Abraham Lake bubbles.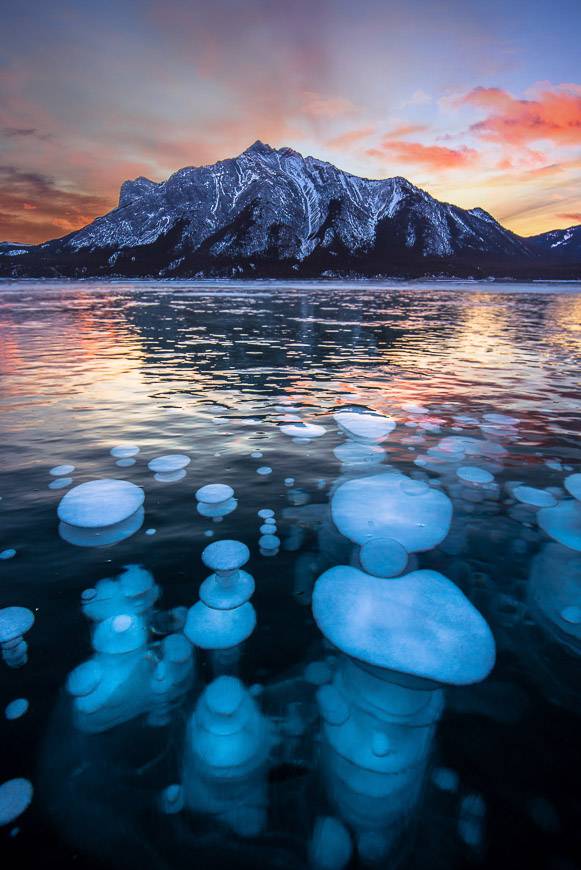 Further reading on things to do in Alberta
Click on the photo to bookmark to your Pinterest board.
This post was made possible by Travel Alberta but all thoughts and opinions as always are strictly my own.