Caving in Canmore is a growing activity. Canmore actually boasts one of the largest cave systems in Canada with approximately four kilometres mapped to date. If you're looking for a thrilling, experience with the odd adrenaline jolt – sign up for the caving in Canmore tour of the Rat's Nest Cave.
The caving tour is perfect if you're visiting the Canmore – Banff area, especially on a very cold or inclement day. It's actually an adventure you can consider any day of the year as the cave maintains a constant 5°C temperature year-round.
Caving in Canmore tour
There are tours available for novices like me who want to test themselves, experience a real adventure and get the adrenaline pumping through Canmore Cave Tours. They've been around for 30 years and maintain an office in downtown Canmore, just 10 minutes away.
They started with cave tours for the military, but have turned the business into a year-round affair. Now they take about 4,000 people per year into the Rat's Nest Cave on one of four caving in Canmore tours that they offer. I signed up for the six hour adventure tour – with four of the six hours underground.
The Rat's Nest Cave
The Rat's Nest Cave is accessed via a five minute drive from their office and a 25-minute hike up a canyon, with some stellar mountain views along the way. But before we even leave the office, we must sign waivers and get suited up in caving gear.
Reading the waiver is almost enough to put me off. Rescues can be difficult, blasting at a nearby quarry can happen and shake the ground… really the list goes on but I dutifully sign and figure chances are actually super low that anything bad will happen.
In the office I meet my guide for the day, Diana Kirkwood, and two other participants – Byron and Marina, power systems electricians from Calgary. We don knee-pads, a climbing harness and then a set of coveralls that makes me feel like I'm wearing prison garb.
Though their gear is anything but flattering, the coveralls do help keep your clothes clean – which is great considering how muddy and dusty the Rat's Nest Cave is. In addition, the coveralls have pockets and zippers in all the right places. We're also provided with wool gloves, helmets and powerful head lamps.
This post includes some affiliate links. If you make a qualifying purchase through one of these links, I will receive a small percentage of the sale at no extra cost to you. Thank you very much for your support.
Plan to carry little in the Rat's Nest Cave
I had brought my usual backpack with me and stuffed it with safety gear as well as water, lunch and a camera. In the office I was told that I would be leaving all of that behind. The reason being – there are tight places to slither through and a pack would get in the way.
Plus it's so gritty you can actually taste it – and that's not a good environment for expensive cameras. In the end I brought only a power bar and my cellphone.
Before we arrive at the cave, we stop to discuss the geology. A couple of interesting rock samples are produced that attest to the fact that these mountains are made of limestone with fossils from the past.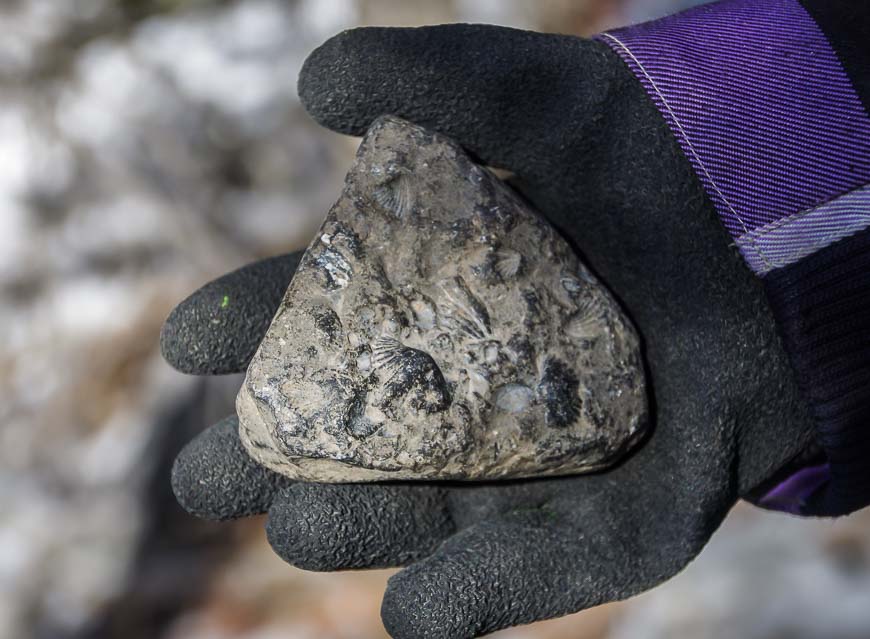 Rat's Nest Cave is a Provincial Historical Site
The Rat's Nest Cave was discovered by hikers in 1972. We see a sign designating the cave and a square mile around the entrance as a Provincial Historical Site. The entrance itself is gated and locked, with the cave accessible only with a guide or by permission.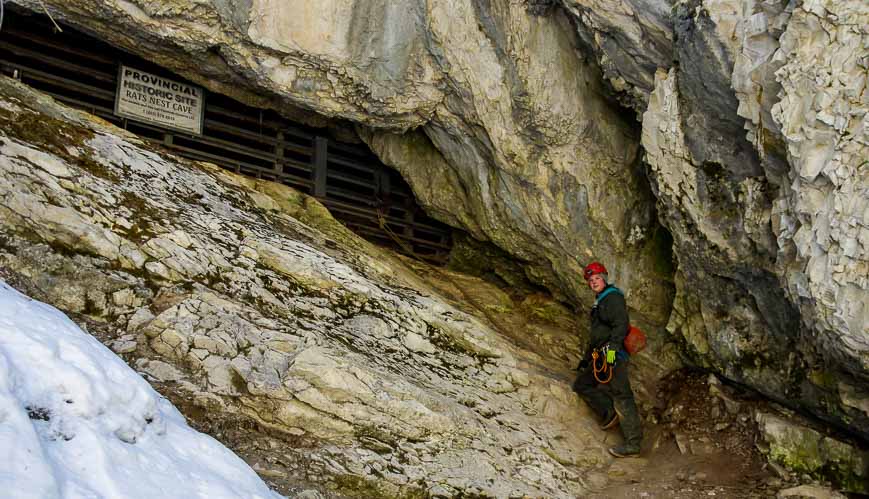 The Caving in Canmore Tour of the Rat's Nest Cave
The caving in Canmore tour begins. Over the next four hours (which fly by) we are treated to tiny tunnels, large caverns, a 60 foot rappel into the darkness, a narrow descent through what's called the Laundry Chute and some stunning cave scenery. Our guide told us that one client had this to say about the Laundry Chute – "Oh man, that was worse than a colonoscopy."
There are two optional squeezes that looked just a tad too tight for my comfort. At one point, we turned off our headlamps and sat in complete darkness with our eyes frantically trying to make something out of nothing.
Then, still with lights off, we clambered on hands and knees forwards in the direction of the guide's voice. It wasn't until we turned our lights back on that we saw the slab of rock and the bumpy ground we had covered.
Look for rats and spiders when you go caving in Canmore
Other highlights in the cave included a sighting of a bushy-tailed wood rat. With giant eyes, it was actually kind of cute. A few minutes later what looks like lichen on the wall turned out to be a mess of Daddy Long Legs spiders.
Swimming in the cave for experienced spelunkers only
Our turn around point was a beautiful area filled with calcite formations and a couple of crystal-clear pools. Experienced spelunkers bring scuba gear down here and continue exploring. Visibility is excellent when they swim in, but the pool gets stirred up and all the silt and mud effectively reduce the visibility to zero for their swim out. No thank you.
The turnaround point on our caving in Canmore tour
At the turn around point, we were roughly 60 m below the surface. To return to the entrance, it was a combination of backtracking and covering new ground. I found we were at the entrance breathing fresh air in short order. Then it's a quick jaunt downhill to the car and mission accomplished.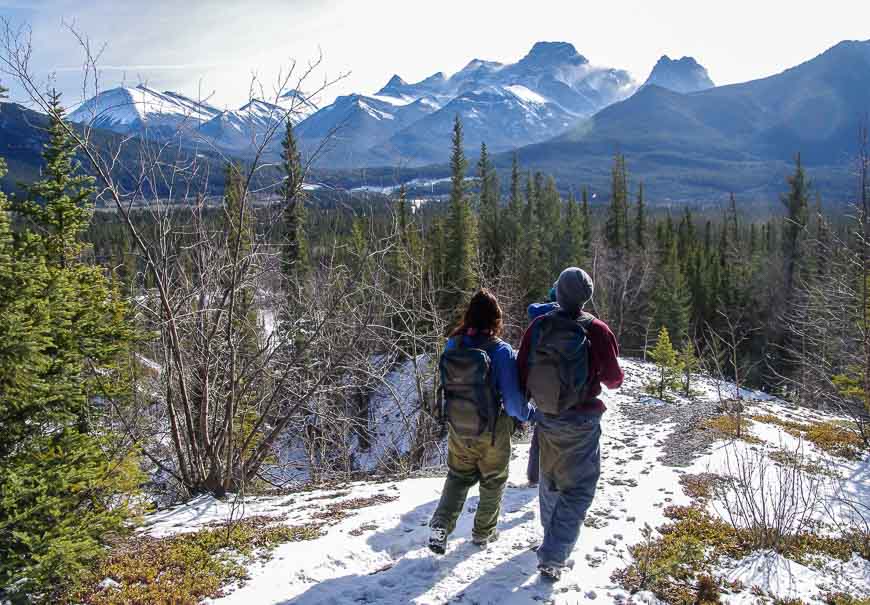 Exploring the Rat's Nest Cave is a thrilling experience
I learned that I was far more capable of crawling into tight places than I thought possible. I was wowed by the beauty and in awe of the real spelunkers who explore the underground world.
There is a two hour caving in Canmore tour that doesn't require the rappel – but that was a highlight for me. It takes some guts and a sense of adventure to do this tour but it's definitely worth it. Having said that, I don't need to do it again. The question is would you do a caving in Canmore tour? If so, sign up below!
You can sign up for a 4.5 hour caving in Canmore tour or a 6 hour caving tour that includes the rappel.
Where to stay after caving in Canmore
If you're visiting Canmore and you're looking for a place to stay check out one of these suggestions.
Inexpensive – Canmore Clubhouse run by the Alpine Club of Canada.
Bed & Breakfast: Try the Monarch B&B and enjoy a breakfast cooked by a Japanese chef.
Boutique hotel: The Malcolm Hotel near downtown Canmore is a four star hotel with an outdoor heated pool.
For a luxury country inn: The Bear & Bison on the west side of the Trans-Canada is lovely.
Resorts: If you like a full service hotel with spas, pools and lots of amenities check out Solara Resort and Spa or the Stoneridge Mountain Resort.
More reading on Canmore area things to do
Click on the photo to bookmark to your Pinterest boards.