The town of Canmore is both the gateway to Banff National Park and an access point to Kananaskis Country. As a result there is an unbelievable amount of truly exceptional hiking within an hour's drive. I've tried to showcase Canmore hikes that offer views within a short distance of the town, with most about a 15 – 20 minute drive away. The hike to the Sparrowhawk Tarns and Mount Yamnuska is the exception.
Most of the Canmore hikes take you up into the mountains, so be prepared for changeable weather. Always let someone know when you plan to finish.
This post includes some affiliate links. If you make a qualifying purchase through one of these links, I may receive a small percentage of the sale at no extra cost to you. Thank you for your support.
Canmore hikes summary
Many Canmore hikes can be done beginning early in spring. Ha Ling in particular can get very busy even in March, depending on the year and snow cover.
Always go prepared for a change in weather. Pack warm clothes and rain gear.
Most of these Canmore hikes now require a Kananaskis Conservation Pass. If you're planning on hiking a lot in Kananaskis Country, your best bet is the annual pass for $90, good for two vehicles registered at the same address.
Note that Mount Lady MacDonald and Grassi Lakes still have trail closures in 2023 related to upgrades of the Grassi Lakes parking lot and blasting near Mount Lady MacDonald.
Don't forget the bear spray on these Canmore hikes – and be sure it's easily accessible. I also suggest carrying it in a bear spray holster so you don't set it off accidentally.
Most of the hikes are suitable for dogs on a leash. The exceptions would be Mount Yamnuska and EEOR.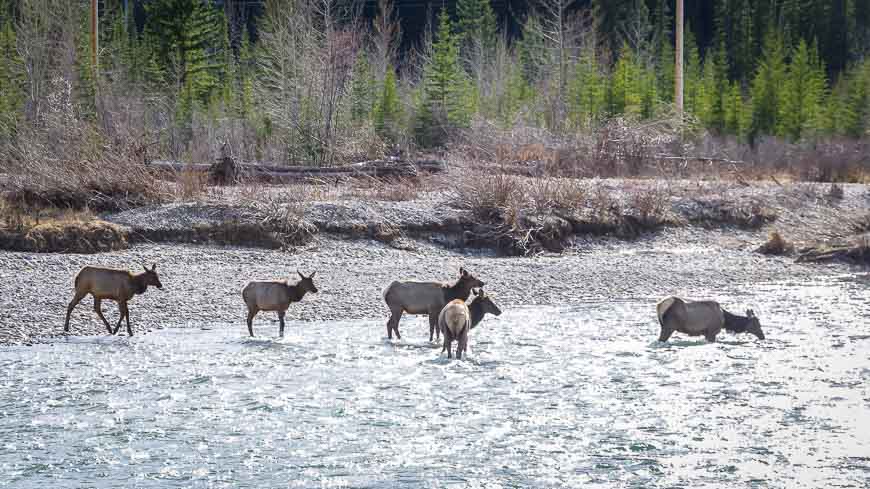 What to take on your Canmore hikes
If you plan to do early season hikes, then don't forget the icers. They can make a huge difference in being able to stay upright and safe on the mountain.
You might want trekking poles on many of the Canmore hikes – as they'll provide some stability and save your knees.
Pack some energy bars, sunscreen, and bug repellent in summer along with the other hiking essentials.
Location map of the best Canmore hikes with views
Click on the three dots in the right hand corner to email a copy of the map.
Heart Mountain hike
The Heart Mountain hike is part hike but mostly it's a scramble, albeit not one that is too difficult except for one move described in the blog below.
Its 2.8 km one way with an elevation gain of 745 m. Count on nothing but up until the homestretch to the summit. It took us just over four hours return including time for lunch on top.
The trailhead is located off of the Lac des Arc exit, 18 km east of Canmore. Park at the Heart Creek Trailhead and follow the detailed instructions in the blog below.
Read: The Heart Mountain Hike near Canmore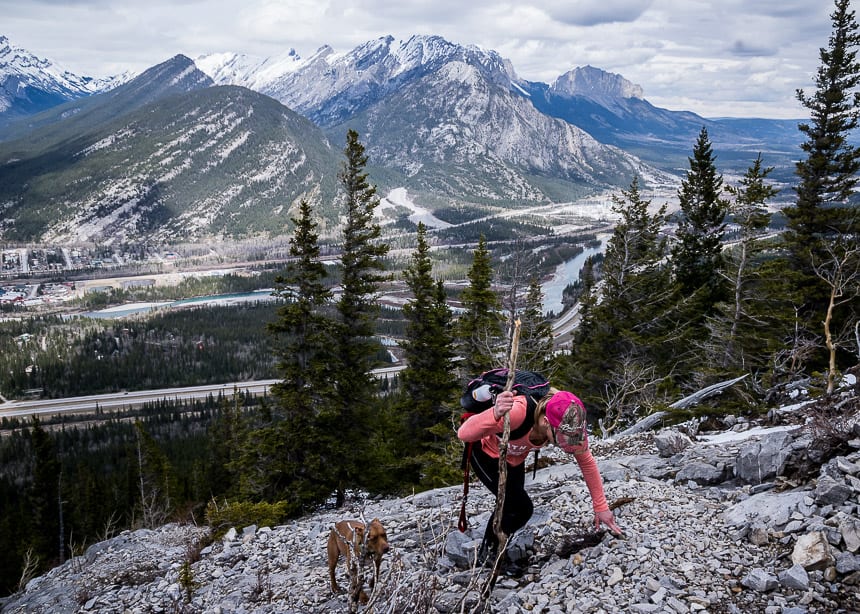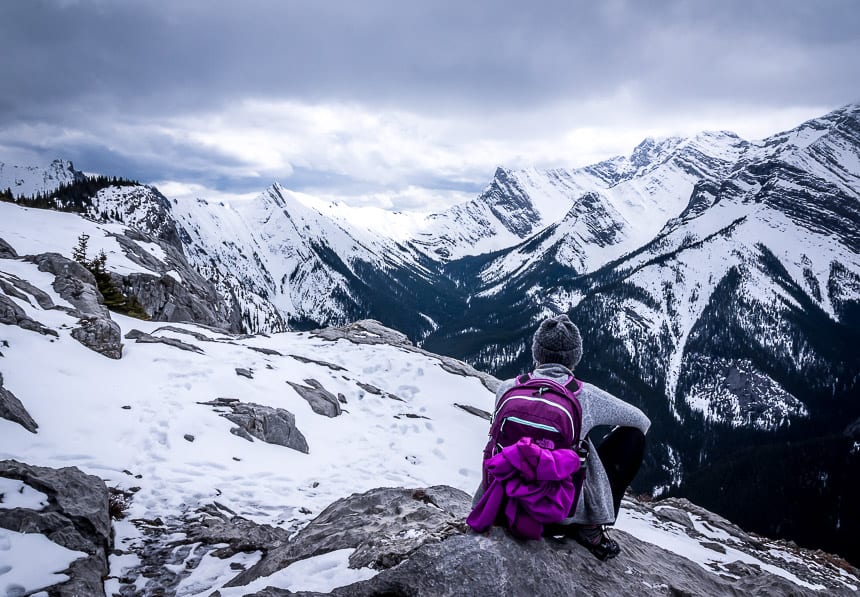 Ha Ling Peak hike – one of the popular Canmore hikes
You can see Ha Ling Peak from all over Canmore. It looks imposing and yet there's a great hiker's trail to the summit. Its 3.8 km one way with an elevation gain of 737 m. It's very steep right off the bat but moderates slightly when you're out of the trees.
The trail to Ha Ling Peak was closed for some time but reopened in 2019. Its safer than it was for the huge numbers of people who hike it.
The trailhead is easy to find as it's across the road from the Goat Creek parking lot.
Read: The Fantastic Hike up Ha Ling Peak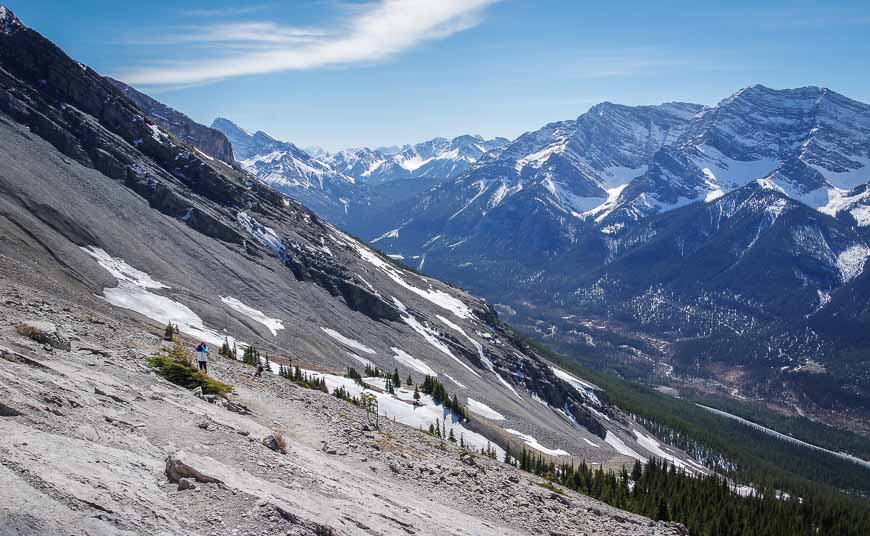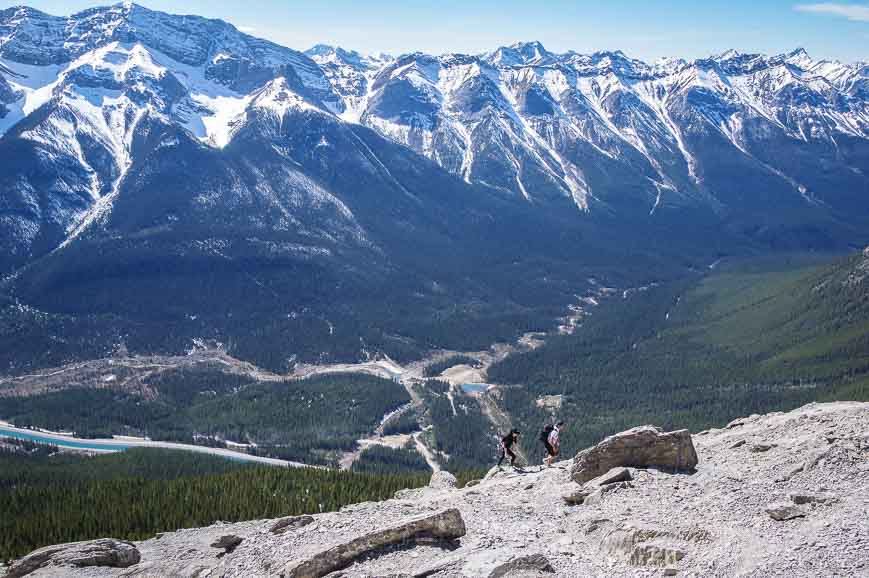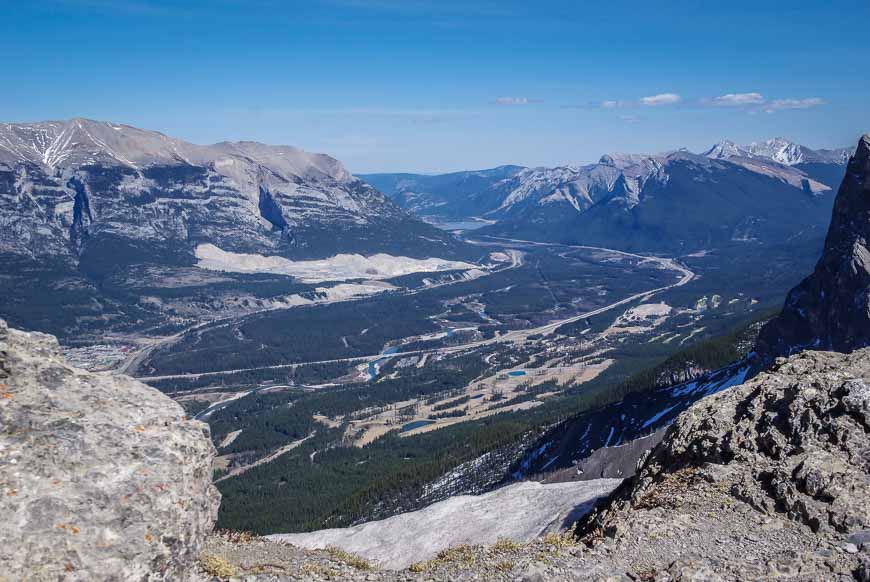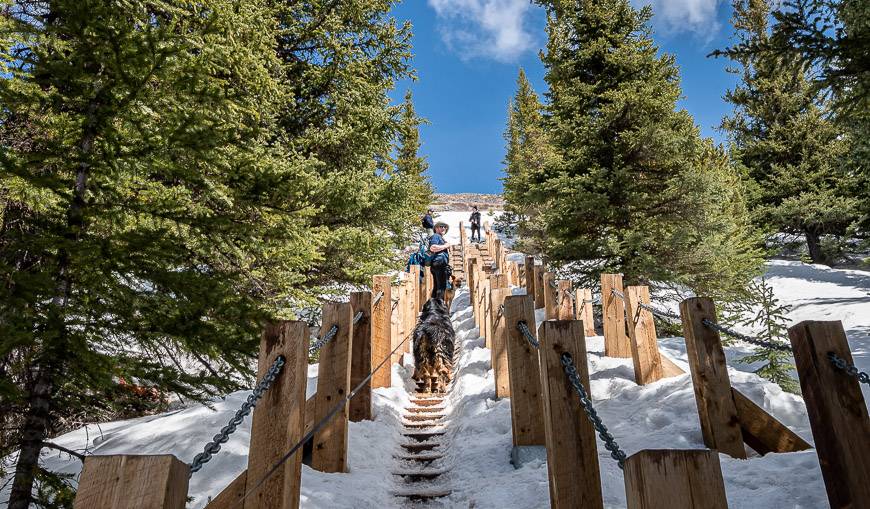 Mount Lady MacDonald hike
If you're looking for an early season hike in the Canmore area then you'd do well to choose Mount Lady MacDonald. What you get is a great workout and some exceptional views of the Canmore area.
There is the option to continue past the heli-pad up a steep scree slope to an airy ridge walk. I have yet to do that but if you're fleet of foot and fearless you'd get even more incredible views.
All told it's approximately 6 km round trip with 610 m of elevation gain to the heli-pad. To get to the summit its 8.6 km return over a gain of 905 m.
Be sure to check the trail report before you go.
Read: The Mount Lady MacDonald Hike near Canmore
Grassi Lakes hike
One of the most popular trails in the Canmore area is the one to Grassi Lakes. It's a quick one to knock off as its 4 km return with an elevation gain of 300 m. Just pick your times to go – either early or late in the day if you want to avoid crowds.
There are two trails that take you to Grassi Lakes. One is marked easy and the other difficult. Choose the difficult one if you're looking for variety or better yet do them as a loop. I'd recommend taking the difficult one up and the easy one down.
Once you are at the lakes find a good spot to either enjoy a picnic or watch the rock climbers.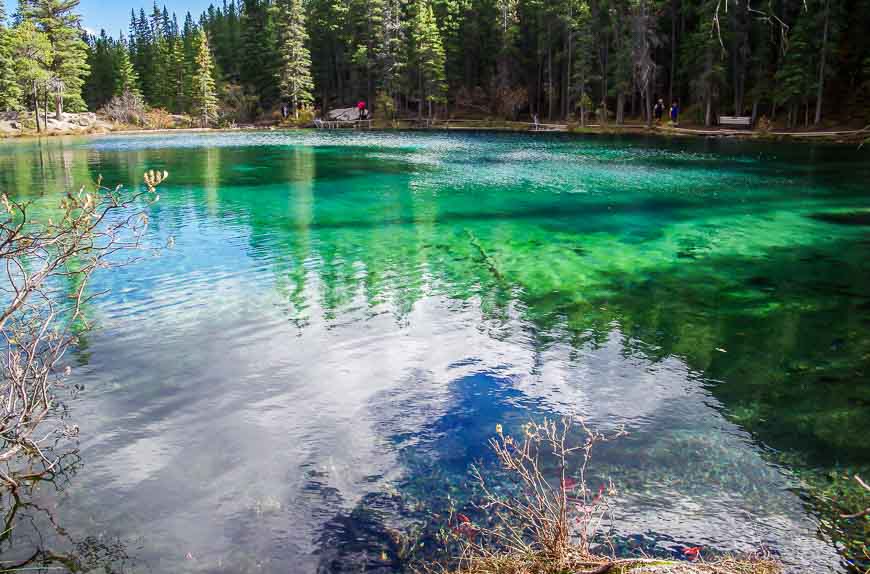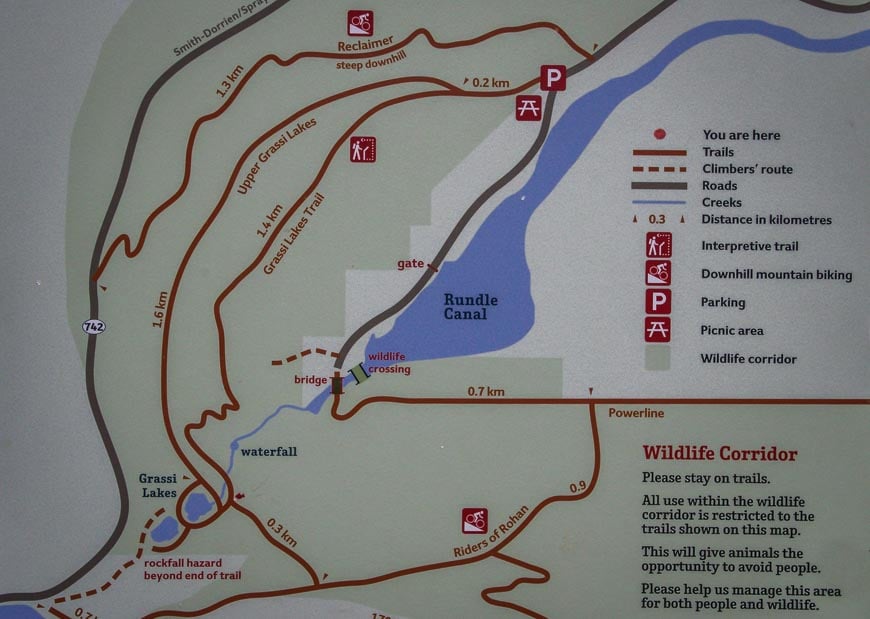 EEOR (East End of Rundle) hike – one of the hard Canmore hikes
The hike up EEOR – also called the East End of Rundle – isn't for everyone. It's unrelentingly steep climbing – some 875 m over only 3.2 km. Part of the hike near the cliff band is more scramble than hike and not everyone will feel comfortable doing it.
But the payoff is an incredible view over Canmore, the Bow Valley, and south to the mountains along the Smith Dorrien Road.
Wait till the snow has left before you do this hike, some years by early May. You can usually hike it through till October, just as the snow starts to fly. In the summer take lots of water and sunscreen.
Note that a small dog was attacked and killed by a cougar on EEOR in October 2019. So be aware of your surroundings, especially if you're hiking at non-peak times.
Read: Test Your Mettle on the EEOR Hike near Canmore
Canmore hikes that are right in town
If you're looking for an easy, scenic family-friendly hike you don't even need to leave Canmore. Look for over 20 km of well-marked trails that wind through the woods, meander along the Bow River and take you over bridges. Many sections offer truly lovely mountain views.
Sometimes there's a well-placed bench and even a bit of wildlife like the elk I saw enjoying a drink from the Bow River.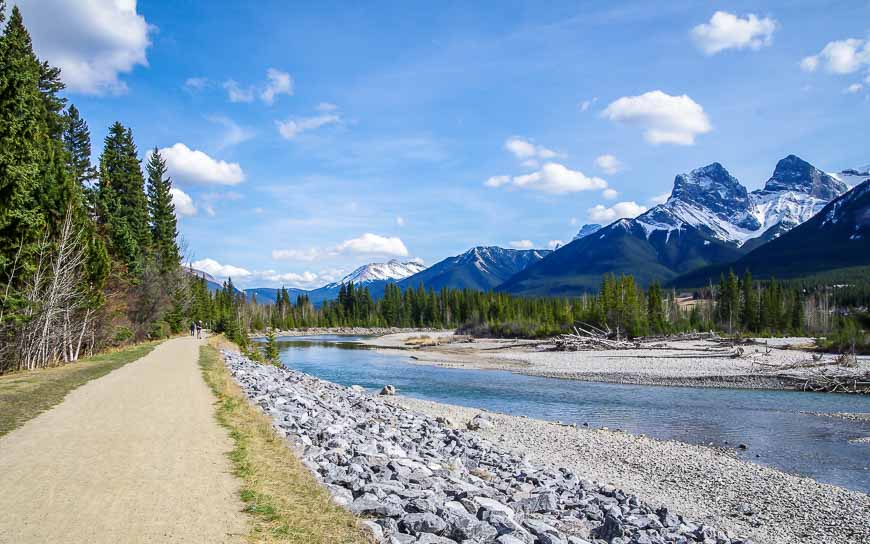 High Rockies Trail hike
The 80 km High Rockies Trail is part of the Great Trail, also known as the Trans-Canada Trail. This part of the Trans-Canada Trail is the westernmost section in Alberta. It's a multi-use trail meant to be shared with mountain bikers and even horseback riders.
There are numerous access points along the Smith Dorrien Road to get to the High Rockies Trail. The closest one to Canmore is the Goat Creek Trailhead and parking lot, 5.6 km up from the Canmore Nordic Centre along Highway 742 (a dirt road).
Don't expect any services along the trail and be bear aware when you're hiking. Plan on an out and back hike unless you've arranged a car shuttle.
Read: Biking the High Rockies Trail in Kananaskis Country
Mount Yamnuska hike
Mount Yamnuska is the first notable mountain you see when driving east from Calgary towards the mountains. So while not in Canmore proper, the trailhead is just 25 minutes from the town.
This is one of the Canmore hikes that can be quite challenging for many people and one I wouldn't recommend if you loathe any exposure or scrambling. People have died on this hike! There are three parts to it that can be hard for some – getting through the chimney, loads of scree and a short chain section that isn't as bad as it sounds.
The 11 km hike gains 900 m and save for a few short sections it's nothing but up. Take short gaiters for the descent as there's one heck of a lot of scree to contend with. (Note the scree slopes in the photo below you'll be descending.)
Before you go check trail reports. The trail has been upgraded and is reportedly safer as of 2022.
Read: The Demanding Yamnuska Hike is Full of Surprises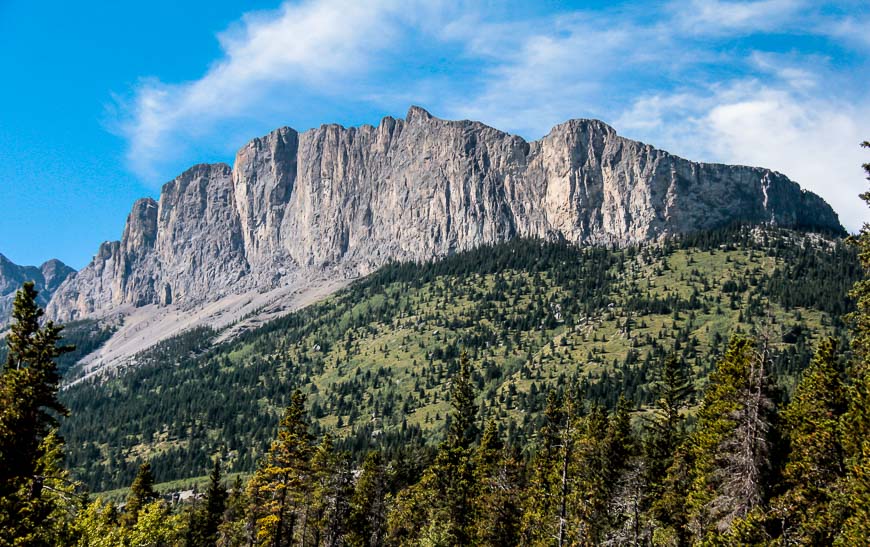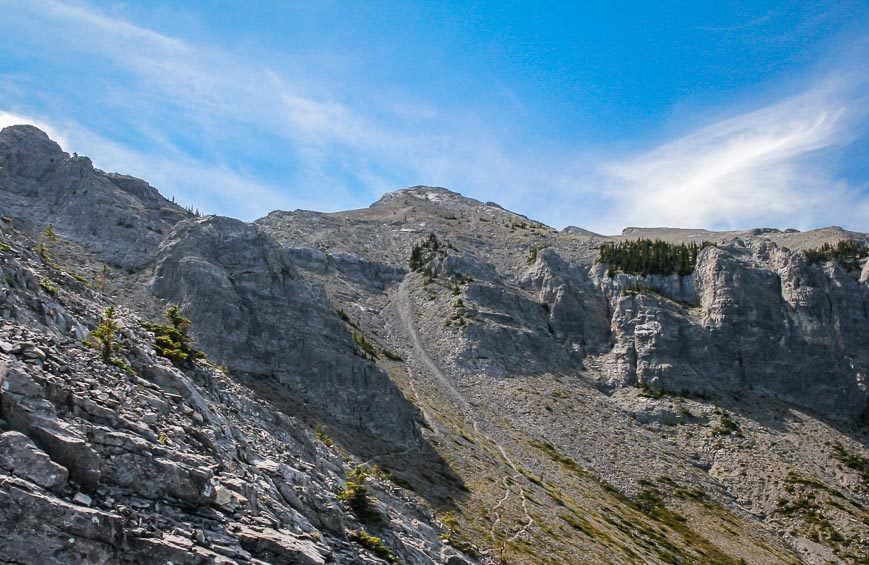 Sparrowhawk Tarns hike
Do this superb 13.8 km return hike from around the third week of June through to mid-August if you want to catch the tarns full of water. They usually dry up over the course of the summer. The hike is a moderate one with only 720 m of climbing. The biggest issue is staying on the right trail – all described in the link in the blog below.
The trailhead for the Sparrowhawk Tarns is just 22.5 km from the Canmore Nordic Centre. There is a signed Sparrowhawk Day Use Area on the dusty Smith-Dorrien Road. If it's full you can park on the road.
Read: The Gorgeous Sparrowhawk Tarns Hike near Canmore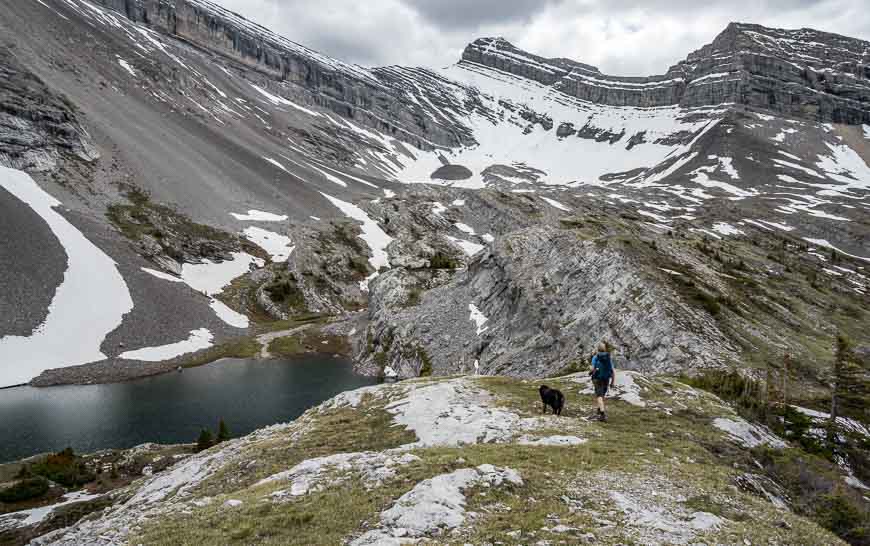 Where to stay in Canmore
Inexpensive: The Canmore Clubhouse located 4.5 kilometres out of town is run by the Alpine Club of Canada. It's only $30/night for members, $40/night for non-members.
Bed & Breakfast: The romantic Bear and Bison Country Inn is a great choice with a fantastic breakfast.
Check out the centrally located Georgetown Inn with its old English dēcor.
If you're after lodging that comes with a fully equipped kitchen along with a washer and dryer then the Basecamp Resort is a great choice. Enjoy well-appointed rooms with thoughtful touches like local coffee and Rocdeky Mountain soap. The downside in my books is the lack of a personal touch as you're given a code to your room so you don't have to talk to anybody. Ever. But maybe that's just me. Prices are reasonable.
Boutique Hotel: The Malcolm Hotel near downtown Canmore is a four star hotel with an outdoor heated pool. It opened in 2019.
If you like a full service hotel with lots of amenities like pools and spas check out Solara Resort and Spa.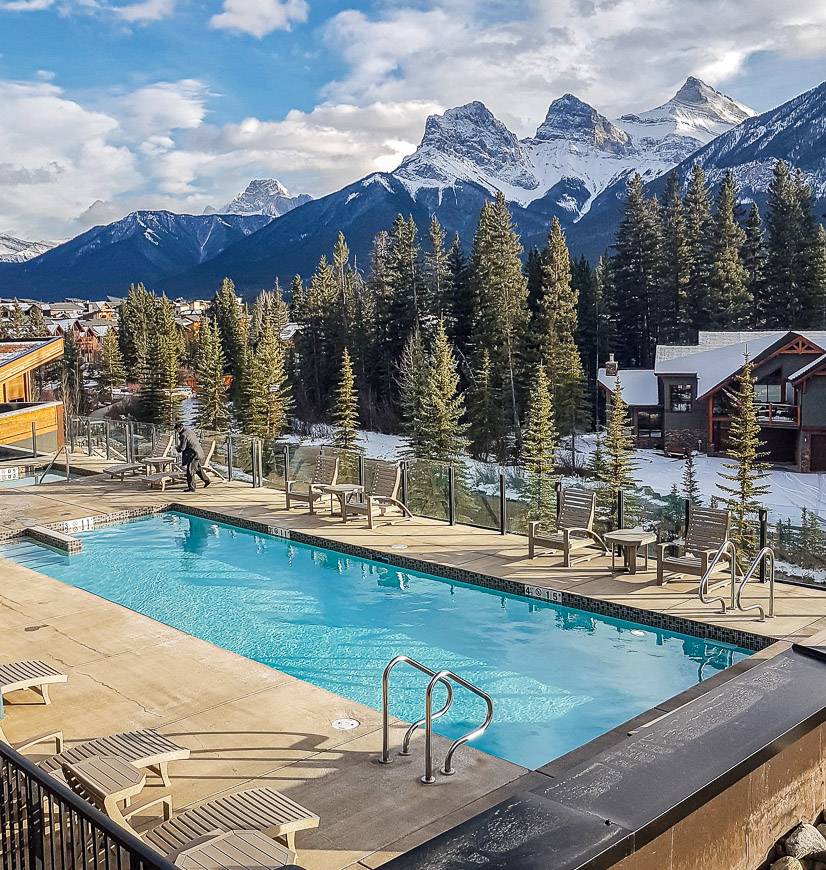 Click on the photo to bookmark to your Pinterest boards.