The Mount Lady MacDonald hike out of Canmore is one of a handful of early season hikes that delivers a great workout along with spectacular views. It's a popular trail as we discovered, with most hikers turning around at the heli-pad. It was closed for a few seasons while blasting occurred but it has since reopened.
If you don't mind a little scree – or snow if it's spring time, then continue up past the heli-pad on the Mount Lady MacDonald hike until you reach the knife-edge ridge. You'll have to decide if you've got the skill-set and wherewithal to continue. We did not on this outing. Our excuse was Rosie, the Bernese mountain dog. I didn't think scree and knife edge ridges with a large dog would be a great combo.
It's always a good idea to check the trail report for updates.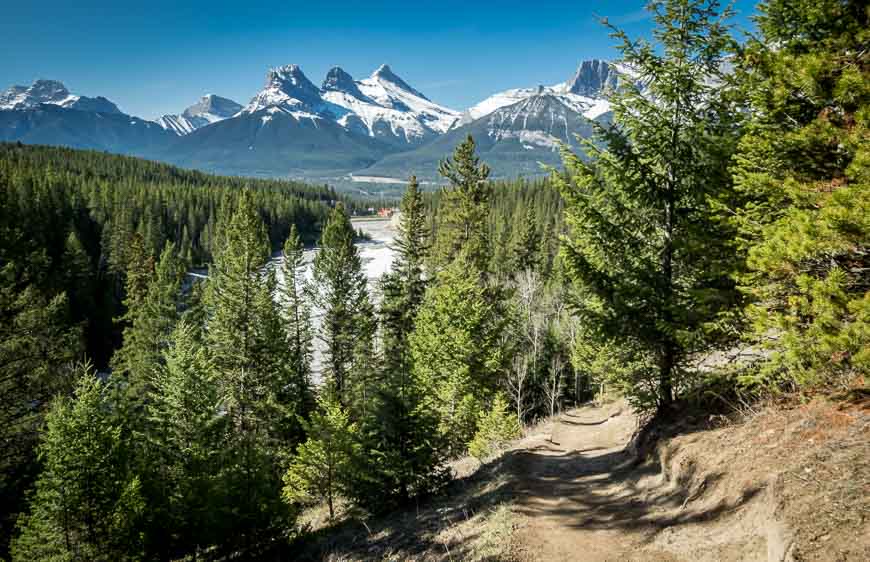 This post includes some affiliate links. If you make a qualifying purchase through one of these links, I will receive a small percentage of the sale at no extra cost to you. Thank you for your support.
Lady MacDonald hike details
Finding the trail is the crux of the hike if you only go as far as the heli-pad. From the Cougar Creek Trailhead by the parking lot follow the well-defined trail to the left (west) of the river.
Continue north past houses in a residential neighbourhood until the trail takes a noticeable bend to the left. We ended up on a well-worn gravel/snow path beside a small stream. Ahead we could see hikers taking off on a trail into the woods so we checked with someone who looked like a local.
That first trail in the woods takes you on the Montane Traverse. Avoid it if it's the first time you're hiking Lady Mac as there is a network of trails and it would be easy to start up the wrong one.
Instead continue almost to the large metal gate across the river. Choose one of the many short paths up through the woods on your left. You should find signage immediately. The main trail heads steeply up the hill. If it's not steep you're on the wrong trail.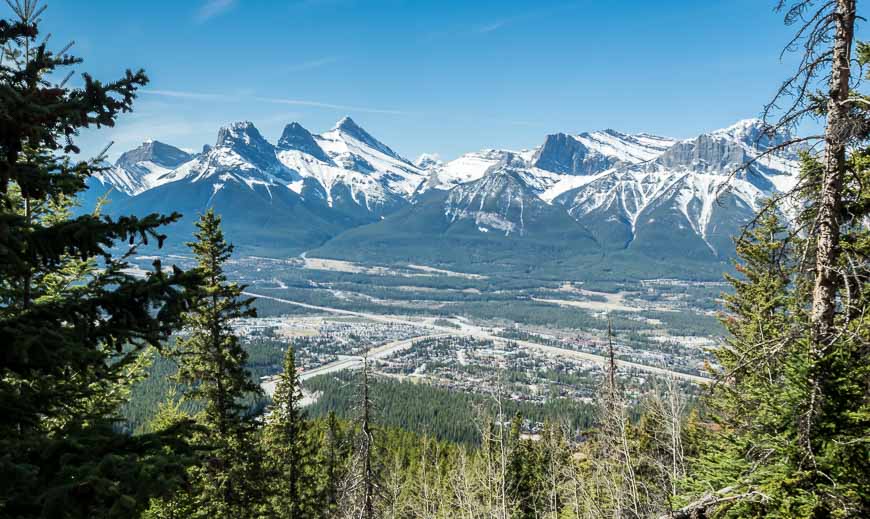 What I really liked about the Mount Lady MacDonald hike were the views. Within 10-15 minutes of hiking we were treated to views of Canmore and the valley. They continued off and on for the duration of the hike.
NOTE: In mid-May the trail was primarily dirt or rock until we neared the heli-pad and we got into snow. If you're going to continue past the heli-pad take gaiters and icers.
The hike is very straightforward until you reach a rocky section. Then it steepens again and the trail becomes braided. We found one arrow on a tree so followed that general direction – always going up.
After about 1.75 hours from setting out, we gained the ridge two pictures below. Head left up it admiring the mountainscape around you.
Also look for bighorn sheep in the meadow on the back side of the ridge. We saw seven of them though they look like white boulders from a distance.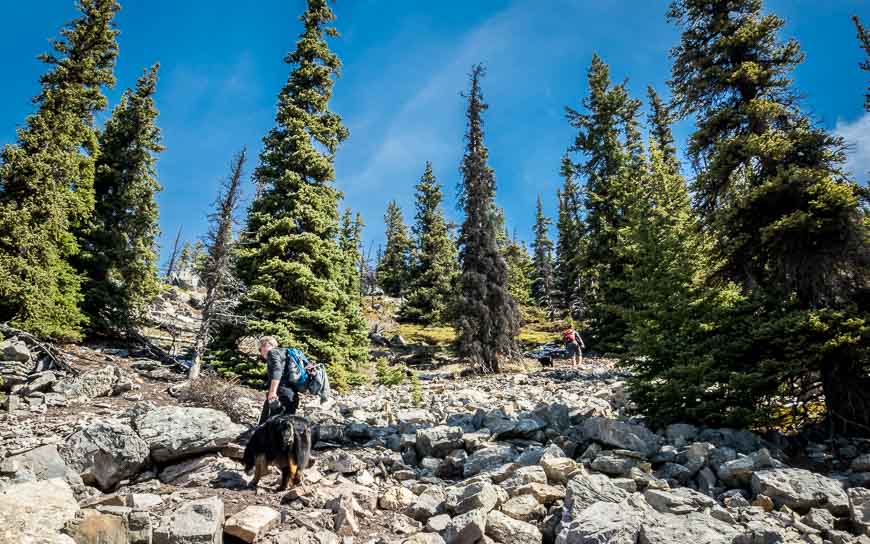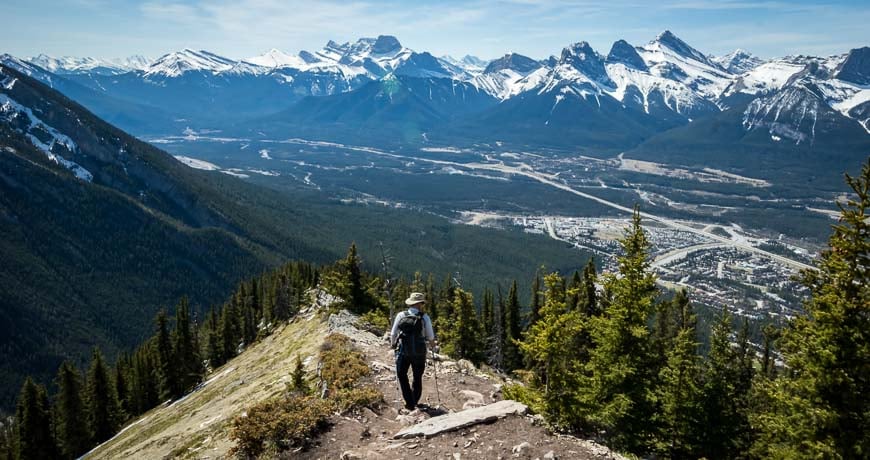 From the ridge it's lovely hiking and a little less steep. In short order you can see the rest of the mountain unfold above you. From the ridge to the heli-pad it took us about 15 minutes. There was quite a bit of snow around in mid-May.
If you were to hike to the summit of Lady Mac and not the helipad you would cover 4.3 km one way over an elevation gain of 905 m. My guess as I don't have a map in front of me, is that it's 3 km to the helipad and about 610 m (2000 feet) of climbing.
To continue up past the helipad isn't difficult to the first obvious bump. But the trail steepens from there. One day I'll do it when I don't have a dog with me. It took us four hours of hiking round-trip, not including a leisurely lunch soaking in the sun at the heli-pad. You can't beat the view.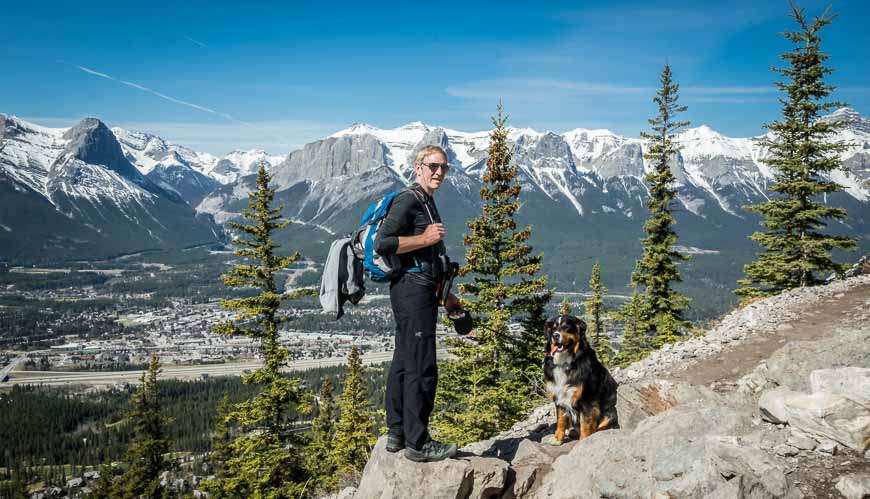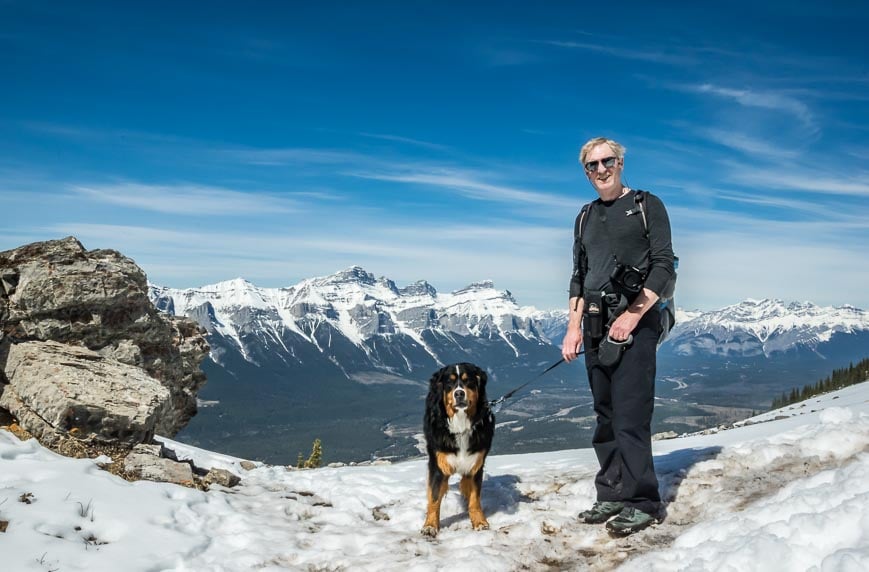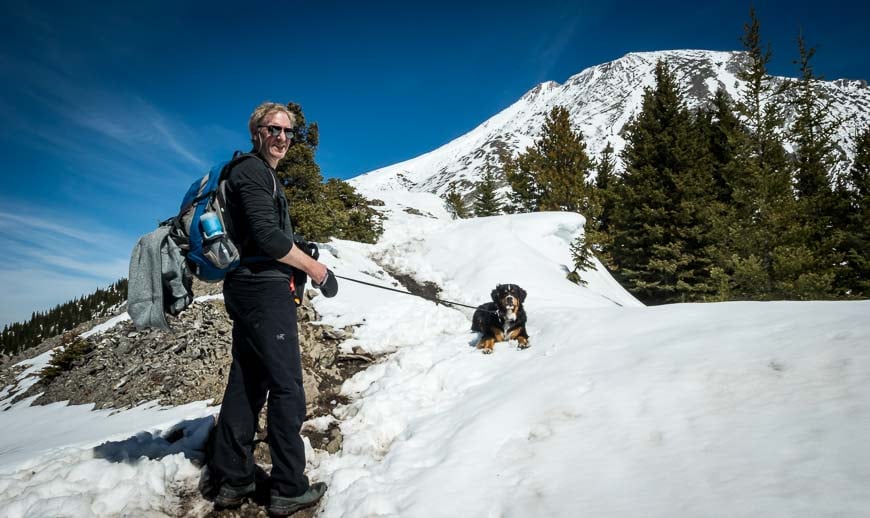 Why is there a heli-pad on the mountain?
As an aside the heli-pad was built to support a teahouse that was to be accessed via a helicopter flight. Land was leased in the mid 80's but by 2002 the project had folded.
In 2013 the partially built wooden structure for the teahouse as well as other bits of infrastructure were demolished in the interests of public safety. Today there's a helicopter pad – minus several boards – so watch where you walk. There's also a weather station up here.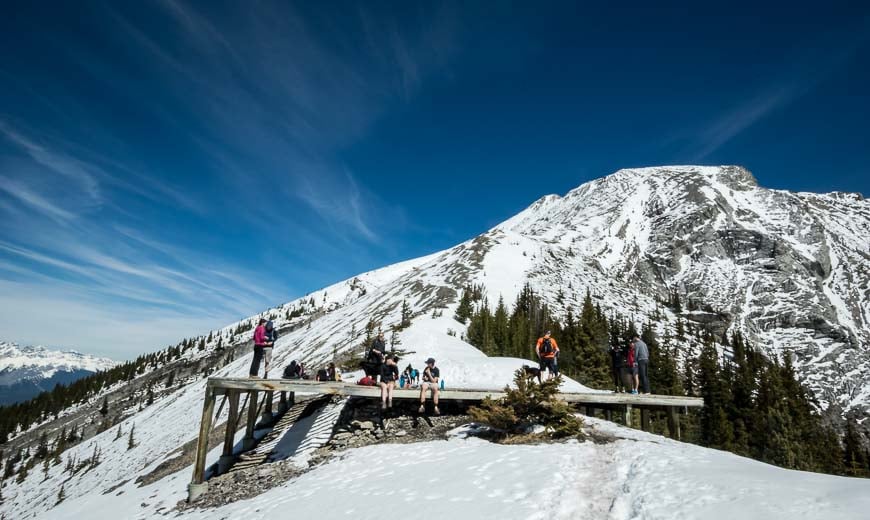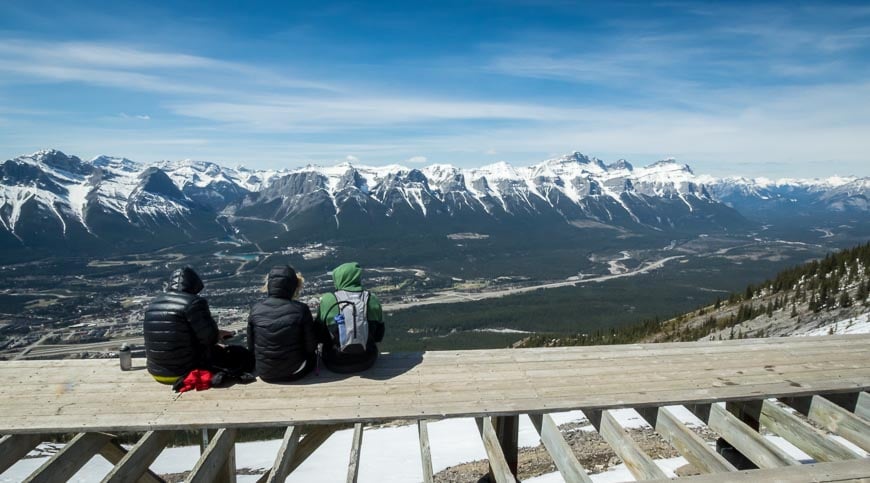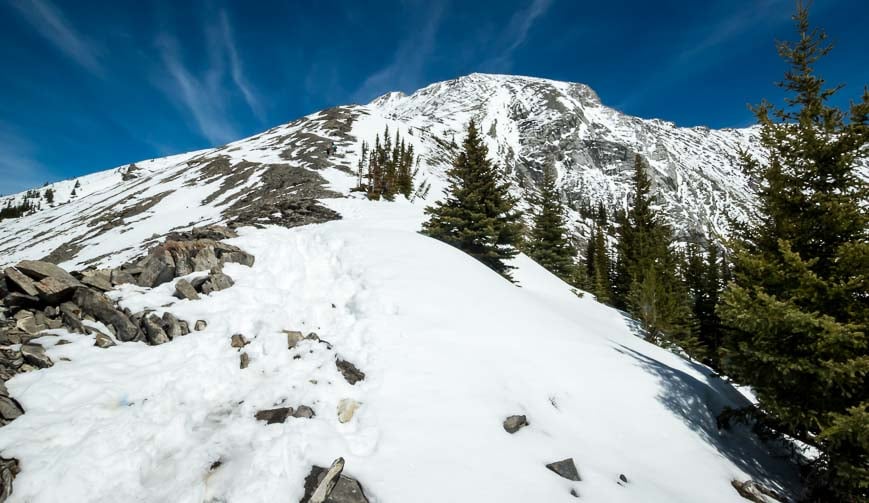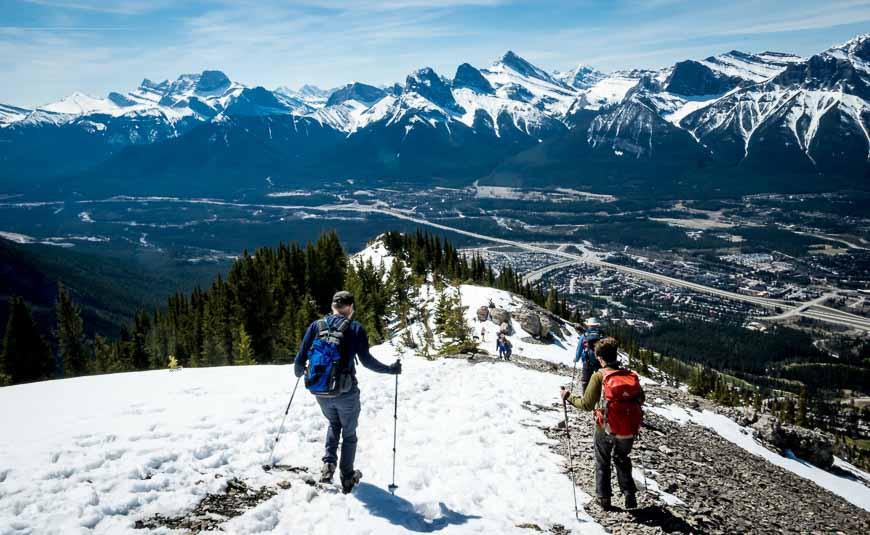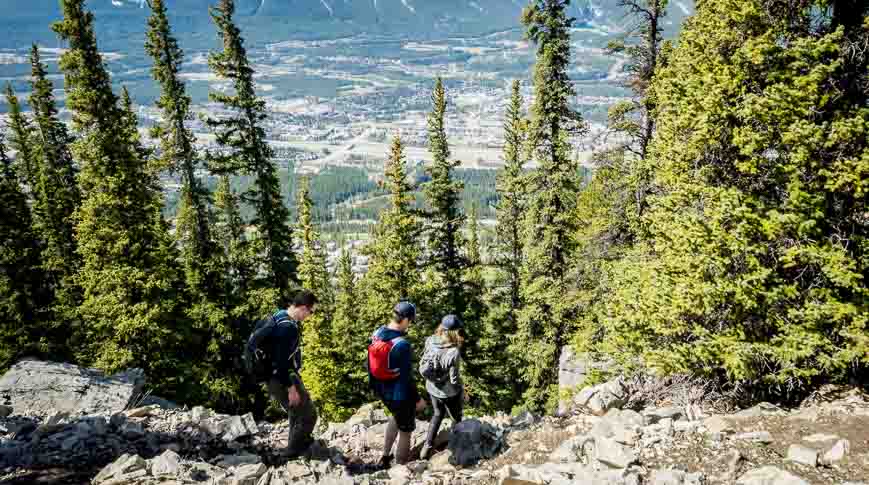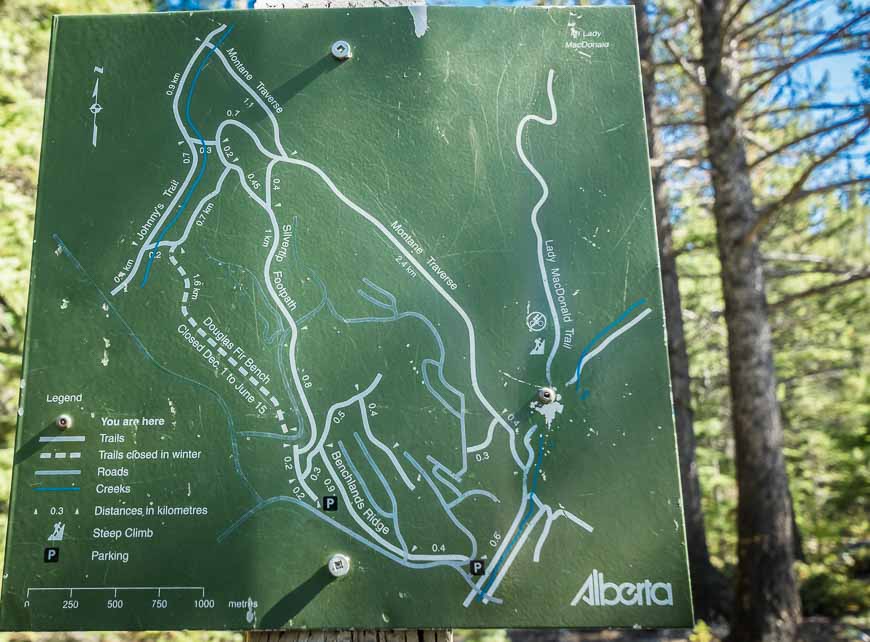 Finding the Lady MacDonald trailhead
If you aren't familiar with Canmore the directions to the trailhead may sound confusing but they're actually straightforward.
If you're coming from Calgary get off at the main exit into Canmore by the Silver Tip Resort. You end up on Palliser Trail. Follow it up to a T-junction and take a left onto Benchlands Trail Road. Continue up the road, gaining elevation.
Pass the Summit Café and then just before you reach a bridge turn left along Elk Run Boulevard where you'll immediately see a parking lot on your right. If its full continue up the hill a short distance and park on the right hand side where parking is allowed. It's free.
While this is a great early season hike, it would also be good in summer. But take lots of water with you! Nearby I also recommend hiking Ha Ling Peak.
A few things to take on your Lady Macdonald hike
Always carry the 10 hiking essentials.
I like something comfortable to sit on at lunch time. It can be your mitts on a warm spring day but in summer I swear by my almost weightless seat cushion.
The older I get the more I like using hiking poles. Invest in a good pair that are collapsible, preferably made of carbon because of their weightless quality.
I don't pack gaiters on every trip, at some point on most hikes I usually wish I had them. In summer half gaiters are ideal for keeping pebbles and sand out of your shoes
Location map (approximate)
Further reading on early season hikes in the Rockies
Click on the photo to bookmark to your Pinterest boards.