With travel to 60 countries under my belt, I thought that these 100 travel tips – garnered from my mistakes, time on the road and talking to fellow travelers would be of interest. The travel tips are all broken down by category including general travel, tech, accommodation, planes, trains, foods and more. Some are intuitive and many are just common sense reminders.
General travel tips
1. Planning a trip is half the fun. Think hard about what you're trying to get out of it. Talk over the trip with your travel companion(s) so you're all on the same page.
2. Book a decent hotel on the night of your arrival. Starting a trip with a small splurge, especially when sleep-deprived is money well spent.
3. If you're traveling to a country where you don't know the language, take a picture of the hotel to show to a cab driver. Taking a business card if one is available is also a great idea.
4. Take front and back pictures of your credit cards, driver's license and passport. I also keep a scanned copy of my passport on my computer.
5. Take photos of any receipts – to keep track of expenses and help you in submitting expense reports, should that be an issue, when you return.
6. Ensure that someone at home has a copy of your itinerary. Also give a trusted friend or family member authority to change your flights. It can be a lot easier to do this North America than from a pay phone in the middle of nowhere.
7. Also leave important passwords with a trusted family member or friend so they can help out if necessary.
8. Take photos of airline tickets, booking reference numbers etc. so you have an accessible copy on your phone.
9. If you run into trouble with a flight, try getting help on Twitter. Social media channels are usually closely monitored.
10. Ensure you've got out-of-country travel insurance. Read the fine print and ask questions. Often simply changing the dosage of a drug will negate some aspects of the insurance. And pre-existing conditions may not be covered.
11. If you've got room and you're always charging devices take a power bar to speed up the process.
12. Find souvenirs at the local grocery store. I always return from Mexico with their hot chocolate.
13. Carry a very loud whistle to discourage both animals and humans.
14. Consider registering with your local consulate if you'll be spending significant time in a country.
15. Don't sleep the day away. Get up early to catch the magical light. Attractions are usually less crowded earlier in the day as well.
16. Carry extra cash – in US dollars or Euros – and keep it separate from your main wallet should it ever get stolen.
17. Ensure your bills are clean and crisp. Some countries won't accept well-used, dirty bills. Argentina is a case in point.
18. Load up on small denomination bills so you can easily tip without having to ask for change. I find having lots of $US 1 and $US 5 dollar bills very helpful outside of Europe.
19. Don't forget earplugs. They can save you on a plane with crying kids as well as from street noise, dormitory snorers and more.
20. A smile can go a long ways. Smile often and be friendly.
21. Get off the beaten path. That's where the most interesting experiences will often happen.
22. Don't overbook or over plan your trip. Allow for down time – and for unexpected encounters. They had a richness to the travel experience
23. Be open to the kindness of strangers. Most people are good people. Once while hitchhiking in France, John and I were picked up in a Mercedes, driven to the fellow's home, fed lunch with wine and then driven to the nearest border.
24. Don't let fear dictate your travel experiences. Some fear is healthy and normal but it can also be incapacitating.
25. Travel in the shoulder or off-seasons for better rates.
26. I always have a few energy bars with me in case I don't have time for a meal.
27. Check well in advance of a planned trip to see if you have all the required shots. Make sure you keep your tetanus shot up to date especially if you're an outdoor adventurer heading somewhere remote. (Tetanus shots usually last for 10 years.)
28. Read up on etiquette and tipping customs before you head off on your travels.
29. Want to meet another solo traveler or an activity buddy? Check out Meetup.
30. Reach out to travel bloggers in the cities you will be visiting for up to date advice. We are a rich resource; most bloggers are easy to contact and great about answering questions.
31. Always carry a charged back-up battery or two for your camera.
Food travel tips
32. Don't avoid street food but do watch how the food is handled.
33. Buy street food at peak times when you know the food is hot. Never eat undercooked food.
34. Choose fruits and vegetables that you can peel.
35. For vegetarian options around the world check out The Happy Cow. They have over 42K listings.
36. If you're allergic to certain foods, either keep photos of it or learn to say I am allergic to whatever food it is in the language of the country you're visiting.
37. Universities can be a great place for a cheap meal. Culinary schools are another great option.
38. Check out local food bloggers of the places you'll be visiting for current recommendations on where to eat.
39. Check in on Twitter and ask for recommendations. Some of the best restaurant suggestions have come from people I've never met.
40. Avoid eating in touristy restaurants – especially when they announce We Speak English.
41. Eat where the locals eat. If a place looks busy, that's a very good sign.
42. Travelers drink a lot of bottled water and throw away a horrendous quantity of plastic. Do your bit and take a reusable water bottle – and disinfecting tablets or drops if need be.
Accommodation travel tips
43. Never leave the sign on your door saying "make up room". It advertises your absence.
44. When you leave the room, use the "Do Not Disturb" sign.
45. Worried about your child sticking their finger in an electric socket in a hotel room or Airbnbtype type of vacation home? Cover the outlets with bandaids for a quick child-proof fix.
46. If you're staying for more than three days ask if they can do better on rates. It never hurts to ask for an upgrade either. All they can do is say no.
47. I like using B&B's as I get tips from the owners – and from fellow travelers at breakfast.
48. There are so many alternatives to hotels. Couchsurfing is popular with younger people. Airbnb and VRBO are two very popular sites that offer an alternative to hotels – usually at a better price.
49. I've had great luck offering my house on Housecarers in exchange for looking after my dog, bringing in the mail…same with Nomador.
Packing travel tips
50. Carry-on is the only way to go in my books. I've done an 18 day trip to Uganda with success. Pick a colour theme to your wardrobe and pack around that. And then check out OneBag for extensive packing lists broken down by category – toiletries, luggage, wardrobe …Less is more and in the end you'll be thankful for a smaller bag.
51. For organizing all your techy stuff – check out Grid-It.
52. Use tissue paper to prevent wrinkles.
53. Stuff your shoes with items like jewelry to make use of every available inch of space.
54. Packing cubes come in handy especially when you're traveling as a family. Pack each person's clothing with a different coloured cube.
55. Roll your clothing to prevent wrinkles and maximize space.
56. Put dryer sheets in a suitcase and with shoes so you get the fresh from the dryer scent.
57. Take clothes you don't mind leaving behind to make room for purchases abroad.
58. Bring light-weight waterproof sandals for dodgy showers.
59. Pack a large scarf or sarong that can double as a towel, eye mask and cover-up.
60. If you must bring a long necklace that tends to tangle, weave it into a straw.
61. Always bring a headlamp. It's good for reading in bed and if the power ever goes out, you won't be in the dark.
62. Disposable shower caps are great for packing dirty shoes and wet bathing suits. I always keep one with me when cycling as it fits nicely over a bike helmet on a rainy day.
63. Did you know hair conditioner can be used just like shaving cream, make-up remover and even shoe polish?
64. Traveling but you forgot to polish your silver jewelry? Use toothpaste.
65. Transporting stoves and fuel canisters on a plane can sometimes be problematic. Occasionally they'll be confiscated. To avoid this, thoroughly clean with soap to ensure no vapours are remaining.
Travel via planes and trains tips
66. Bring a puffy jacket and a pillow case to make a pillow.
67. Workout the AM after arrival to combat jetlag.
68. The Man in Seat 61 is a wonderful resource for train and ferry travel. It's also a site where you can book tickets.
69. The Guide to Sleeping in Airports provides information on the best and the worst of the airports. Included are tips on how to sleep in the airport as well as recent airport reviews.
70. Take a picture of your baggage tag along with your luggage as a backup.
71. If you're sleeping in an airport beware of drinking from an opened water bottle. My daughter was drugged in the Madrid airport.
72. Fly at the least popular times for the best airfare. That includes early morning and late at night. Fridays and Sundays are generally the most expensive days to fly – with Tuesday, Wednesdays and Sundays less expensive.
73. Reportedly, the best time to buy an airfare in the US is at 3 PM EST on Tuesday. Also look for sales on Saturday mornings to international destinations.
74. For international airline tickets, the best time to purchase is 1½ – 5½ months before departure. Last minute fares are nowadays almost always more expensive.
75. Often it's cheaper to buy one ticket at a time. It's more of a hassle but it can regularly save you money.
76. Beware of buying in currencies other than your own. Recently I got dinged when booking a one way flight from Phoenix to Calgary. I'd found a good deal going but not on the return so I waited a few days. Then I made a mistake booking the wrong day. Although my money was happily refunded it still cost $30 in exchange rates alone.
77. Sign up for airfare alerts. Lately I've had my best luck with FlightHub.com – with prices considerably lower than anything on Expedia.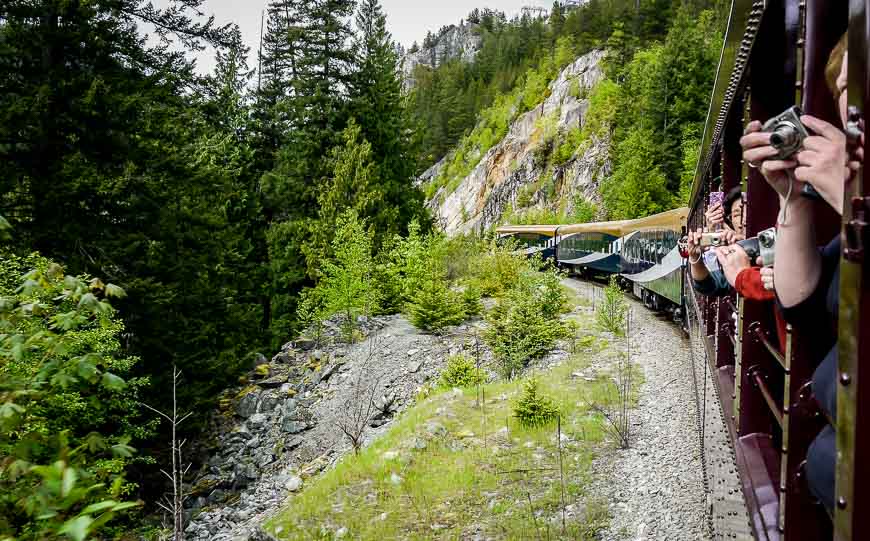 Tech tricks for travel
78. Either turn off your cellphone or switch to airplane mode for a faster charge.
79. Use Google Translate – a downloadable app for your phone to decode most of the world's languages.
80. Even if you don't have data on your phone you can use Google Maps. But you must have WiFi to begin. Find your starting point and load a profile. Look for the three vertical dots in the upper righthand corner and click – save offline map. When you are offline, find the Google Maps app under your places. Practice a few times before you really are offline.
81. Passwords need to be protected and stored. There seems to be a lot of talk about which is best.
82. Back up your photos on a portable external hard drive.
83. If you travel a lot then Boingo is a great choice to stay connected. There are over one million WiFi hotspots right now and prices are reasonable ($4.98/month).
84. Make overseas calls via Google Voice.
85. Check out Finda. It helps you locate any phone anywhere.
86. With a lot of devices to charge you might find a USB Octopus with 7 ports very handy.
Rental car travel tips
87. Take a picture of the car before you leave the parking lot in case they ever come after you for damage that was there before you left the parking lot.
88. Take a picture of the rental contract showing the emergency phone numbers should you have to contact them when you're nowhere near the car.
89. A photo of the license plate might also come in handy, especially if you're driving on highways with a lot of tolls.
90. If there are tolls – find out what you should do beforehand. Most nowadays are automated. We just got caught with a $34 toll on our credit card for the Golden Gate Bridge – and it should have cost around $US 6. No heads up from Budget Rent a Car so beware.
91. Fill up the gas tank yourself before dropping the car off at the airport but beware that many companies require a proof of receipt within a certain distance. Familiarize yourself beforehand on where you'll fill up. Some airports are incredibly easy – Vancouver and Denver as examples – while others might require a map.
Useful websites for travel
92. Buy a universal electrical adapter so you're never without a plug or check out the World Electric Guide for plugs and voltage in every country of the world.
93. I always want to know how much travel is going to cost me in Canadian dollars. XE.com is my go to website for figuring out exchange rates between currencies.
94. For time, weather and travel information in every country and 100,000 cities check out The Time Now.
95. Check out the visa requirement for the country you're visiting by citizenship.
96. Worldwide Weather not only gives you weather forecasts but it lets you know where in the world severe weather is happening.
97. Worldwide Airlines A surprisingly useful guide since all countries and all airlines – even the discount ones – are listed.
98. IAMAT – If you need an English speaking doctor or you want the latest health information by country then you'll find loads on this website. You do have to become a member to access the info.
99. World Time Converter A super easy tool to figure out what time it is anywhere in the world – or what the time difference is between two places.
100. Slow down and enjoy the travel experience. Be open-minded. Have fun. And most of all, thank your lucky stars you're able to travel.