Dominica is an island in the Caribbean located between Guadeloupe and Martinique. It is often called "Caribbean's Nature Island" as it is packed with natural attractions including 365 rivers, nine active volcanoes though none have erupted since the time of Columbus, waterfalls galore, thick forest with prehistoric looking vegetation, dramatic red rocks, and some fine white sand beaches. Dominica adventures abound on this small island – and on many of the outings you won't see another soul.
If you're planning a trip filled with Dominica adventures, I highly recommend Wanderlust Caribbean, a boutique adventure hotel on Dominica's north coast, less than an hour's drive away from the airport. It's also only a two-hour drive from Roseau, should you be taking a ferry to Dominica from one of the nearby islands. Wanderlust Caribbean sits at the end of a quiet road with views over to Treasure Island and to a beach at the mouth of a river you can paddle.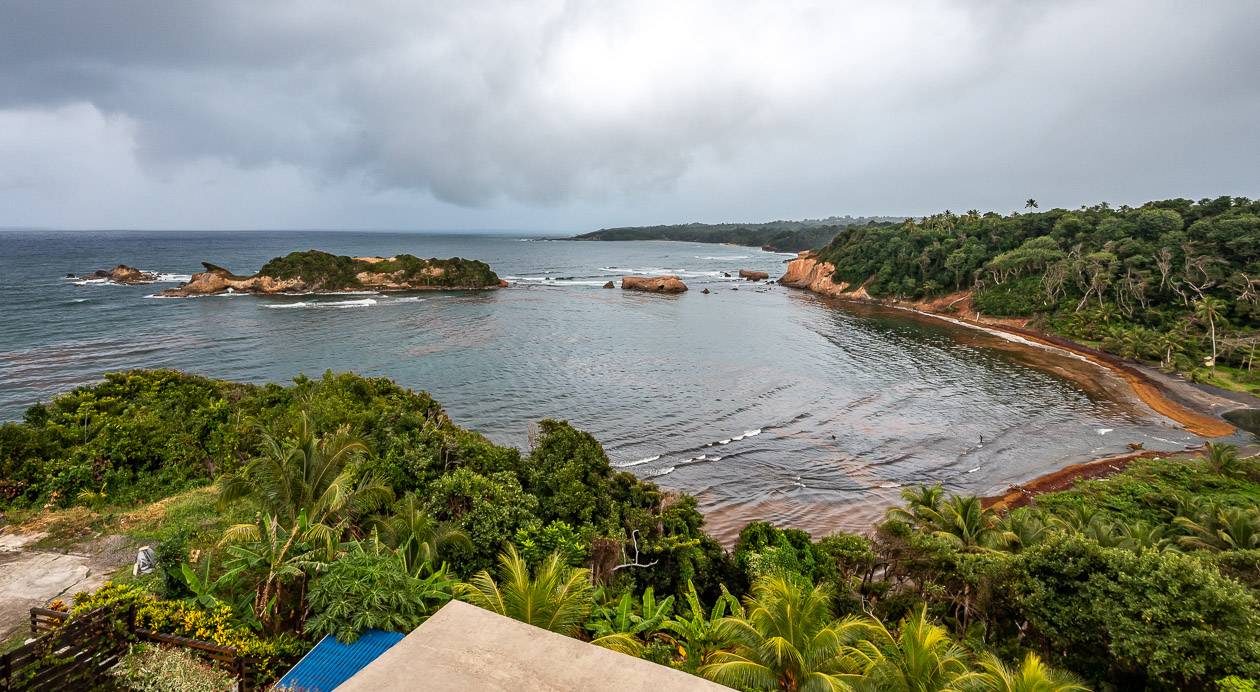 An atypical hotel experience with Wanderlust Caribbean
Wanderlust Caribbean, run by Tom, an American and Sharie who hails from Puerto Rico, is not your typical hotel. What they offer in addition to your room and breakfast (and sometimes dinner) are Dominica adventures around the island geared to your interests. This hardworking couple will do whatever it takes to make your visit a memorable one.
Either they or one of their guides will take you on an adventure (most are not mainstream), so there is no need to rent a car, or worry about booking an activity ahead of time. In fact, even before they allow you to reserve a room, they "interview you" to make sure you're the right fit – active and adventurous, and someone who enjoys doing activities with like-minded travelers.
Tom and Sharie offer two types of tours – those that are close by and local and those that are more mainstream – like snorkelling at Champagne Beach. They do their upmost to keep you away from cruise ship activities. It's not that they won't organise a swim or a float in Titou Gorge as an example, but they'll only visit on days that they know the cruise ship passengers aren't there. They are all about doing things that benefit the locals and the Dominican economy.
Our stay at Wanderlust Caribbean
We stayed in a large apartment type room, one of five they offer, featuring a big bedroom and closet, a spacious walk-in shower, dining area, kitchen and living room – with a TV offering Netflix – though who needs it when you're looking out to the ocean. Off the kitchen is a great big deck with a hammock, a lounger and a couple of chairs – all offering prime ocean views. What a treat when you travel to be able to spread out, go to a fridge and make yourself a snack, wander outside and lie in a hammock or enjoy coffee or a glass of wine with a view of the ocean.
I was surprised that we never found the apartment too hot. There are often stiff breezes off the ocean – and the louvered windows allow you to manage just how much air circulation you want – in every room. The apartment is eat-off-the-floor-clean and nicely furnished with lots of thoughtful Caribbean touches.
Coffee and milk are provided, and Sharie and Tom are happy to drop you off at the local store to pick up some snacks or meals. They do serve a family-style breakfast around a big table outside every morning. You can count on delicious fresh fruit like soursop or passion fruit, eggs of some sort, and perhaps muesli or porridge. Sharie is a great cook and with a little luck you'll be treated to a dinner of hamburgers and salads one night, followed by an unforgettable Puerto Rican flan.
Most nights they don't offer dinner and instead drive you to one of the local eateries in town. It's a great way of putting money into the local economy.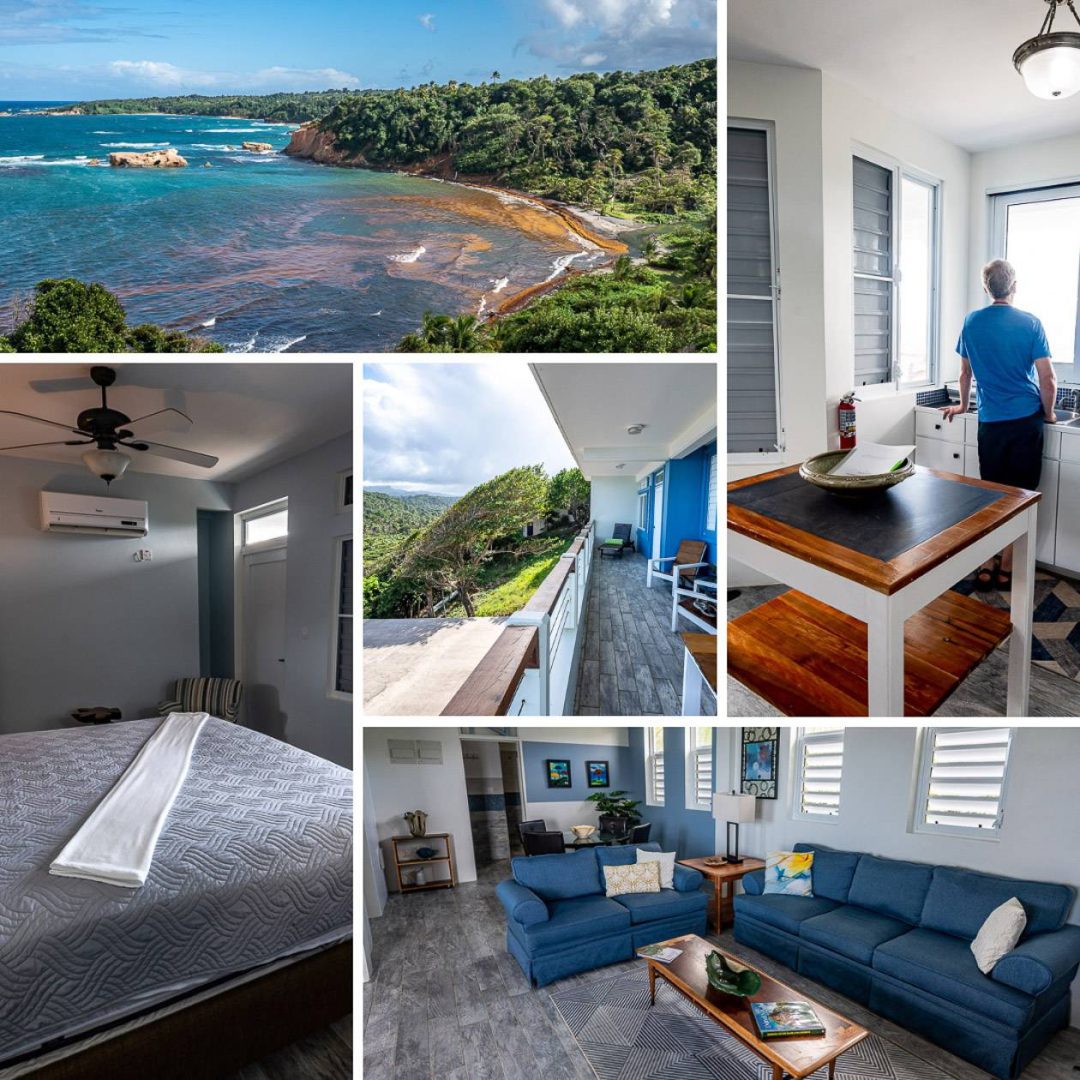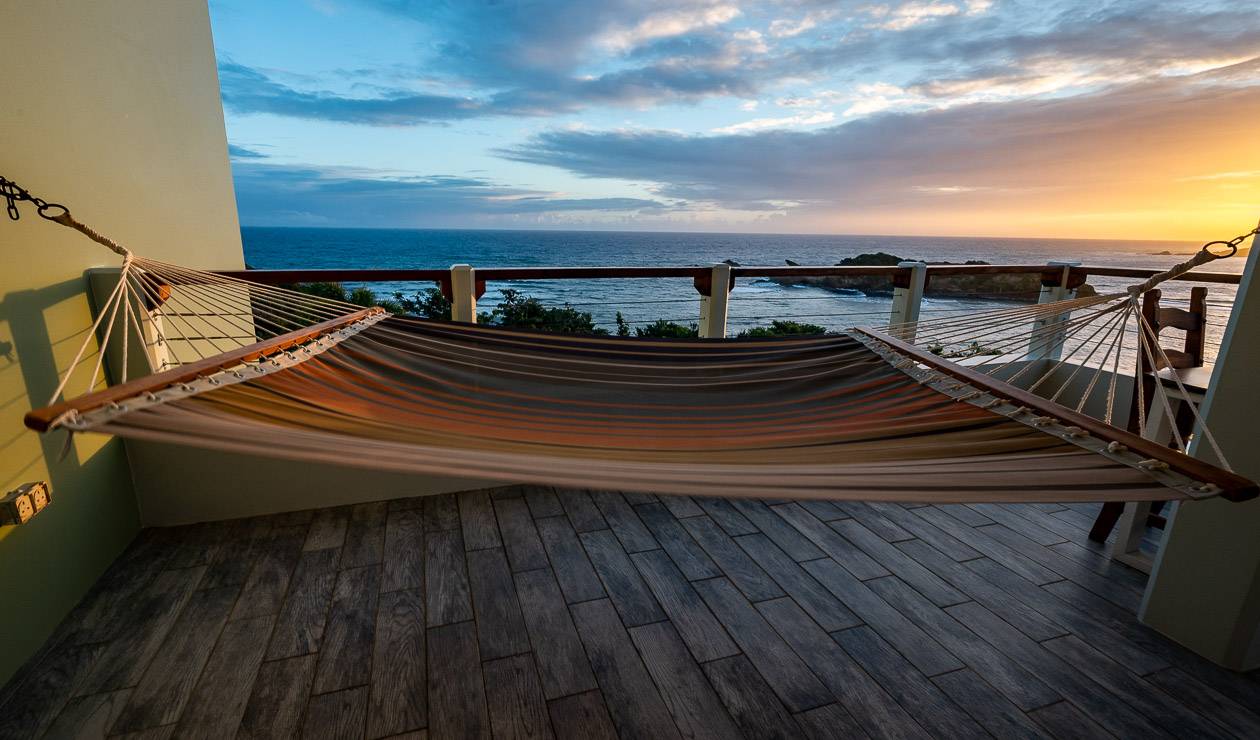 Location of Dominica Adventures
Dominica Adventures near Wanderlust Caribbean
From the Wanderlust Caribbean hotel, you can easily walk down to Hodges Bay and Hodges Beach where you can paddle or SUP up a small river. The other option is to swim, snorkel, SUP, or kayak to Treasure Island. There are some reefs around, so a little local knowledge goes a long way – aka Tom.
On Treasure Island, the film location of a couple of the Pirates of the Caribbean series, there's a hiking trail that runs the length of the island. It's a gorgeous place to spend some time watching the waves crash on the reefs.
These are all worthy outings if you want to enjoy a more leisurely day without any driving.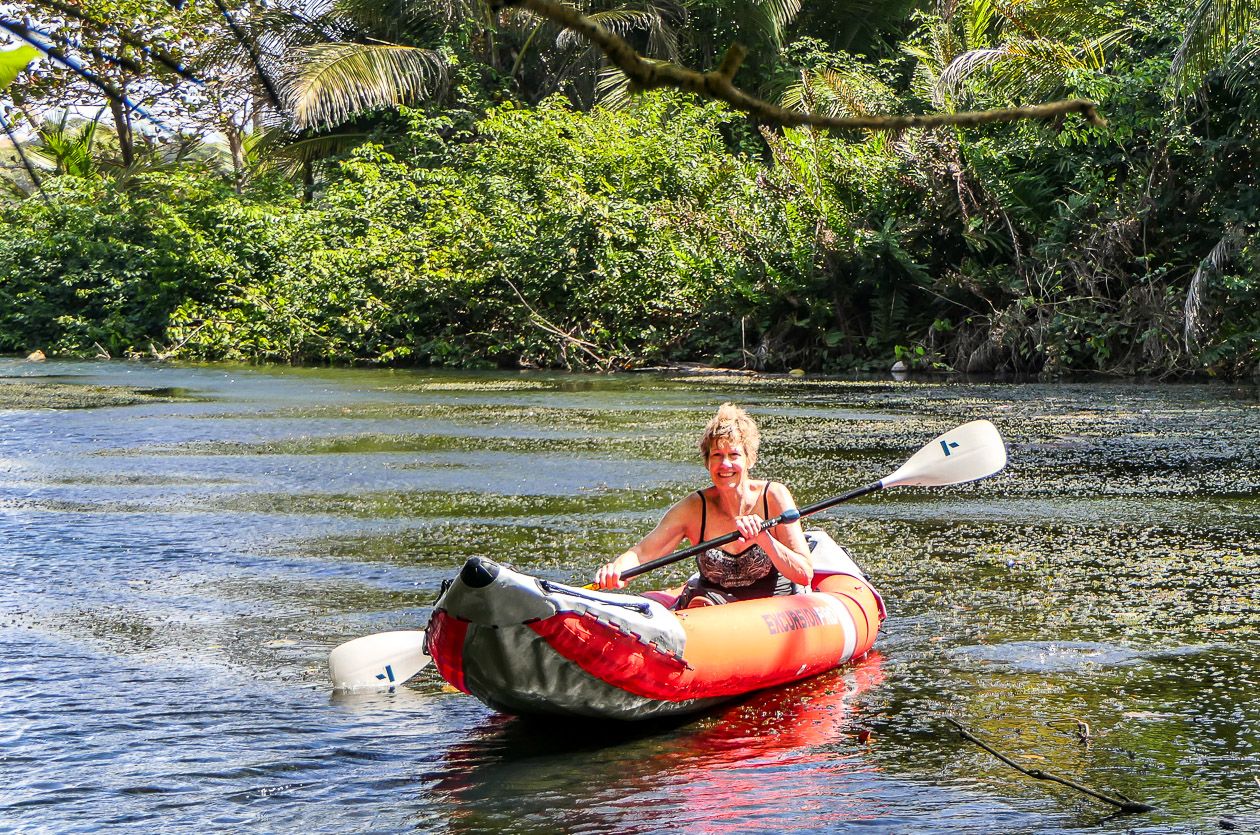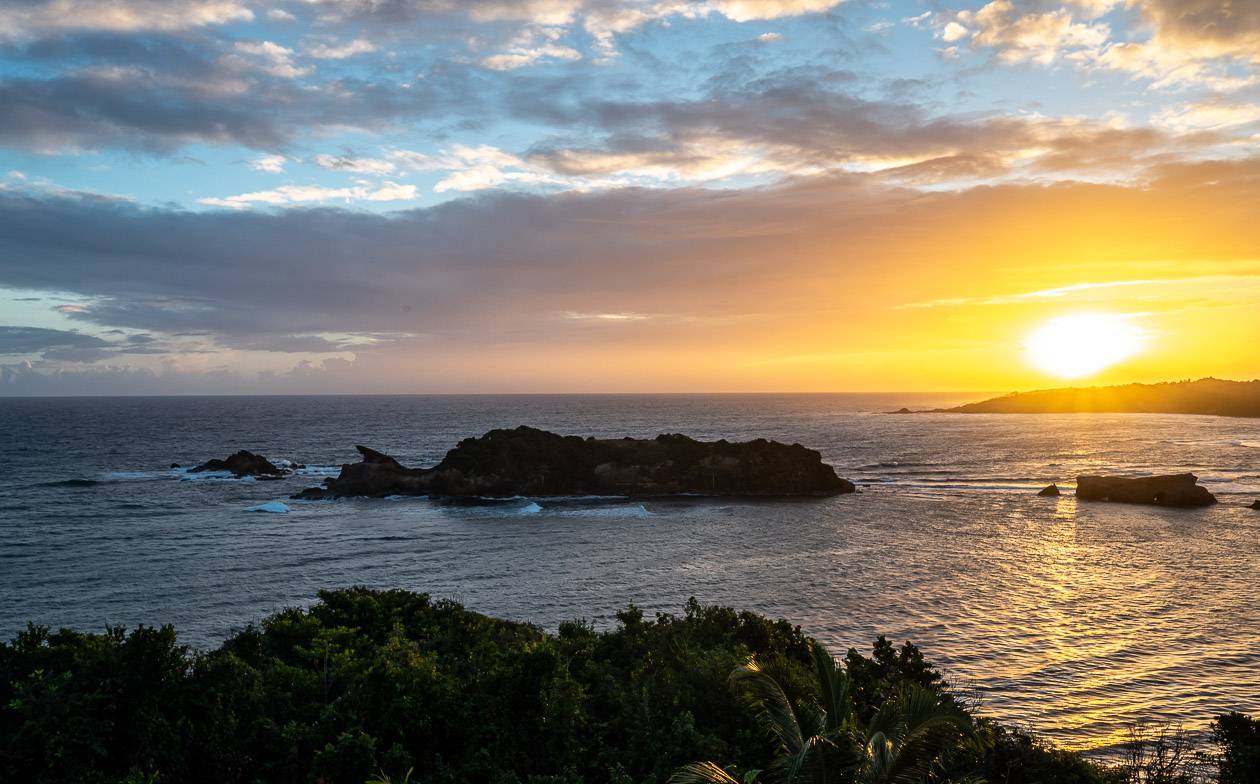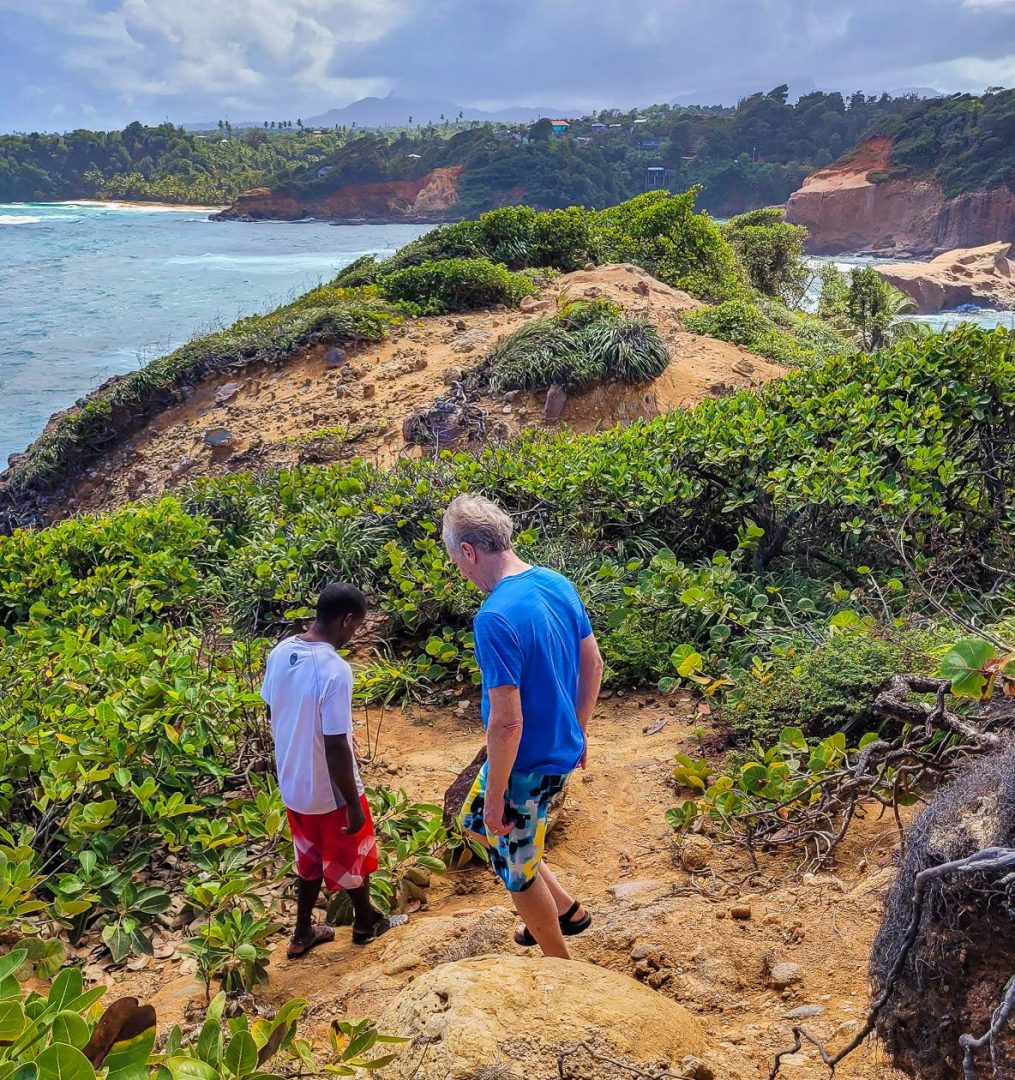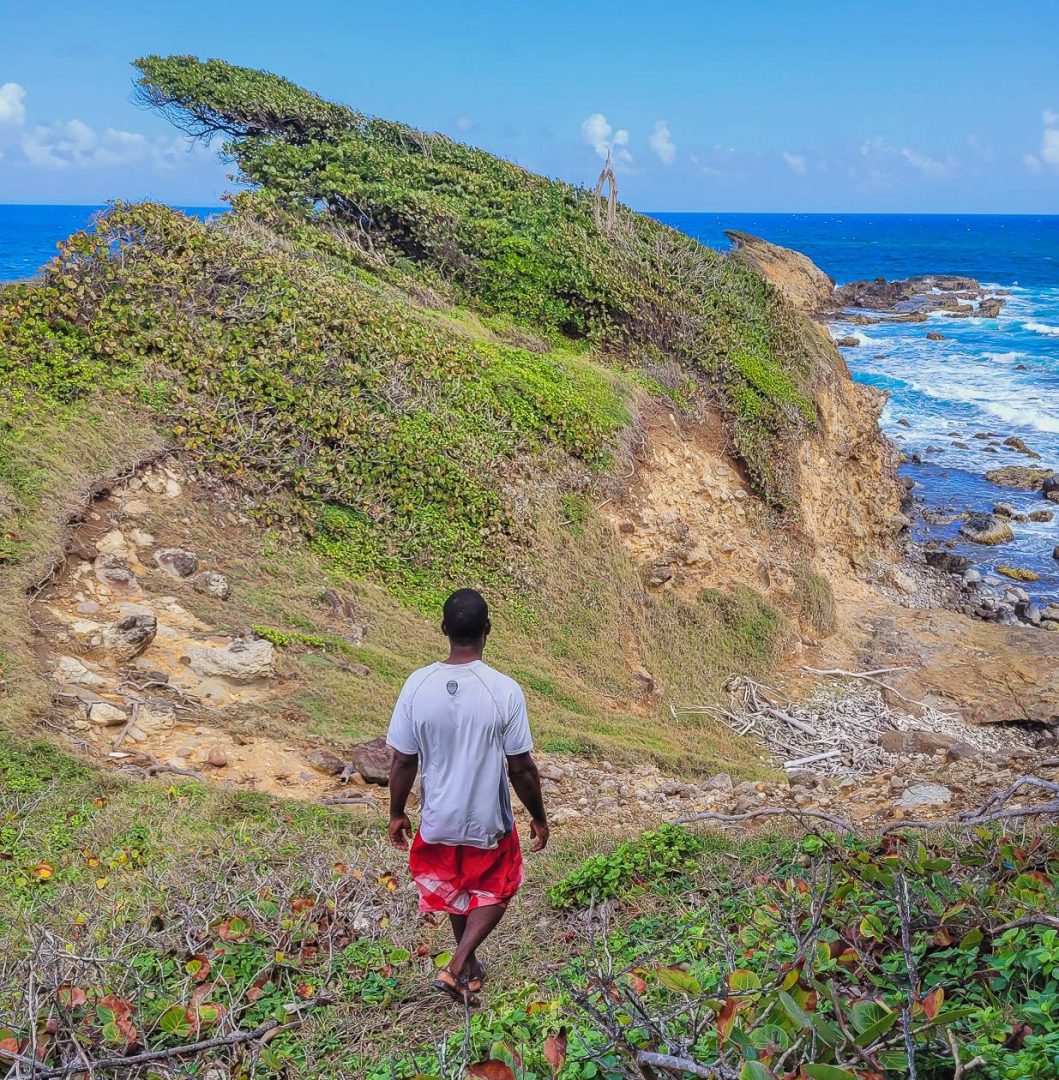 Drink fresh coconut water on Hodges Beach
Nothing beats a little relaxation on a beach after some exercise, while sipping fresh coconut water and sucking back coconut jelly. Tom had asked one of his employees to pick some coconuts on the property and slice them open to drink. Now that's what I call a treat.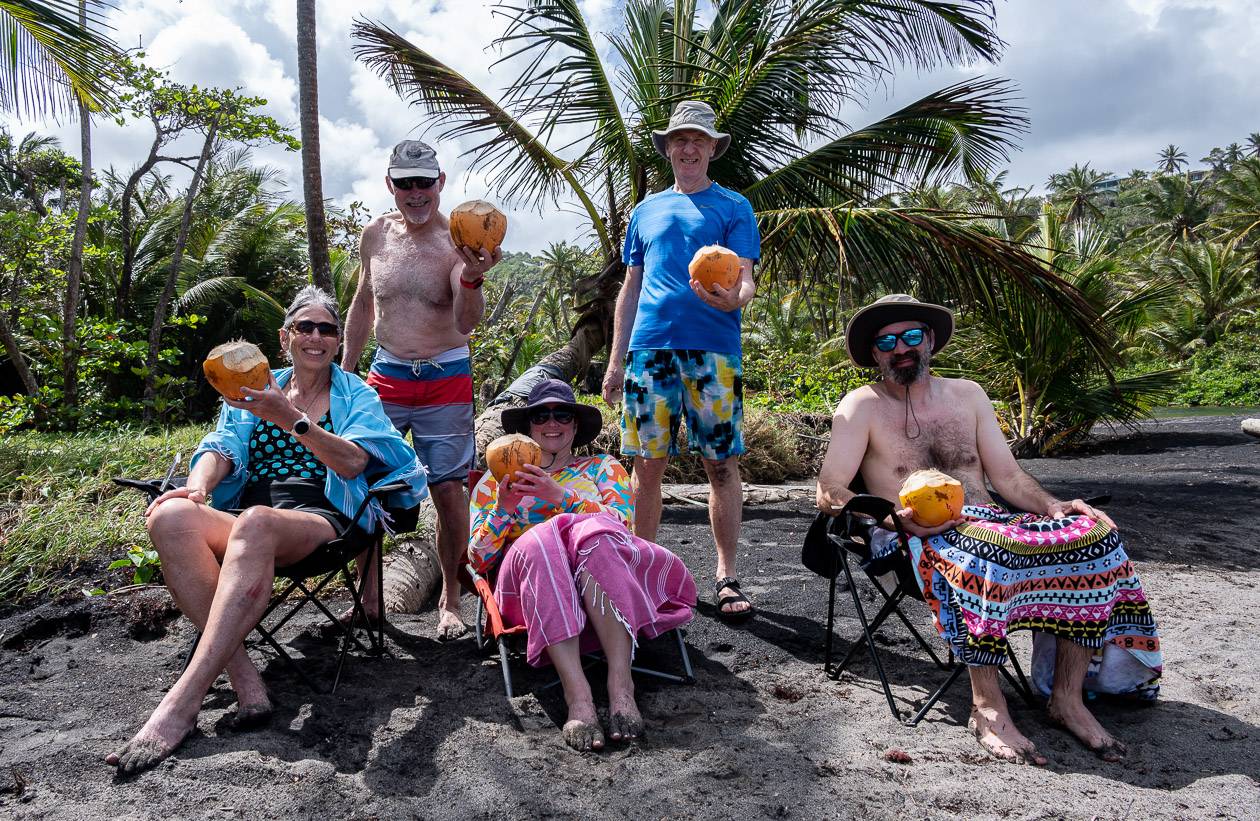 Visit Glassy Pool
A soak in Glassy Pool is one of the top Dominica adventures John and I enjoyed. From where you park the car near the village of Boetica, it's about a 30-minute hike down to the ocean. Although the hike is easy, you do have to be aware of some severe drop-offs along the trail. With so much vegetation, you often don't even realize how far down you could go. But all that aside, it's a terrific hike and the Glassy Pool is something else.
There are several pools that fill with ocean water that gets splashed up by the waves and over the rocks. The wilder the waves and wind, the more water there is that splashes and enters Glassy Pool.
On the day we visited, the ocean was running at about a 7/10. You wouldn't want to be in the lower pool if it was much rougher as people have been sucked out by big waves – so use some common sense. If it's rough, go higher or admire the pool from a distance without soaking in it.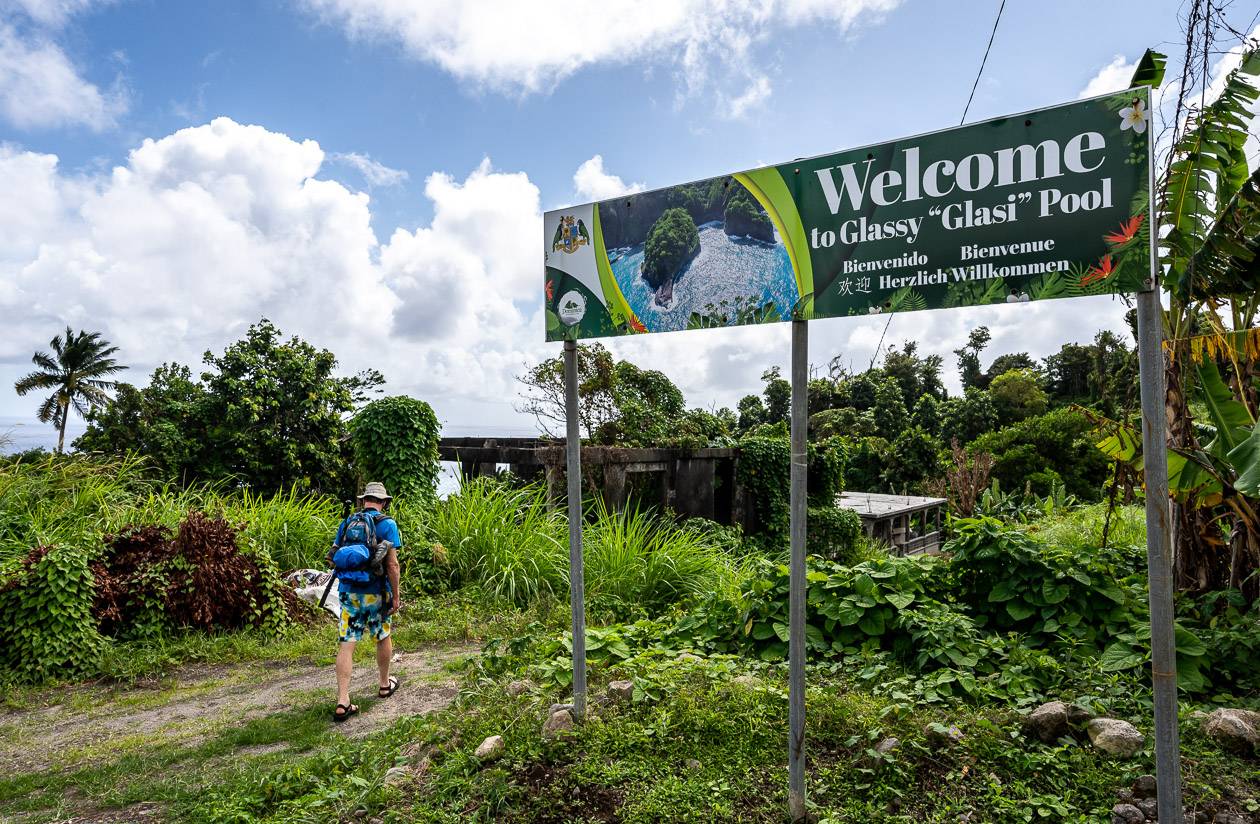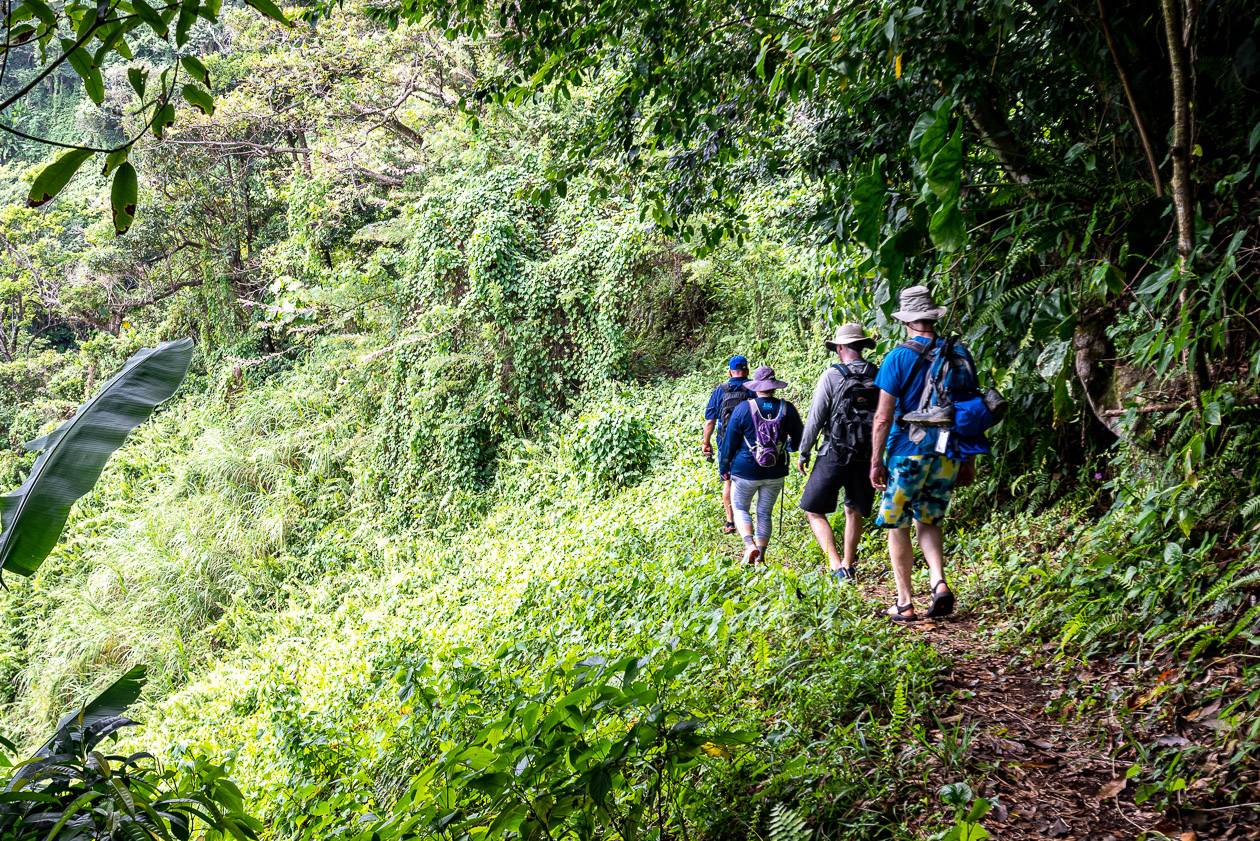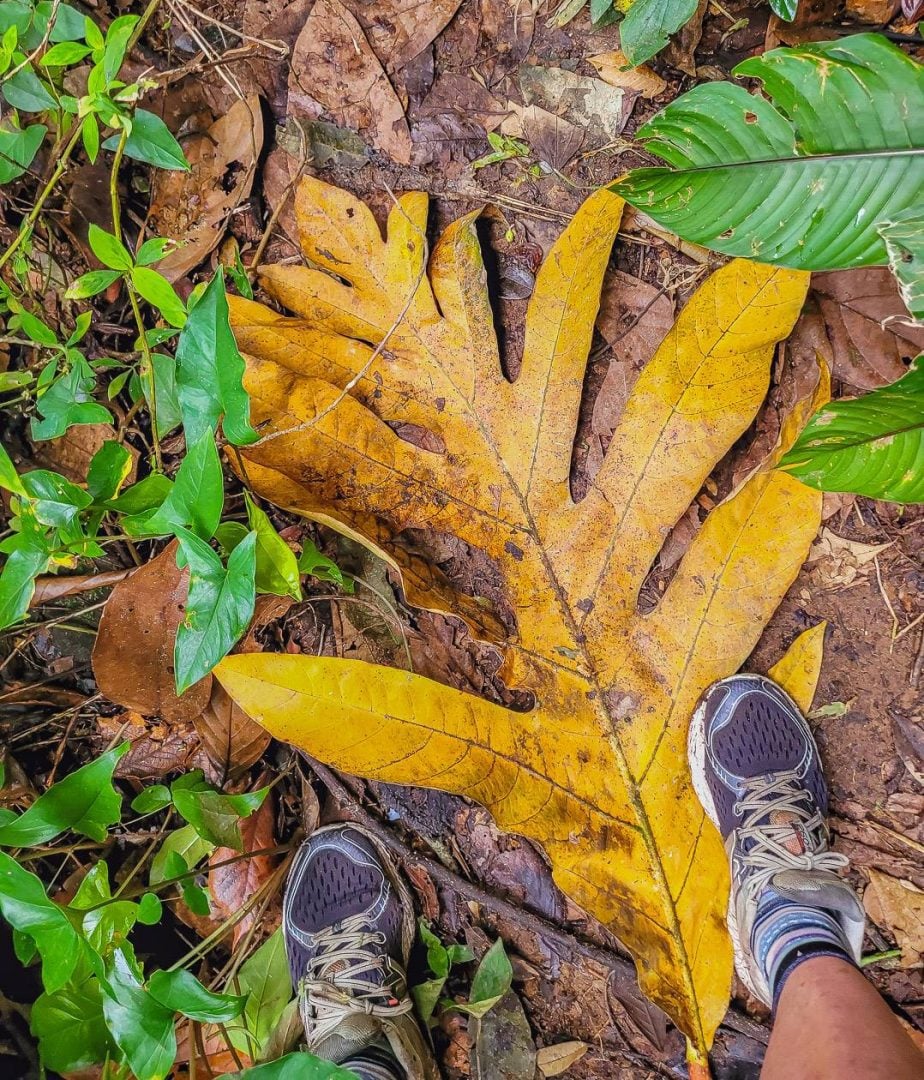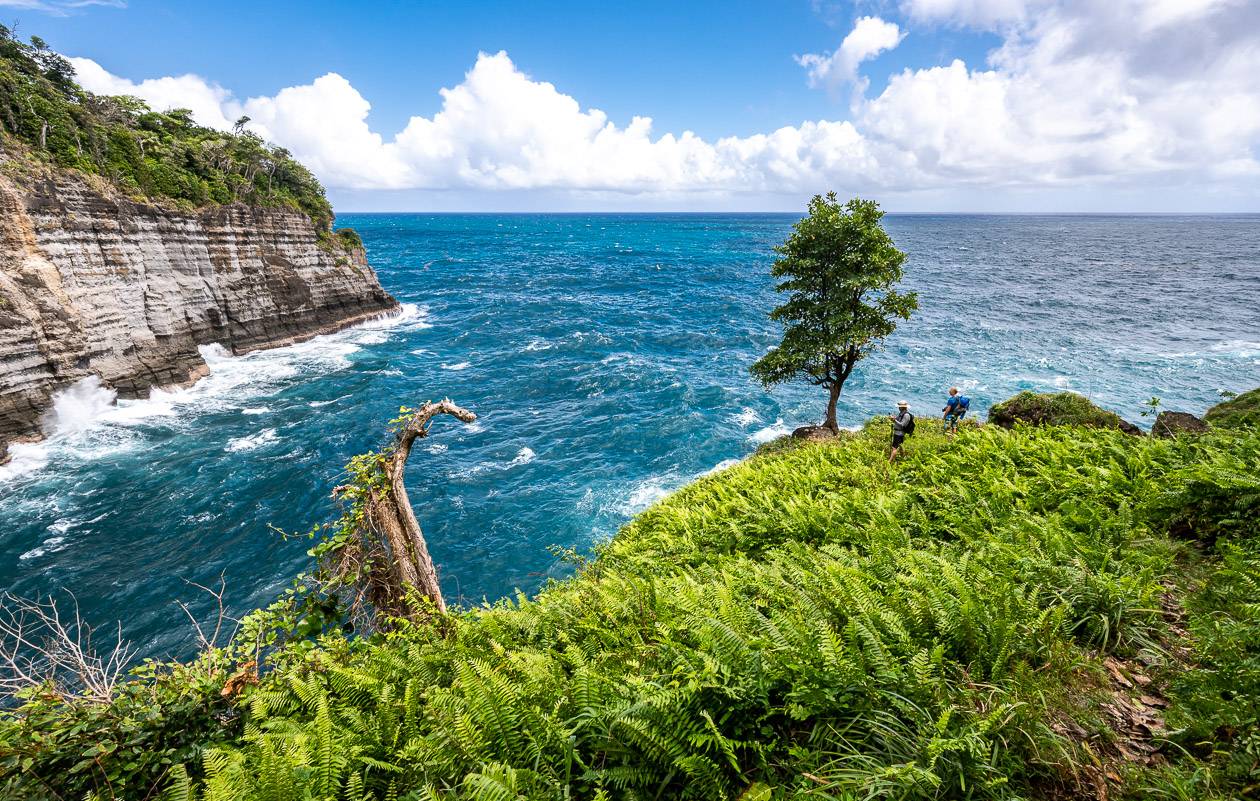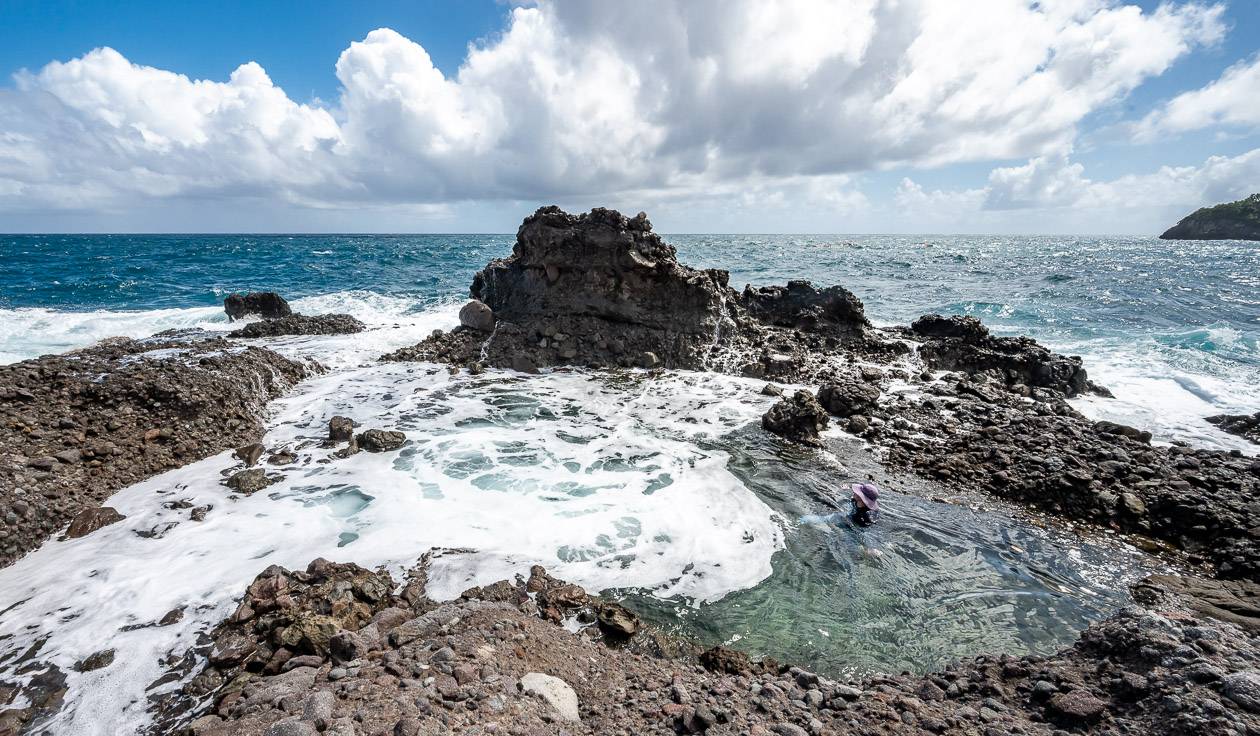 Hike up White River to Victoria Falls
One of the super fun Dominica adventures we did when we stayed at Wanderlust Caribbean was to hike and wade up the White River to Victoria Falls. The water in the falls comes from the Breakfast River – which we'd crossed earlier in the week on the way to and from Boiling Lake.
Before we waded into the White River, we stopped for a lunch served by Moses, a Rasta elder, who leads a simple and sustainable life growing vegetables and fruits on his property. A vegetarian lunch with fresh juice hit the spot and fueled us for what was next – an hour-long hike to the falls via a trail from his property. (Note that lunch must be pre-booked – something Wanderlust Caribbean handles.)
You must cross the White River numerous times to reach a large pool with a premium view of Victoria Falls. From there you'll have to decide if you want to get closer. The next part of the Dominica adventure entails some bouldering. If you take your time and watch your foot placement you should be fine.
We hiked to the large green-turquoise-coloured pool beneath the 165-foot high Victoria Falls – and went for a dip. The spray off the falls is something else. Don't even think about actually going under the falls as it isn't safe.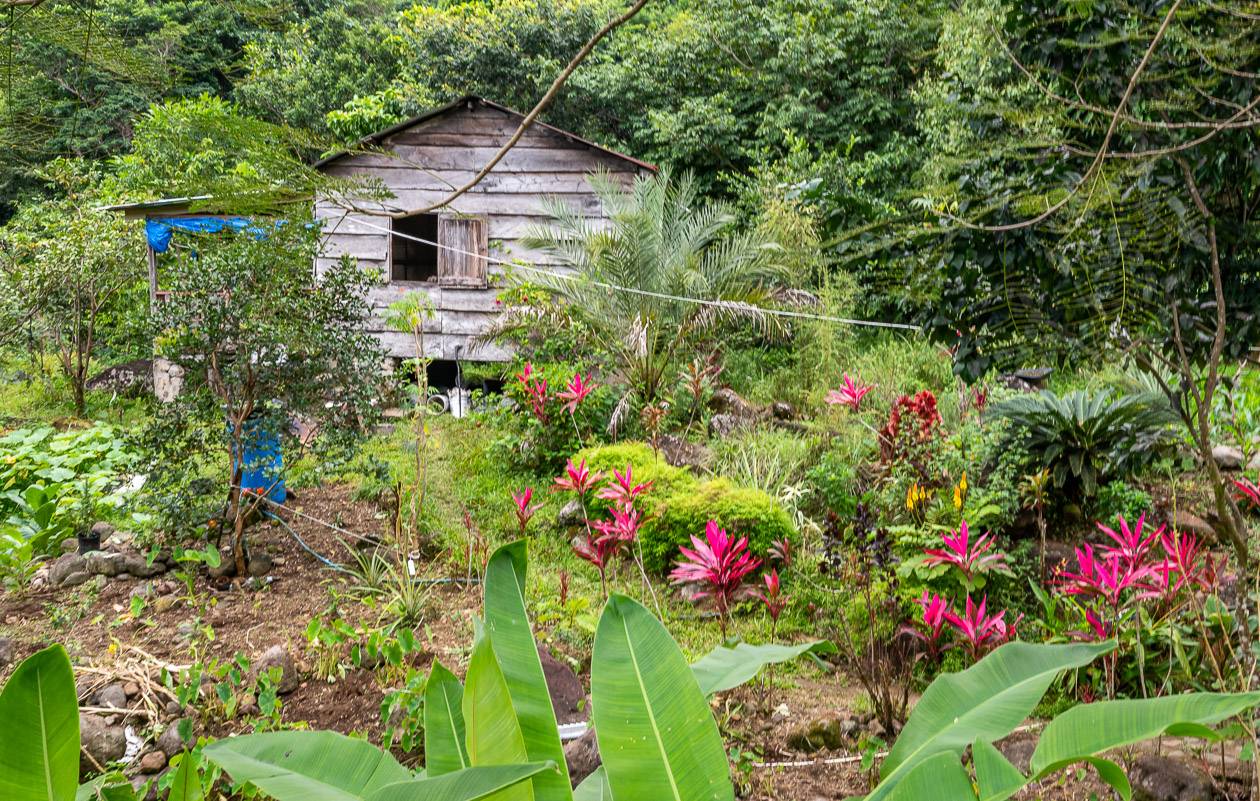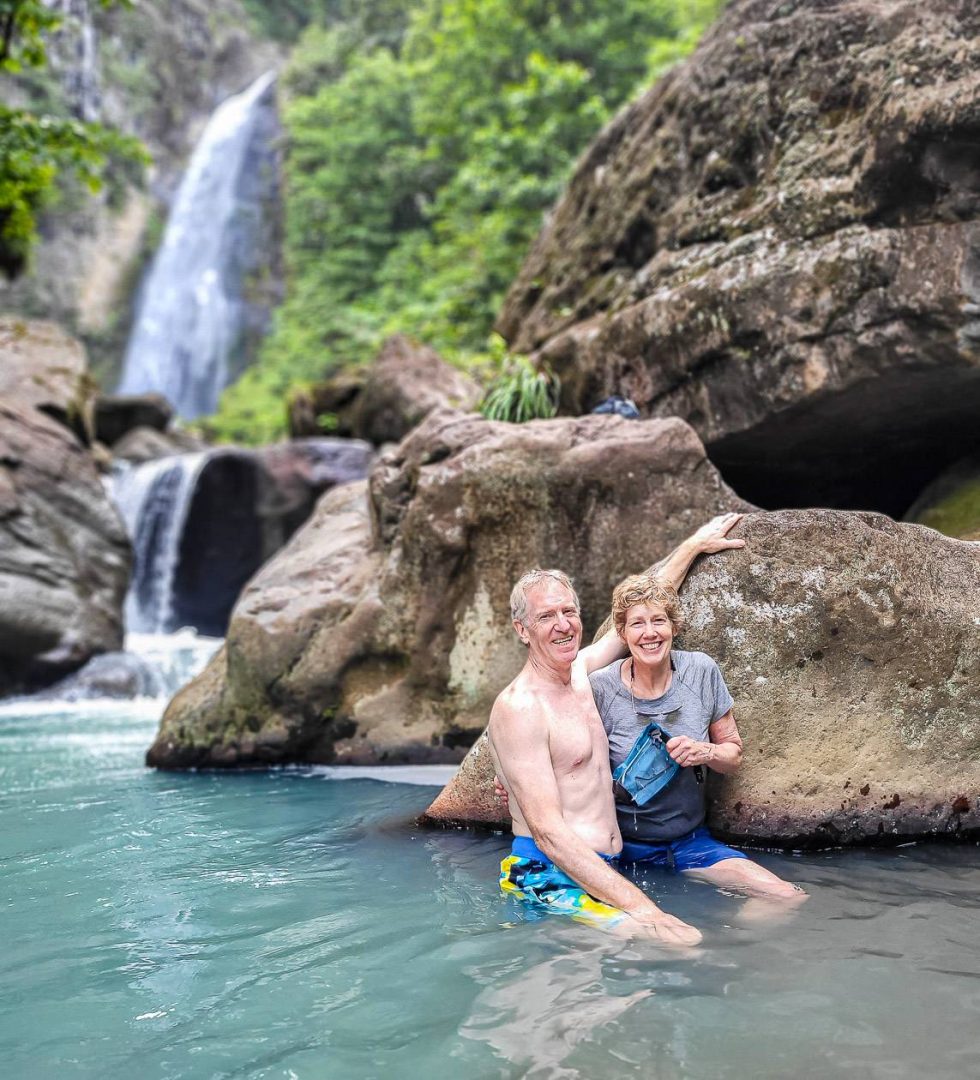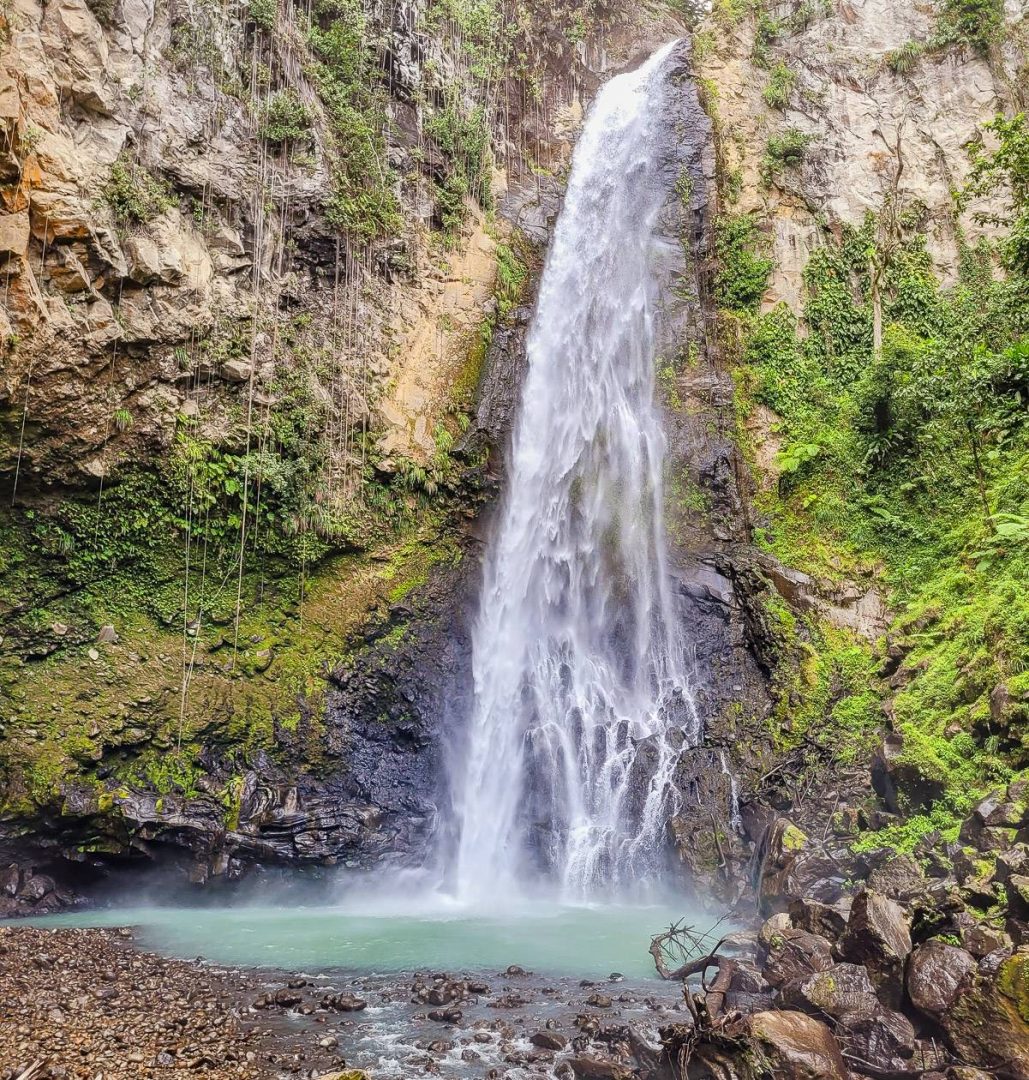 Try cliff jumping and a swim at Chaudiere Pools in Dominica
From Wanderlust Caribbean, it's about a 15-minute drive to the trailhead for the Chaudiere Pool, located on the outskirts of Bense. You'll need a 4-wheel drive to get here as the road is extremely lumpy. From the parking spot on the road, it's about a 25-minute walk down through pretty rainforest to get to the confluence of two rivers. Along the way watch for large crabs scuttling around and listen for parrots.
At the confluence, cross one river and turn right. Continue heading upstream to reach the Chaudiere Pool. This is a fantastic spot to cool down with a swim on a hot, sunny day. You can also try cliff jumping into a 30-foot pool. But beware of swimming close to the small waterfall as there are reportedly some nasty hydraulics.
Want to see how much fun the cliff jumping is? Check out all the people jumping on my Instagram reel.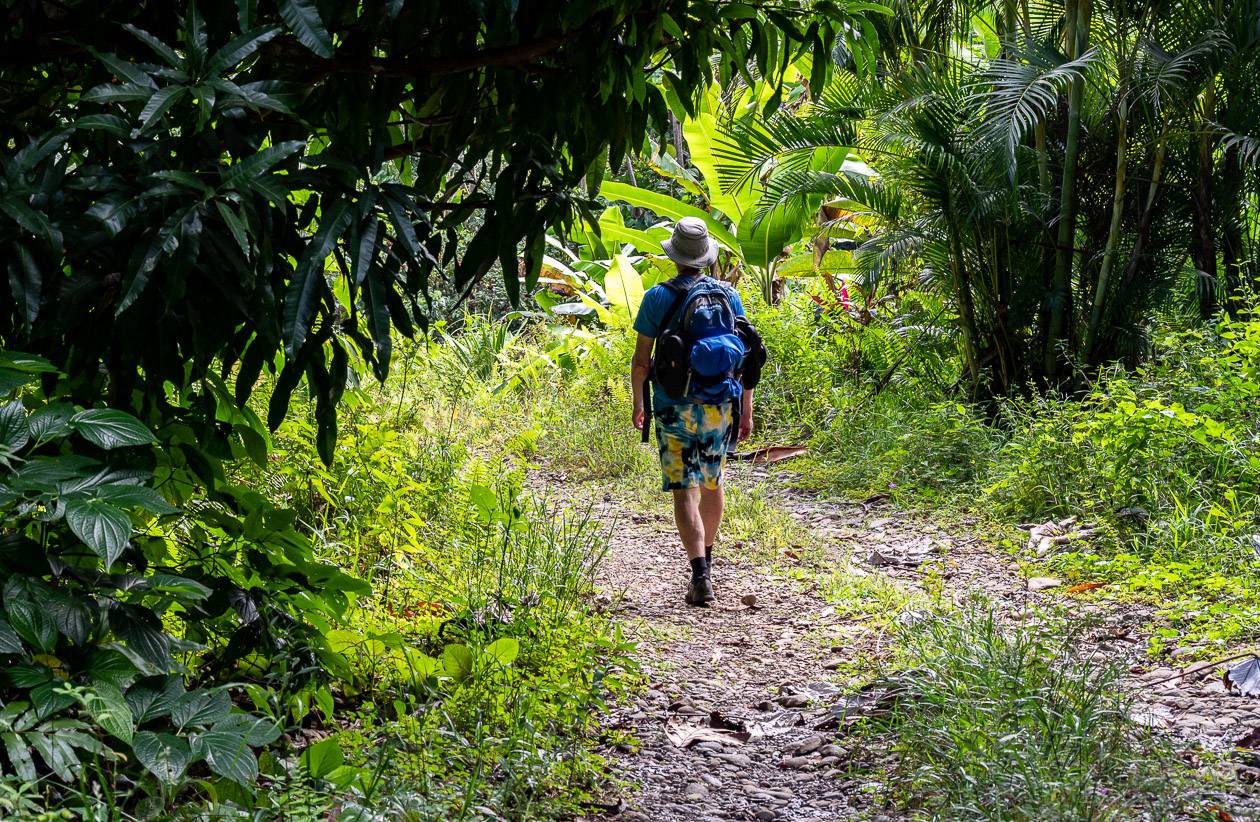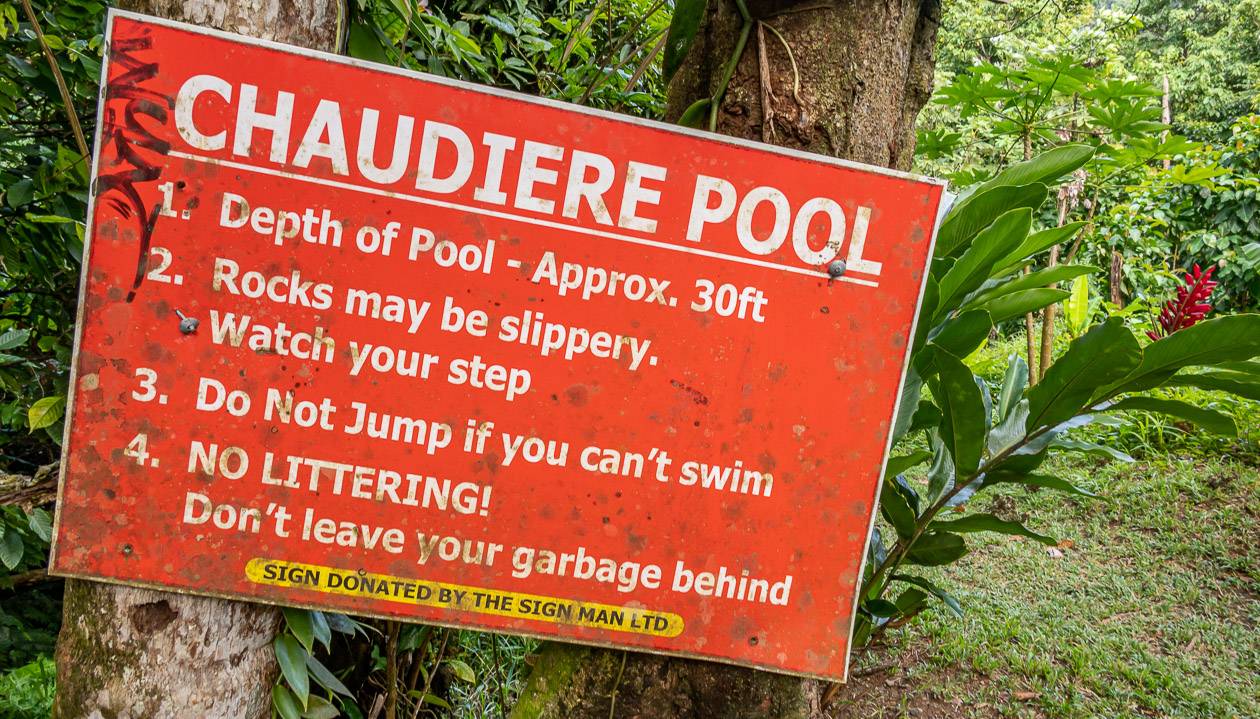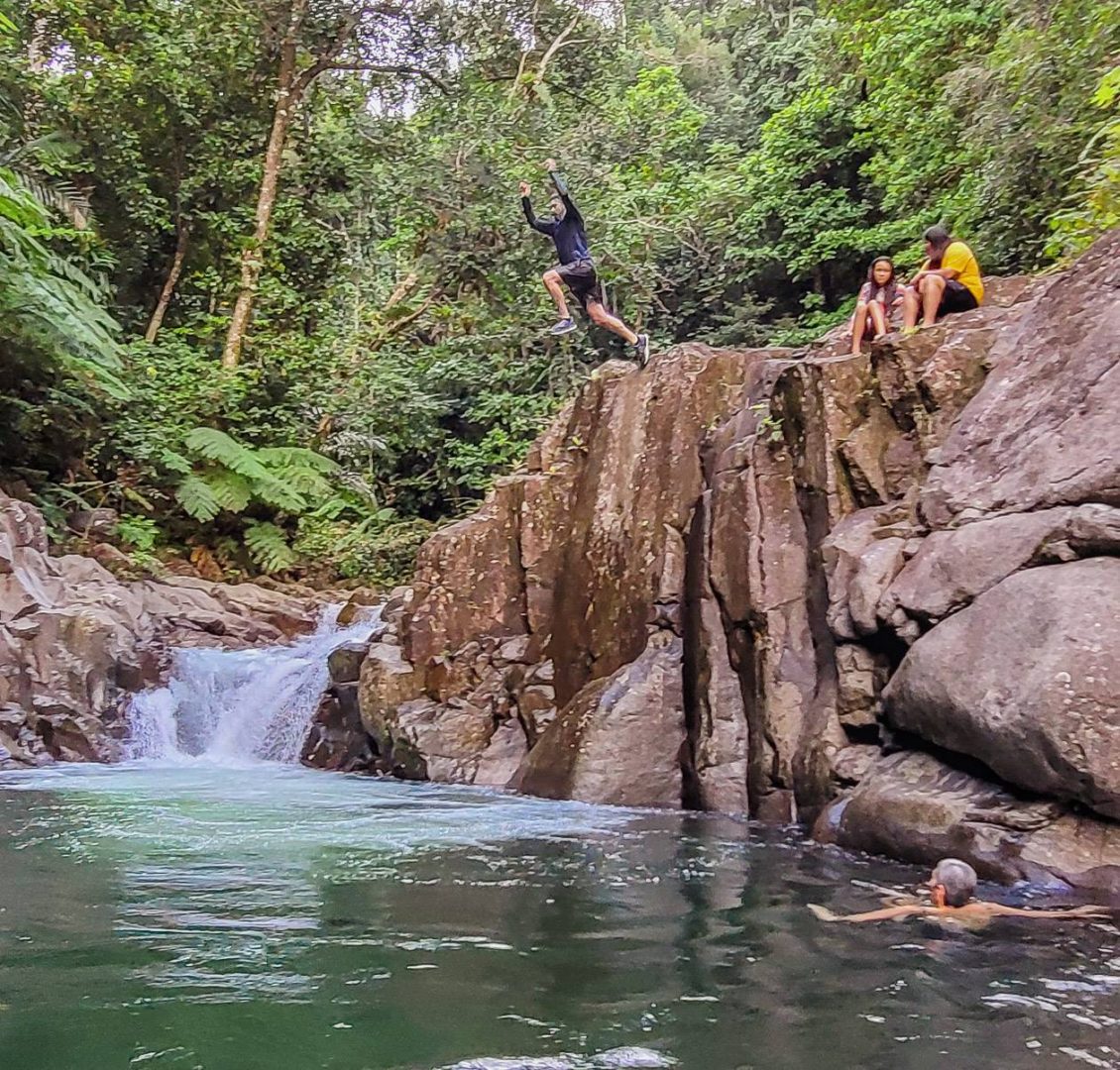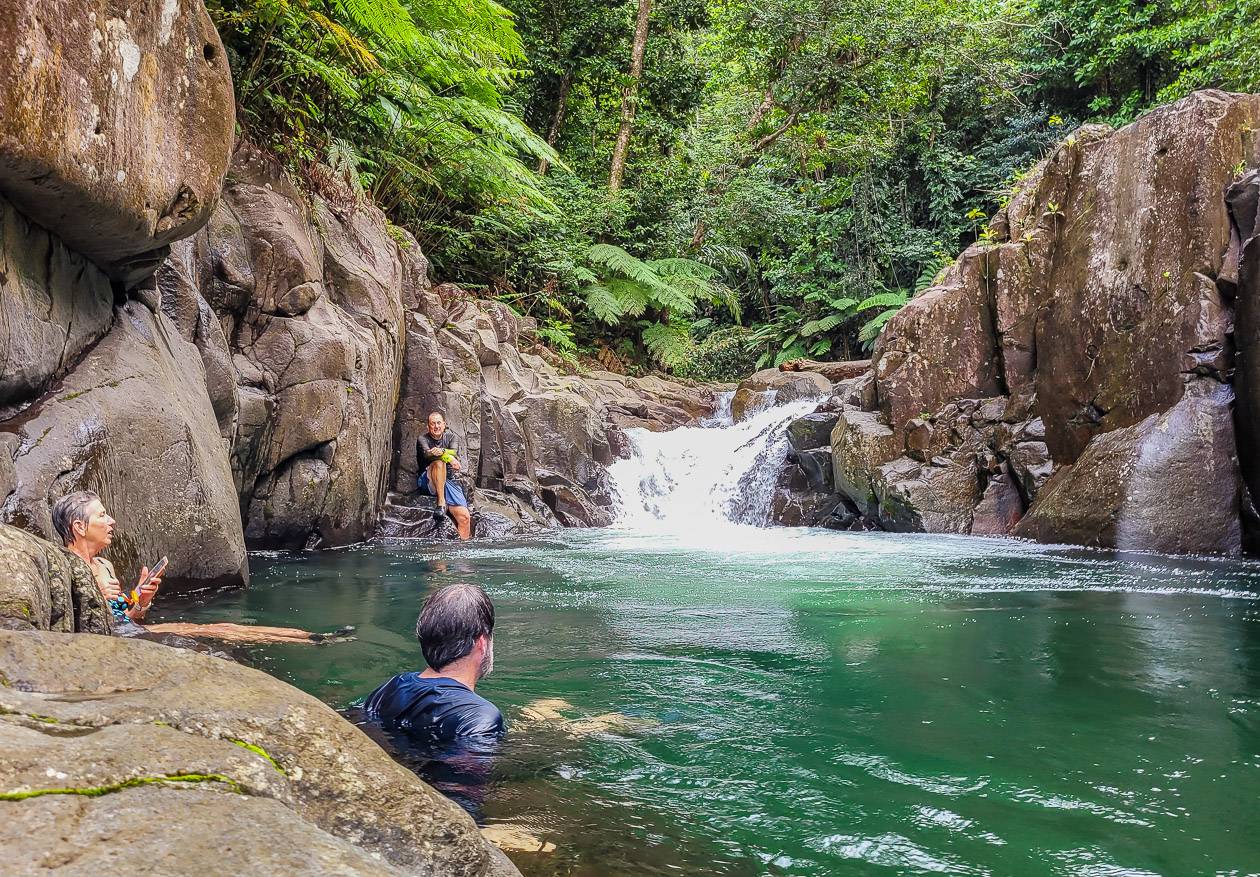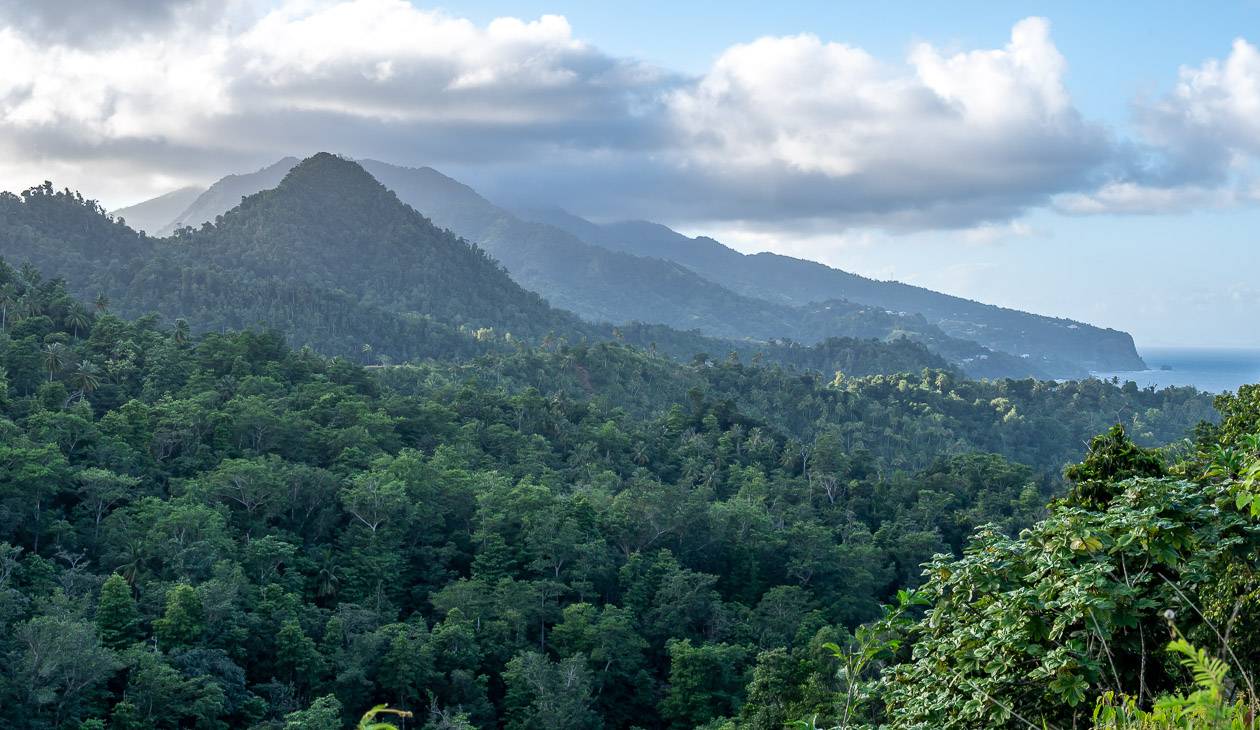 Hike to Boiling Lake – one of the top Dominica adventures
One of the hardest of the Dominica adventures is the Boiling Lake hike. It's a long day hike taking anywhere between 6 – 8 hours. You can count on lots of mud, a steep trail, slippery rocks, ridge walking, boulder hopping, and even a little bit of scrambling.
Plan to hire a local guide who knows the lay of the land. If you go with Wanderlust Caribbean, the guided hike will be included as one of your adventures, though the drive is two plus hours on either end.
The destination is a real boiling lake, the second largest in the world, that is usually shrouded in a cloud of steam. To get there, you have to hike through the Valley of Desolation, home to hot streams and hissing vents.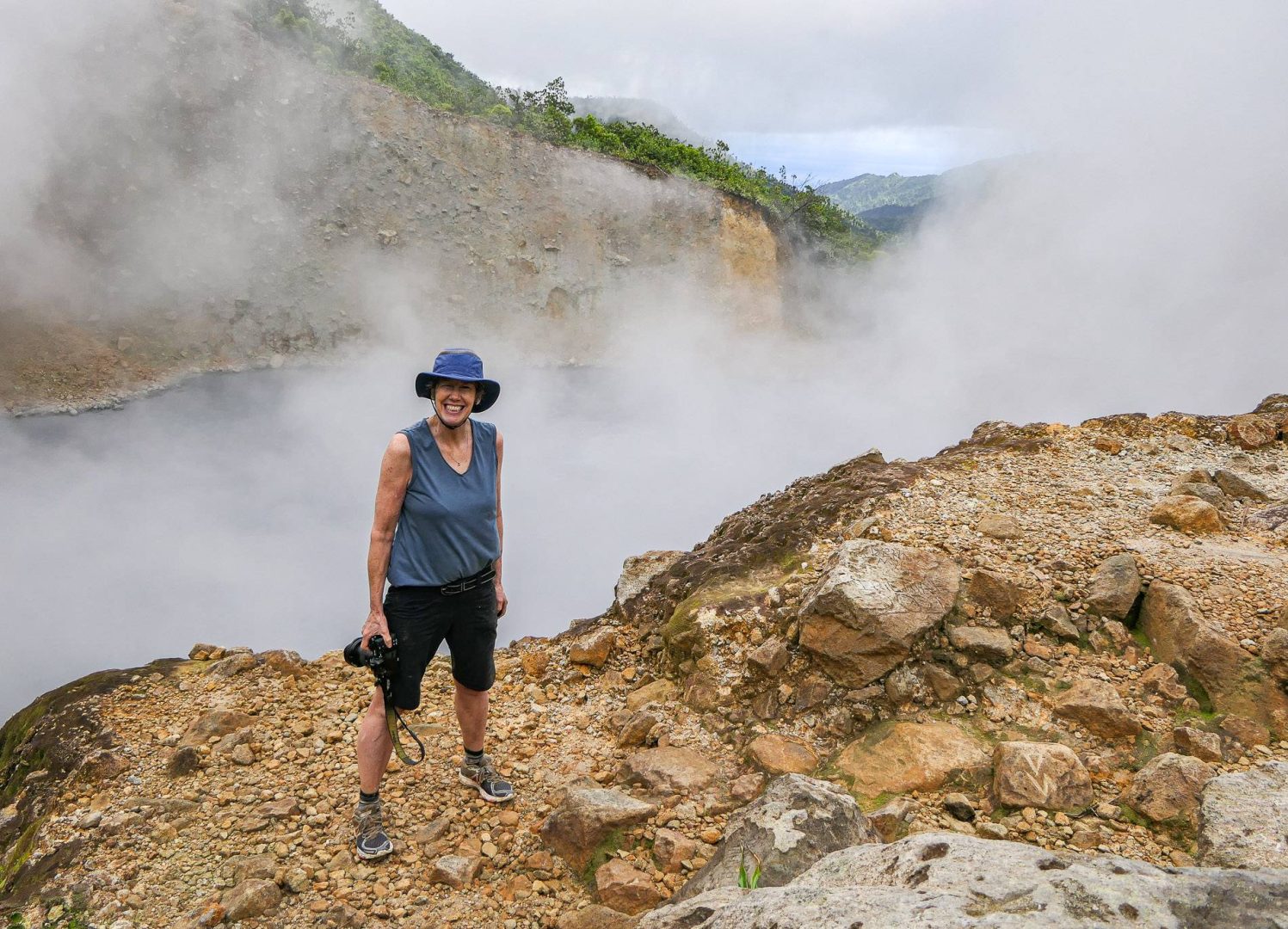 Check out the Red Rocks in Dominica
The Red Rocks trailhead is just a three-minute drive from Wanderlust Caribbean – or about a 15 minute walk. John and I got dropped off and spent a fun hour exploring the Red Rocks, admiring the thunderous waves hitting a cave, while enjoying the company of a friendly local dog who followed us everywhere. Steps almost carved into the red rock make walking easy, even on the steep bits.
The Red Rocks are made of compacted smooth red earth that's been eroded by wind, weather, and the ocean. We walked the entire area, lamenting the fact that we wished we'd visited at sunset when the rocks almost glow. This would be a fine place to enjoy a picnic or a sundowner.
A short distance from Red Rocks is Point Baptiste Estate Chocolate. They harvest and gather cacao from local farmers and turn it into something wonderful including dark chocolate and milk chocolate bars. Sometimes you can get a tour – and if it's open you can get a tasting before buying one of the numerous varieties and once again helping to support the local economy.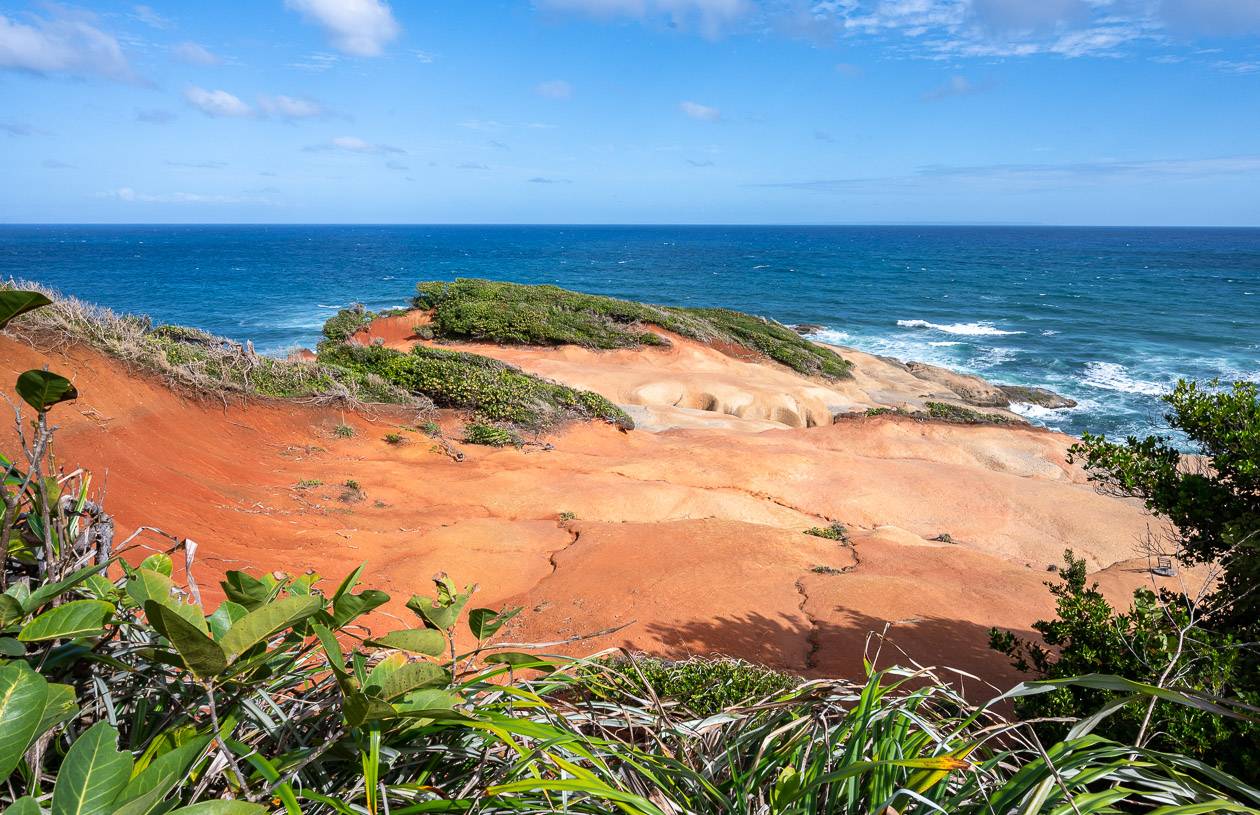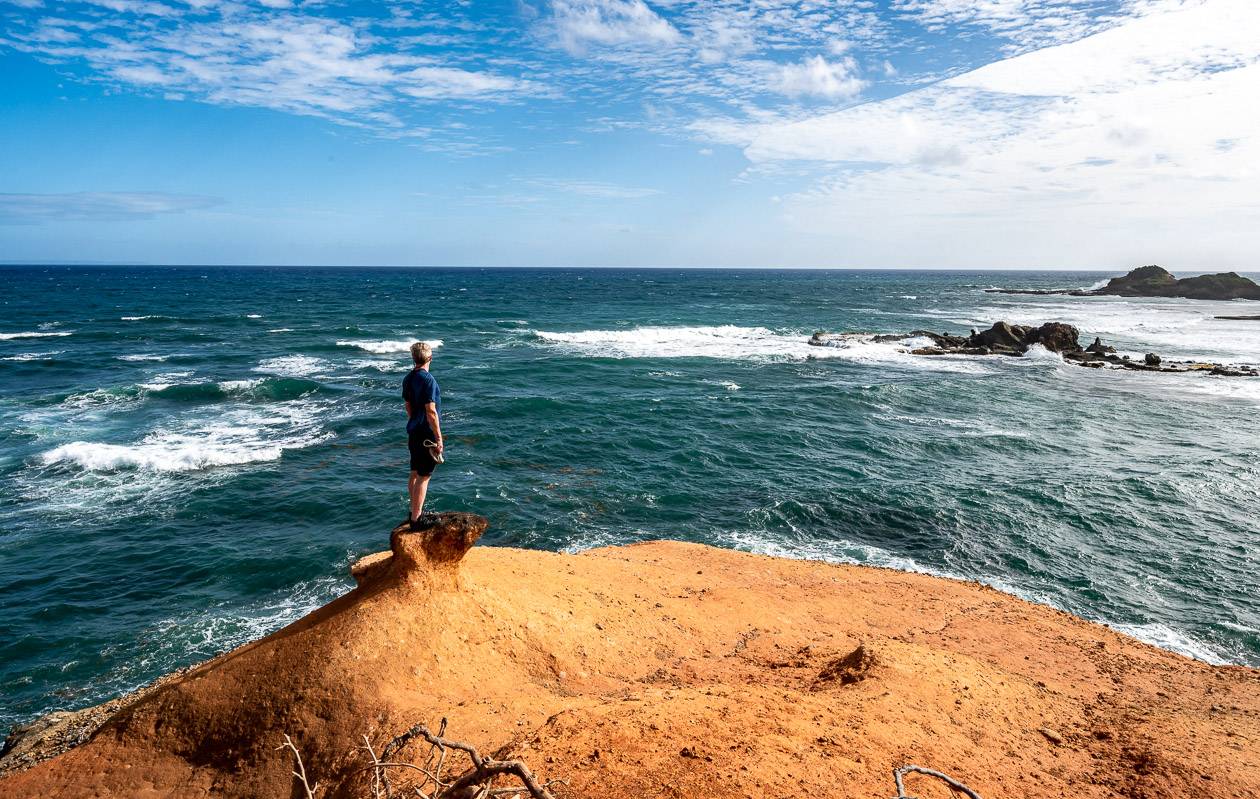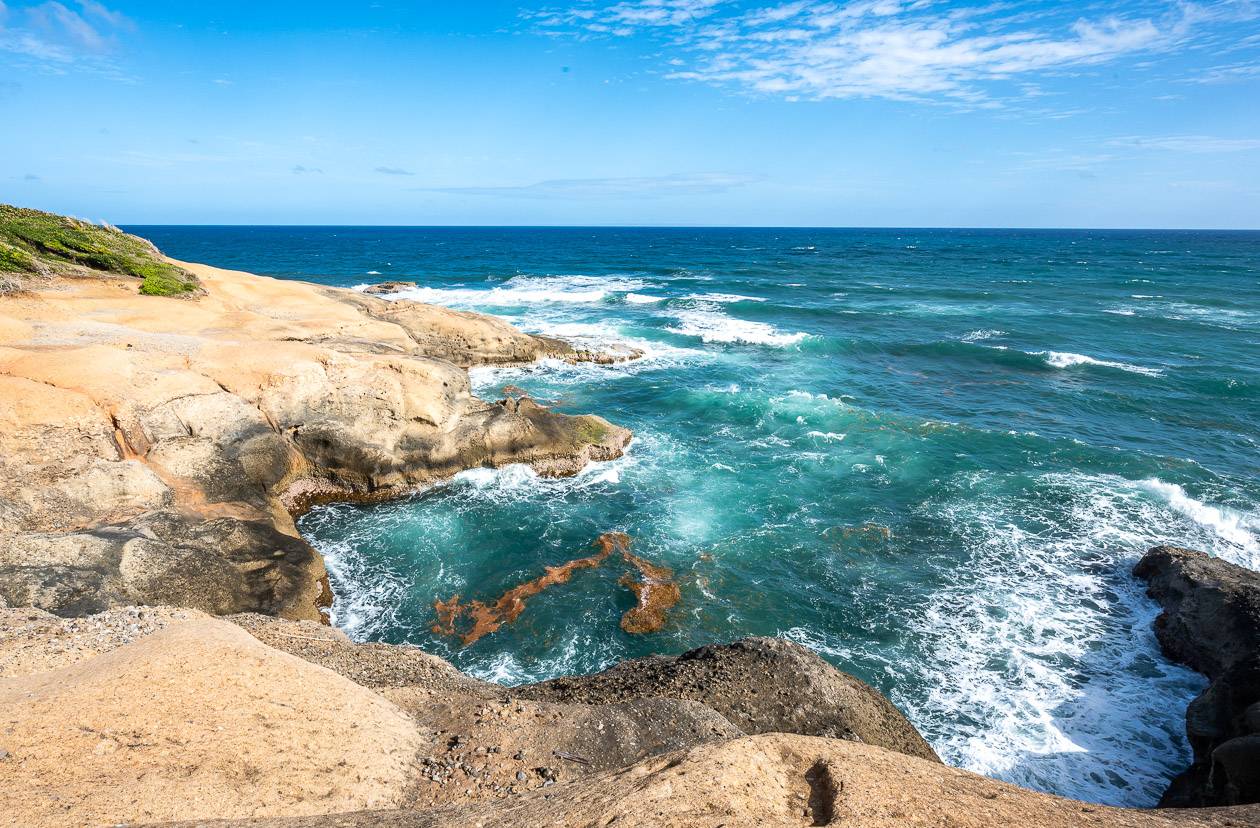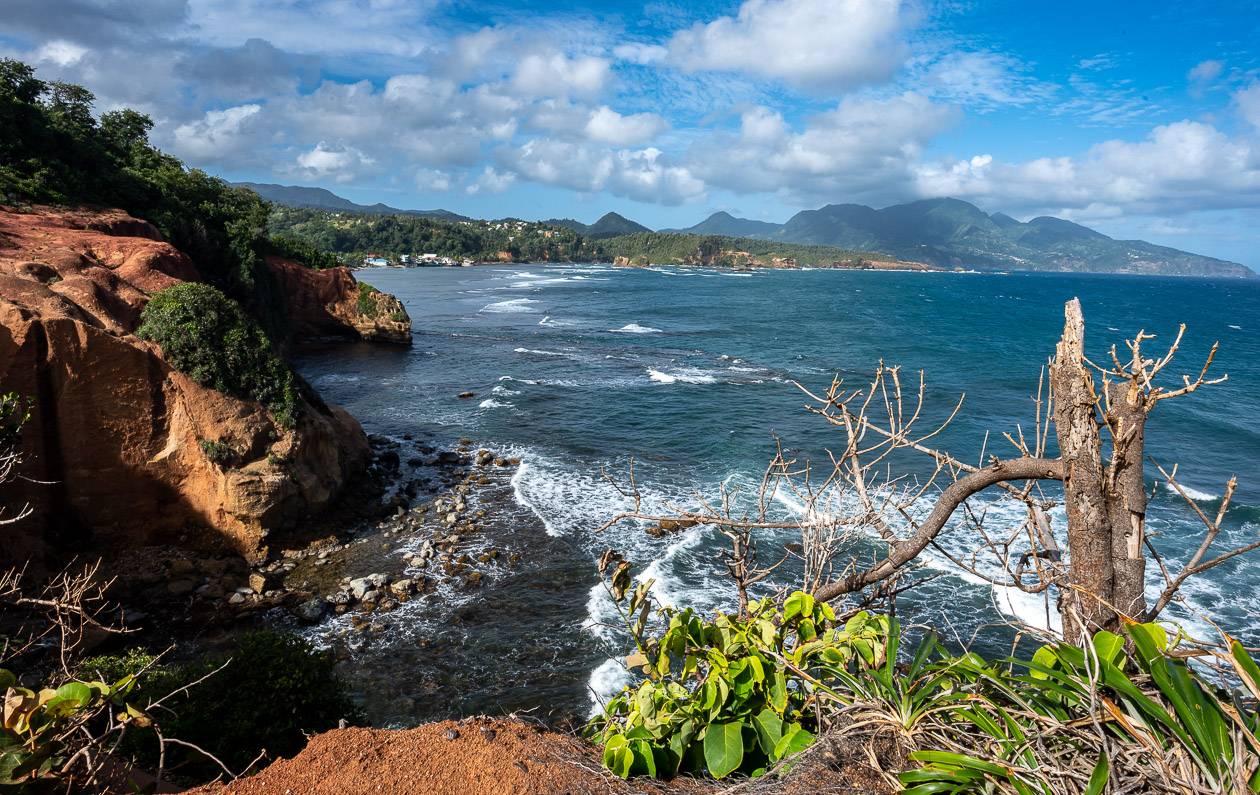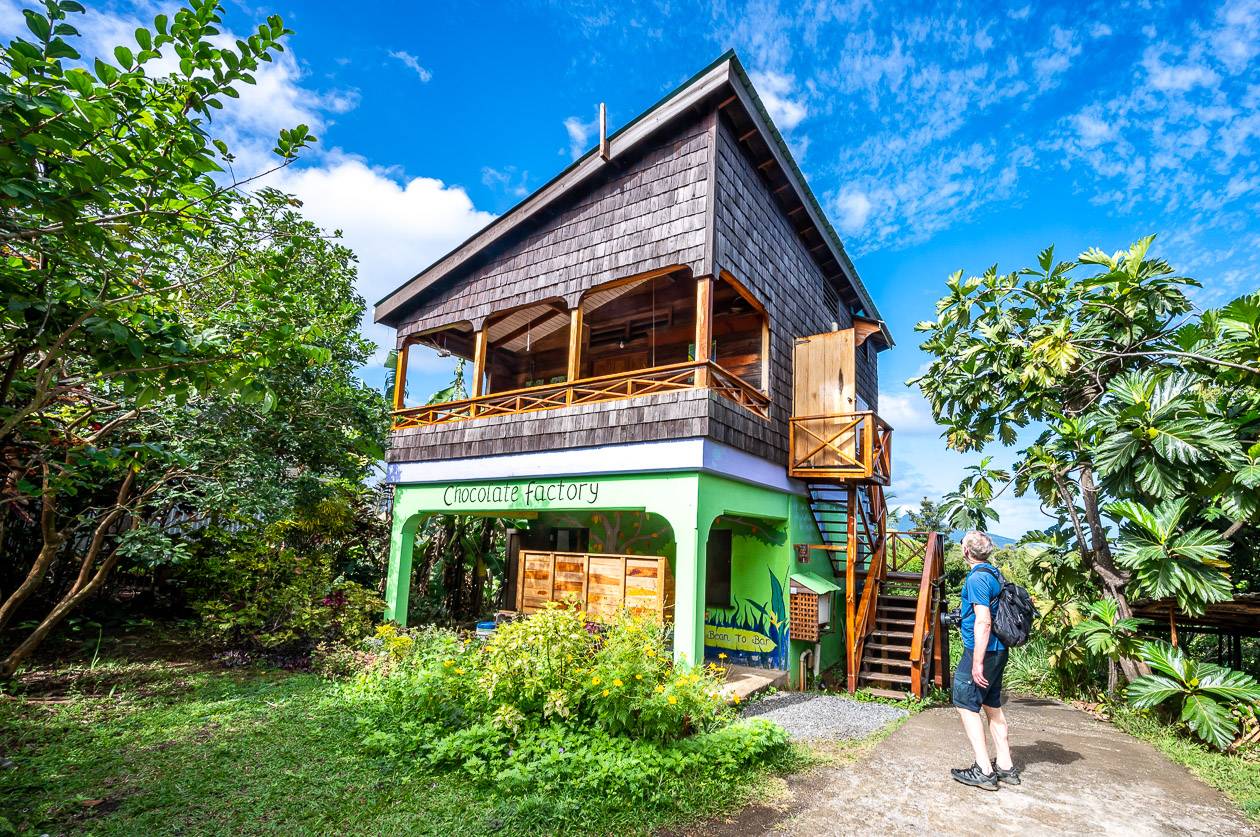 Check out local eateries
From Wanderlust Caribbean there are an assortment of local restaurants in nearby Calibishie. My favourite was the Coral Reef Bar & Restaurant with a great view and a laidback vibe. Tom or Sherie will either drop you off and pick you up at the restaurant or join you for dinner, so you don't have to worry about taxis. They know all the local people running restaurants so you can rest assured you'll be eating somewhere safe with good food.
More Dominica adventures
We only had three nights at Wanderlust Caribbean – so we missed out on a lot of adventures that would appeal to both John and I. If you've got a week, you can pack it with adventures, whether it be snorkeling, scuba diving, horseback riding, or more waterfall hikes. But you can also have a down day and enjoy reading on your deck and watching the world go by.
I highly recommend a visit to Dominica – and if you're keen for adventure, have a conversation with Tom and see if a stay at their boutique hotel a fit. He'll send you to Sandals if it's not! For more information be sure to visit the Wanderlust Caribbean website.
Further reading on interesting places to stay
Click on the photo to bookmark to your Pinterest boards.