Are you looking for a great places to stay in the Canadian Rockies, whether it be in Alberta or British Columbia? The Canadian Rockies obviously offer outstanding mountain scenery but also a lot of fun, outdoorsy things to do.
They're also the perfect place to enjoy a few days of R&R. Most of the hotels and lodges described below are open on a year-round basis. If you want to save money, visit in November and April, the off-season, or book well in advance.
You're spoiled for choice when it comes to places to stay in the Canadian Rockies. There is everything from affordable hostels with private rooms to camping to five-star hotels across a huge range of price points and amenities. Be prepared to pony up big bucks in the Banff – Lake Louise corridor, and also in some places in Yoho National Park, at least in the summer. If you book in advance you can save a lot of money and avoid disappointment.
The lesson I have learned from staying at numerous Rocky Mountain lodges over the years is that two nights is great – but it doesn't allow you to relax the way a three night stay does. I feel like you just get there and it's time to leave.
This post includes some affiliate links. If you make a purchase via one of these links, I will receive a small commission at no extra cost to you. Thank you very much for your support.
Location map of places to stay in the Canadian Rockies
Click on the three dots in the right hand corner to email a copy of this map to yourself or a friend.
16 places to stay in the Canadian Rockies
I have stayed in all of the places in the Canadian Rockies described below. I personally prefer the smaller lodges and inns where you don't get lost trying to find your room. But the large hotels offer more services and room choices, so it's a very personal decision.
Places to stay in the Canadian Rockies – Yoho National Park
There aren't as many places to stay in Yoho National Park as there are in Banff and Jasper National Parks. You could also check availability of Truffle Pigs Bistro & Lodge or at any of the B&B's in Field.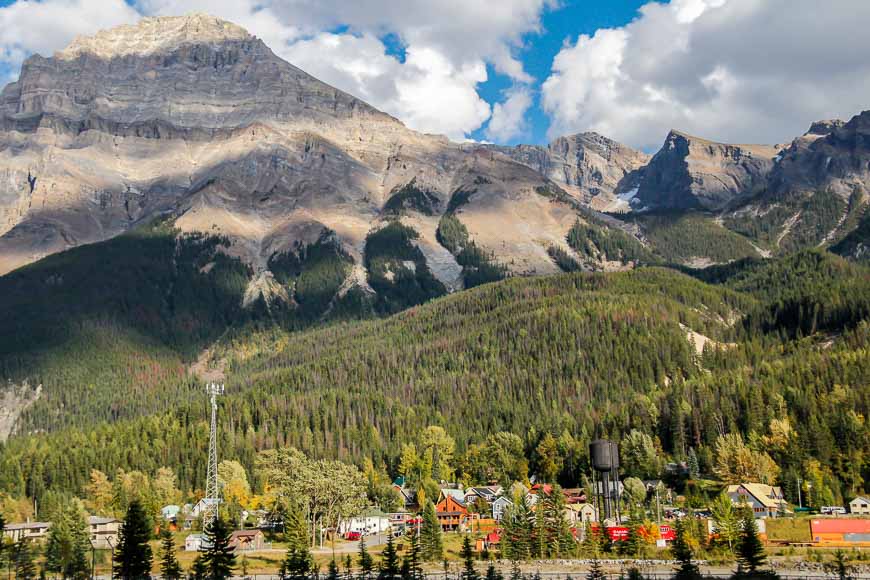 1. Emerald Lake Lodge – one of the quintessential places to stay in the Canadian Rockies
You've probably seen the classic photos of Emerald Lake Lodge, perhaps without even realizing the name of the lodge. Located at the end of a winding, well-maintained mountain road – across from the cute town of Field in Yoho National Park, the lodge sits on a peninsula jutting into its namesake lake.
The main lodge has got a relaxed woodsy feel to it – probably because it's built with hand-hewn timber. A large stone fireplace adds a nice ambiance.
Guests stay in 'cabin style buildings' with three to four rooms to a cabin. Our generously-sized room featured a king bed, a private balcony with a view of snow covered Emerald Lake, and a love seat in front of a wood burning fireplace. There was also a round table, ample room for luggage and a good sized bathroom with all the amenities.
Across from our cabin was the fitness centre and large state of the art outdoor hot tub made of stainless steel (closed till sometime in 2023 for a complete refurbishment). Paths lead to the main lodge – which is where you'll find the beautiful dining room and a lounge with an oak bar that was rescued from an 1890's Yukon saloon. The food here is excellent and inventive.
It would be very easy to do nothing at the lodge. But there are plenty of options no matter what the season. John and I had brought our cross-country skis and snowshoes though Emerald Sports (located beside the bridge to Cilantro Restaurant) rents equipment.
Of course with a blazing fire and a pretty backdrop you could just enjoy a little romance in your cabin. Or curl up with a book and a glass of wine and get lost in a good story for a solid chunk of the day. Alternatively hangout in the hot tub until your skin looks like a prune.
Emerald Lake Lodge is a winner. The location is spectacular, there's lots to do and it's perfect for not just couples but families and friends – even dogs in the right cabin. Pricing in the winter especially is very reasonable. (In December 2022 I got 3 nights for $550 with all taxes in but had booked in July.) In summer it fills quickly.
Check availability and book a night at Emerald Lake Lodge here. It is open year round.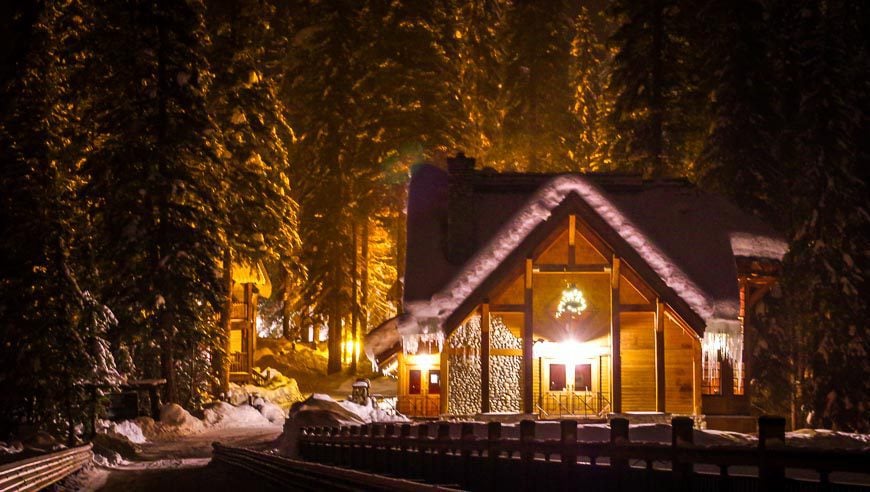 2. Cathedral Mountain Lodge
Cathedral Mountain Lodge sits beside the glacier fed Kicking Horse River on a side road that takes you up to the magnificent Takakkaw Falls and one of the most scenic hikes in the Rockies – The Iceline Trail.
Cathedral Mountain Lodge is ideal as a place to unwind. Look for beautifully furnished cabins that lend themselves to rest and relaxing. TV's aren't in any rooms and dial-up internet and daily newspapers are the closest thing you'll get to a daily news fix. It is only open from summer into early fall.
Check prices and availability and book a stay here.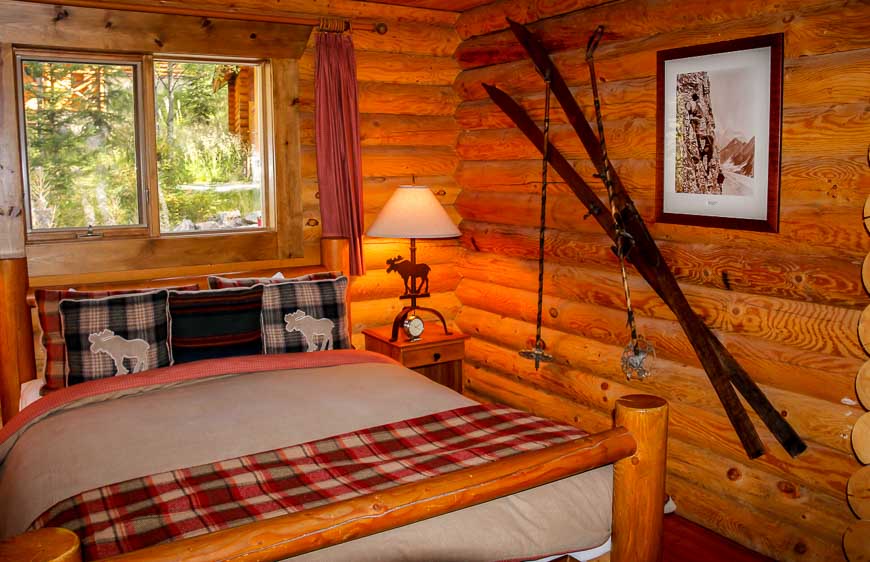 3. Lake O'Hara Lodge – one of the premier places to stay in the Canadian Rockies
Some of Canada's best Rocky Mountain scenery is out the front door of Lake O'Hara Lodge. It can be both hard to score a room at the lodge and very expensive, especially as it is only open in the summer, early fall and in winter. The lodge is accessed via an 11 km bus ride in summer or a ski in during the winter. Book Lake O'Hara Lodge way in advance.
Your other options are at the other end of the price spectrum. You can try and get a spot in the Elizabeth Parker hut or book a campsite in summer. Both of these fill quickly too.
Read: A Winter Weekend at Lake O'Hara Lodge, BC and Lake O'Hara Alpine Circuit, Yoho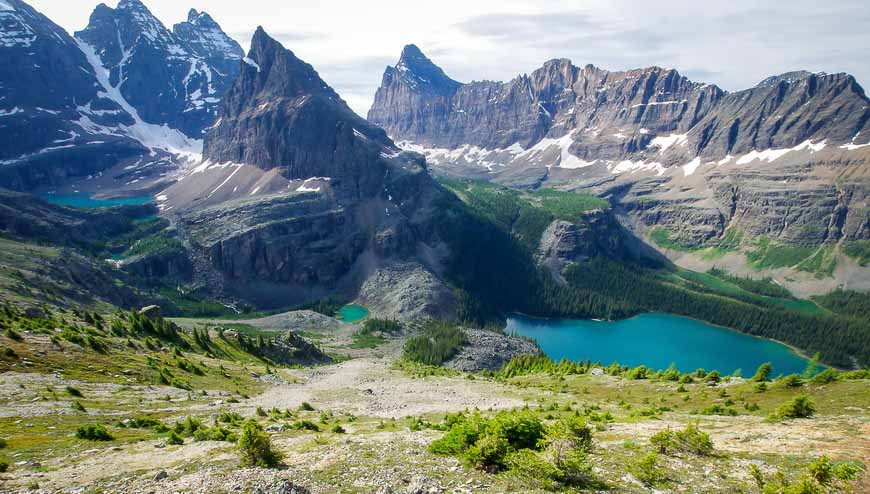 Places to stay in the Canadian Rockies – Lake Louise area
There's lots of choice in the Lake Louise area from the iconic and pricey Fairmont Château Lake Louise to the Post Hotel and Spa – a four-star Relais & Chateau property in Lake Louise Village which boasts a fantastic dining room. Although it is absolutely lovely, beware of rooms that face the train tracks as there can be a lot of train noise. Also I don't know if people realize it's a drive to get up to Lake Louise itself.
1. Deer Lodge
Deer Lodge is at most a five minute walk from Lake Louise so its location is second to none. It's one of the more rustic lodges in Lake Louise but many of the rooms have been updated. All offer all the conveniences you could wish for in the mountains. Just don't expect a TV in your room.
The original lodge was built in 1923 as a teahouse. The lodge boasts a rooftop hot tub with a stellar view and new in the last few years – a traditional dry wood sauna. The main entrance has a selection of comfortable seats, with the best ones around a roaring fire.
In the dining room almost every table enjoys some sort of mountain view. The food is excellent and portions are generous. Expect to see a lot of Rocky Mountain cuisine – elk, bison and prairie grown grains.
Check pricing and book a stay at Deer Lodge here.
It's a fantastic place to stay if you want to take advantage of all that the Lake Louise area offers. There are at least a half dozen cross-country ski trails accessed within 10 minutes of the lodge – and this in a place known for its great snow.
Throw in snowshoeing, dogsledding and skating on magical Lake Louise and you'll find huge appeal with a stay in such a location. The downhill ski resort of Lake Louise is also a short – and complimentary shuttle ride away.
In the summer there is world-class hiking right out the door. Check out this post on 10 breathtaking Lake Louise hikes to get some ideas.
2. Baker Creek by Basecamp
Book a cozy log cabin or a lodge suite at Baker Creek by Basecamp located halfway between Castle Junction and Lake Louise. Some of the cabins have two bedrooms and many rooms and all cabins are equipped with kitchenettes. There will be a bistro onsite again sometime in 2023.
Read: A Guide to Banff's Bow Valley Parkway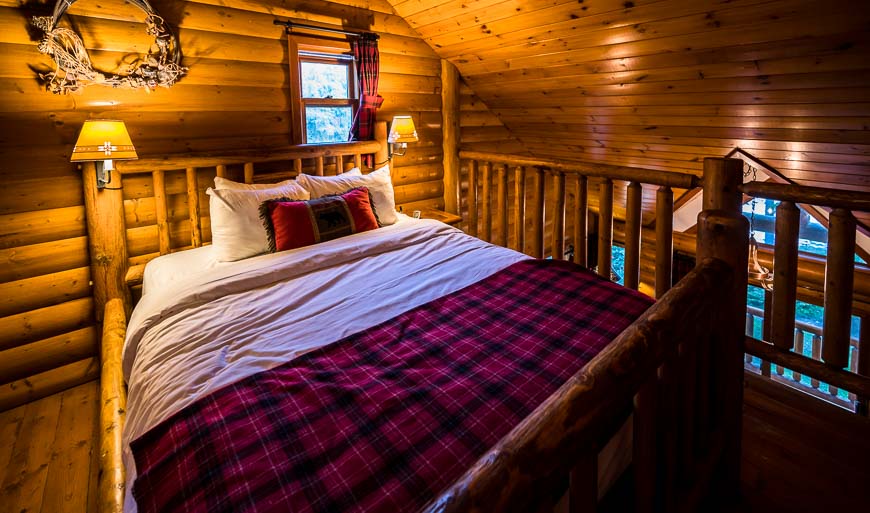 3. The Lodge at Bow Lake on the Icefields Parkway
Just a 30-minute drive north of Lake Louise is The Lodge at Bow Lake, located in an enviable position just steps from Bow Lake. You won't find luxury here – but it has had a full renovation since it changed ownership. You'll find a sense of history and a great base from which to explore. It is only open seasonally from the May long weekend until Thanksgiving Monday.
Check availability and book The Lodge at Bow Lake here.
Places to stay in the Canadian Rockies – Banff area
1. Buffalo Mountain Lodge
Located on Tunnel Mountain Road, Buffalo Mountain Lodge is just minutes from downtown Banff and even closer to a warren of hiking and mountain biking trails off of Tunnel Mountain.
It's one of my favourite places to stay in Banff National Park. The rooms feel very homey with it stone, wood-burning fireplaces and super comfortable beds. Really, you don't want to leave. You'll also love the bathroom with its heated slate floors and a soaker tub. Some rooms have private balconies.
In winter it's particularly nice to use their massive stainless steel hot tub. John and I lounged for about 40 minutes before we decided to make the dash back to our room. Then it was time for a glass of wine sitting in comfortable chairs around a fire followed by a delicious dinner.
In the summer there is of course a lot to do within a few minute's drive. For a short hike with a big reward do the nearby and easy Tunnel Mountain hike.
Check availability and book the Buffalo Mountain Lodge here.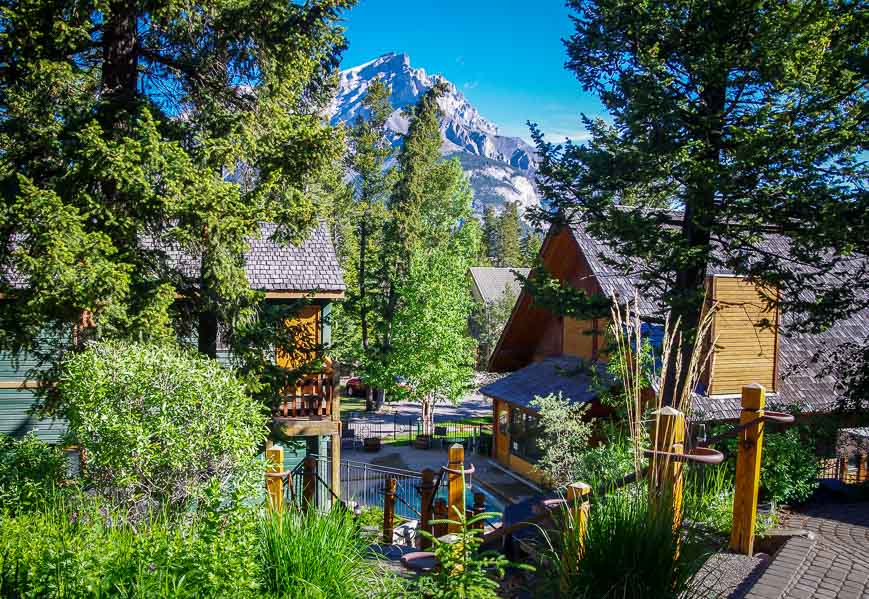 2. The Fairmont Banff Springs Hotel
The historic Banff Springs Hotel has a long history as it first opened its doors in 1888. The present day hotel was built in 1928. Styled after a Scottish baronial castle, its bulk is easily seen miles away though one of the best views is from Tunnel Mountain.
The hotel is in a spectacular setting close to natural hot springs, in an area of incredible beauty. And its only a 15-minute walk away from the Banff townsite. There's enough to do around the property to keep you there for days. Their spa is particularly lovely.
To book a room and check the rates (be prepared for sticker shock) at the Fairmont Banff Springs Hotel click here.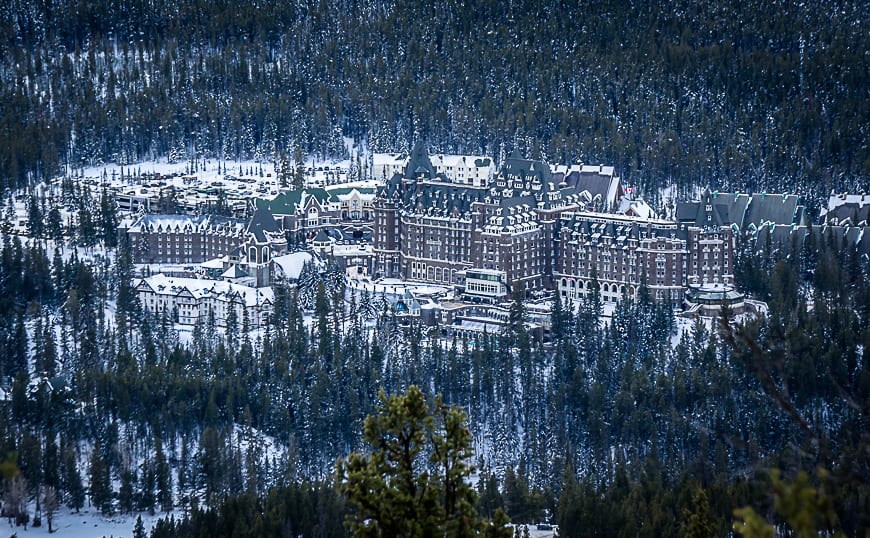 3. Canalta Lodge – one of the best places to stay in the Canadian Rockies as a family
Canalta Lodge is one of many hotels along the strip that is Banff Avenue. I particularly like the cheeriness of the hotel and the fact that many rooms are thoughtfully designed for families and friends. The price point is usually pretty good too. A free breakfast is included in a stay along with hot tubs to soothe those aching muscles. If you're traveling with family or friends, it's one of the top places to stay in the Canadian Rockies because of the room layouts.
Book a stay at the Canalta Lodge in Banff here.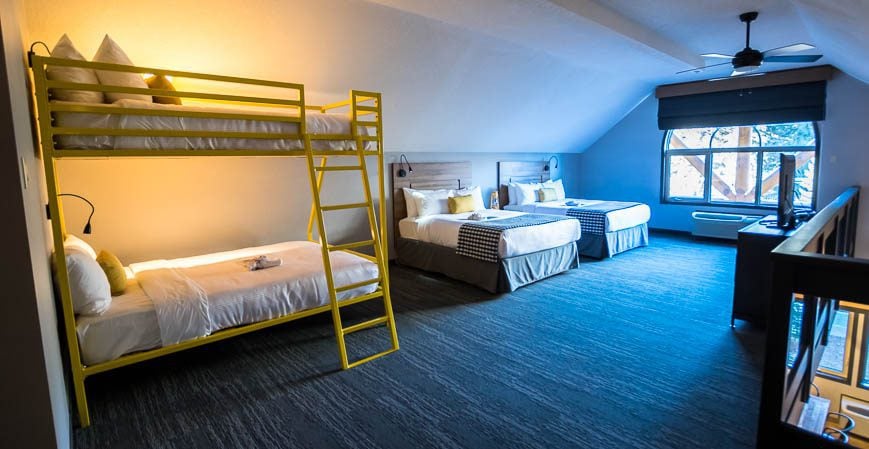 4. Sunshine Mountain Lodge
While Sunshine Mountain Lodge is a bit out of the way – in that you need to take a gondola to get to it, the hotel is a treat to visit at any time of the year. If you're a skier its location is second to none but in summer some of the most magnificent wildflower displays in the Rockies are just a short hike away in Sunshine Meadows. The rooms offer some great views, they have a huge outdoor hot tub and the food is excellent.
You can book Sunshine Mountain Lodge here.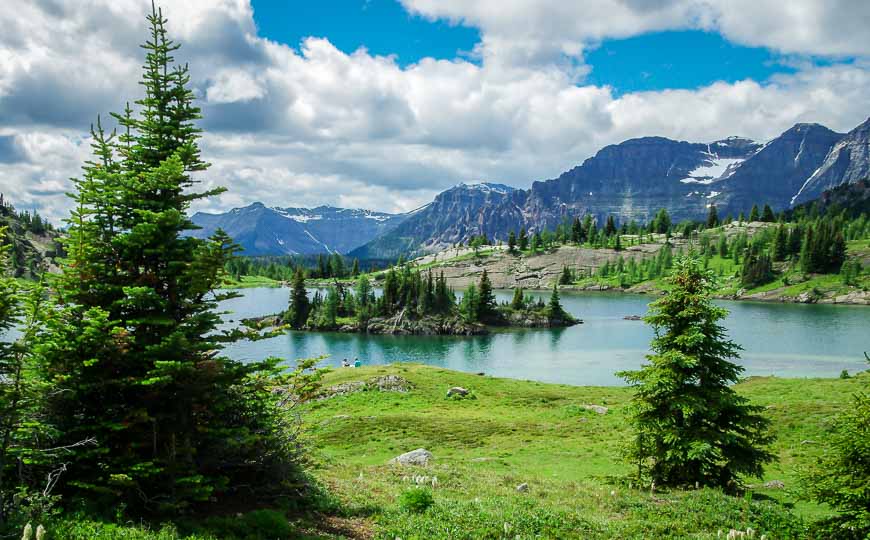 5. The Juniper Hotel
The Juniper Hotel sits above the Trans-Canada Highway just off the road to Mount Norquay Ski Resort. It's a three star hotel with nicely appointed rooms, a great restaurant and a killer view from the patio.
I like it because it's still close to Banff but feels a world away from the tourists, especially in summer. You're close to Mount Norquay for winter skiing and snowboarding. In summer, you'll be a short drive away from the Banff Via Ferrata and the hike to Cascade Amphitheatre.
You can check prices and availability and book the Juniper Hotel right here.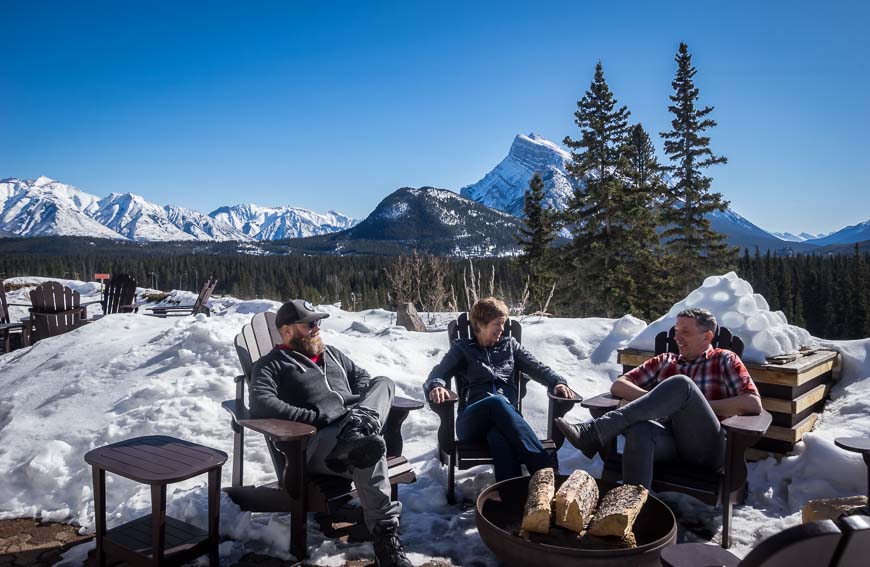 6. Storm Mountain Lodge – one of my fave places to stay in the Canadian Rockies
Storm Mountain Lodge is almost exactly halfway between Banff and Lake Louise. From the lodge it's just a few minute's drive to the entrance of Kootenay National Park.
Storm Mountain Lodge offers rustic cabins and an onsite restaurant in a pretty setting. Their location at any time of year allows speedy access to so many different activities from hiking to snowshoeing to cross-country skiing. One of the best ski days of my life was our ski up nearby Chickadee Valley.
Book directly with Storm Mountain Lodge.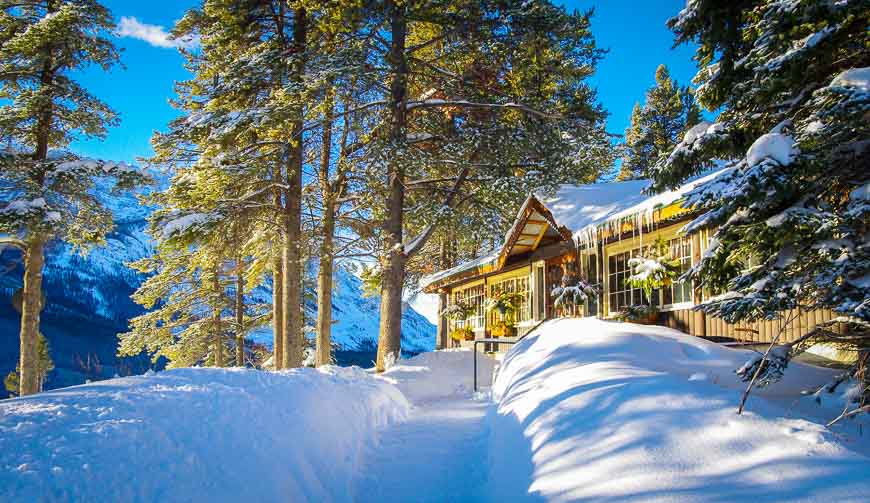 Places to stay in the Canadian Rockies – Jasper National Park
1. Fairmont Jasper Park Lodge
If you want to be close to the town of Jasper, but also be on a lake with a hotel with countless amenities, then I highly recommend a stay at the Fairmont Jasper Park Lodge. It's a wonderful place to visit, no matter what the season.
Read about what you can do in Jasper in winter.
Check rates and availability and book a room here.
Places to stay in the Canadian Rockies – near Glacier National Park, BC
1. Heather Mountain Lodge
If you traveling the Trans-Canada Highway between Revelstoke and Golden, I highly recommend booking at least a night at Heather Mountain Lodge – more if you're into hiking in nearby Glacier National Park.
The cabin is particularly lovely – and the dining room offers truly exceptional food.
Check rates and book a summer stay at Heather Mountain Lodge.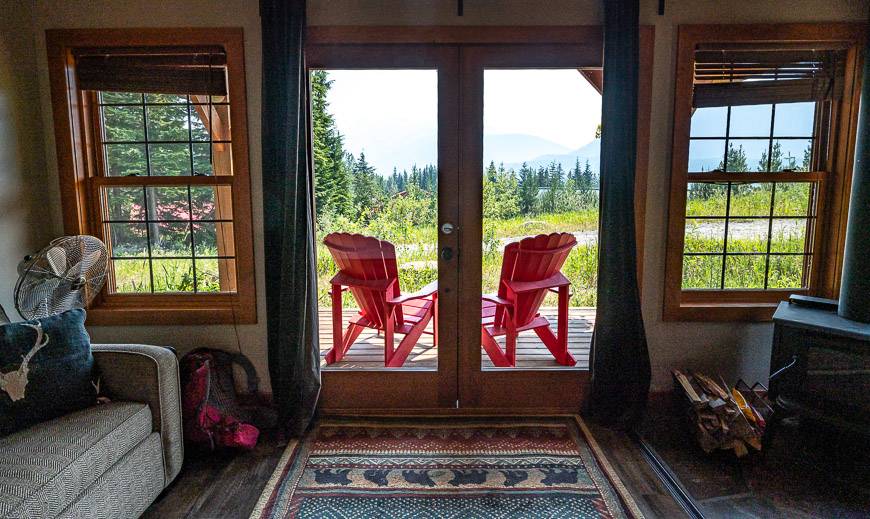 Further reading on places to stay in Alberta and British Columbia
Click on the photo to bookmark to your Pinterest boards.