The spectacular Iceline Trail located near Field, British Columbia in Yoho National Park joins the my list of all time favorite hikes. High impact scenery on the trail is the name of the game – almost from start to finish. The only downside is that it's a popular trail especially on a weekend, so don't go expecting solitude.
This post includes some affiliate links. If you make a qualifying purchase through one of these links, I may receive a small percentage of the sale at no extra cost to you.
Iceline Trail hiking options
You can do what I did and complete a hiking loop over a couple of days. Hike in on the Yoho Valley Trail and out on the Iceline and either stay overnight in the Stanley Mitchell Hut or camp at the Little Yoho Campground.
But if time is short do it as a day hike and decide once you're up in the high alpine just how far you want to go.
As a day hike it's a steep ascent of about 1,300 feet from the Takakkaw Falls parking lot to reach treeline. Although you continue – still steeply once you hit the alpine, the sublime views will make up for any pain you might feel.
At some point you're going to have to decide just how far you want to hike. Many people make it as far as the high point on the trail and then turn back. That would make it a 12.8 km (7.9 mile) round trip. But there are several options depending on your fitness level and the weather.
Don't forget: Always carry the 10 hiking essentials.
Iceline Trail Loop hike
Do a full loop that takes you past the Stanley Mitchell Hut on the Little Yoho Valley Trail but do it as a 20 km (12 mile) day hike.
Or hike up 5.7 km (3.5 miles) and take the 4.2 km (2.5 mile) Celeste Lake Trail that intersects the Little Yoho Valley Trail to complete a shorter loop of 17 km (10.5 miles). But you'll miss some of the wonderful scenery further up the trail. Consider the Celeste Lake Trail as an option in a storm because you drop down into the trees.
The map to carry on this hike is Gem Trek Lake Louise & Yoho. It's very helpful as there is such a maze of trails starting out from the Takakkaw Falls parking lot.
Location map of the Iceline Trail
The photos below give you an idea of what the hike looks like starting from the Stanley Mitchell Hut end of the trail.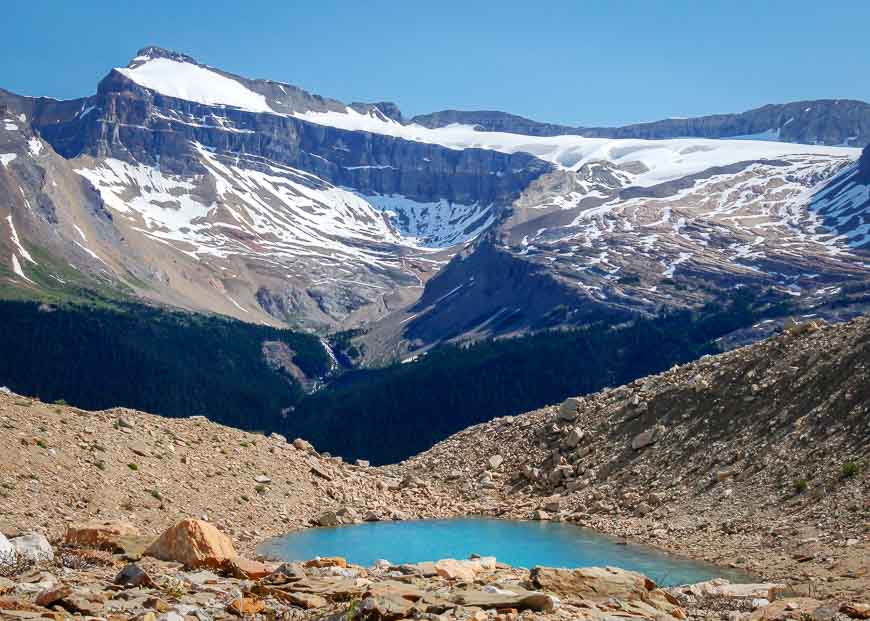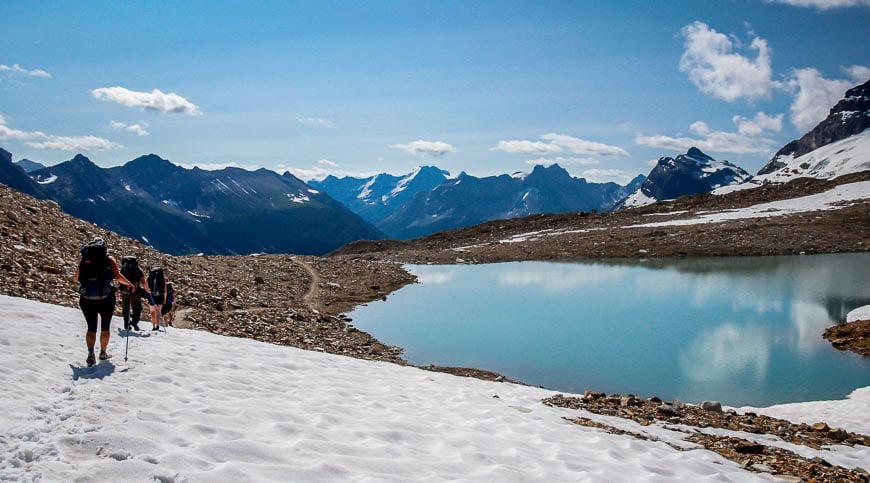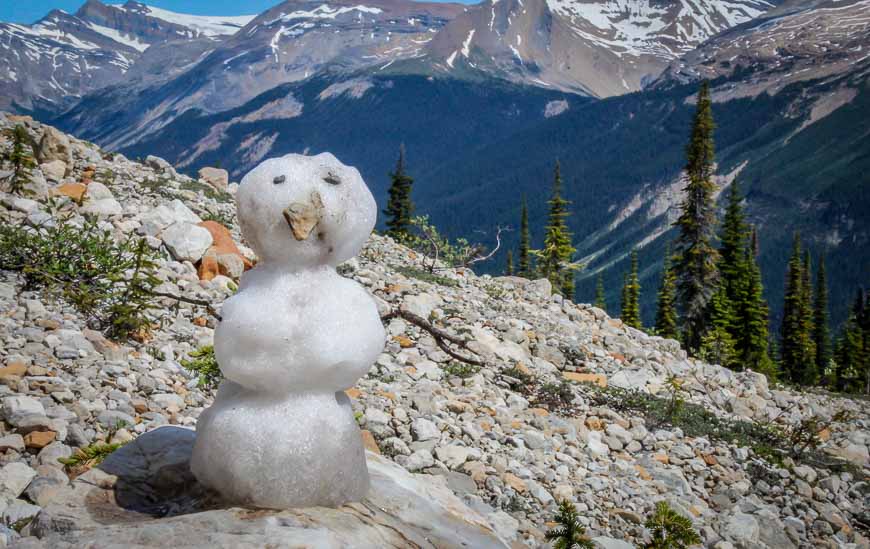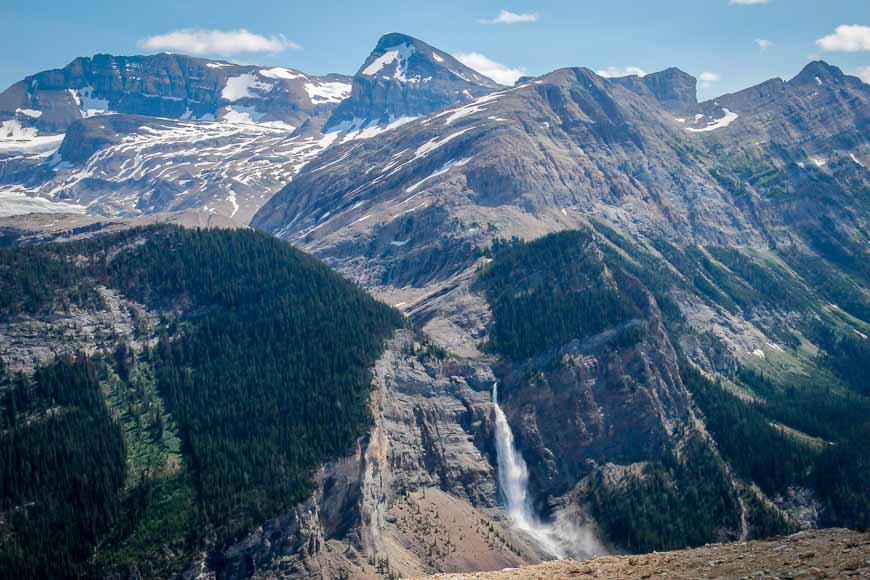 Things I bring with me on most hikes
I like something comfortable to sit on at lunch time. It can be your mitts on a warm spring day but in summer I swear by my almost weightless inflatable seat cushion.
The older I get the more I like using hiking poles, especially so when a stream crossing is involved. Invest in a good pair that are collapsible, preferably made of carbon because of their weightless quality.
I always carry rain gear no matter what the forecast is. I find a brim hat with a chin strap invaluable in the rain or on a hot, in your face sunny day.
The most multi-purpose piece of cloth has to be a buff– and it takes up no room. Good in wind, rain, sun, dust and cold.
Another nice addition for those of you who love wildflowers is the pocket guide to Central Rockies Wildflowers. It doesn't weigh much at all.
Yoho National Park hotels and places to stay
You can camp in Yoho National Park between mid-May and mid-October. In total there are 150 campsites over four frontcountry campgrounds.
The Takakkaw walk-in campsite would be a great choice, especially as it's the closest one to the Iceline Trail. It has 35 un-serviced campsites in a pretty setting. Campsites are available on a first come – first served basis.
Two other nearby campsites include Monarch and Kicking Horse. These two campsites can be reserved. They are near the intersection of the Trans-Canada and the road into Takakkaw Falls. I think you could expect a bit of highway noise here. Reserve online here or call them at 1-877-RESERVE (737-3783).
There are also four backcountry campgrounds in Yoho and Little Yoho Valleys – and all are accessed from the Takakkaw Falls trailhead.
If it's a hotel you're after, Cathedral Mountain Lodge is the closest. Nearby in the town of Field are loads of B&B's. If you're looking for a stay in a spectacular setting book Emerald Lake Lodge. Another affordable option is the Whiskey Jack Wilderness Hostel, a short walk away from Takakkaw Falls.
The Stanley Mitchell Hut run by the Alpine Club of Canada is near the far end of the Iceline Trail. It's a great – though busy place to stay – if you want to also explore the President Range.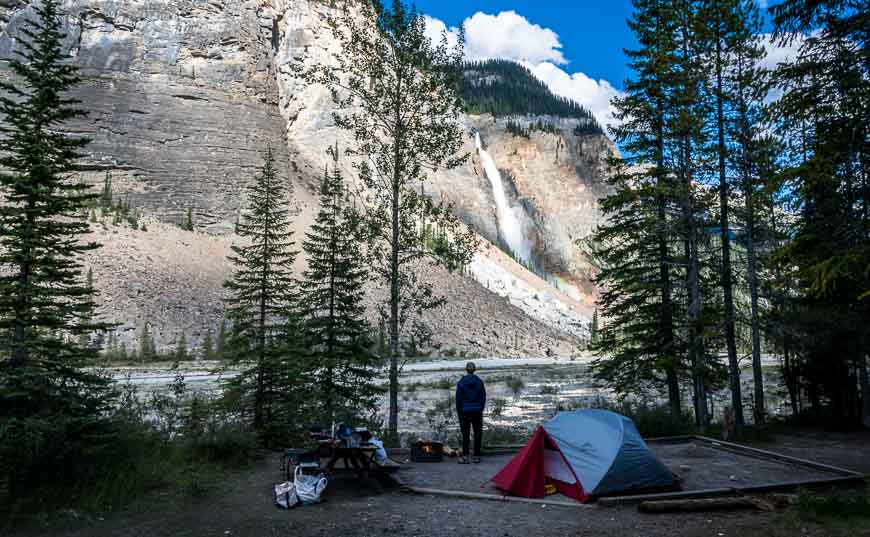 Further reading on Yoho National Park
Click on the photo to bookmark to your Pinterest boards.