The spectacular Iceline Trail located near Field, British Columbia in Yoho National Park is on my list of all time favourite hikes. You're treated to high impact scenery including glaciers and alpine lakes almost from start to finish.
Enjoy superlative views across the Yoho Valley from the Iceline Trail including the full height of 373-metre (1,223 feet) high Takakkaw Falls. The only downside is that it's the most popular hike in the Yoho Valley, so don't go expecting solitude.
This post includes some affiliate links. If you make a qualifying purchase through one of these links, I will receive a small percentage of the sale at no extra cost to you. Thank you very much for your support.
Iceline Trail hike summary
Distance: The out and back Iceline Trail hike is 13.6 km (8.5 miles) return. There are many variations to the Iceline Trail including an out and back hike, a large loop hike with an overnight stay at Stanley Mitchell Hut, and a smaller loop hike that includes the Celeste Lake Trail.
Option 1: The shorter Celeste Lake option that includes part of the Iceline Trail comes in as a 17.1 km (10.6 mi) loop.
Option 2: If you do the loop hike that includes the Yoho Valley Trail, Little Yoho Valley Trail and the Iceline Trail, the mileage comes in at 21.1 km (13.1 miles).
Elevation gain: 690 m (or 2,250 feet)
Level of difficulty: Moderate if you're a regular hiker.
Time needed: Allow 4 – 6 hours for the out and back option and 6 – 8 hours for the loop options. On this hike there is lots of exploring to do so you may end up spending an hour or more near the Iceline Trail summit.
Dogs: Permitted on a leash.
Permits: You will need a Parks Canada pass to hike the Iceline Trail. You can purchase online or at the western entrance to Yoho National Park in Field.
Trail conditions: Before you head to the park, check Yoho National Park trail conditions online.
Parking: Plan to park at the Takakkaw Falls parking lot.
Don't forget: Always pack the 10 hiking essentials. Let someone know where you're going and when you're due out.
Camping: There is excellent first-come, first served camping near the Takakkaw Falls parking lot, so you can get an early start without a long drive.
Bears: I've never so much as seen bear scat on the trail, but I'd still recommend you carry bear spray that is quick to access.
Maps: The map to carry on this hike is Gem Trek Lake Louise & Yoho. It's very helpful as there is such a maze of trails starting out from the Takakkaw Falls parking lot. For a hiking app, I recommend Organic Maps.
Iceline Trail hiking options
You can do what I did and complete a hiking loop over a couple of days or do it in one long day – if you're up for a 21.1 km (13.1 mi) hike. Starting at the Takakkaw Falls parking lot, hike in on the Yoho Valley Trail and the Little Yoho Valley Trail and out on the Iceline Trail.
If you're wanting to do it as a backpacking trip, either stay overnight in the Stanley Mitchell Hut or camp at the Little Yoho Campground. You will need to book the popular Stanley Mitchell Hut well in advance. There is also the option if you spend a couple of nights in the area exploring the President Range Trails or Kiwetinok Pass.
Most people do the Iceline Trail as an out and back hike. It's easily done as a day trip and you can decide once you're up in the high alpine just how far you want to go.
If the weather looks like its going to throw a storm your way, you can descend quickly by taking the Celeste Lake Trail, located 0.7 km shy of the Iceline Trail summit. The Celeste Lake option is also a good choice if you to see Laughing Falls, located at the intersection of the Little Yoho Valley Trail and Yoho Valley Trail. But you'll miss some of the wonderful scenery further up the Iceline Trail.
Where do you start the hike?
No matter what route you plan to do on the Iceline Trail, you will want to park at the massive Takakkaw Falls parking lot at the end of Yoho Valley Road. There are lots of washrooms here as well as the trailhead for a short hike to Takakkaw Falls.
If you're driving in from afar to do the Iceline Trail as an out and back day hike, park close to the Whiskey Jack Wilderness Hostel. But if you're planning a loop hike as a day trip, it really doesn't matter where you park.
If you're planning to backpack, I'd suggest parking at the north end of the parking lot. From there it's a snap to get on the Yoho Valley Trail. It's also easy to access the walk-in Takakkaw Falls Campground. For those of you who have made reservations at the Laughing Falls Campground, it's also a good place to park.
How hard is the Iceline Trail?
I'd rate the trail as a moderate one as there isn't anything technical about the hike. No scrambling or exposure is involved. The toughest part of the trail is at the beginning because you gain elevation quickly, fortunately with the help of switchbacks.
Once you hit the high alpine, the trail generally levels off and the hard work is done. If you plan to do the long hiking loop via the Little Yoho Valley trail, you do need to be able to comfortably hike 21 kilometres. Plan to do it in the height of the summer, when there is a lot of daylight.
Kids that are regular hikers should be able to safely do the trail. Thinking back to my kids and some of the hikes we did with them in Colorado, I'd say 8 years and up should be fine.
The same goes for dogs. Able-bodied dogs who get out a lot will have no problem. On the rare, very hot day, you might want to leave long haired dogs like Bernese Mountain dogs at home as they will overheat.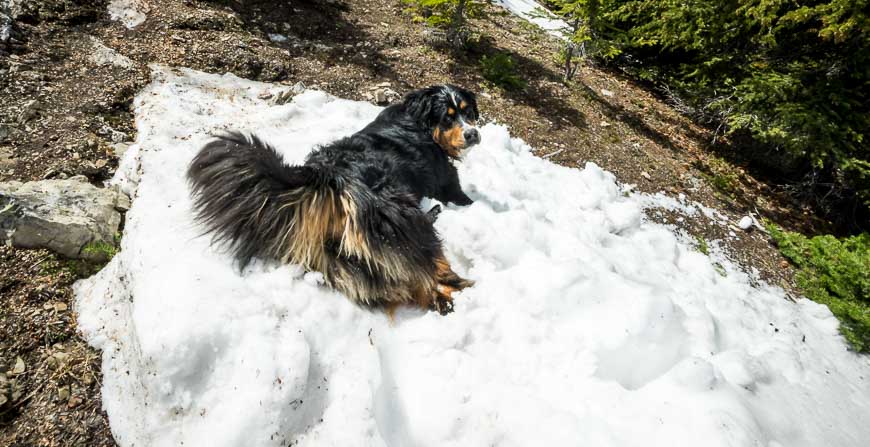 What is the best time of year to hike the Iceline Trail?
It's a short hiking season on the Iceline Trail. You really need to wait for most of the snow to be off the trail – and that will vary from year to year.
You can usually start hiking the Iceline Trail by late June or early July through to Thanksgiving weekend in October. But don't forget, it can literally snow in any month of the year, so be prepared to change your hiking plans on the fly, especially by mid-September when big snow storms often come through.
Iceline Trail description
You'll find good signage on the Iceline Trail. From the parking lot, head towards Yoho Valley Road near the Whiskey Jack Wilderness Hostel. Cross the road and look for the trail heading up into the trees. For the next hour or so you'll switchback up the hill – but stop and look back at Takakkaw Falls when there's an opening in the trees.
Hike past the turnoff to Yoho Lake and Highline Trail. After approximately 2.8 km from leaving the parking lot, reach the high alpine. The bulk of the elevation gain is over now, so you can concentrate on the mountain vistas around you.
The trail is obvious though you should be prepared to walk on some snow if it's early in the summer. Enjoy glacier views on your left as you head for the Iceline Summit on the crest of a moraine at an elevation of 2,230 metres or 7,316 feet. To your right are expansive mountain views along with the sight of Takakkaw Falls in context of the mountains above it. Underfoot, it's a world of rock, ice and freezing cold glacier fed streams. It's a breathtaking vista.
Many people turn around at the Iceline Summit but there are good views to be had if you're prepared to continue. Go as far as feels comfortable if you're planning the out and back hike.
If you go as far as the Little Yoho Valley, you will descend past a couple of small lakes and over a ridge of glacial debris to arrive in open subalpine forest. If it's clear you might be able to see The President and Vice President, twin pyramids rising to over 10,000 feet in the President Range.
Stay on the Iceline Trail as it heads for the Kiwetinok Pass junction, located 4.1 km from the Iceline Summit.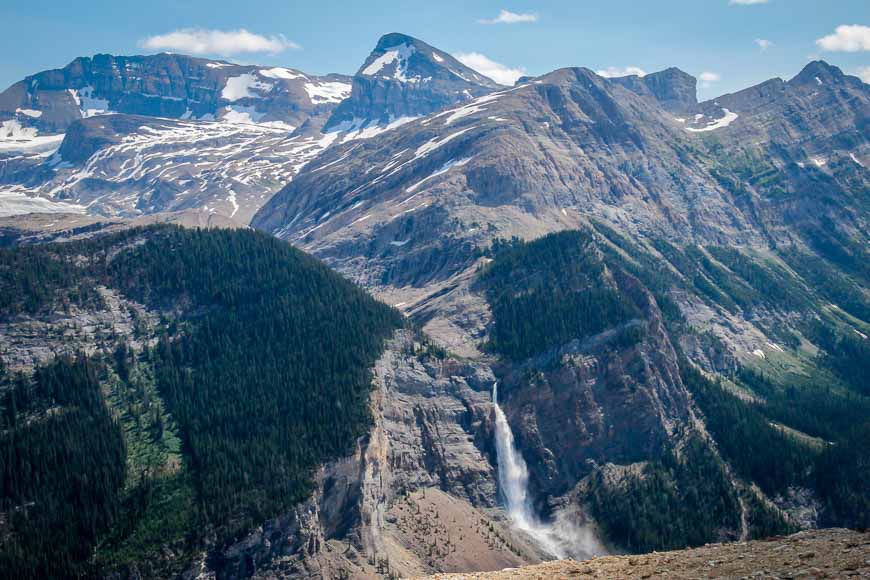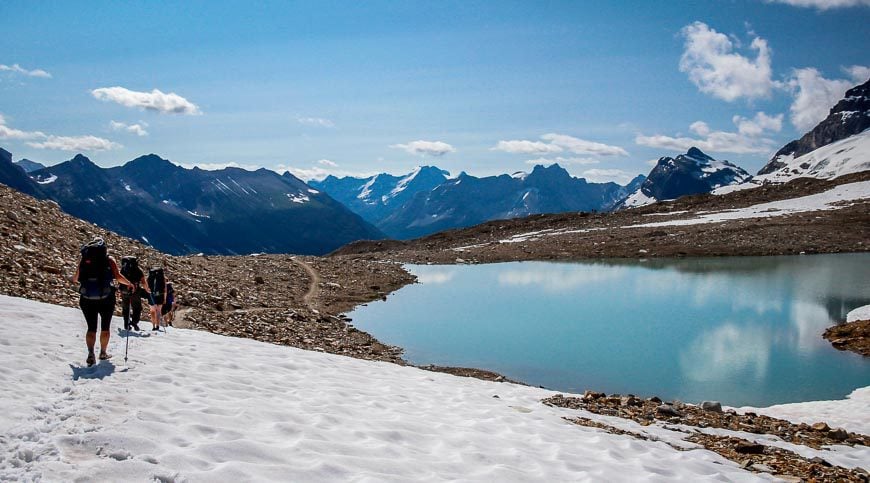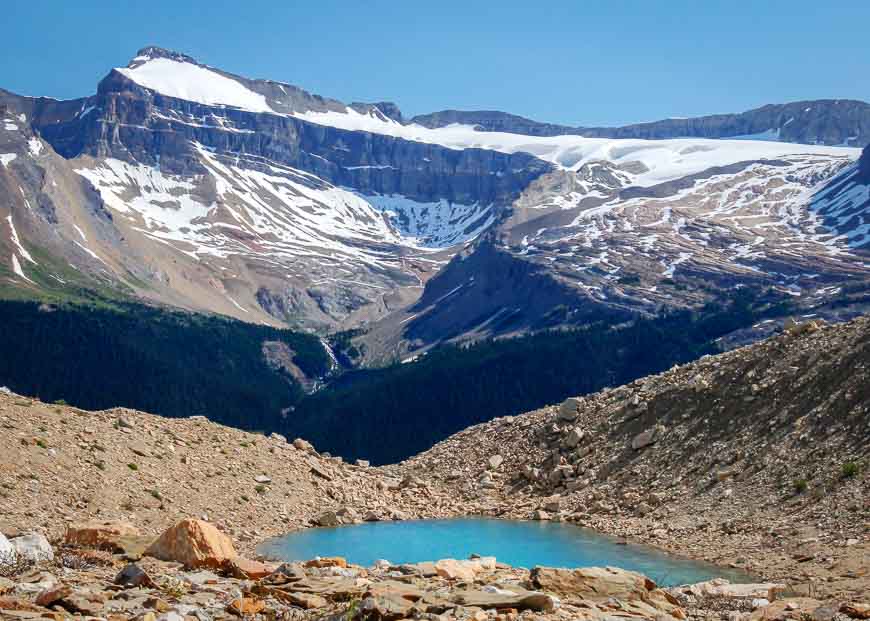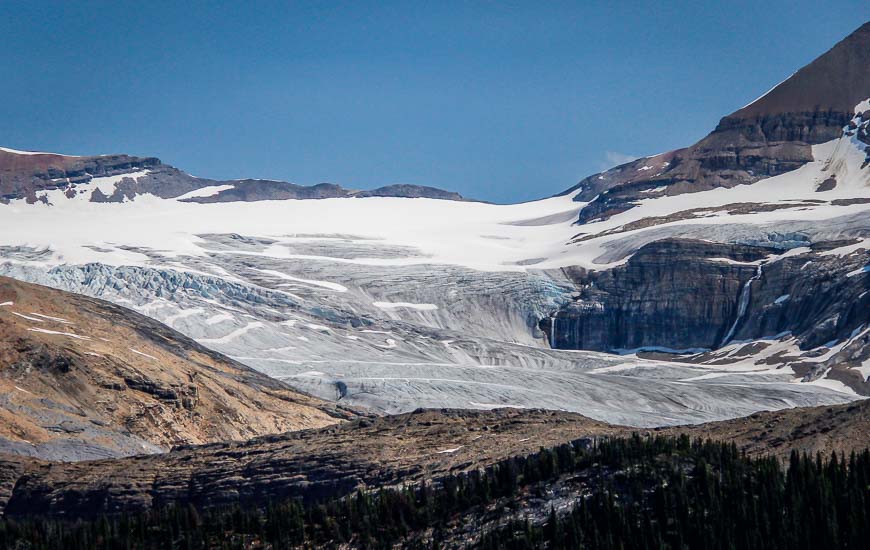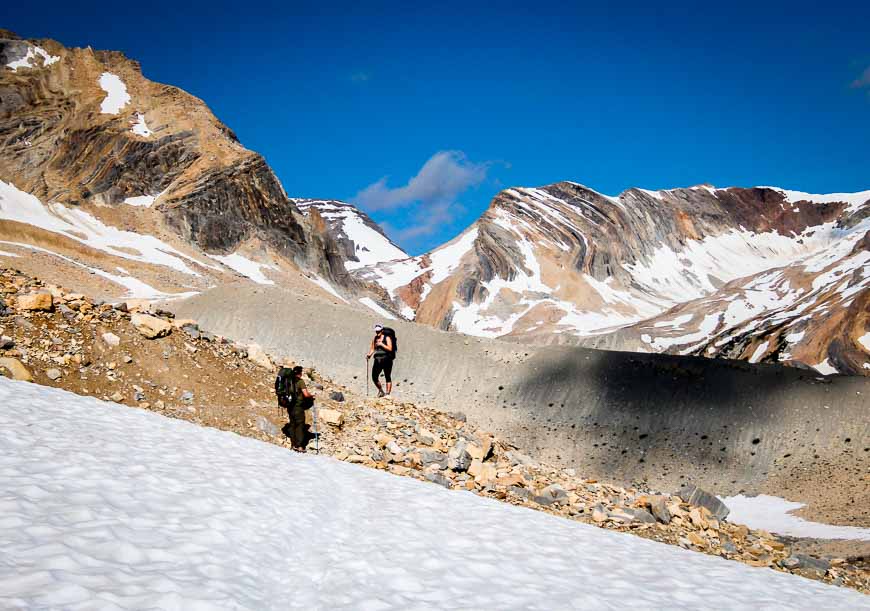 The Little Yoho Valley – Yoho Valley Trail
Cross a bridge over the Little Yoho River and turn right. Almost immediately you'll pass Little Yoho Campground and then the Stanley Mitchell Hut. You'll need reservations at both spots.
Continue on the Little Yoho Valley Trail for 5.2 km to reach Laughing Falls. This part of the hike isn't as interesting as it's primarily in the trees, but there are bursts of colourful wildflowers along the way. You'll pass the intersection of the Whaleback Trail and the Marpole Connector on route to Laughing Falls. Check out the campsite at the falls – quite a nice one in my view.
Laughing Falls
If you're new to camping, the Laughing Falls Campground is a great destination, but I would suggest hiking to if directly from the parking lot as it's only 4.8 km to it – and those are mostly flat kilometres. You can check out beautiful and noisy Laughing Falls as well as the Yoho River. Another option would be to set up a basecamp at this campground and hike up to the Iceline Summit and back in a day.
By the time you reach Laughing Falls, I would think you're keen to finish the Iceline Trail hike. Fortunately it's all easy from here – with only some minor rock sections and a number of bridges to cross. When you start seeing bridges, you'll be able to taste the finish.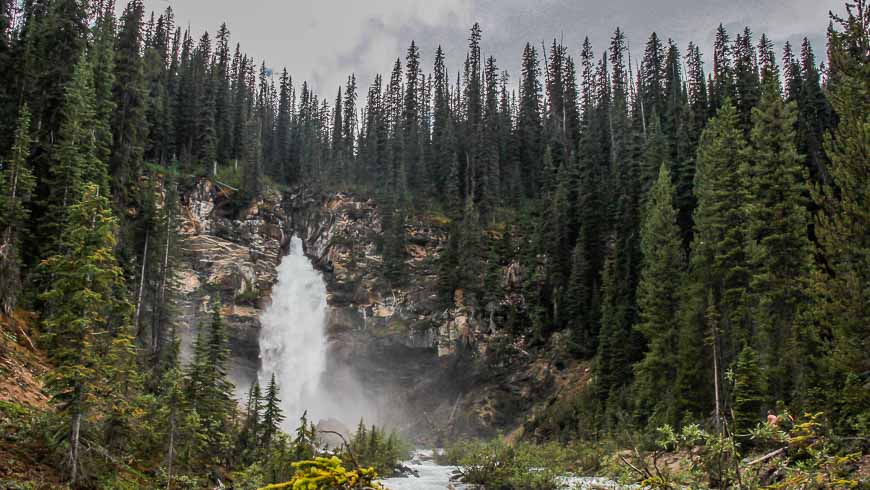 Takakkaw Falls
I loved the views of stunning Takakkaw Falls from the Iceline Trail. But the reality is that not all can hike up the Iceline Trail and some of you might want to enjoy the falls from another angle.
From the parking lot there is an easy 1.2 km return hike to a viewing point where you can enjoy the falls from a ground level view. They live up to their Cree name meaning wonderful, no matter what angle you view them.
Location map of the Iceline Trail
Gear I'd recommend for the Iceline Trail
I like something comfortable to sit on at lunch time. I swear by my inflatable seat cushion.
I like using trekking poles, especially so when a stream crossing is involved. Invest in a good pair that are collapsible, preferably made of carbon because of their weightless quality.
I always carry rain gear no matter what the forecast is. I find a brim hat with a chin strap invaluable in the rain or on a hot, in your face sunny day.
The most multi-purpose piece of cloth has to be a buff– and it takes up no room. Good in wind, rain, sun, dust and cold.
Another nice addition for those of you who love wildflowers is the pocket guide to Central Rockies Wildflowers. It doesn't weigh much at all.
Other trails you can hike from the Takakkaw Falls parking lot
The Takakkaw Falls parking lot is the starting point for a lot of hikes in Yoho National Park. Aside from the Iceline Trail, this is where you start if you want to hike to Yoho Lake or even Emerald Lake. It is also the beginning for the famous Burgess Shale hike – which you can only do guided!
If you head to Laughing Falls, you can continue up to the Twin Falls Campground and onto the Whaleback Trail. There is also access to the Marpole Connector, though it's primarily in the trees.
The bottom line is that there is a lot of hiking you can do from this one parking lot!
Where to eat after your Iceline Trail hike
If you head east on the Trans-Canada Highway you'll be in Lake Louise in about 25 minutes. There are lots of restaurants here, both in hotels and in Lake Louise Village. If you head west to Field, check out Truffle Pigs Bistro. We've had many delicious meals here. They are taking reservations so I'd recommend doing that in the summer.
If you don't mind driving a little further, head up to Emerald Lake Lodge and enjoy a meal in the Kicking Horse Lounge or the Mount Burgess dining room (reservations needed). In the summer the Cilantro Café by the bridge is open for casual dining.
Where to stay in Yoho National Park
You can camp in Yoho National Park between mid-May and mid-October. In total there are 150 campsites over four front country campgrounds.
The Takakkaw walk-in campsite would be a great choice, especially as it's the closest one to the Iceline Trail. It has 35 un-serviced campsites in a pretty setting. Campsites are available on a first come – first served basis.
Two other nearby campsites include Monarch and Kicking Horse. These two campsites can be reserved. They are near the intersection of the Trans-Canada Highway and the road into Takakkaw Falls. I think you could expect a bit of highway noise here. Reserve online here or call them at 1-877-RESERVE (737-3783).
There are also four backcountry campgrounds in Yoho and Little Yoho Valleys – and all are accessed from the Takakkaw Falls trailhead.
If it's a hotel you're after, Cathedral Mountain Lodge is the closest.
Nearby in the town of Field are loads of B&B's. If you're looking for a stay in a spectacular setting book Emerald Lake Lodge. Another affordable option is the Whiskey Jack Wilderness Hostel, a short walk away from Takakkaw Falls.
The Stanley Mitchell Hut run by the Alpine Club of Canada is near the far end of the Iceline Trail. It's a great – though busy place to stay – if you want to also explore the President Range including Kiwetinok Pass.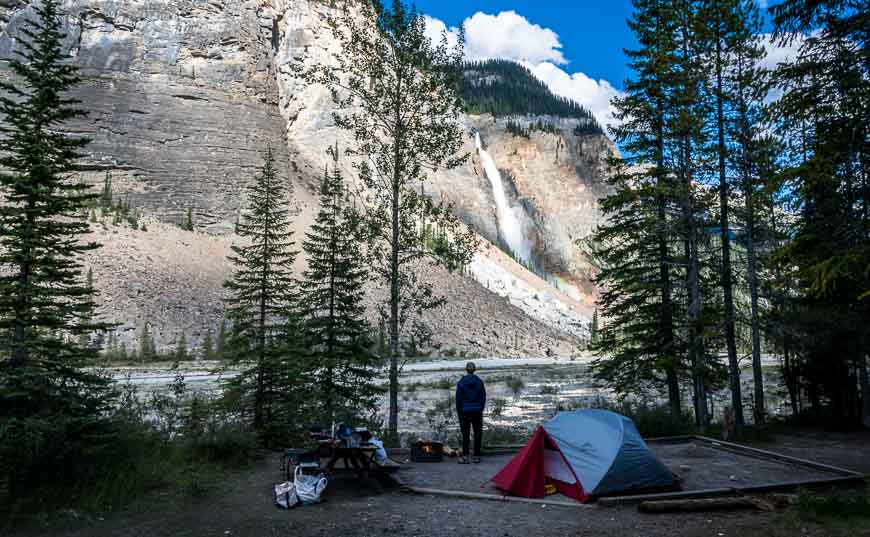 Further reading on Yoho National Park
Click on the photo to bookmark to your Pinterest boards.