The Lake O'Hara alpine hike in Yoho National Park should be on every hiker's bucket list. You'll be rewarded with sublime scenery from start to finish, turquoise coloured lakes and lichen covered rocks twisted into impossible shapes as well as challenging trails.
The route was designed by Lawrence Grassi – a man who wore many hats including that of park warden at Lake O'Hara, stonemason, miner and the person whom the Grassi Lakes above Canmore are named for. With great skill, he moved rocks to create a trail that defies imagination. I think you'll find some of Canada's most beautiful mountain scenery on the Lake O'Hara Alpine hike.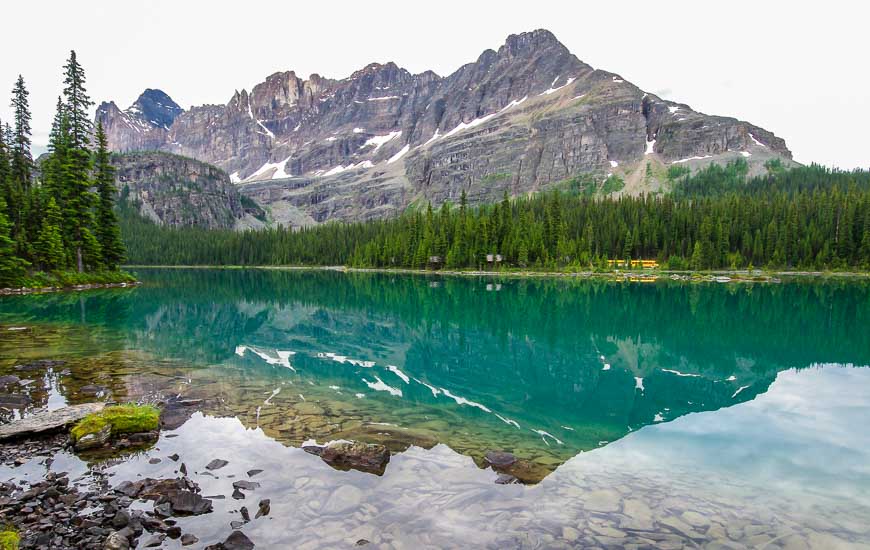 Lake O'Hara alpine hike description
The Lake O'Hara alpine circuit is a loop so it's easy to eliminate sections. If you hate exposure – ledges, cliffs and paths clinging to the mountains then perhaps you'd want to give the Wiwaxy Gap and Huber Ledges Alpine Route a pass.
The same goes for the All Souls Alpine Route. The Yukness Ledges aren't nearly as difficult or as airy as they appear from afar.
Clockwise or counter-clockwise on the Lake O'Hara Alpine Hike?
You can hike the circuit in any direction. My daughter and I chose to do it in a clockwise direction to get the bulk of the climbing over early in the day.
Starting from the Lake O'Hara outlet bridge across from Le Relais day use shelter, hike just a few hundred metres on the trail until you see the sign for Wiwaxy Gap. Veer left and begin a stiff climb of close to 520 m (1700 feet), at times on narrow ledges.
You top out at a saddle – Wiwaxy Gap at 2703 m (8868 feet).
The challenging part on the Lake O'Hara Alpine Hike
The next two kilometres are challenging and as my daughter said – I hate this, I hate this…we could die if we trip.
So watch your footing very carefully. Concentrate, especially early on in the descent from the saddle. Take time to breathe and when you feel secure look around for mountain scenery doesn't get much better than this.
It's very airy at times but very doable if you don't have an extreme fear of heights and exposure. Otherwise give it a pass. It took us an hour to descend to Lake Oesa – and the last 20 minutes were much less scary.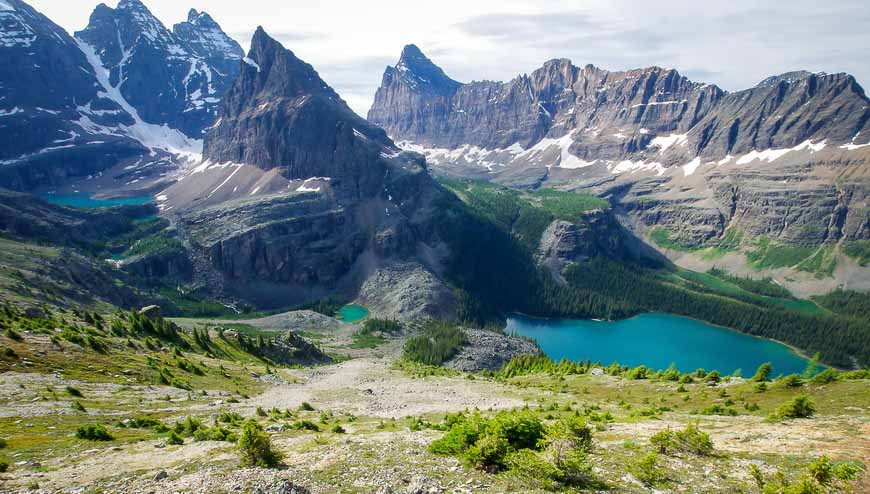 Lake Oesa
Lake Oesa is breathtaking but it's popular and busy as there is an easy 3.2 km trail to it from Lake O'Hara. You'll find slabs of rock, perfect for stretching out on so plan to stop here for lunch. Keep an eye on the aggressive chipmunks as they'll be in your knapsack or bag of food in seconds.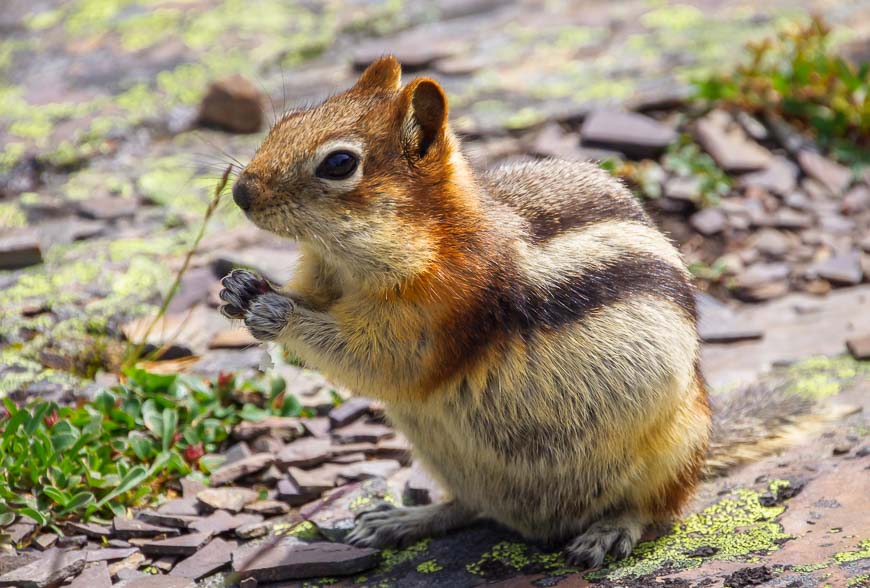 To the Yukness Ledges
From Lake Oesa, look for the sign pointing to the Yukness Ledges route. Descend, cross a small stream, then a boulder section and pass by the small lake in the photo below.
In another few minutes reach a signed intersection. Stay left to continue on the alpine circuit or if you've had enough you can call it a day and descend to Lake O'Hara from here.
The Yukness Ledges
The Yukness Ledge are much wider and less airy feeling than the trail up and down from the Wiwaxy Gap. Kids in runners were hiking it with no problem.
Its 2.3 km on the Yukness Ledges trail from Lake Oesa to the junction with the East Opabin Trail – one of your options to return to Lake O'Hara and the one we chose to do.
Your other option is to hike 1.4 km along the meadow filled Opabin Plateau to the West Opabin Trail and descend to Lake O'Hara from there. Eventually both trails meet up on the shores of Lake O'Hara. (Pick up a map for a donation at Le Relais day use shelter.)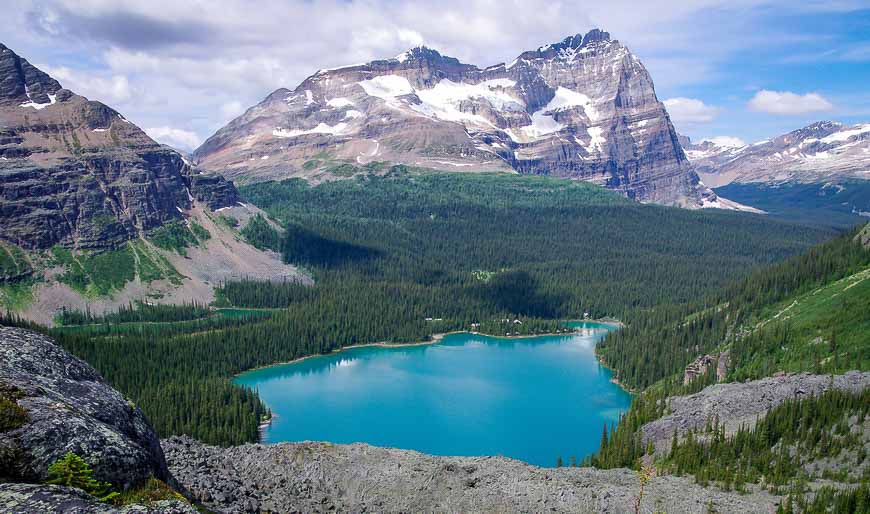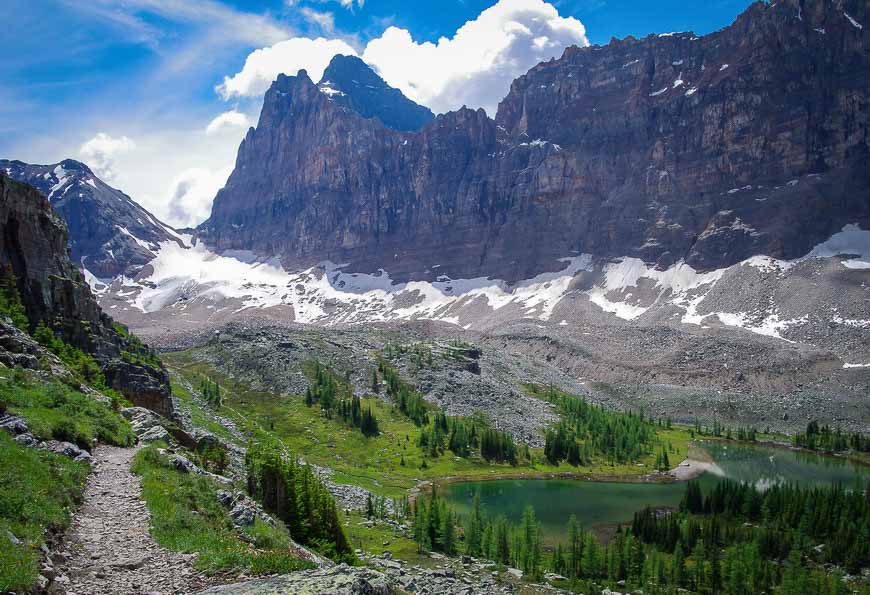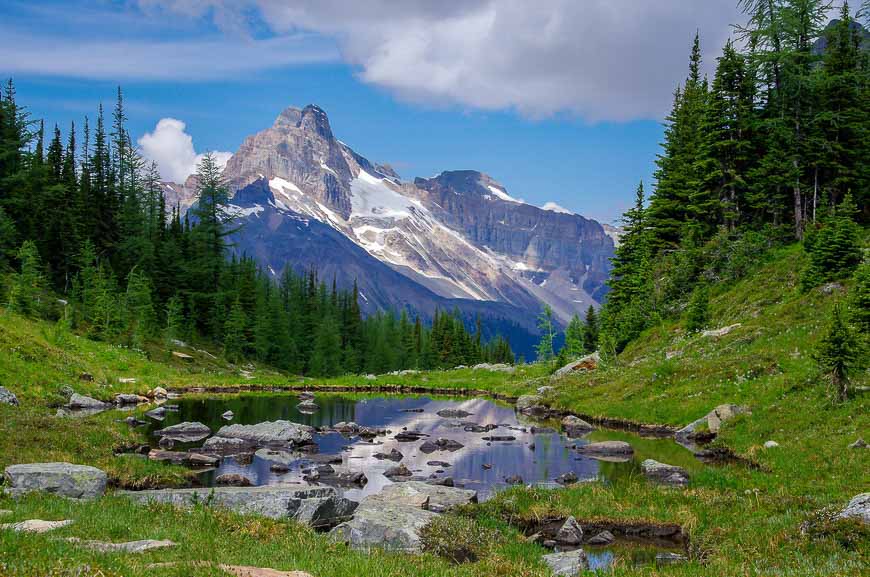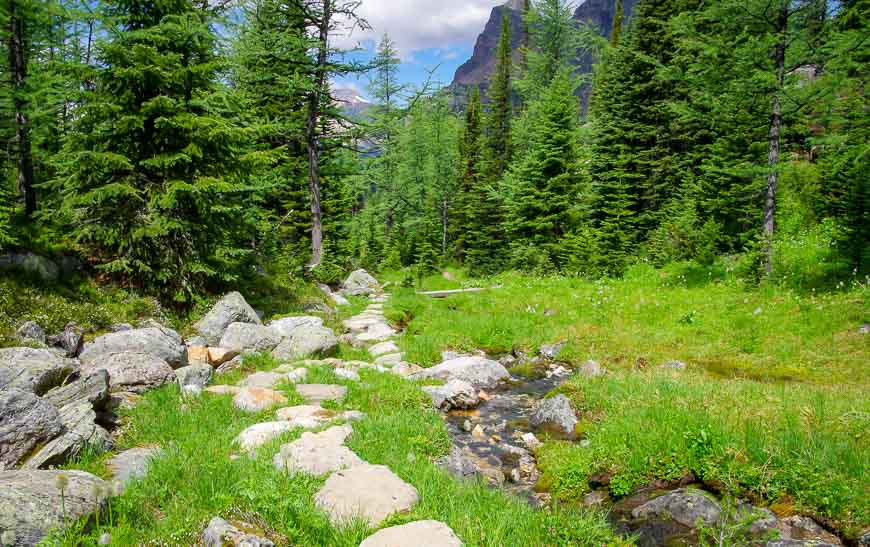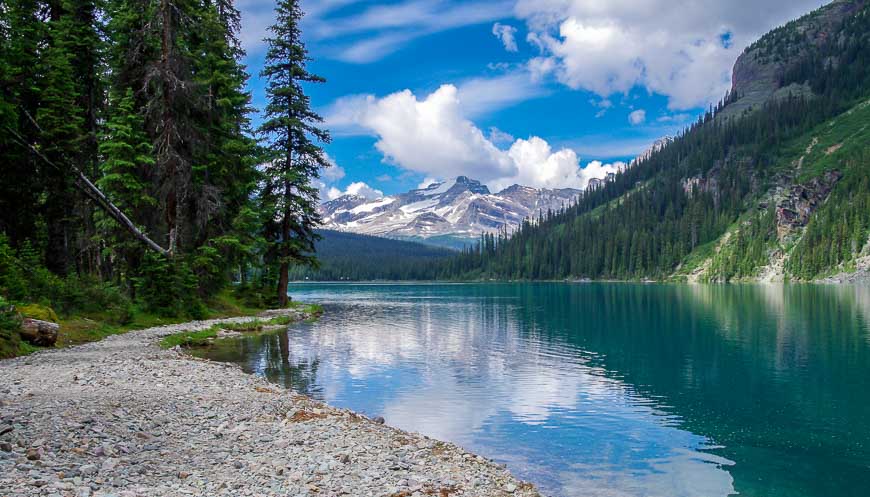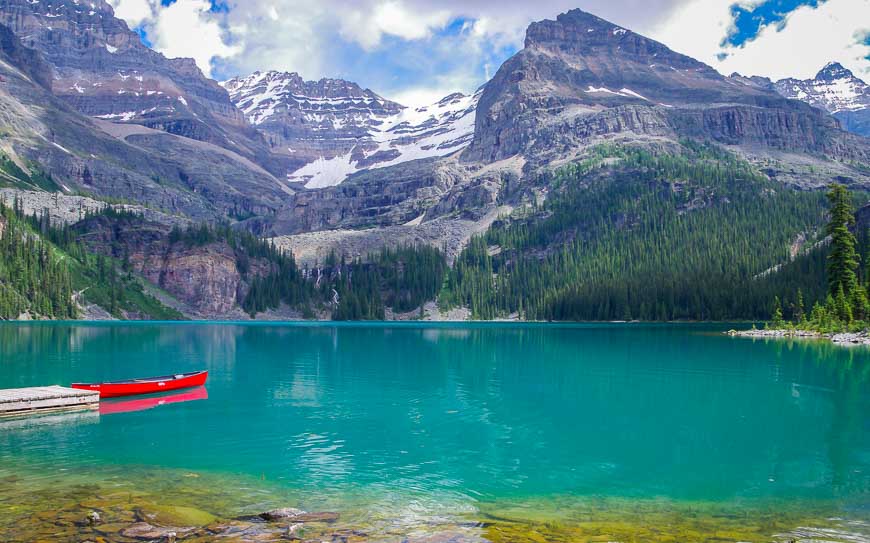 East Opabin Trail
We chose to descend on the East Opabin trail – steeply at times. In a short 0.8 kilometres you reach Lake O'Hara and from there it's an easy one kilometre walk to Lake O'Hara Lodge. If you time it right – between 3 PM and 4 PM – you could stop in and have tea and goodies for $10 per person – if there's space.
We hiked a total of 8.8 km (5.5 miles) – not much by my hiking standards but when you have to concentrate on your footing for kilometres at a time it can be slow going.
It took us 4.5 hours to hike it plus another ½ hour for lunch at Lake Oesa.
Getting into Lake O'Hara is always an issue
You have to reserve a seat on a bus (see below). Most people come in for at least a night – to camp, stay at Lake O'Hara Lodge or at the Elizabeth Parker hut.
However it is possible to walk the 11 km up the road and do the hike. We met a couple who had done just that. Allow 2.5 – 3 hours to get to Lake O'Hara and 4 – 6 hours to hike the alpine circuit. Then you can take the bus back down – as reservations aren't required for that – just a fee. The buses leave at 2:30, 4:30 or 6:30 PM.
Planning the Lake O'Hara Alpine hike
Doing any hike at all in the Lake O'Hara region takes some planning. If you're planning to camp the following is important as the rules in 2020 changed.
Mark your calendars for February 3, 2022 beginning at 8:00 a.m. MST as all Lake O'Hara camping reservations are now offered on the Parks Canada Reservation Service. It's a first come, first served basis. Camping is possible from June 24 – October 1, 2022.
To access the reservation service click on this page.
The Parks Canada website also says you can call one of these two numbers. To save time they recommend creating an account beforehand. They do expect reservations to be booked completely on opening day.
1-877-RESERVE (1-877-737-3783).
International: 1-519-826-5391
How to get a seat on the bus to Lake O'Hara (no overnight)
As of 2020 the rules for booking buses have also changed in Yoho National Park.
To book a seat on the bus call the dedicated reservations line (250-343-6433). Reservations are taken up to three months in advance, but as numbers are limited, you will need to call exactly three months prior to get a seat; even then, call as early in the day as possible.
Click on this website for all the bus details.
Costs related to a trip to the Lake O'Hara area
Budget for the following in 2022:
$10.0o per person per night camping fee
$15.50 for a return bus ride, $7.75 for youth; $9.75 one way bus ride (kids are cheaper)
$10.50/adult per day National Park Pass fee, $9 per senior and youth are free
$11.50 reservation fee for camping and the bus
Make the effort to get to Lake O'Hara. Even if you don't do the alpine circuit there are enough hikes to keep all levels of hikers happy.
More Yoho National Parks that you should consider doing
Click on the photo to bookmark to your Pinterest boards.