If you're a log cabin fan then chances are you'll love the well-appointed Cathedral Mountain Lodge in British Columbia's Yoho National Park. The lodge is close to both Lake Louise in Banff National Park and the picturesque town of Field, BC.
Cathedral Mountain Lodge sits next to the glacier fed Kicking Horse River on a side road that takes you up to splendid Takakkaw Falls and one of the most scenic hikes in the Rockies – The Iceline Trail. It's a place meant for unwinding. Beautifully furnished cabins lend themselves to reading and relaxing. You won't find TV's or phones in the room and dial-up internet and daily newspapers are the closest thing you'll get to a daily news fix.
Updated May 2022. This post includes some affiliate links. If you make a purchase via one of these links, I may receive a small commission at no extra cost to you.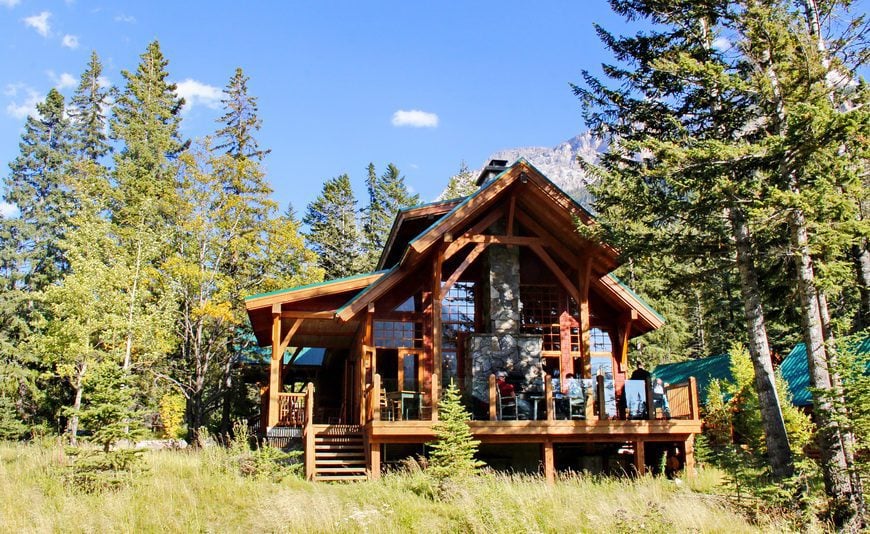 A birthday weekend at the lodge
Our two night stay last weekend was timed to coincide with my mother-in-law's 80th birthday. From the minute she got out of the car she couldn't stop oohing and awing about the fresh scent of the air, the beauty of the surrounding mountain peaks and the comfort of her room. In fact she would have been quite content if we'd just left her to her own devices and met up for meals.
Cathedral Mountain Lodge cabins
Our room for the weekend was a cabin with a queen bed and a loft – an upgrade from the deluxe queen room we'd booked – thank you!
The room had everything one would expect from a high end boutique style hotel; a stone fireplace with logs ready to be lit plus a back-up heating system for cold nights, a super comfortable mattress with a warm duvet and beautiful blankets, lights on both sides of the bed, nicely framed old photographs from the area, Aveda toiletries, a soaking tub, a mini fridge, wine glasses and ice bucket and reading chairs for lounging both inside and out.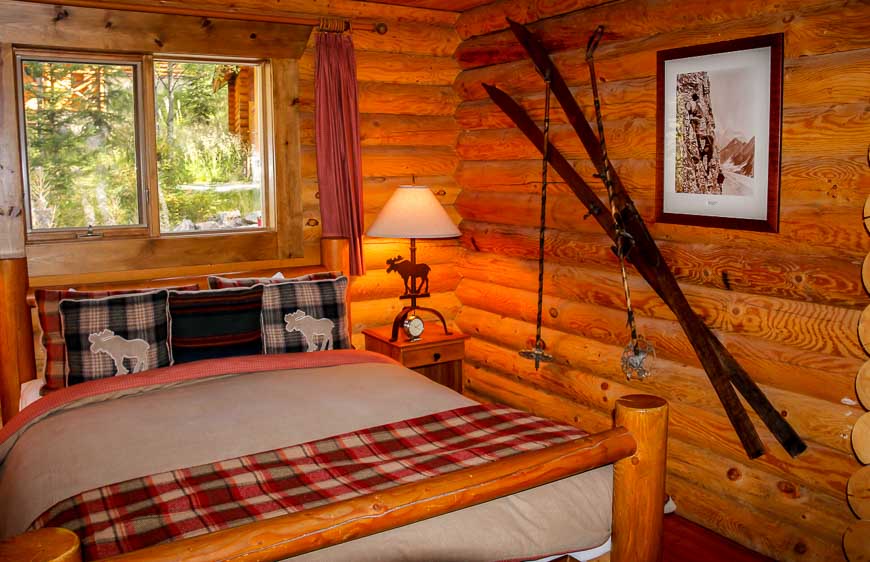 There were two beds in a loft accessed via a ladder and perfect for kids or teenagers. It wouldn't have been the place to plunk my mother-in-law.
The bathroom was spotless. I loved the tile work featuring animals you might see in the area.
Dining at the lodge
The dining room – great room combination featured a big, beautiful floor to ceiling stone fireplace. Really I could have spent hours in front of it curled up with a book and a glass of wine.
A complimentary breakfast was served every morning from 7 AM -10:30 AM. While we were there a big bowl of seasonal fruit with assorted berries and melons was offered along with granola and yogurt. Freshly baked muffins, Danishes and toast were also available as were eggs and bacon – all served up buffet style. Servers were around to keep your coffee cup filled.
Dinner is available here and reservations are a very good idea. The dining room serves meals between 5:30 PM and 9 PM. Reserve a window seat or one by the fireplace if you have the option.
On both evenings we thoroughly enjoyed our meals – especially the salads of the day (the warm salad was outstanding), the salmon and the sublime vegetable risotto. S'mores are served down on the beach every night though we didn't feel the need to eat another thing.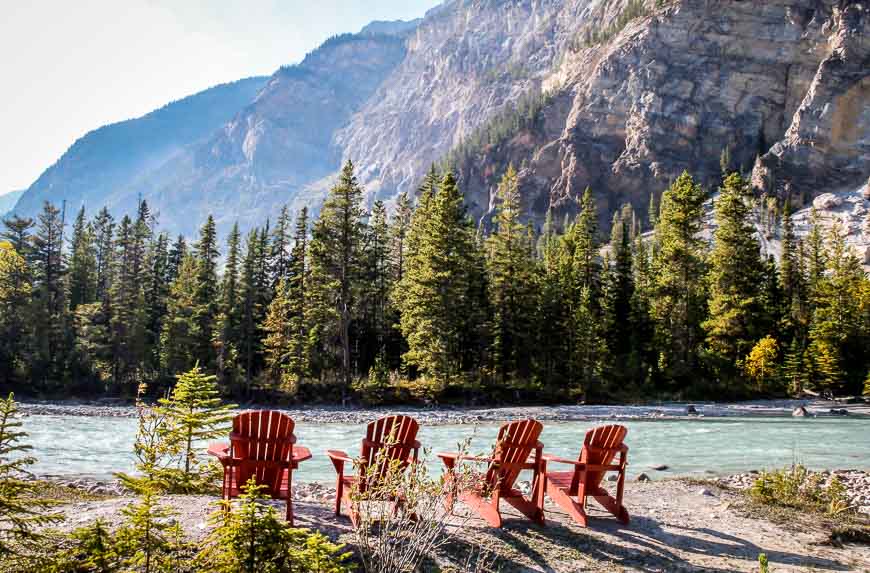 Service from the time we stepped up to the front desk at check-in until we left two days later was upbeat and helpful. Staff seems to have been carefully chosen for their excellent customer service skills.
The downside of a stay at the lodge
The only downside to staying at Cathedral Mountain Lodge is the road and railway noise – which unfortunately detracts a tad from the peacefulness of the area. It also tends to ebb and flow over the course of the day. The lack of high speed internet is another issue though it's certainly not a problem for everyone.
James, the manager explained to me that because of the lodge location at the base of very tall mountains the signal for the internet doesn't go through. Compound that with the fact that they are located in a National Park where repeaters aren't permitted and it's easy to understand why dial-up is the only option. Next year, as this is a seasonally run business (late May until late September) he says they have hopes for internet through cell service.
Would I stay at Cathedral Mountain Lodge again?
You bet. I loved the ambiance of the place and the fact that there's plenty to do nearby if you feel like it but if you don't then lazing by the fireplace or relaxing in the privacy of your cabin is a pretty nice way to spend a day.
More reading on places to stay in the Rockies
To book a stay click here. And for more information about the lodge check out their website.
Click on the photo to bookmark to your Pinterest boards.