If you're looking for unique places to stay in Alberta, check out the Charming Inns of Alberta – a collection of 12 distinctive properties covering a swath of the province from Jasper National Park in the north to Waterton Lakes National Park in the south. Choose from romantic small inns, log cabins, B&B's, boutique hotels, and even glamping tents in a world-class mountain setting. Most of these properties are family and pet-friendly. Many are locally owned and offer personalized service.
I first discovered the Charming Inns of Alberta in 2005. At the time I was living in Vancouver – and had a book in my possession called Distinguished Inns of America – which I used religiously while living in Boulder, Colorado. I was looking for something similar in Canada and after a few minutes online with Google I found the charming inns – albeit a smaller collection of properties back in those days. I recently revisited A Bear and Bison Inn, 15 years after my first visit! And I have been to more than half of these inns so I do speak from experience.
Location map of the Charming Inns of Alberta
This post includes some affiliate links. If you make a purchase via one of these links, I will receive a small commission at no extra cost to you. Thank you very much for your support.
Need a gift?
For those of you needing a gift – whether for the holidays, an anniversary or birthday present, consider a Charming Inns of Alberta gift card – so the recipient can enjoy one or more of the 12 getaway options. Its perfect for people who prefer experiences over stuff.
Here's a look at the diversity of properties and experiences you can expect across Alberta.
Charming Inns of Alberta – Baker Creek by Basecamp in the Rocky Mountains
I don't know how many times I have driven past Baker Creek by Basecamp on Highway 1A in Banff National Park – but it's a big number. And yet the property located along Baker Creek is large – and unmissable so just call me clueless.
John and I enjoyed a night in the main lodge in a room called the deluxe loft Jacuzzi suite. It was a two story affair with the queen bed on the upper floor. The main floor had a nice sitting area and a small kitchenette along with a bathroom and another room with a double bed. There was also a wood-burning fireplace. Upstairs there was a second bathroom, and instead of a shower there was a large Jacuzzi tub.
Two doors opened off the main floor to private decks, one with a small barbecue and swinging chair – and the other to a couple of Adirondack chairs. Both had a view of the creek and some of the log cabins scattered throughout the woods.
We enjoyed a very friendly and comfortable stay which started at check-in when we were handed a bag of freshly ground coffee for the following morning. The resort is in an awesome location, just a short drive to Lake Louise (go early to get parking!!) and Johnston Canyon. There is loads of world-class hiking and biking nearby – all nicely detailed in a thick book that comes with each room.
Another highlight of the property are the red chairs and the fire-pits along Baker Creek. They are perfect for groups – and all are far enough apart to offer privacy.
This is one of the properties that has an onsite bistro. We had an appetizer along with their amazing bread, a generous main course and dessert. All were excellent. The wait staff also get top marks for being very friendly.
You can book a stay at Baker Creek by Basecamp here.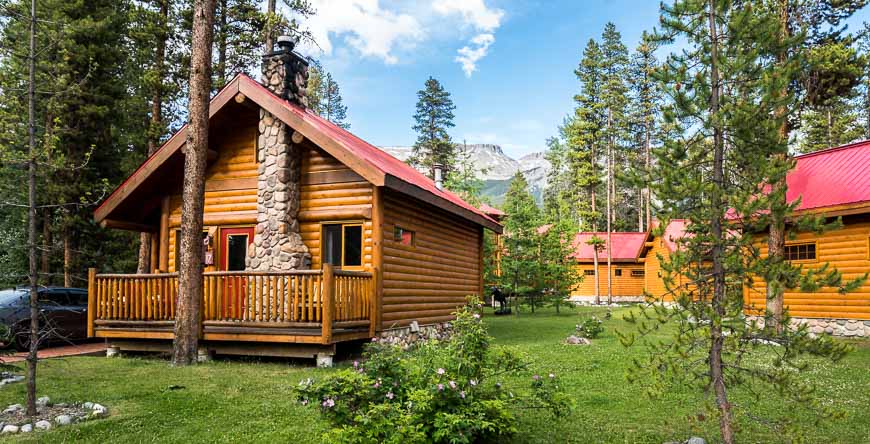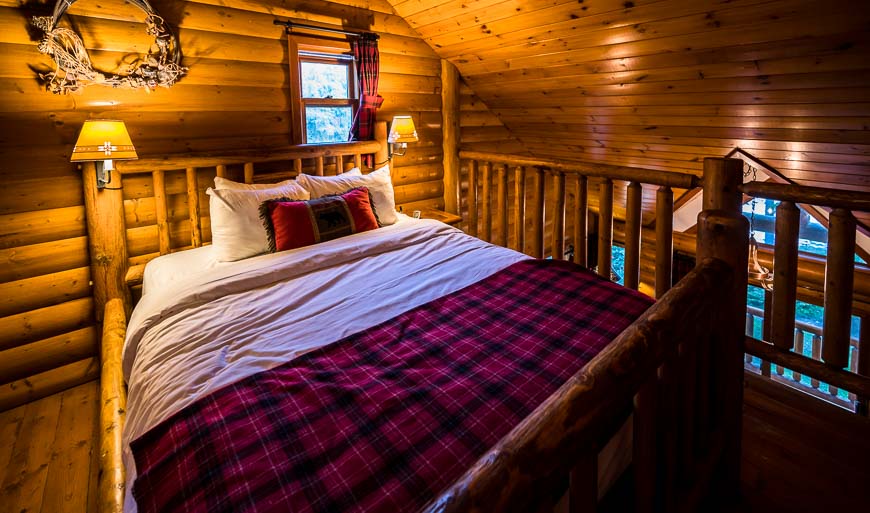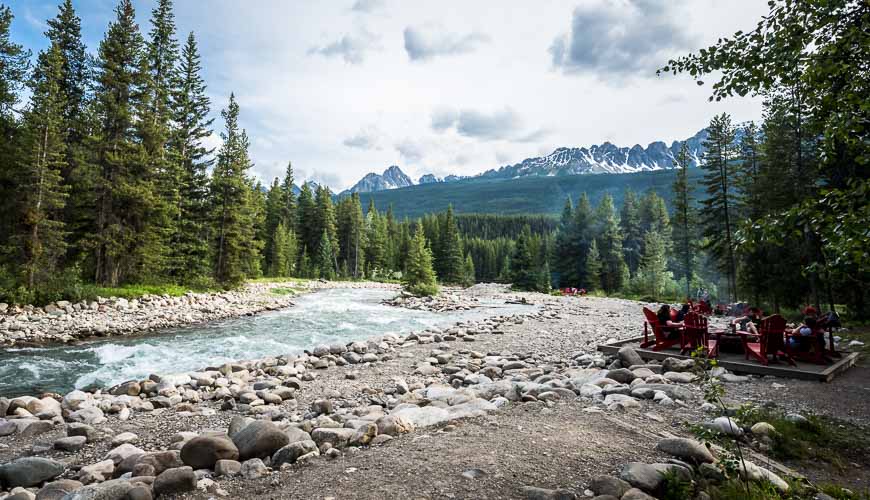 Juniper Hotel – One of the Charming Inns of Alberta in Banff National Park
You've probably see the Juniper Hotel when you've driven the Trans-Canada Highway in the Banff area. What you can't appreciate from the highway is just what a scenic location they enjoy – with in your face Mt. Rundle views for all the mountain-facing rooms and a high chance of seeing wildlife from the forest facing rooms.
The Juniper Hotel is just off the road to Mount Norquay, but it feels like a world away from Banff. You can expect clean and comfortable bedrooms boasting a king bed in our case with reading lights and night stands on both sides of the bed, a TV, a couple of chairs, and a table. Wine glasses and coffee making supplies are provided. There's an updated bathroom, and a couple of chairs immediately outside so you can relax with a view and watch the light change on Mt. Rundle. On the mountain side, there are also picnic tables.
Just down the hall from the bedrooms is the fabulous Juniper Bistro and Lounge. Enjoy world-class views from big plate-glass windows as you dine on scrumptious food from an inventive menu. I had roast organic chicken with succotash, roast fennel, homemade gnocchi, and smoked crema that was positively divine. A large portion of decadent smoked maple crème brulee was desert. Was I ever thankful I had planned a full day of cross-country skiing the next day nearby on the Cascade Fire Road.
If you time it right, you can enjoy the fire pit outside, perhaps after a day of skiing with a hot toddy in hand. Skiers should note that you can get 15% off midweek from 8 AM -12:45 PM by showing your ski ticket or seasons pass for @SkiBig3.
Check rates and availability and book a stay at the Juniper Hotel here.
Mount Engadine Lodge – One of the Charming Inns of Alberta in Kananaskis Country
It's no secret that Mount Engadine Lodge is one of my favourite places to stay in Canada (not just in Alberta) – whether it be in one of their cabins or glamping tents. The lodge is located in Kananaskis Country – about a 40 minute drive from Canmore, via a bumpy, dirt road.
Once at the lodge, you needn't get in your car. There is a terrific amount of hiking, snowshoeing and cross-country skiing right from the front door, though there are even more options if you're willing to drive 10 – 30 minutes.
Meals and an afternoon tea come with your room. Before COVID, everything was served family-style but now you have the option of dining in your room or at well-separated tables with a view over the meadow where moose are often sighted in the fall. For a full report on what it's like at the lodge read – The Glamping Experience at Mount Engadine Lodge.
Book a hotel stay here.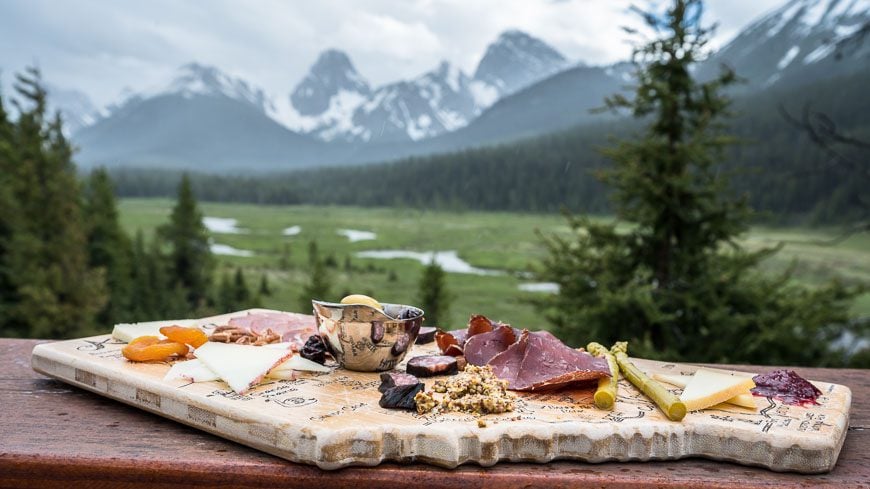 The Prairie Creek Inn, Rocky Mountain House
The Prairie Creek Inn is a treasure – and it certainly lives up to the Charming Inns of Alberta name. Rooms are incredibly well-appointed with loads of thoughtful touches. There is always convenient access to a cookie jar with freshly baked cookies.
This is a romantic inn – perfect for couples wanting to recharge and relax. Rooms invite you to sit back with a good book or do nothing at all. However, with its location just outside of Rocky Mountain House, you will find lots to explore – whether it be the David Thompson Highway, Crimson Lake Provincial Park or Rocky Mountain House National Historic Site.
They too have an onsite restaurant serving excellent breakfasts (included with the room) and the option of booking a dinner. We have eaten here on several occasions and have always thoroughly enjoyed the meals.
Read: A Fun Weekend in Rocky Mountain House, Alberta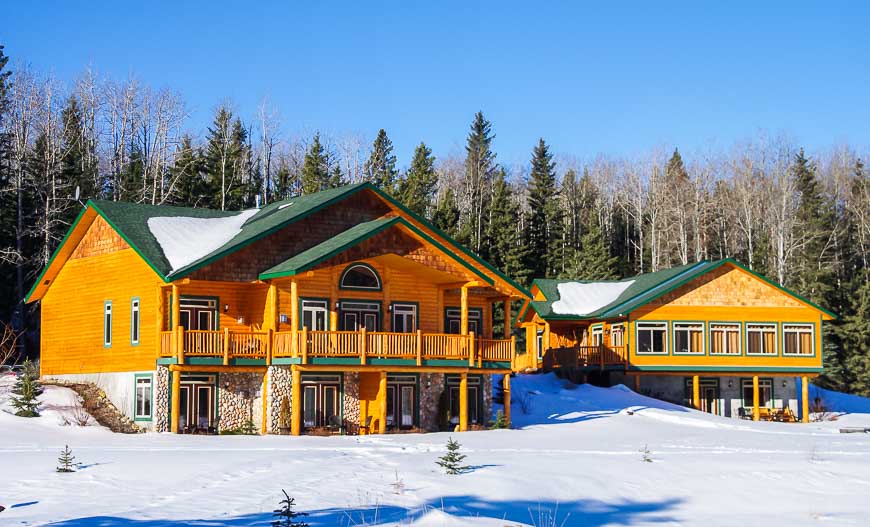 Heartwood Inn & Spa in Drumheller
If you're heading to Drumheller to get your fill of all things dinosaurs – whether it be a trip to the world-class Royal Tyrrell Museum or biking the Dinosaur Trail, you would do well to choose the Heartwood Inn & Spa. It's conveniently located close to downtown – so almost all the sights in the area are just a short drive away.
The room I had was large and comfortable, with a nice seating area. Outside you can take advantage of their garden and relax in the company of dinosaurs. If you need any ideas for things to do you'll find Zeke to be a fountain of knowledge.
The owners are famous for their breakfasts here – serving a French toast that is reportedly to die for. When I visited their wasn't French toast on the menu breakfast but the fresh fruit and stollen was delicious.
Book a hotel stay right here at the Heartwood Inn and Spa.
Read: 15 Things to Do in Drumheller, Alberta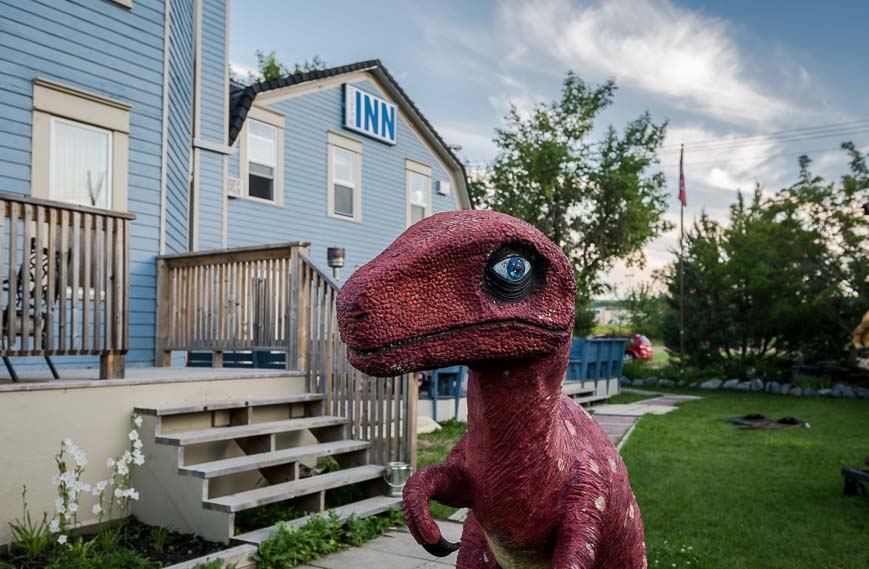 Crandell Mountain Lodge in Waterton Lakes National Park
Drive into Waterton Village in the national park and you're sure to pass Crandell Mountain Lodge, originally built in 1940. The lodge is a homey, country inn boasting 17 rooms, some with kitchenettes. Suites have gas fireplaces and one room has a two person jetted tub. Rooms are described as being cozy and comfortable. Pets are not allowed here.
I have never stayed at the lodge but understand you get freshly baked cookies at check-in – always a bonus in my books. Crandell Mountain Lodge is one of the lodges that is only open seasonally – from May until October.
You can book a stay at the Crandell Mountain Lodge right here.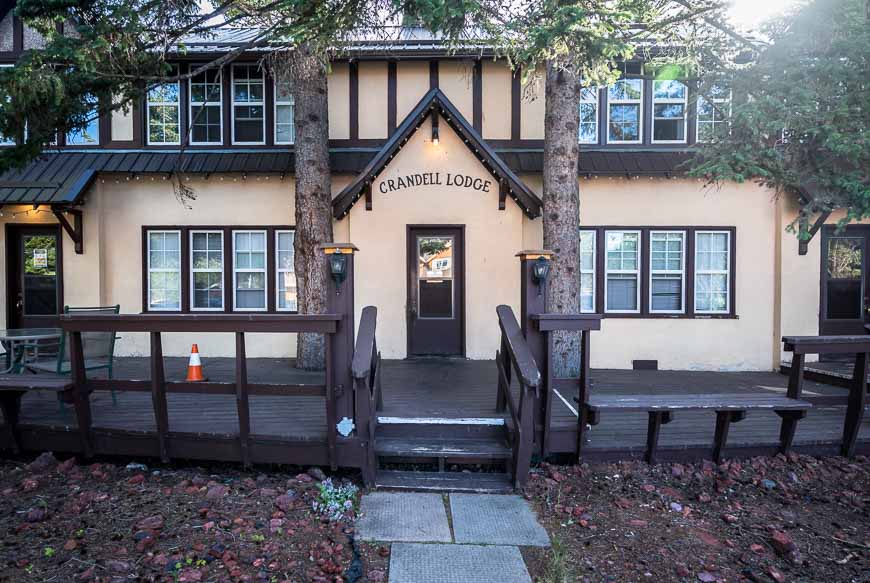 Kilmorey Lodge, Waterton Lakes National Park
In 2009, the Kilmorey Lodge was lost to a fire. But the lodge was rebuilt on the shore of Waterton's Emerald Bay. The new lodge is home to 18 rooms over two floors, a restaurant and pub in a style that "resurrects its heritage paired with modern finishing."
It features a 60 seat restaurant and lounge. I have heard great things about the previous lodge so look forward to experiencing this one in the not-too-distant future.
Charming Inns of Alberta – The Overlander Mountain Lodge in East Jasper
Several years John and I stayed at the Overlander Mountain Lodge – on our own accord – while we did the Maligne Canyon Ice Walk along with some other early spring exploring in Jasper National Park. For people who don't mind the 30 -40 minute scenic drive into Jasper, the lodge is a great choice. It's also reasonably close to Miette Hot Springs – a must do in the summer when it's open.
Overlander Lodge offers the choice of a mix of rooms with a gorgeous view into Jasper National Park or six unique chalets, all fully equipped including a gas fireplace and gas BBQ. Rooms are simple but tastefully done. There's a cozy lounge with a lovely fireplace that invites you to relax.
Onsite look for a dining room featuring a breakfast buffet in the morning and an evening dinner. Reportedly their wine list received the prestigious Wine Spectator Award of Excellence for one of the most outstanding wine lists in the world. So enjoy that bottle of wine with a view.
If you choose not to go into Jasper everyday you'll find plenty of exploring to do in some of the provincial parks in the Hinton area.
Book a stay at the Overlander Lodge here.
Read: 4 Great Alternatives to Jasper National Park
The Crossing at Ghost River in Cochrane
Located about a 20 minute drive northwest of Cochrane, The Crossing at Ghost River offers a 145 acre property immersed in nature on the banks of the Ghost River. Two colonial style buildings house 27 well-appointed, classy looking guest rooms furnished with antiques. While you won't find TV's in the rooms, you will find fire pits down by the river and plenty of rejuvenating outdoor spaces.
The Crossing offers corporate and wellness retreats and hosts many a wedding or special event. Their open kitchen provides some seriously good food where third servings are a consideration. As of 2021, they are now able to host individuals and couples.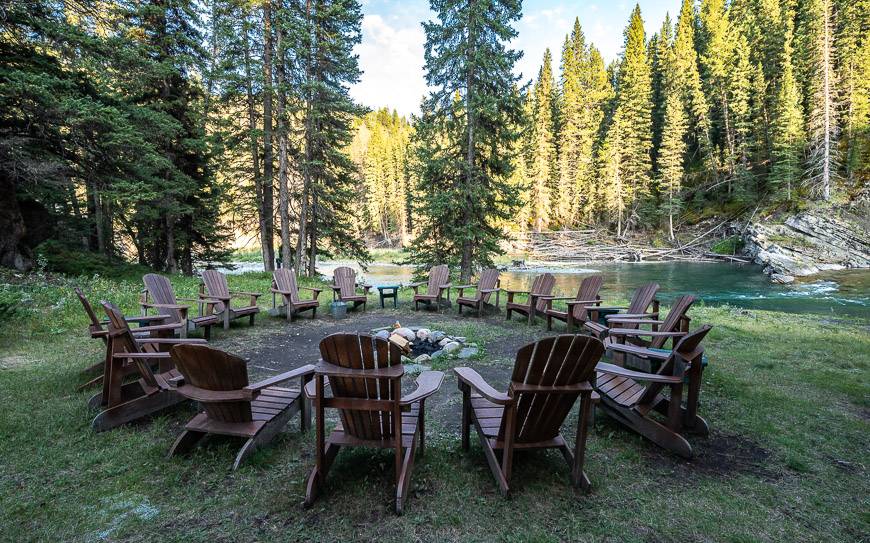 Riverside Chateau, Bragg Creek
If you're looking for an adults only experience surrounded by nature just 35 minutes from Calgary, you would do well to visit the Riverside Chateau in Bragg Creek. It's the only Canada Select certified 5 Star Accommodation & Retreat in the immediate area.
Look for en-suites featuring original furniture pieces that once decorated the Fairmont Chateau Lake Louise & Banff Spring Hotel rooms. High thread-count sheets add to the luxurious experience. Twelve guests can be accommodated at a time.
The lodge offers European style hospitality that includes breakfast. No dinners are served though that is not a hardship with at least five restaurants in close proximity. And as someone who visits the Bragg Creek area on a year-round basis, I can tell you that there is so much do outdoors in the area whether it be hiking, mountain or road biking, snowshoeing or cross-country skiing. What a great part of Alberta to visit, relax and enjoy the outdoors for a few days.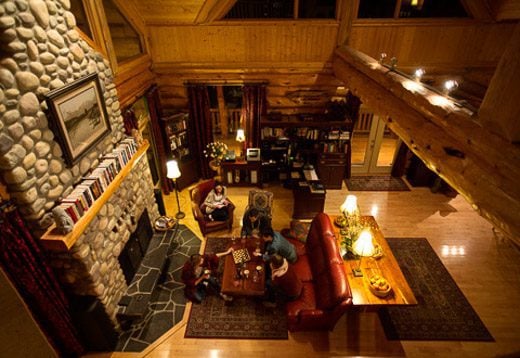 Georgetown Inn, Canmore
The Georgetown Inn in Canmore, in business since 1993, offers 20 unique guest rooms decorated with antique furnishings. Inside the classic Tudor style building, you'll find all rooms have fireplaces and some boast jetted tubs. On arrival look for a brimming tea tray along with some tasty treats.
Wander downstairs to the dining room for breakfast and you may feel like you've time traveled to an English Country Pub. Its reportedly the place to go to in Canmore if you need a fish and chips fix.
This is a dog-friendly property!
You can book a stay at the Georgetown Inn here.
Charming Inns of Alberta – A Bear and Bison Inn in Canmore
I have had the pleasure of staying at A Bear and Bison Inn on two occasions – once in 2005 and again in 2020. The owners are the same and so is the attention to detail.
On both occasions John and I enjoyed a large bedroom on the lower level that walked out on grade to a private seating area in the garden with views of the Three Sisters. If COVID wasn't around we could have lounged in the large hot tub, or eaten a fantastic breakfast on the main floor that boasts comfy furnishing and a great view.
I love the flower-filled entrance and the warm greeting upon arrival. This is the kind of inn where you might just want to cozy up with your significant other and not leave the room. However, practically out the front door are an amazing number of hiking trails – with these 9 trails offering both a workout and a view.
Book a stay at the lovely Bear and Bison Inn here.
Which one of these Charming Inns of Alberta would you most like to visit?
Visit their website for more information.
Thank you to four of these Charming Inns of Alberta for hosting me. All thoughts and opinions as always are mine and mine alone.
Click on the photo to bookmark to your Pinterest boards.