If you're looking for an early season backpacking trip in Banff National Park, you'd do well to choose the Glacier Lake hike. On a scale of difficulty, it's a mellow one and a great choice for families with kids that are about 8 and older.
In early summer, when so many other trails are buried under a metre or two of snow, it's a real treat to be out stretching your legs and getting in shape for harder hikes. Don't feel like you're settling for this hike when you book a campsite at Glacier Lake in Banff National Park as the lake itself is a turquoise beauty – and there is plenty of interest along the way.
This post includes some affiliate links. If you make a qualifying purchase through one of these links, I will receive a small percentage of the sale at no extra cost to you. Thank you very much for your support.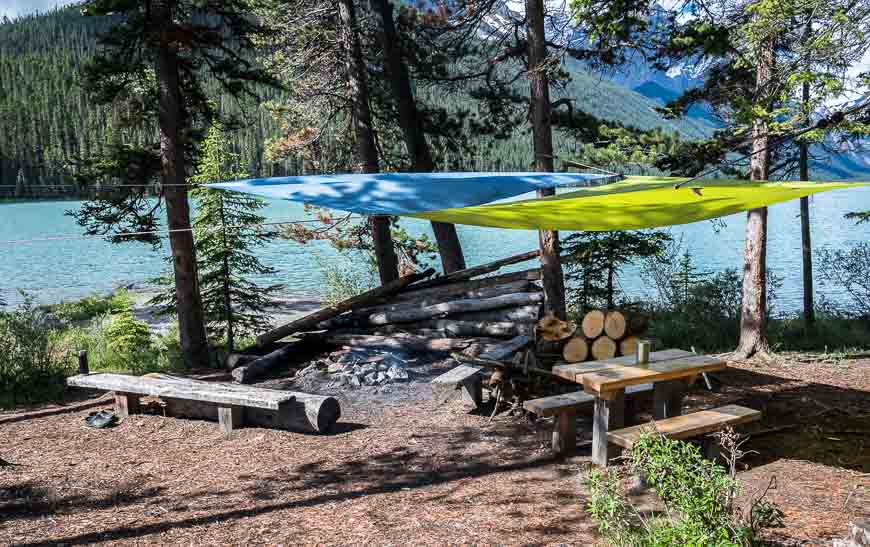 Glacier Lake hike in Banff National Park summary
Distance: 9 km (5.6 miles) one way.
Elevation gain: 475 m or 1,558 feet
Difficulty: Easy as a backpack and moderate as a day hike.
Best time to go: Mid-late June till late September or whenever the snow flies.
Dogs allowed: Yes, on a leash.
Map: Gem Trek Bow Lake & Saskatchewan Crossing
Permits: You need a park pass to drive in Banff National Park. They can be purchased at the gate, in the town of Banff, at the entrance to the Icefields Parkway and online.
Campsite reservations: You must reserve campsites, if you're planning to camp. You can do that online here. Note reservations open on January 29, 2024 at 8AM MST.
Bears: I have heard about a lot of bear sightings on this hike. Be prepared and carry a can of bear spray that is accessible. Keep it in a bear spray holster, so you don't set it off accidentally, which happens a lot. You can rent bear spray in Lake Louise at Wilson Mountain Sports in the Samson Mall. Bear spray usually costs between $40 and $50 a can and cannot be taken on planes.
Didn't get the campsite reservation you were looking for? Don't give up. Be the first to know when there is a campsite cancellation for your desired trip dates by visiting Schnerp.
Glacier Lake hike trailhead location in Banff National Park
Drive the Icefields Parkway 1 km north from where the David Thompson Highway intersects Saskatchewan River Crossing. You'll see signage on the Icefields Parkway pointing you to the Glacier Lake trailhead parking area on the southwest side of the highway.
If you are coming from Jasper, drive 150 km southeast on the Icefields Parkway to reach the trailhead. There's lots of parking.
Location map of the Glacier Lake hike
Glacier Lake hike route description
The chances of getting lost on the out and back hike to Glacier Lake in Banff National Park are slim.
Walk across the parking lot to reach the obvious trail sign. Follow the wide trail through lodgepole pine forest – apparently the outcome of a 1940 forest fire. Be on the lookout for ruffed grouse in the first kilometre. We saw one with chicks further on in the hike.
There is a small side trail that comes in from the left after about 10 minutes. Stay right heading down towards the bridge over the North Saskatchewan River at 1.1 km. We were here in late June so the water was roaring beneath us.
At 2.2 km arrive at the Howse River Overlook. There are a couple of red chairs so it's a good place to stop, drink some water and enjoy the view. It's also got a bit of history associated with it. David Thompson, a surveyor, explorer, and fur trader camped here back in 1807.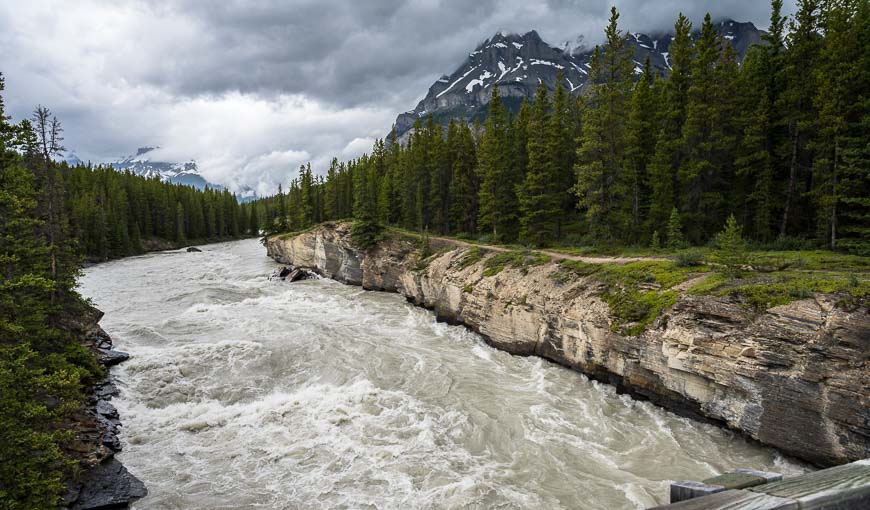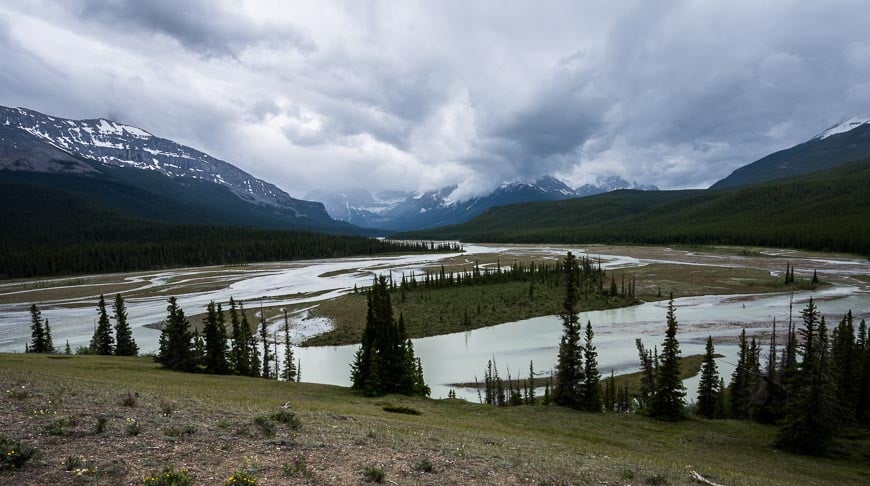 From the overlook descend west (right) on the silty trail down to the north bank of the braided Howse River. You'll follow the trail within sight of the Howse River for a good 15 – 20 minutes. There are some nice peek-a-boo views.
Then you're off into the forest, with nary a view to be found. Cross six bridges – some freshly built, climbing to the high point on the trail at 1680 m at the 6.4 km mark.
Keep an eye out for bears along the length of the trail, especially in the summer when large patches of buffaloberries and bearberries make an appearance. We didn't so much as see bear scat but we're always hyper-aware and never leave home without our bear spray.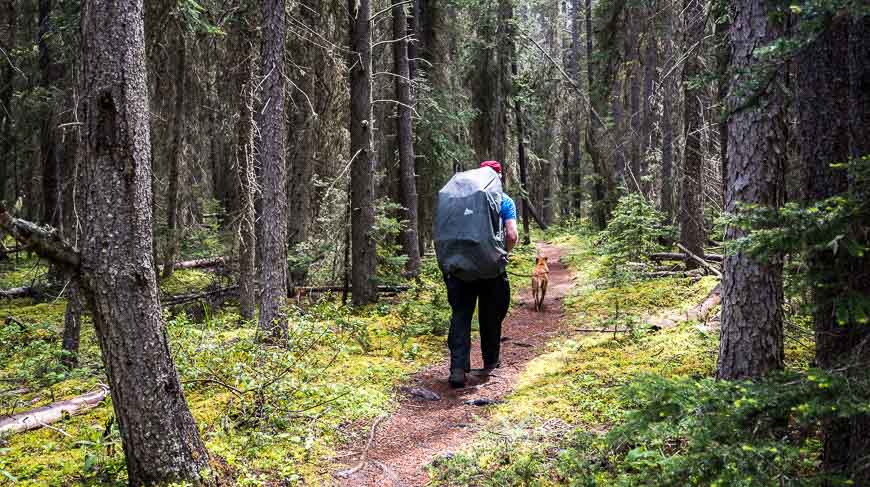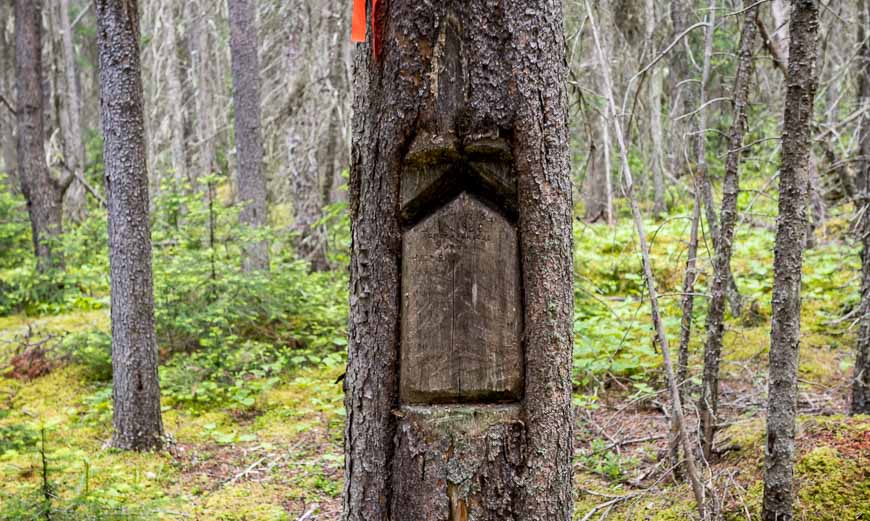 The 2.6 km descent to Glacier Lake is easy. In short order (25 – 40 minutes) you'll arrive at the lake. Glacier Lake is the fourth largest lake in the park, measuring 4.5 km long by 1 km wide. The views of the Southeast Lyell Glacier at the far end of the lake are pretty sweet too.
If you're a fast hiker without a backpack, you could reach Glacier Lake in two hours from the trailhead. Add another 30 – 60 minutes if you're taking your time with a fully-loaded backpack.
When you reach Glacier Lake, turn left. Walk about 200 m along the lakeshore to arrive at the Glacier Lake Campground (GL9).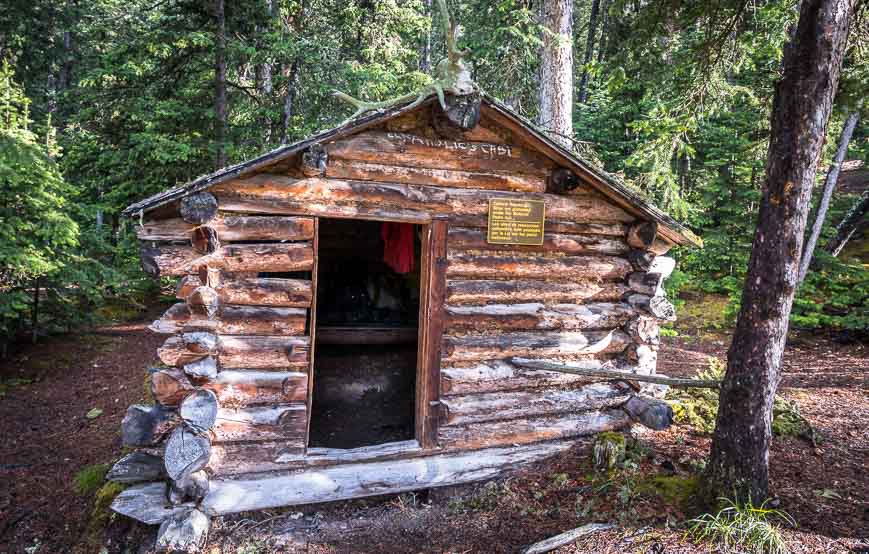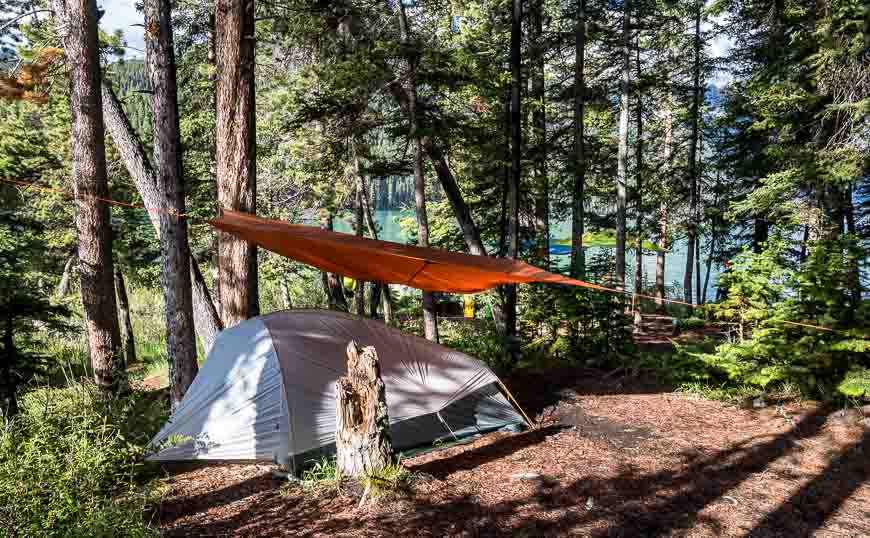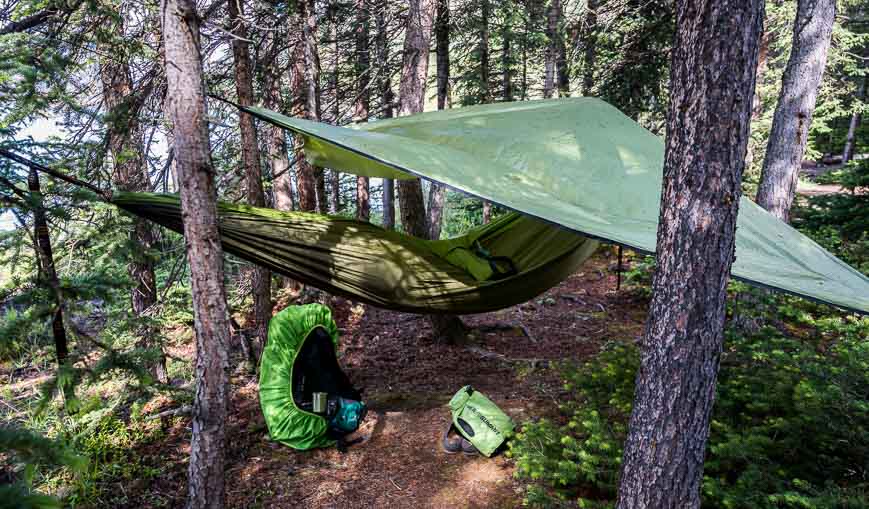 Glacier Lake campground
You'll find poles for hanging your food so don't forget a waterproof bag to stuff your food in and a carabiner. There is a privy, an old cabin from fur-trading days, a communal fire pit (you're supposed to bring your own wood but there seemed to be quite a stack) and several picnic tables.
There are no tent pads or platforms per se, so just look around and find some flat ground on the forest floor. There are five campsites and one tent is allowed per campsite.
If you arrive at the campsite and it's empty, head over towards the old cabin and nab the campsite shown two photos above – as you'll get the morning sun. The maximum stay here is three nights. Most people just spend one night.
When we arrived, there was a big group of old high-school friends who had commandeered a prime location with the communal fire pit. If it was really cold we might have asked to join them. Instead we found a private spot on a beach with a view where we enjoyed a glass of wine with dinner a few hours later.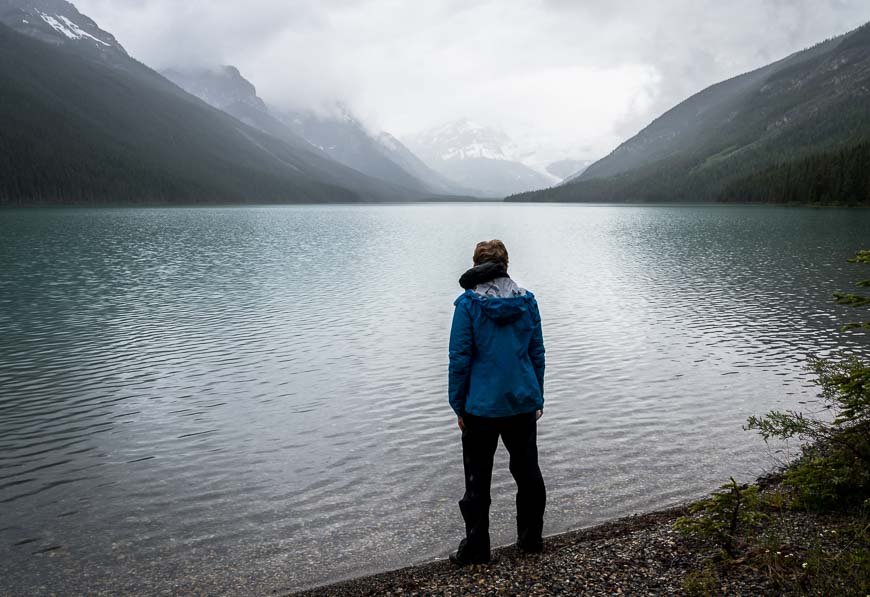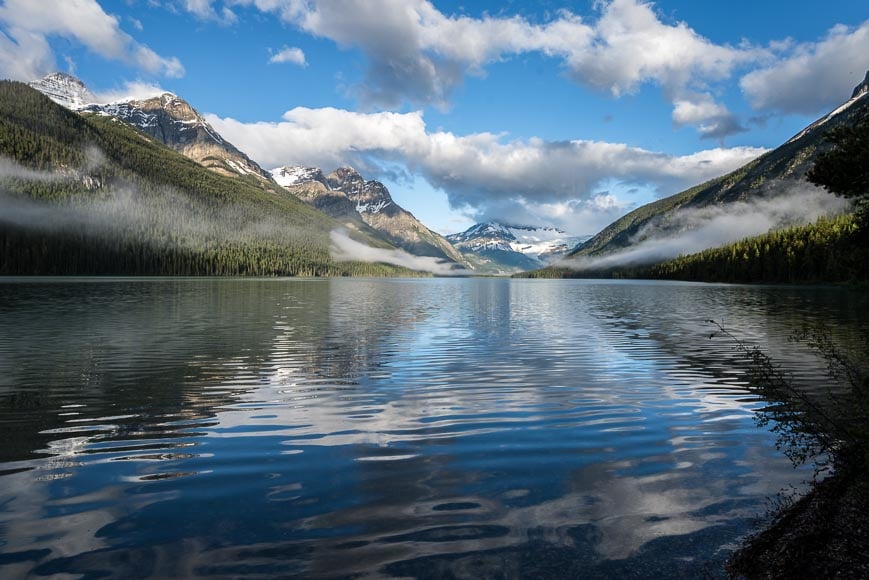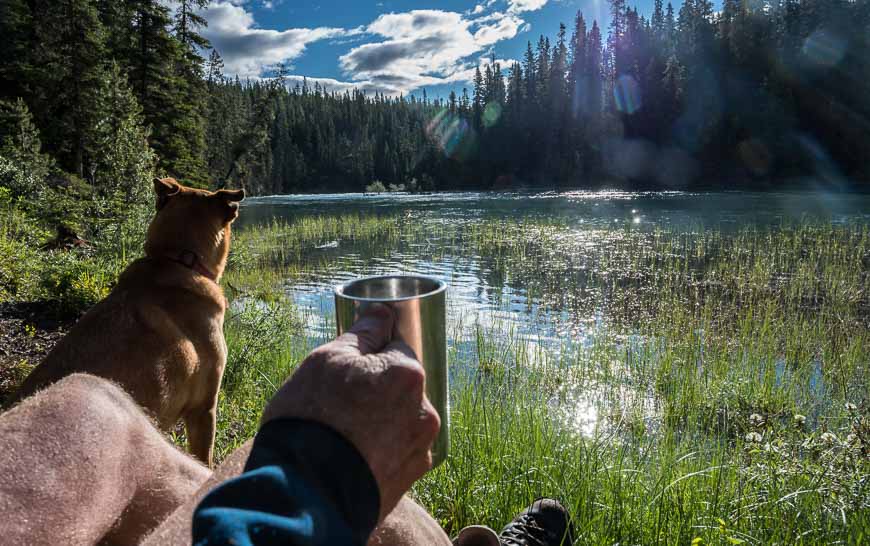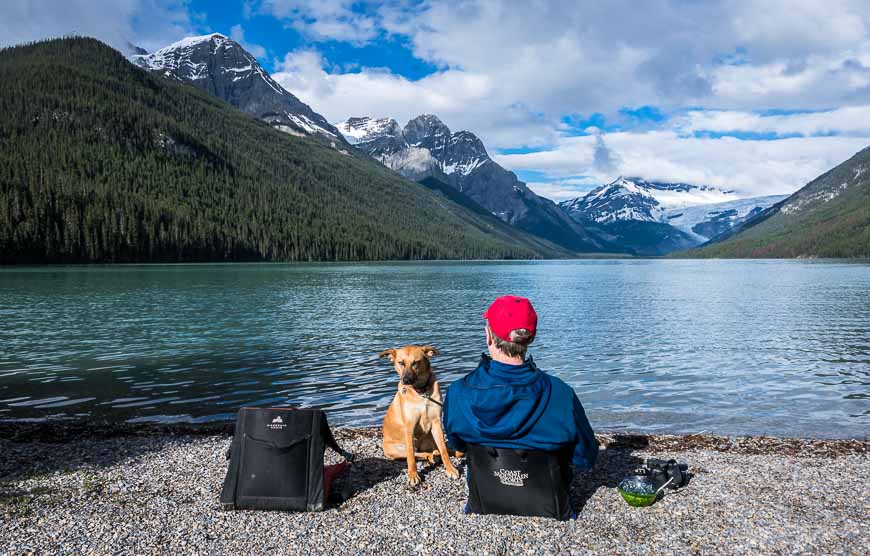 Side-trips possible from the Glacier Lake campground
The high-school friends had booked into the campsite for three nights. Their intention was to spend one full day hiking to the toe of the Southeast Lyell Glacier, a further 11.5 kilometres away on what I understand is a faint trail at times. I don't know if they were successful but it sounds like a very worthy goal.
Be sure to take a good map with you. At the very least you could walk at least 3 kilometres on a trail down the lake.
Their other goal was a climb of nearby Sullivan Peak. We left before they set off so again I don't know if they summited. At least there are a couple of interesting options for day trips for adventurous hikers from the campsite.
On this hike we saw loads of wildflowers – so if that is something of interest pick up a lightweight, totally portable copy of Popular Wildflowers of Alberta.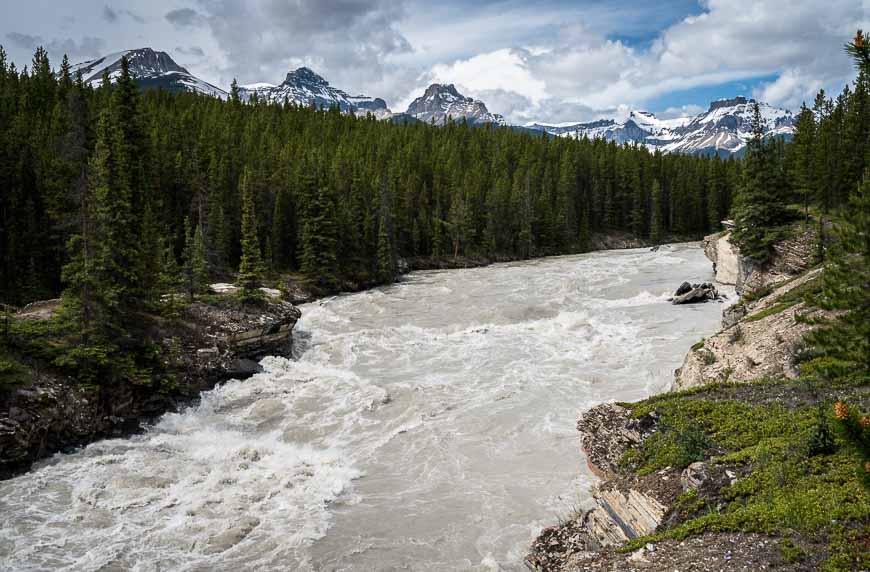 Where to stay before or after the Glacier Lake hike in Banff
Lake Louise is a good place to spend the night before your backpacking trip though there are also hosteling and camping options along the Icefields Parkway. You might want to check out the Mosquito Creek Hotel or the Lake Louise Alpine Centre.
There are also a couple of hotels in the Lake Louise Village area including the Lake Louise Inn and the Mountaineer Lodge.
More ideas for backpacking trips in Banff and Jasper National Parks
Click on the photo to bookmark to your Pinterest boards.