The Skyline Trail hike in Jasper National Park rewards you with incomparable mountain views for 25 kilometres, almost two thirds of its 44.5 km length. This is a world class hike that ranks in the top 10 hiking trips in Canada – at least in my experience. It rewards with fantastic mountain panoramas, beautiful valleys and a few lakes.
The Skyline Trail hike in Jasper shouldn't be missed if you're in the Alberta Rockies. But the season for hiking the Skyline Trail is short. Don't even think of reserving campsites until late July after the snow has disappeared from The Notch. And by the end of September – in a good year – the season is over. Backcountry campsite reservations open March 20, 2023 at 8 AM MST.
Skyline Trail hike summary
Distance: 44.5 km (27.7 miles) one way to hike the full Skyline Trail. Plan to do the hike with a shuttle.
Elevation gain: Over the length of the Skyline trail, gain 1,205 metres (3,952 feet) and lose 1,735 m (5,690 feet), assuming a start at the trailhead across from the northern end of Maligne Lake.
Time needed: One – but only if you're a crazy runner up to four days. Most people hike it in three days.
Level of difficulty: Moderate
Best time to hike: Mid to late July until mid-late September depending on the year.
Dogs allowed: No, because of caribou
Map: Gem Trek Jasper & Maligne Lake
Don't forget: Carry bear spray and the 10 hiking essentials
Weather: Expect any type of weather on this hike from sunny, hot days to rain and snow. Warm clothes and rain gear are a must.
Peak bagging: Interested in climbing six summits along the trail, something most people don't? Check out this Skyline six pack blog from Parry Loeffler documented with GPX's and how to information.
Plan to finish the hike at the Signal Mountain Trailhead near Maligne Canyon. This is where you would leave a vehicle.
There is the option to stay at Shovel Pass Lodge.
Reserve campsites on the trail the minute reservations open – and that day varies from year to year. In 2023, it's March 20. If you've missed out, check Schnerp – a website designed by an Alberta man that scans for unreserved campsites on the Parks Canada website. It costs you nothing.
This post includes some affiliate links. If you make a purchase via one of these links, I may receive a small commission at no extra cost to you. Thank you very much for your support.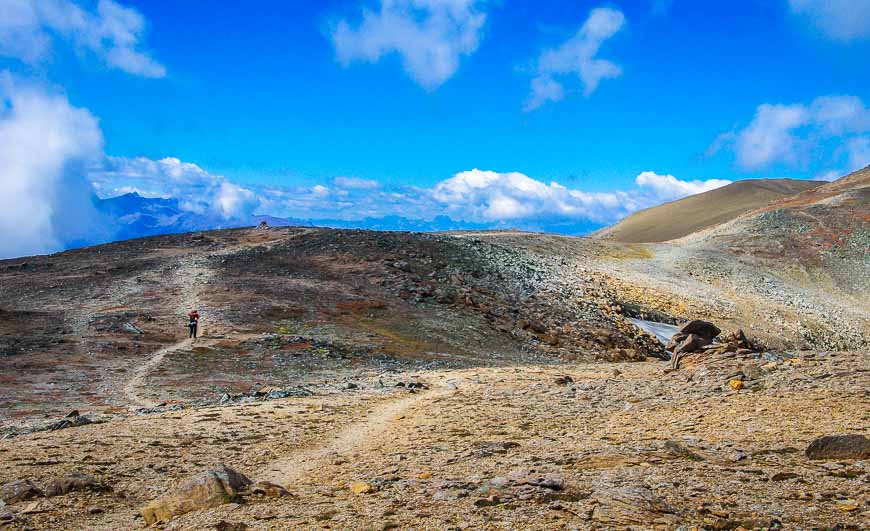 Campsites on the Skyline Trail
The following are all the campsites on the Skyline Trail, with distances starting from the trailhead near Maligne Lake. All have bear poles and toilets – so don't forget a length of rope, and a carabiner or two to hang your food.
Evelyn Creek campground – 5.2 km (good if you have a late start; small pretty campsite by a creek)
Little Shovel campground – 8.5 km (offers excellent views of Maligne Lake and Bald Hills without the crowds of Snowbowl)
Snowbowl campground – 12.2 km ( a popular campsite, close to some pretty meadows)
Curator campground – 20.6 km via a 0.8 km side trail (good for those of you planning to hike the Skyline Trail in 2 days)
Tekarra campground – 30.5 km (a pretty campsite with views beside a large creek)
Signal campground – 36.1 km (one of the quieter campsites at the top of Signal Fire Road – offering excellent views of Jasper)
Reach your waiting car on Maligne Lake Road at the Signal Mountain trailhead at 44.5 km.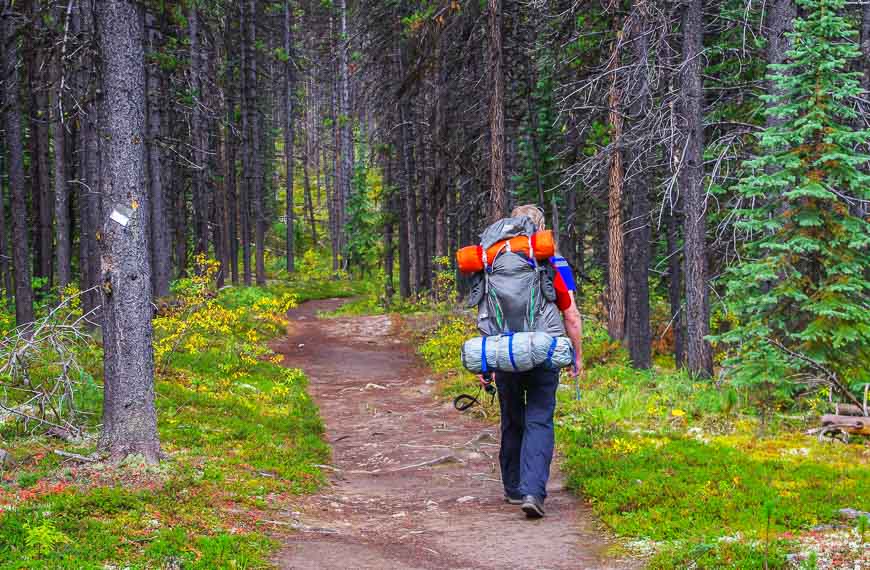 Location map of the Skyline Trail hike
Our Skyline Trail hike experience
What this trail delivers that most don't is expansive mountain scenery above tree line for almost 25 kilometres. And if you start at the Maligne Lake trailhead, then the total elevation gain over the length of the trip is 1205 m (3,953 feet), a tolerable amount of climbing over just two to three days.
If you want to make the hike tougher (and who wants to do that?) start at the Signal Mountain Trailhead closer to the Jasper townsite and add 530 m (1,738 feet) more to the elevation gain. Much of that is on an uninteresting fire road.
We did this hike over three days in early September. We were extremely lucky to get the campsites we wanted at the last minute. Most people book months ahead of time and it was only by pestering the staff in Jasper National Park every day that I snagged a cancellation.
As soon as I had confirmed campsites I booked a one way shuttle for $35 pp + taxes (one way) with Maligne Shuttle. They pick you up at 9:15 AM SHARP at the finish point – Signal Mountain Trailhead – and deliver you to the start of the trail at Maligne Lake. You hike back to your car via the Skyline Trail. You could try hitching a ride at the end of the hike but to me it was worth the money to have our car waiting for us when we finished.
If you don't have a car, you can take the shuttle service from downtown Jasper.
The hike to Snowbowl Campground
You won't be huffing and puffing when you start up the trail. The ascent is gradual and in less than half an hour you reach Lorraine and Mona Lakes. The trail along the way is quite beautiful as it's lined with an array of lichens, mosses, and mushrooms.
Within 90 minutes we arrived at the first campsite – Evelyn Creek at the 5.2 km mark. It's a beautiful one and not very heavily used but our goal was Snowbowl Campground – 12.2 km in from the trailhead.
If you're going to backpack the trail over three days, then Snowbowl is a good choice for the first night from a distance perspective though it's seen a lot of wear.
Just after you hike past Little Shovel Campground at 8.3 km, the trail heads onto the alpine tundra. In early fall the colours are already starting. From here through to the Snowbowl Campground the views are splendid.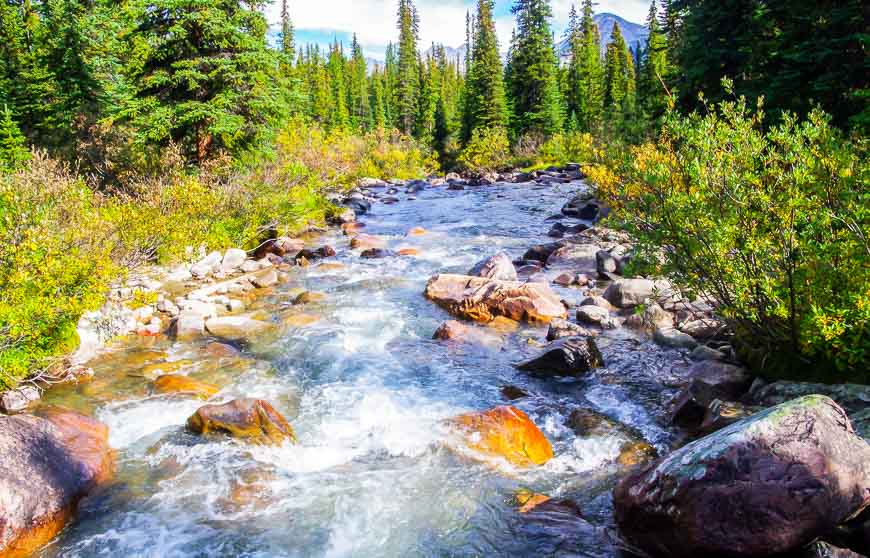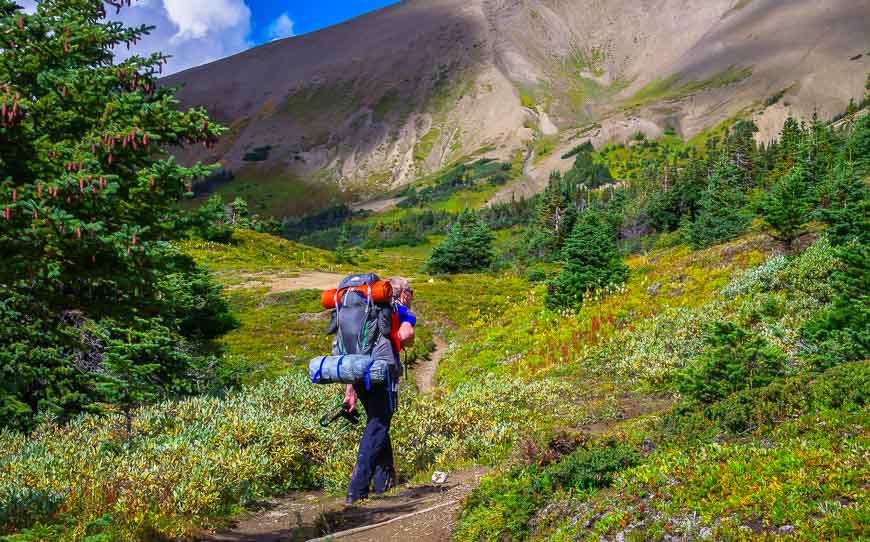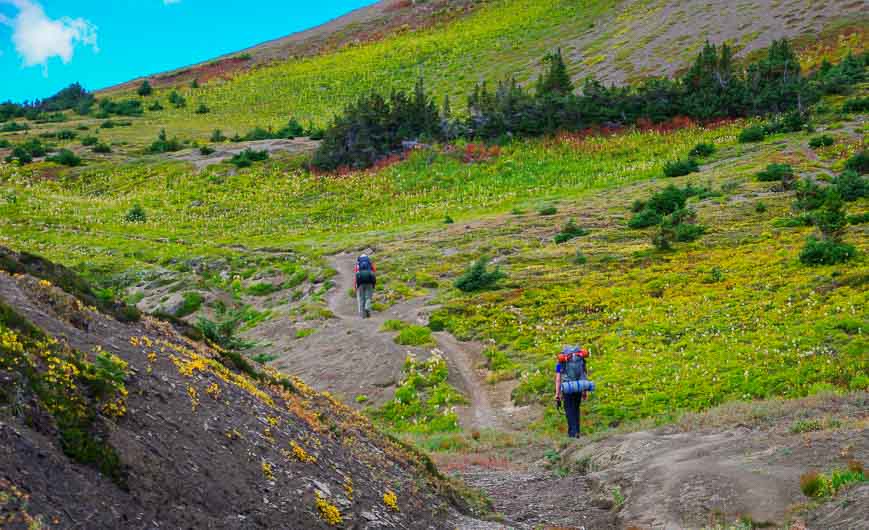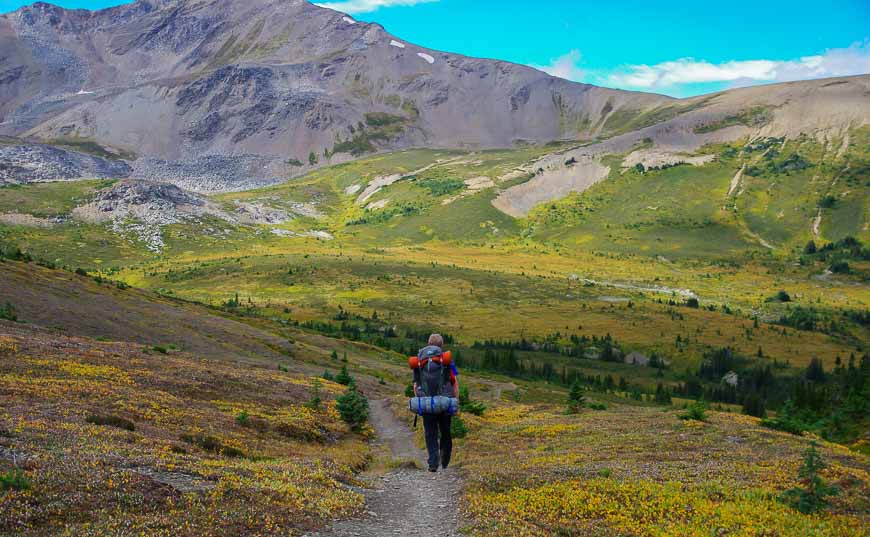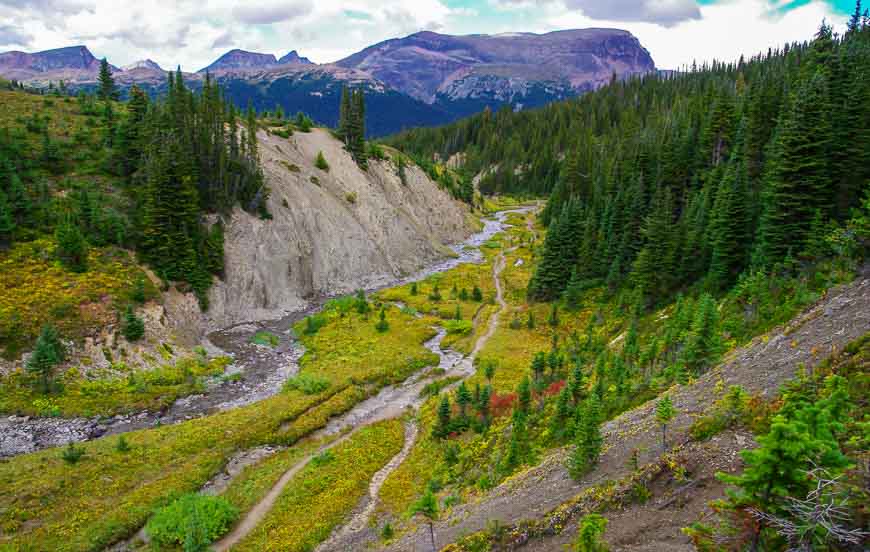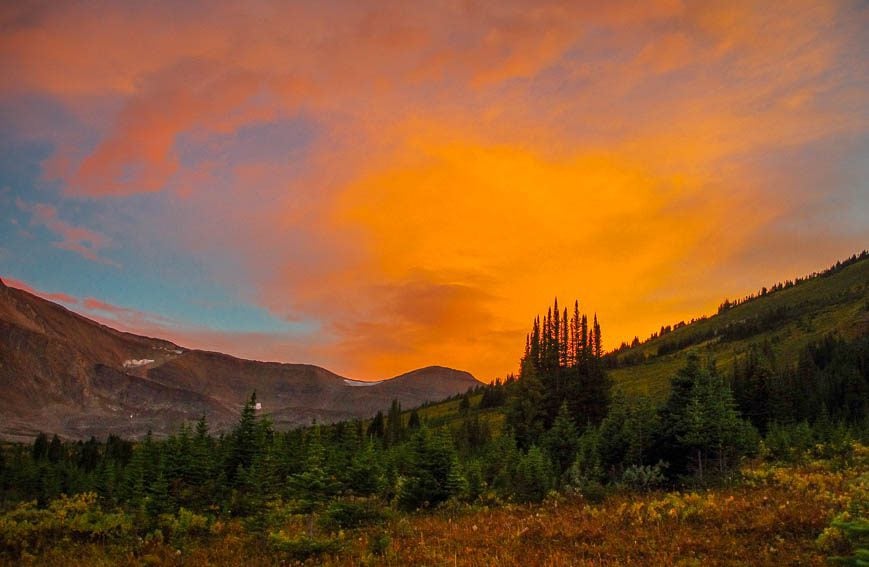 Day 2: Hike from Snowbowl Campground to Tekarra Campground
Today our plan was to hike from Snowbowl Campground to Tekarra Campground, a distance of 18.2 kilometres. It was definitely a longer and tougher day than the day before, but it was also one of the hiking highlights of my life.
The morning entailed crossing expansive meadows before beginning an easy climb to Big Shovel Pass. There is a side trip possible from here to the Watchtower Co that we didn't do. If you hike it, enjoy views north into Watchtower Basin.
This trail provides another route back to the Maligne Lake Road should the weather turn nasty or you run into problems. There is also the Watchtower campground located 3 km from Watchtower Col.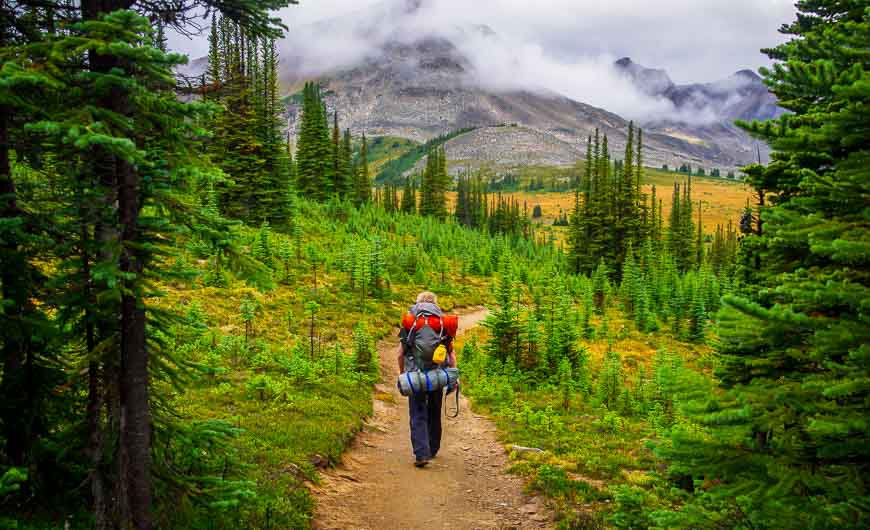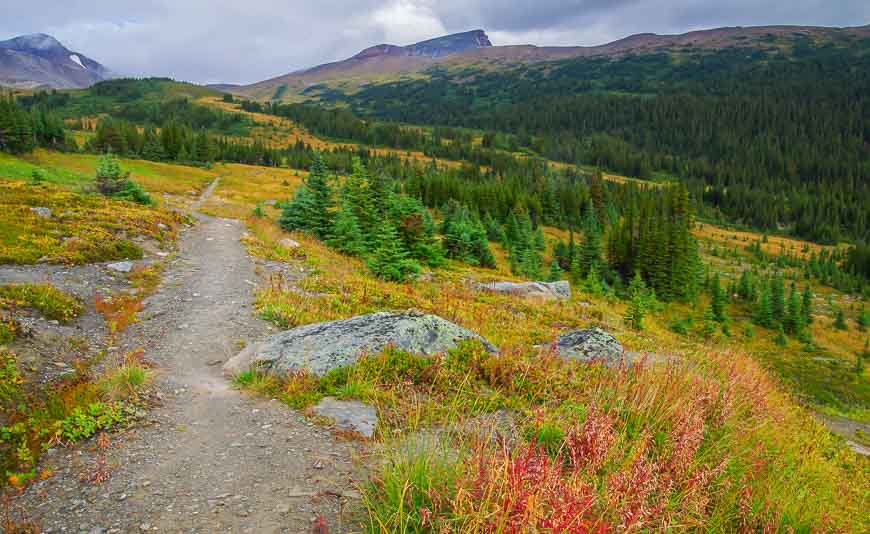 The Notch – the crux of the Skyline Trail hike
From Big Shovel Pass it's an easy descent to reach the junction to Curator Campground and Shovel Pass Lodge. But then it's a stiff climb – the hardest of the entire trail to the top of The Notch, the highest elevation on the trail at 2,511 metres (8,238 feet). The Notch can hold the snow until into August. Be prepared for some kick stepping on snow if you're on the trail in mid-July.
From The Notch the views are glorious and the hiking just gets better and better. For the next five kilometres follow the summit ridge of Amber Mountain. This area should not be attempted in bad weather where visibility is an issue or during an electrical storm. It is fully exposed.
From here you can see the Icefields Parkway, the Jasper townsite, and on a clear day – Mt. Robson.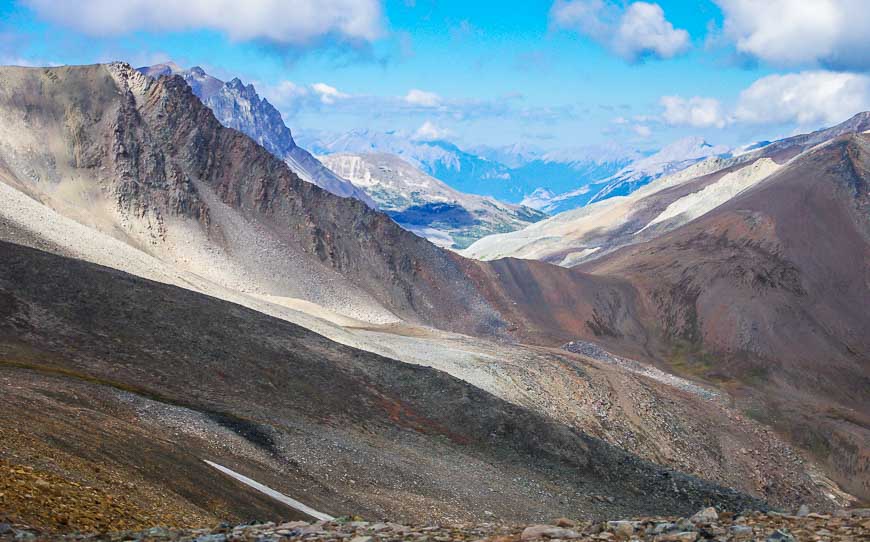 Next stop on our second day of hiking – Tekarra Campground
From The Notch to Tekarra Campground it's a distance of 8.8 kilometres. Switchback down the slope towards the lake with Mt. Tekarra on your left and Excelsior on your right. Keep an eye out for hoary marmots, bighorn sheep, mountain caribou, and white-tailed ptarmigan. The only animal we saw was a hoary marmot.
It's easy and scenic sub-alpine walking for the final two kilometres to the Tekarra Campground.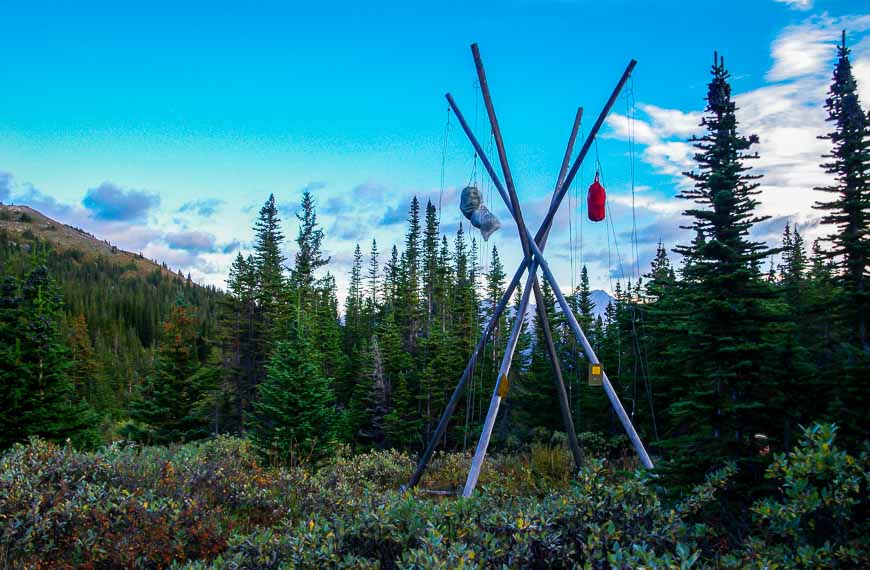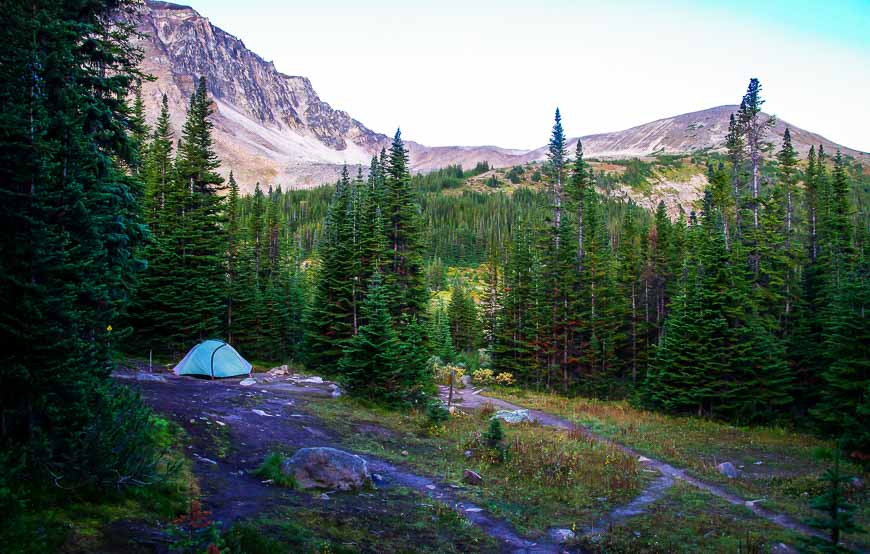 Day 3: Tekarra Campground to Signal Mountain Trailhead via the Skyline Trail
I hadn't expected the third day of the Skyline Trail hike to deliver the first class scenery it did. The trail from the Tekarra campground starts with a rock-hop across the creek. Then it's an hour of gradual climbing around Tekarra Mountain onto the slopes of Signal Mountain. The views from Signal Mountain of the Maligne River Valley are superb.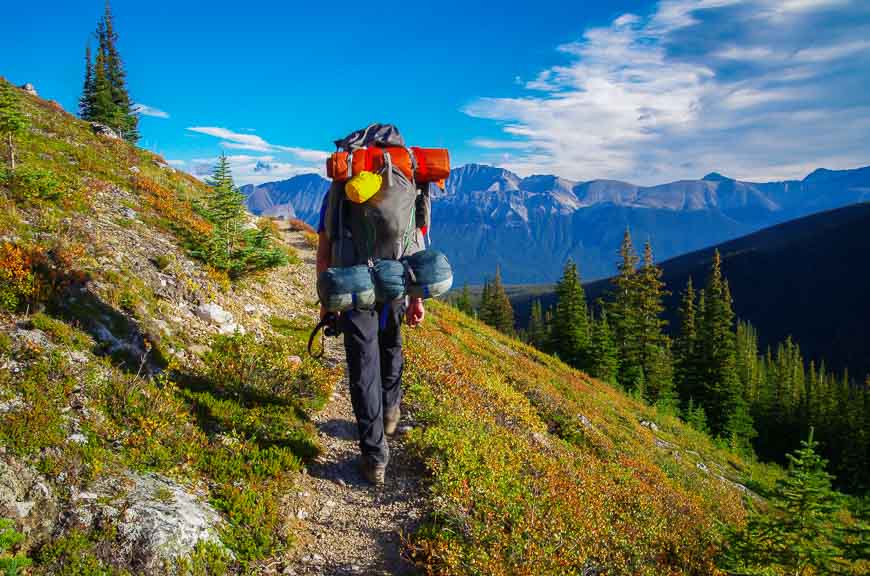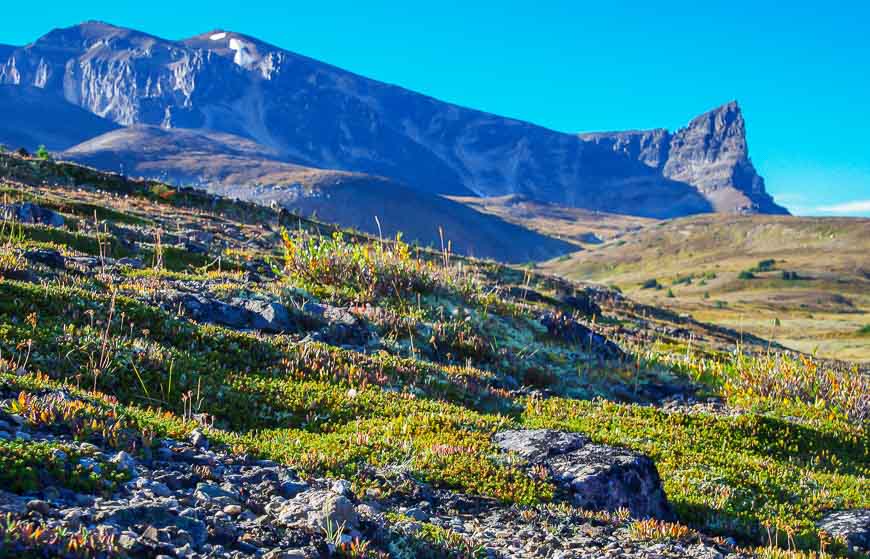 The final stretch the Skyline Trail hike
The last 7.5 kilometres of the trail are on an old fire road with some views early on and then nothing but dense woods. Still, between mushrooms and bird sightings, there was enough to hold our attention to the very end. We knocked off the 13.5 kilometres in four hours, with lots of stops for photos.
Avoid starting the Skyline Trail at the Signal Hill parking lot – our finish point. You end up adding 530 m (1,738 feet) to your total elevation gain.
A few helpful notes for hiking the Skyline Trail
All campsites have bear-proof food storage. I find it helpful to bring a few waterproof bags to store the food in. And an extra carabiner or two always comes in handy.
If you would prefer not to backpack, then strong hikers can head for the night at Shovel Pass Lodge – at the half way point, about 21 kilometres in. They provide all your meals and even a packed lunch for the next day. You can complete the Skyline Trail on the second day.
Dogs are not permitted on the trail because of the caribou.
This is grizzly bear country though we only saw scat in the first five kilometres. Take bear spray that is no more than three years old and know how to use it. The bear spray should be easily accessible and not be hanging off the top of your pack.
Read: Tips for Staying Safe in Bear Country
Skyline Trail bookings need to be done the minute reservations open
This trail is exceedingly popular. There is a very short window in which to hike it – mid-late July until late September. In 2023 they have changed the way reservations are handled and you need a new Parks Canada account. Book reservations by calling 1-877-RESERVE (1-877-737-3783) beginning at 8 AM MST on March, 2023 or online here. Be flexible in your planning and avoid weekends.
I can't say enough good things about this hike. The Rockwall Trail in Kootenay National Park delivers first class scenery as well but for a lot more effort.
Hiking in the Skoki area is also beautiful as is the Tonquin Valley Trail, but the Skyline Trail is by far my favourite backpacking trail in the Rockies.
Before you start the Skyline Trail hike
I think it's always a good idea to have a paper map in case the batteries in your GPS dies. This Jasper map covers much more than just the Skyline Trail.
A few items that might come in handy on your trip include Tenacious Tape – for gear repairs, Compeed for blisters (I swear by it) and a camp pillow so you get a good night's sleep.
Where to stay in Jasper before or after the Skyline Trail hike
Camping gear for those traveling a large distance
It's easy if you live in Alberta to throw all your gear in the car and go on a multi-day hiking trip. But if you're coming from afar it can be a hassle especially if you only need a tent and camping gear for part of your trip. I have a friend in Canmore who has a son with a company that rents tents and gear in Banff and Canmore (and also Vancouver). Check them out at Rent a Tent Canada.
Click on the photo below to share to bookmark on your Pinterest board.