If you're on the search for new places to explore why not take a break from the mountains and head out on a road-trip to Lethbridge, Alberta a former coal mining city of just over 100,000 people, located on the scenic Oldman River in southern Alberta.
Lethbridge, Alberta is an undiscovered gem when it comes to its outdoor spaces. Reconnect with nature here via a network of hiking and biking trails – or a paddle/SUP experience on the Oldman River. From what I saw of the city on a short visit, it's well-worth the two hour drive from Calgary, as a day-trip or better yet an overnight visit so you can include a visit to Writing-on-Stone Provincial Park, a UNESCO World Heritage Site.
Another unexpected surprise – in the best way possible – was the food in Lethbridge. Before this visit, I'd thought of Lethbridge only in terms of fast food – but it's got an entirely other side to it – and one that I love. Refuel at one of the many local hot spots enjoying a good meal with a local brew or a latte and baked treat post hike or bike ride.
Before you get out hiking and/or biking in Lethbridge, Alberta, I'd recommend downloading the City of Lethbridge Parks app for an overview of the paved and shale paths and parks in the city.
The trails I explored on foot and by bike were beautiful, easy for the most part and family-friendly. I would love to paddle the Oldman River – and perhaps next year I will via a multi-day canoe trip that finishes in Lethbridge. If it's anything like the other prairie rivers I've paddled – cue the Red Deer River, it will be a beautiful experience.
This post includes some affiliate links. If you make a qualifying purchase through one of these links, I will receive a small percentage of the sale at no extra cost to you. Thank you very much for your support.
Where to hike in Lethbridge, Alberta
Pavan Park hike
Pavan Park is a total delight. The 125 hectare natural park, located at the northern end of Lethbridge is home to over 10 km of dedicated hiking trails. Explore a mix of landscapes including the Oldman River, coulee canyons, flood plains and prairie, preferably in the evening when the light in the coulees is truly magical.
The quiet park is also a nature lover's paradise. You'll feel far removed from the city when you see groups of deer munching on plants while listening to the call of red-winged and yellow-headed blackbirds. I got a big hit in the WOW category within minutes of starting my hike when I came upon what I think was a Swainson's hawk eating its kill. Very cool in my books.
In this park you can choose from out and back trails to a muddy stroll on the shores of the Oldman River to a loop on the equestrian trail that should get your heart rate up. Give yourself at least two hours to get a sense of the park.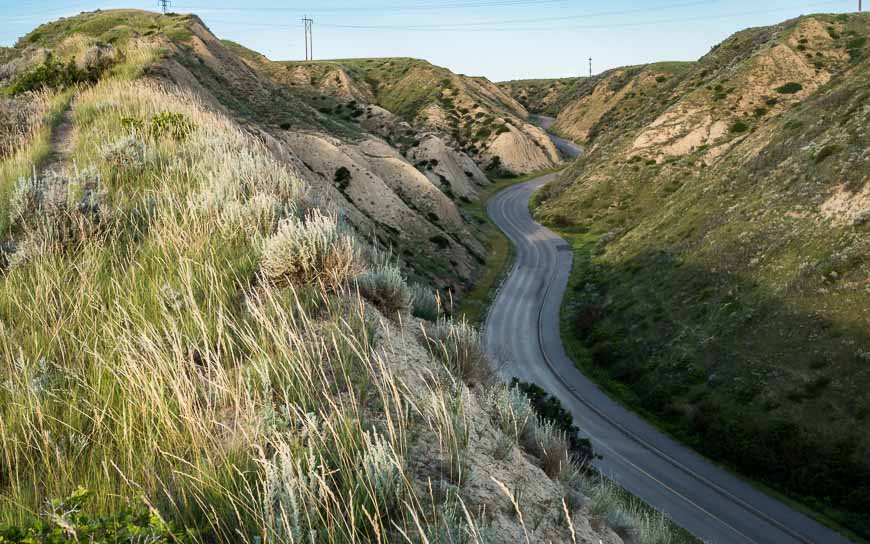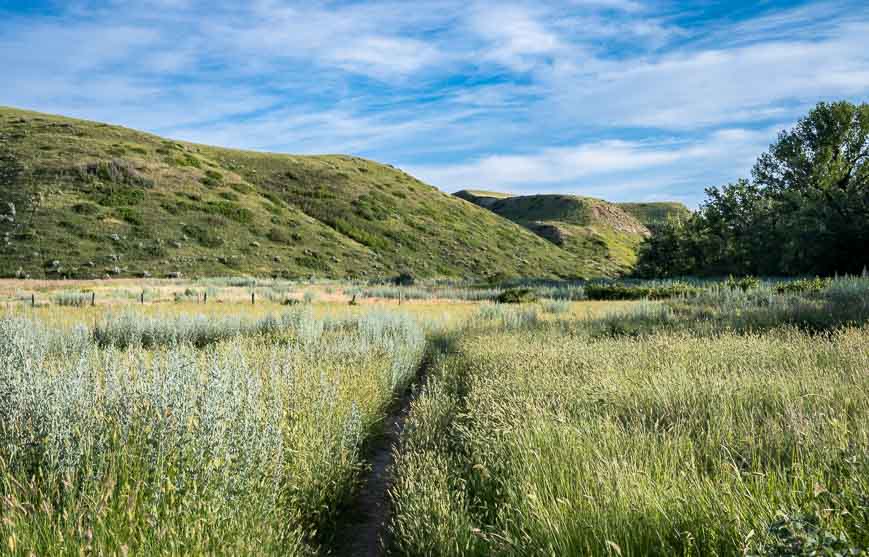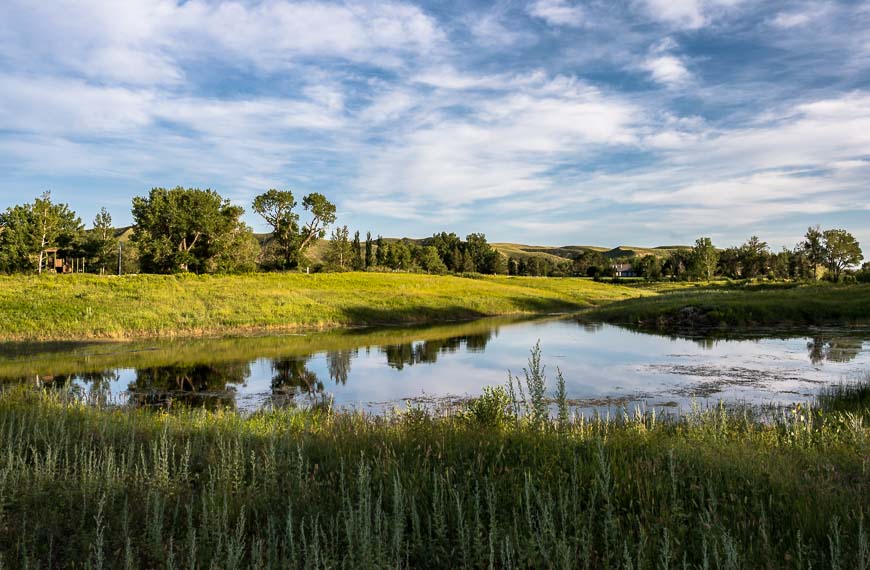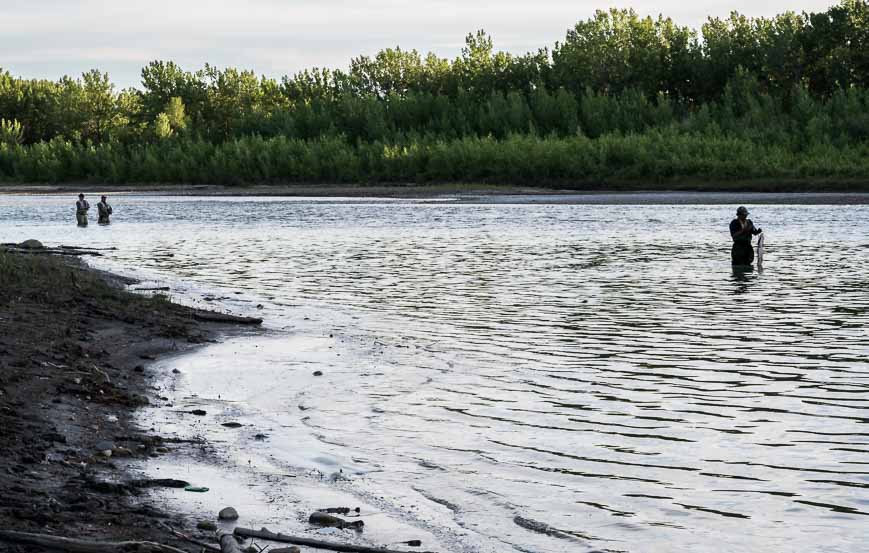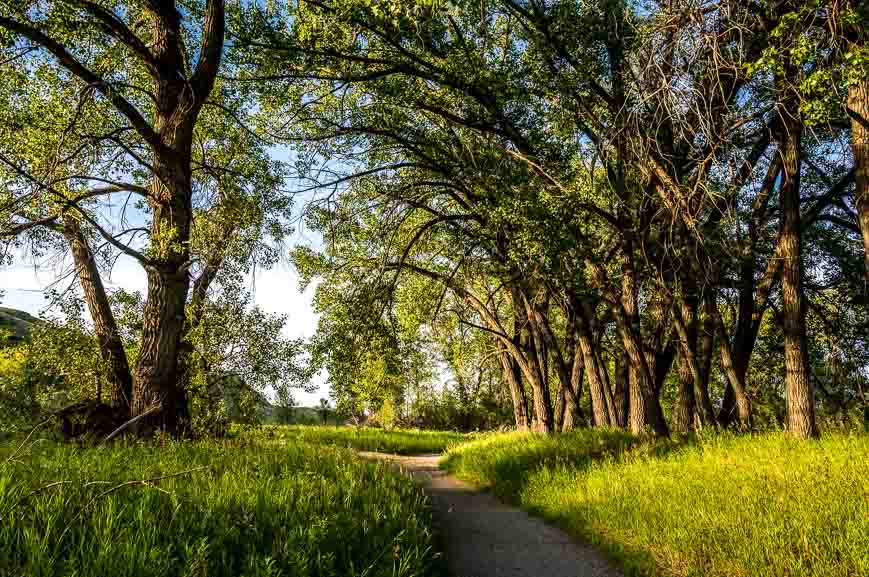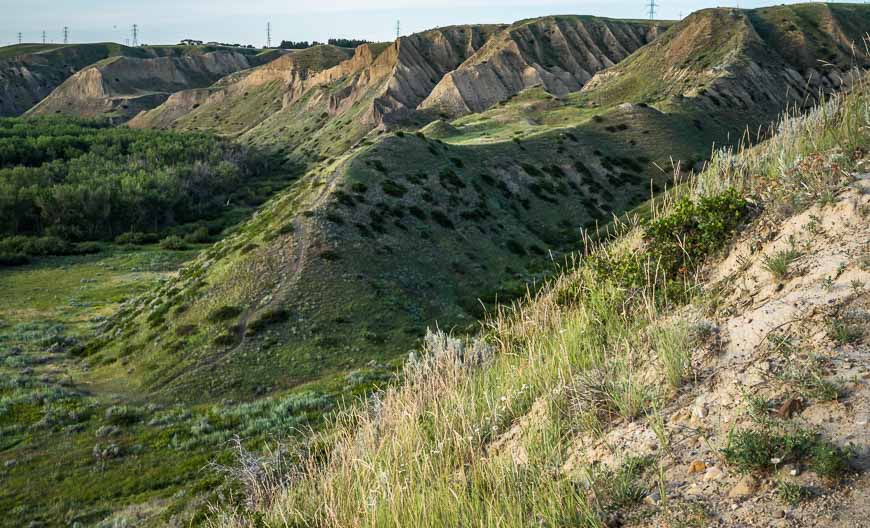 Scenic Drive Dog Run Hike
The name of the trail doesn't sound like it should be on your list to hike – but do it, even if you don't have a dog. The 2 kilometre trail heads down into the coulees boasting views of the Arthur Erikson designed University of Lethbridge. As you descend further, the river and golf course pop into view. There's some climbing on the return so you can expect a minor workout.
The access point is on the south side of Scenic Drive South in a parking lot shared with Radiology Associates.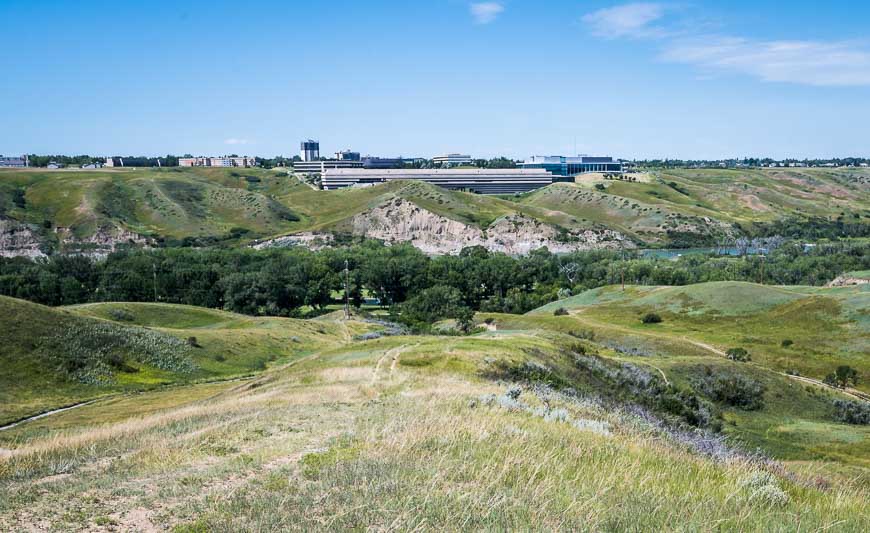 Indian Battle Park hike via the Galt Museum
If you've got some time to explore leave your car at the Galt Museum and descend on foot to Fort Whoop-Up, 920 metres away. It's pretty, if a little noisy at first but once you reach the bottom the noise from the highway dissipates. Enjoy the wildflowers on the descent.
Once at the bottom you can do a lovely loop trail in Indian Battle Park that includes a section by the High Level Rail Bridge – the largest railway structure in Canada. I did the loop but also some exploring along the Coalbanks Trail that parallels the Oldman River.
You could easily spend a day hiking the trails along both sides of the river but if you do the Indian Battle Park loop trail at a minimum, you'll be able to enjoy both the coulees and the river.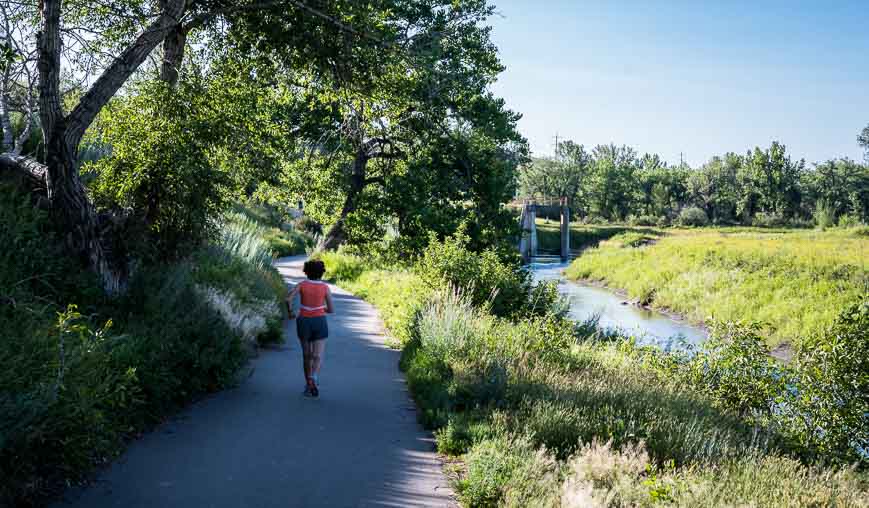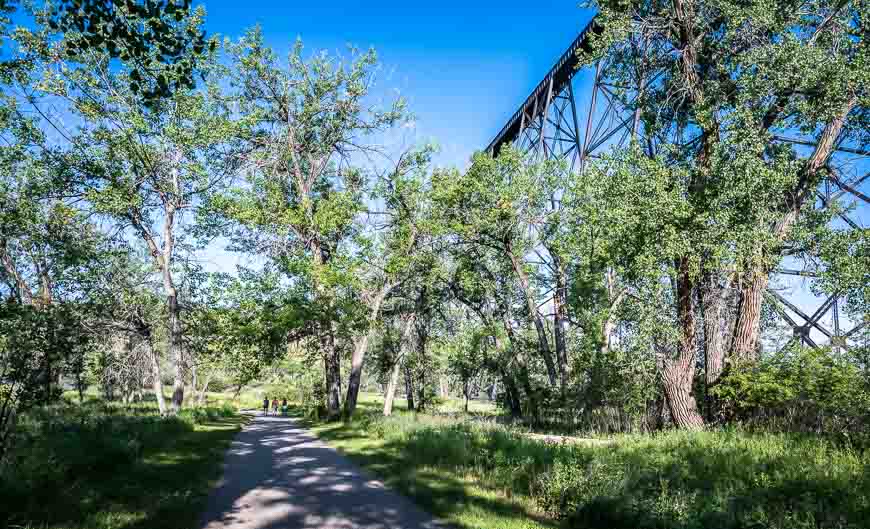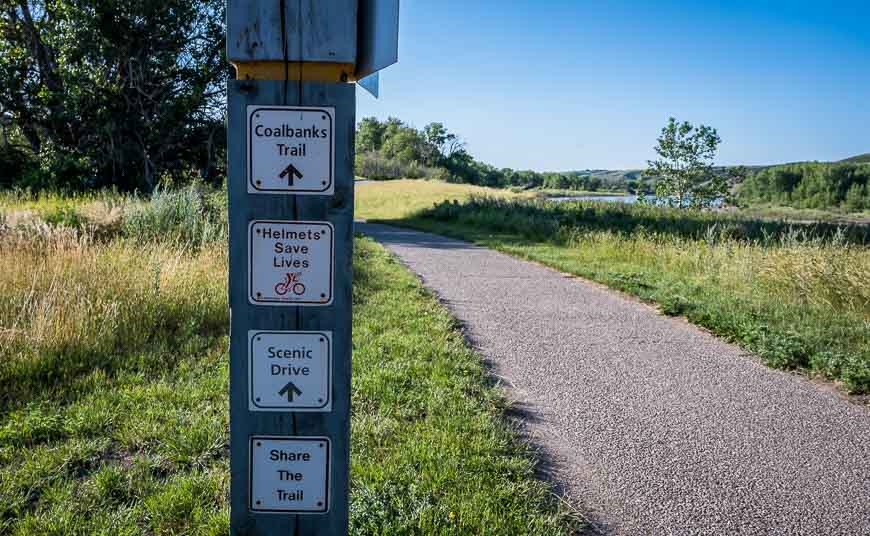 Hike the Hoodoo Trail in nearby Writing-on-Stone Provincial Park
If you're visiting Lethbridge, Alberta for more than a couple of days try to fit in a trip to hike in Writing-on-Stone Provincial Park. It's only an 80 minute drive away – and yet you'll feel like you've entered another world.
The easy 3.5 kilometre round-trip hike Hoodoo Trail to the Battle Scene petroglyph is a must. Not only is it incredibly beautiful, but there are hoodoos a-plenty to photograph, views of the Milk River and a dozen interpretive stops along the trail.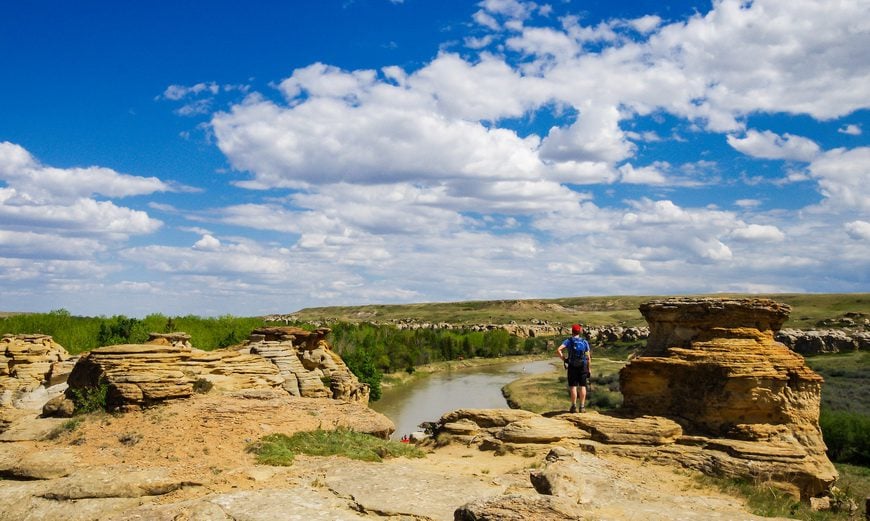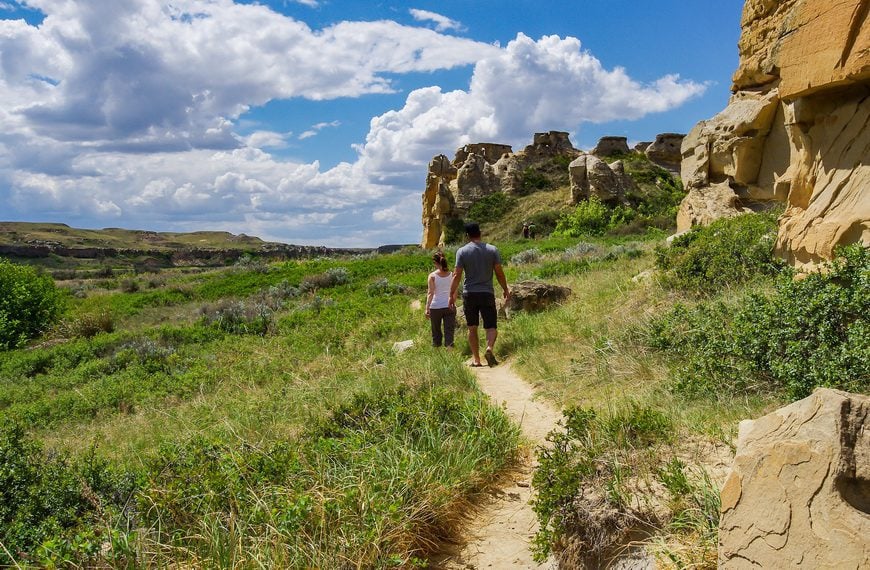 Where to bike in Lethbridge, Alberta
If you haven't brought a bike with you head to Alpenland Ski & Cycle and pick up a rental bike. They were kind enough to provide me with an e-bike, which under the circumstances was a great choice. I love e-bikes for their fun factor though I never feel like I get a lot of exercise unless there is a lot of climbing involved.
On the day I explored Lethbridge the thermometer hit 33°C so I was thrilled to be roaring up steep hills with minimal effort. And I definitely covered more ground than I would have on a mountain bike.
I did download the City of Lethbridge app – but once out on the roads, I chose to follow my inner explorer and just see where I would end up. I didn't want to retrace my hiking steps from the morning so I opted to head out toward Six Mile Coulee – though I didn't end up biking any of it.
I started out on the sidewalks along Scenic Drive South, always keeping an eye out for the sidewalk patrol police. I was never pulled over because as it turns out you can cycle the sidewalks – or at least the ones I rode. Some signage giving cyclists a thumbs up would be helpful!
I found paved paths that took me into the coulees, dirt trails that took me behind neighbourhoods, the back entrance to the Lethbridge Country Club and numerous sets of stairs that had a channel for pushing up my bike. What I didn't bike was Six Mile Coulee – and from what I hear you have to be a serious mountain biker to ride it well. Still, I had great fun – especially throwing the e-bike into easy mode and cruising up the hills.
I only explored a section of the east side of the Oldman River – though I was told there was plenty to see on the west side as well. The bottom line – if you're looking for a fun day on the bike, go where the wind blows you – preferably with lots of cold water. I had wilted by the time I got back to the bike shop with my only thought being a drink of an icy cold beverage.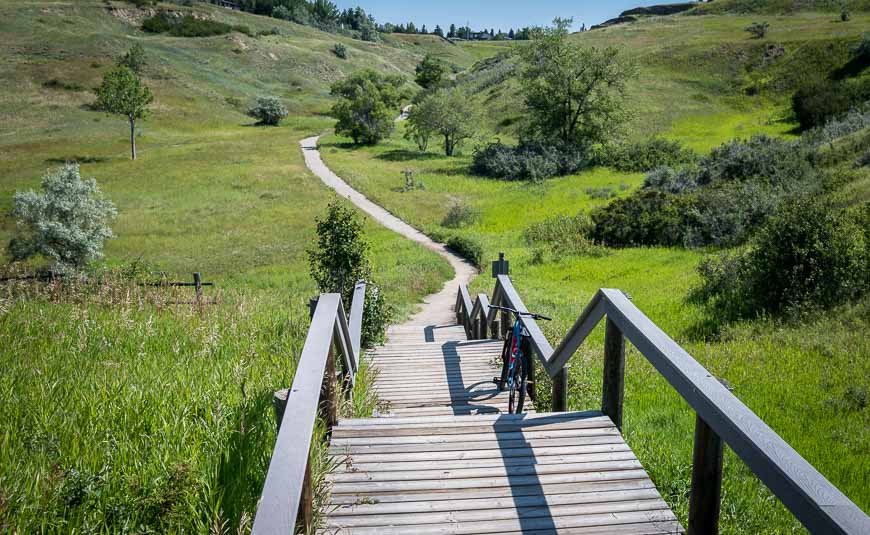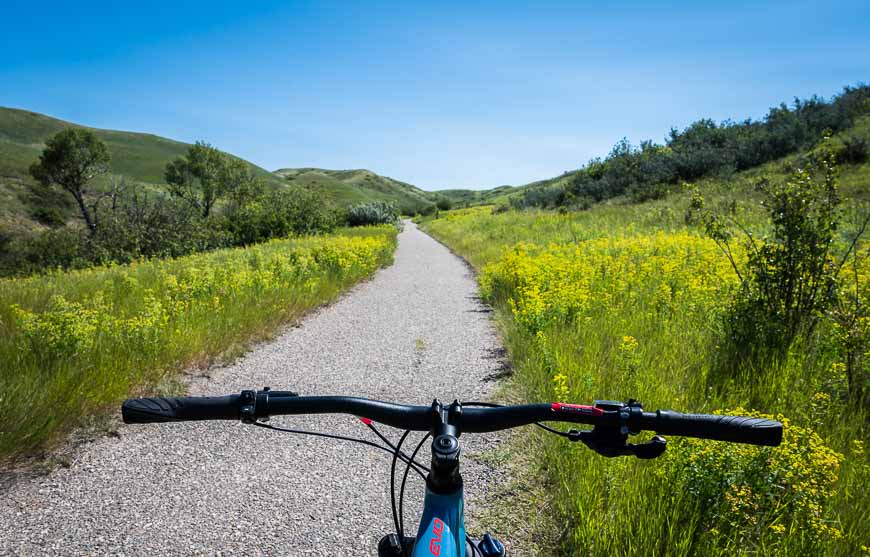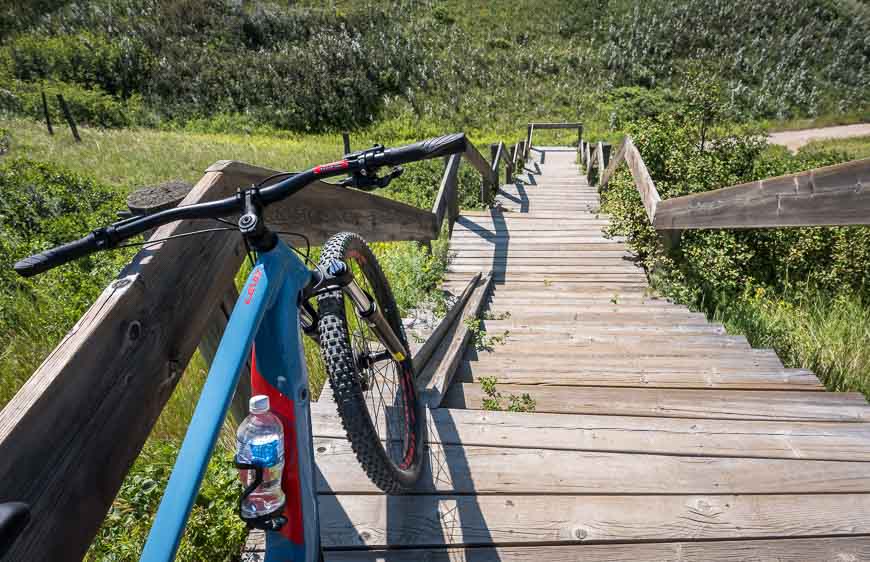 Where to eat in Lethbridge, Alberta
Over the short period of time I was in Lethbridge I tried out two places – the Sonder Coffee Bar across from Alpenland (where you can rent bikes) and Bread Milk and Honey Cafe in the downtown core.
The Sonder Coffee Bar is located at the edge of the downtown core so there's lots of free parking around. Inside the place has a clean aesthetic and a friendly vibe. I had breakfast here – their famous waffles paired with a latte and what a treat it was.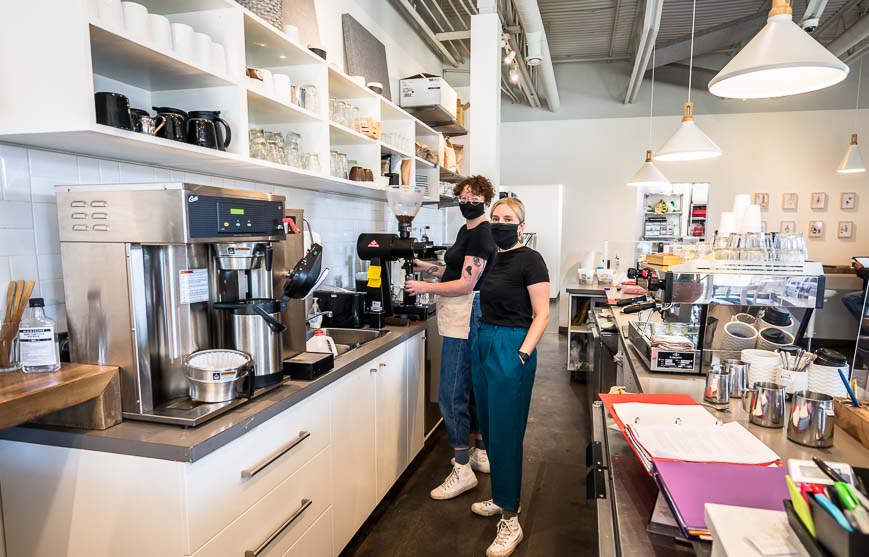 For a late lunch I visited Bread, Milk & Honey in the downtown core. It boasts an incredible array of desserts (why not eat all those calories back you just burned off), sandwiches, coffees, teas…It's also got a nice outdoor patio area.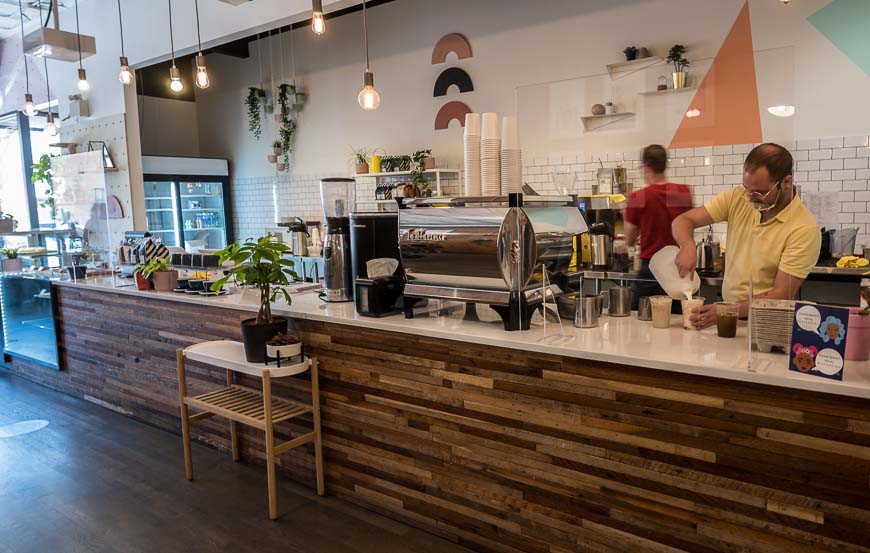 Suggestions from a local that will have to wait for my next visit include the following.
Two Guys and a Pizza Place for award-winning over the top pizzas
The Mocha Cabana Bistro offers mostly local farm to fork fare, gluten free and vegan options, along with deals on certain days like $5 Tuesday beers and Throwback Thursday classic Caesar cocktails.
Head to Umami grocers – with its downtown location and outdoor patio for bubble tea, Vietnamese subs, Bento boxes and a lot more international food.
Check out Broxburn Farms and Cafe for its "plant to plate" lunches offered from 10 AM – 4 PM. This distinctive cafe is located at the eastern edge of the city close to greenhouses and fields.
Housed in Lethbridge's original telegraph office, the Telegraph Taphouse in downtown offers truly 'Canadian' cuisine along with a worldwide selection of craft beer and spirits.
For the best view in town head to the Water Tower Grill & Bar – in a unique location at the top of an old water tower. Watching the prairie sunset from your dining table would be reason enough for me to go!
I had a choice – eat at the Italian Table – adjoined to my hotel – The Sandman Signature Hotel on Scenic Drive or do an evening hike in Pavan Park. So I missed out one of Lethbridge's long-standing restaurant experiences.
Getting to Lethbridge, Alberta
Lethbridge is a little over a two hour drive from Calgary via Highways 2 and 3. If you don't have a car – don't worry.
The bus company Red Arrow can get you to Lethbridge too.
Where to stay in Lethbridge, Alberta
I stayed at the very comfortable and well located Fairfield Inn & Suites by Marriott. Another good choice would be Wingate by Wyndham Lethbridge, rated fabulous.
Further reading on things to do in southern Alberta
Thank you to Tourism Lethbridge for hosting my short but wonderful visit – and to opening my eyes to what your lovely city offers the outdoors lover.
Click on the photo to bookmark to your Pinterest boards.