If you're looking for an easy, family-friendly summer adventure in Alberta plan a kayak or canoe trip on the Red Deer River. Although it has a good rate of flow, there are very few, if any rapids to deal with. Your biggest problem will likely be running aground on a gravel bar or slipping on a muddy bank getting out of the canoe.
There are lots of canoeing options on the Red Deer River from a one day to a week plus paddle. If you choose the latter you can paddle all the way from Red Deer through to Dinosaur Provincial Park.
We did a weekend trip which was the perfect length of time – even more so because it was about 30°C. There isn't a lot of shade for long stretches on the Red Deer River. And any shade you find might have to be shared with cows. Our canoe trip on the Red Deer River started at Tolman Bridge and ended at Newcastle Park in Drumheller.
This post includes some affiliate links. If you make a qualifying purchase through one of these links, I may receive a small percentage of the sale at no extra cost to you. Thank you very much for your support.
Canoeing the Red Deer River useful information
A popular weekend canoe trip is the one way paddle from Tolman Bridge to Newcastle Park in Drumheller, a distance of 53 km.
Red Deer River Adventures out of Drumheller offers canoe and kayak rentals (it includes paddles, personal flotation devices…) as well as a shuttle service. Book the shuttle well in advance. (You can call them directly at (403)-821-0229). They also offer day trips on the Red Deer River if you're not interested in camping.
The shuttle is $100 plus tax from Drumheller to Tolman Bridge.
By law you can camp anywhere below the high water mark, including on islands.
If you live in Calgary, purchase a map (but call ahead for availability) from Map Town.
Post canoe trip, head for burgers in Drumheller at Bernie and the Boys or for a fresh cooked Japanese meal at The Roll.
Summer 2023 update – Red Deer River Adventures will still be renting kayaks and canoes from May until October, seven days a week.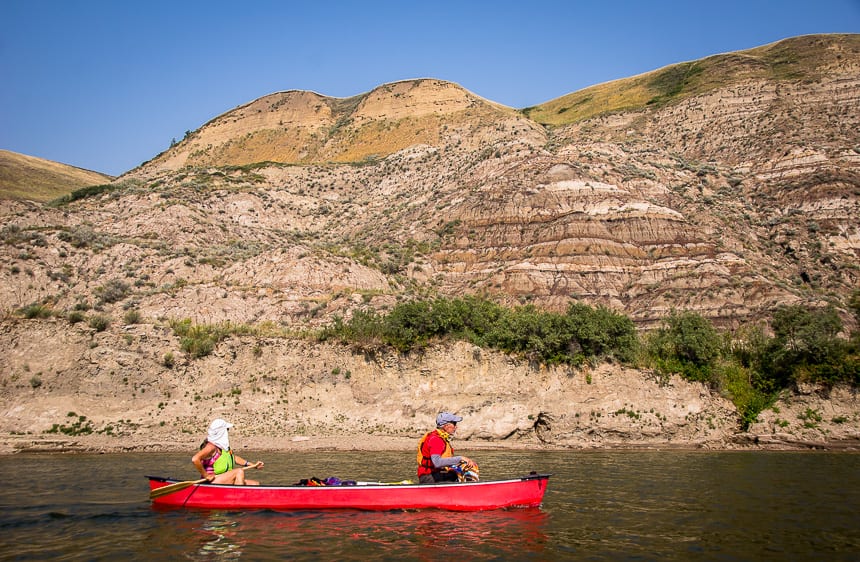 What to take on the Red Deer River canoe trip
Take a wide brim hat, lots of water and sunscreen. Keep high energy snacks handy in your personal flotation device – so I'd suggest one with pockets.
A water filter would be a good idea and then you could camp wherever!
If you have a gear fail, tenacious tape might be just the thing to make a quick repair.
If you hate bugs, consider a lightweight bug jacket. I also recommend taking some insect repellent.
If you need a lightweight affordable tent, pick up the two person MEC Spark tent.
Tolman Bridge to Morin Bridge – 22 km
Red Deer River Adventures out of Drumheller is offers a shuttle service which makes a weekend canoe trip on the Red Deer River far easier to organize. John and I along with two friends we talked into joining us left Calgary at 8 AM to arrive in Drumheller for a 9:30 AM shuttle.
Our shuttle driver and owner of Red Deer River Adventures, Eric Neumann then filled us in on the area as we drove north for an hour through beautiful canola and flax dotted fields to our launch site near the Tolman Bridge in Dry Island Buffalo Jump Provincial Park.
Eric, a long-time resident of Drumheller tells our group on the shuttle to the launch site "that you won't find badlands scenery like this anywhere else in Alberta – and its best appreciated from the water." He also says the "Red Deer River is a huge ecosystem and we can expect to see loads of bird life including white pelicans, bald eagles, blue herons, and red-tailed hawks."
He reassures us that "bears aren't really an issue on the river but we're told if we're lucky we'll see mule and white-tailed deer, pronghorns (the fastest terrestrial mammal in North America) and beaver and muskrat."
A launch from Dry Island Buffalo Jump Provincial Park
We launched our canoes at about 11 AM under clear skies. The first few hours of paddling were extremely peaceful, with no signs of anyone else or even civilization.
The only thing we had to watch for were rocks. The Red Deer River is quite shallow in summer. In the first hour, we had to avoid more large rocks than at any other time over the next two days of paddling.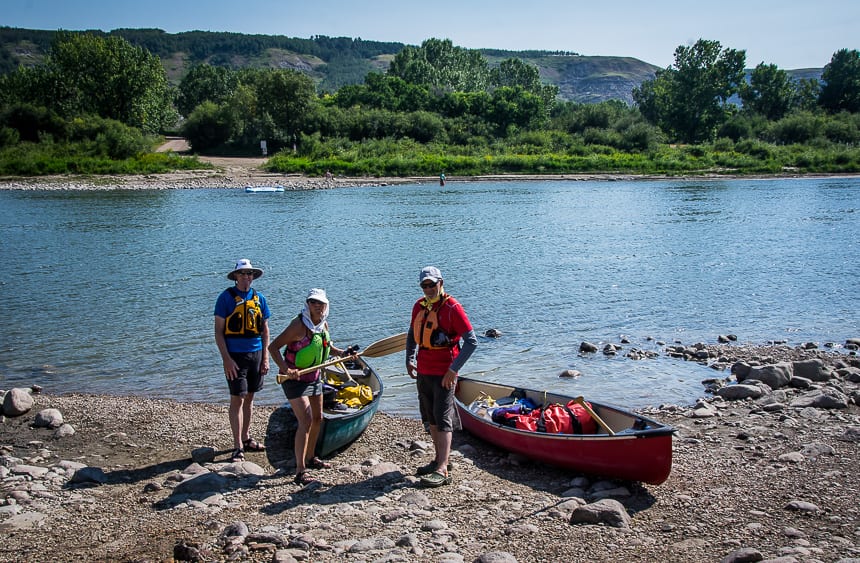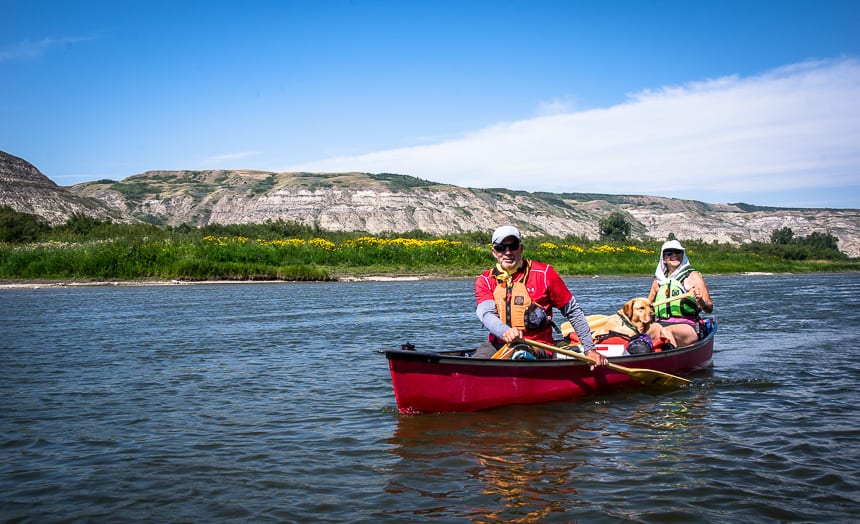 Eventually we see cows – a recurring sight along the river. We also saw a lone large bull who cried and cried for the females across the river. Poor guy.
You really need to plan ahead if you want a good spot to pull over as there aren't a lot, especially ones with trees. After a few hours of steady paddling we noticed a large clump of cottonwoods on river right with a wide gravely area to pull in.
It was a great place and with lots of shade, and the perfect place to have a catnap after lunch. We woke to smoky skies that never completely left us.
Suggestion for comfort in and out of the canoe
If you're paddling a canoe take a full but collapsible stand-up chair for comfort. We had two which we fought over for the entire trip.
Also bring a seat cushion for the rental canoes as the hard seats will give you a case of numb bum.
Finding a campsite on Day 1 near Morrin Bridge
By about 5 PM we start to think about finding a campsite. We didn't really want to camp at the campground at Morrin Bridge though it is an option – and if you haven't brought drinking water, your only option.
Just before the Morrin Campsite are the only rapids of the day. They are minor ones that spit us out a stone's throw away from the campsite but there were too many people around for our taste.
We continue for another 25 minutes until we are almost out of sight of the Morrin Bridge. On river left we spot a large flat area with big trees and after investigating, pull over for the night.
It turns out to be a great choice as there is lots of flat, grassy ground for the tents and some delightful trails for an evening walk. There is also shade.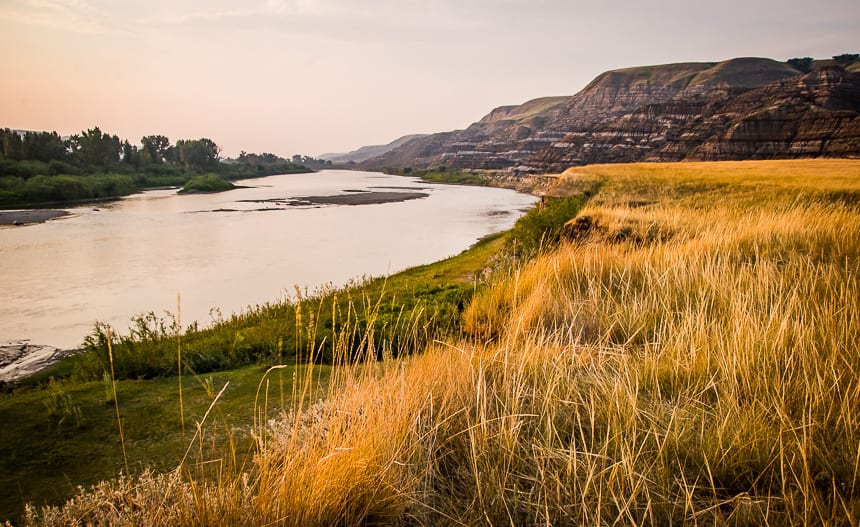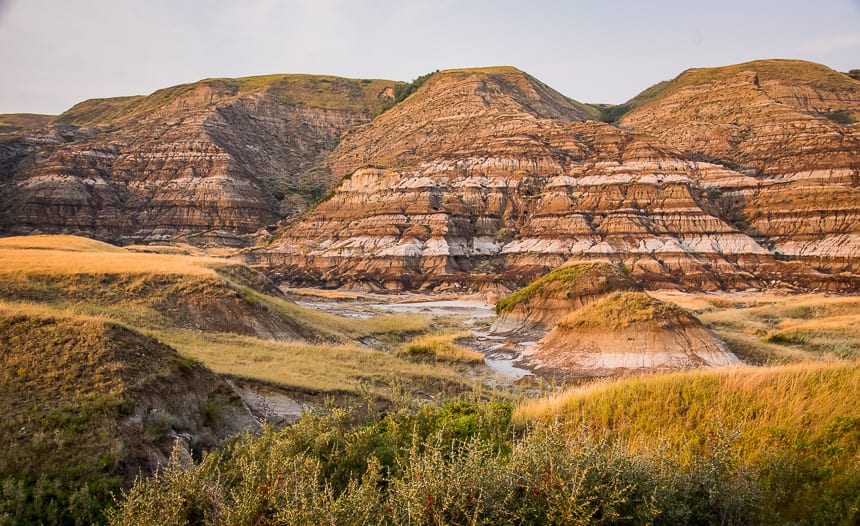 Morrin Bridge area to Newcastle Beach in Drumheller – 31 km
After a good night's sleep (which started off with listening to the coyotes howl) we started the day lazily with multiple cups of coffee, pancakes and a few hours of watching the Red Deer River flow by.
When we finally hit the river at 11 AM it is still glassy calm and we have the river to ourselves. In fact we never did see another canoe over the two days though we did see a number of people floating sections of the river.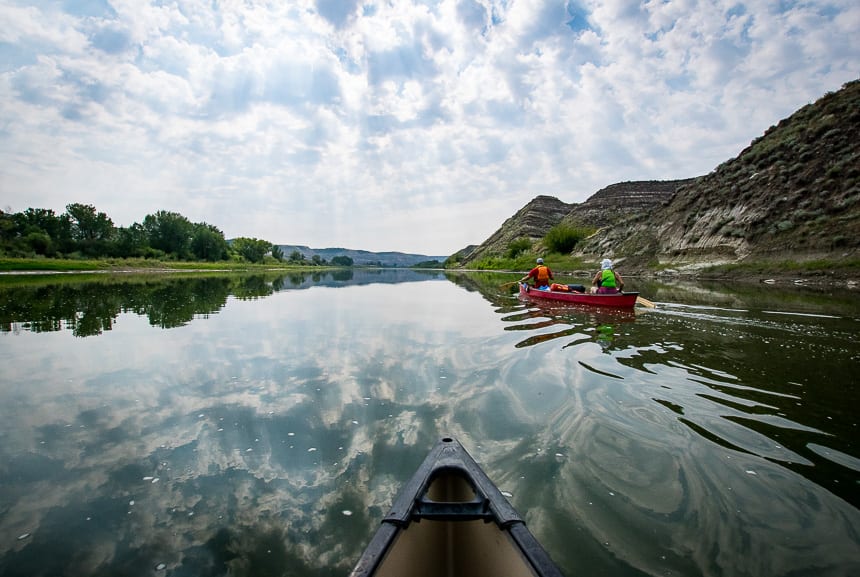 The Bleriot Ferry
We reached the Bleriot Ferry about 90 minutes into the morning paddle. It's a free ferry that takes trucks, cars, bikes, motorcycles, and walk-ons across the river on Highway 838.
It takes about two minutes so you don't have to wait long for it to stop. You're not supposed to paddle by it if its moving.
From there it was a hot paddle until we finally found what looked like a reasonable lunch stop. This time we didn't have any shade but before starting out again we made sure we and the dogs were wet.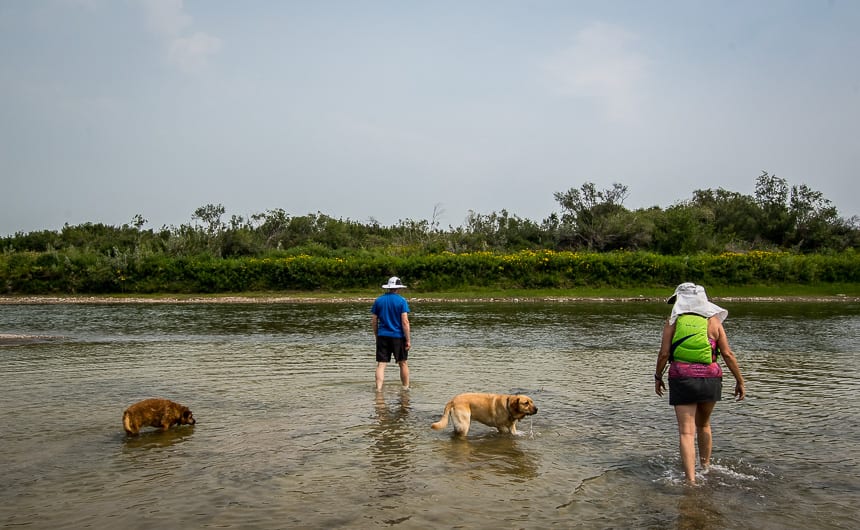 Shortly after the Bleriot Ferry you paddle through Horsethief Canyon – a pretty section that is all too short. Then its many more kilometres of easy paddling though I didn't find it quite as pretty as earlier sections.
Once you reach the train bridge in Drumheller it's about a 20 minute paddle to Newcastle Beach, the end point – located on river right across from the hospital. You'll be back at your car and ready for a cold drink in no time.
I highly recommend the two day canoe trip to Drumheller on the Red Deer River. If you go, I hope the wind is at your back.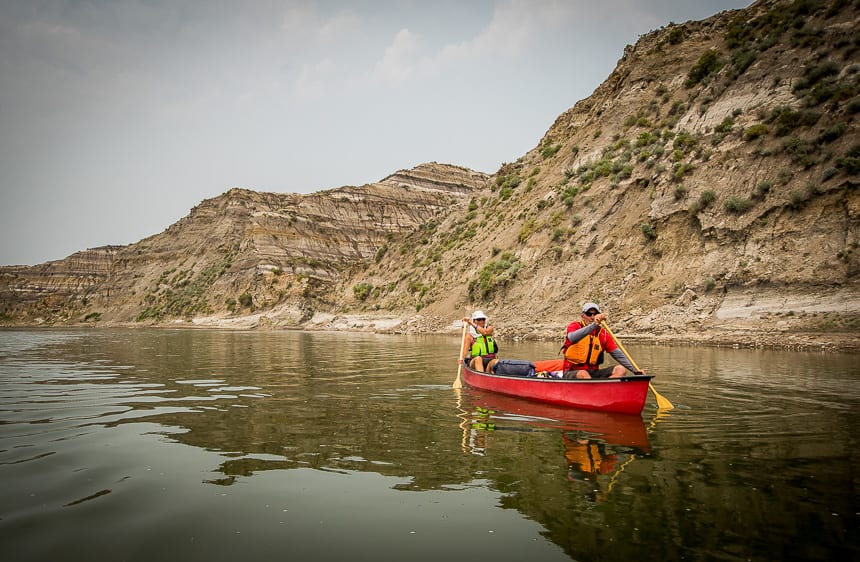 More Red Deer River canoeing options
Other canoeing options on the Red Deer River include:
canoeing from Burbank Park in Red Deer to Joffre Bridge – 19 km
canoeing Joffre Bridge to Content Bridge – 49 km
paddling from Content Bridge to Trenville Park – 19 km
or canoeing Trenville Park to Tolman Bridge – 36 km
Where to stay in Drumheller
There are lots of chain motels and hotels in Drumheller. The Canalta Jurassic is one of your best choices.
But if you are a fan of putting money into local's hands and you love a fantastic home-cooked breakfast I would recommend The Heartwood Inn and Spa.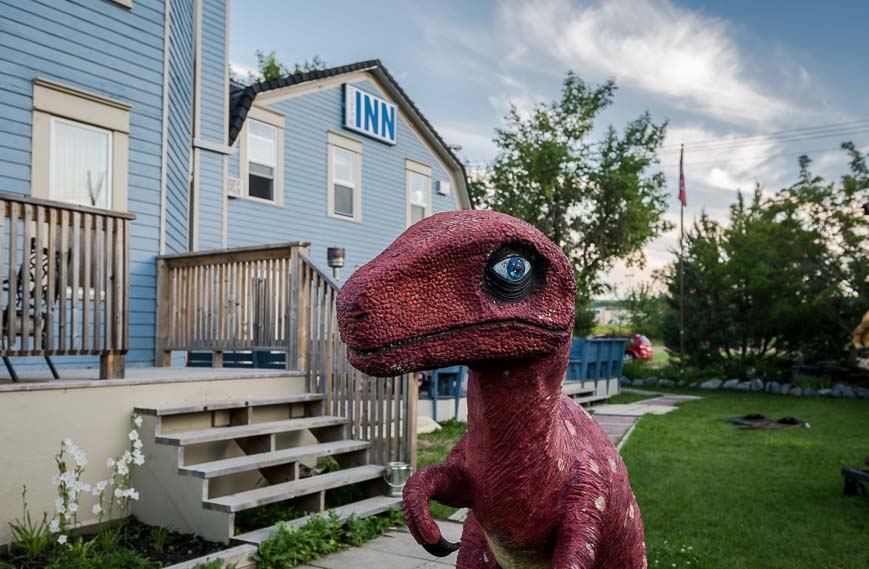 Further reading on paddling trips
Click on the photo to bookmark to your Pinterest boards.
Thank you to Travel Alberta for making this trip possible and to Eric for providing me with a canoe.