British Columbia, Canada is one of the most popular kayaking destinations in the world. With 25,725 kilometres of coastline to be explored it can be a bit confusing as to where you may want to go. Luckily I have some suggestions. Here are seven of the best places to go kayaking in BC. Some are merely weekend trips while others like Haida Gwaii deserve a minimum of a week
This post includes some affiliate links. If you make a purchase via one of these links, I may receive a small commission at no extra cost to you. Thank you very much for your support.
Kayaking in BC Haida Gwaii – one incredible place to paddle
It's no surprise that this one is on the list! Haida Gwaii is a great area to be fully immersed by a coastline broken by temperate rainforests for experienced and non-experienced paddlers alike.
Inexperienced kayakers will likely want to take one of the tours available that go along the Masset and and Juskatla Inlet in protected waters so that they can learn the ropes for a multi-day kayak trip. Experienced paddlers who know how to read charts have a wealth of choice as to where to launch on Haida Gwaii.
While many paddlers like the east coast of Haida Gwaii, the preferred spots are along the southeastern side because of its wealth of smaller islands and coves that you can explore.
Kayaking in BC in Gwaii Haanas National Park is the most popular option with possible hotspots that include, Hotspring Island, Burnaby Narrows and Windy Bay. If you're unfamiliar with the area I would highly recommend going on a guided tour and asking as many questions as possible first before giving it a go on your own.
Some animals you can see include orcas, humpback and minke whales, porpoises, seals, sea lions as well as a variety of different sea birds and even sea otters if you are lucky.
Recommended reading: Kayaking to Ninstints on Anthony Island, Gwaii Haanas
Tofino kayaking (Pacific Rim National Park including the Broken Group)
Many associate Tofino with the new surfing scene but kayaking has been a mainstay here for much longer. The most popular paddling destination is Pacific Rim National Park, specifically the Broken Group of Islands.
The Broken Group consists of over 100 different islands of various sizes all scattered between the Loudon Channel and the Imperial Eagle Channel. The Broken Group of Islands are sheltered and provide calmer water conditions that can be enjoyed by experienced and non-experienced paddlers alike.
Places where you can set up camp include Gilbert, Clarke, Turret, Hand and Willis Islands which can all be reached within a day's paddling of each other.
Other islands you can camp out include Gibraltar and Dodd island. Animals you might see paddling include seals, sea lions, island wolves, black bears and grey whales – at least in the spring.
Another popular kayaking destination out of Tofino is Clayoquot Sound. Read more about how the Clayoquot Sound trip stacks up here.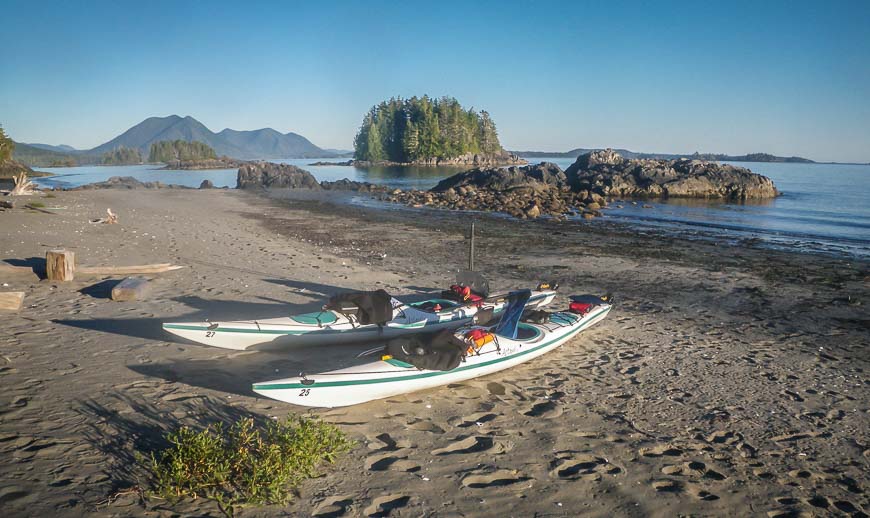 Kayaking Indian Arm near North Vancouver
I had the pleasure of paddling here and while it may not bring the allure of seeing orcas and humpback whales, it does bring a good mix of nature mixed with suburban life.
Best of all, it's located just 20 minutes away from downtown Vancouver and about 10 minutes away from North Vancouver. The Indian Arm has more sheltered waters then what you would experience right off the coast of B.C. so it can be easier for novice paddlers.
Keep in mind though, that the wind can get a bit strong and can lead to to paddling with a bit more force than you are used to. You can rent kayaks from Deep Cove Kayak for a weekend trip and explore the whole of Indian Arm. Places you can set up camp include Jubilee, Twin Island and Granite Falls Campground – at the end of Indian Arm.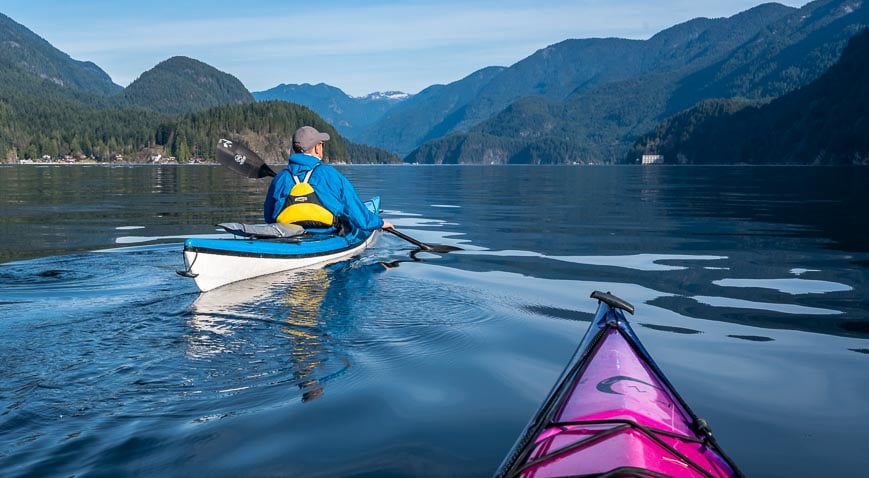 Desolation Sound kayaking near Powell River and Lund
If you are looking for a location in the summer time where you can jump off your kayak and take a swim, Desolation Sound is your place! Desolation Sound is a haven because of its unusually warm waters that can reach to 74°F. It also features picturesque scenery including 60 kilometres of coastline, in the shadow of spectacular coastal mountains. If you want to go kayaking in BC, this is an area you don't want to miss.
Desolation Sound is a great kayaking destination for all skill levels and has a variety of tours like the one described here by Spirit of the West Adventures.
If you are an experienced paddler you can launch your kayak from Lund or Okeover Arm Provincial Park. From there you can access Savary Island which is known for its long sandy beaches or Copeland Islands Marine Provincial Park and its many islands that support tide pools.
A few kilometres away you can also take the Powell Forest Canoe route inland where you can paddle for several days if you don't mind portaging or simply paddle to Goat Lake from Mowat Bay and stay there.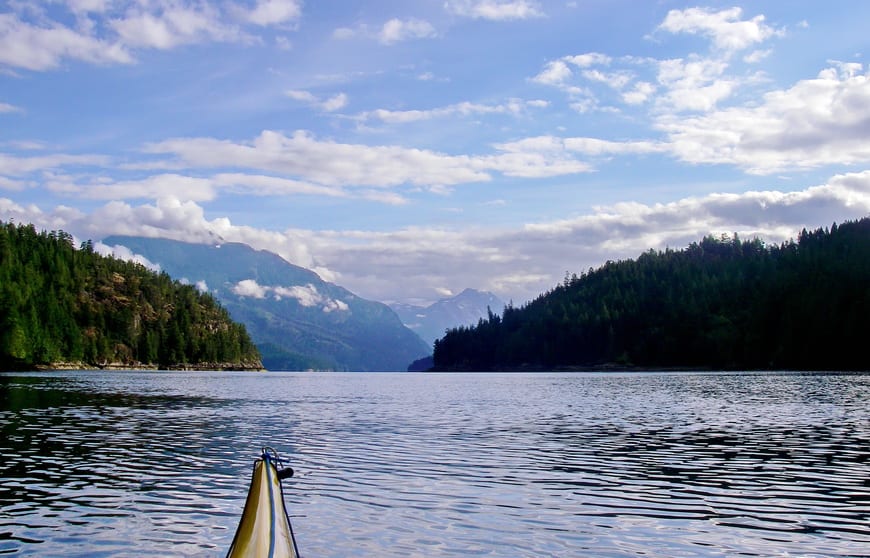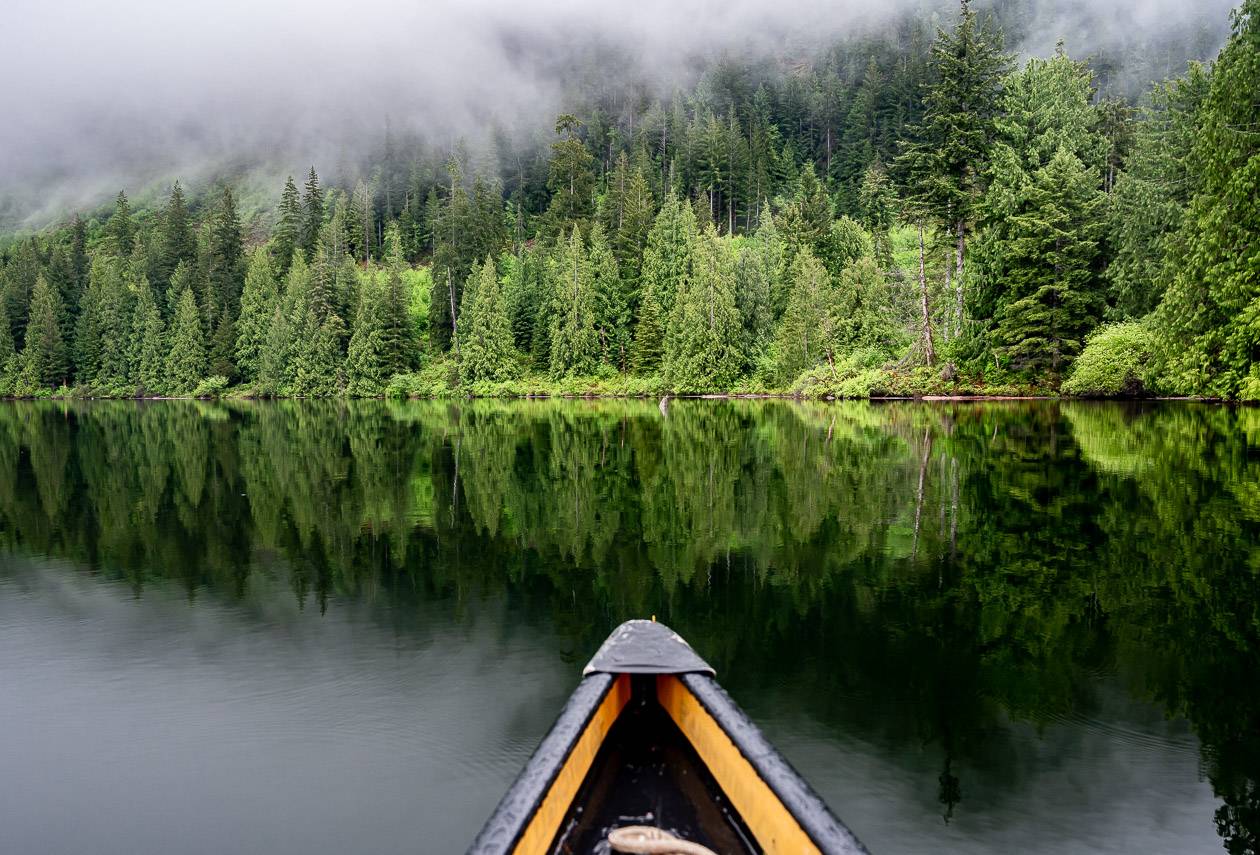 Shuswap Lake kayaking
Not a lot of people will have Shuswap Lake listed as a top destination because it's better known for houseboating but make no mistake. It can be a great weekend trip. Get some quality fishing done while you paddle along this giant lake. Shuswap Lake, located in south central British Columbia, stretches for 89 km and boasts five distinctive arms.
The lake is especially ideal for novice kayakers as it has warm water and you can easily paddle alone in a recreational kayak.
There are many different places to camp along the lake including Sandy Point, Shuswap Lake Provincial Park, Woodhaven and Pierre's Point to name a few. It even has a floating restaurant called the Sharkshack should you want to take a paddling break while floating on the water.
Kayaking in BC out of Telegraph Cove (north of Campbell River)
Best known for it's whale watching, Telegraph Cove is a must-see area if you want to see world-class wildlife and nature all in one place. It is home to over 250 orcas and an increasing number of humpback whales.
Along the way you might also stumble upon seals, sea lions, porpoises as well as sea and river otters. If you were wanting to go on a guided tour North Island Kayak has a few different two day tours available that you can fit into a weekend and still see everything.
A common route for experienced solo paddlers is to paddle from Telegraph Cove southward to Second Beach. The waters conditions vary from each location so be wary of that as you are paddling the route. The water is notoriously cold and currents can be a challenge.
Sea to Sky Marine Trail starting in West Vancouver
The Sea to Sky Marine trail features a 40 km paddling route that runs from Horseshoe Bay in West Vancouver to Gibsons via Squamish and back. While there are no tour operators yet, it's a great paddling trail option for those people that live in the lower mainland. You can also kayak around Passage Island accessed from West Vancouver.
With six different campsites located throughout this route, you can adjust the trip to the time period you want. There are a variety of islands with campsites including Gambier and Keats Island.
Other islands that are scattered in Howe Sound include Anvil Island to the north, along with Pasley Island and Bowen Island near the entrance of Howe Sound. Along the way you can stumble into natural creeks, find some sandy shoreline at McNab Creek, and even snorkel some of the coast when the water is warm enough.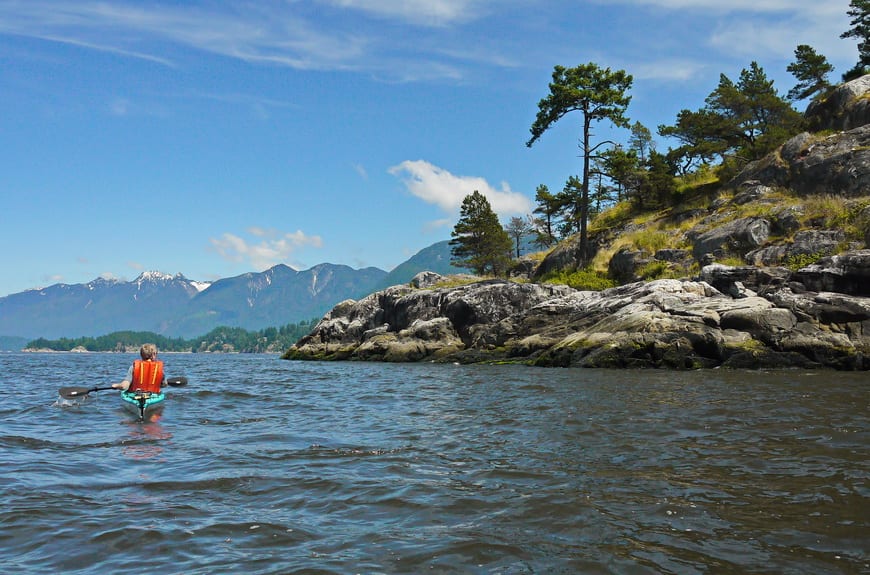 If you want to go kayaking in BC there are literally a lifetime of opportunities to get out in a kayak. It's a great way to discover the province, whether you have a single weekend or a week. Where would you go?
Location map of kayaking trips in BC
A few things to take kayaking in BC
On any multi-day kayaking trip I take I would suggest having a look at The Kayaker's Checklist – 100 Items to Pack.
Some things I'd highly recommend are:
For more information on visiting British Columbia visit the Hello BC website.
Click on the photo to share to your Pinterest boards.
This guest post is courtesy of Derek, a keen water sports enthusiast who has over 20 years of experience in canoes, kayaking and more recently paddle boarding. On weekends he can usually be found on some sort of floating device be it a kayak, paddle board or even a floatie on his lazy days.