Have you ever thought about a houseboating holiday on Shuswap Lake in British Columbia? Does it have appeal but you've never driven a boat before? Do you think you'll run into nothing but a bunch of drunken partiers? Are there things to do off the houseboat? Can you play golf? Do you have to cook?
Here are the answers – and 10 things you should know about Shuswap Lake houseboating.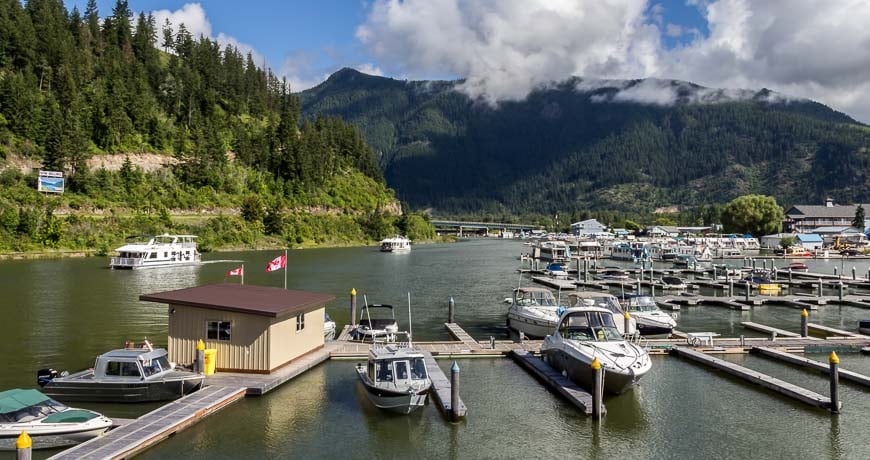 1. The town of Sicamous on Shuswap Lake is the houseboating capital of Canada.
Don't be put off by this fact. Shuswap Lake offers over 1,000 kilometres of shoreline and 309 square kilometres of lake – a deep lake that's perfect for swimming and boating.
Yes, it has a reputation for party boats – but if that's not your scene then travel up Seymour or Anstey Arm and get away from the crowds.
2. Be prepared to relax on a Shuswap Lake houseboating trip.
A quick look at the list of boat names – No Bullship, 19th Hole, Ship of Dreams, Barefoot Elegance, Woody's Crew…might give you a few clues of what's expected.
Absolutely nothing – if that's what you want. Sit in a hot tub as you watch the world go by. Curl up on a lounge chair. Have a drink at the bar and admire the scenery. Stay in bed till noon. Play board games. Listen to music. A Shuswap Lake houseboating trip can be as relaxing or busy as you want it to be.
3. You don't need boat experience to rent a houseboat on Shuswap Lake.
The folks at Twin Anchors provide a comprehensive one hour orientation. They go through everything from how to operate the appliances in the kitchen (and the boats are fully decked out), to how to use the stereo, DVD player, play station etc. in the living room, to the chemicals used in the toilets.
You're given plenty of advice on maneuvering the boats, and you'll learn what you need to know about batteries, bilge pumps, throttles, radios…you name it.

4. Houseboats on Shuswap Lake are loaded with amenities but…
Our houseboat boasted a spacious living room and galley, air conditioning and a fireplace, a gas BBQ, waterslide, hot tub, stacked washer and dryer, home theater center, one bathroom and several staterooms – aka bedrooms.
I would take exception to their stateroom terminology. I lucked out with a "stateroom" complete with a double bed and two small cupboards for my things. I did have sliding glass doors opening to the back of the boat.
One of my travel mates had this to say – I recall yours was palatial, though, with a royal view, while I lay in steerage, jostled by cleaning supplies.
Some of the staterooms were little more than cubbies. You aren't likely going to be spending a lot of time in your room but be prepared for some sour looks if you win the coin toss.
My friend Mike also has this to say – the glaring inequities that I suffered will never be properly documented, other than the social worker's report buried in some BC whitewash. Hopefully your traveling companions will have the same sense of humour mine did.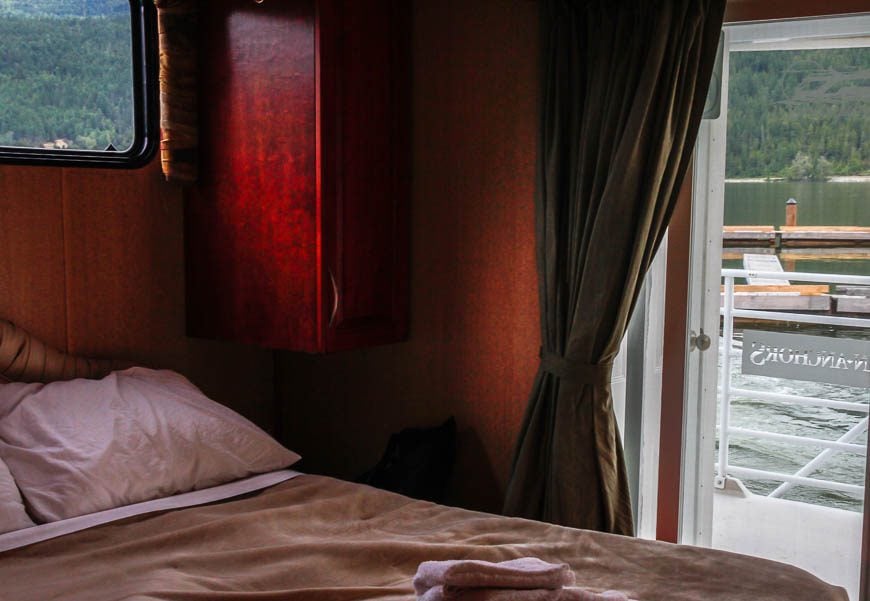 5. Take turns piloting the houseboat.
It's hard to eat and pilot the houseboat at the same time. Drinking is different – but with up to 200 houseboats, let alone small watercraft on the lake, act responsibly.
The actual steering of the houseboat is how I imagine it would be driving a super-sized RV – sluggish and unresponsive. It takes a bit of practice to gauge how far to move the wheel. And a bit of courage the first time you try landing on the beach.
5. Getty antsy for some vigorous exercise off the houseboat?
The lake is dotted with parks and many have hiking trails emanating from them. The Shuswap region is famous too for its bike trails – over 675 kilometres of them.
Didn't bring a bike – no problem. The folks at Skookum Cycle will bring bikes to you – and take you on a guided tour if that's what you're after. You can read about my account about biking one of the pretty backroads in the Shuswap area past a gorgeous waterfall.
6. Interested in a round or two of golf ?
You can drive your houseboat right up to the MaraHills Golf Resort– make a phone call to the office – and in a matter of minutes be out on a course.
It's a beautiful one too with expansive views of Shuswap Lake. Three other golf courses are also accessible from your houseboat; they are all well-marked on any map and easy to find.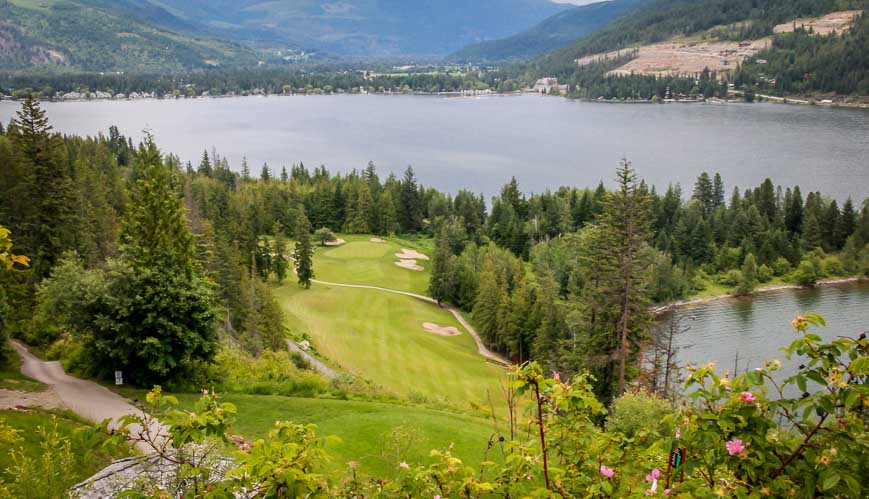 7. You hate cooking. Are there options for dining when you're houseboating on Shuswap Lake?
Fortunately there's a dock in Salmon Arm and from there it's just a short walk into town to gather supplies.
Have a meal at the Barley Station or grab some fresh pie at the Shuswap Pie Company and bring it back on board. And then of course there's always the floating Shuswap Shark Shack.
Read: 7 Things to do in Salmon Arm, British Columbia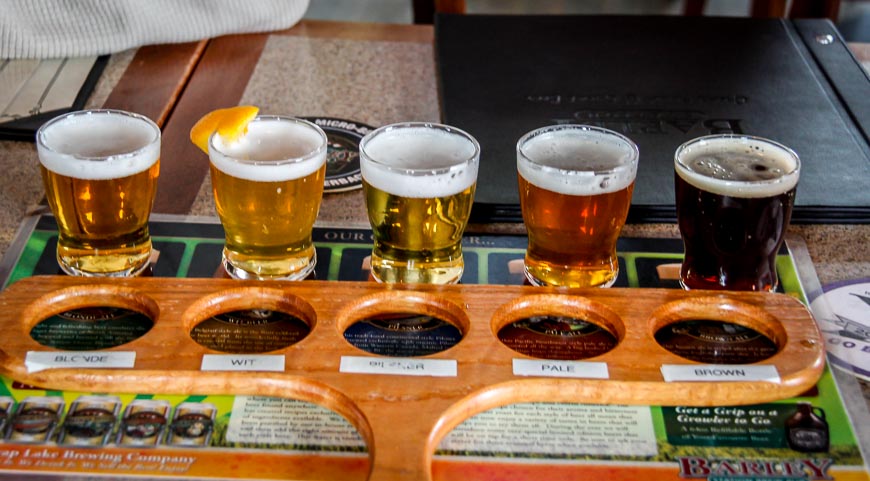 8. I know I'm in wine country but how can I take advantage of that?
Before you even get on board you could visit a few of the local wineries like Granite Creek Estates and Recline Ridge. But if that's not possible then check in with Mojo Tours and arrange an afternoon of local tasting. They'll even pick you up at the dock in Salmon Arm.
9. Is there anywhere to have a bonfire on Shuswap Lake?
Providing no fire bans are in place, you can enjoy a bonfire on one of the Shuswap Lake beaches. Bring the marshmallows – or make your own sweat lodge.
10. How many days should I go Shuswap Lake houseboating?
Once you're out on Shuswap Lake you'll probably wish you'd booked more time on the boat. Allow a minimum of three days.
A week is probably enough for most people. The houseboats don't move quickly so if you want to explore all the arms of the lake in a relaxed manner book as much time as you can afford.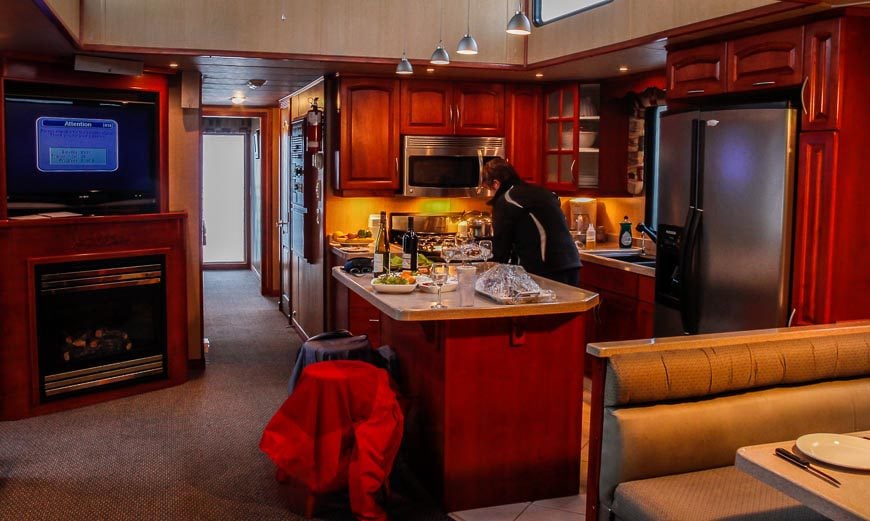 When is Shuswap Lake houseboating season?
The Shuswap Lake houseboating season starts in June and goes through till the end of October. Low season rates are in effect from May 1st through to June 6th and from September 1st to October 31st.
Peak season is June 27 – July 2nd and July 11-August 22nd. Mid season rates apply for the rest of the summer dates.
Further reading on places to visit nearby
Click on the photo to bookmark to your Pinterest boards.
I was a guest of Shuswap Tourism but all thoughts and opinions – as always – are my own.