If you're looking for a getaway that offers outdoor adventure, world-class wineries, and several exceptional dining experiences in a sustainable and responsible manner, then the South Okanagan needs to be on your radar.
This sunny, dry region in southern British Columbia is home to eight communities (Penticton, Naramata, Summerland, Peachland, Kaleden, Okanagan Falls, Oliver and Osoyoos), several lakes including Vaseux and Skaha Lakes along with 135-kilometre-long Lake Okanagan.
You'll find friendly people, awe-inspiring landscapes, pretty beaches, mountains, and a host of unique activities you won't find in a big city. The South Okanagan is an ideal destination if you want to recharge mentally and physically.
Plan to stay in or near Penticton – a small city with a population of 37,000. It's home to an airport that is a mere 8-minute drive away from the downtown. From Penticton, you can explore the area almost fuel-free by walking, biking, e-biking, and kayaking. Anything else you plan to do will only be a short drive away.
This post includes some affiliate links. If you make a qualifying purchase through one of these links, I will receive a small percentage of the sale at no extra cost to you. Thank you very much for your support.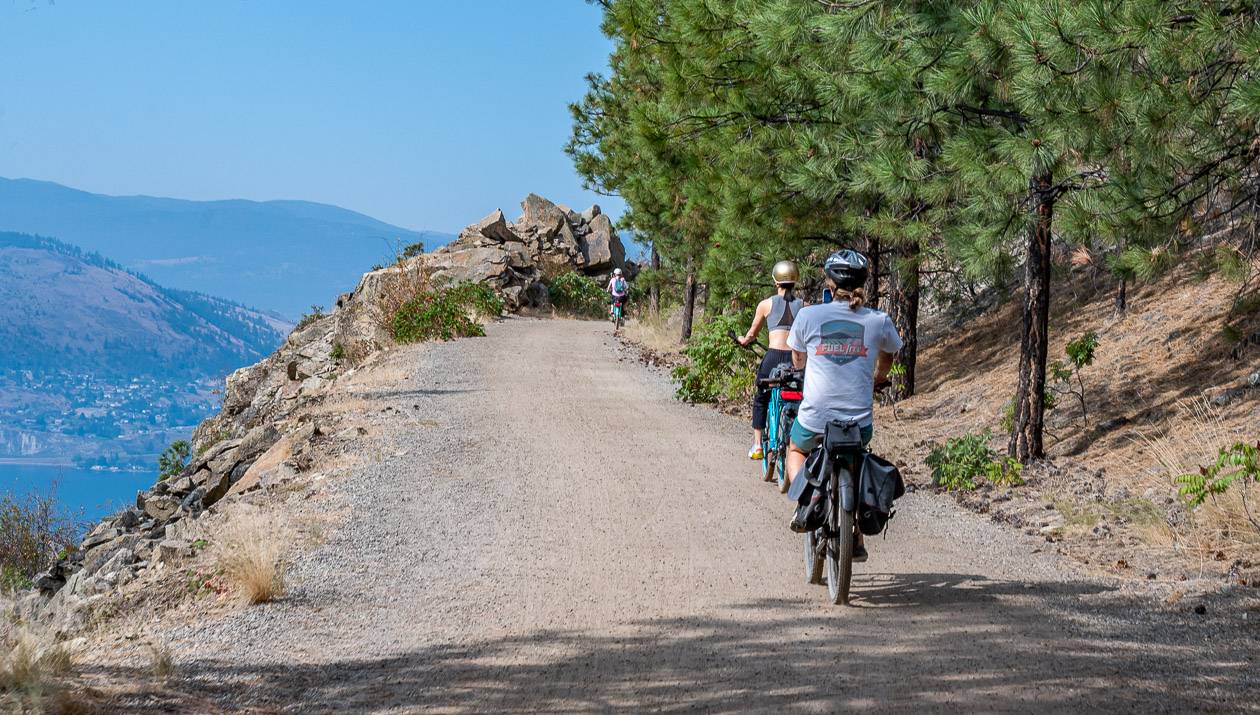 South Okanagan guide summary
Plan on a minimum of three nights to make the most of a visit to the South Okanagan. I stayed at the Penticton Lakeside Resort overlooking Lake Okanagan.
Explore up to eight communities almost fuel free by renting bikes or ebikes in Penticton.
Top outdoor activities include biking a section or two of the Kettle Valley Railway and kayaking Vaseux Lake. If you have time, raft the river channel in Penticton or try SUP or kayaking on Lake Okanagan.
Wine, beer, and cheese tasting are tops for the culinary crowd with an incredible choice in the number and calibre of wineries and craft breweries you can visit.
Enjoy two exceptional dining experiences at Elma in Penticton and The Restaurant at the Naramata Inn.
Wake up to coffee, baked goods and á la carte choices at Wayne and Freda, The Bench Market and Loki's Garage in Penticton.
Location map of South Okanagan things to see and do
Getting to the South Okanagan
The South Okanagan is an easy place to visit, even if you only have a few days. It's a short 45-minute flight to Penticton from Calgary – and 50 minutes from Vancouver. If you'd rather drive, it's 4.5 hours from Vancouver – but close to 8 hours from Calgary.
A guide to 3 perfect days in the South Okanagan
Most of us can find the time for a three-day getaway. It's not long, but it's enough to recharge, get a new view on life and forget about work and all the things that make up your day-to-day life. Described is a 3-day itinerary, and while it doesn't cover everything the South Okanagan has to offer, you'll hit many of the highlights.
Fly into Penticton for a late afternoon arrival: Check out the microbrewery scene in Penticton with a stop at Cannery Brewing. Enjoy dinner at one of the restaurants on the strip – Socialē, Elma, Salty's Beach House, or Cambo Beach.
Day 1 in the South Okanagan: Breakfast at Wayne & Freda's. Follow up with a bike ride on the Kettle Valley Railway, a cheese and wine tasting at Poplar Grove Cheese, a beer or slushie at Abandoned Rail Brew Co and finally dinner at Elma.
Day 2 in the South Okanagan: Breakfast at The Bench Market followed by a kayaking tour on Vaseux Lake. Then enjoy a farm tour at Covert Farms Family Estate followed by a local charcuterie board and a wine tasting. Check out the District Wine Village and eat dinner at The Restaurant at Naramata Inn in Naramata.
Day 3 in Summerland: After breakfast at Loki's Garage in Penticton, head to Summerland to bike a section of the Kettle Valley Railway. Clean up and head for the airport for an afternoon flight home.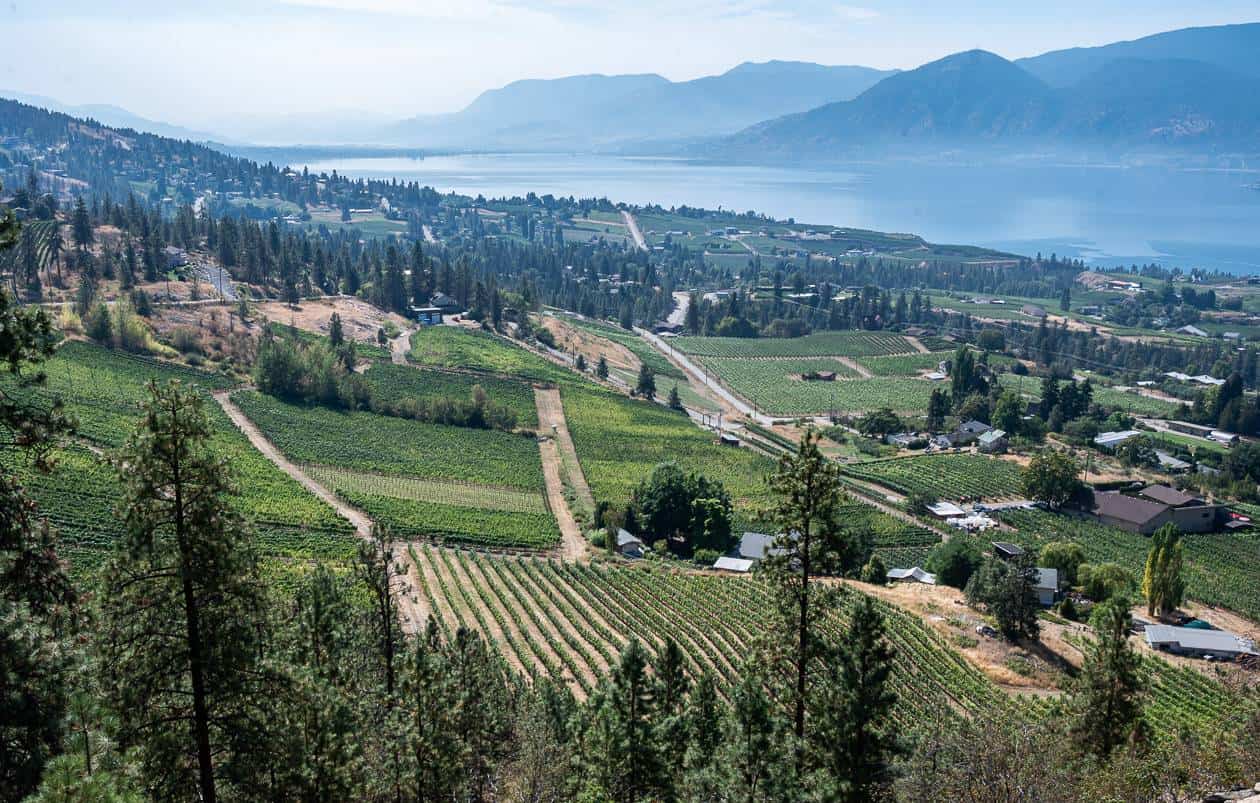 What to do on your arrival day in Penticton
Check out the craft beer scene in Penticton
Named as Canada's Craft Beer Capital by Lonely Planet, Penticton is the home to eight craft breweries. Walking between most of the breweries is easy as five are in downtown Penticton. If a brewery crawl is on your agenda, you won't even need a taxi to get back to your hotel.
Cannery Brewing is the craft brewery I visited. It's a family business that's been around for 20 years. They say that their beer is made with heart and they really care about the community. That was very much in evidence on our tour with Patt Dyck, one of the owners.
Their brewery is also one of the only places which allows minors to visit after 6 PM, thanks to something called a lounge endorsement. Parents can come here after work with the kids for a beer and bites – like a locally produced cheese or meat board.
The Backyard adjacent to the brewery is a casual place to hang out. It features picnic tables, astro-turf, a slushie machine, and a dedicated bar. There is a rotating food truck each weekend as well. Dogs are allowed if you keep them under the picnic table. It's open seasonally from Wednesday to Sunday.
With up to 13 beers on tap, there is going to be a beer for everyone. I for one became a fan of the Kindling Imperial Stout – though I have to say the blackberry porter was notable too.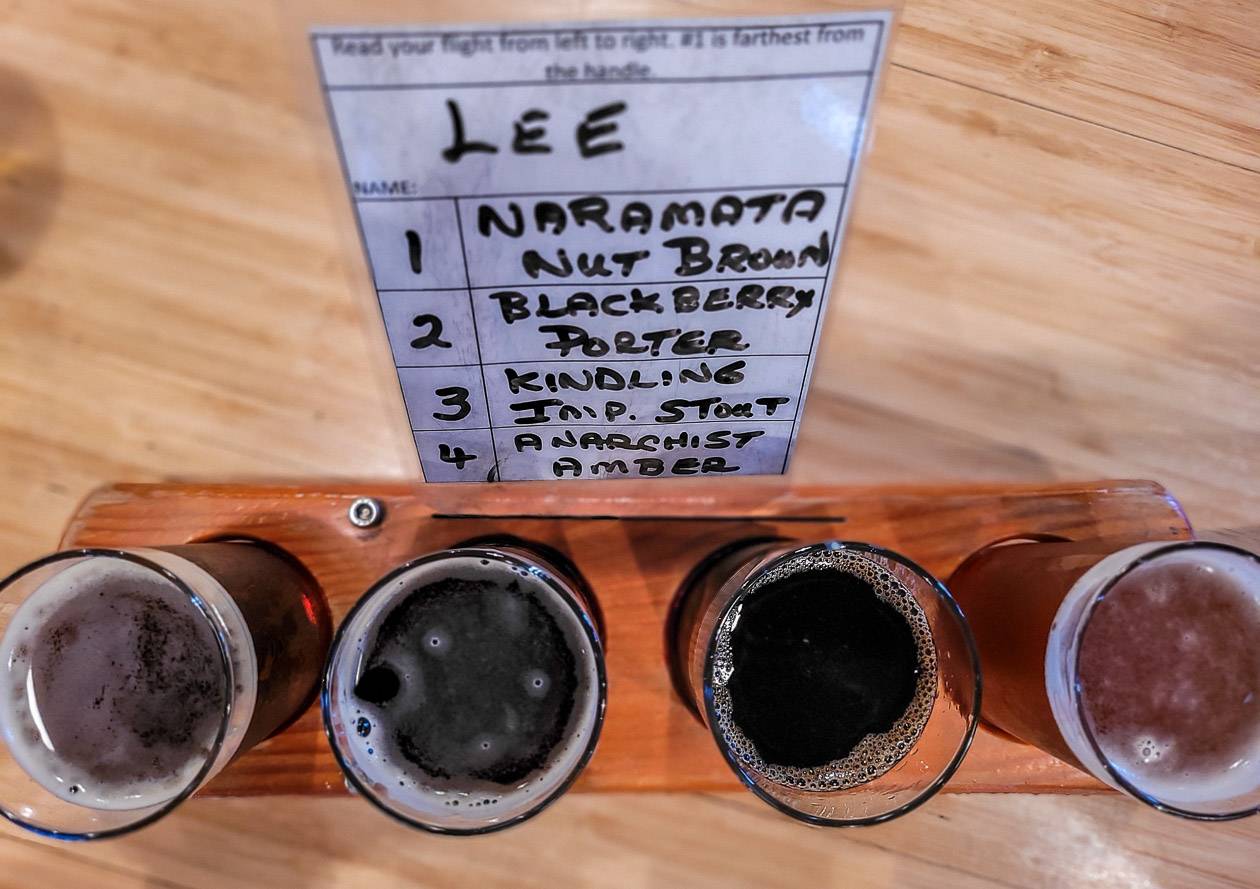 Day one in the South Okanagan
Fuel up at Wayne & Freda
I am a big fan of Wayne and Freda. Their coffee is fantastic and their house-made granola delicious. Ditto their muffins. One of my colleagues enjoyed an order of salmon toast that was almost too pretty to eat. The place has a great vibe and appears to draw a big local crowd.
The Wayne & Freda story is a good one too. Ryan and Jen, the couple who started the coffee shop were dating when they learned that their respective grandparents – named Wayne and Freda, were in the same care home and ultimately at the same dining table in the care home so they were able to look out for each other. What a wonderful tribute to their grandparents to name the restaurant after them.
Cycle the Kettle Valley Railway (KVR) from Penticton to Little Tunnel
The Kettle Valley Railway (KVR) is an abandoned railroad track that stretches across the Okanagan and Similkameen regions in southern British Columbia. If you were to bike the entire KVR, you'd cycle about 650 km. Fortunately, there are several short alternatives that are perfect for the recreational cyclist. One of the best is the bike ride from Penticton up past Naramata to the Little Tunnel lookout, a one-way distance of about 17 km.
You can rent an ebike from Pedego Bikes Penticton and have a very enjoyable return ride that will take you two to four hours, depending on how many stops you make. You can also rent road and mountain bikes from Freedom Bike Shop in Penticton. The biggest hill you'll encounter is the one to get out of Penticton. The good news is that it goes right by the The Bench Market – where you can pick up picnic supplies.
The Kettle Valley Railway is well-signed out of Penticton. Cycle through residential neighbourhoods, with views of Lake Okanagan and downtown Penticton. Continue past vineyards, orchards, a microbrewery and on through sweet smelling pine forest to reach the Little Tunnel lookout. This is a fine spot to enjoy your picnic with a view. Retrace your steps – stopping in at Abandoned Rail Brewing, Hillside Winery and/or Poplar Grove Cheese for a beer, wine, or cheese tasting.
Stop at Poplar Grove Cheese in the South Okanagan
Chances are high you're on a holiday if you're out biking the Kettle Valley Railway. So why not indulge and stop in at Poplar Grove Cheese for a cheese and Lock & Worth wine tasting. In fact, half the people that stop in for a tasting come from the KVR!
Normally three cheeses are paired with three wines, but we were lucky to try all four cheeses they make including their ever popular Tiger Blue and Okanagan Double Cream Camembert.
The minimalist, unfiltered wines produced by Lock & Worth come from some of the oldest vines in the Okanagan. One of the great combinations I enjoyed was a sauvignon blanc – semillon blend with the camembert. Wow!
If you can swing it, pick up some Poplar Grove cheese to take home with you. It will be a great memory of your time in the South Okanagan.
What will it be – an apple slushie or a beer?
You may be hot and dusty near the end of your South Okanagan bike ride, so plan to stop for a cold drink at Abandoned Rail Brewing Co, the most recent microbrewery to open in Penticton.
If you've ever cycled the KVR, you may remember The Trail Store that served slushies in the same location. The present owners bought that store and as a nod to how well loved it was, incorporated the Trail Store design into their building and best of all – they continue to serve apple slushies along with beer.
After parking your bike or car, wander past some productive fruit trees to enter the building. Choose your beer (they're known for their Pilsners) or slushie and enjoy patio seating or find a picnic table with an umbrella, sit back, and enjoy the sight of swaying barley in the 5-acre field next door. Their estate-grown barley is used in their beer, ensuring a hyper-local South Okanagan product.
Eat dinner at Elma
I wish there was an Elma in Calgary. This Turkish inspired restaurant on Lakeshore Drive operated by Michael and Ayse Barluk is one of my all-time favourite restaurants.
What makes Elma so great? It's a combination of things – the space, their creative take on Turkish food, the presentation, and the friendly, impeccable service. The bright space with a view to Lake Okanagan is filled with lights and tiles sourced from Turkey.
The bar upstairs with a backdrop of ferns is extraordinary. And the beautifully presented food is simply out of this world – especially the labne, described as a creamy strained yogurt with spicy honey and herbs. That doesn't begin to portray how something so simple is so out of this world delicious.
I am not a food writer – but I know good food when I taste it. And this is one restaurant you MUST absolutely visit on a trip to the South Okanagan. They are open Wednesday to Sunday. I would suggest that you make reservations.
Day 2 in the South Okanagan
Start the day with breakfast at The Bench Market
The Bench Market is a laidback place to enjoy an all-day breakfast, weekend brunch, delicious fresh baked goods and top-notch coffee. Eat inside or out, depending on the weather.
And if you're looking for a unique gift to take back with you, check out their selection of BC made unique food items like local jams, honey, barbeque sauces, oils, cookbooks, or cocktail napkins with crazy sayings.
Kayak on Vaseux Lake in the South Okanagan
Vaseux Lake located between Oliver and Okanagan Falls is a nature lover's dream. The non-motorized lake is a bird sanctuary that draws people from around the world, especially during the spring migration. The area around the lake is also noted for its painted turtles while on the hills and cliffs you can often spot big horn sheep, deer, elk, and even moose and bears.
The lake is a great place to enjoy an easy kayaking experience. If you don't have your own kayak, PFD, and safety gear, sign up for a tour led by Hoodoo Adventures and explore the lake and lagoon at a relaxed pace. If it's windy, it will be a tad more challenging but there is the option to paddle into the lagoon. That's the one time you'll feel the current, a testament to the fact that the water from Vaseux Lake is moving slowly into the Columbia River Basin.
Visit Covert Farms Family Estate
If you have two to three hours, include a visit to Covert Farms Family Estate, a 650-acre vineyard and farm at the end of a scenic winding road in Oliver. It is unlike any other vineyard or winery I have visited. This is a destination as it offers something for all members of your family from the little ones to seniors. I know of no other wineries that offer mini farm tours, juice, meat and cheese tastings – designed just for kids, a long slip and slide, and a massive bouncy apparatus to name but a few cool kid-loving distractions.
Gene Covert, the grandson of George Covert who bought the land in 1959, along with his wife Shelly Covert are on a mission to farm and grow their grapes and produce in a sustainable and regenerative manner – meaning that they are working hard to rebuild the soil's organic matter and improve the water cycle. They are getting there! In the hot summer of 2021, their pinot noir was watered just three times.
Their fascinating one-hour farm tour is a must. Hop in the back of their cherry red '52 Mercury truck and discover the property – including a massive pond with a bubbler and a couple of ski jumps that is used for practice by Olympians in summer.
Of course, you'll learn the history of the property and some of the ways they have incorporated lentils, flax, flowering plants, grasses, plantain, and a small herd of west highland cattle to aid in soil regeneration. On the tour, you'll also enjoy a wine tasting and perhaps even a grape tasting. And when that's all done, you can pick a box of organic strawberries to take home with you.
Finish the visit with the most colourful and delicious charcuterie board you've ever seen – paired with a sampling of seven wines including their sparking zinfandel, a rosé, a sauvignon blanc-semillon mix, and their gold winning 2019 Amicita. This was a memorable stop in the South Okanagan I highly recommend you incorporate on your visit.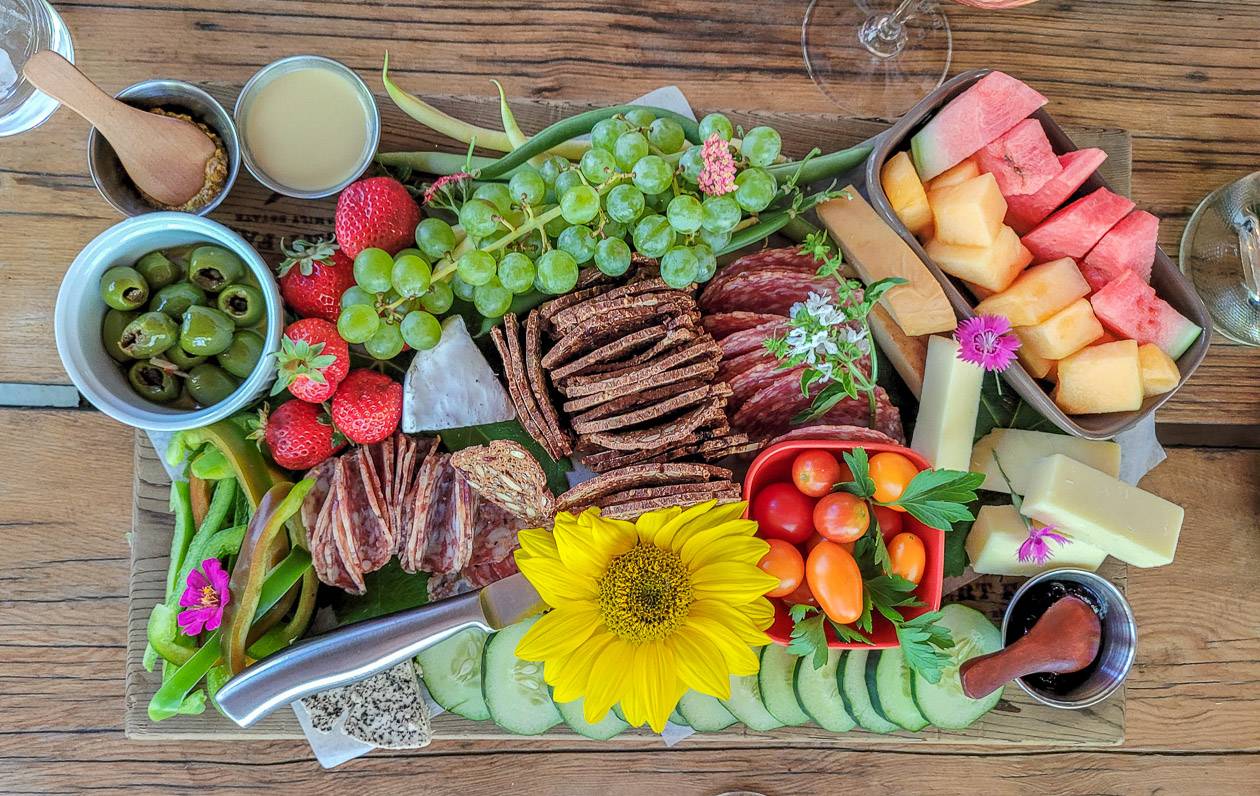 Visit the District Wine Village
The District Wine Village near Oliver is called the first true wine village in Canada. The concept is to showcase new wineries that produce less than 2,000 cases of wine per year. It's an opportunity for the wineries to present their wines to a different audience and build out their customer base.
Within the wine village there are 12 wineries, one craft brewery and a distillery. Each winery has state of the art equipment on site – and the ability to press the grapes with portable group equipment. It's a very collaborative approach to wine making. Enjoy wine, beer, or spirit tastings, sometimes paired with food at any one of the wineries. They offer a twice a day shuttle from Penticton and Osoyoos, so you don't even need a car to enjoy a visit.
The circle pictured below is a symbol of collaboration and cooperation. It is a place where people gather, drink, talk, have fun – and enjoy events like the weekly Wednesday night market.
Eat at The Restaurant at the Naramata Inn
We didn't stay at the Naramata Inn, but I did some 12 years ago. With new ownership, the dozen Mission style rooms have been fully refurbished and updated but they still offer a view of gardens, lakes and hills, from the shared upper veranda. Even better, a continental breakfast created by Chef Ned and his team comes with the room. If it's anything like dinner, you're in for a treat.
I had the immense pleasure of meeting Chef Ned Bell during our meal at The Restaurant at the Naramata Inn. He is one of the owners of the inn, along with his partner/wife Kate Colley, Maria Wiesner, and Paul Hollands. His program called "hyper local, hyper seasonal is rooted in technically French food with Naramata flavours." He says the restaurant follows the seasons day to day, week to week and not so much season to season which allows his team to be incredibly creative. They focus on using ingredients from the region – so there are no lemons, limes, or olive oil, though a few exceptions are made like pulses from the prairies and seafood from the west coast. His hope is to "be bringing the best of the Okanagan to the world."
Chef Ned did say that every great meal starts and ends with something from the pastry chef. In this case we started with the Naramata apple sourdough bread with house cultured butter. That could be a meal in itself. I followed that with a tomato salad made with Tiger Blue crème, stone fruits and torn herbs in an amazing vinaigrette made with Venturi-Shulze aged balsamic vinegar. Then it was a fine piece of salmon – pictured below. I ended with one of the best desserts of my life – and I do not exaggerate here. The caramel choux à la crème is a slice of heaven – with layers of textures and flavours that were simply divine. I think they may be including the dessert in a cooking class.
If you plan to be anywhere in the South Okanagan, make a reservation, and then eat lightly all day so you can enjoy a fine meal at a wonderful restaurant in a charming small town.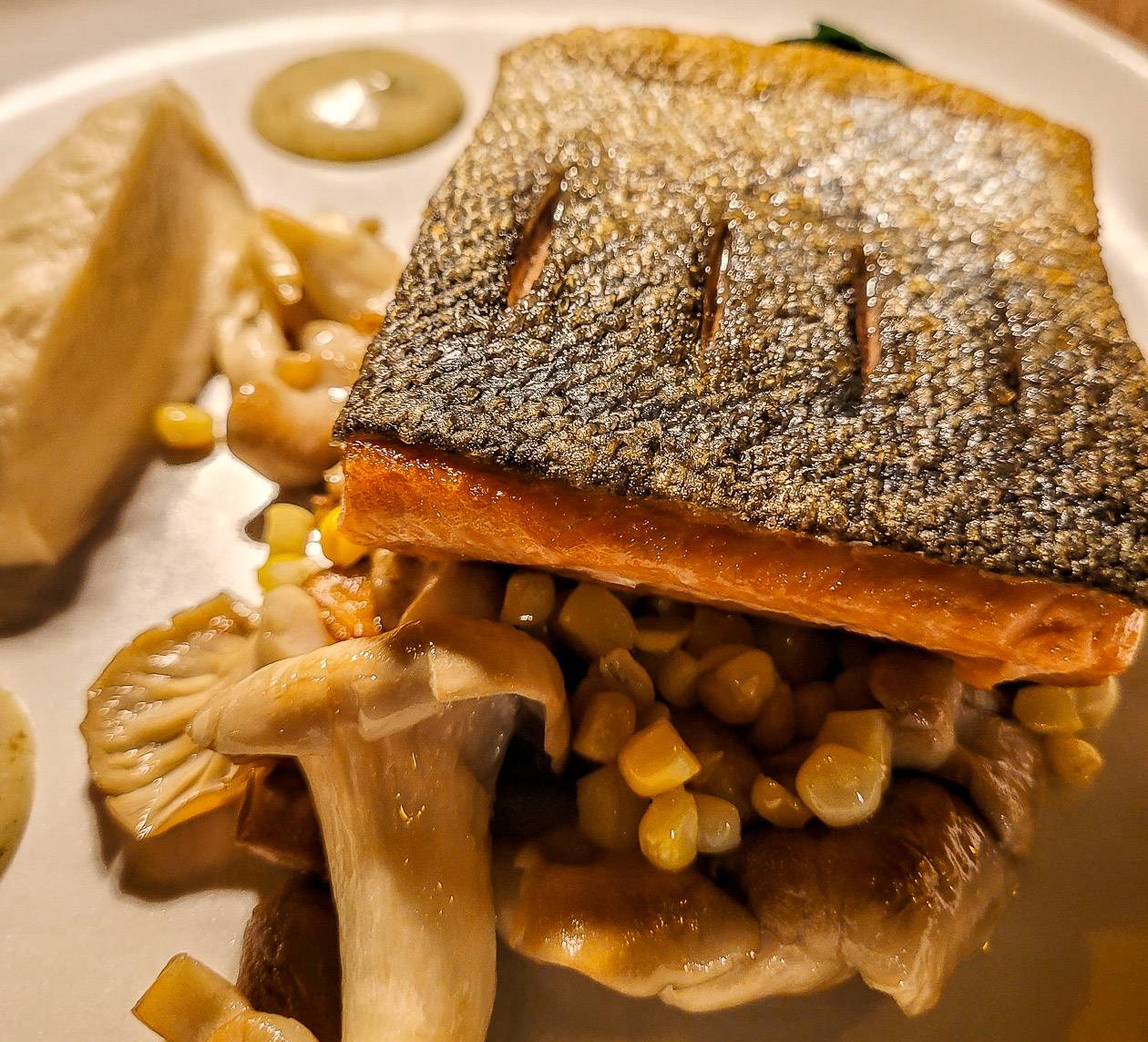 Day 3 in the South Okanagan
Start with breakfast at Loki's Garage
Loki's Garage in Penticton doesn't open until 9 AM so you can sleep in or better yet, get up and walk the Okanagan Beach promenade. You'll share it with other early risers, dog walkers, and perhaps even someone who has just had a swim. Then it's a 5-minute walk from the Penticton Lakeside Resort to the restaurant. If it's a fine day, sit outside at one of the picnic tables and enjoy a brunch until 1 PM.
Their focus is on locally sourced, house-made ingredients with a keen eye to presentation. Coffee is French press only – but they do offer mimosas and Caesars.
Bike the Kettle Valley Railway out of Summerland
The Kettle Valley Railway out of Summerland has a wilder, less populous feel to it than the section heading to the First Tunnel lookout from Penticton. The trail twists, turns and climbs past viewpoints in the South Okanagan, the Kettle Valley Steam Train, and several interpretive panels. Did you know that Sam McGee from one of the best selling poems of all time – The Cremation of Sam McGee lived in Summerland at one point?
The trail follows the Trans-Canada Trail from Summerland to Osprey Lakes.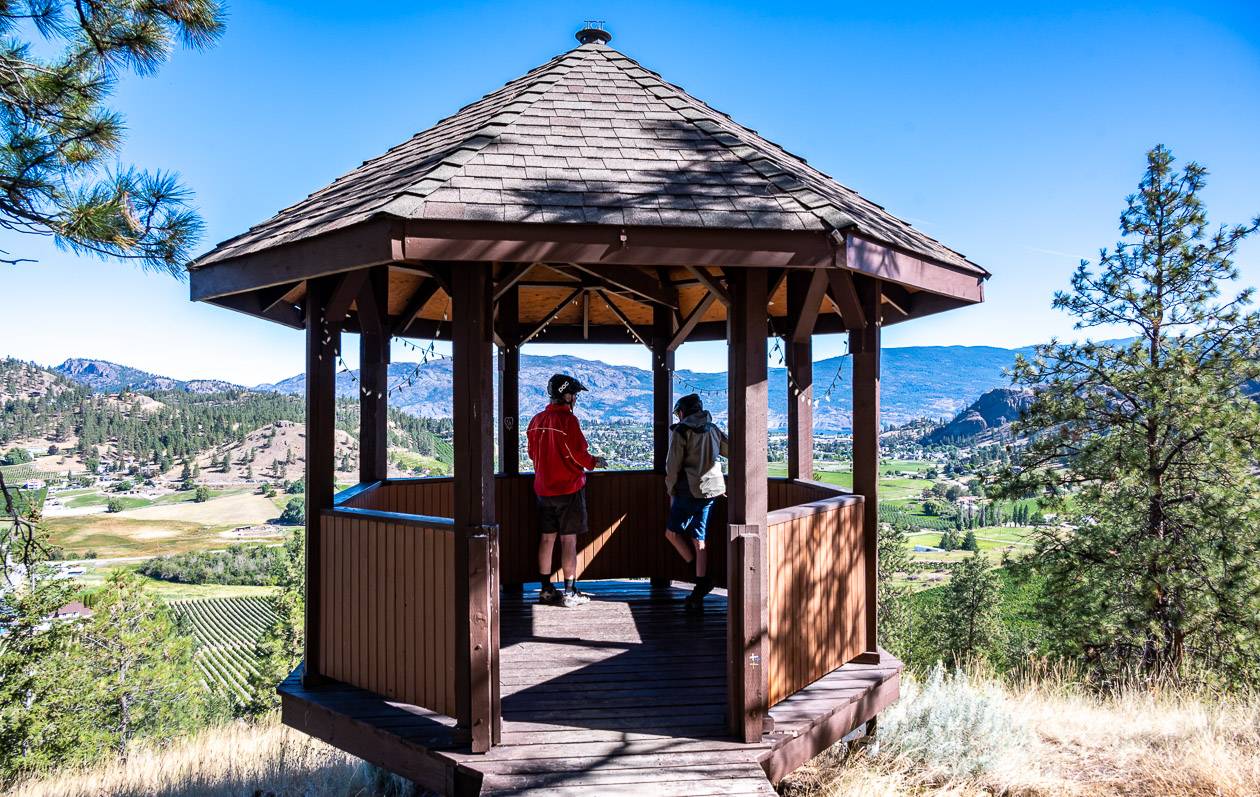 Say goodbye to the South Okanagan
Flying out of Penticton is easy as it's such a small airport – so small that the only things you can buy come out of vending machines. The good news though is that you don't have to be at the airport more than about 90 minutes before your flight – just like the "old days." Bon voyage and come back again to this special part of British Columbia.
Further reading on things to do in BC
Thank you to Visit Penticton for hosting me. All thoughts and opinions are mine alone.
Click on the photo to bookmark to your Pinterest boards.