If you're traveling to British Columbia in search of adventure, I've got you covered. Check out these 25 adventures in British Columbia that include everything from hiking to backpacking, and biking to canoeing and kayaking.
I've done 23 of these adventures in British Columbia and there are two I haven't. Mt Edziza and the Rim Trail in Cathedral Provincial Park are at the top of my wish list.
Adventures in British Columbia – the best backpacking trips
British Columbia is blessed with diverse landscapes, so you can enjoy everything from difficult coastal backpacking trips to stellar trips among the giants of the forest to hikes offering superlative Rocky Mountain scenery.
Juan de Fuca Trail
Not sure if you can handle the full West Coast Trail experience? Hike the 47 km Juan de Fuca Trail over four days instead.
You don't need reservations and it's free except for a shuttle and a $10/night/pp camping fee. It's still very beautiful but be warned – in summer campsites can be overflowing. Try a June or September trip instead.
Read: Juan de Fuca Trail: What you Need to Know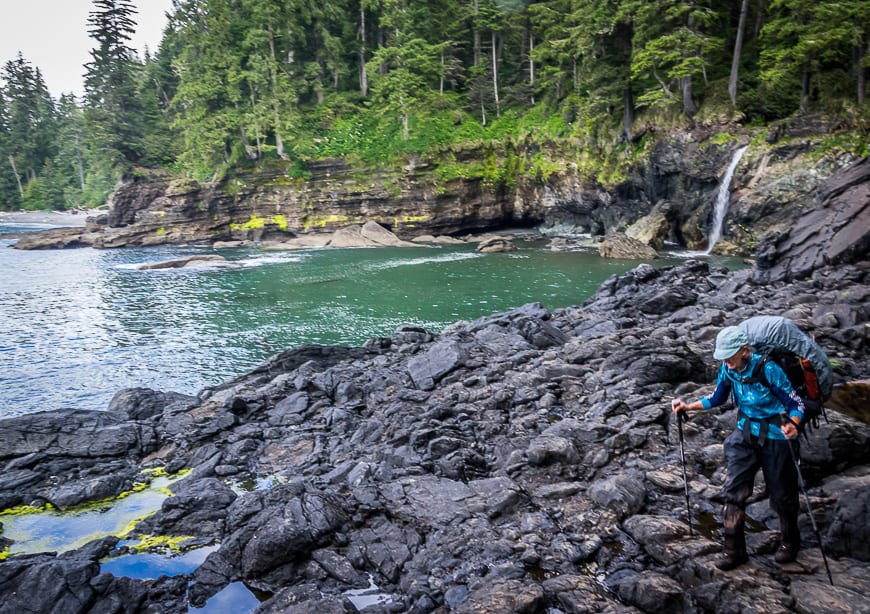 Backpack the West Coast Trail – one of the premier adventures in British Columbia
The West Coast Trail is a physically demanding 75 km hike stretching along the west coast of Vancouver Island. You need to reserve in advance.
The trail offers a lot of variety including root covered trails, endless ladders, several cable car crossings over roaring rivers, gorgeous beaches, and plenty of slimy green, poorly maintained boardwalk that can be very slick.
If it's a rainy year, beware of the mud as it can be knee deep in places. Highlights include the beautiful Carmanah Point and Pachena Point Lighthouses, the section in and around Hole in the Wall, Tsusiat Falls and the expansive views from Valencia Bluffs.
Read: Everything You Need to Know to Hike the West Coast Trail
Backpack the Chilkoot Trail – one of the tough adventures in British Columbia
The historic 53 km Chilkoot Trail offers a unique backpacking opportunity on the gold rush trail of the late 1800's. It begins in Dyea, Alaska just outside of Skagway and climbs up over the Chilkoot Pass at the United States/Canada border and then descends into a barren but very beautiful landscape.
Finish in Bennett, British Columbia after several days of hiking through forests and along a series of lakes. In Bennett you can take the scenic Yukon Route Railroad and return to either Carcross, Yukon Territory or Skagway, Alaska. Allow four days.
Read: A Guide to Backpacking the Chilkoot Trail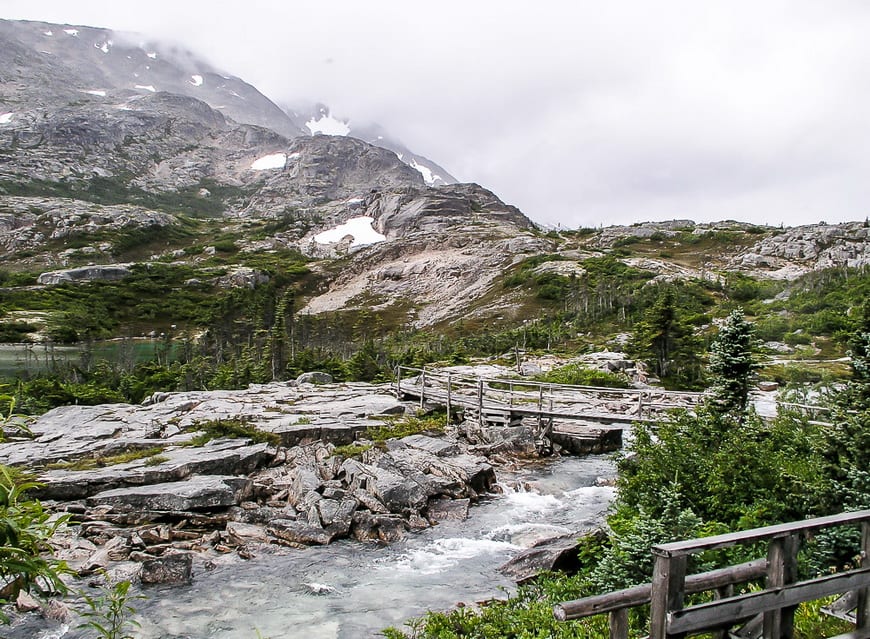 Hike the Rockwall Trail in Kootenay National Park
The Rockwall Trail in Kootenay National Park is one of the premier backpacking trips in the Canadian Rockies and one of the prettiest adventures in British Columbia, but its one tough trip.
Every day requires steep ascents and knee crunching descents. But the payoff off – following the Rockwall, a 35 km (22 mi) long limestone cliff that can only be viewed if you've made the effort.
Other highlights include spectacular Floe Lake, wildflower filled meadows, hanging glaciers, Helmet Falls and the ochre coloured Paint Pots. Allow five days. Reserve backcountry campsites – in January and February for the best choice of dates.
Backpack the Sunshine Coast Trail – one of the multi-day adventures in British Columbia
The Sunshine Coast Trail is a 180 km hut to hut hiking and backpacking trail that runs from Sarah Point to Saltery Bay where the ferries come in from Earl's Cove. The brainchild of Eagle Walz, the trail links sections of old growth forest.
Hike the trail for a day, a week or do the whole thing. There are lots of entrance and exit points. You can't book the huts along the trail but they are all free.
Read: Sunshine Coast Trail: What You Need to Know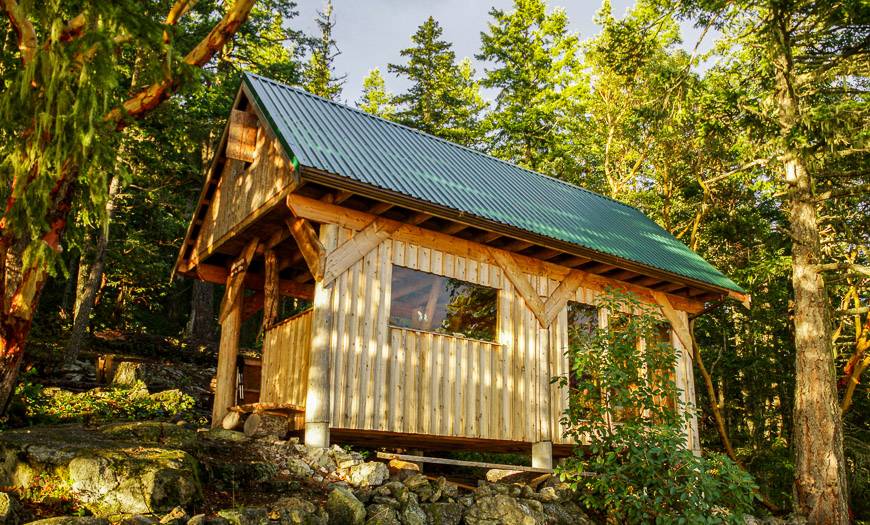 Hike to Berg Lake in Mount Robson Provincial Park
Another of Canada's premier backpacking trips takes you to Berg Lake with Mount Robson, the highest mountain in the Canadian Rockies, as a backdrop.
A two day trip doesn't do the area justice. Add on days so you can explore Snowbird Pass and/or the Hargreaves Glacier/Mumm Basin Route. This is a popular trip so make reservations well in advance starting October 1. (As a side note some people book a helicopter ride in and then walk out.)
Read: A Hiking Guide to Berg Lake in BC
Backpack the Spectrum Range, Mt Edziza Provincial Park – one of the off the beaten path adventures in British Columbia
Although I haven't done this trip it's very high on my wish list. I've heard from fellow hikers this is a trip I shouldn't miss. The remote park is located in northwestern BC – a full two day drive from Calgary and then you still have to charter a plane to fly in.
The hike takes you through a remarkable, multi-hued volcanic landscape with lots of lakes, wildflowers and wild animals, especially moose.
You're supposed to carry a satellite phone in case of problems and be very self-reliant. If this sounds like you check out the BC Park's website for more information.
Adventures in British Columbia – the best hikes to try
British Columbia is blessed with some of the premier hiking on the planet. Of all the places in the province to hike. the Lake O'Hara region is the one that is the highest on almost everybody's wish list – but it's the most difficult one to access as numbers are controlled.
Hike the Coast Trail, East Sooke Park
With a start only 45 minutes from downtown Victoria, the 10 km one way hike on the Coast Trail is a standout from start to finish. Despite its short distance, it's difficult.
But the rewards are great; spectacular and rugged coastal scenery broken by temperate rainforest, massive cedars and firs, pocket beaches, tide pools, views of the Olympic Mountains, as well as swaths of wildflowers in season. Try to arrange a shuttle so you can do this as a one way hike.
Read: Day Hikes near Victoria: The Coastal Trail in East Sooke Park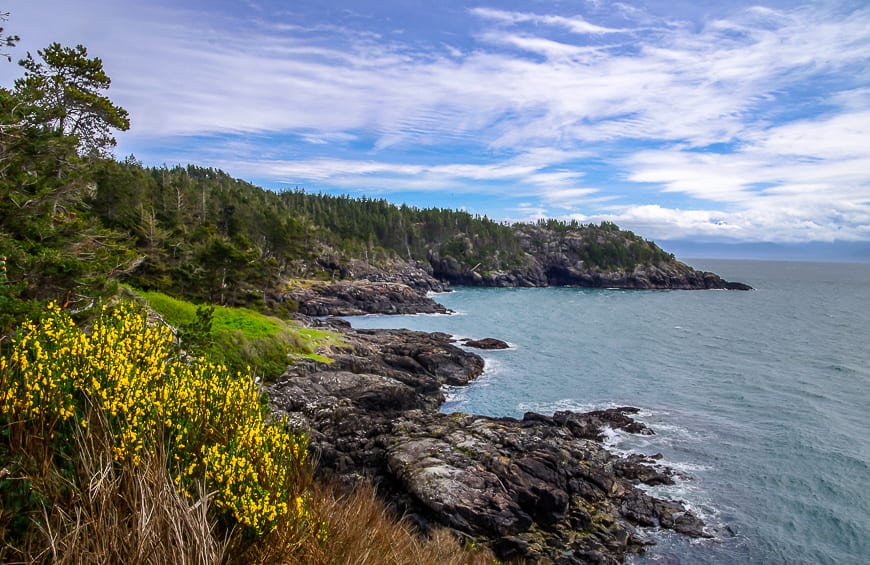 Kwai Loop Hike in Strathcona Provincial Park
If you're visiting Vancouver Island head for Strathcona Provincial Park so you can do the 15.6 km Kwai Loop hike.
You only need about five hours as there is only about 200 m of elevation gain. Enjoy a series of pretty sub-alpine lakes, flower studded meadows and mountain vistas. It's easy to add mileage and even make it into a backpacking trip.
Iceline Trail hike in Yoho National Park
Located in Yoho National Park, the Iceline Trail starts from the parking lot at the splendid Takakkaw Falls. It's steep at the start, climbing 400 m to reach tree line. And then it's absolutely glorious.
There are lots of variations on the hike – and in fact it's possible to do a three day backpacking trip if you visit the Stanley Falls Hut (or nearby campground) and do some off-trail exploring.
If you have a sunny day, enjoy far-reaching mountain views, panoramic vistas of Yoho Valley, Emerald Glacier and of course Takkakaw Falls from above. This is one of the grand adventures in British Columbia that any keen hiker will want to do.
Read: Hiking the Iceline Trail near Field, BC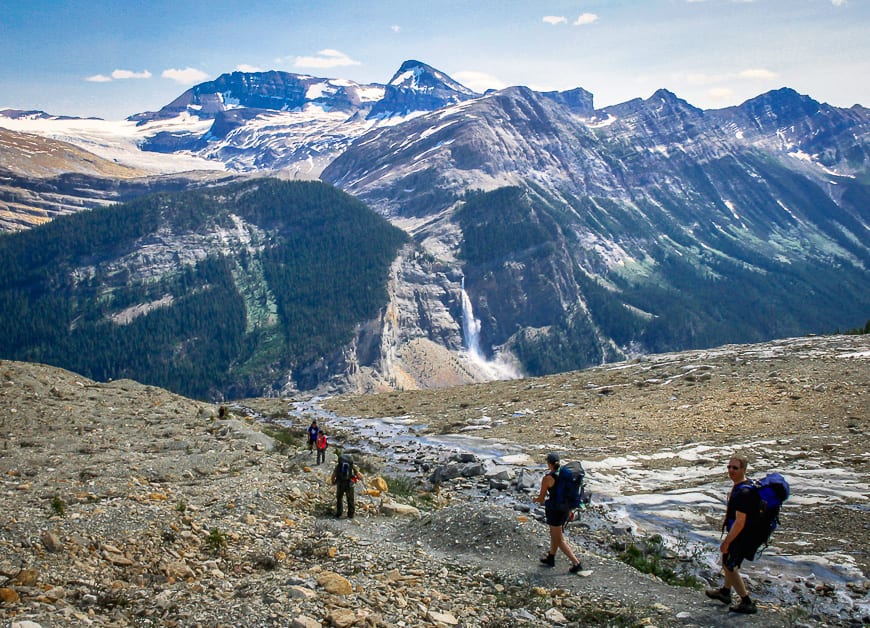 Hike in the Rainbow Mountains, Tweedsmuir Provincial Park
One of the remote world-class adventures in British Columbia is a day hike in the Rainbow Mountains in Tweedsmuir Provincial Park. Plan to be self-sufficient and be bear aware as chances are you'll see very few people. All told hike about 8 km one way with a 300 m elevation gain.
Once at the bigger lake there's loads of off trail hiking; you could literally go for days. There are bear boxes part way up so camping is possible. Otherwise enjoy the wildflowers, coastal mountain views, wildlife and the incredible colours of the mountains that make up the Rainbow Range.
Read: Rainbow Range Hike in Tweedsmuir Provincial Park
Hike the Lake O'Hara Alpine Circuit, Yoho National Park – one of the top adventures in British Columbia
For a soul-stirring hike do the Lake O'Hara Alpine Circuit. There are few of its equal – certainly that are accessible – in Canada or anywhere else for that matter.
The alpine circuit connects seven trails to create a large loop. Hike it in any direction and exit at numerous locations should you find it tough going or bad weather arrives. Don't attempt it until the snow melts in mid-July.
The payoff – phenomenal alpine scenery, turquoise-coloured glacier fed lakes, catwalks and ledges, meadows, wildflowers and come the fall, yellow larch trees.
Hike to the Black Tusk in Garibaldi Provincial Park
If you've skied at Whistler, you've seen the Black Tusk – an unmistakable landmark that sticks out from all the other mountain peaks in the area due to its unique appearance.
The black volcanic dome is also visible from many vantage points along the Sea-to-Sky Highway. It rises to a height of 2,319 m but you don't have to go to the top to feel like you've hiked it.
A large number of hikers call it a day once they've reached the shoulder as there's exposure after that. Once you're close to the shoulder enjoy incredible views of Garibaldi Lake and high alpine meadows.
Read: Hike to the Black Tusk in Garibaldi Provincial Park
Hike to Eva Lake in Mount Revelstoke National Park
Gorgeous turquoise-coloured Eva Lake is accessed via a trail at the top of the Meadows in the Sky Parkway in Mount Revelstoke National Park. Start at the parking lot by Balsam Lake, in a beautiful landscape of sub-alpine tundra. A shuttle option in summer cuts off a kilometre.
The trail starts in a forest of stunted sub-alpine fir, Englemann spruce and mountain hemlock with periodic views of the Columbia River, thousands of feet below. Cross unbelievable wildflower filled meadows before entering a world of rocks and boulders about 30 minutes out from the lake. Allow 5 – 6 hours to do the 12 km return hike.
Read: Eva Lake Hike in Mount Revelstoke National Park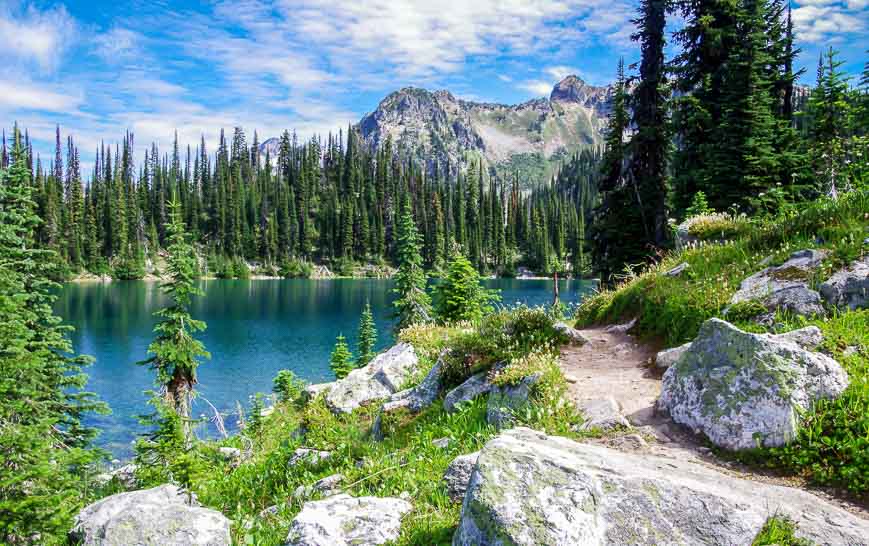 The Rim Trail, Cathedral Provincial Park – one of the outstanding adventures in British Columbia
The Rim Trail is considered to be a moderately challenging 15 km circular route in stunning but off the beaten path Cathedral Provincial Park near Keremeos in southern British Columbia. Gemma at Offtrack Travel calls it one of the best hikes she has done in all of BC.
Read: 5 Awesome Hikes with a view near Penticton
Adventures in British Columbia – the best kayaking and canoeing
I have been lucky to spend weeks at a time paddling the lakes and the west coast of Vancouver Island. In the summer, this is one of the most incredible activities to do in the province as you get access to pristine landscapes with white sandy beaches – often without a soul around.
Paddle the Bowron Lakes
Years ago Outside Magazine called the Bowron Lake canoe circuit one of the world's Top 10 Canoe Trips. It attracts an international crowd looking for adventure. The 110 km loop is usually paddled over 6-10 days.
The circuit involves six major lakes and two rivers linked by numerous well marked portages with the Cariboo Mountains serving as a backdrop. A canoe cart is highly recommended to make the portages tolerable. Reserve your start day well in advance.
Kayak Johnstone Strait and the Broughton Archipelago
Johnstone Strait is home to the largest number of resident orca whales in the world. The possibility of paddling among the orcas – an exhilarating though scary experience – is not the only reason to visit Johnstone Strait.
The area is home to a huge amount of sea and animal life. It's quite likely you'll see bears, seals, sea lions and dolphins or porpoises.
On one kayaking trip I witnessed a pod of dolphins that was at least a half mile long. Continue on into the Broughton Archipelago for wilder, west coast scenery where you're unlikely to see another soul.
Kayak Desolation Sound
Desolation Sound, located off the northern end of British Columbia's Sunshine Coast is famous for its summer boat cruising.
But it also draws kayakers, for both the spectacular beauty of the Coast Mountains and for the fact that the waters are some of the warmest ocean waters north of Baja California in Mexico, – warm enough even for swimming in the summer.
Plan to spend a week to 10 days in this area poking around the islands, islets, sheltered bays and pocket coves.
Adventures in British Columbia – Kayak in Gwaii Haanas National Park Preserve
You will be wowed by a visit to Gwaii Haanas National Park Preserve. Located at the southern tip of Haida Gwaii, in northwest British Columbia, the park offers intermediate to advanced paddlers the chance to explore a world the Haida people have lived in for over 12,000 years.
Experience a combination of magnificent west coast scenery, including gorgeous sand beaches and dense rainforest, incomparable marine life and native culture. This is the one place I've had a whale actually dive beneath by kayak.
Kayak Clayoquot Sound
Ruggedly beautiful Clayoquot Sound, on the remote west coast of Vancouver Island, is a superb spot for a kayaking trip. Enjoy classic west coast mountain and ocean scenery, deserted sandy beaches, wildlife including possible gray whale and sea lion sightings and abundant bird life.
Do it self-supported or hook up with one of the many tour companies leaving out of Tofino.
Read: A Kayaking Trip in Clayoquot Sound, BC
Kayak a loop in the Broken Group of Islands
The Broken Group of Islands in Pacific Rim National Park Preserve is a kayaker's paradise – in the off season. In summer it can be over run – with privacy at a premium.
There's lots of poking about to do, beaches to explore and camping is available on several islands. Just keep an eye on the weather because though popular, conditions can turn in a heartbeat on the west coast.
Read: A Sea Kayaking Trip in the Broken Group of Islands
The best bike rides in British Columbia
The Gulf Islands are made for biking – and its so much fun to explore the character of each island by island hopping via ferry. British Columbia is also famous for its mountain biking trails in North Vancouver and Whistler, Silver Star Resort and in the Rossland area. There is fabulous biking on the famous Kettle Valley Railway in the Okanagan for a day or even for a multi-day trip.
Cycle the Kettle Valley Railway from Myra Canyon to Penticton
The Kettle Valley Railway (KVR) is an abandoned railroad track that winds across the Okanagan and Similkameen region in southern BC. All told it offers over 800 km of cycling but it's the 80 km section from Myra Canyon near Kelowna through to Penticton that is the most popular.
The 12 km Myra Canyon section draws the biggest crowds of all. You can do it on your own but tour companies rent bikes and offer tours, usually out of Kelowna.
Read: Bike Myra Canyon on the Amazing Kettle Valley Railway
Adventures in British Columbia – Cycle Victoria and the Gulf Islands
Victoria and the Gulf Islands are known for their mild temperatures, sunny days and low rainfall in summer. The Gulf Islands are a fantastic biking destination for a day, a week or even longer if you enjoy a variety of off the bike activities. (My favourite is Saturna Island.)
On Vancouver Island, enjoy the mostly flat and easy Lochside Trail – a dedicated bike path that takes you from downtown Victoria to the Swartz Bay Ferry Terminal, while on the Gulf Islands look for a mix of pastoral and coastal scenery on generally quiet but hilly roads.
The big decision you'll have to make – which islands to visit and what ferry to take.
Read: Biking Salt Spring Island
Cycle in the Shuswap region
The Shuswap-North Okanagan region encompassing the towns of Salmon Arm, Sicamous, Chase, Sorrento, Enderby, Armstrong and Falkland is home to over 675 km of biking trails. They range from the epic 40 km Larch Hills Traverse to mellow hour long trails in some of the local parks. You'll find some of the best biking adventures in British Columbia in this part of the province.
Which one do you pick? Decide if its birding hotspots, wineries, beaches or local farms you want to visit and then visit Shuswap Tourism's website and check out their downloadable bike guide.
Read: Biking in the Shuswap area of British Columbia
Adventures in British Columbia : Cycle the multi-use trail between Cranbrook and Kimberley
Cycle just over 28 km one way between Kimberly and Cranbrook on the North Star Rail Trail.
The route which lies between the Purcell Mountains and the Rocky Mountain Trench offers both pastoral and mountain scenery along with a scenic crossing of the St. Mary's River on a 135 m long bridge with cut-outs in the wire for viewing. This is a great outing for families.
For a UK blogger's take on great outdoor adventures read: Vancouver Island Adventures: Outdoor Activities in Canada for Everyone.
Click on the image below to save to your Pinterest boards.