The Black Tusk hike in Garibaldi Provincial Park is one of the MUST DO hikes in southern BC. It never fails to amaze. The Black Tusk, an unmistakable landmark, sticks out from all the other mountain peaks in the area due to its unique appearance. The black volcanic dome is visible from many vantage points along the Sea to Sky Highway. If you ski at Whistler you can't miss the in your face view from the top of the highest chair lift. It rises to a height of 2,319 metres (7,608 feet) but you don't have to go to the very top to feel like you've done the Black Tusk hike.
This post includes some affiliate links. If you make a purchase via one of these links, I may receive a small commission at no extra cost to you. Thank you very much for your support.
Black Tusk hike summary
Highlights: High alpine meadows, wildflowers, spectacular mountain views, Garibaldi Lake
Level of difficulty: Hard
Distance: 29 km (18 miles) return from the Rubble Creek parking lot; 14 km (8.7 miles) return from Garibaldi Lake Campground
Vertical gain: 1,735 metres or 5,693 feet
Location: Garibaldi Provincial Park, about 100 km north of Vancouver, 20 km south of Whistler
Time needed: 8 – 10 hours as a day hike from the Rubble Creek parking lot, 5 hours as a day hike from Garibaldi Lake, Taylor Meadows or Helm Creek campgrounds.
When: July through to early October
Campsites: You must reserve a campsite before you go, four months to the day you want it.
Dogs: Not permitted in Garibaldi Provincial Park
Bears: The Black Tusk hike is a busy one but I'd still recommend carrying easy to access bear spray in a bear spray holster.
Don't forget: Bring bug spray in the summer months. Your cellphone will probably work.
Permits: You will need a day-use pass to do the Black Tusk hike. You can book two days in advance of your visit.
Trailhead Coordinates: 49.946139 -123.056792
Before you go: Consider purchasing a map of Garibaldi Provincial Park showing summer hikes, campsites and the Spearhead Traverse. This is another more detailed topo map to consider – Brandywine Falls 92J/3.
Black Tusk hike route description
Most people start out on the Black Tusk hike from the Rubble Creek parking lot. Initially it's a tedious 6 km of switch-backing to reach the junction to Garibaldi Lake or Taylor Meadows campground. Each kilometre is marked so you'll know exactly where you are.
At the junction the most direct route is to do the Black Tusk hike via Taylor Meadows. If you are camping at Garibaldi Lake, or just wish to extend the hike, you can detour that way before continuing on to Black Tusk via the Black Tusk/ Cinder Flats connector trail. However, I will continue to describe the route for a direct ascent of the Black Tusk via Taylor Meadows.
Fortunately the grade is moderate and you can dispatch with this section quickly. Another 1.5 km of hiking will put you at Taylor Meadows where the views begin – though it's still 7 km from here to reach the shoulder beneath the Black Tusk.
After leaving the Taylor Meadows campsite, cross Taylor Creek. If you need to refill water bottles, this is a good place to do it. Don't forget the water purification tablets. When you come to a junction, go straight. Going right takes you to Garibaldi Lake. From the Taylor Creek Campground the trail steadily winds its way up through more meadows and over countless streams. In the summer the area is alive with wildflowers in July and early August – and in autumn ablaze with fall colours. There is one outhouse at aptly named Outhouse Junction.
It can be very wet through here too – even in July if it's a big snow year. Occasional views of the Black Tusk pop into view. It feels more distant than it really is.
Once through the last of the trees it takes roughly an hour to hike up the moderately steep black talus slopes to the shoulder at the base of the Black Tusk. This section is often snow-covered until well into the summer.
When you need to catch your breath turn around and enjoy the views, especially of Mount Garibaldi and Garibaldi Lake. They become more amazing with each step you take.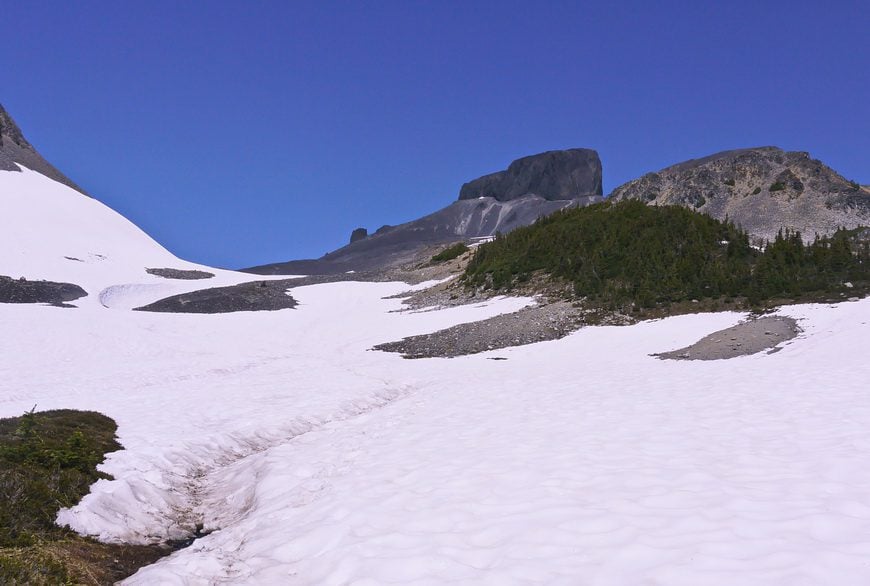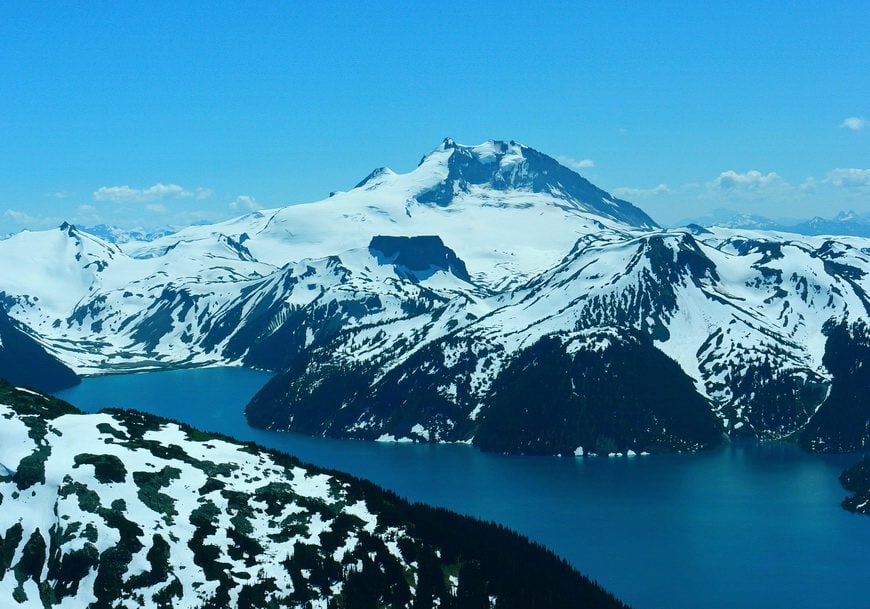 Should you stop at the shoulder on the Black Tusk hike or continue?
Once you've gained the shoulder on the Black Tusk hike you must decide whether to call it a day – which many people do – or to continue to the top of the Black Tusk. The route up from here is well worn and obvious.
It's the final chute to the top that might turn your stomach especially as it's a tad airy and the rock is crumbly and rotten. This is no place for people who aren't comfortable with exposure. There is no shame in turning back.
There's a gap you need to cross but once over, you're only metres away from the Black Tusk summit. Now take the time to absorb the views of Garibaldi Lake to the south, Helm Lake and Cinder Flats to the east and the Tantalus Range to the southwest.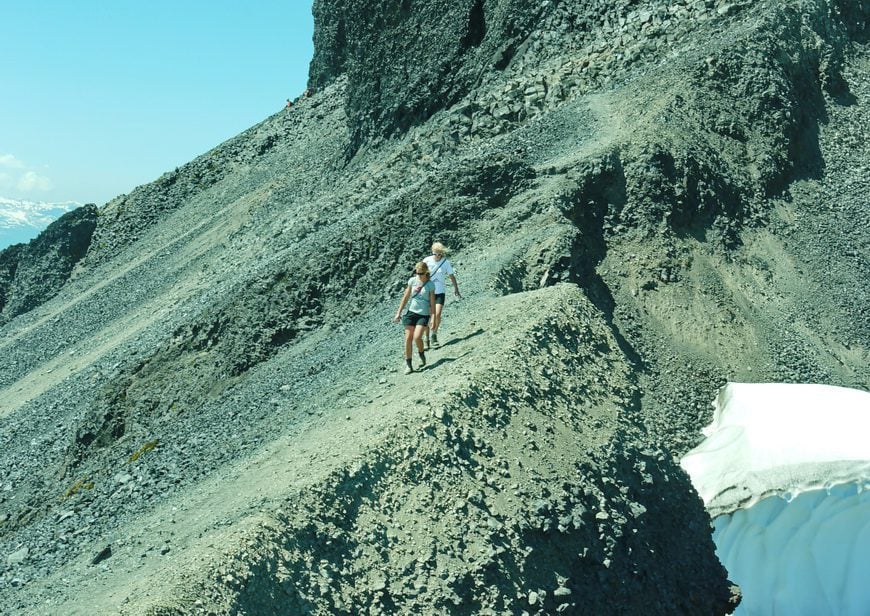 Getting to the Black Tusk trailhead
From Vancouver take Highway 99 and turn right (east) onto a road signed for the Black Tusk. Drive approximately 3 km to the parking lot. If you're coming from Whistler drive south 19 km and turn east. If you choose to hike via the Cheakamus Lake trailhead then drive to Function Junction, go east for 500 m until you see a sign on your left for Cheakamus Lake. Take the dirt road for 8 km to the Cheakamus Lake trailhead.
Get to all parking lots early.
Camping in Garibaldi Provincial Park
The Black Tusk hike is much easier if you camp overnight at one of the campgrounds – either Taylor Meadows (25 tent sites) or Garibaldi Lake (35 tent sites). Helm Creek is another possibility (30 tent sites).
Reservations are required year round for all campsites in Garibaldi Provincial Park. Garibaldi campground reservations can be booked up to four months before your desired arrival date if you are 16 years of age or older. Make your reservation starting at 7 AM PST on the first day of the booking period you're after. You can also call 1-800-689-9025 toll free from Canada and the US or 1-519-858-6161 if you're calling internationally.
Fees are $10 per night per adult (2023) and $5 per night for kids 5 – 15 years of age. There are also transaction fees of $6 + tax per tent pad per night.
Where to stay in Whistler
If you're planning to stay in Whistler and use it as a base for further adventures, check out the following accommodation options.
If you're budget conscious you might love the Pangea Pod Hotel. It's got a great location, a nice rooftop bar, and the pods aren't the least bit claustrophobic. Good vibe too.
Over the years I have had numerous excellent stays at the Summit Lodge Boutique Hotel.
If you want to stay at Whistler Creekside, Nita Lake Lodge is an excellent choice.
If you like big hotels, the Westin Resort & Spa should fit the bill. Stays here are rated as fabulous.
Did you know that Garibaldi Lake is a ticking time bomb?
I lived in Vancouver for many years before I learned that Garibaldi Lake is a ticking time bomb. The area below the lake has been deemed unsafe since 1981 – and hence the reason there is no camping. If there was ever a big earthquake or even exceedingly heavy rainfall, the lava flow that forms a barrier to the valley could burst – sending a massive cascade of water down the valley.
There's obviously nothing you can do about it, but you should still be aware of it – so you don't wild camp on the way up to the Black Tusk.
More British Columbia reading
Click on the photo to bookmark to your Pinterest boards.