I had the pleasure of canoeing the River of Golden Dreams for a few hours while on a June trip to Whistler. It's an easy paddle – even for the novice – and the perfect summertime activity.
Put your canoe (or kayak) in at Alta Lake – and check out the cottages as you look for the opening to the River of Golden Dreams across the lake. You pass the original site of Myrtle and Alex Phillip's summer fishing lodge – the first people to purchase and build a house in Whistler.
If you look back you'll have nice mountain views too. You're never far from civilization on this five kilometre paddle but you'll feel transported to the wilderness. The end point is Green Lake but it's possible to pullout earlier.
Updated January 2021. This post includes some affiliate links. If you make a qualifying purchase through one of these links, I may receive a small percentage of the sale at no extra cost to you. Thank you for your support.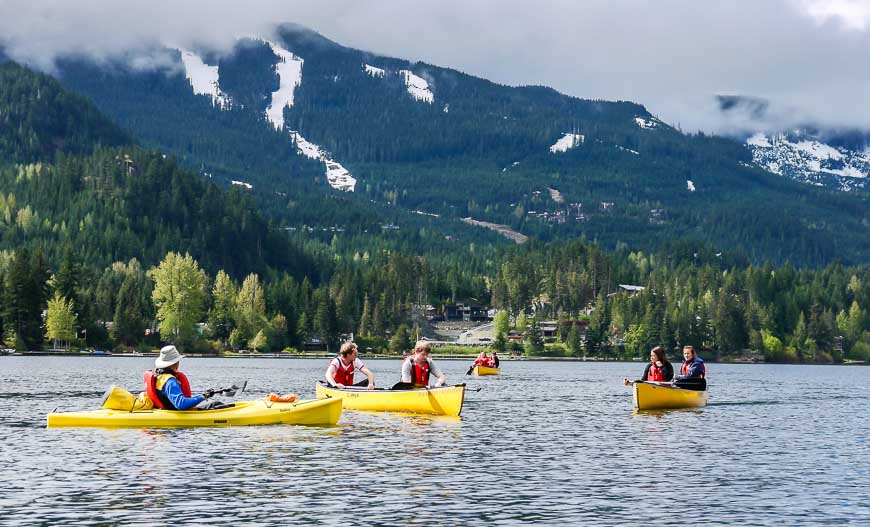 River of Golden Dreams – birding and bears
Paddle on flat water past beaver dams and lodges and keep your eyes out for a wide assortment of birds – including eagles and osprey.
Many people will see bears, and we were lucky enough to see a black bear at the pullout. No worries when you're in a group of four or more. Do make lots of noise though.
In the summer the water levels will have dropped so it will be easier to pass under the bridge – and any ripples will be totally manageable. It will be closer to a float trip by August.
The paddle becomes more scenic the further you go – mostly because you lose sight of the overhead power lines.
Do pick your paddling partner. The river has been nicknamed the River of Broken Marriages – probably on account of poor steering on the guy's part because they're usually the ones steering.
All in all this is one of the most delightful outings – I think – that you can do in Whistler on a hot summer day.
Backroads Whistler rents an assortment of water craft including kayaks and canoes. You can do a guided trip or alternatively paddle the River of Golden Dreams on your own but arrange for a pickup at the end.
A three hour, fully guided tour costs $149 + tax (2022 pricing). It runs three times a day starting at 9:30 AM with the last tour at 1:30 PM. Custom and private tours are also available.
A self-guided trip is $89 + tax (2022 pricing).
Where to stay in Whistler
Canada's first pod hotel offers an affordable option in the heart of Whistler Village. It's best for young people – and a great place to meet people from around the world.
For a high end full service hotel the Pan Pacific Whistler Mountainside is a superb choice. I can also personally recommend the Summit Lodge Boutique Hotel.
Of course there is the option of renting a condo or an AirBNB property.
Further reading on things to do in British Columbia
Check out Tourism Whistler's website for more information.
Click on the photo to bookmark to your Pinterest boards.