Whistler's Pangea Pod Hotel is the first pod hotel in Canada to open. Its tiny pods are chic, well designed and big on value. The Pangea Pod Hotel is about half the price of a conventional hotel in Whistler and a giant step up from what you'd get in a hostel. With its prime location in Whistler Village just minutes away from the gondola, it's likely that the pod hotel will cause some commotion in the hotel industry, especially in Whistler, one of North America's top tourist destinations known for its pricier high season accommodation.
The Pangea Pod hotel is the brain child of husband-and-wife team Russell and Jelena Kling who met in a hostel in Prague. The well-traveled duo were "loosely inspired by Tokyo's capsule hotels." As Jelena Kling explains "the Pangea Pod Hotel is for open minded travelers who are fine at sharing facilities but who want comfortable beds and a professionally run hotel."
Pangea Pod Hotel – what you'll discover on a visit
This post includes some affiliate links. If you make a qualifying purchase through one of these links, I may receive a small percentage of the sale at no extra cost to you. Thank you for your support.
There are 88 individual pods across eight suites – accessed with a wrist band that opens the lock to the suite. (The wrist band can also be used to pay for bar and food items.)
Some pods are for women only. The size of your pod determines the price. (Right now the price points are between $99 and $149 per night + tax.) Within the suite are private bathroom facilities, shower rooms and change rooms. There are also a couple of sinks with a mirror so you can quickly brush your teeth or put on makeup.
If you do have to use the bathroom in the middle of the night, motion detectors light up the hallway and the bathroom door once you enter. It's all very thoughtfully designed. It is however not wheelchair accessible.
If you're a couple traveling you can use just one pod and you'll pay 75% of the price for the second person. But you might want two pods just for the extra space.
What you get in your pod
The pod itself contains a very comfortable double memory foam mattress that is the size of a double bed. There are two pillows, a mirror and artwork, electrical outlets and a built-in fan that also provides enough white noise that you won't hear your neighbours.
There is hanging space for clothes and a small storage area for your luggage – which can be chained if you have concerns. There is also one cabinet that can be locked to secure smaller items like cameras and phones. A toggle switch controls the lighting and a curtain provides privacy.
There's a lot more to the hotel than just the pods. It is home to the only rooftop bar in Whistler with an excellent view of Mountain Square.
A Living Room with floor to ceiling windows hosts a bar, an espresso bar (fantastic coffee), a lounge and a café. What they call The Toy Box is a big storage area where you can safely leave your gear like bikes and snowboards.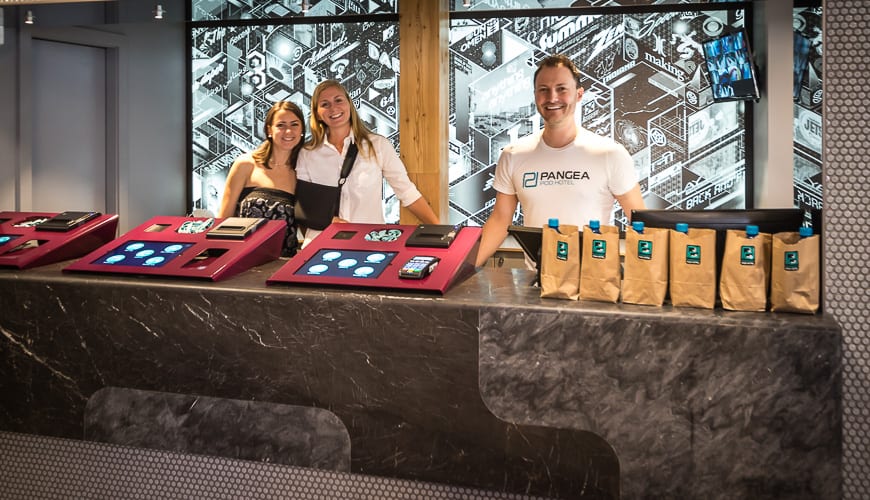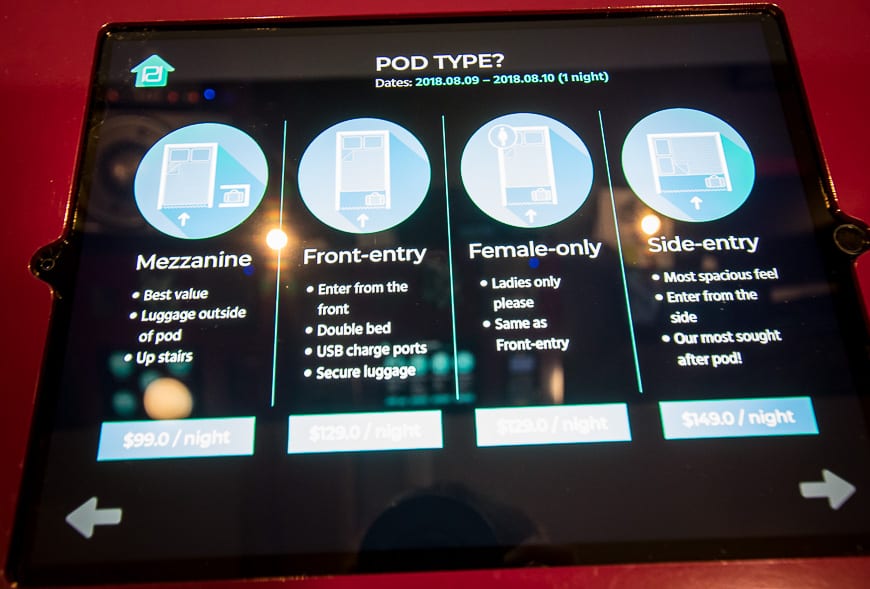 My Pod Hotel experience
I don't love tight places so I wasn't sure how I'd feel about the pod.
Once inside the pod, it felt cozy but not tight. I could comfortably sit up, wriggle into a pair of shorts and touch the walls from the middle of the bed.
The ceiling doesn't feel like its suffocating you and with a curtain I didn't feel closed in the way I would with a door. I literally heard nothing from the moment I closed my curtains – not a cough or a snore or a door closing.
A night in the pod far exceeded my expectations!
Booking a stay at the hotel
If you want to stay at the hotel book a room here.
Although at my age I am not the target demographic for the Pangea Pod Hotel, I did walk away a fan. The millennial crowd is going to love the place but having said that I would happily spend the night in the pod again if I was traveling solo.
Thank you to Jelena and Russell for hosting my stay! Kudos for being trailblazers in Canada. My best wishes for what is bound to be an extremely successful enterprise – especially with your bountiful energy and enthusiasm. To my solo traveling, adventurous readers – go give this place a try next time you're in Whistler.
Further reading on things to do in the Vancouver – Whistler corridor
Click on the photo to bookmark to Pinterest.