"You could get lucky finding something new" exclaims Claudia Herding our Burgess Shale guide who is leading us on the Stanley Glacier hike in Kootenay National Park. We are a group of seven people: Claudia our guide, two women from the Red Deer hiking club including 75 year old Bertha; Alan, an English fellow living in Detroit; his 79 year old father from England, myself and a woman who has come along as a sweep.
It was a dreary Monday morning on the last day of August when we met at to do the Stanley Glacier hike at the Stanley Glacier parking lot in Kootenay National Park – located just 15 km south of Castle Junction on Highway 93. At 6°C I wasn't sure if we'd be snowed or rained upon but no matter what we were all keen on the Stanley Glacier hike in search of fossils.
This post includes some affiliate links. If you make a qualifying purchase through one of these links, I will receive a small percentage of the sale at no extra cost to you. Thank you very much for your support.
Stanley Glacier hike summary
Distance: Approximately 10 km (6.2 miles) return
Elevation gain: Approximately 450 m (1,476 feet) but up to 900 m (2,953 feet) if you hike to the toe of the glacier
Time needed: 3 – 4 hours for the main Stanley Glacier hike; add a few more hours if you scramble up to the toe of the glacier and back.
Level of difficulty: Easy to moderate depending on how much you hike. It's hard up to the toe of the glacier.
Dogs allowed: Yes, if on a leash.
Best season: Late June until late September or whenever the snow flies. You don't want any snow on the ground if you're looking for fossils.
Trailhead: Stanley Glacier trailhead on Highway 93, just a 3-minute drive from the Marble Canyon Campground in Kootenay National Park.
Guided fossil tours: Book a reservation starting on March 29, 2023 at 8 AM MST.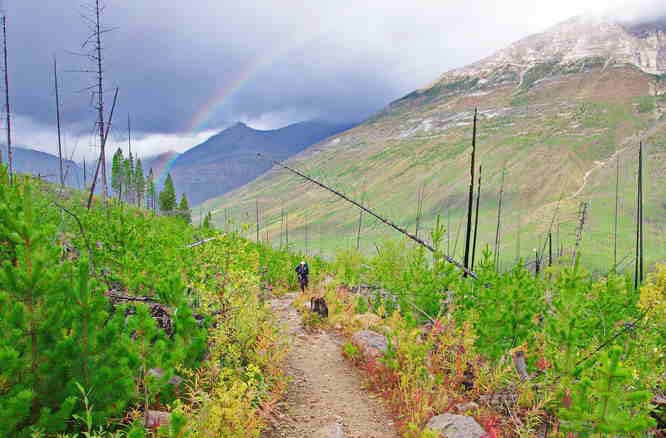 The hike to Stanley Glacier
The popular hike to the fossil beds near Stanley Glacier is approximately 10 km return with around 450 m of elevation gain.
It starts with a couple of kilometres of easy switch-backing through an area that was burned in 2003. There's lots of new growth – primarily lodgepole pine – which needs fire to release their seeds and lots of fireweed that's looks pretty dressed in its fall colours. (If it's a windy day when you plan to hike, exercise caution as trees get blown down.)
Our goal was a large rock, possibly an erratic – accessed via a 200 m section of rocky trail. In the vicinity of this rock are loads of tiny fossils that make up the Burgess Shale. The guided tours to this area started in 2014 as fossils were discovered as recently as 2008.
After crossing Stanley Creek the trail proceeds at a gentle grade until it reach the talus slopes. Views open up and you can see the tongue of the Stanley Glacier in the distance.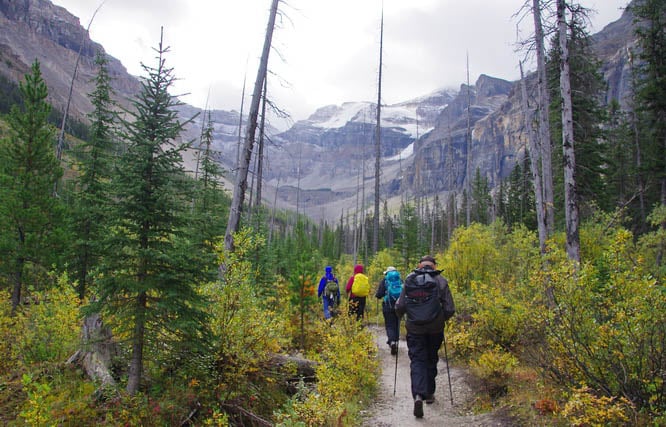 The Burgess Shale Discovery in 1909
Charles Walcott, a paleontologist made the original Burgess Shale discovery in 1909 on a mountain ridge in Yoho National Park. In the shale soft-bodied fossils that lived in a tropical environment during the Cambrian era over 500 million years ago can be found.
Other Burgess Shale sites have been located around the world including in Greenland, the Atlas Mountains of Morocco, Emu Bay in south Australia and Chengjing, China. In 1981 UNESCO recognized the global importance of the Burgess Shale site.
Fossils to look for on the Stanley Glacier hike
Claudia showed us some of the fossils we might find along with photos of what they probably looked like. Then we were sent off to see what we could find.
For the first half hour I found nothing but pretty rocks. But once I understood the scale of what I was looking for I found loads of tiny fossils. It ended up being far more fun once I knew exactly what I was doing.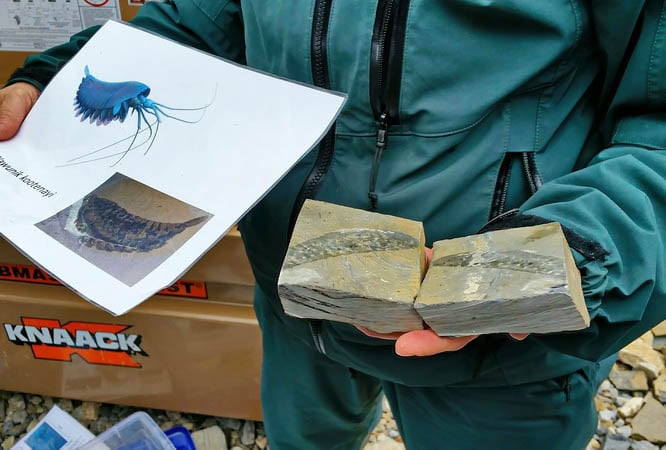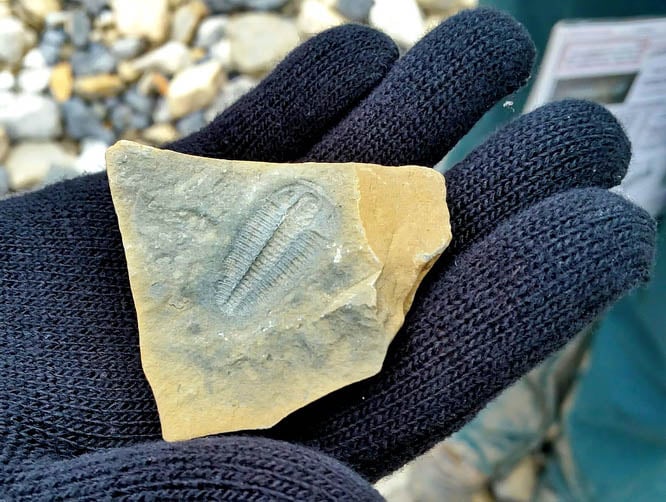 Should you do the Stanley Glacier hike with a guide?
All told between hiking and fossil hunting we were out for about seven hours on the Stanley Glacier hike. Although you could in theory do this hike on your own (whereas you can't do the hikes on your own in Yoho National Park), you learn so much more with a knowledgeable guide like Claudia.
This hike costs $55 plus $13.50 for a non-refundable reservation fee. Go prepared no matter what hike you do – as they run rain or shine. On the website there is a list of suggested items to bring – and in late August I was very happy to have a hat and mittens. I would also recommend a seat cushion so you have something dry and comfortable to sit on.
There are two other guided Burgess Shale hikes you can sign up to do in Yoho National Park – though they are longer and more strenuous.
Recommended reading: The Burgess Shale Hike in Yoho National Park
Where to stay near the Stanley Glacier hike?
The closest lodging is Storm Mountain Lodge in Banff National Park. It's only about a 7-minute drive away.
Castle Junction is also close by. There you could stay at the Castle Mountain Chalets, Johnston Canyon Lodge & Bungalows or the Castle Mountain Hostel.
Baker Creek by Basecamp has a great location on the Bow Valley Parkway. Enjoy fire pits by the creek.
In Banff itself, I like the Moose Hotel & Suites and Buffalo Mountain Lodge.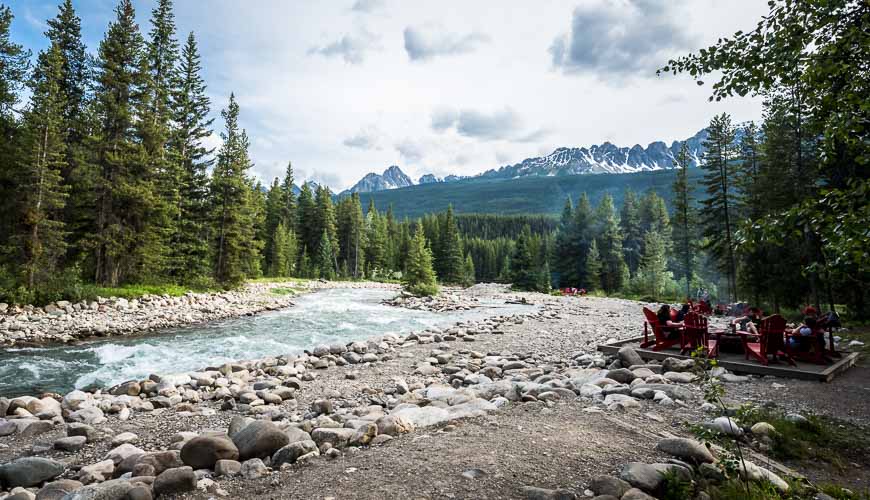 Further reading on hiking in Banff and Kootenay National Parks
Click on the photo to bookmark to your Pinterest boards.
A big thank you do Parks Canada for inviting me on this hike.