I've driven past Storm Mountain Lodge in Banff National Park at least a dozen times without ever stopping. That changed one winter weekend. John and I decided we wanted a short getaway where we could check out some new cross-country ski trails over a couple of days, without having to drive all the way from Calgary. We booked a two night stay.
Storm Mountain Lodge has a history dating back to 1922. It was built by CPR to help promote tourism in the Rockies. The original lodge and twelve of the log cabins are still used today.
This post includes some affiliate links. If you make a qualifying purchase through one of these links, I will receive a small percentage of the sale at no extra cost to you. Thank you very much for your support.
Storm Mountain Lodge – what our cabin was like
We had Cabin #4. You can drive right to it so this is definitely not a backcountry lodge. Inside, it's cozy and very comfortable. There's a bed, a wood burning fireplace, a small couch and a chest. In the bathroom there's an old clawfoot tub but they've added a shower feature.
The only downside to the bedroom is the person who sleeps next to the wall, cannot easily get in and out of bed. But that's a function of size and hard to change, especially considering they are historical cabins.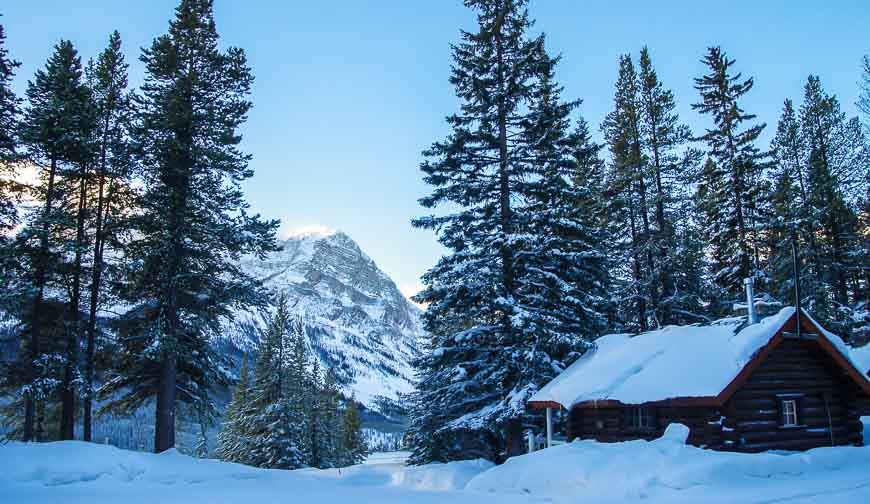 You've arrived at the lodge. Now what?
There are plenty of visitors that show up at Storm Mountain Lodge with the sole purpose of doing nothing. They might light a fire in their room and curl up with a good book for several hours. And if you forgot to bring a book, no worries as there's a great little gift shop onsite with lots of well-chosen titles.
In the main lodge, there's a common area with a big fireplace and lots of comfy seating. Retire here for an hour or two and enjoy drinks and some conversation with fellow guests.
Throw on a pair of snowshoes (provided) and walk the roughly 3 km trail in the vicinity of Storm Mountain Lodge.
As the lodge is only about 10 minutes off the Trans-Canada Highway, it's easy to do a day trip into Banff or Lake Louise. People we chatted with had been to Lake Louise to see the ice sculptures. Radium Hot Springs isn't far away either. It's a beautiful drive through Kootenay National Park to reach the hot springs. And in the summer there are loads of hiking opportunities in both Banff and Kootenay National Parks.
Nearby, as in just five minutes away, there are two divine cross-country ski trails. One I consider to be one of the prettiest I've done in the Rockies – Chickadee Valley. The other, Boom Lake is slightly easier and also very beautiful.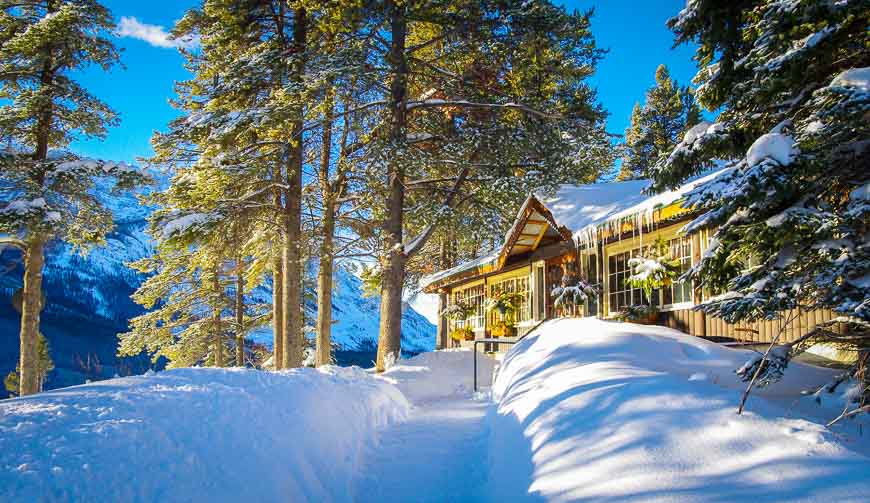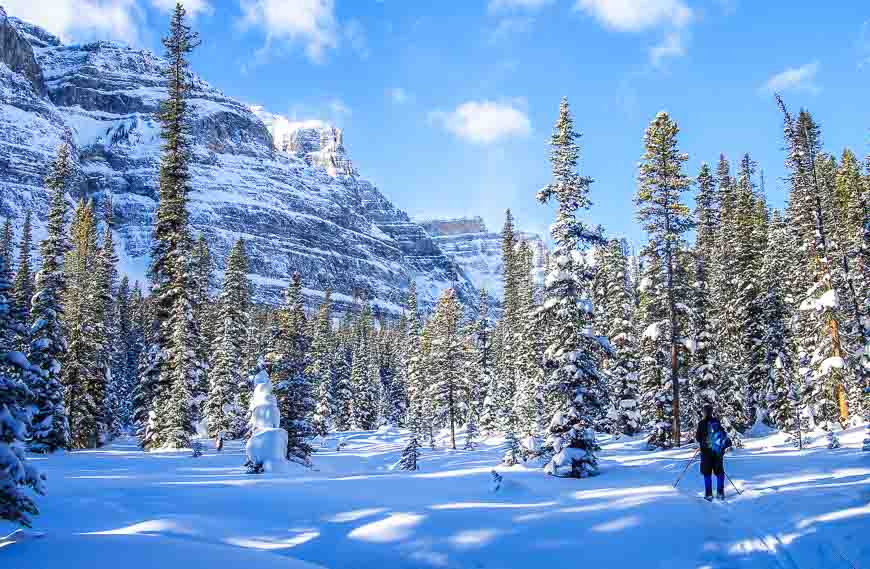 Dining at Storm Mountain Lodge
Dining at Storm Mountain Lodge isn't just for guests. Lots of people driving Highway 93 stop in for a meal. A blizzard was raging on Friday night, so several groups rolled in out of the snow for dinner.
The menu is limited with perhaps five main courses offered for dinner. John thoroughly enjoyed bison short ribs and we both loved a fig and Gorgonzola ravioli on the second night.
At breakfast, the granola parfait with a rhubarb compote was delicious as was a slice of home-baked banana bread.
If you wander into the lodge part way through the day you can also grab a hot chocolate, tea or coffee. A mid-afternoon plate of bruschetta was especially good.
Getting to Storm Mountain Lodge
Storm Mountain Lodge is about a 90-minute drive from Calgary. It's in Banff National Park so you will need a national park pass. To get to the lodge if you're coming from Calgary, turn south on Highway 93 as though you were heading towards Radium Hot Springs. It's about 7 km down the road on the north side of the highway. Signage is excellent in both directions.
Booking a night at the lodge
Storm Mountain Lodge has a great location, with the only downside being some highway noise some of the time. I found the staff to be particularly friendly and we would both happily go back.
Check rates and availability and book the lodge right here.
Location map of Storm Mountain Lodge
Click on the photo to bookmark to your Pinterest boards.