Kootenay National Park, located in southeast British Columbia, is one of four national parks that make up the Canadian Rocky Mountain Parks UNESCO World Heritage Site. When you drive Highway 93 – the only major highway through the park, you get the feeling that much of the park remains untrampled and unexplored. Steep mountains, waterfalls galore, canyons, beautiful rivers, and even a hot spring are all here waiting to be discovered.
Kootenay National Park in summer is a popular destination with several world-class hiking trails including the challenging but beautiful multi-day Rockwall Trail. In winter, when driving can be treacherous, there are fewer things to do, largely because access to many trails is through avalanche-prone country, but what is available to the visitor is outstanding.
This post includes some affiliate links. If you make a qualifying purchase through one of these links, I will receive a small percentage of the sale at no extra cost to you. Thank you very much for your support.
Summary of what to do in Kootenay National Park in winter
Permits: You'll need a national park pass to enter Kootenay National Park. You can purchase daily passes for $10.50 per adult or the Discover Pass for $72.25 per adult, good for a year. It provides access to more than 80 national parks and national historic sites.
Services in Kootenay National Park in winter: Kootenay National Park is far less busy than neighbouring Banff National Park, so don't expect any services. There is nowhere to buy gas or food between Castle Junction and Radium Hot Springs, save for Storm Mountain Lodge on the Alberta side. They sell food and offer meals but no gas.
Cell service: Don't count on any cell service along Highway 93 through the park.
Don't forget: Be sure you have packed the 10 essentials, a snow shovel and an emergency kit.
Maps: Gem Trek's Kootenay National Park – would be very useful to get your bearings. Organic Maps is a great choice for an app that works offline.
Avalanche country: I always avoid skiing and snowshoeing in avalanche terrain but if you opt to – be sure to check out the Avalanche Canada reports before you go.
Why you want to go to Kootenay National Park in winter: If you love snowshoeing, winter walks, cross-country skiing, photography, and soaking in hot springs this is a national park I recommend you visit.
Getting to Kootenay National Park in winter
The one main highway running through this narrow park can be a gnarly drive in winter. I've done it by myself many times and save for the odd truck, I've felt like I've had the park to myself. Always go very prepared for winter driving conditions.
The northern end of the park starts at the British Columbia – Alberta border, a short distance south of Castle Junction, accessed from the Trans-Canada Highway. It travels for approximately 90 km to reach the southern entrance just beyond Radium Hot Springs.
Fill up your gas tank before you head out in either Banff, Lake Louise, Castle Junction, or Radium Hot Springs. You won't find any places to stay in the park in winter either. (There is camping in the summer.) At the end of the post, I offer a couple of ideas of where to stay to easily access the park.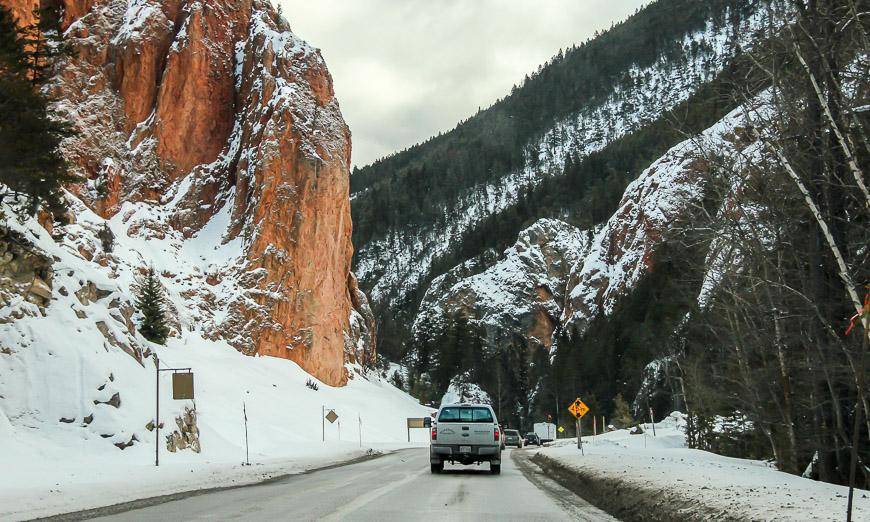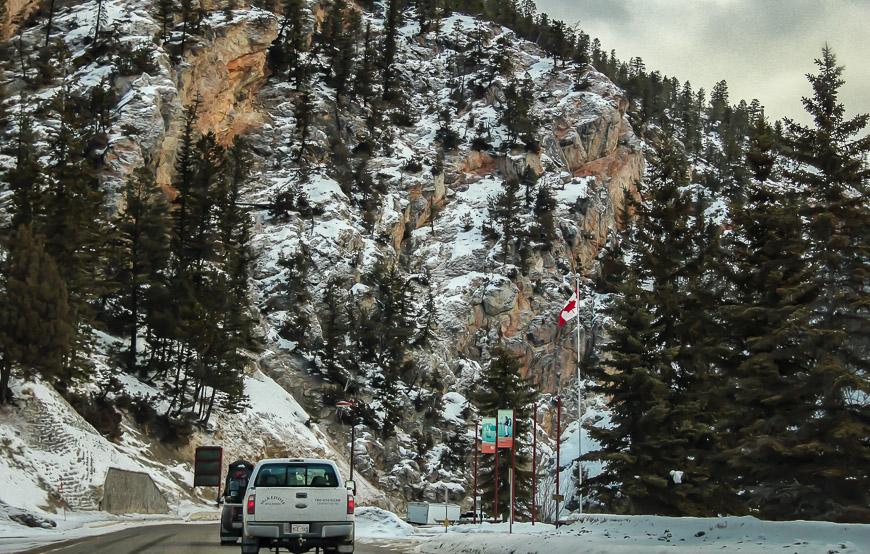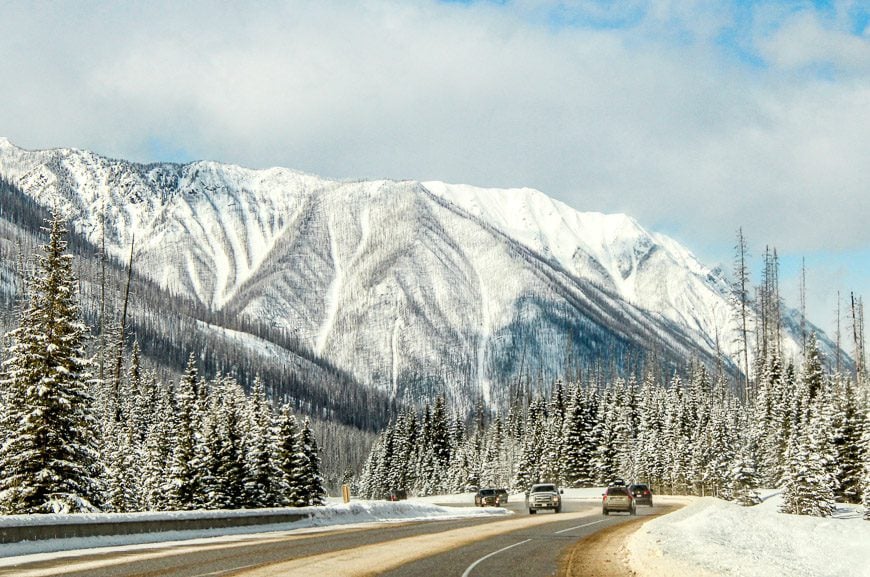 Location map for winter activities in Kootenay National Park
Click on the three dots in the top right corner of the map to email yourself or a friend a copy.
Visit Marble Canyon
Marble Canyon is approximately 18 km south of the Trans-Canada Highway, on the northwest side of Highway 93 after the turnoff to the Stanley Glacier. It's worth a stop at any time of the year though in winter, the 1.9 km return hike is especially beautiful because of all the snow formations in the canyon.
There's little elevation gain on the Marble Canyon hike – perhaps 30 metres in total, so it's an easy and family-friendly outing. However, in winter when the snow is deep, you are often walking just below or above the level of the protective fencing. Use extreme caution and always hold your kid's hands when you're near any kind of drop-off.
Marble Canyon is located at the confluence of Tokumm Creek with the Vermilion River. As you hike up the canyon, peer down into Tokumm Creek, to marvel at what the water has carved over the millennia. There are a couple of bridges over the canyon to allow you to hike a few short loops. Do them and enjoy the dramatic views into the canyon.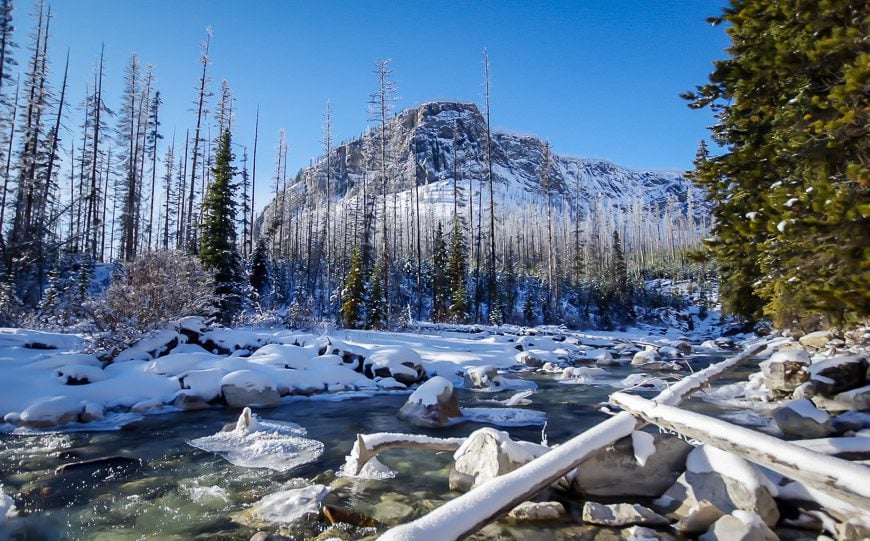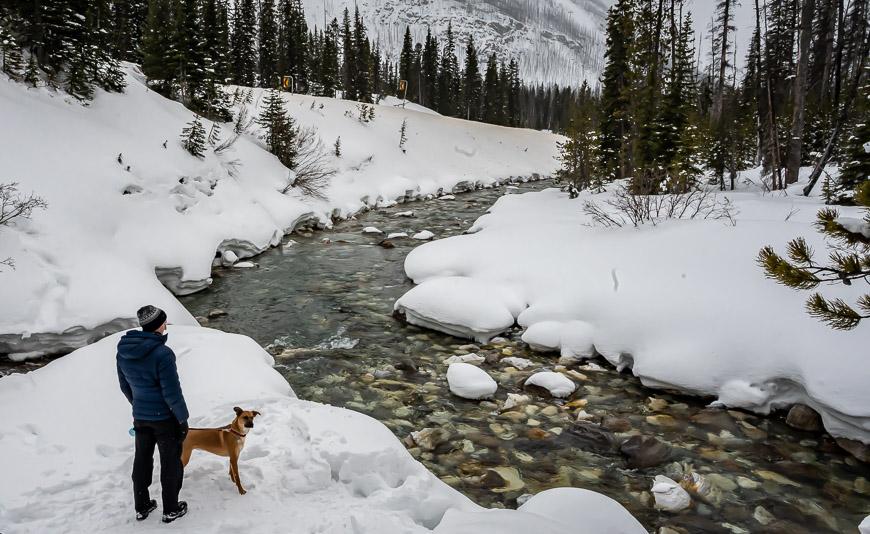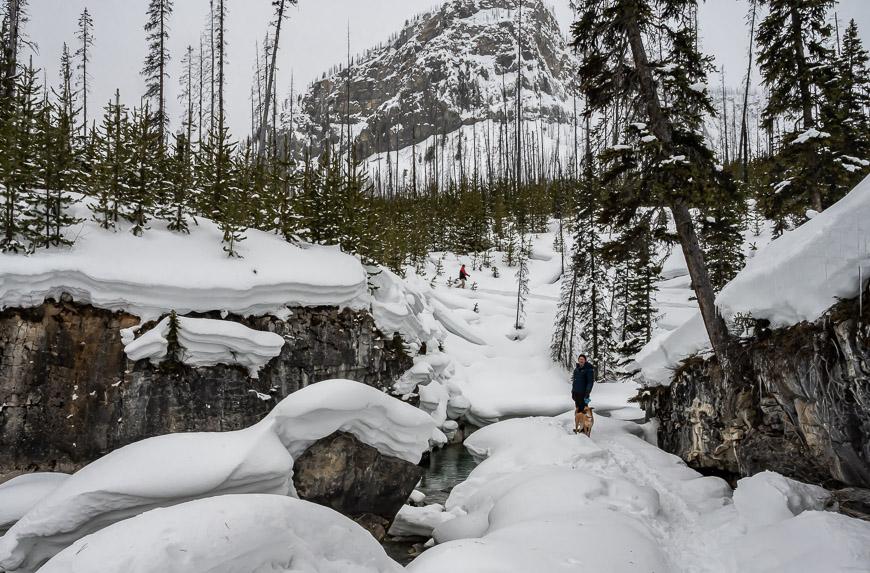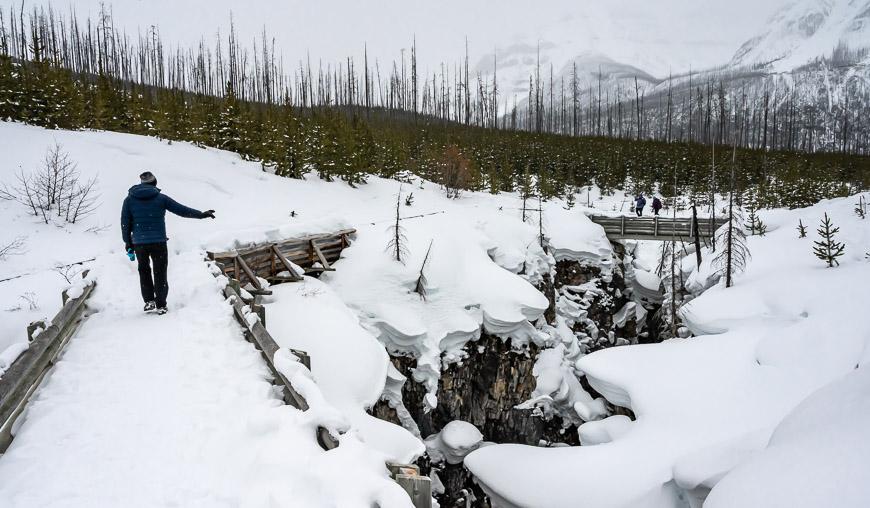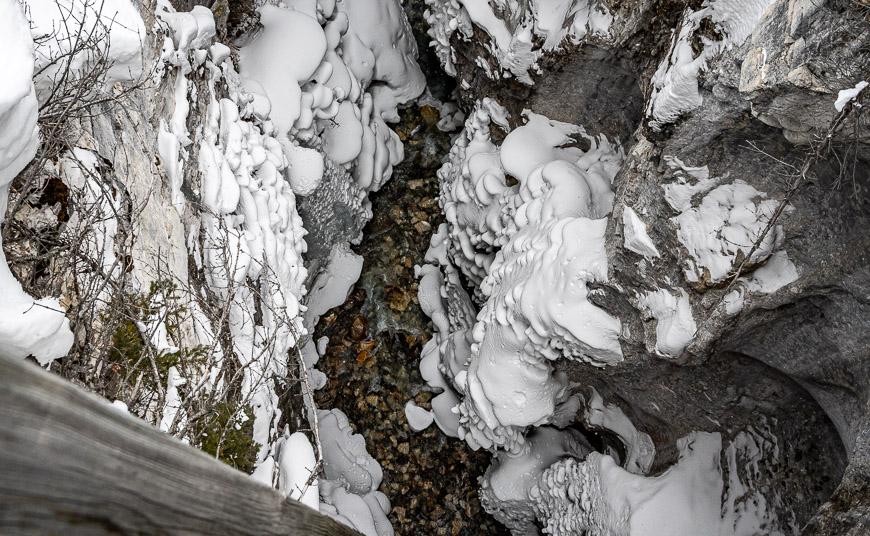 Cross-country ski in Chickadee Valley
You only need a half day to explore Chickadee Valley on cross-country skis. If you hit a bluebird day, it will be a memorable outing with awe-inspiring mountain scenery for most of its length. Don't go too early in the season as you need good snow cover over the creek bed.
For a full description of the route – that starts across the road from the Continental Divide sign read Skiing Chickadee Valley.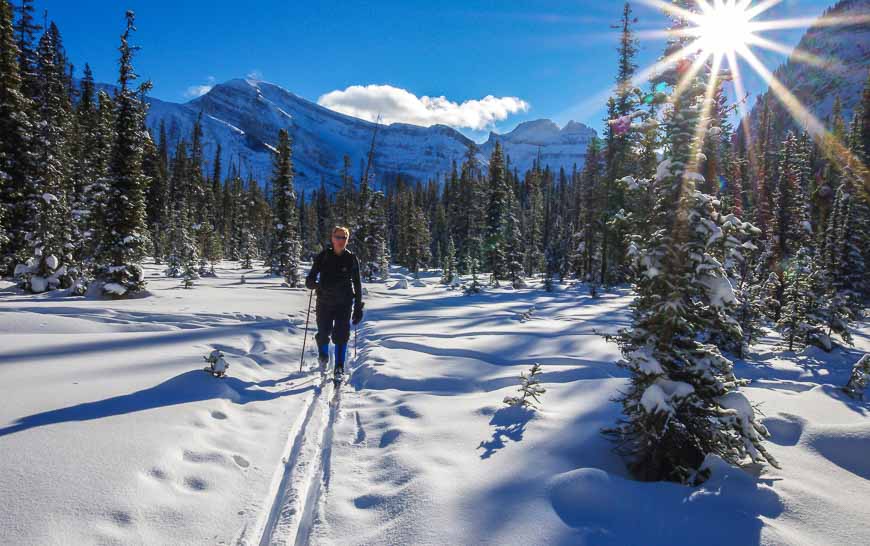 More ideas for cross-country skiing in Kootenay National Park
I haven't cross-country skied any of the following trails in the park YET so take them as suggestions.
If you head into avalanche country you should have the know how and the right gear. Be sure to let someone know where you're going and when you plan to be out. Take personal responsibility for your safety.
Stanley Glacier Valley – 10 km, 4 hours return but there are some large avalanche chutes.
Tokumm Creek – 28 km return to the Kaufmann Lake junction – but again avalanche danger.
Dolly Varden – 22 km return with 100 m of elevation gain – easy
Hector Gorge – easy 22 km return – with the option to shorten it
West Kootenay Trail – 13 km one-way with only 40 m of elevation gain; takes you to the park boundary.
Simpson River – an easy 8 km one-way trail with 120 m of elevation gain.
East Kootenay – an easy flat trail that you can take for 8.4 km one way
Visit Numa Falls
If you want to stretch your legs and enjoy a quick stop in winter in Kootenay National Park, pull over at the Numa Falls Rest Area. There is a small parking lot and washroom.
It's a short walk to a pedestrian bridge over Numa Falls. In the winter, it's not quite as interesting as it is in summer – though part of the reason on our stop was the white on white landscape.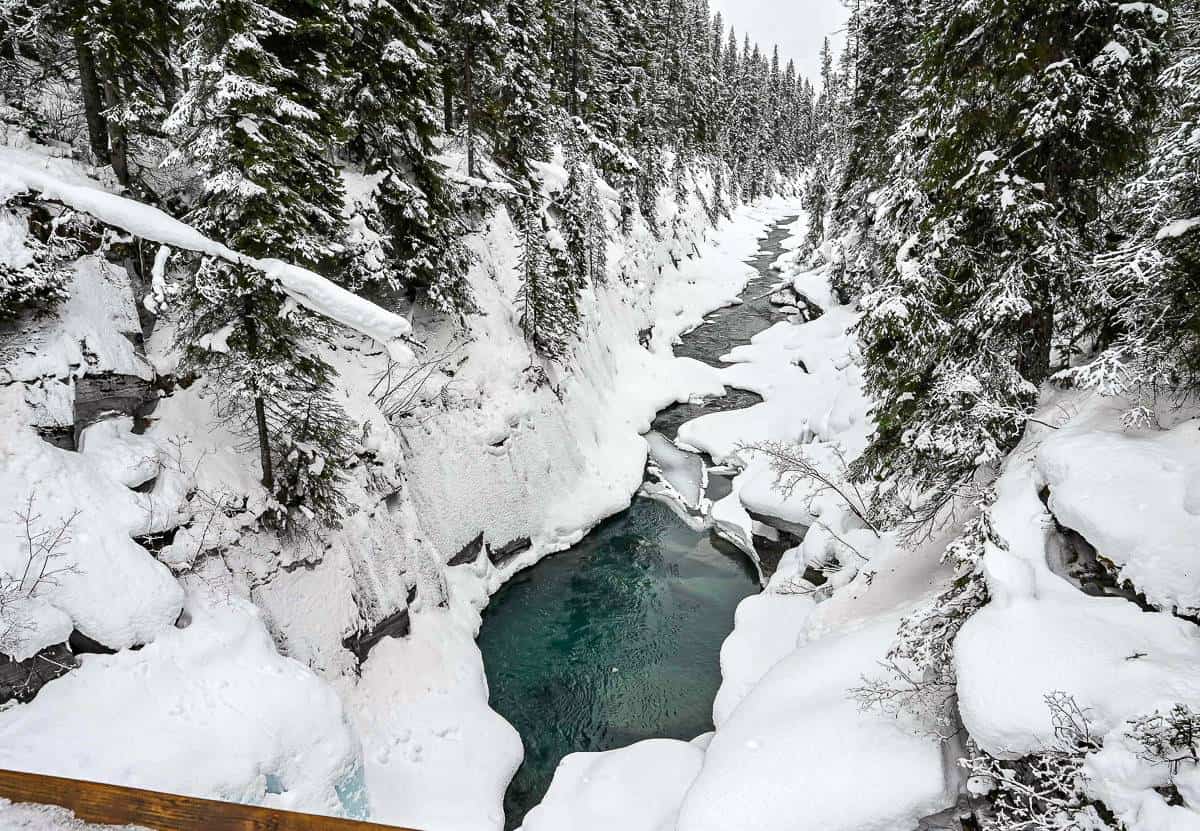 Hike, snowshoe, or cross-country ski the Dog Lake Trail
The 6.9 km return trip to Dog Lake is particularly suited to snowshoeing. The trailhead can be found near the McLeod Meadows campground, 26.5 km north of the south entrance to Kootenay National Park.
The trail is well-signed. Follow it across two suspension bridges, up through a forest of white spruce and lodgepole pine and then down to the north shore of Dog Lake. All told the elevation gain is an easy 195 m.
We snowshoed along the shore for some distance and enjoyed lunch with a view over to the Mitchell Range. There is the option to lengthen your snowshoe outing with a visit to another small, marshy lake 1.2 km away to the north. That will put you on the East Kootenay Trail. To return, you can either retrace your steps to Dog Lake or snowshoe southeast on the East Kootenay Trail to the junction you previously passed that took you down to Dog Lake. (It sounds more confusing than it is.)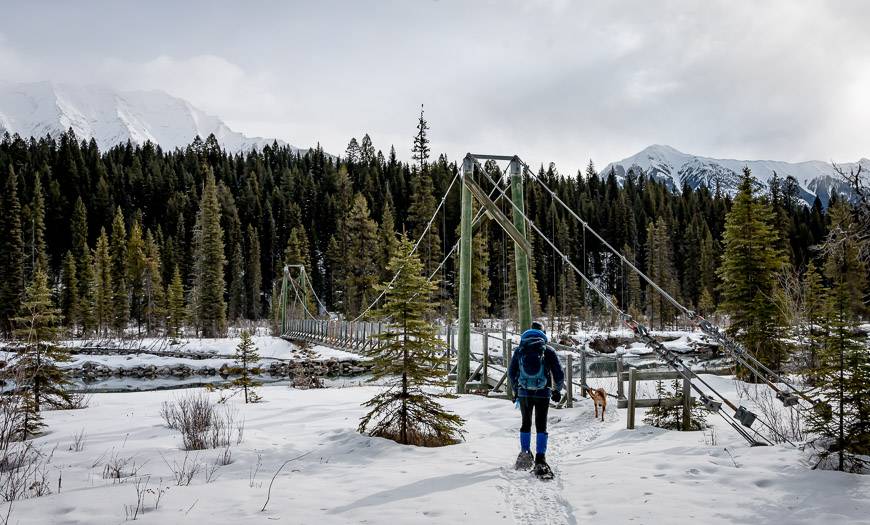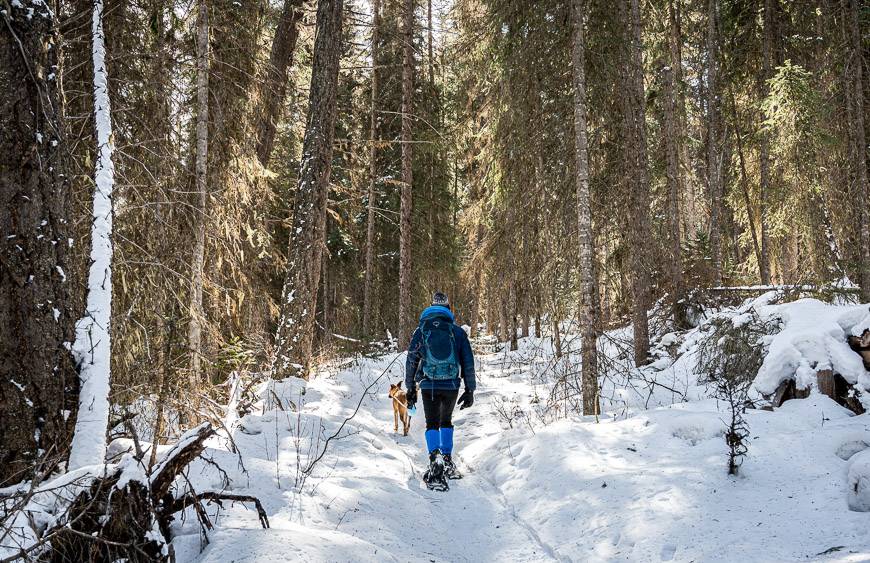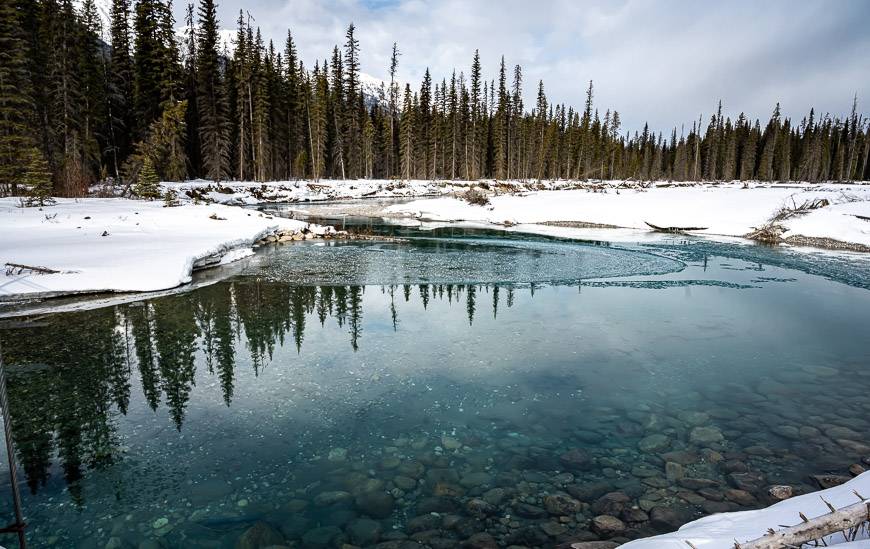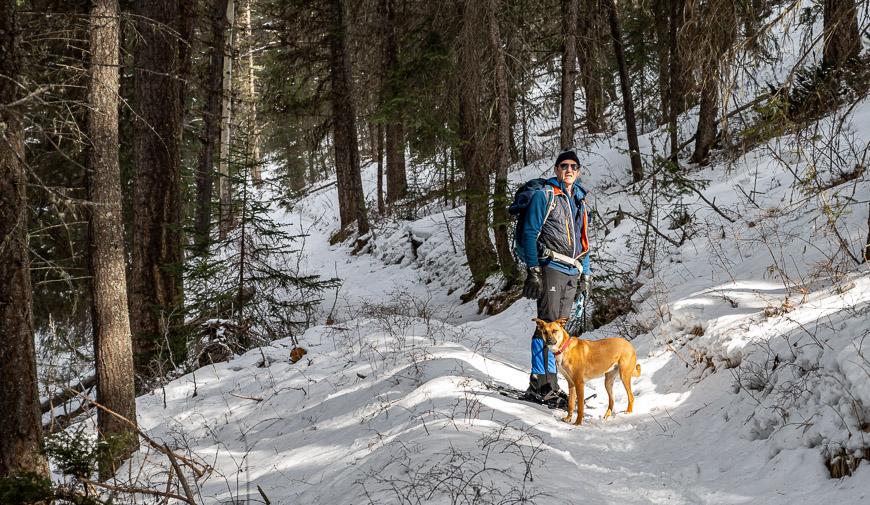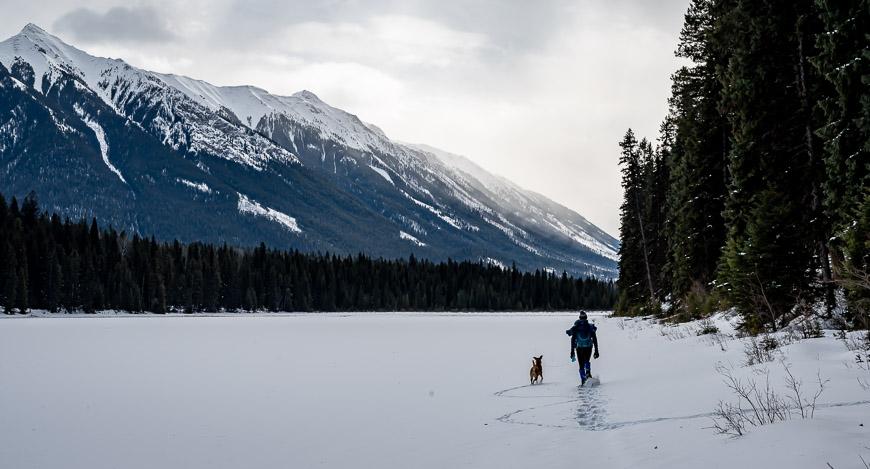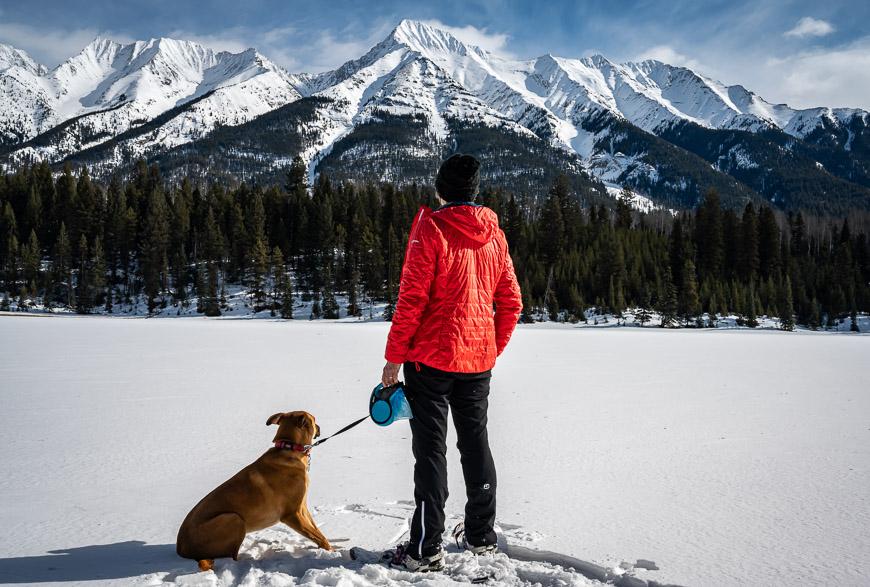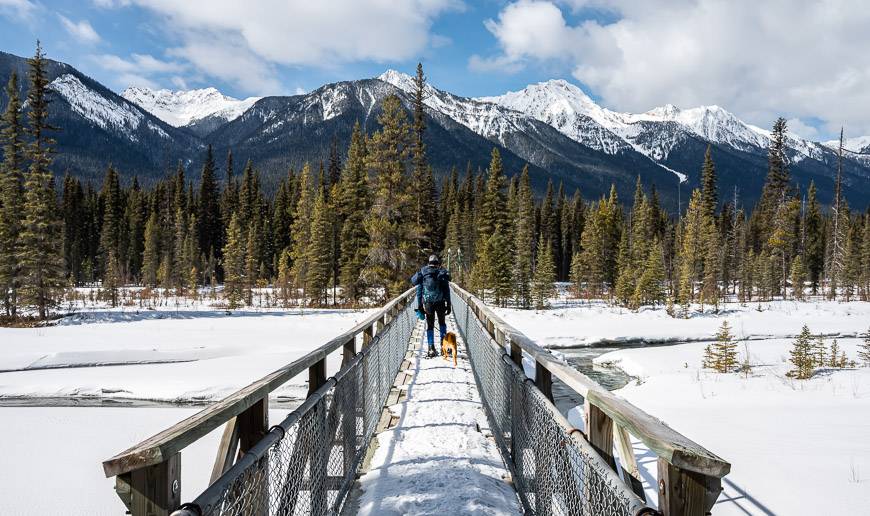 Snowshoe to the Paint Pots in Kootenay National Park in winter
In every season but winter the Paint Pots are a colourful sight. In winter, all you'll see is a depression in the snow. To reach the Paint Pots, you can either hike from Marble Canyon on a well-signed trail or start from the large parking lot on the northwest side of the highway.
Follow the trail signs, first through the woods, then across the Vermilion River on a well-constructed bridge and then up a short way into the forest. Once you hit the meadows start looking for large impressions in the snow – and then come back in another season so you can appreciate their vivid colours.
If you hike the Rockwall Trail in the summer, you'll pass the Paint Pots. From the parking lot you can do and out and back snowshoe trip totaling 2 km in as little as 45 minutes.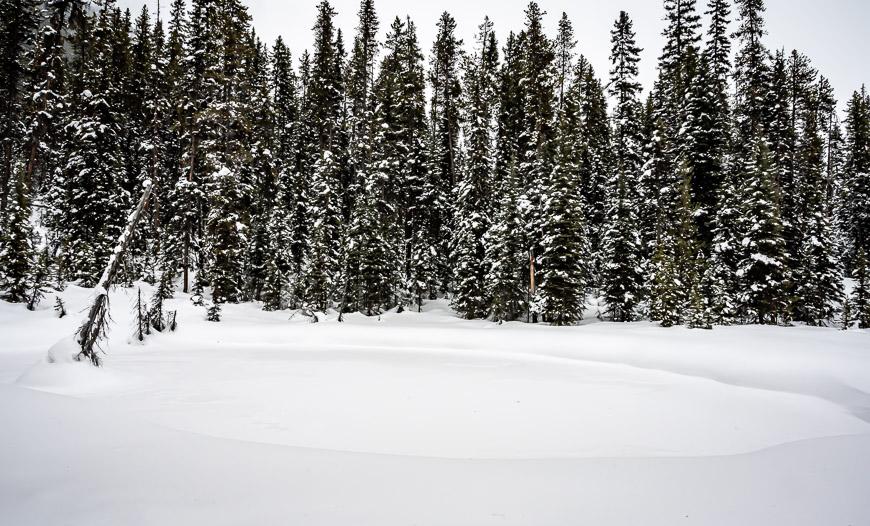 Soak in Radium Hot Springs
The Radium Hot Springs, named for the trace but harmless amounts of radon in the water, are located just inside the Kootenay National Park boundary in a stunning setting, a few kilometres from the town of Radium Hot Springs.
The hot springs are open though you can't make reservations. But after a day outside in winter, its worth the wait to enjoy a long soak. Entry is on a first come – first served basis. You can even rent bathing suits and towels. The last entry is at 8:30 PM.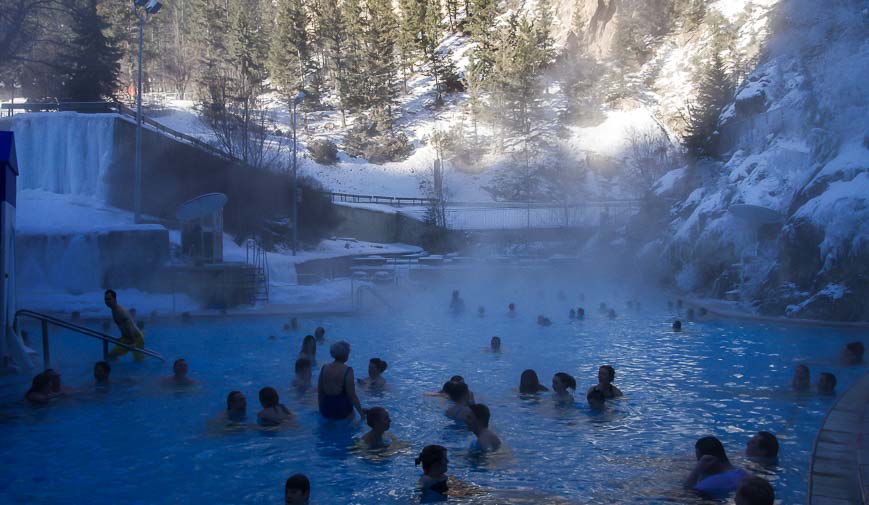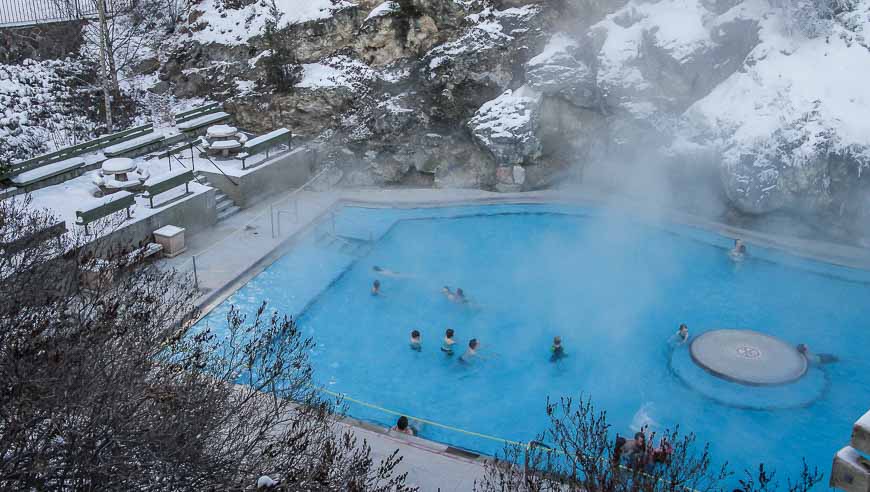 Where to stay close to Kootenay National Park
1. Nipika Mountain Resort
Nipika Mountain Resort is accessed from Kootenay National Park via Settlers Road, about 35 minutes away from Radium Hot Springs. You do need to reserve their cabins ahead of time (over a year in advance for prime time!) and bring all your own food, but cabins come well equipped.
Outside your front door are 50 km of groomed trails along with trails for snowshoeing and 30 km of fat bike trails. Dogs are allowed off leash so plan to take them cross-country skiing or snowshoeing. You don't have to be a guest to use their trails. All are available to the public for a fee.
For more information visit Nipika's website. I stayed for a few nights last year and have booked a longer return visit for this winter.
2. Storm Mountain Lodge
Storm Mountain Lodge just off Highway 93 and a short distance away from the Alberta – BC border, is an excellent choice for a winter getaway. And it provides quick access to Kootenay National Park in winter.
They offer cozy cabins and in-house dining. The lodge is particularly well-situated to access the Boom Lake and Chickadee Valley cross-country ski trails.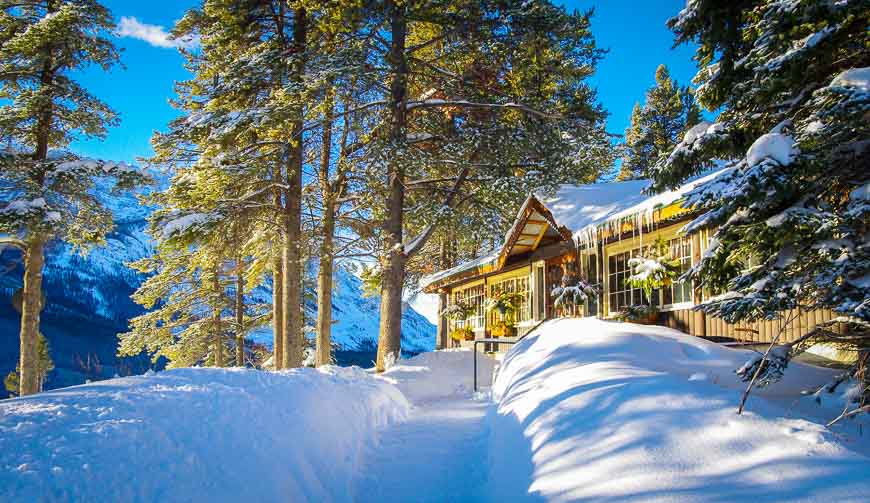 3. Places to stay in Lake Louise
Other choices to consider that are between Castle Junction and Lake Louise include Castle Mountain Chalets (just a 10-minute drive from Kootenay National Park), Baker Creek Mountain Resort, the Mountaineer Lodge in Lake Louise, the Lake Louise Inn and the Fairmont Chateau Lake Louise if you feel like a splurge. There is also a hostel in Lake Louise.
4. Where to stay in Radium Hot Springs
In the town of Radium Hot Springs, I'd recommend Bighorn Meadows Resort or the Prestige Radium Hot Springs Resort.
Interested in exploring more of southeast BC in winter?
From Radium Hot Springs you are within spitting distance of Invermere. It's got plenty to offer the outdoor adventurer including Lake Windermere – home to the world's largest natural skating rink. For other ideas read Fun Things to Do in Invermere, BC in Winter.
Panorama Ski Resort near Invermere isn't just for skiers. It's got a host of fun winter activities everyone can enjoy.
If you continue south on Highway 93 you'll end up in Kimberley – a town that is an outdoor lover's delight. There's a ski hill just a few minute's drive from the downtown and some truly excellent cross-country skiing. For more ideas on what to do over a three day period read A 3 Day Winter Getaway in BC's Kootenay Rockies.
Golden, British Columbia is also a great place to spend time in winter. Here's what we did in Golden over a wonderful 2-night stay.
And if you're looking to complete a road trip to Calgary, why not stop in Fernie – the perfect ski town famous for its epic dumps of snow. For some more ideas of things to do in Fernie check out Top Things to Do in Fernie, BC in winter.
If you've never been to Yoho National Park in winter, you might be surprised at how much there is to do. Pack your snowshoes and cross-country skis for sure!
For more information on the park visit their website.
Click on the photo to bookmark to your Pinterest boards.