Cross-country skiing (or snowshoeing) up Chickadee Valley in Kootenay National Park has got to be one of the prettiest outings you can do within a few hours drive of Calgary.
While not everyone is comfortable cross-country skiing a trail like the one to Chickadee Valley, I can assure you that it's not difficult route-finding and unless there's been a big dump of fresh snow there should be lots of tracks to follow. Just don't veer into any avalanche terrain – which is easy if you stick with the valley.
This post includes some affiliate links. If you make a qualifying purchase through one of these links, I will receive a small percentage of the sale at no extra cost to you. Thank you very much for your support.
Finding the trail to Chickadee Valley
Finding the unmarked trailhead is easy. First park at the well-marked Great Divide parking lot on the south side of Highway 93. It's about 10 kilometres southwest of Castle Junction. On the east side of the divide you're in Alberta, and on the west side, British Columbia.
After parking, walk across the highway from the westerly end of the parking lot. You'll have to carry your skis across – don't linger as trucks roar through here. Navigating the giant snowbanks to get to the highway may be the crux of your journey!
Before you go cross-country skiing
Permit: You will need a National Park pass as you're in Kootenay National Park.
Weather: Check the weather forecast before you go.
Driving: Winter driving can be tough in Kootenay National Park. Be sure to pack an emergency kit with warm clothing, hand warmers, extra food and blankets. Before you go read: How to Survive a Winter Drive: 15 Tips for Safety.
Avalanches: You are close to avalanche country on this ski, but you can avoid it. If you elect to venture into it, you should have the expertise and gear. Check the avalanche report before you go.
Be smart: Let someone know where you are going and when you're due out. Your safety is your responsibility.
Chickadee Valley cross-country ski description
Put your skis on right beside the highway and head into the woods. There should be some tracks to follow but nothing is signed. As we were there early after a fresh snowfall, we wrongly assumed we should be following the tracks that lead to the open area pictured below. Instead we came across a large group learning about avalanche safety.
We backtracked five minutes and found faint tracks – heading off to the right, just 75 metres from the highway.
Continue to look for tracks and follow the creek, climbing at a moderate rate for the better part of a kilometre. Early in the season be careful with any stream crossings as there is open water about. Views are first rate for most of the trip.
Once at the top of the stream bed the trail levels out and stays that way for the next four kilometres.
We ended up following tracks through the trees. At times the trail was quite narrow and I found myself asking John – are you sure we're going the right way?
If we had stayed left at an obvious intersection, we could have made a beeline for the end of the valley. We also would have been further to the west of the slide path of any potential avalanches. Avalanche risk was low when we were there, but after a big snowfall I'd definitely keep left. The views are better too.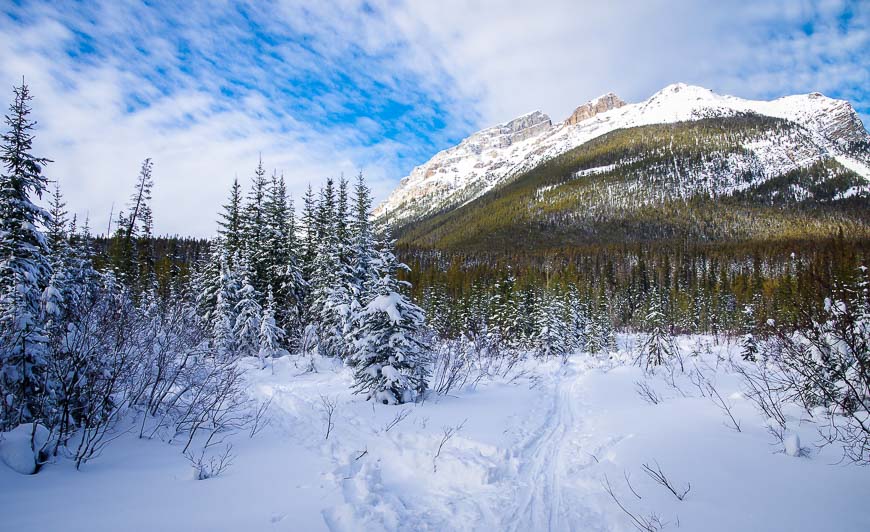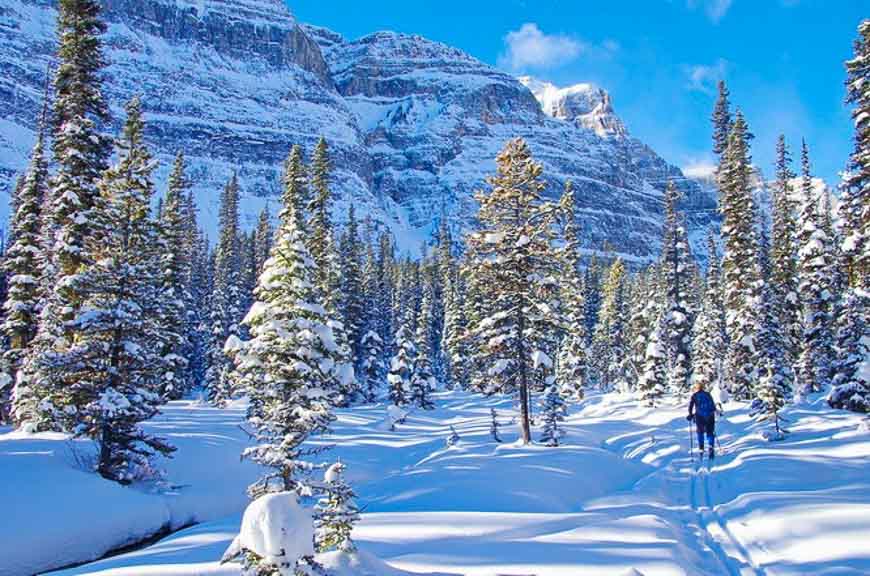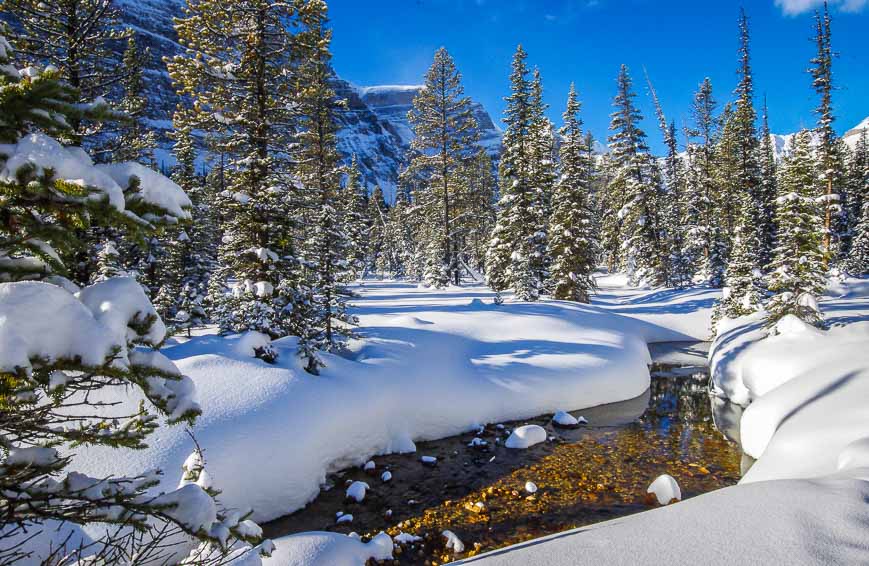 Stopping at the meadow
When we reached the meadow in the vicinity of the photo pictured below, we decided to have lunch and retrace our steps. But another time I'd consider continuing through the trees up into the high alpine. We met our first skier of the day who described the route – and it all sounds very doable.
He says it's easy to avoid avalanche terrain but he did recommend putting on skins for the climbing. The views from above treeline would be outstanding.
We retraced our steps and took the more direct route down. In less than an hour, we were back at the car. The last kilometre was a lot of fun to ski, but this part of the trail with narrow twists and turns wouldn't be for everyone.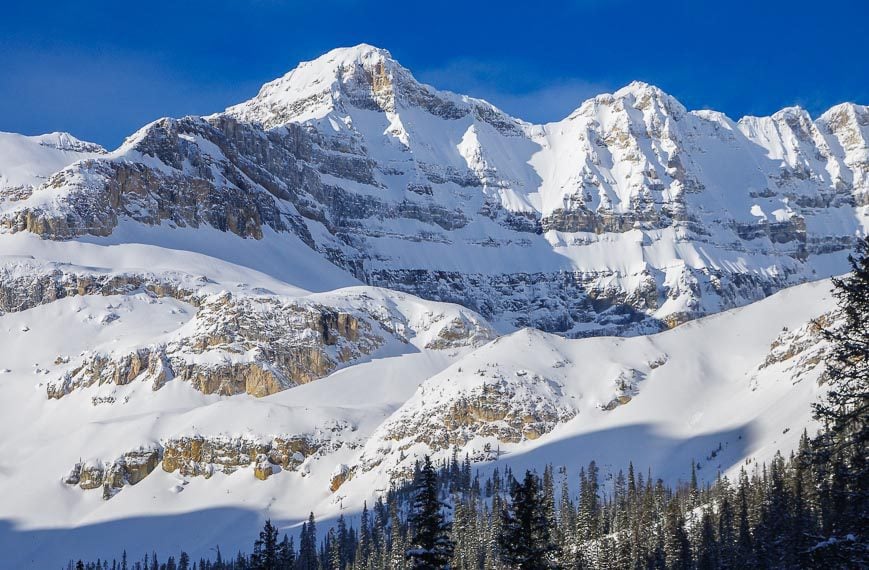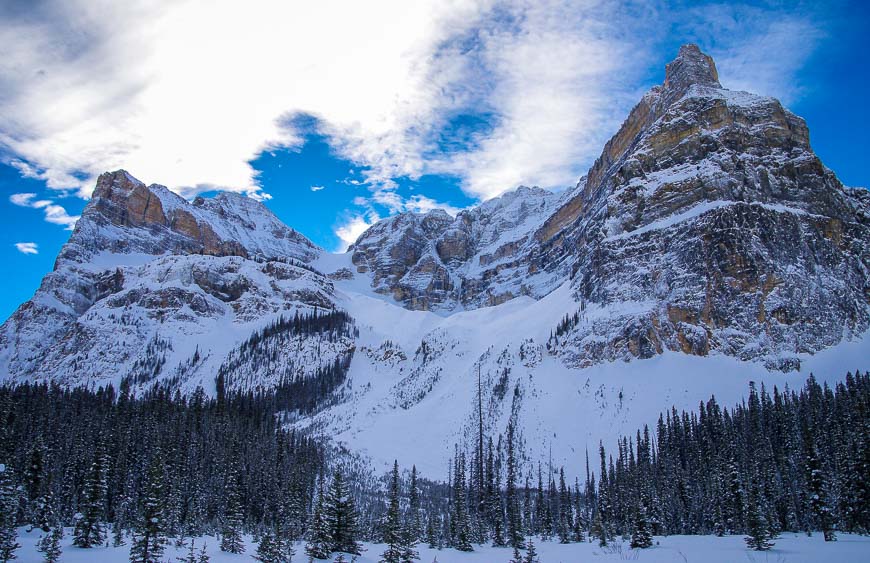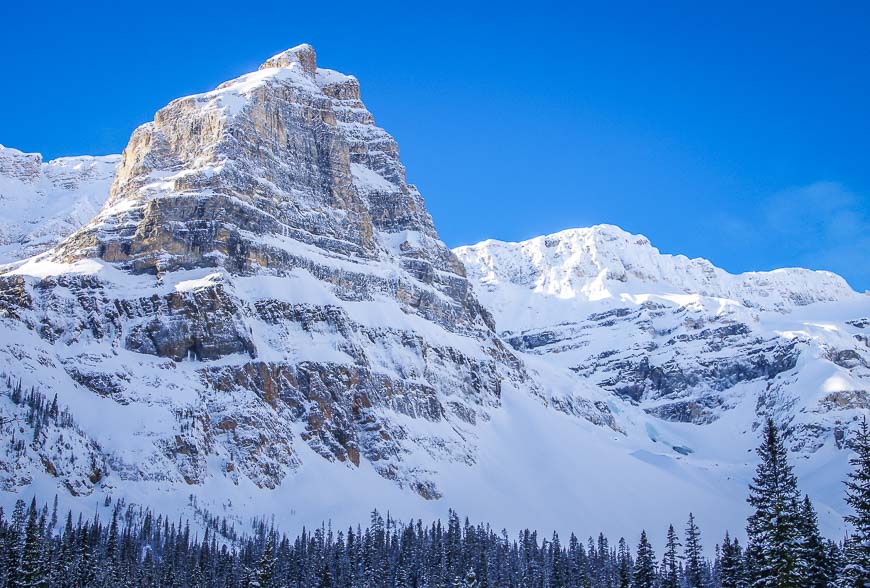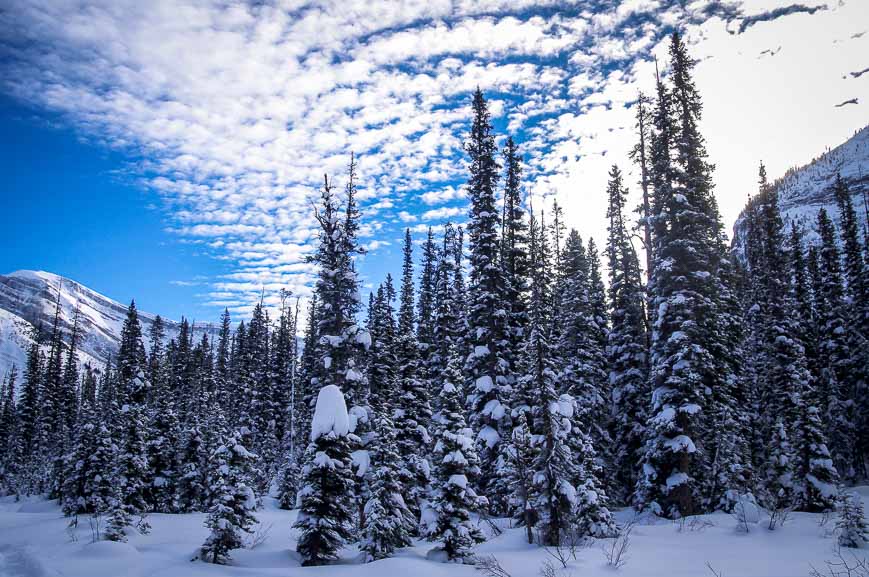 Chickadee Valley – one of the prettiest places in the Rockies in winter
Over the course of the three to four hours we were in the Chickadee Valley, we met one other skier and four snowshoers. It was a weekend with perfect snow and weather conditions, so I was surprised to see so few people.
Cross-country skiing up Chickadee Valley is a visual treat. It's one of the prettiest winter outings I've done in the Rockies – though I did catch it on a bluebird day.
If the thought of skiing an unmarked trail scares you, try the marked trail to Boom Lake in Banff National Park. The signed trailhead for it is just a few minutes away on the north side of the highway near Vermillion Pass. If you drove in from Calgary you would have passed it on route to this trailhead.
There are washrooms at the parking lot but no other services so plan to be self-reliant. Cell phone coverage is spotty. The nearest place for food/meals is just six minutes away at Storm Mountain Lodge.
Where to stay near Chickadee Valley
This post includes some affiliate links. If you make a qualifying purchase through one of these links, I may receive a small percentage of the sale at no extra cost to you. Thank you for your support.
You can stay at nearby Storm Mountain Lodge but there are also lots of other options in Lake Louise, a 25 minute drive away.
For good value for money stay at the Lake Louise Hostel. The Mountaineer Lodge is close to the village and offers comfortable rooms. As do the newly renovated rooms at Deer Lodge.
For a splurge stay at either Fairmont Chateau Lake Louise or the Post Hotel & Spa.
A few useful items for cross-country skiing to Chickadee Valley
Always take the 10 essentials – no matter how short the outing or what the weather forecast is.
You'll want to layer your clothing and peel off clothes as you heat up so you stay dry. I highly recommend merino wool base layers on top (they never smell)and bottoms as base layers.
Add a mid-layer like a fleece. I prefer them with hoods. Wind-proof ones, depending on where you ski can be a real bonus. I love this one by Arc'teryx with a hood.
Some people cross-country ski in very light weight bottoms which is fine if you're not going into the backcountry. I personally like insulated pants.
A neck warmer or a buff is a great idea.
I'd also recommend a thermos with something hot to drink and hand warmers.
Looking for more ideas for winter adventures?
If you're looking for more ideas on where to cross-country ski in Alberta I highly recommend the book –Ski Trails in the Canadian Rockies.
Click on the photo to bookmark to your Pinterest boards.