Boom Lake in Banff National Park is a popular destination in both summer and winter. I don't find hiking the Boom Lake trail in summer as interesting as it's primarily in the trees. But in the winter, the Boom Lake trail is a cross-country skier's delight.
The trees muffle the sound and hold the snow. And they keep the wind at bay, so it's not so cold. Located in Banff National Park near the boundary of Kootenay National Park, it's an easy 5 kilometre ski into Boom Lake. The total elevation gain is only 180 metres (590 feet).
This post includes some affiliate links. If you make a qualifying purchase through one of these links, I will receive a small percentage of the sale at no extra cost to you. Thank you very much for your support.
Boom Lake cross-country skiing summary
Distance: 10.3 km round-trip.
Elevation gain: 175 metres or 575 feet
Level of difficulty: Easy to moderate depending on how much you ski.
Time needed: Allow 3.5 – 4 hours to ski out and back and perhaps explore a small distance on the lake – conditions permitting.
Permits: You will need a Banff National Park pass to ski to Boom Lake.
Lake safety: Safety comes first on the lake – so be aware of the ice thickness and familiarize yourself with the Red Cross ice safety guidelines.
Avalanche terrain at Boom Lake: There is Class II avalanche terrain along Boom Lake. It is your responsibility to carry the right avalanche gear and know what you're doing if you continue. There is a photo below showing just how wide the avalanche path is. Check Avalanche Canada for up to date reports.
Book: If you're looking for more ideas on where to cross-country ski in Alberta, I highly recommend the book –Ski Trails in the Canadian Rockies.
Boom Lake location map
Boom Lake cross-country skiing description
For the first 1.5 km, the trail climbs at a moderate rate. Then it levels out and merely rolls up one small hill and down another. The final run to the lake is all downhill; it's fun but the trail wiggles and there are some tight corners which might not appeal to everyone.
The area is in a real snow belt, so you may have to break trail if you're the first one out. That can zap your energy in short order so take turns if you're with others.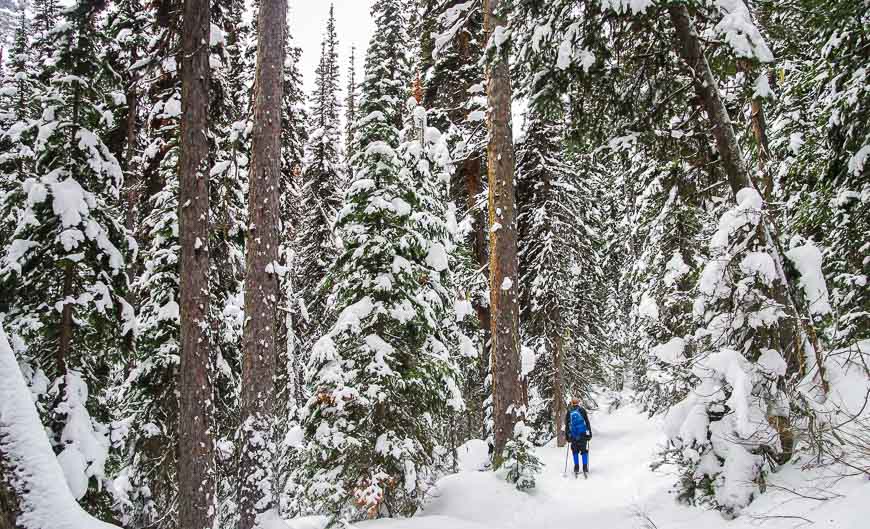 Boom Lake first impressions – what a place!
Humans look puny next to the cliffs rising 600 metres up from the lake. We did ski on the lake for some distance – but backed off when we hit some slushy areas.
A lot of people call it quits when they reach the lake but if conditions are good then you can ski for at least a kilometre in either direction on the lake itself. Out in the middle there seemed to be some surface water over the ice so we backed off and stuck to the shore. There are several frozen waterfalls around the lake. The intense blue of the ice is truly beautiful.
Beware of hazards!
Be aware of your surroundings on the lake. There are several avalanche paths that come right down to the shore. This is Class 2 or challenging terrain. You & your entire party should be carrying full avalanche gear & have avalanche skills training and SOS devices if you go forward. Unless you're an expert in reading the snow pack, play it safe.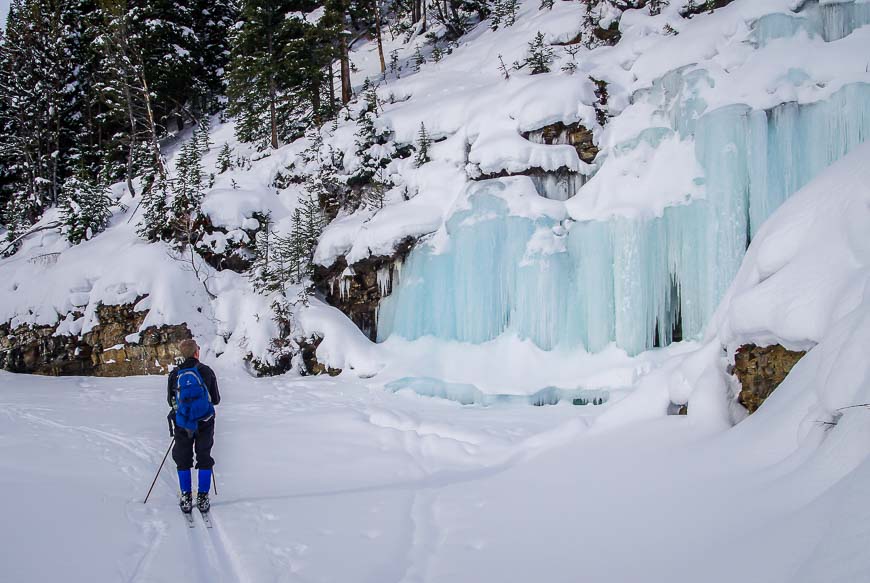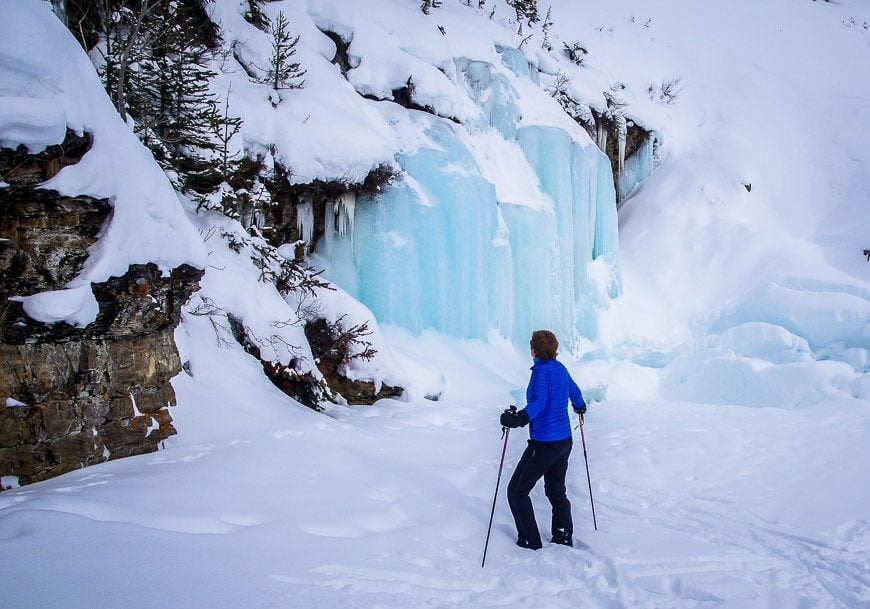 All told it took us about four hours to ski in and out from Boom Lake. That included a lunch break and several extra kilometres of skiing on the lake itself.
Where to park
Parking is excellent. Look for the large signed parking lot on the north side of Highway 93, just 6 km from Castle Junction and only a few minutes away from Storm Mountain Lodge. There are no services but there are washrooms.
Where to stay near Boom Lake
While you could stay at nearby Storm Mountain Lodge, there are lots of other options in Lake Louise or at Castle Junction. It's a 25-minute drive from Lake Louise Village.
For good value for money stay at the Lake Louise Hostel. Deer Lodge is close to the actual lake and the renovated rooms are excellent. As is the dining room. The Mountaineer Lodge is a stone's throw from the village – and offers comfortable rooms.
For a splurge stay at the Fairmont Chateau Lake Louise.
In Castle Junction, check out Castle Mountain Chalets.
Further reading on places to ski in Alberta and BC
Click on the photo to bookmark to your Pinterest boards.