Winter in Lake Louise may be cold, but it sure is pretty. There's loads to do for skiers and non-skiers alike. A frozen lake with the most beautiful skating rink in the world set against a backdrop of truly stunning mountain scenery may be the first thing people think of when they think of Lake Louise in winter. But within 25 – 30 minutes of Lake Louise Village there are an incredible number of outstanding outdoor activities to keep you entertained. In the evening you can count on many a fine dining experience – and some of the accommodation is world-class too.
Here are 9 things I'd recommend doing in winter in Lake Louise. Although you can do day trips from Calgary, Banff and Canmore, it's way nicer if you have a few days in Lake Louise itself – so you don't have to drive the sometimes gnarly stretch of the Trans-Canada Highway between it and Calgary.
This post includes some affiliate links. If you make a qualifying purchase through one of these links, I may receive a small percentage of the sale at no extra cost to you. Thank you for your support.
1. Skate or play shinny on the world's prettiest outdoor skating rink
Every winter Lake Louise is transformed into a skating rink. Enjoy public skating with an entry through the ice castle or bring your hockey stick for a game of shinny in a separate area.
Lake Louise is lit until midnight but in theory you could skate around the clock. It's free to skate.
Skate rentals are available at Fairmont Chateau Lake Louise at a cost for adults of $20 for 2 hours or $30 all day. It's half that for kids. Hockey sticks can be rented for $5. (All prices are 2019 – 2020).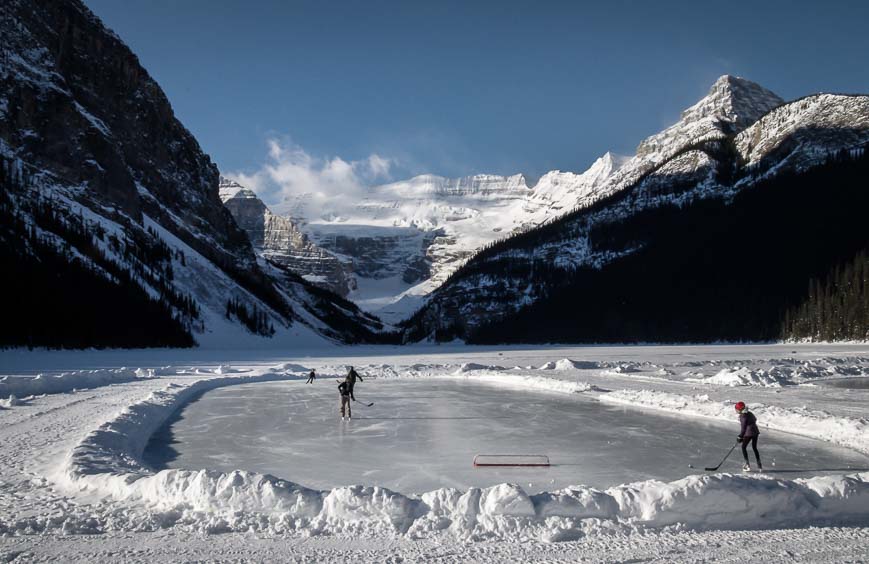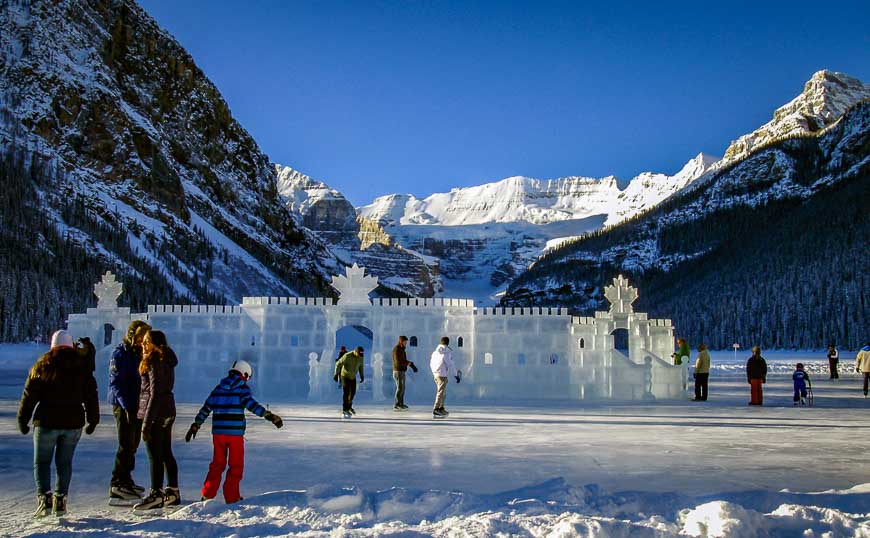 2. Catch world-class ice carvers in action at Lake Louise in January
Every January for 12 days world-class ice carvers congregate at Lake Louise. They'll transform a block of ice into a work of art under your watchful eye.
Wonder through a winter wonderland in front of the Fairmont Chateau Lake Louise, checking out the ice bars, ice carvings and of course the ice castle down on Lake Louise itself. Catch an ice carving demo; look on at what one carver can do in one hour with one block of ice.
At peak periods – which are Saturdays and Sundays from 10 AM to 5:30 PM you must now have tickets. If you stay at one of a handful of hotels in the nearby area you get free access. For more information visit Ice Magic Lake Louise.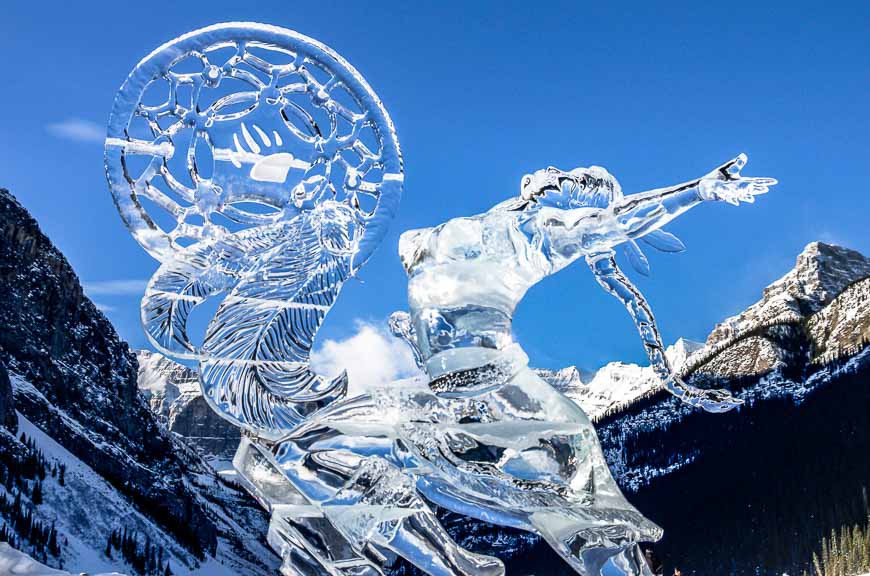 3. Snowshoe to the Ink Pots – 25 minutes from Lake Louise
If you can walk, then you can snowshoe and what better place to do it than in Banff National Park. The trail to the Ink Pots is a great one. Its 12 km return with just 220 m of elevation gain.
The higher you go, the prettier it gets with the pièce de résistance the Ink Pots themselves. They are brilliant-coloured mineral hot springs located on the route to Mystic Pass. The trailhead is a few kilometres east of Castle Junction, close to the Johnston Canyon Trailhead.
4. Do the Johnston Canyon Ice Walk – 25 minutes from Lake Louise
The Johnston Canyon Ice Walk is a popular, family friendly winter outing, accessed via a 30 minute drive from Lake Louise or Banff. Slip-slide your way, preferably with icers attached to your shoes or boots, 2.7 km to the frozen waterfall.
Some days the trail is like a skating rink. Hold on to the railings like your life depends on it. On other days the trail is simply snow-packed and not the least bit icy. Make sure you go to the end of the trail (which is more work) so you can see the ice-climbers in action on the frozen waterfalls.
5. Go downhill skiing at Lake Louise Ski Resort
Love downhill skiing? Head to beautiful Lake Louise Ski Resort – voted Canada's Best Ski Resort in 2018. It's one of the biggest ski resorts in North America boasting 4,200 acres of skiable terrain. It's also one of the prettiest resorts I've ever skied at. Families love it as there are beginner, intermediate and expert runs from everyone of the chairlifts.
In total there are ten lifts including a gondola, 145 marked runs plus back bowls, some remote. The resort is also the home of one of the top three terrain parks in the world (2018), a tube park and a top-notch beginner's area.
With one of the longest ski seasons in North America (mid-November to May) you have plenty of time to discover not only the fabulous skiing and snowboarding but some of the special activities. Do a night tour under a full moon and finish with hot chocolate.
6. Cross-country ski on one of the beautiful trails near Lake Louise
You can look forward to some exceptional cross-country skiing at Lake Louise – and in the immediate area. One of my favourite trails – the Fairview Trail takes off right from the main parking lot at Lake Louise. It hooks up with the Tramline Trail. You can ski it all the way into Lake Louise Village.
Read: Lake Louise Skiing: The Fairview & Tramline Trails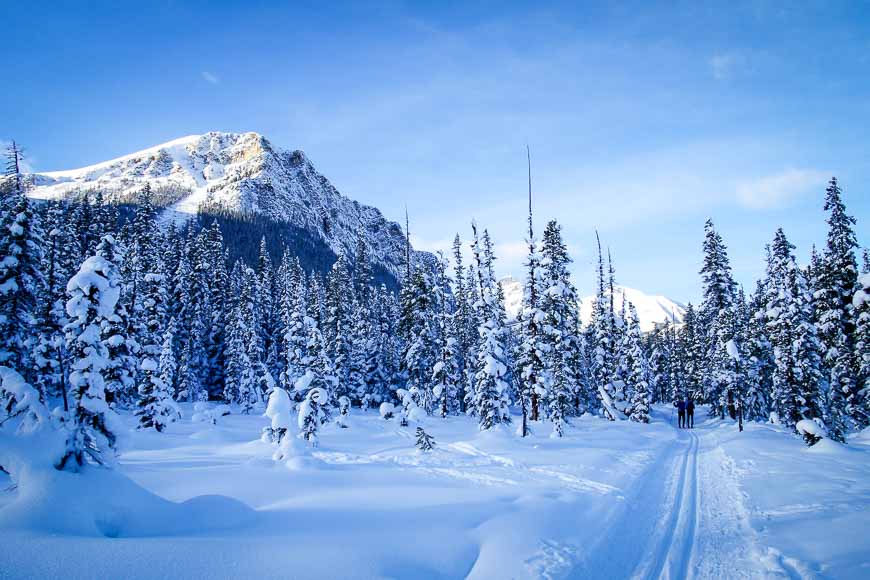 The Pipestone Trail just a minute's drive past the turnoff to the Lake Louise Ski Resort is very beautiful and the snow is usually amazing. You can choose from loops of varying lengths and make a day of it.
7. Cross-country ski to Boom Lake near the Alberta – British Columbia border – 20 minute drive
For something that's only a short drive away from Lake Louise I'd recommend the easy five kilometre ski into Boom Lake. With an elevation gain of only 180 m (590 feet), you'll barely break a sweat. Be sure to continue down the north side of the lake to reach the pretty icefalls.
And of course you should use common sense and avoid the lake itself until you know the ice is thick. There is also Class 2 avalanche danger along one section of the lake – easily seen by all the smaller trees. Don't go near it unless you have the right gear and avalanche training.
Read: Cross Country Skiing to Boom Lake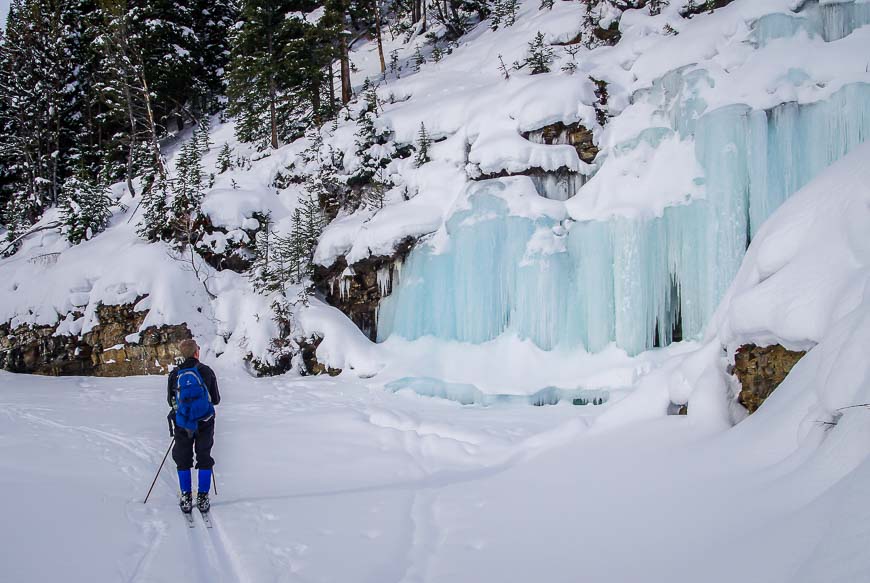 8. Go dogsledding
There is one company that runs dogsledding tours in Lake Louise – Kingmik Dogsled Tours. The most popular tour takes you on the Great Divide Trail towards the Kicking Horse Pass at the Continental Divide.
Enjoy snuggling up with your special somebody over the 16 km, 90 minute length. And trust me with all the blankets you'll be plenty warm.
9. Walk or snowshoe
There are a couple of trails that take off right beside Lake Louise.
The Lake Louise Shoreline Trail is flat and easy. It follows the north shore to where the melt-water from the Victoria Glacier enters the lake. Some days in the winter you can see ice climbers on the frozen falls.
Mirror Lake and Lake Agnes
Another hike or snowshoe is the one to Mirror Lake and potentially to Lake Agnes. It's 2.6 km to Mirror Lake via a well-maintained trail though the forest. From Mirror Lake you continue on good trails to reach the Lake Agnes Teahouse via a climb up a steep, slippery set of stairs in the winter. It's 3.6 km one way with an elevation gain of 400 m.
IMPORTANT – After Mirror Lake there is a section of trail that crosses avalanche terrain. Banff National Park calls it Challenging Class 2 terrain for avalanche exposure and requires appropriate training and equipment. Continue from Mirror Lake only if you're prepared with a shovel, transceiver and the know-how.
Where to stay in and near Lake Louise in winter
For a splurge stay at the lake at the Fairmont Chateau Lake Louise.
A short drive away is Baker Creek by Basecamp – with individual cabins that are ideal in winter.
For good value stay at the Lake Louise Hostel.
Deer Lodge is very close to the actual lake and the renovated rooms are excellent. They also have a popular outdoor hot tub.
The Mountaineer Lodge is a stone's throw from the village – and offers comfortable rooms.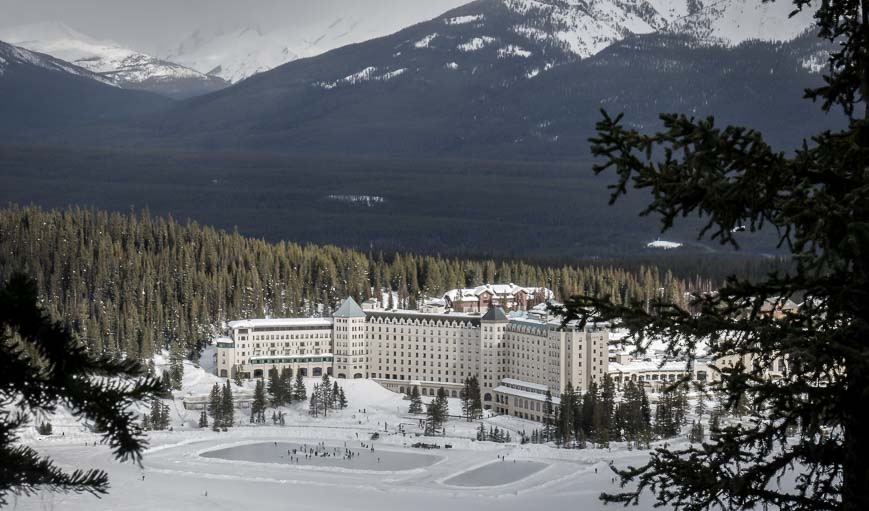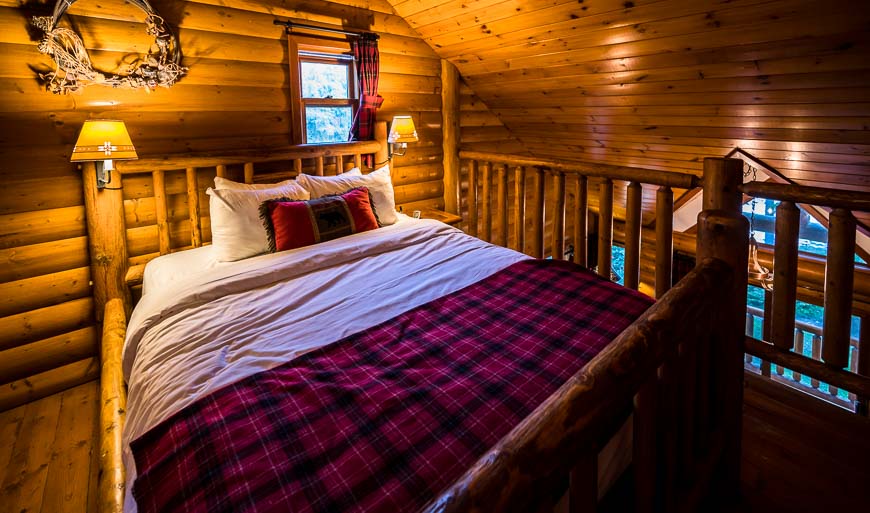 Click on the photo to bookmark to your Pinterest boards.