Go cross-country skiing if you live in Alberta – if you want to make the long, cold winters fun and bearable. I love the fact that there are so many choices for cross-country skiing within a couple of hours of any of the major cities in Alberta.
If there's fresh snow in Calgary some of the golf courses (Shaganappi Point Golf, Maple Ridge and Confederation Park) and parks (Weaselhead, Edworthy, Fish Creek Provincial and North and South Glenmore Park) are also excellent destinations.
This post focuses on the best places in the mountains (with one exception) for cross country skiing in Alberta – primarily within a few hours of the major cities.
West Bragg Creek – incredible cross country skiing 45 min from Calgary
The West Bragg Creek ski area is just 45 minutes from Calgary. After a fresh snow, the 50-kilometres of groomed trails are a great place to be.
Most of the trails are classified as easy to intermediate. For a full list of what is available check out trail descriptions here. The area is also excellent for snowshoeing with several snowshoe only trails. The use of trails is by donation.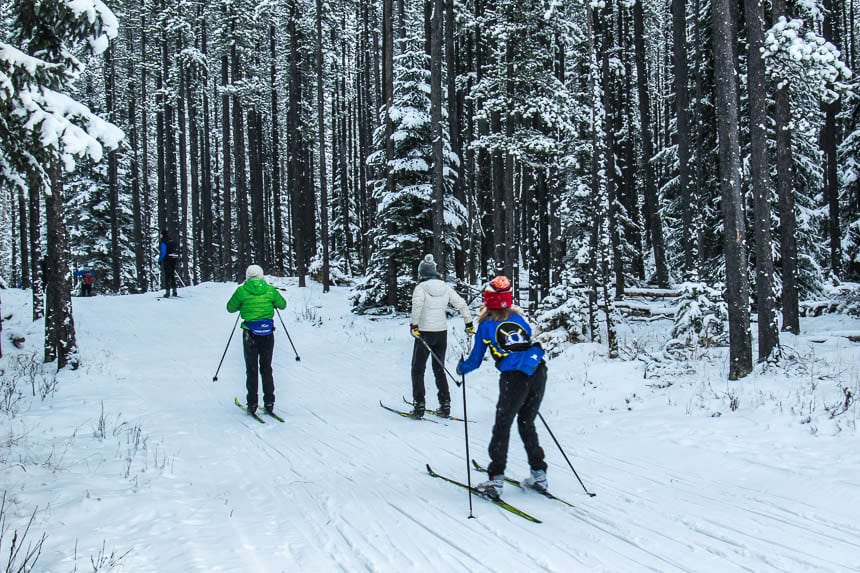 Cross-country skiing in Peter Lougheed Provincial Park
Peter Lougheed Provincial Park is home to some of the best Nordic skiing in western Canada. An extensive trail system with over 75 km of mostly beginner to intermediate trails caters to people of all ages and abilities.
Snow conditions can vary widely across the trails so it's always helpful to know before you visit what state the trails are in.
For an up to date trail report and to purchase ski passes click here.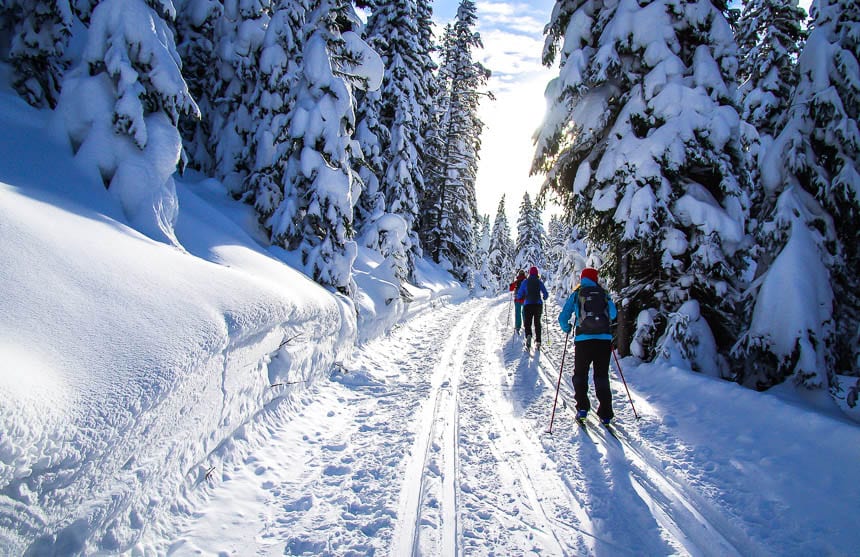 Chester Lake, Kananaskis Country
I usually visit Chester Lake on snowshoes but it's an equally beautiful area to explore on skis. Located in Kananaskis Country along the Smith Dorrien – Spray Lakes Road, it's a solid two hour drive each way from Calgary.
But it's worth it, especially on a brilliant, sunny day. All told you'll ski 10 kilometres round-trip to the lake. The bulk of the climbing happens in the first 30 minutes. And when you're finished you can't beat the afternoon charcuterie plate offered at nearby Mount Engadine Lodge.
Moraine Lake Road
Head to the Lake Louise area for consistently great early season snow. Snow stays a long time up here – usually into April. The Moraine Lake Road is an ideal destination if you don't have a lot of time or you're scared of getting lost. You never veer off the road.
It's 16 kilometres round trip if you go up as far as the lookout and 22 kilometres round-trip if you go to Moraine Lake itself. If you do that you should have avalanche gear and be knowledgeable about crossing avalanche zones.
Although it never feels like you're gaining a lot of elevation (250 metres to the viewpoint), you'll be amazed at just how quickly you get back to the parking lot.
Canmore Nordic Centre
If you like to ski where all sorts of facilities are at your fingertips (warm lodges, waxing rooms, rental gear) as well as up to 65 kilometres of groomed trails then the Canmore Nordic Centre is definitely the place to be.
There are trails for all levels, none with more than 100 m of elevation gain. Night skiing until 9 PM is available on the Banff Trail. You must pay to access any of these trails. If you plan to ski here a lot, it would be worth investing in a season's pass.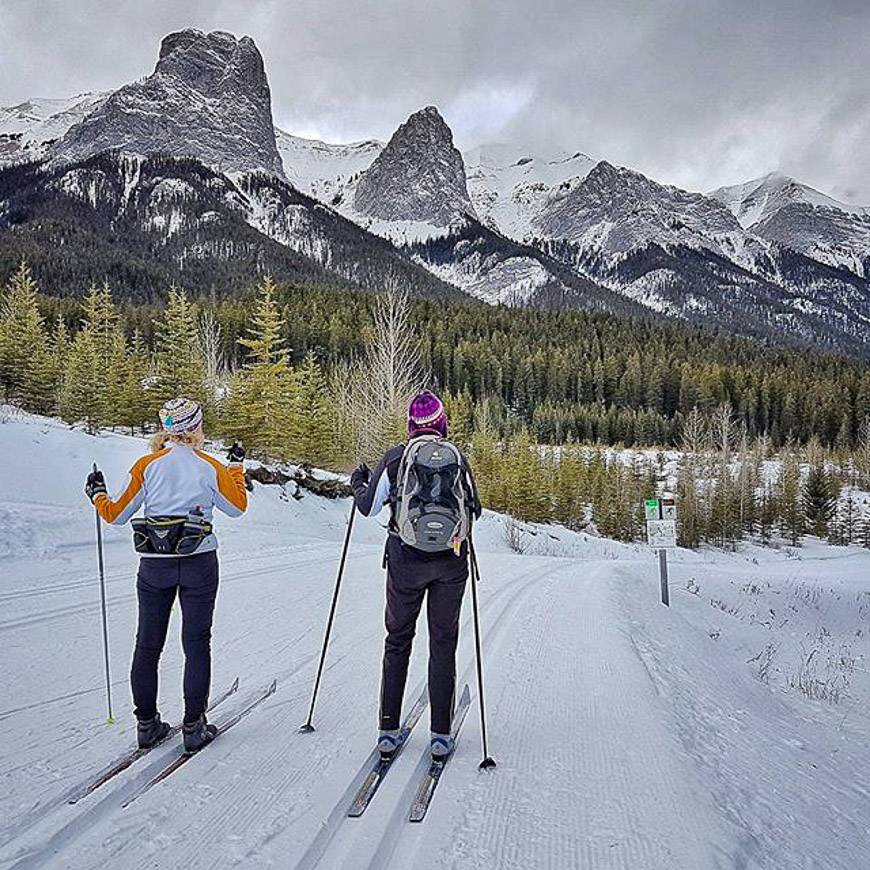 Pipestone Trails, Lake Louise area
This area, located just west of the Lake Louise turnoff is well signed and there's plenty of parking. It's consistently one of my favourite places to ski, I just wish it was closer.
All told there are 21 km of trails – and most are easy. There is one intermediate loop but the total elevation gained is only 120 m. Although much of the skiing is in the trees, there are several places where you get superb mountain vistas.
Skogan Pass from Ribbon Creek
Skogan Pass is easily accessed from the road that heads up to the Nakiska Ski Resort in Kananaskis Country. When the snow is good this is a fantastic ski – especially the downhill back from the pass. The trail starts off flat and then climbs 625 m over 12.9 km to reach the pass. The grade is very manageable.
You won't have any trouble following the trail despite the maze of trails at lower elevations. At every junction there is a sign with mileage markers so you know exactly how far you have to go. You can rent gear at nearby Kananaskis Outfitters.
Cave and Basin Trail in Banff
Starting behind the Cave and Basin Visitor Centre, there are some easy trails that are perfect for the beginner skier. This is also one of the trails you ski to get to Sundance Lodge – one of my all-time favourite places in the winter to spend the night (and one of the few that doesn't have a two night minimum).
There are several options along the trail if you want to lengthen the time outside. Explore Sundance Canyon, ski loop trails if it's not too icy through the marshland or ski the full length of the trail all the way to the Sunshine Road.
The trail can get icy and covered in pine needles but I find the views are always enchanting and you can make it a quick outing if you only have a few hours.
Cross Country skiing in Alberta – Try Boom Lake in Banff National Park
This trail is a delight. Located in Banff National Park near the boundary of Kootenay National Park, it's an easy 5 km ski in to Boom Lake. The total elevation gain is only 180 m.
Once you get to the lake you can ski in either direction BUT make sure the ice is safe and be aware of avalanche slopes that come down to the lake.
You can knock off the trail in about two hours if you really move but don't rush it. There are giant icicles part way down the lake that make a great lunch time destination. I'd count on spending a solid half day or more here.
I also recommend a stay at nearby Storm Mountain Lodge.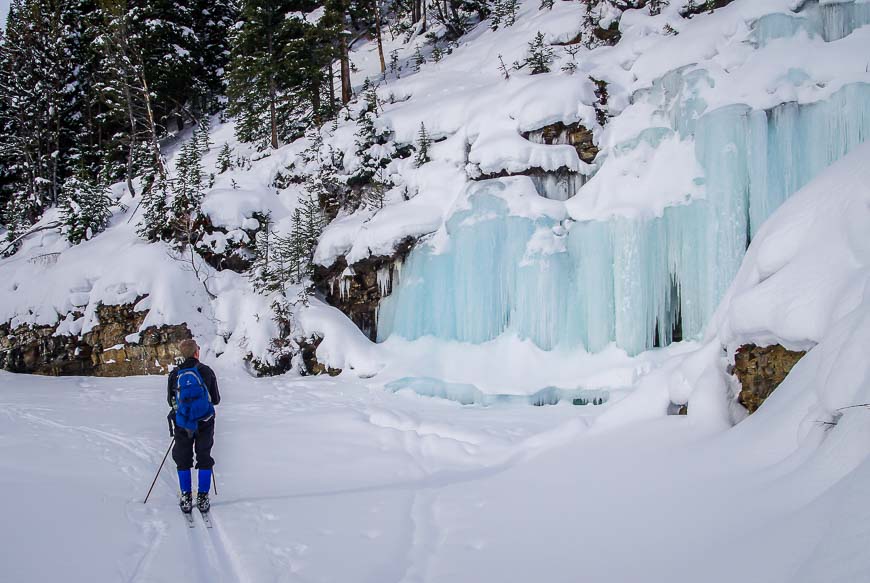 Cypress Hills Provincial Park in Southeast Alberta
There are two areas within Cypress Hills Provincial Park that are ideal for cross-country skiing. I skied about eight kilometres on cross-country trails in the Spring Creek area. The area is at the same elevation as the Canmore Nordic Centre – and is well-signed and very pretty.
Look for a warming hut at the Willow Creek Campground. The nearby Spruce Coulee area also offers cross-country skiing.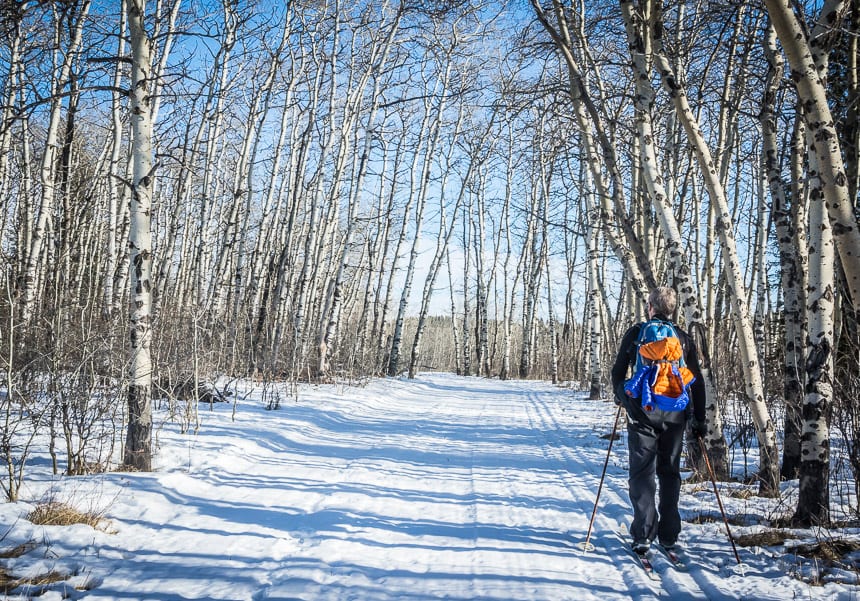 Affiliate links ahead, which means I receive a small percentage if you purchase anything through them at no extra cost to you. This helps me provide free content on this site.
For up to date ski reports from on the ground skiers I highly recommend checking out Skier Roger's website.
Shop: If you're looking for more ideas on where to cross-country ski in Alberta I highly recommend the book – Ski Trails in the Canadian Rockies.
Further reading related to cross country skiing near Calgary
Click on the photo to bookmark to your Pinterest boards.