When you think of cross-country skiing in Alberta, heading to Camrose, in the heart of Alberta's agricultural country is unlikely to be the first place that comes to mind. So what a pleasant surprise it was to find well-groomed, beautifully kept cross-country ski trails thanks to the Camrose Ski Club, one of the oldest ski clubs in Canada.
Cross-country skiing in Camrose surpasses all expectations – and by the time I leave I'm actually a tad jealous of the locals with such a fantastic network of trails in their backyard.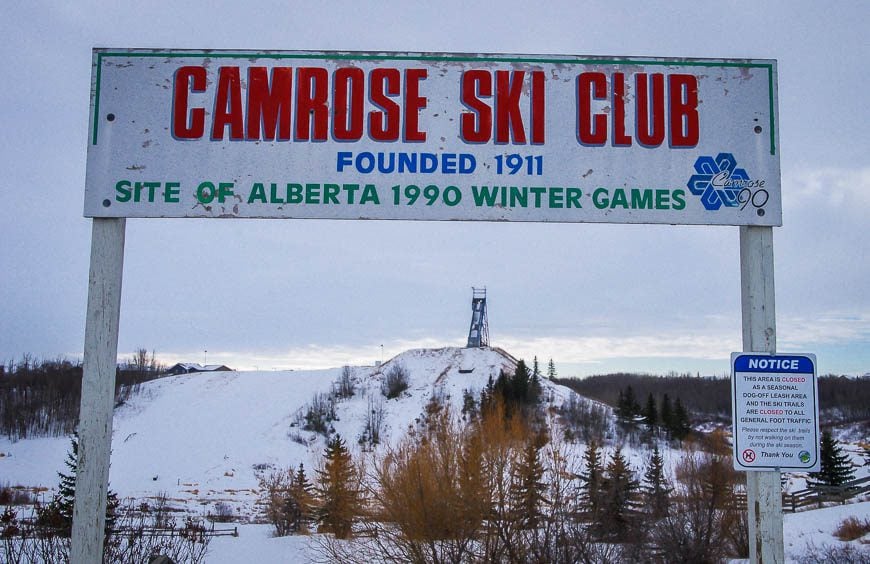 Location map of the Camrose ski club
Ski jumping has been popular in Camrose for a long time
Camrose, according to Hazel Cail, Executive Director of Tourism Camrose, has strong Scandinavian roots – so back in the early days skiing and ski jumping was popular with the majority of residents. The original ski jump, built in 1911 is long gone and so is the one lost to a fire in 1921. The present ski jump dates to 1932.
As one story goes, there is tell of skiers doing their jumps and one landed far out into the snow and just kept sinking…. right into a pig manure pit from the pig farm existing right next to the ski hill.
Beautiful cross-country skiing in Camrose
Fortunately the manure pit is long gone. What you'll find now in Camrose are approximately 18 kilometres of ski trails following the Stoney Creek Valley.
Don't expect a wilderness feel to the trails that form a loop at the north end. In fact, some lucky residents can ski right out their back door onto the trails. But at the south end, away from the homes, you're skiing in an area that feels far removed from civilization.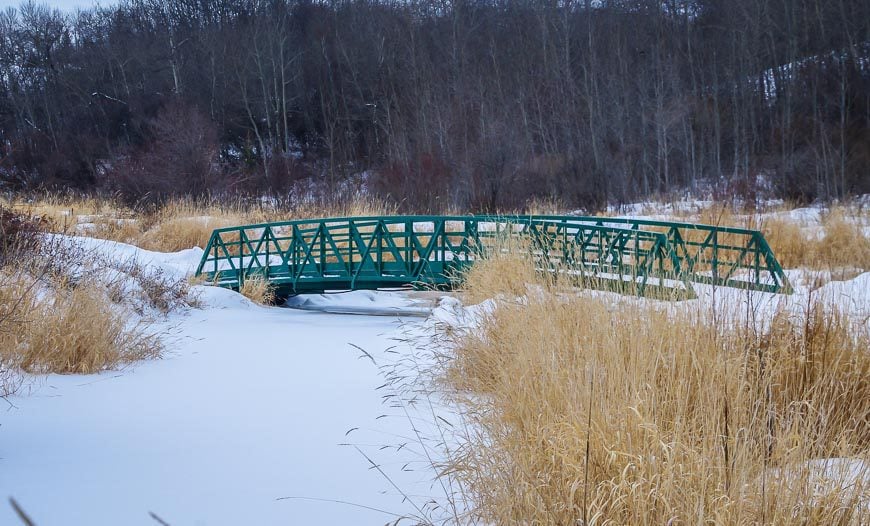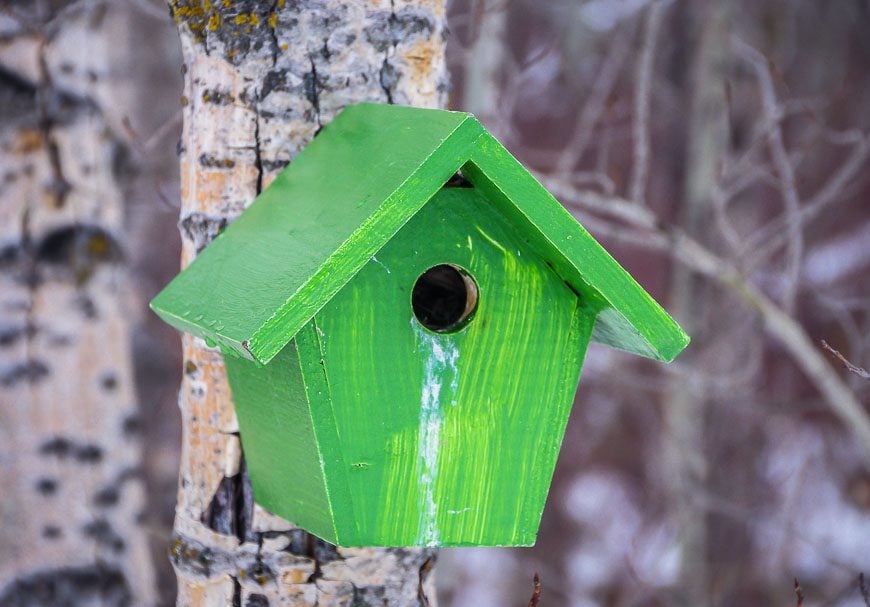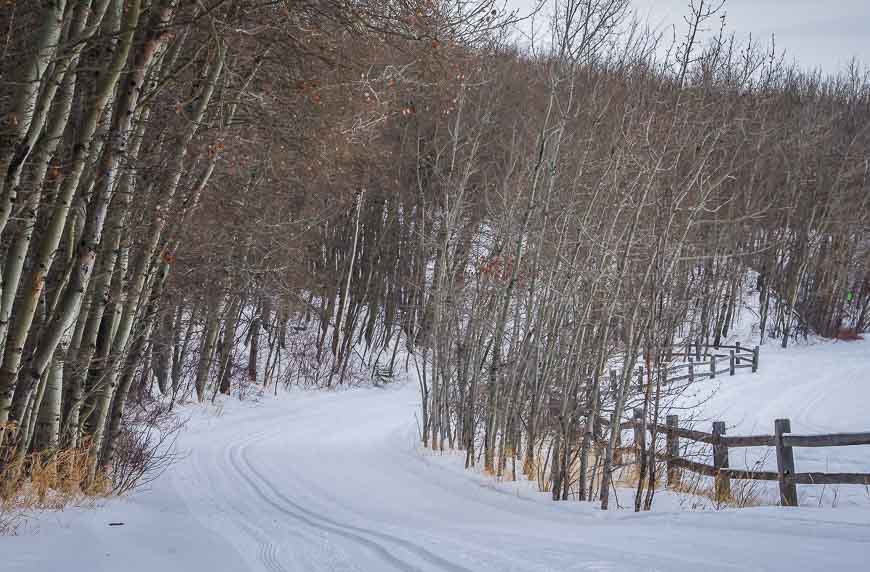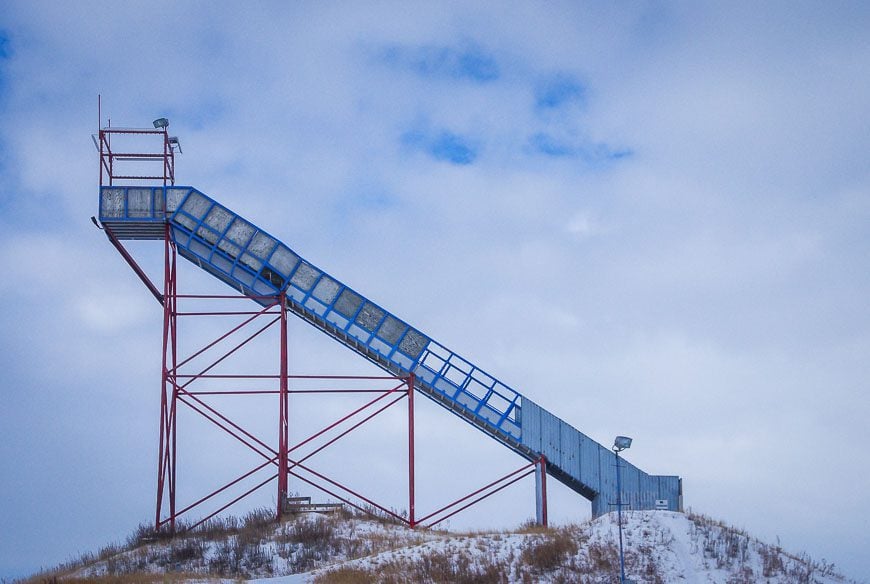 Skiing under a trestle bridge – one that's still in use today – was one of the highlights of my ski tour. The first was built in 1910 and because of fires, it's been rebuilt twice.
Hazel tells me that at one point up to eight through-passenger trains arrived daily in Camrose from Calgary – along with freight trains.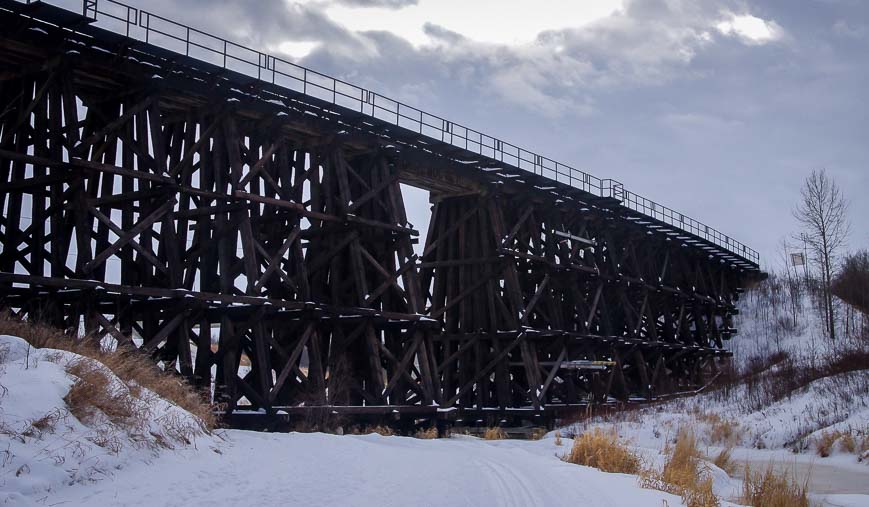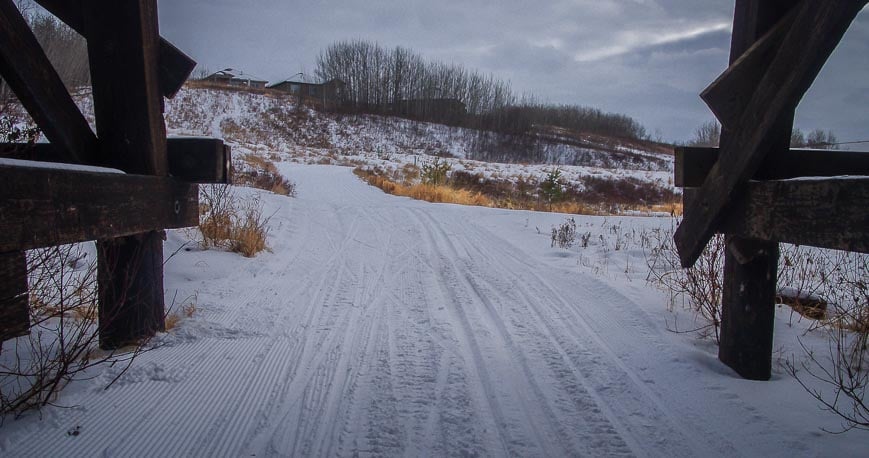 Skiing in Camrose on well-marked trails
You'll find signage at any major trail intersection; often the choice lies between taking the easy, valley route or climbing one of the hills. I opted to climb hills wherever I could and was surprised at the steepness of many of them and how tiring it actually was if you climbed them all.
You can get a serious work-out here if that's what you're after.
Located at the end of the southern trails is a Biathalon range. The bang of a gun could be heard in the area though I don't know if it's actually used for races anymore.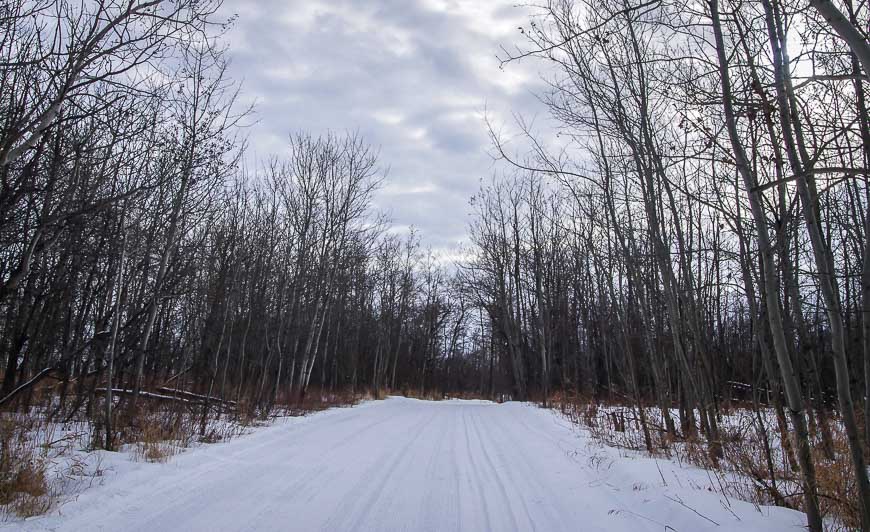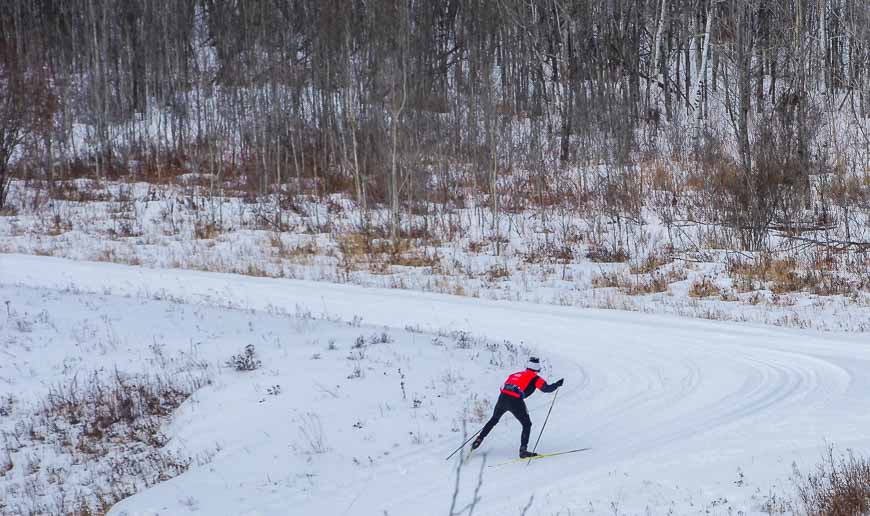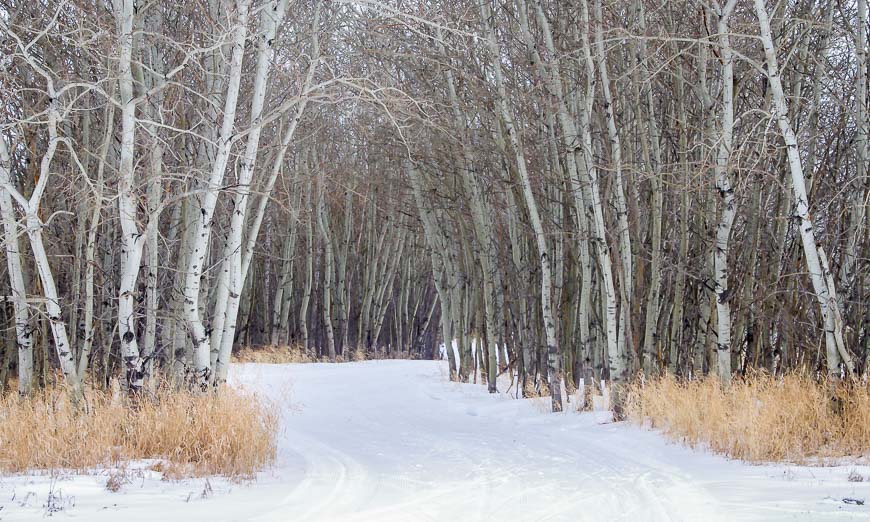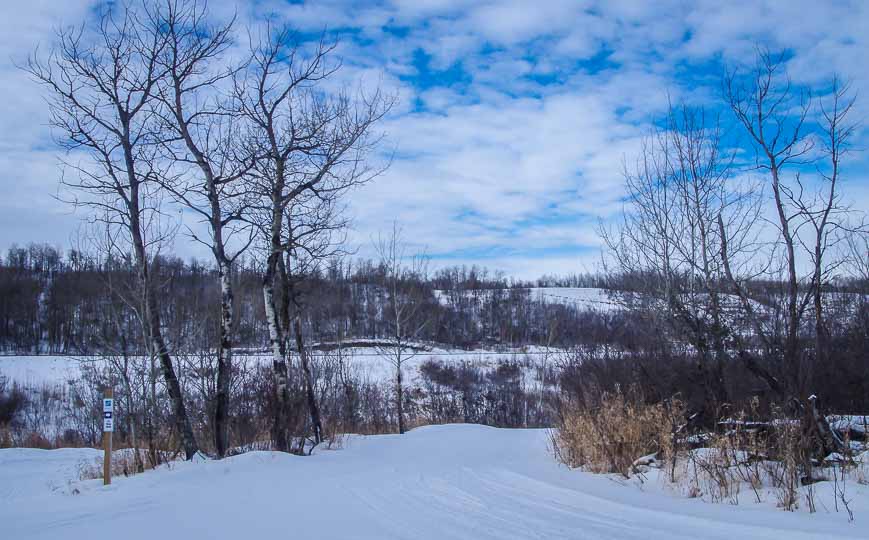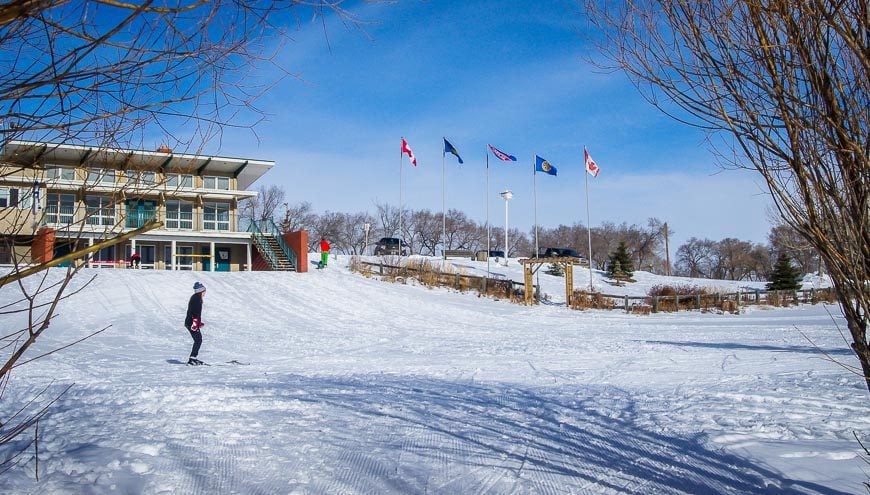 The Annual Ole Uffda Loopet
In February the annual Ole Uffda Loppet takes place. Race lengths vary from 1.5 to 22.5 kilometres – so this is one family-friendly event. I asked who Ole Uffda was and learned that it's a Scandinavian mascot designed for the 1990 Winter Games.
When Ole isn't living in the Viking Shop at the Visitor Centre, Ole shows up in parades and likes to start races.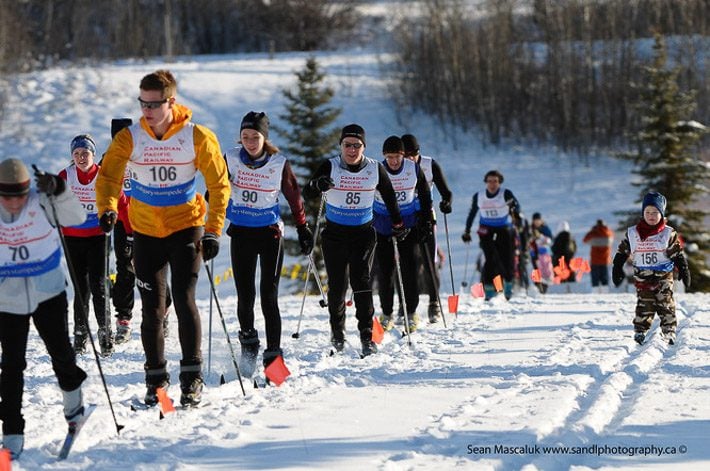 What to see in Camrose
The old part of Camrose is very pretty. Lined with tidy houses, large trees and a downtown area of several blocks with loads of independent businesses, it's a great place to check out after skiing – unless it's a Sunday and then it's more like a ghost town.
Fiona's Coffee & Gifts offers organic baked goods or stop by the Lefse House, an authentic Scandinavian bakery. There's a main strip of malls running through the town so if it's Starbucks or Tim Hortons you're after, you'll find them as well.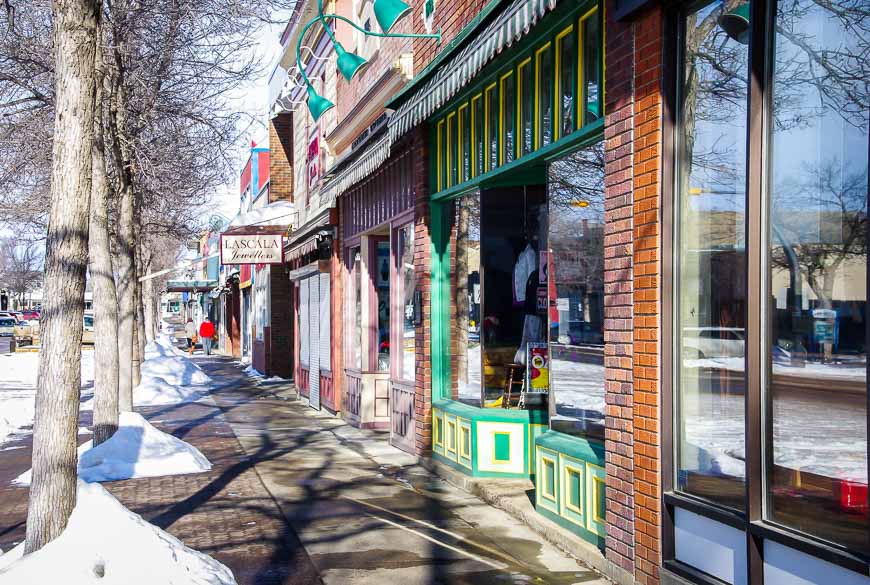 I was disappointed to see so few people out when I skied last weekend. The trails are truly beautiful and very accessible if you live in the Red Deer – Edmonton corridor. From Calgary, it's a three hour drive, so it's a long day trip, though doable.
Further reading about winter in Alberta
Click on the photo to bookmark to your Pinterest boards.