Located at Mile Marker 37, Bahia Honda State Park in the Florida Keys is one place worth visiting on the four – five hour drive between Key West and the mainland. The island that is home to Bahia Honda State Park has loads of sandy beaches – so it's a haven for families. Apart from lazing on a beach you can bike the roads and hike a few short trails.
Don't miss the walk up Old Bahia Honda Bridge though unfortunately you can't go as far as you once could. It does offer beautiful views of the area but for the best broken bridge views, head towards the ocean. You can actually walk right under the old bridge.
Also remember to bring a mask and snorkel to take advantage of the park's waters. (Check out these tips for buying a snorkel.) Kayaks can be rented at the concession stand as well.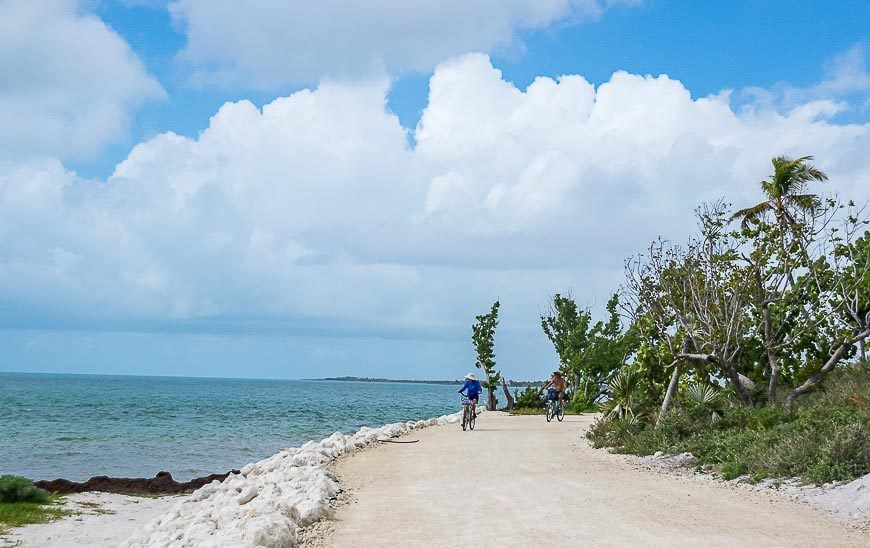 Although we only visited Bahia Honda State Park for a couple of hours, it seems camping is a very popular option. A couple of cyclists had pulled up hoping to score a tent site for the night and were told that campsites often sell out up to a year in advance. If camping is of interest visit ReserveAmerica.com. I'm not sure where the cyclists ended up – guerrilla camping I suspect!!
I think it's worth the $6 admission fee and a few hours of your time to explore Bahia Honda State Park if you're driving back and forth to Key West.
For more information on the park check out the state park website.
Location map of Bahia Honda State Park
Further reading on things to do in Florida
Click on the photo to bookmark to your Pinterest boards.