Florida's Myakka River State Park, accessed via an easy drive from Sarasota, is truly a nature lover's paradise. With twelve of its 68 miles protected in the park, the wild and scenic Myakka River attracts a huge number of birds and animals.
To experience Myakka State Park, you can do any number of activities ranging from leisurely drives along a scenic seven mile road to the full multi-day backcountry hiking experience.
What you can do on a visit to
Myakka River State Park
On our visit we limited ourselves to several nature walks, including the Canopy Walkway. But because of our relaxed pace, we were able to see a lot of birds we would have otherwise missed. Over its 37,000 plus acres you can expect to see everything from raptors to song birds, wading birds along with ducks galore.
On another occasion, I would be inclined to rent a bike and cycle the Myakka Island Trail. It takes you between the park and Carlton Reserve – a Sarasota County Park. Be sure to check ahead on the status of the roads, especially in summer when much of the trail may be flooded.
If you're a backpacker, then consider the 38.9 mile Myakka Trail. It can be done as a loop. Or do a smaller circuit using various combinations of horse trails and roads. You'll find six primitive campgrounds on the trail. A few of the campsites at each campground can be reserved up to 11 months ahead of time.
Plan to hike in late fall, winter and early spring. Beware of flooded trails after big rains. Biting insects can make your life miserable, especially in the summer. Don't forget the insect repellent.
The photographs below are a sampling of what you might see in Myakka State Park.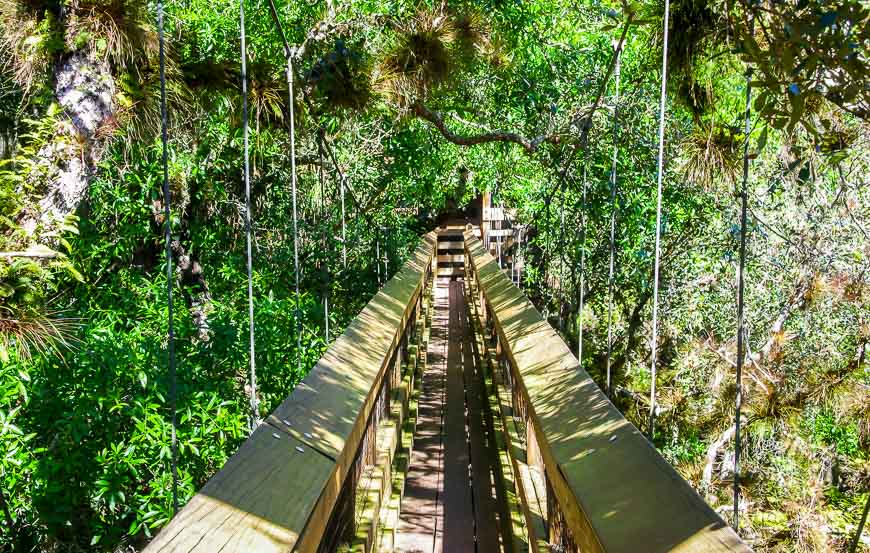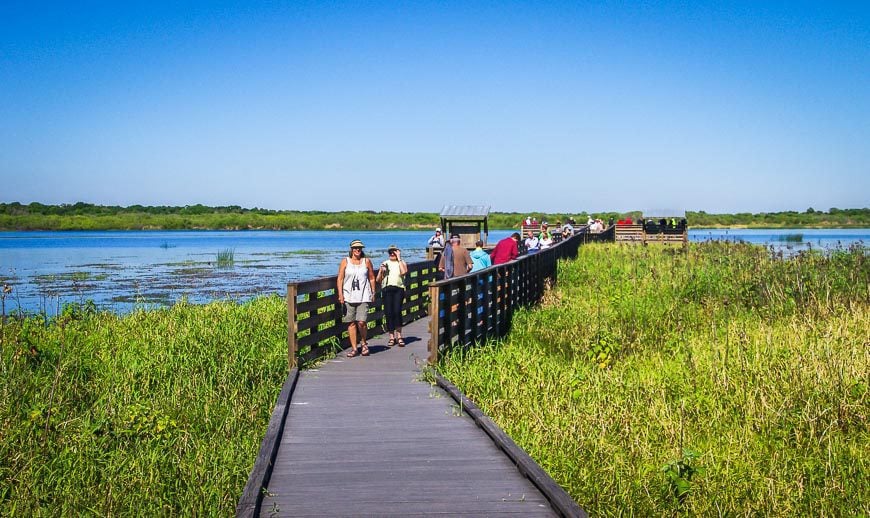 Useful information about Myakka State Park
The entrance fee to the park is $6 per vehicle. For more information visit the park website.
You can fish for bass, bream and catfish but you need a fishing license if you're over 16.
There are airboat and tram tours – and in high season they do sell out. You can rent canoes, kayaks and bicycles from the Myakka Outpost.
The park is open 365 days of the year from 8 AM until sundown. The north entrance is only open on weekends and state holidays.
Pets must be on leash. There are many areas where you can't take them.
Call Reserve America for cabins and campsites at 1-800-326-3521.
Further reading on things you can do in Florida
Click on the photo to bookmark to your Pinterest boards.