You can certainly knock off the Miami to Key West drive in a half day but you'd miss so many great stops. There are lovely places to stay, beautiful beaches, excellent places for snorkeling, deep sea fishing, a turtle hospital, and a lot of key lime pie to try.
Why not turn the it into a multi-day road trip so you can check out these 14 essential stops on the Miami to Key West drive? Allow three to six days to experience the sights and taste the local food. Don't miss you chance to visit Dry Tortugas National Park from Key West – a highlight of southern Florida.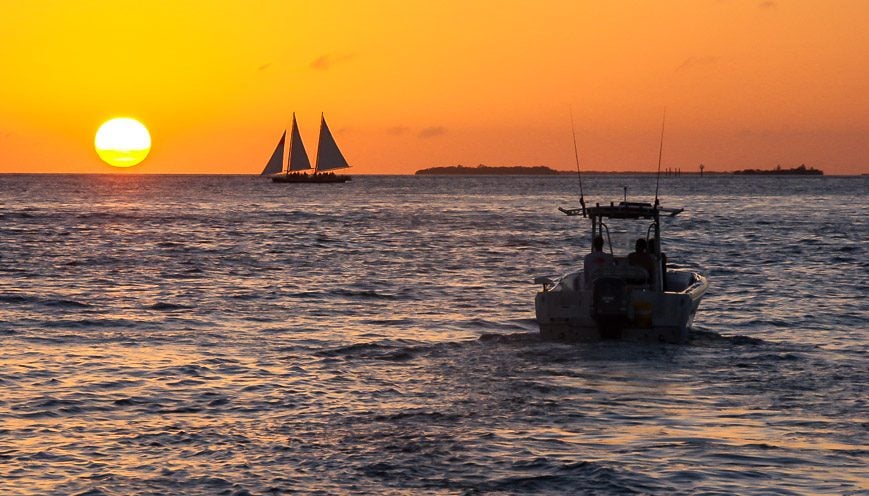 This post includes some affiliate links. If you make a qualifying purchase through one of these links, I may receive a small percentage of the sale at no extra cost to you. Thank you for your support.
Location map with stops on the Miami to Key West drive
Background info on the Miami to Key West drive
From Miami to Key West it's all of 160 miles via the Overseas Highway. While some of the drive is slow going as you crawl through towns, much of it is fast on four line highways. Go with the flow.
This part of the US feels like it's on a different time zone than the rest of the country. If it's a holiday you might as well enjoy the ride.
There are over 1000 islands that make up the Florida Keys – but of all of those islands, only a fraction are actually inhabited. And even those that were affected by Hurricane Irma in September 2017 have made a massive recovery effort.
Except for missing vegetation, most visitors now would hardly notice a thing. The islands that make up the Florida Keys begin south of Miami and actually continue past Key West.
The Florida Keys are the visible parts of a very old coral reef. You won't find very many beaches in the Keys (Dry Tortugas National Park is an exception) but what you will find are worthwhile stops for both snorkeling and scuba diving.
John Pennekamp Coral Reef State Park
Listed below are some of the islands, towns, attractions, restaurants and hotels that I enjoyed on my visit. But there are things I missed like John Pennekamp Coral Reef State Park that you can read about on this version of a trip from Miami to Key West that I'd recommend stopping for.
Don't miss Key Largo on the drive to Key West
As you head south on your Miami to Key West drive make Key Largo your first stop. While snorkelers and divers will definitely want to check out John Pennekamp Coral Reef State Park (located at Mile Marker 102.5 on the Oceanside of the highway) where you can explore the "most accessible living coral reef in the US," hikers can also enjoy nature trails in the park.
Include a stop at the Fish House Restaurant and Seafood Market when you're in Key Largo. Dine on large portions of fresh locally caught seafood. I highly recommend the blackened grouper sandwich. But nix their Key Lime Pie.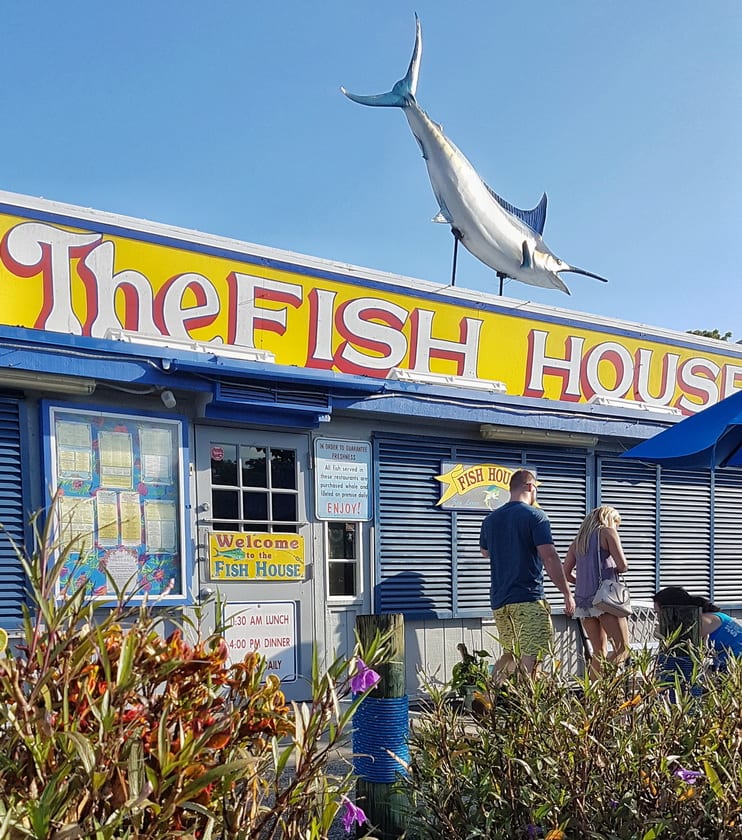 Islamorada – the sportfishing capital of the world
As the sportfishing capital of the world Islamorada is appropriately called the fisherman's town. It's a great place to spend a few nights with plenty to do in the area.
Where to book: Amara Cay Resort – called a Top Resort in the Florida Keys by readers of Conde Nast Traveler would be my recommendation of where to stay. It's got a laid-back vibe – cue the hanging chairs in the lobby and a clean, fresh aesthetic.
Located on the ocean side of the Keys, it boasts 110 rooms, many with pool and ocean views. Swaying palm trees, lounge chairs galore and a pool with a tiki bar are just some of the amenities. The resort loves kids and offers plenty for them to do as well.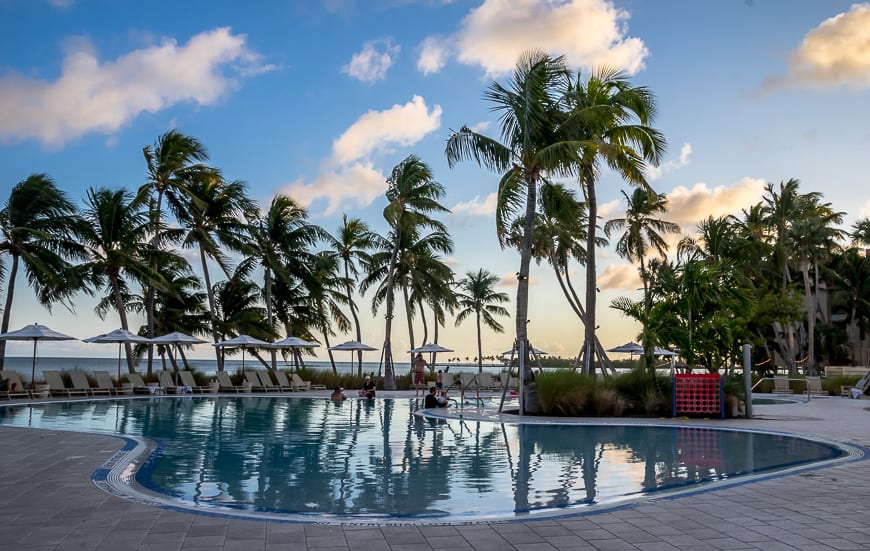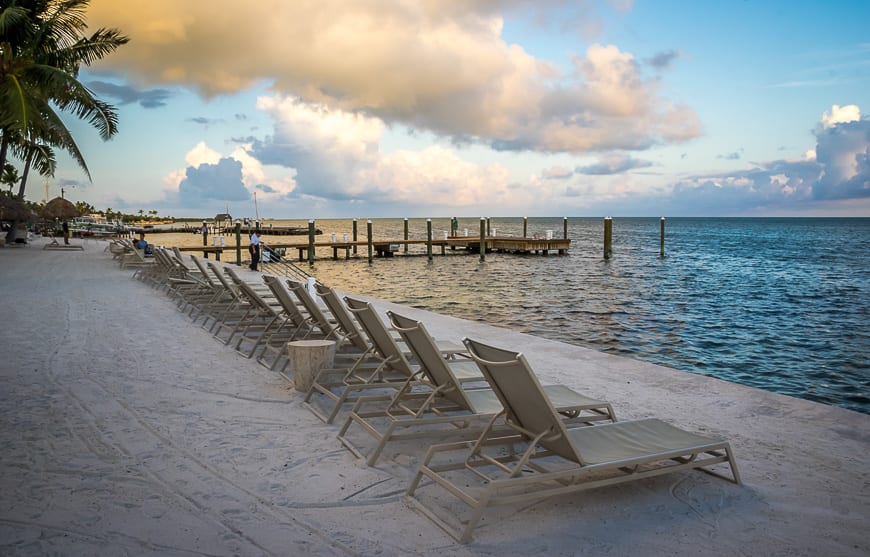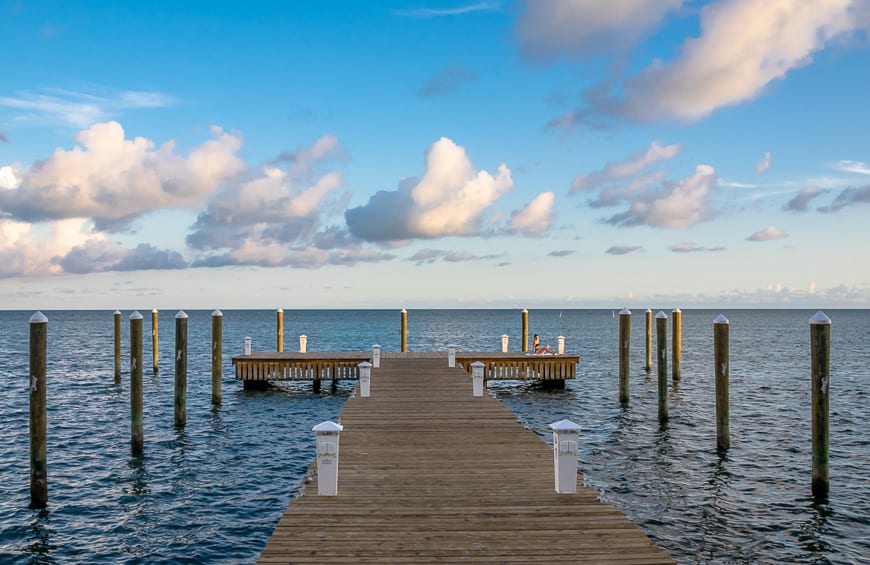 If you want to drink but not drive, take advantage of the shuttle service to restaurants offered by the resort.
We enjoyed two outstanding dinners in nearby restaurants. One at the Angler and Ale on Duck Key is a more casual affair with seafood prominently featured on the menu – as is Key Lime pie. There were only winners here – with lobster mac and cheese always a stand-out menu item.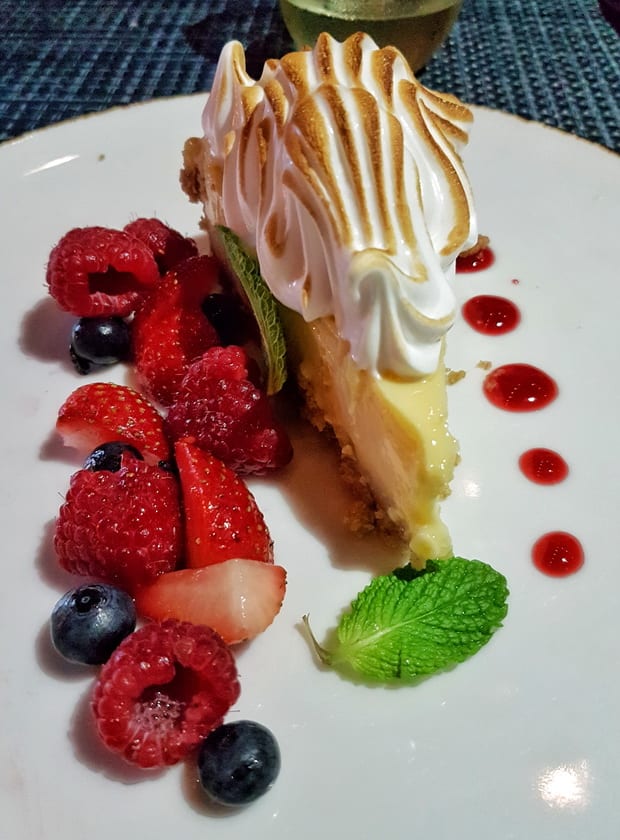 What to do and where to eat near Islamorada
On your first morning in the Florida Keys, head to Robbie's Marina, a popular spot with both locals and visitors alike. While it's the starting point for several water-based activities like deep sea fishing and kayaking, it's also the place where you can both feed the tarpon – and eat at the Hungry Tarpon Restaurant. (Cool fact: Large tarpon will literally fight to the death when caught.)
It takes an act of faith to dangle a dead fish over the edge of the dock, waiting for tarpons that weigh up to 100 pounds to take the bait. There were plenty of screams heard when it happened – not that it was unexpected but it happened so fast.
Rumour has it their teeth feel like sandpaper – but tell that to the lady who works there who has small scars on her arms. A bucket of fish is $4. I tried it and lived!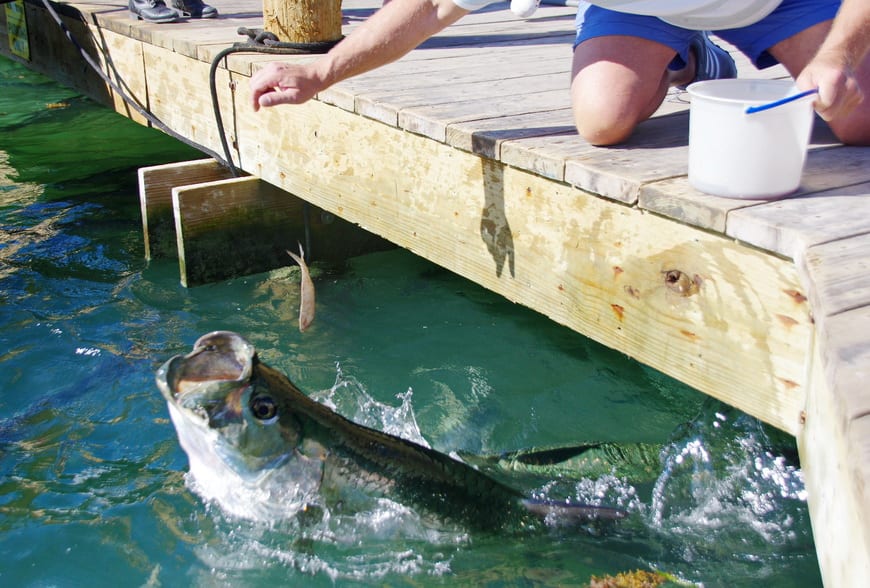 Breakfast may be slow in coming, but when it arrives expect monster sized portions – and endless cups of coffee. Finish a visit here with a look through quirky craft stores onsite.
Meet Donald the mallard duck at Robbie's on the drive south from Miami
Don't forget to say hello to Donald, the formally heartbroken mallard duck down on the beach. He lost his mate in Hurricane Irma and spent weeks walking around quacking with grief. Fortunately someone at Robbie's had the wherewithal to do some research about grief stricken mallard ducks.
Racer ducks that can't fly saved the day. A number were purchased and while Donald initially hated his new companions, he has come to love them, even though he is no longer number one in the pecking order.
Robbie's is open from 7 AM until 8 PM. Admission to the dock to feed the tarpon – or just watch and listen to screams is $2.25 per person.
A feel good stop on the Miami to Key West Drive – the Turtle Hospital
Not far from Islamorada is Marathon. Its home to the Turtle Hospital which is most definitely worth a visit, especially if you have the passionate Christine Watt as an educator and tour guide.
Over an hour you are walked through the five different types of turtles that are found in the Florida Keys (Loggerhead, Leatherback, Hawksbill, Kemp's Ridley and Green sea turtles), their diet, what they end up eating but shouldn't and a little bit about each sea turtle that's in the hospital right now.
Some are permanent residents. They have too many ongoing medical problems to be released to the wild, while others are in for a short time only.
Take a tour of the operating room and then of the pools the turtles call home. Hear the stories of success and failure and leave inspired, knowing that there are dedicated people all over the Florida Keys doing their best for sea turtles.
Lunch in Marathon – one of the delicious stops on a Miami to Key West drive
Hand's down in my books, the Keys Fisheries is the top place between Miami and Key West for lunch – at least of the many I tried. It's a low key spot where you order, grab napkins and plastic cutlery, find a picnic table with a view of the Gulf and then wait for your order to be called.
The fish is super fresh, absolutely delicious and well-priced. Ruddy turnstones (a type of bird) will keep you entertained while you eat.
Their Key Lime pie in an uninspiring plastic container has just the right amount of tart and sweet to make it the Florida Keys winner, beating out seven other restaurants though granted there were a few other pies that came close.
Tour and taste at Florida Keys Brewing Co.
Anyone who knows me well appreciates that I'm not into beer. But when there's a good story behind a brewing company and when that brewing company is half owned by a transplanted Canadian then I'm happy to give them some love.
The Florida Keys Brewing Company, located in Morada Way's Arts and Cultural District in Islamorada has expanded since it first opened in 2015, and now has a location on the Old Highway as well. Visit not just for the great beer infused with flavours like Key lime, hibiscus, local honey and citrus but for the cool vibe and the truly great aesthetic of the place thanks to Cheryl, the wifely half of Canadian co-owner Craig McBay.
The tasting house is open every day from 12 PM to 10 PM.
Spend a few hours in Bahia Honda State Park
Bahia Honda State Park is an hour down the road from the Amara Key Resort. Allow an hour or two here to wander the beaches, perhaps go for a snorkel and to check out the old railway bridge that was partially destroyed during the Labor Day Hurricane in 1935.
I visited Bahia Honda State Park over five years ago and the biggest change I noticed is the state of the palm trees and the decreased amount of vegetation. It's still got great bird life, white sand beaches and glorious views.
The park is open from 8 AM until sunset every day at a cost of $US8 per vehicle.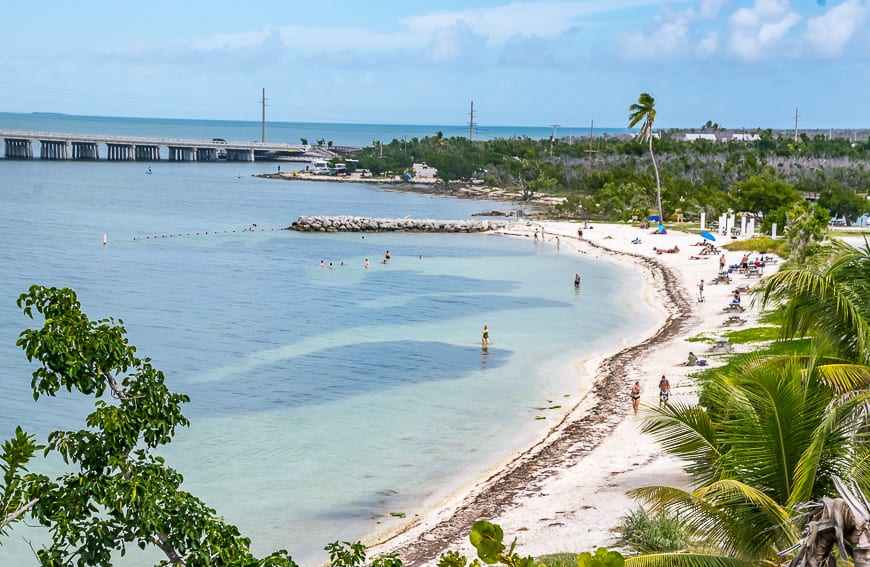 Stop at No Name Pub on Big Pine Key
On the drive south to Key West make a detour to No Name Pub on Big Pine Key for lunch. On the way you may get lucky like we did and spot some Key Deer, the smallest of the North American deer. It is only found in the Florida Keys.
The No Name Pub isn't easy to find – but they pride themselves on that. Walk in and you'll be met with dollar bills filling every square inch of wall and ceiling in the place. Again, you'll find large portions and lots of seafood and pizza.
What to do when the drive to Key West is over
When you finally reach Key West, less than an hour's drive away from my suggested lunch spot, you will have arrived in an iconic city made famous in part by author, Ernest Hemingway. This part of the Florida Key's is just 90 miles from Havana, Cuba.
Of course there are loads of great things to do in and around Key West. Read my post on What to do if You Have 48 hours in Key West – though it obviously doesn't cover everything. A couple of additions I'd suggest include a walk around Mallory Square to enjoy sunset and a visit to Kermit's Key Lime Shoppe.
At Kermit's Key Lime Shoppe, enjoy Key Lime Pie on a stick. Taste test your way through the shop, trying key lime peanuts, cookies, jellybeans, olive oil and more. It's a great place to get a gift for someone at home.
I'd also recommend an easy kayaking tour out of Key West – great fun and a treat to be on the water.
Don't miss a day trip to Dry Tortugas National Park
For a full day tour, hands down the trip by catamaran to Dry Tortugas National Park is fun, educational and one of the real highlights of both trips I've done to the Florida Keys.
Read: A Day Trip to Dry Tortugas National Park
Catch sunset at Mallory Square in Key West
The Mallory Square sunset celebration is a daily event that starts about two hours before the sun goes down. Watch street performers, get something to eat, drink from a coconut like I did and be sure to grab a good spot to watch the sun go down well before it starts its descent.
Where to stay in Key West
The Perry Hotel Key West at the Stock Island Marina Village just outside of Key West is a gorgeous place. Although I didn't stay here I wish I had.
It's got a fabulous aesthetic, a gorgeous pool and a superlative restaurant – Matt's Stock Island Kitchen & Bar – where we enjoyed an outstanding, creative dinner including an appetizer of fresh seafood presented in a fishing tackle box.
I'd also recommend The Garden's Hotel from a previous visit. It's within walking distance to the main sights in Key West.
Another option – a bit of a distance from downtown Key West is 24 North Hotel Key West. Although the rooms aren't as nice as the other places mentioned, it is more affordable and there is a great pool area.
The islands in the Florida Keys are like nowhere else in the US. You'll feel at times that you've been transported to the Caribbean – what with the turquoise blue water, white sand beaches and laid back vibe. Now go see for yourself.
Flying out of Key West Airport
As a side note, should you only want to drive one way between Miami and Key West, there is a small airport in Key West with direct flights to Miami, Fort Lauderdale, Tampa, Orlando, West Palm Beach, Atlanta, Charlotte and Newark. There may be others too. It's a little airport that's a dream to fly in and out of.
Click on the photo to bookmark to your Pinterest board.
Thank you to Florida Keys & Key West for hosting my stay. All thoughts as per usual are mine alone.
Visit their website for lots of other ideas on what to do and where to stay.