It appears from comments in my social media networks that many of my readers are less than enthusiastic about kayaking with alligators in Big Cypress National Preserve. (Comments like "No way, are you kidding, you are so brave, I want a contract that says No Attacking Me and Eating Me" – and yet really it was such a great day.) However, I think everybody I know would love Florida Keys kayaking, especially when it's an easy half day trip with Key West Eco Tours, and the launch site is just a short drive away from Key West.
John and I were guests for an afternoon outing. It started with a pick-up from our Key West Hotel. Unlike many tour companies that offer Florida Keys kayaking, we avoided the waters frequented by noisy seadoos and instead made for the quieter Geiger Key, about eight miles out of town. It's a super place to discover the natural side of the Florida Keys.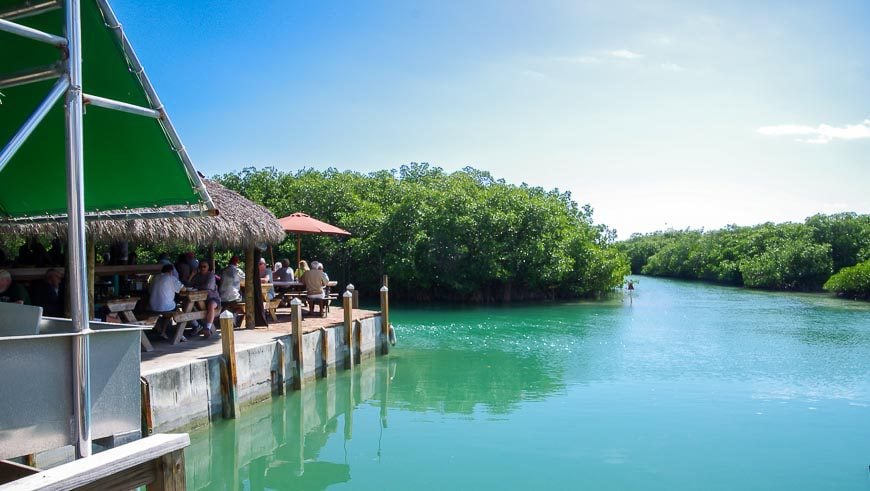 This post includes some affiliate links. If you make a qualifying purchase through one of these links, I will receive a small percentage of the sale at no extra cost to you. Thank you very much for your support.
Keiger Key is the starting point for
a kayaking tour in the Florida Keys
There were four of us in total kayaking the Florida Keys along with a guide. The kayaks were heavy duty plastic affairs – unsinkable and easy to paddle. We carried life jackets, but didn't have to wear them as the water is warm, shallow and the chance of flipping is very small.
Heading out from the dock at the Geiger Key Marina and Smokehouse, we made for quieter waters – without boats or people, about 10 minutes away. As we paddled past homes on the water – none fancy, we were shocked to hear of the price tag – in excess of two million. And this in an area that gets hurricanes.
Kayaking through a world filled with nature in the Florida Keys
In no time we were in a world alive with great blue and little blue herons, egrets, pelicans and all manner of small creatures under the sea. Katie, our especially cheery guide, carried a net so she could scoop interesting stuff like jellyfish and sea cucumbers off the muddy bottom.
A highlight for me, but not the poor fish, was watching nature in action. Two crabs snagged a fish and ate him for dinner.
Next up was a paddle across to some islands that lay in an entirely different ecosystem. The sea bottom was sandy so the swimming looked far more appealing.
Kayaking the Florida Keys – paddling a mangrove tunnel
With the tide dropping, we couldn't get into some of the islands. Fortunately the mangrove tunnel was still accessible – great fun to kayak, especially the tight turns. It was particularly beautiful with the filtered light. I spotted a well-fed raccoon – one who probably eats like a king with so much seafood at its doorstep.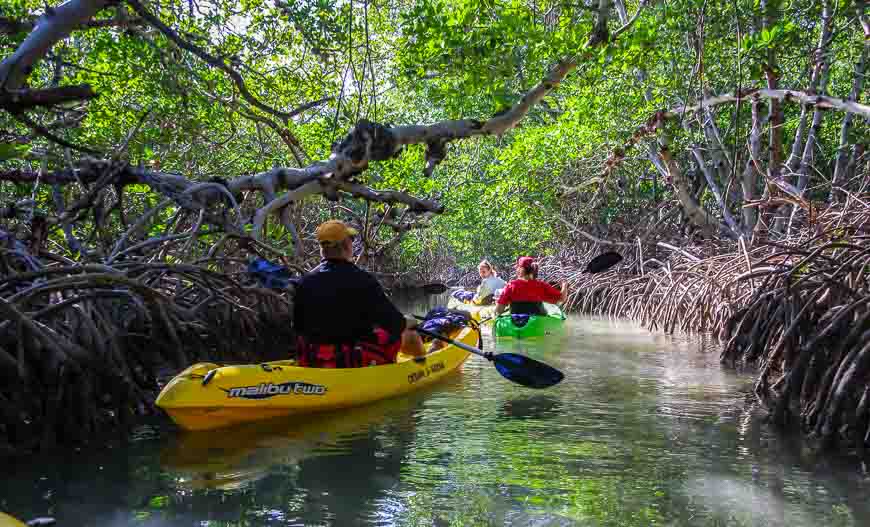 On the home stretch we passed a group of trees used as a roost by pelicans. There were 12 hanging out when we were there. Around the next corner we spotted an iguana – exotic in my books but a pest if you live in Key West. In fact, you can hire iguana exterminators!
In just over two hours we ended back at our starting point. If we hadn't been rushed, the smokehouse deck would have been a great place to hang out and enjoy a burger and a cold drink. It's a great lunch-time destination for anybody visiting the area.
It was an easy paddle except for a few windy sections. Perfect for families (there are double kayaks), this is an outing well worth doing if you have a few days in the Florida Keys. It feels pristine and quiet and a world away from the hustle and bustle of Key West.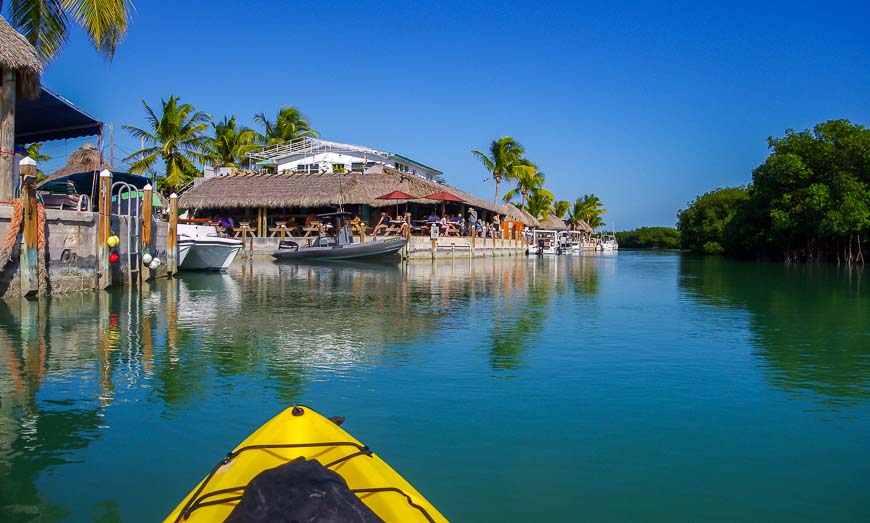 Where to stay in Key West
A couple of hotels I can recommend include Pier House Resort and Spa boasting a private beach.
The Perry Hotel Key West at the Stock Island Marina Village is just outside of Key West. It's got a fabulous aesthetic, a stunning pool and a fantastic restaurant.
On one trip we stayed at The Gardens Hotel – which was an easy walk to restaurants and Key West attractions.
Further reading on things to do in Florida
Click on the photo to bookmark to your Pinterest board.