For anyone eager to get out on a lake or reservoir in Alberta, you'll find Upper Kananaskis Lake to be a great choice. It sports a scenic mountain backdrop with one downside – it's often windy and it can blow up quickly, so paddling is best done early or late in the day when possible. The lake is located in Peter Lougheed Provincial Park, approximately a 90-minute drive from Calgary. It's one of the few lakes close to Calgary where Kananaskis kayaking can be a real treat.
John and I enjoyed a 2-day Kananaskis kayaking trip mid-week. We had our own kayaks which made life easier, but you can rent from Kananaskis Outfitters (SUP's and canoes in 2021 only) near the Nakiska Ski Area or from one of the numerous rental stores in Calgary – like Aquabatics.
When the wind blows up, I always prefer to be in a kayak as I feel that it's more stable than a canoe. Those of you who love SUPs would also enjoy exploring Upper Kananaskis Lake under calm conditions. Be warned though that the water is bone-chillingly cold. Since we launched when it was windy and whitecaps were on the lake, I put on my wetsuit for safety's sake.
This post includes some affiliate links. If you make a qualifying purchase through one of these links, I will receive a small percentage of the sale at no extra cost to you. Thank you for your support.
Kananaskis Kayaking to Point Campground
We parked at the North Interlakes Day Use Area as it's an easy place to launch from. It's also only about 3 km to the Point Campground – and considering the windy conditions, a good choice on the day we did it.
Your other option is to park at the Upper Kananaskis Day Use Area (the one best used to hike to Rawson Lake) and paddle from there. It would be a longer trip and a fine choice if you knew there was a settled weather forecast. It would also be a good place to launch from if you were simply interested in exploring the lake as a day tripper.
Finding the Point Campground is an easy thing to do. You simply kayak along the north shore of Upper Kananaskis Lake until it bends towards the Point Campground. We landed our kayaks on the backside of the Point Campground, at the opposite end from where hikers approach. The waters are calm in here, so landing was easy. Also, it was just a short walk up to one of the group cooking areas and the bear-proof food lockers.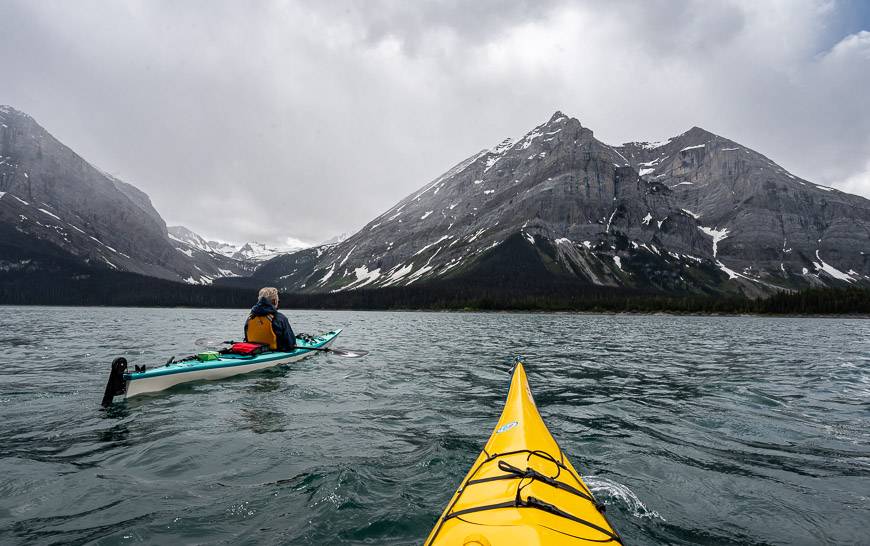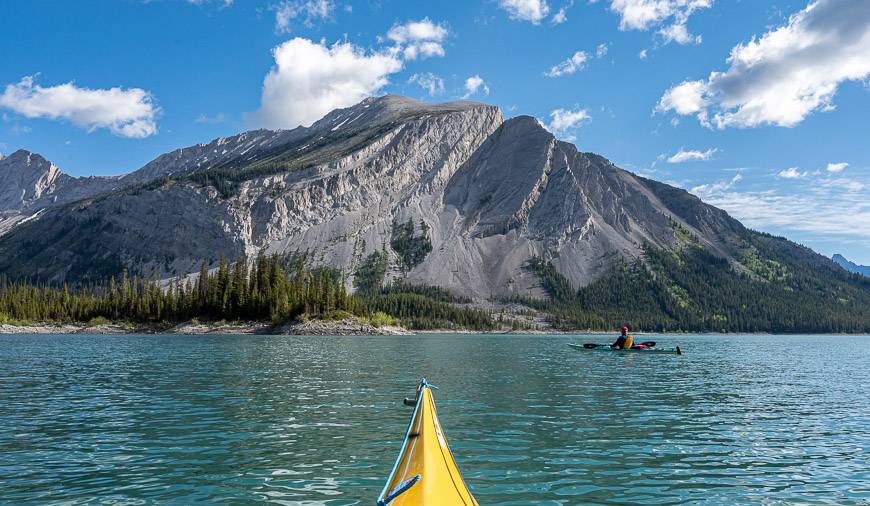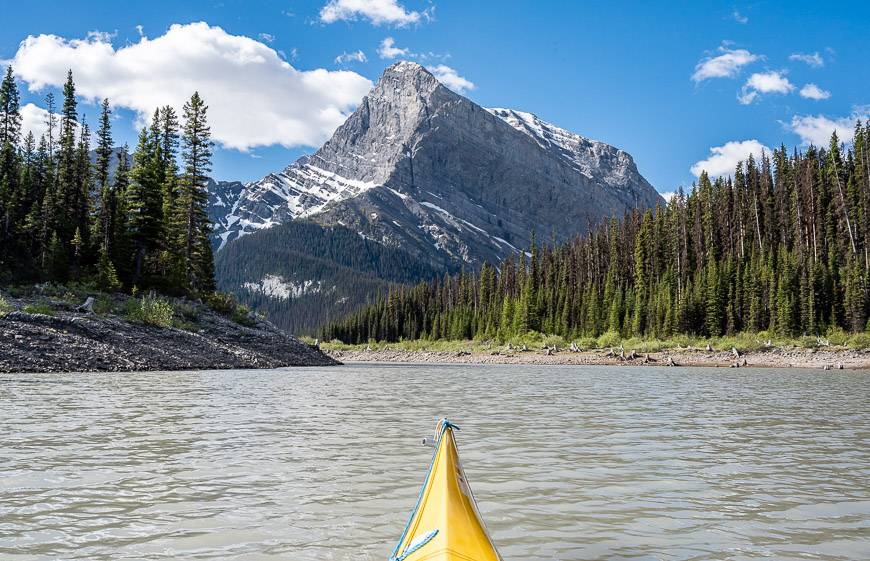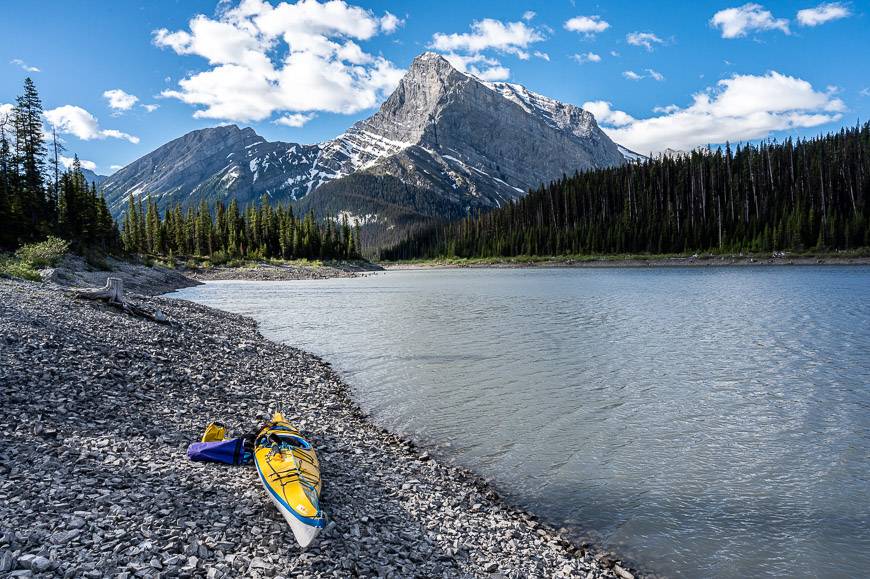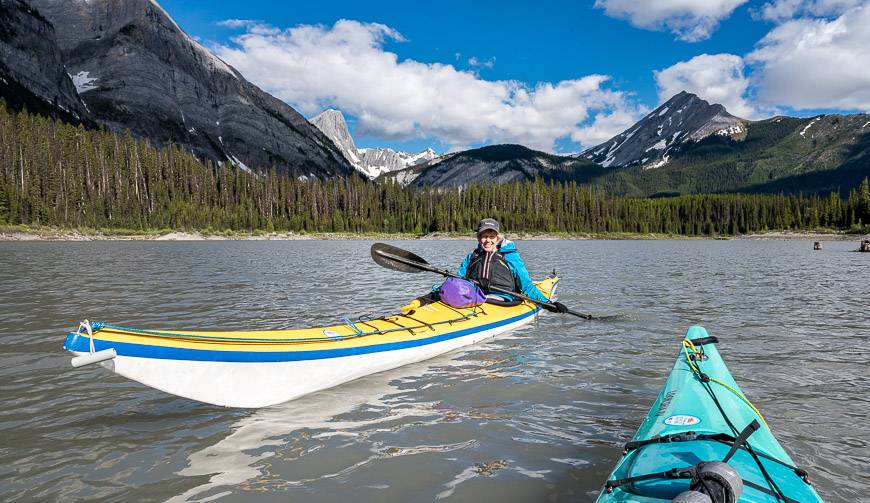 What to expect at the Point Campground
The Point Campground is located on a point of land jutting into Upper Kananaskis Lake. It can be access via a hiking trail or via a canoe, kayak or SUP trip from one of two parking lots. Most people who stay in the campground hike in. It's 7.8 km from the Upper Lake Day Use Area or 3.5 km from the North Interlakes Day Use Area.
The Point Campground has changed a lot since I last checked it out. Some things about the campground are fantastic – two well designed large cooking areas with several sets of bear-proof food lockers, non-smelly outhouses and 20 private campsites on well-drained tent pads with many of them sporting beautiful water and mountain views. (My favourite campsites were 2, 7 and 20.) They could use a map though as the campsites are VERY spread out.
The biggest change since I was last here was the removal of all campfire rings. Don't visit if you're set on having a campfire. I have heard complaints about this – and I'm not sure why Alberta Parks removed this beloved option.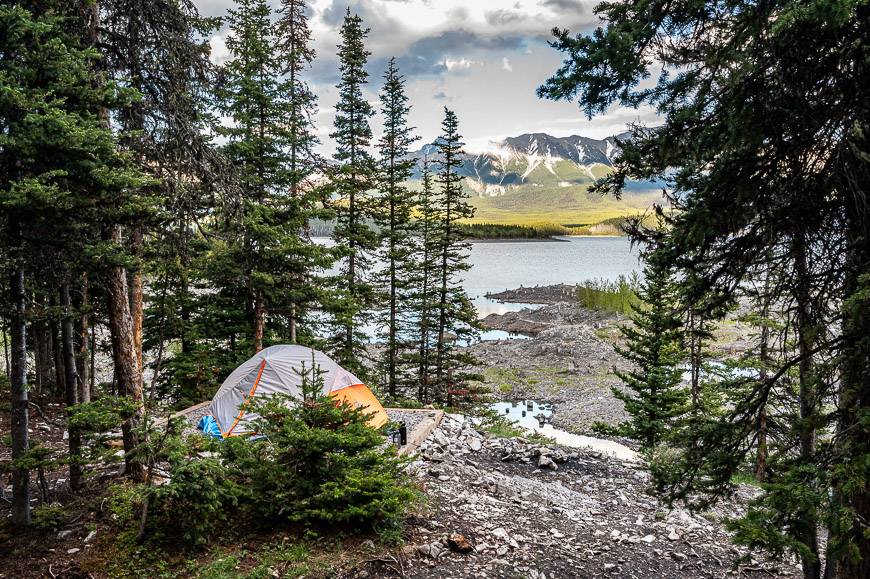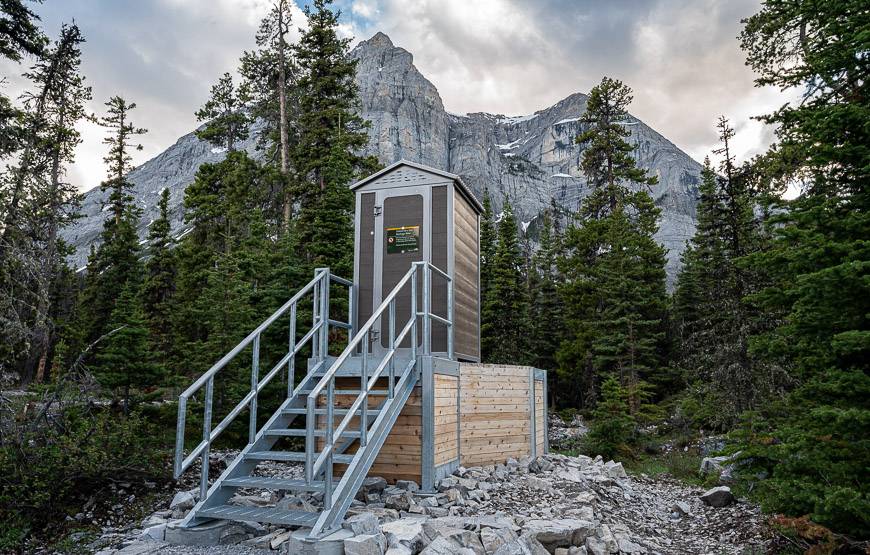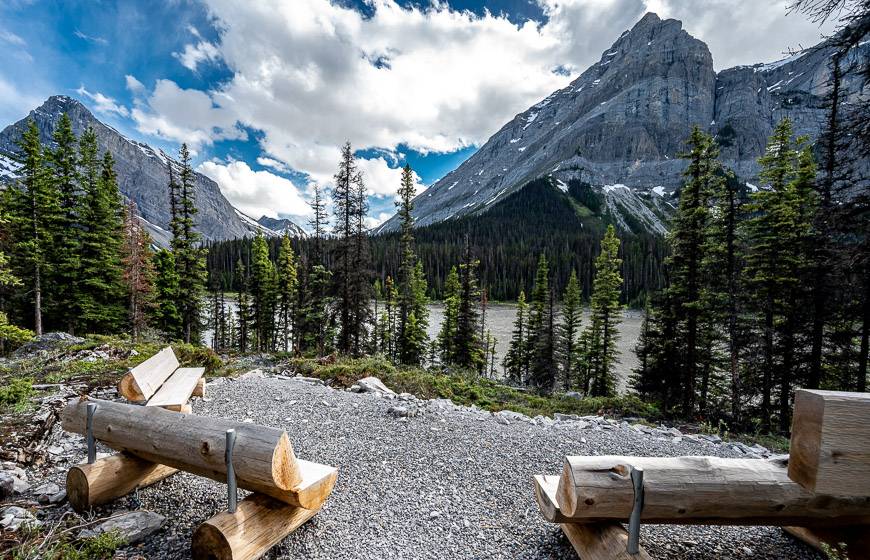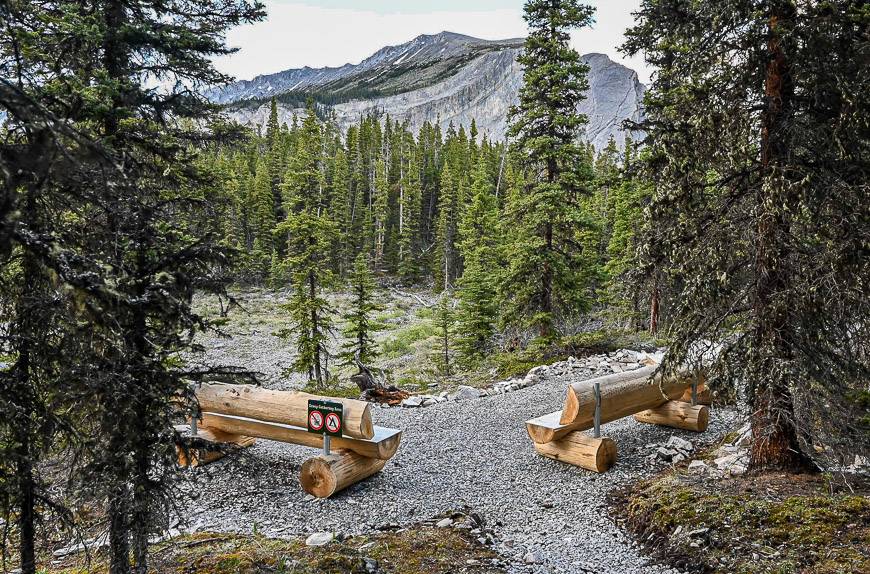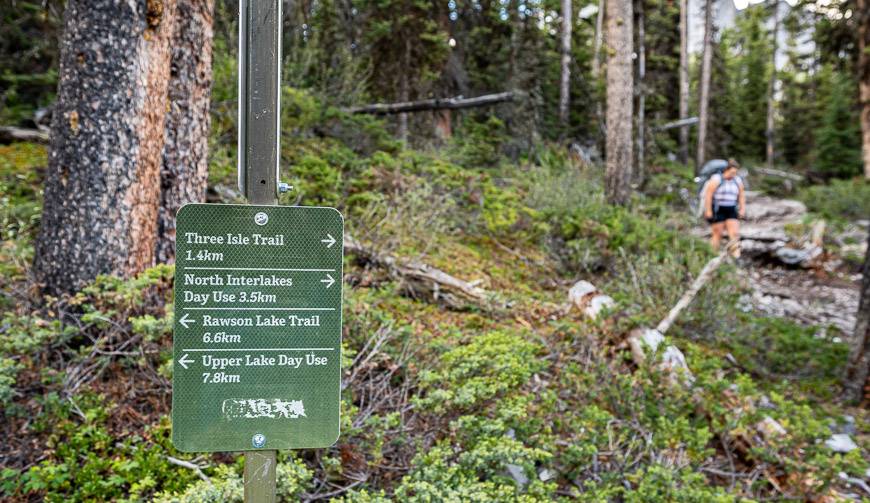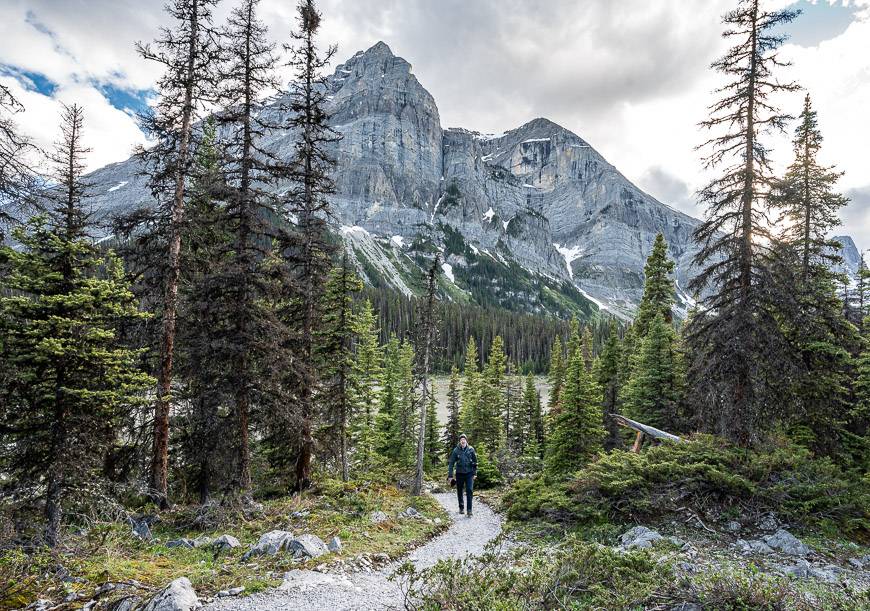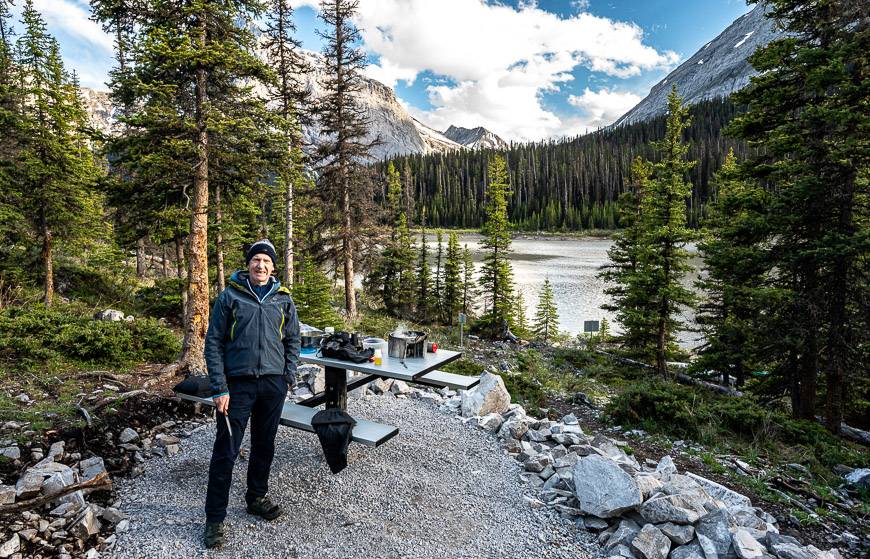 Directions to Upper Kananaskis Lake
Note: Before you head out purchase a Kananaskis Conservation Pass online or stop at the Barrier Lake Visitor Centre and buy one in person. They are $90/year (2 cars allowed on one pass) or $15 per visit.
Drive south on Highway 40 from the Trans-Canada Highway for 50 km to reach the Kananaskis Trails Road. If you're coming from Highwood Pass, drive 17 km north on Highway 40 to reach the turnoff. Take the Kananaskis Lakes Trail road – ignoring the Smith Dorrien- Spray Trail heading right at the 2.2 km mark. Instead, continue straight. The total distance from the intersection of Highway 40 is 13.2 km. The Upper Lake Trailhead parking lot is on the left hand side of the road. Continue for about another kilometre to reach the North Interlakes parking area at the end of the road.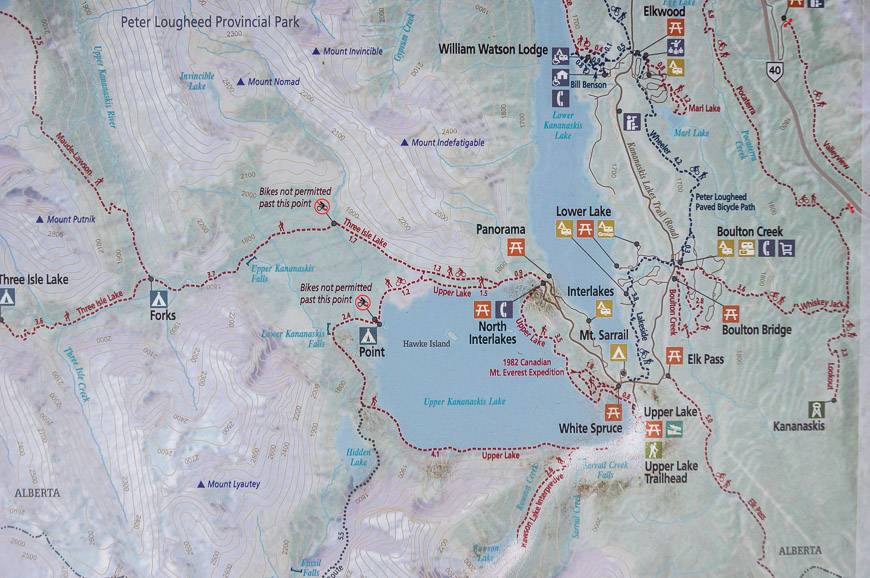 A few things I find helpful on paddling trips
These are a few of the things I always have with me on multi-day paddling trip. For a complete kayaker's checklist refer to this post. Even though you're kayaking, I'd highly recommend taking a cannister of bear spray. You never know if you'll run into a bear in the campground.
Where to stay before or after the kayaking trip
There is lots of camping in Peter Lougheed Provincial Park though most of it you have to reserve ahead of time. The exceptions are Canyon and Interlakes Campground which offer first come first served sites. Read A Complete Guide to Camping in Kananaskis.
In the area there are a couple of places to stay. My favourite is Mount Engadine Lodge though Kananaskis Mountain Lodge is also very nice – and its immediately beside the Nordic Spa. The Kananaskis Wilderness Hostel is a less expensive option.
More paddling posts you might enjoy
Click on the photo to bookmark to your Pinterest boards.