On a chilly, rainy summer's night John and I ventured to the Kananaskis Nordic Spa to see for ourselves what the experience was like. I'd heard many wonderful reports since it opened in the winter of 2018. The spa, fashioned in the Nordic tradition, stimulates your senses with temperature changes (hot, warm and cold pools) along with aromatherapy via the steam room.
The Kananaskis Nordic spa is all set against a gorgeous Rocky Mountain backdrop, only an hour away from downtown Calgary. It's the first Nordic spa in Alberta.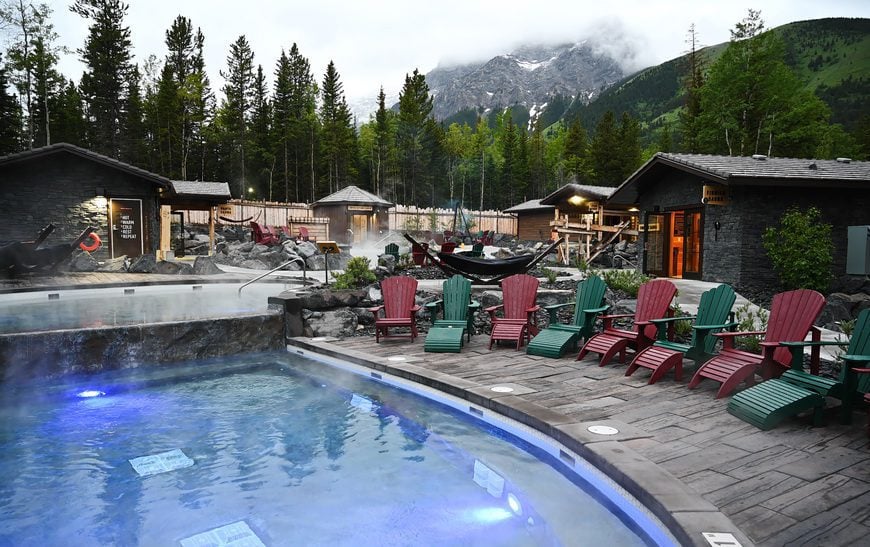 This post includes some affiliate links. If you make a qualifying purchase through one of these links, I may receive a small percentage of the sale at no extra cost to you. Thank you for your support.
Location map of the Kananaskis Nordic Spa
The experience at the Kananaskis Nordic Spa
Located behind the newly renovated Pomeroy Kananaskis Mountain Lodge is the 50,000 square foot spa. It features both indoor and outdoor spaces including a three story lodge that boasts massage treatment rooms, locker rooms, a lounge and bistro.
We were there in the evening and only availed ourselves of the locker room and outdoor facilities.
Outside are a variety of saunas including barrel saunas that can seat four to six people, a Finnish sauna and the Banya Sauna. We tried all of them!
There's also a steam room/aromatherapy room filled with the purifying scent of eucalyptus. Numerous pools across the property include a 12°C plunge pool – which we used four times. It's very invigorating.
There are a couple of winterized hammocks – big enough for two people. Cozy up and have a nap after all your time in the pools.
At the end of your stay be sure to visit the exfoliation room. Use the scrubbing salts followed by a shower for a feeling that will leave you fresh and relaxed. In total we spent 90 minutes in the spa – and both left feeling rejuvenated and less stressed.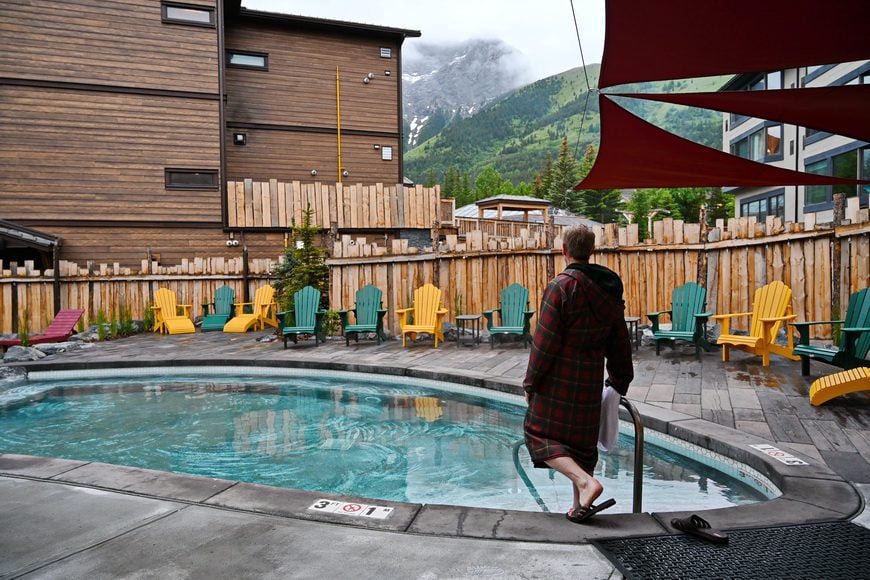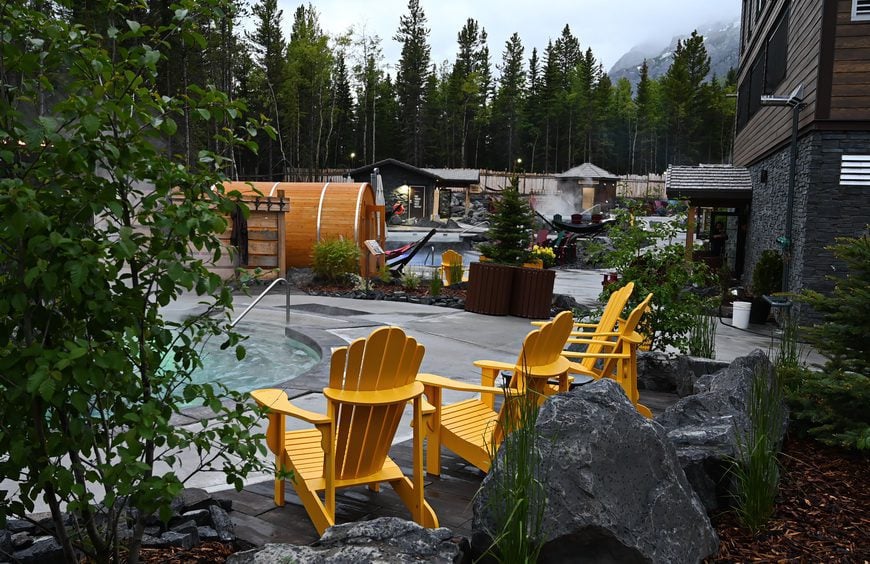 What I particularly liked about the Kananaskis Nordic Spa
I have been lucky to visit a couple of other Nordic type spas – the Nordik Spa – Nature in Chelsea, Quebec and Thermëa Spa in Winnipeg. Both were truly fantastic but…. you had to be quiet.
Sometimes being quiet is great – but at other times – for instance on a girlfriend's getaway where you're trying to catch up with friends, it's a treat to be able to chat. I don't want people shouting in pools anymore than the next person but I do like to be able to have a conversation without feeling guilty.
Good to know before you go to the Nordic spa
Guests must be 18 years of age and older.
The Kananaskis Nordic Spa gets particularly busy on weekends and holidays. Check their Twitter page for wait times. At peak times the wait can be anywhere from 2 – 5 hours.
Normally entrance to the spa is $85+ GST per person or $70 +GST if you're staying at the hotel.
Opening hours are 9 AM – 9 PM Sunday to Thursday, 9 AM – 11 PM Friday and Saturday.
If you get hungry, no worries. The Two Trees Bistro – called the "social hub" of the spa serves small plates and sharing platters along with herbal teas, espresso drinks and even better – wine and craft beers.
Visit the Kananaskis Nordic Spa website for more information.
If you want to enjoy an overnight getaway with the Nordic Spa just minutes from your bedroom, book the Kananaskis Mountain Lodge. With new nicely renovated rooms, you're in for a treat. And there is so much to do in this part of Alberta, no matter what the season.
Further reading on things to do in Kananaskis Country
Click on the photo to bookmark to your Pinterest boards.