Snowshoeing in Kananaskis Country is a rewarding way to spend a winter day. Many of the snowshoeing trails are just an hour from Calgary, while others can be closer to two hours depending on road conditions. There's a huge amount of variety – with respect to difficulty and terrain. Many of these trails fall into the dead easy category, but still they're very beautiful. If you want a workout with some mountain slendour, you'll have to gain some elevation. Chester Lake and Rawson Lake, as examples, reward with a fantastic mountain backdrop.
Summary of where to go snowshoeing in Kananaskis
Before you go, be sure to check both weather and trail reports.
On Highway 40, you can stop in and get really good up to date information at the Kananaskis Visitor Information Centre at Barrier Lake.
Buy your Kananaskis Conservation Pass or risk a hefty fine.
Unless you have experience and the equipment, avoid crossing avalanche terrain.
Always go prepared and carry the 10 essentials.
Know how to survive a winter drive as this roads in this part of Alberta can be treacherous in winter.
The easiest snowshoeing trails in Kananaskis are Troll Falls (plus Hay Meadows), Ribbon Creek trail, Hogarth Lakes, Sawmill Creek, Canyon and the Lower Kananaskis Lake Trail, and Marsh Loop. You can also snowshoe up Highway 40 from the winter gate.
Moderate snowshoeing trails in Kananaskis include Evan Thomas Waterfall (only because of distance), and Fortress Mountain.
For more elevation gain, choose Chester Lake, Rummel Lake, or Rawson Lake.
I think Chester Lake is the most beautiful snowshoeing trail in Kananaskis, particularly if its a bluebird day.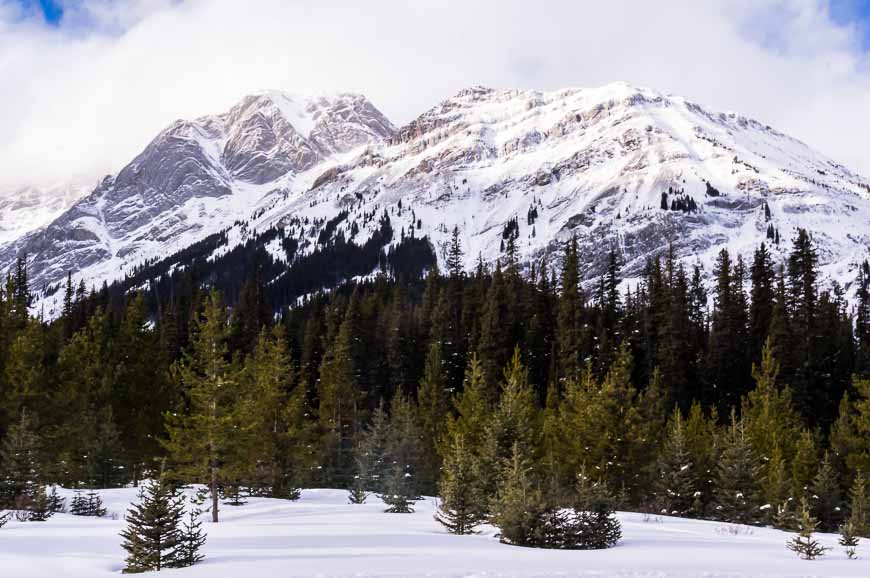 This post includes some affiliate links. If you make a qualifying purchase through one of these links, I may receive a small percentage of the sale at no extra cost to you. Thank you very much.
Snowshoe on the Ribbon Creek Trails
The Ribbon Creek multi-use winter trail (snowshoeing, walking and fat biking) is perfect for an easy half-day outing. It's only 3.7 km one way with 60 m of elevation gain.
For much of its length it follows the creek, crossing numerous bridges (five alone in the first kilometre all built since the 2013 flood) but it moves off into the woods away from the creek a couple of times as well.
There is also a section of trail, about 2 km into the outing that you must share with cross-country skiers. Stay out of their tracks and yield to them.
Once you reach an open area with a set of bike racks you're at the turn-around point. If you go beyond you're into avalanche country.
As you can see in the photos below, dogs are permitted as long as they're on a leash and you pick up after them.
Finding the Ribbon Creek Trailhead
Take Highway 40 South from the Trans-Canada, turning right towards Nakiska Ski Resort on Mt Allan Drive. Take the first left onto Centennial Drive and continue to a parking lot at the west end of the Ribbon Creek day use area.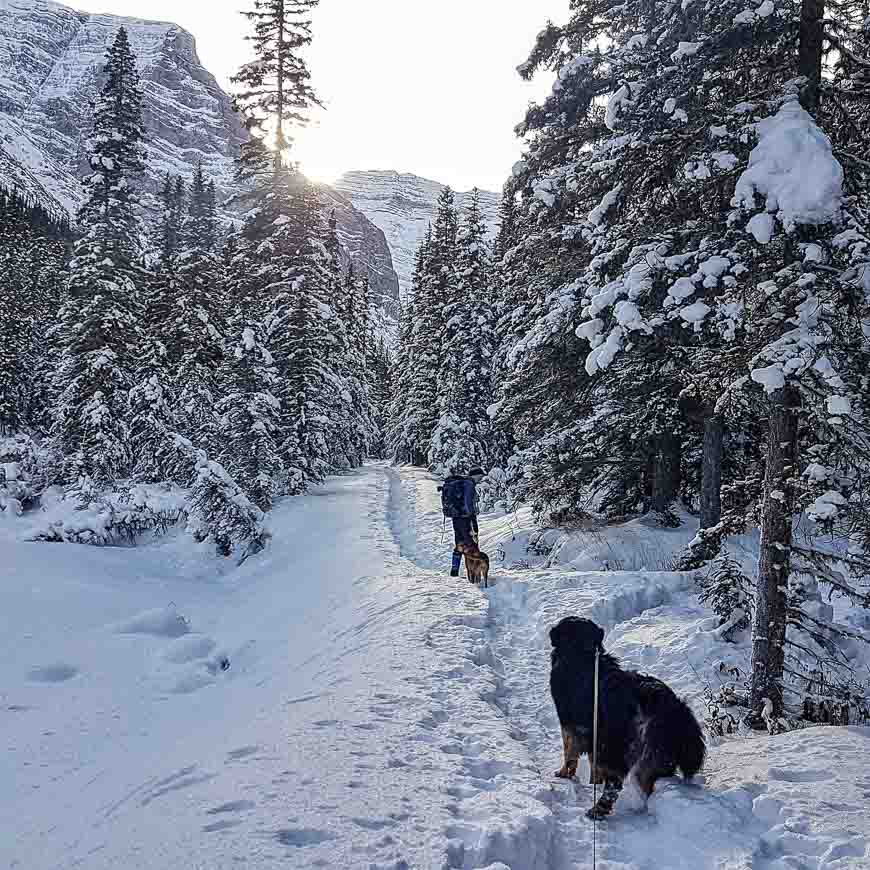 Snowshoeing to Chester Lake
One of the prettiest snowshoe outings in both Kananaskis Country and Alberta is the one to Chester Lake. Enjoy spectacular mountain views, especially on sunny days as soon as you reach the meadows.
The first few kilometres of the 10 km return trail are steep but by the time you reach the meadow the trail moderates. From there to Chester Lake the grade is gentle.
As a side trip visit Elephant Rocks – an area where giant-sized boulders lay scattered helter-skelter. They make a find destination for lunch.
Allow three to five hours to do this 10 km return snowshoe with a 287 m elevation gain.
You can also cross-country ski up to Chester Lake but on a separate trail.
Finding the trailhead for Chester Lake
Reach the large parking lot and trailhead for Chester Lake from either Canmore or via Highway 40.
If you drive up from Canmore, zero your odometer at the Canmore Nordic Centre. Then take the Smith Dorrien Trail (Hwy 742)/Spray Lakes Road for 37 km. The trailhead is signed. From the intersection of Highway 40 and the Trans Canada it's a 72 km drive via a combination of Highway 40 S and the Smith Dorrien Road.
Note: The trailhead for the Hogarth Lakes Loop snowshoe trail is directly across the highway.
Rummel Lake snowshoeing
The snowshoe outing to Rummel Lake can be tough after a fresh snowfall with no tracks to follow. If it hasn't snowed in a while, route finding won't be a problem as it's a popular trail.
Climb up old logging roads with great views of the Spray Lakes Reservoir. Then make your way through the woods (there are yellow markings in the trees) until you reach Rummel Lake. You climb about 400 m to the lake so the return to the car is fun and fast.
The trail to Rummel Lake is 8.6 km return. Allow 2 -2.5 hours to get up and another 2 hours to get down.
Location of the Rummel Lake snowshoe trailhead
The trailhead is at the intersection of Spray Lakes Road and Mount Shark Road but it isn't well-marked. Fortunately it's also at the intersection to the turnoff to Mt Engadine Lodge – and the lodge is easy to find. Park along Spray Lakes Road.
Read: Superb Snowshoeing to Mountain Lakes in Kananaskis Country
Snowshoeing the Sawmill Creek Trails
The Sawmill Creek Trails run from the Chester Day Use Area southeast to the Sawmill Day Use Area, about a 6 km drive apart. These trails are not groomed or track-set but some of them are very well used. On others – like the more remote section of the Snowdrift Trail you might have to break trail – which was the situation we ran into.
I did the Snowdrift Trail one way with the help of a friend and a car shuttle. It was well-marked and offered peek-a-boo views, a nice area around a lake and a good workout because of the trail breaking. If you've already done the Chester and Rummel Lake trails then these ones are worth it for a day – though they're definitely not as pretty.
Finding the trailhead for the Sawmill Creek Trails
See the Chester Lake directions if you want to start there. Otherwise drive a further 6 kilometres southeast on the Smith Dorrien Road and park in the large, well-signed Sawmill Creek area.
Snowshoeing to Troll Falls
Snowshoe to Troll Falls after there has been a big dump of snow. Otherwise, it's an easy winter walk and a great one in particular for families, especially as there is only a 60 metre elevation gain.
Enjoy a surprising amount of variety over its 1.7 km one way length. Start off snowshoeing through dense evergreen forest. When you reach a pretty open section filled with aspens it's time to look for the narrow trail that follows the left bank of Marmot Creek. Go to the end where you'll find the beautiful Troll Falls.
As you're facing the falls look for the figure of a troll in the rocks to the left of the falls.
You only need an hour or two to do this snowshoe trip. It would combine well with the snowshoe along the Ribbon Falls trails.
Finding the trailhead to snowshoe to Troll Falls
Take Highway 40 S to the Kananaskis Village turnoff – also called Mt. Allen Drive. Turn right or west and follow it for about a kilometre. Turn right again and descend to the Stoney Trail parking lot. It can get very busy here on a weekend! Go early or late in the day if possible.
Read: Kananaskis Hikes: Don't Miss Family-Friendly Troll Falls
Snowshoeing to Rawson Lake
Start the snowshoe up to Rawson Lake by following the south shoreline of Upper Kananaskis Lake. Enjoy stupendous views right off the bat. Cross the Sarrail Waterfall and look for a sign pointing to Rawson Lake.
Head left and start climbing – 300 metres in total. Much of the climb through the spruce forest is steep. When the grade eventually moderates it means you're almost at the lake. Wander along the shore of the lake looking for a spot out of the wind for lunch – and enjoy the view of Mount Sarrail.
Don't go beyond the end of Rawson Lake or you get yourself into avalanche territory.
Enjoy a fun, fast return to the parking lot. Allow 2.5 to 4 hours to do the 8 km (return) snowshoe.
Getting to the trailhead for the Rawson Lake snowshoe
Take Highway 40 S off the Trans-Canada and follow it to the intersection of the Smith Dorrien Trail. Take a left at the first intersection off the Smith Dorrien Trail onto the Kananaskis Lakes Trail. Follow it for approximately 14 kilometres to reach the Upper Kananaskis Lakes parking lot.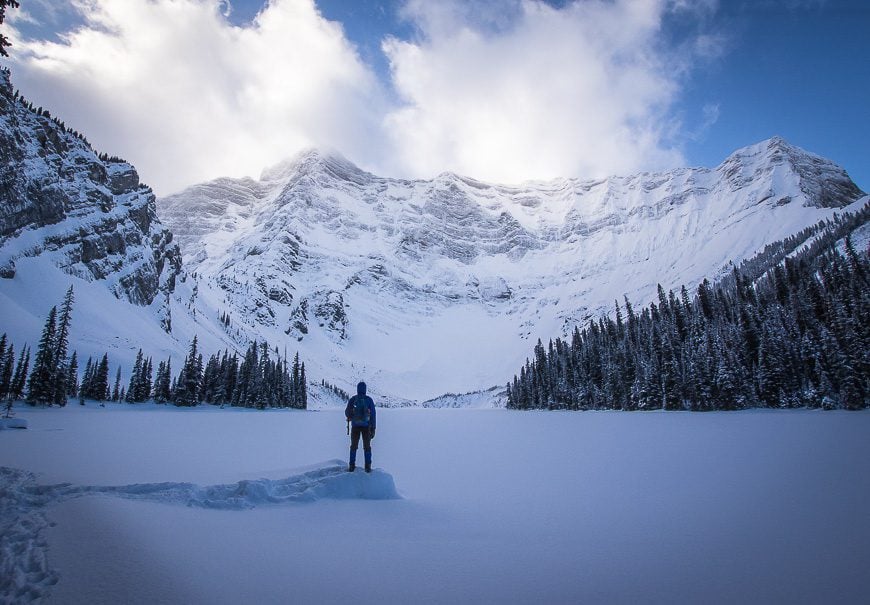 Snowshoeing the Hogarth Lakes Loop Trail
The Hogarth Lakes snowshoe trail in Kananaskis Country is a great half day outing (and a half day might be pushing it). It's short, easy and family-friendly, coming in at just 4.5 km with little in the way of elevation gain.
The Hogarth Lake Loop rambles through woods and skirts one of the lakes before making a return to the wider, busier trail that heads to Burstall Pass.
Finding the Hogarth Lake Trailhead
See the information for Chester Lake as the trailhead is across the highway. There is a good sized parking lot. This is the same trailhead used for Burstall Pass. Return to the parking lot from here to complete the loop.
Read: The Easy Hogarth Lakes Loop Snowshoe Trail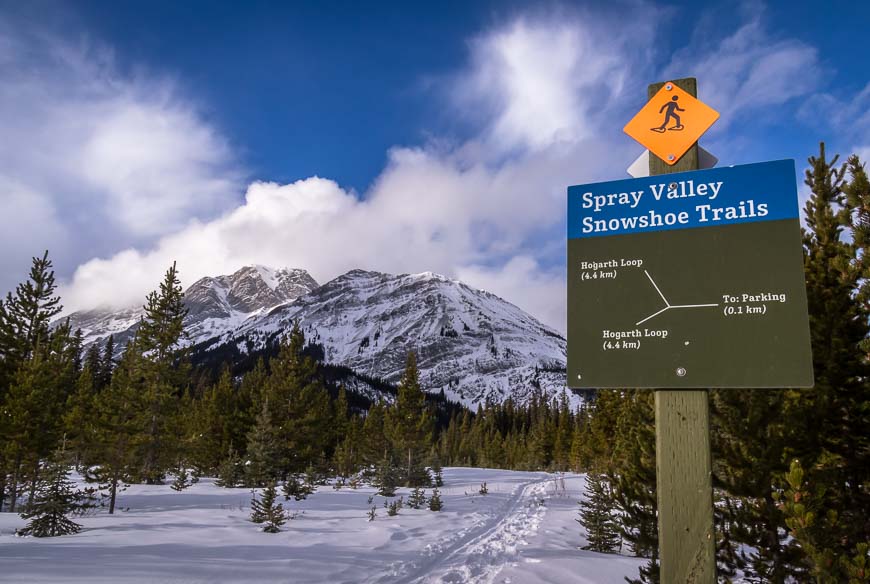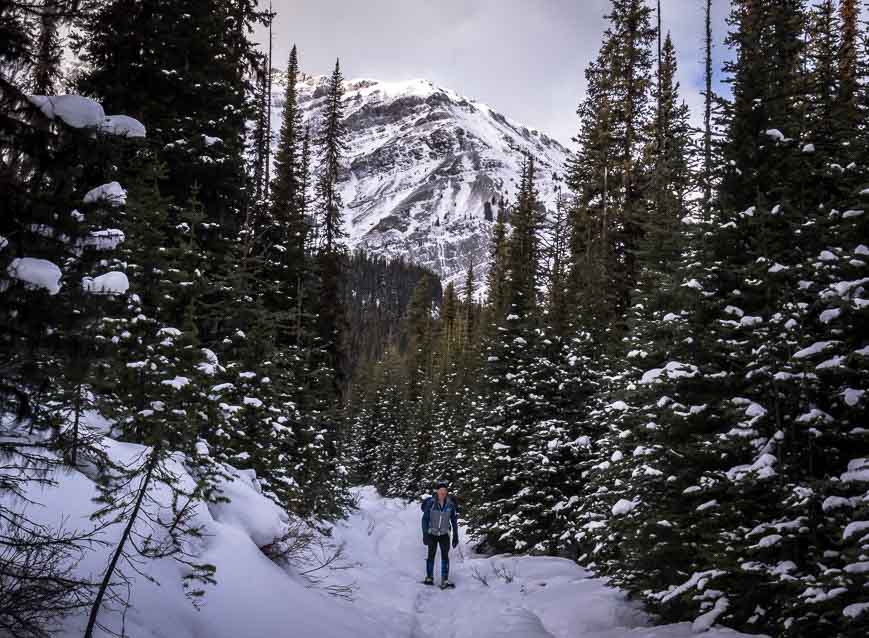 Fortress Mountain snowshoeing
You can't just drive up to Fortress Mountain and start snowshoeing, unfortunately. Maybe one day but for now you must join a guided tour with White Mountain Adventures.
Enjoy a snowcat assisted ride to the top of Fortress Ridge and then the fun begins! You have access to huge tracts of fresh powder and gorgeous mountain views that few people see.
While the cost is $169 per person, that does include transportation from numerous hotels in the Banff- Canmore corridor, along with cookies and hot chocolate. And it really is one heck of a fun outing.
Read: A Snowshoeing Adventure at Fortress Mountain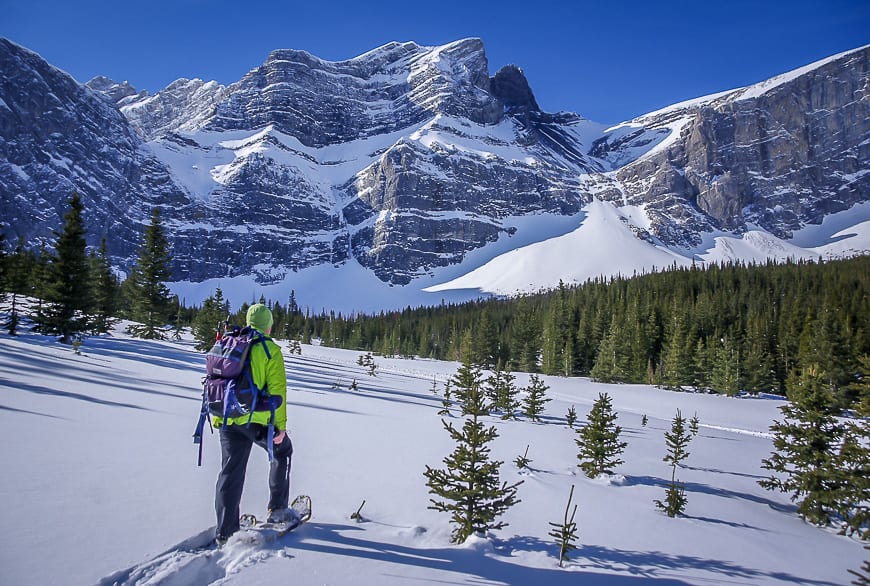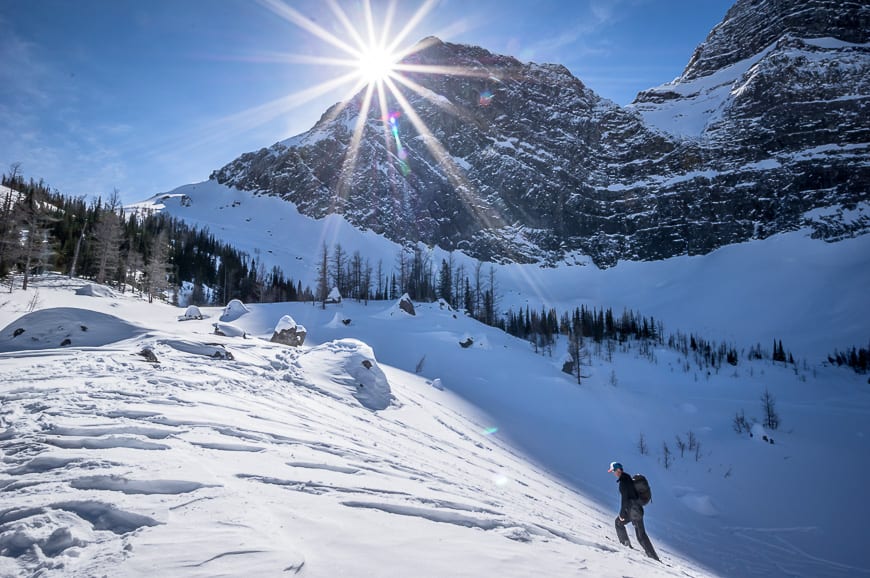 Snowshoeing in Kananaskis to the Evan Thomas waterfalls
This easy snowshoe outing exceeded expectations. Along its 4.7 km one way length (if you go to the very end) you only gain about 100 metres, all very gradually.
Start on the Evan-Thomas Creek trail – that is also used by cross-country skiers. Follow it for 1.6 km to reach a bridge over Evan-Thomas Creek. Cross the bridge – where views are spectacular and then turn left onto a smaller trail and head up Evan-Thomas Creek. (The trail is also called the Wedge Connector as it connects to Wedge Pond.)
The trail up the creek weaves from one bank to another. You have to cross a few snow-bridges but the water level in January at least was low – should you break through. Along the way you're treated to the sight of several pretty waterfalls. The first one is Chantilly Falls, reportedly a popular beginner falls for ice-climbing.
You can't miss 110 m high Moonlight Falls. We saw ice-climbers on it from a distance – but they ducked out of sight behind a bench or icefall when I went for the photo.
We continued for about a kilometre past the turnoff to the very end of the trail. The last bit was interesting as the rock walls started closing in.
All told we did 9.4 km return in just over three hours. Dogs are allowed on a leash.
Finding the trailhead to the Evan Thomas waterfalls
Take Highway 40 S from the Trans-Canada Highway. Continue past the turnoff to the Nakiska Ski Resort for 6.4 kilometres. Turn left (east) into the signed Evan Thomas Day Use Area. There is quite a bit of parking and toilets.
Canyon – Lower Kananaskis Lake Trail with the option of adding the Marsh Loop
Park either at the Peter Lougheed Discovery Centre or drive down the road to the Canyon Day Use Area, accessed off of Kananaskis Lakes Trail (the road.)
It's 1.7 km with 24 metres of elevation gain to snowshoe from the Peter Lougheed Discovery Centre to the parking area at the Canyon Day Use Area. From there you can pick up the Lower Lake Trail and snowshoe south either along the shoreline or in the woods – if its a windy day. It's an 3.3 easy kilometres to reach the Marsh Loop Trail. The Marsh Loop is 1.8 kilometres long and will take you up to William Watson Lodge. Then retrace your steps.
From the parking lot at the Canyon Day Use Area you can also access the 4.7 km Penstock Loop if you head north. On that option you will cross the Smith Dorrien/Spray Trail Road twice – but you do get lovely views of the Opal Range.
Location map of the trailheads for snowshoeing in Kananaskis
Outdoor gear I'd recommend for snowshoeing in Kananaskis
Snowshoeing in Kananaskis takes place in the Rocky Mountains where weather can be fickle and can change on a dime.
Dress in layers. You don't want to get so hot that you sweat. I like a merino wool base layer on top (love this company) and bottom, lightweight pants that are ideal for snowshoeing and a midlayer on top. On top of all of that I usually start with the Patagonia down sweater. Then I'll add a wind-proof, waterproof shell on top of that.
Take mittens, perhaps with a liner so you can just use the liner if it's a warm day. Take a warm hat and a buff or neck warmer. It's always a good idea to throw in a few handwarmers.
As for snowshoes, there are lots of variations across three categories – trail running, trail walking and mountain snowshoes. In the mountain category (which is what I would suggest) there is a range of prices from $170 to $320 plus per pair. Many of the MSR snowshoes for women get lots of five star ratings like these ones that are lightweight.
Where to stay in Kananaskis Country
If you could spend a weekend in Kananaskis Country snowshoeing and relaxing instead of driving you'd have a lot more fun. There are a couple of choices unless you want to stay in Canmore.
My favourite is Mt Engadine Lodge – and all meals are included. Some of these snowshoe trails can be done right from the lodge.
The newly revamped Kananaskis Mountain Lodge is also a great choice – with a bonus of having the Kananaskis Nordic Spa – which I love – right behind the hotel. There is a dining room onsite.
Close to the Ribbon Creek trails is the Kananaskis Wilderness Hostel. It's got a nice common area and a choice of private or dorm style rooms.
Click on the photo to bookmark to your Pinterest boards.